The following post has been compensated by the US Potato Board. All opinions are mine alone. #beholdpotatoes #icanbelieveitspotatoes #ad
These vegan fajita enchiladas covered in cheesy, rich sauce have a little secret… they're actually completely vegan, and there's no cheese at all! The creamy sauce is made from a blend of potatoes, carrots, and spices to create a topping so delicious, you won't even miss the dairy.
Hello, dearest readers! I am SO incredibly excited to be sharing this recipe with y'all today! I've had it tucked in my back pocket for months, but I couldn't publish it until now and it's been killing me. Get ready to have your mind absolutely blown. I paired up with the US Potato Board to share these Vegan Fajita Enchiladas with Cheesy Sauce. I know what you're thinking... so where's the potatoes? Well, they're IN THE SAUCE. Surprise! It's vegan "cheesy" sauce with no cheese or dairy whatsoever. Let me show you how it's done!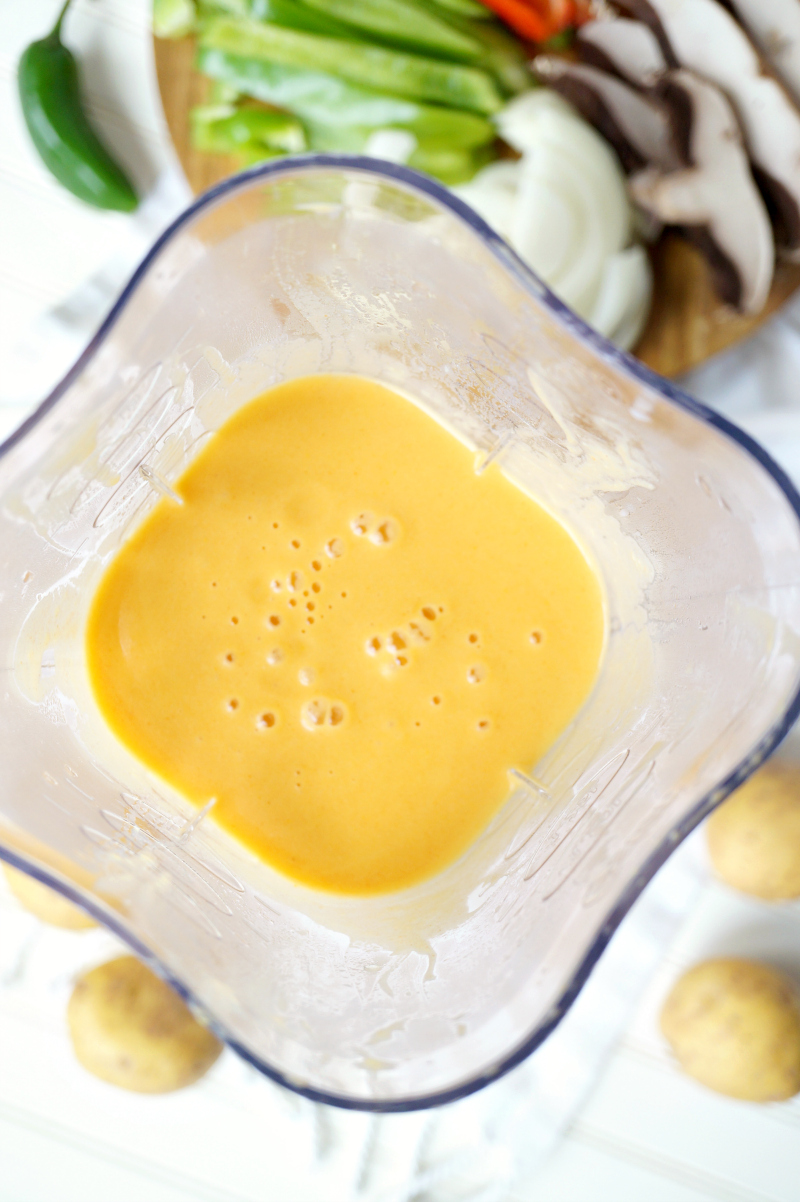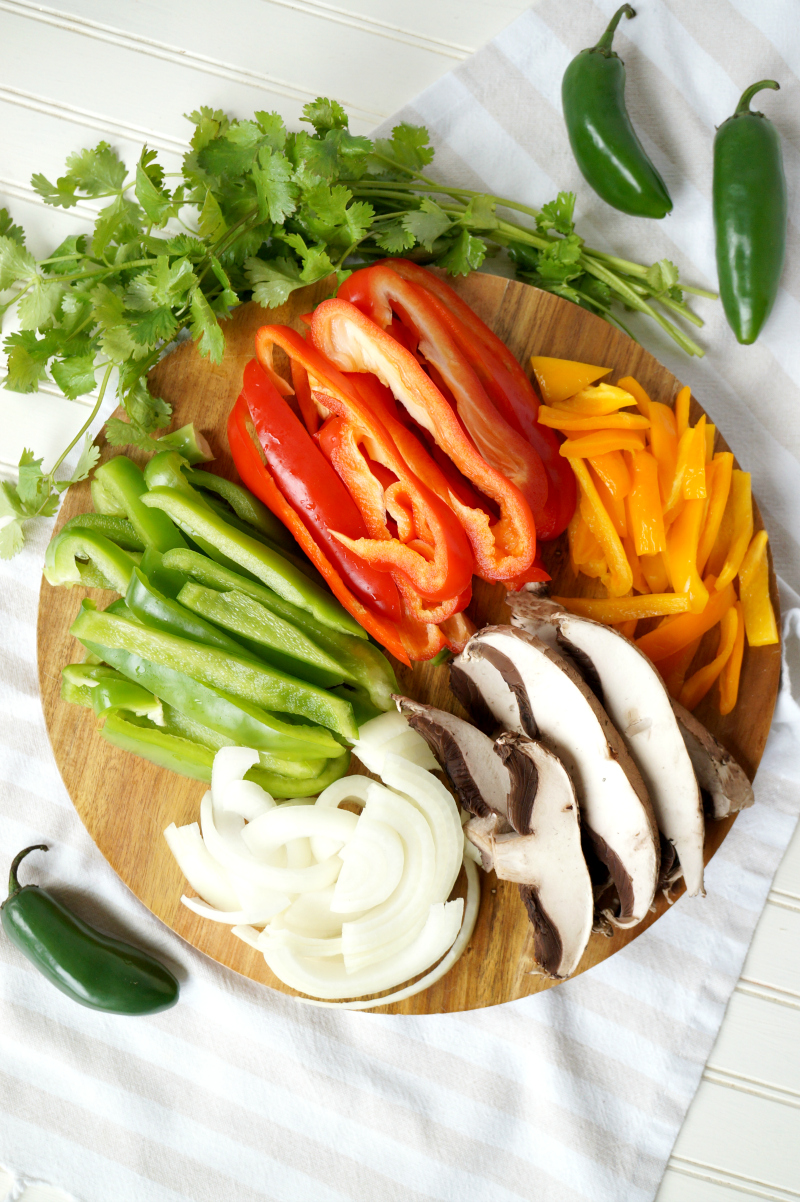 For this recipe, I was asked to make a recipe using potatoes that had no actual resemblance to potatoes, and I like to think I succeeded! These enchiladas are stuffed with sautéed onion, peppers, and portobello mushrooms, and topped with a creamy mixture of potatoes, carrots, and spices that is deceivingly rich and cheesy. As I mentioned the other day with my Vegan Cauli-Fil-A Sandwiches, I am trying to have a more vegetarian-centered diet, and these enchiladas are a great recipe to add to the repertoire! Potatoes are a fantastic veggie to include in your daily meals, as one single skin-on potato provides 45% of your daily Vitamin C, lots of Vitamin B6, and more potassium than a banana! Did I mention this is all for just 110 calories? It's definitely a win-win situation. 🙂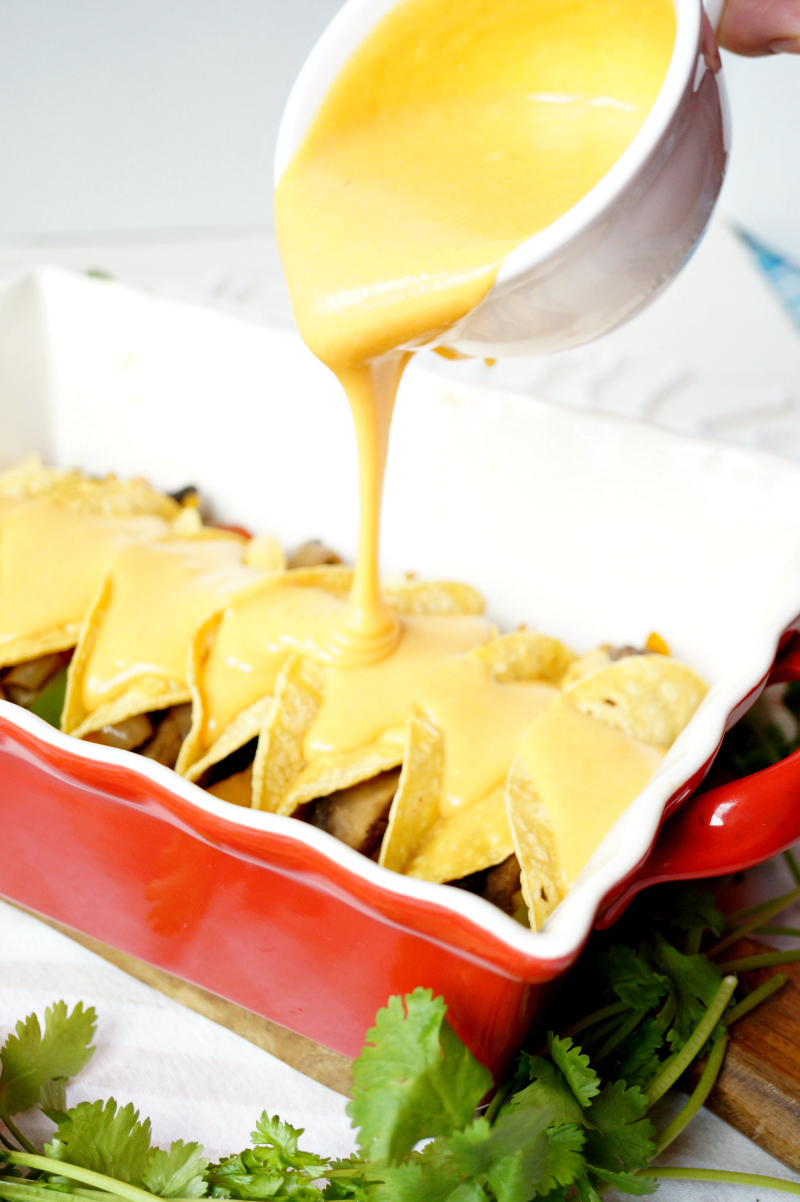 But really... look at that pour shot. This cheese sauce is straight-up luscious! Besides enchiladas, I've put this on nachos, broccoli, and on zoodles for a healthy take on mac & cheese. It takes just a few minutes and it tastes incredible! Now, I do have to give you a disclaimer that if you're a cheese-lover or dairy connoisseur, this is not going to taste like cheese to you. Because it's not. BUT if you're a vegan or lactose intolerant or the kind of person who likes trying new foods, you'll definitely love this. I think if you go into it not expecting it to taste like cheese, you'll like it more. That being said, I fed these vegan fajita enchiladas to my meat & cheese loving brothers without forewarning and they loved them!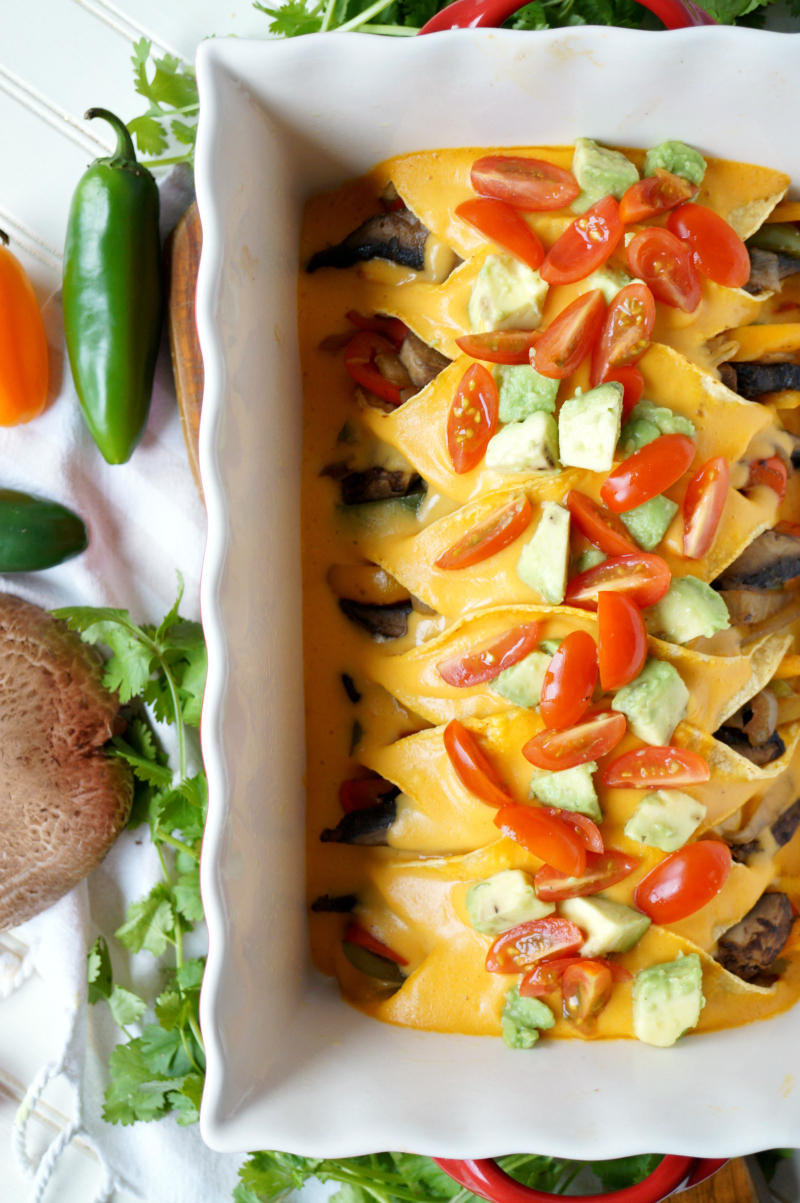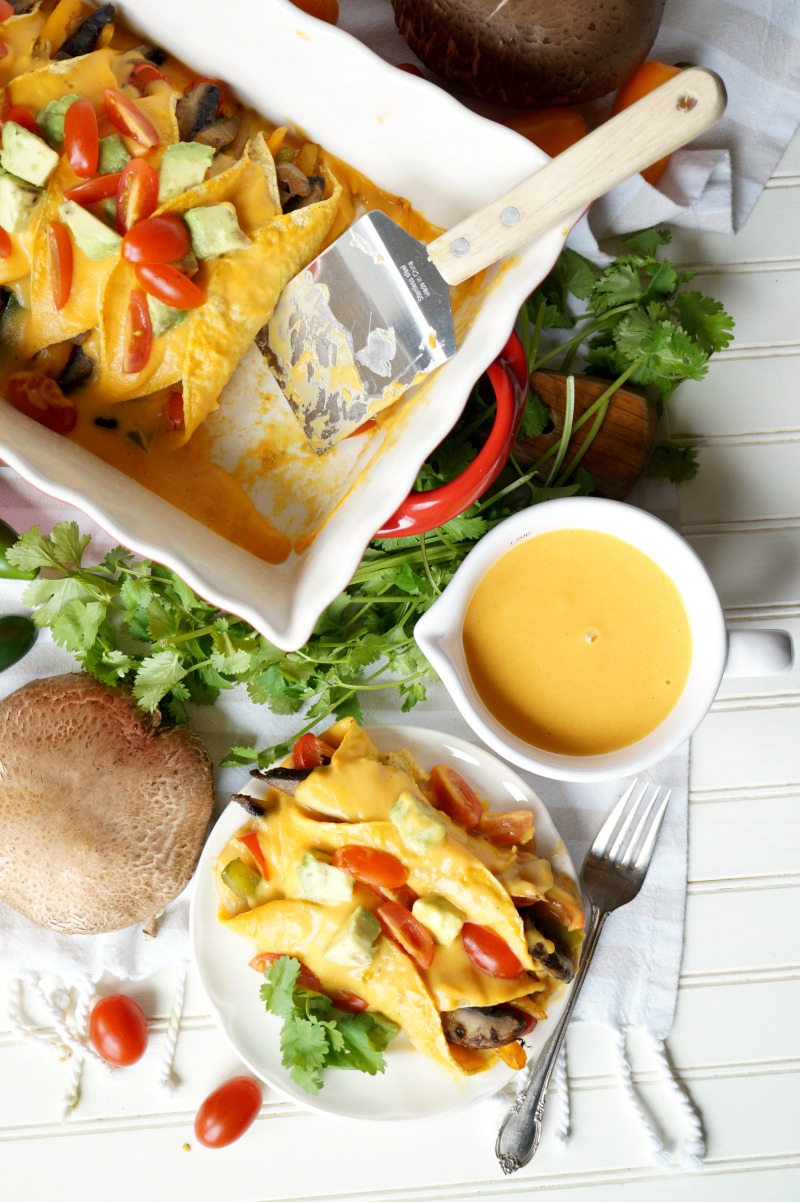 Next time you need a meatless Monday idea, want to cut back on your dairy consumption, or simply want to try something new with potatoes, give these enchiladas a try! They're so delicious and I hope you love them as much as I do. You can find the US Potato Board on Facebook, Pinterest, and Instagram. Happy cooking!
If you want to see my last recipe with the US Potato Board, you can see my Potato Croquettes HERE!


vegan fajita enchiladas with cheesy sauce
Author:
Valentina | The Baking Fairy
Ingredients
*for the "cheesy" sauce*
2 cups peeled and chopped Yukon gold potatoes (about 2-3 medium potatoes)
1 medium carrot, chopped
4 tablespoon olive oil
½ cup unsweetened cashew milk (or other nondairy milk)
3 teaspoon lemon juice
½ teaspoon garlic powder
½ teaspoon onion powder
½ teaspoon salt
¼ teaspoon smoked paprika
2 tablespoon Dijon mustard
1 teaspoon soy sauce
*for the enchiladas*
12 small tortillas (I like corn, but flour works too!)
1 onion, sliced
3 bell peppers, sliced
2 heads Portobello mushrooms, sliced
½ teaspoon smoked paprika
½ teaspoon cumin
½ teaspoon garlic powder
½ teaspoon onion powder
½ teaspoon cayenne pepper
½ – 1 teaspoon salt (to taste)
1-2 teaspoon olive oil
*for topping*
avocado, tomatoes, salsa, dairy-free sour cream, etc.
Instructions
First, make the sauce. In a medium pot, place the chopped potatoes and carrot, and cover with water.
Bring water to a boil, and simmer vegetables for about 20 minutes, until very tender when poked with a fork. Drain the vegetables.
In a blender, combine the drained vegetables and the rest of the sauce ingredients. Pulse until a smooth, creamy sauce forms. Set aside for now.
Preheat oven to 325F.
Heat a small saute pan over medium-high heat, and toast the tortillas, one at a time, until lightly charred and soft. Wrap in a paper towel and set aside for now.
In a large nonstick saute pan, heat the olive oil over medium-high heat.
Add in all the vegetables, season with the spices, and cook, stirring occasionally, until veggies are tender and slightly charred.
Grab a 9x13 baking pan, spray lightly with baking spray, and spoon a thin layer of the prepared cheesy sauce on the bottom.
Divide the vegetable filling evenly among the 12 tortillas, roll up, and place the enchiladas in the pan. Top with more cheesy sauce (you will have some left over!).
Bake in preheated over for 10-15 minutes, until sauce is hot and bubbly.
Top with desired toppings and serve immediately!
Looking for more fun, unexpected potato ideas? Check out this video for these amazing 
Potato Chocolate Truffles
from
Honest Cooking
!