This 5 Ingredient White Queso is SO simple and easy to make, and requires NO Velveeta! Just throw all the ingredients together, melt over low heat, and you'll be rewarded with queso that's perfect for dipping.
Hello, my friends! I am sharing some insanely easy, delicious white queso with y'all today! I was coerced into bringing queso to work by my colleagues, and I figured why not blog the recipe while I was at it? They requested restaurant style cheesy dip, and that's what I tried to accomplish here! This 5-ingredient wonder is so simple to make, and the best part? NO Velveeta! To each his own, but I just can't stomach that stuff. Anything that is half chemicals and is somehow shelf stable cheese "product" should probably not be consumed. But I digress. Queso! Made with real food! Let's do it.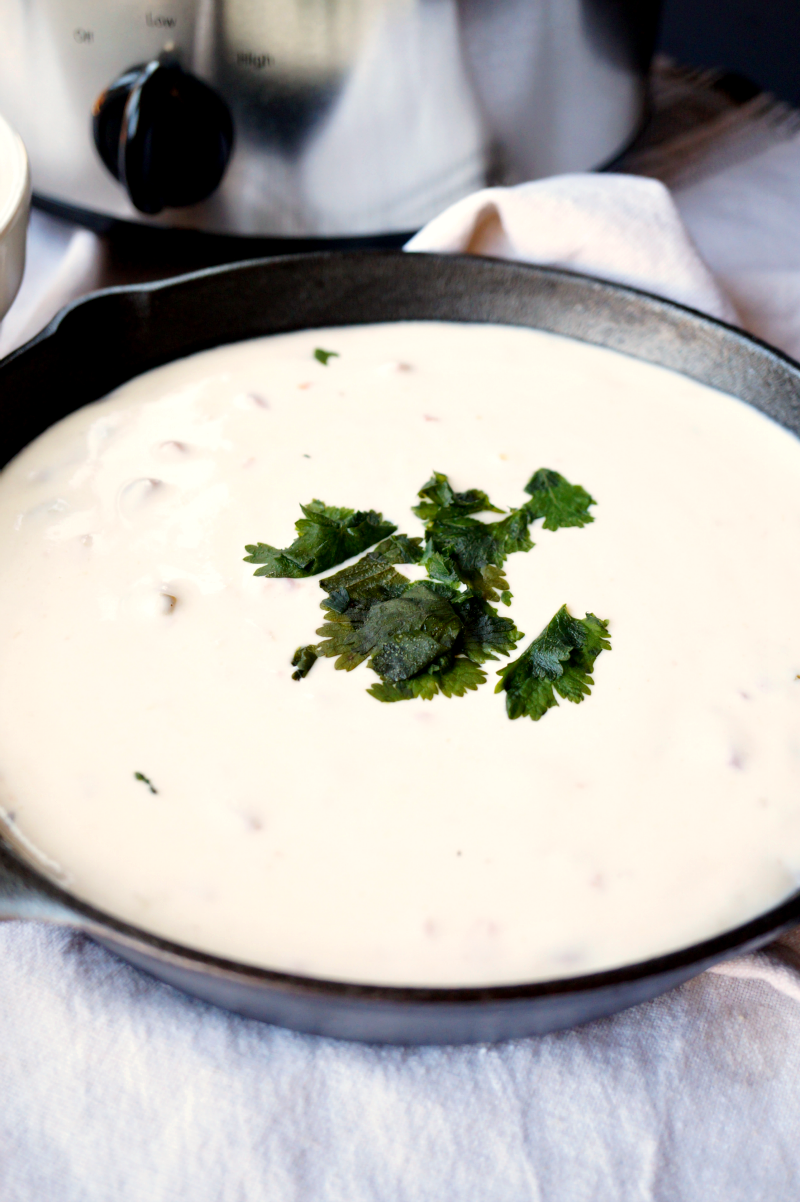 So, since we're not using "fake" cheese in this, I had to find a way to make the dip creamy and smooth and rich, and make it taste just like traditional queso. So you need pepperjack cheese, cream cheese, sour cream, milk, and a can of diced tomatoes & green chilies. So easy! I just threw everything in a big pot on the stove, turned it onto low heat, and let it do its thing until everything was melted down into smooth cheesy heaven. You can definitely do this all in the crockpot
, too!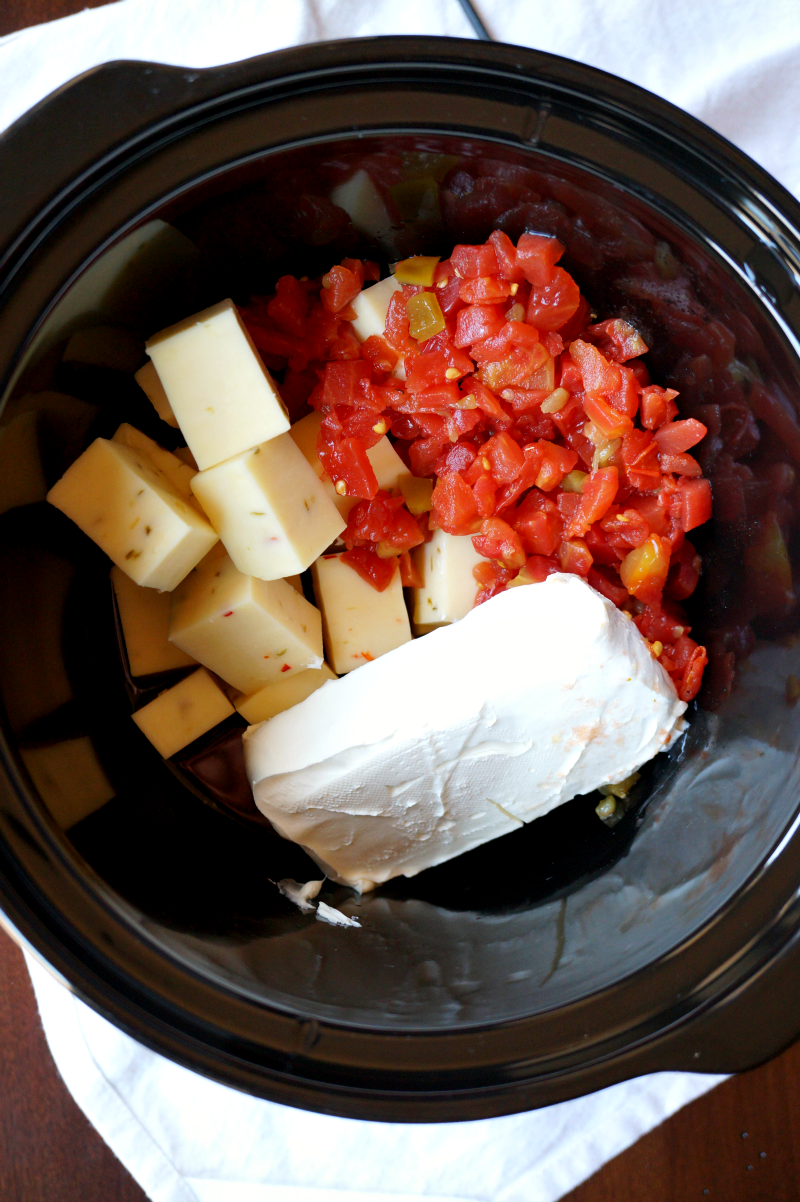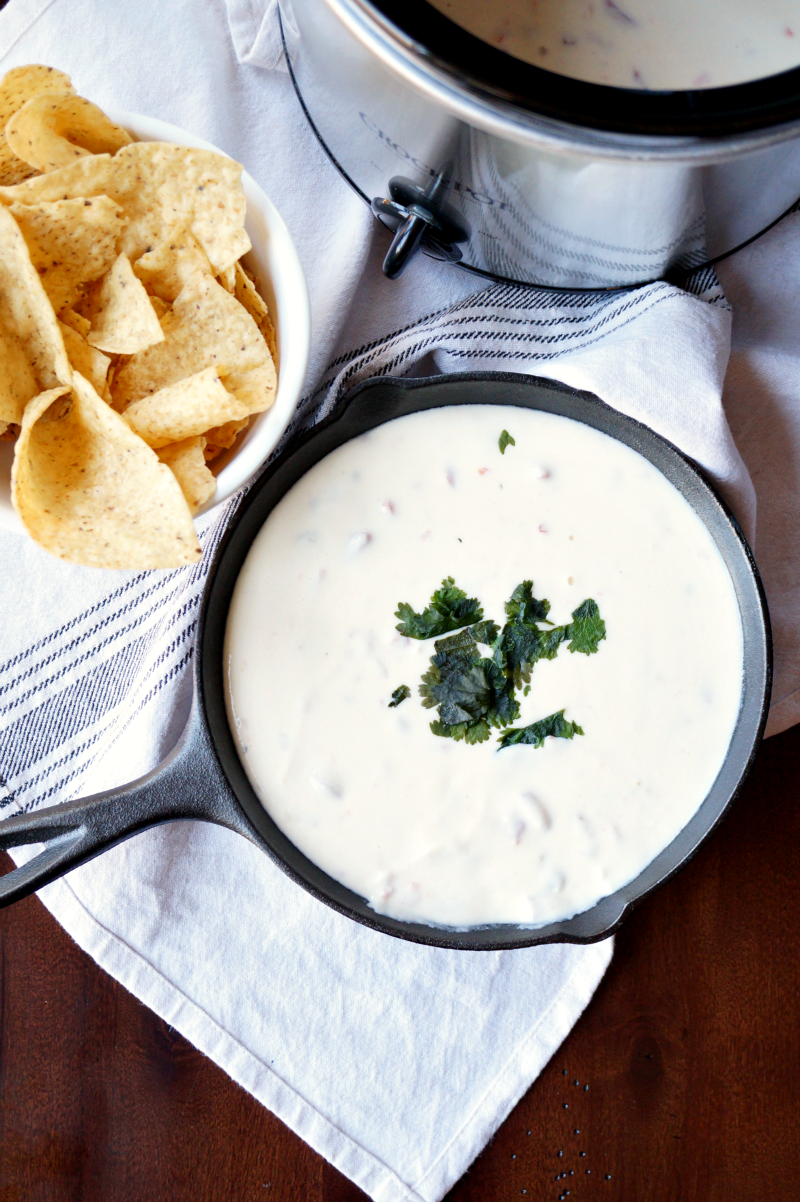 I find it so funny that queso is one of those things that everyone seems to love, and it's a must at any Tex-Mex restaurant, but I don't think most people realize how ridiculously easy it is to make at home! Seriously just throw all the ingredients into your crockpot
or on a pot on the stove, let it melt down, and well... that's pretty much it. Just dip away! We ate these on top of traditional tortilla chips of course, but we happened to get burgers and fries for lunch, and well, what do you know. We may or may not have made queso fries and queso burgers, too. Oops. Sorry not sorry. Once you make this, you'll pretty much find any excuse to put it on anything, too! 😉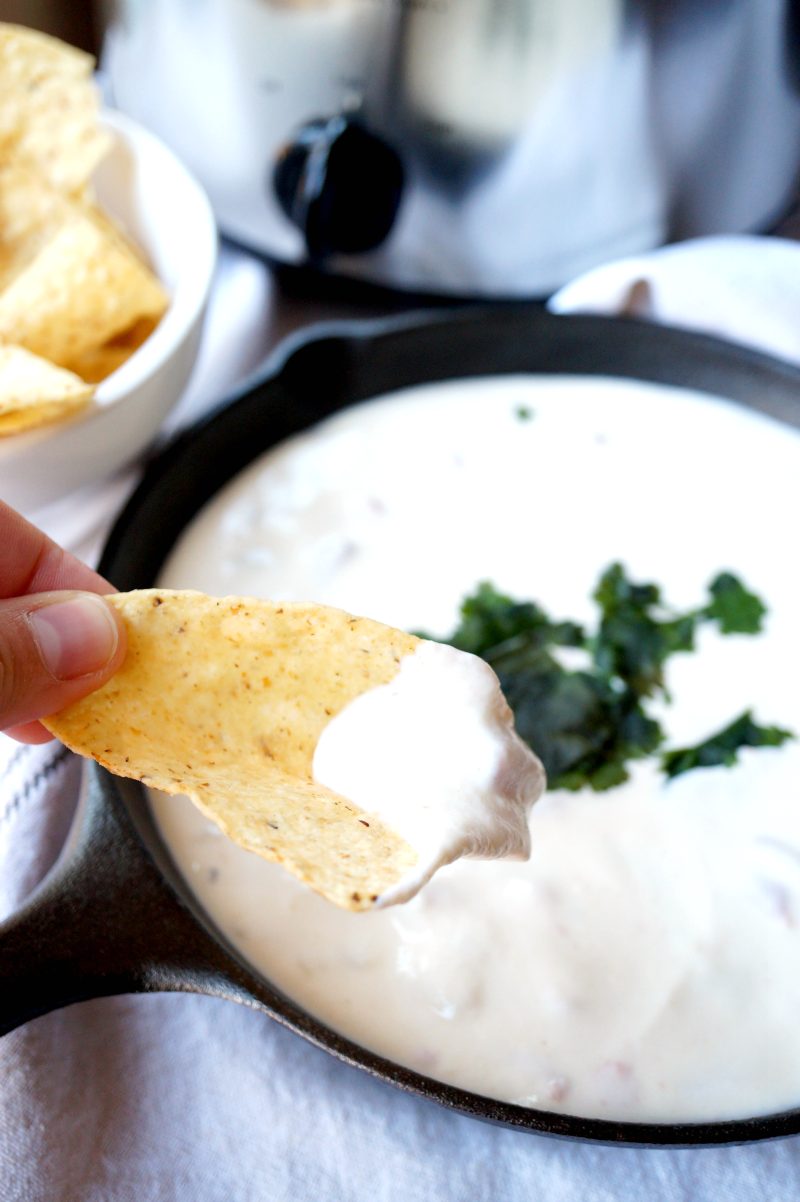 Check out my new and improved CLASSIC YELLOW QUESO RECIPE! Still no Velveeta. 🙂
5-ingredient white queso
Author:
Valentina | The Baking Fairy
Ingredients
1 lb pepperjack cheese
8 oz full-fat cream cheese
½ cup full-fat sour cream
1 10oz can original Rotel tomatoes & green chilies, drained
¾ cup whole milk (if needed)
*optional*
1 teaspoon garlic powder
1 teaspoon onion powder
1 teaspoon chili powder
*NOTE: I have gotten mixed feedback about using low-fat substitutions so use full-fat dairy for best results!*
*NOTE 2: For a smoother queso, try using half white American cheese and half pepperjack!*
Instructions
In a medium pot over LOW heat, combine the cheese, cream cheese, sour cream, and Rotel.
Let the mixture heat until the cheeses melt and a smooth cream forms, stirring often. This should take 15-20 minutes. Add the spices if desired. Add milk if needed.
Once melted, serve immediately, or transfer to a slow cooker with a "warm" setting to keep dip warm and melted. Enjoy!
I have been asked for the nutrition facts, so here are the stats for the recipe prepared as directed WITH milk...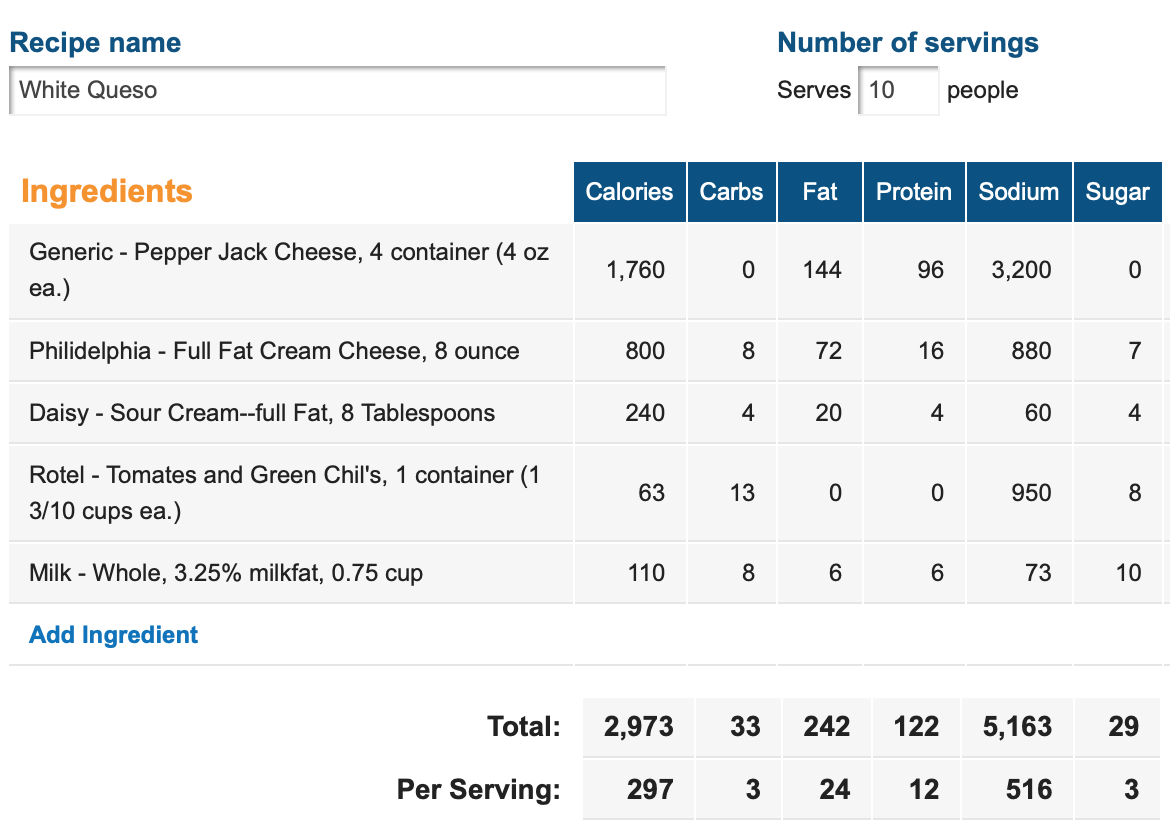 And here are the nutritional facts if you prepare it without the additional milk...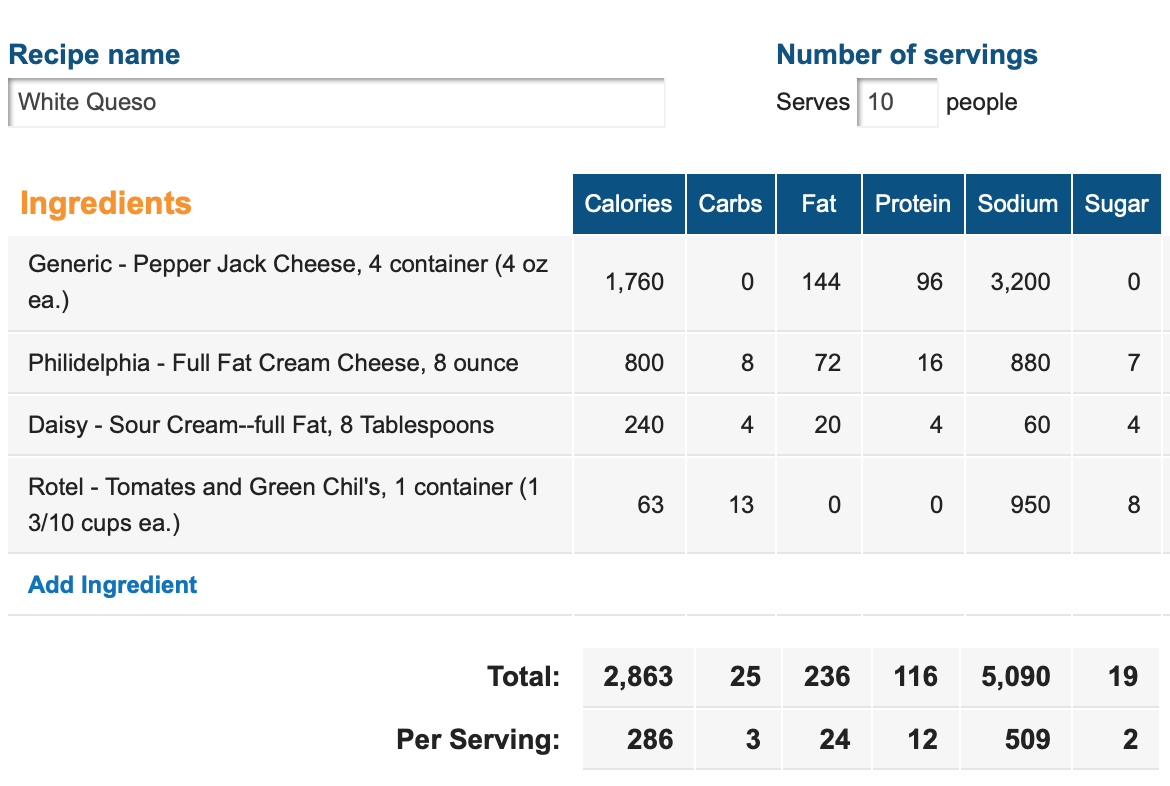 *Disclaimer: I am part of the Amazon Associates Program, and there may be affiliate links on this page. If you buy anything through my website, I will receive a small percentage of the profit at no extra cost to you. Thank you for supporting my blog!*