No eggs or meat needed for this brunch classic! Vegan Broccoli, Ham & Cheese Quiche uses plant-based ingredients for a hearty and delicious savory pie, perfect for breakfast or make-ahead prep.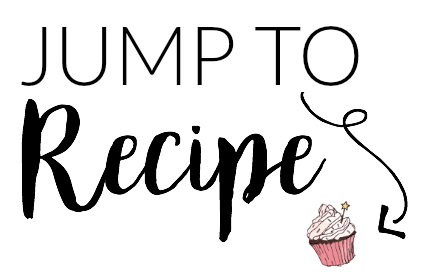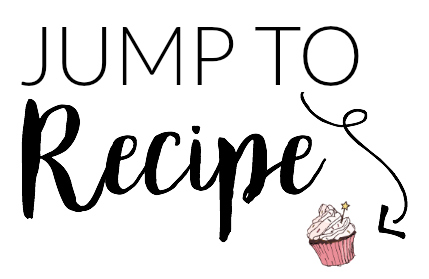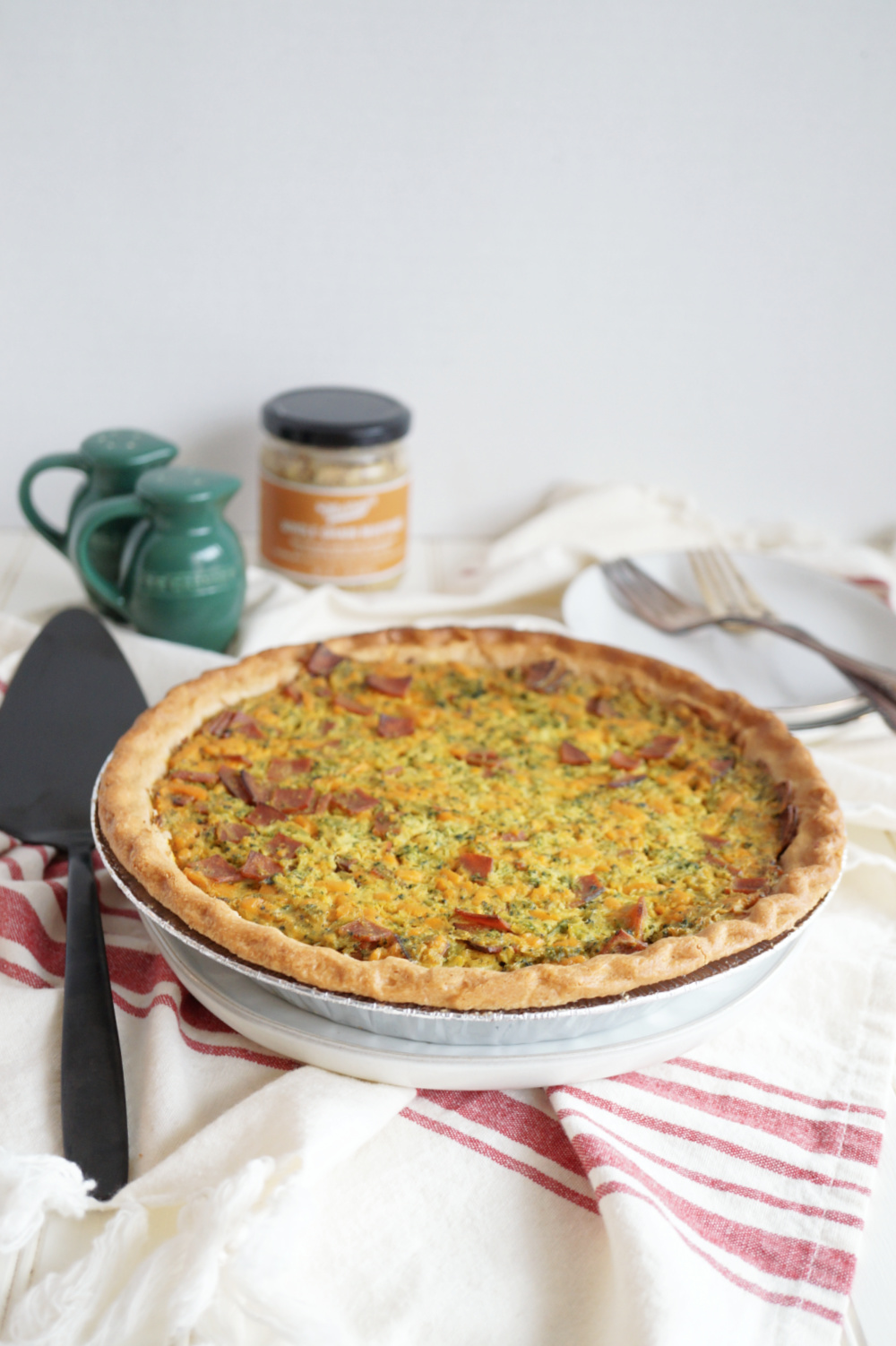 Happy Wednesday my lovely friends! I have a scrumptious new recipe for you today and am so excited to share! I got a sweet comment from a reader awhile back on my spinach artichoke vegan quiche, saying that she loved that recipe so much and wished I had more quiches for her to try. Well... ask and you shall receive! I whipped up this Vegan Broccoli, Ham, and Cheese Quiche and it is seriously delicious. Cheesy, rich and slightly smoky from the vegan ham. It is a perfect combination of flavors!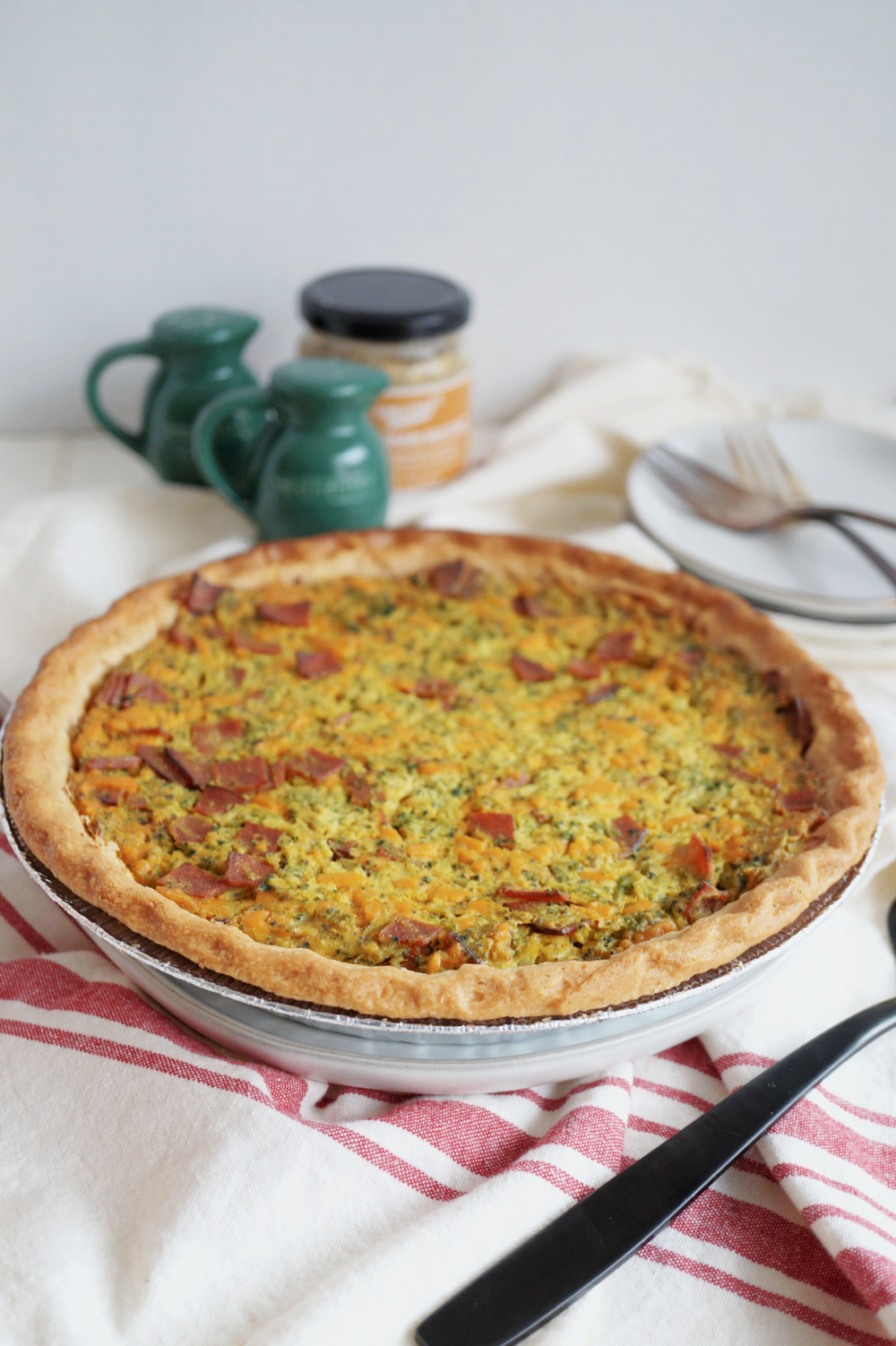 I know you may be thinking... how can you make a quiche without eggs? Easy! There's plenty of replacements! My favorite egg replacement in a recipe like this is silken tofu - cheap, easy to find in stores, and very versatile. I just blend it up in my food processor with some olive oil and spices and it makes the perfect quiche filling. In a pinch, I have also used Just Egg and it works super well, it is just more pricey. Either one will work in this case with the broccoli, ham, and cheese mixture!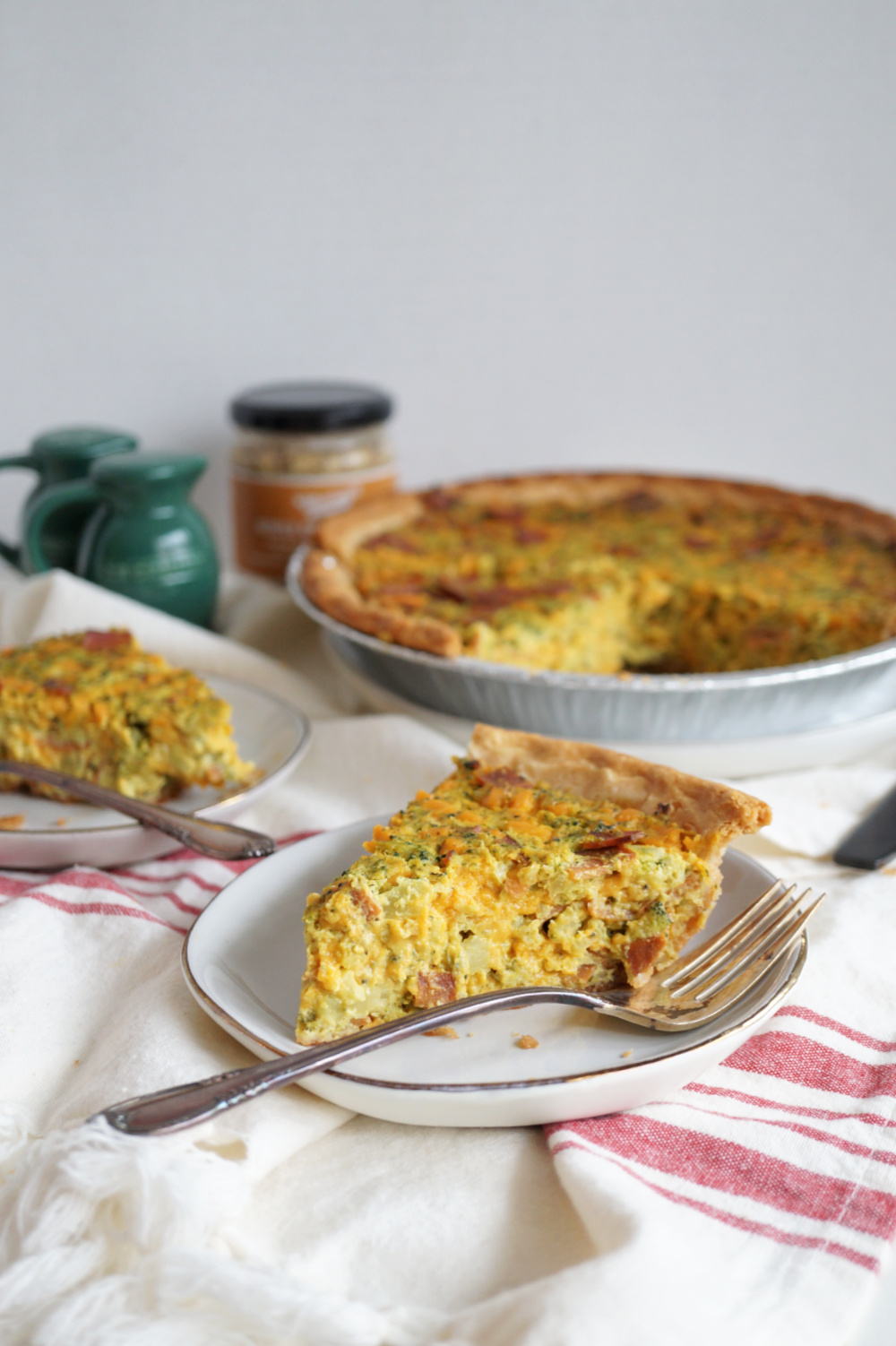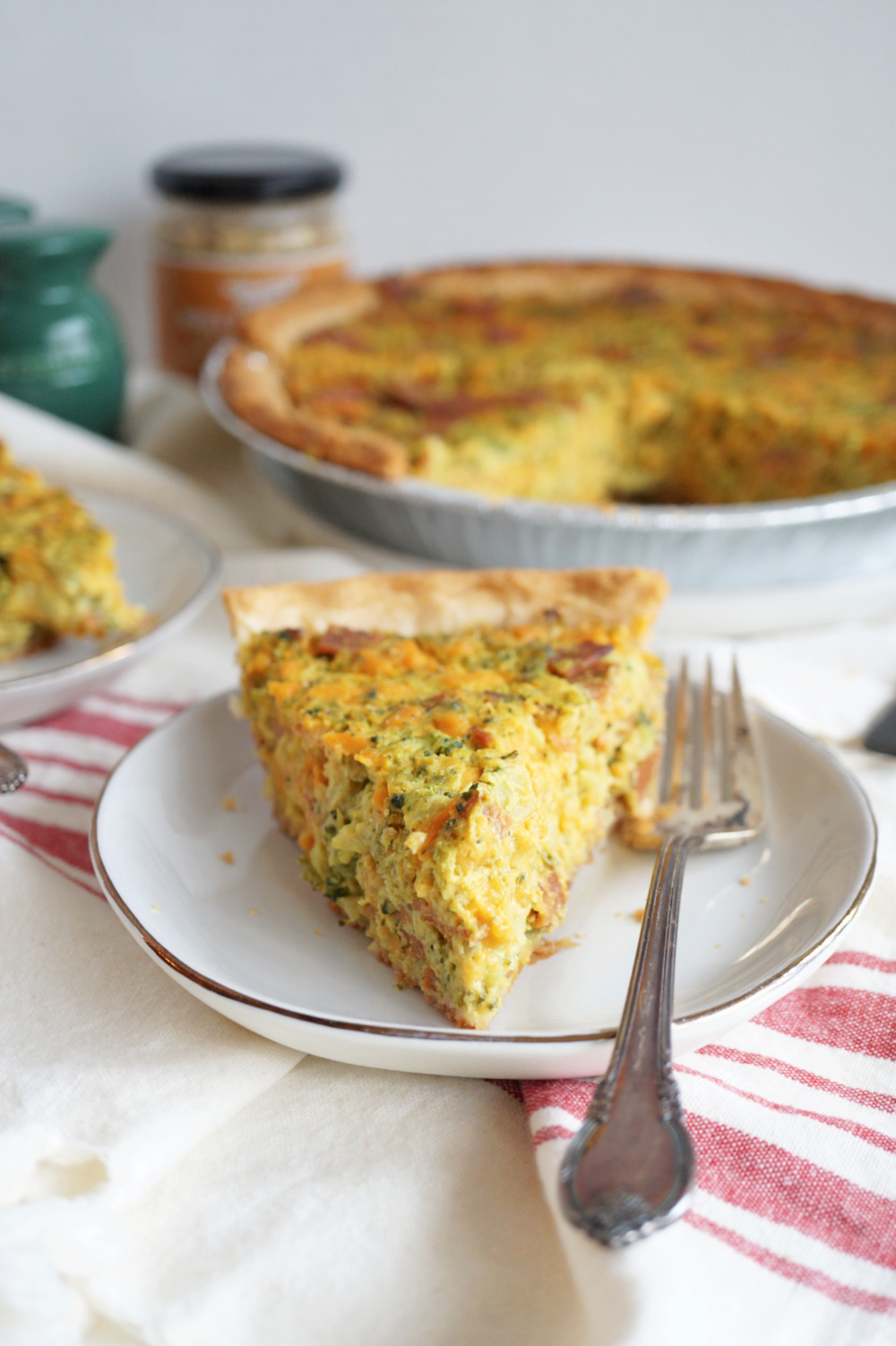 What do I need to make this vegan broccoli, ham, and cheese quiche?
Silken tofu: I use this as an egg replacer for the quiche filing and it works perfectly! Just toss it in a food processor with some spices, olive oil, and nutritional yeast, and nobody will notice the lack of eggs.
Kala namak salt: This is my secret ingredient anytime I am replacing eggs! This special salt adds a sulfury flavor that perfectly replicates eggs in any dish.
Pie crust: I like to keep things simple... most store-bought pie crusts are made with shortening and therefore vegan friendly. Double-check the ingredients just to be safe. I prefer getting the pie crusts that are frozen in the tin to make it extra simple!
Broccoli: Again, in the spirit of keeping things easy, I used frozen steamed broccoli! Chop it up in small pieces for the best texture.
Vegan ham: This is optional, but the smokey flavor of the ham works perfectly in the quiche to add a nice savory twist! You can use your favorite vegan "deli" meat or even diced vegan sausage if you can't find ham. I like the one from the Simple Truth brand at Kroger.
Vegan cheddar cheese: Cheese is a must in any quiche! A nice "cheddar" pairs perfectly with the broccoli and ham, but you can use whatever cheesy shreds you prefer. I used the Miyoko's cheddar for the first time in here and it was really good! I also really enjoy Violife cheese shreds.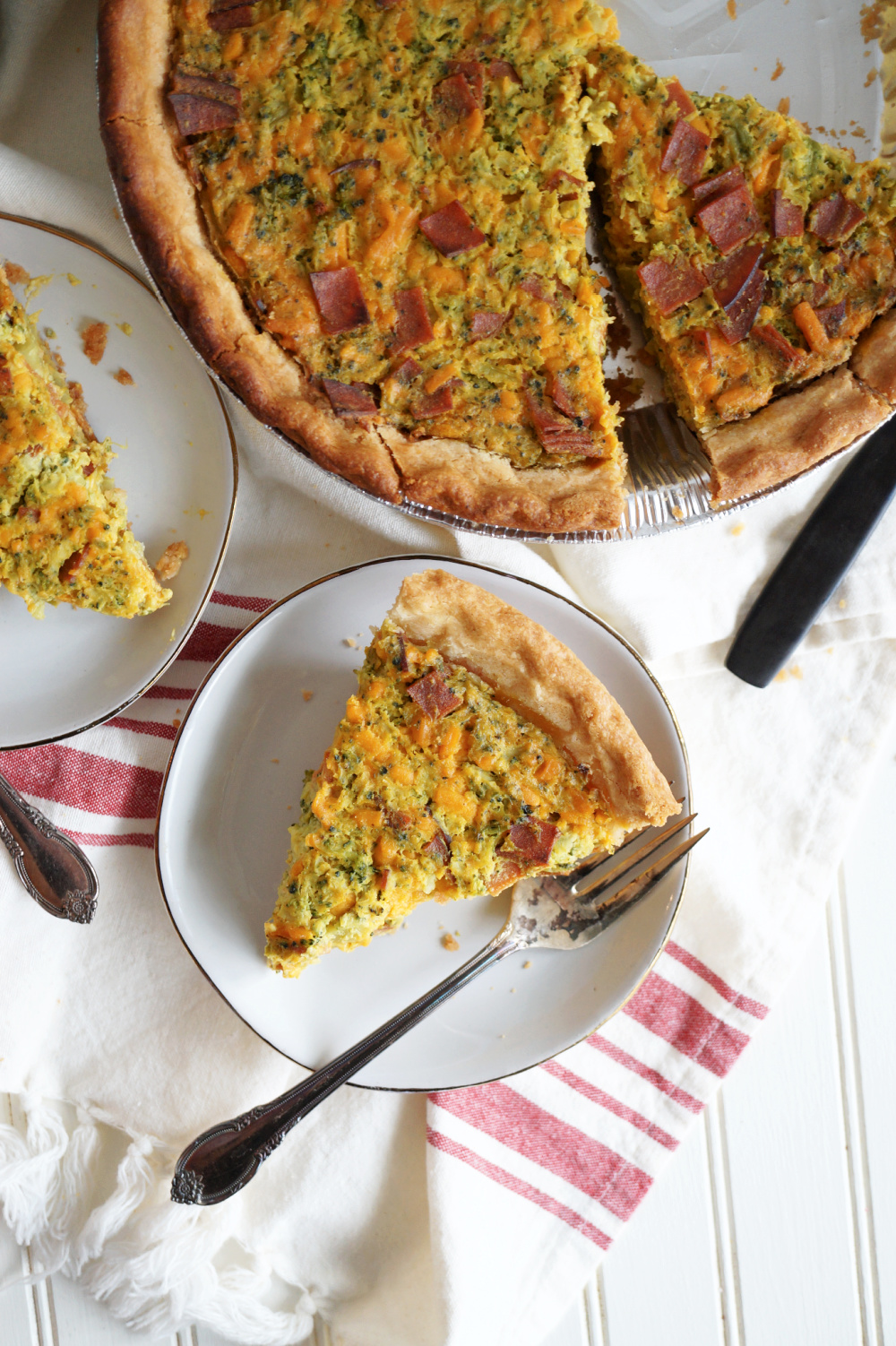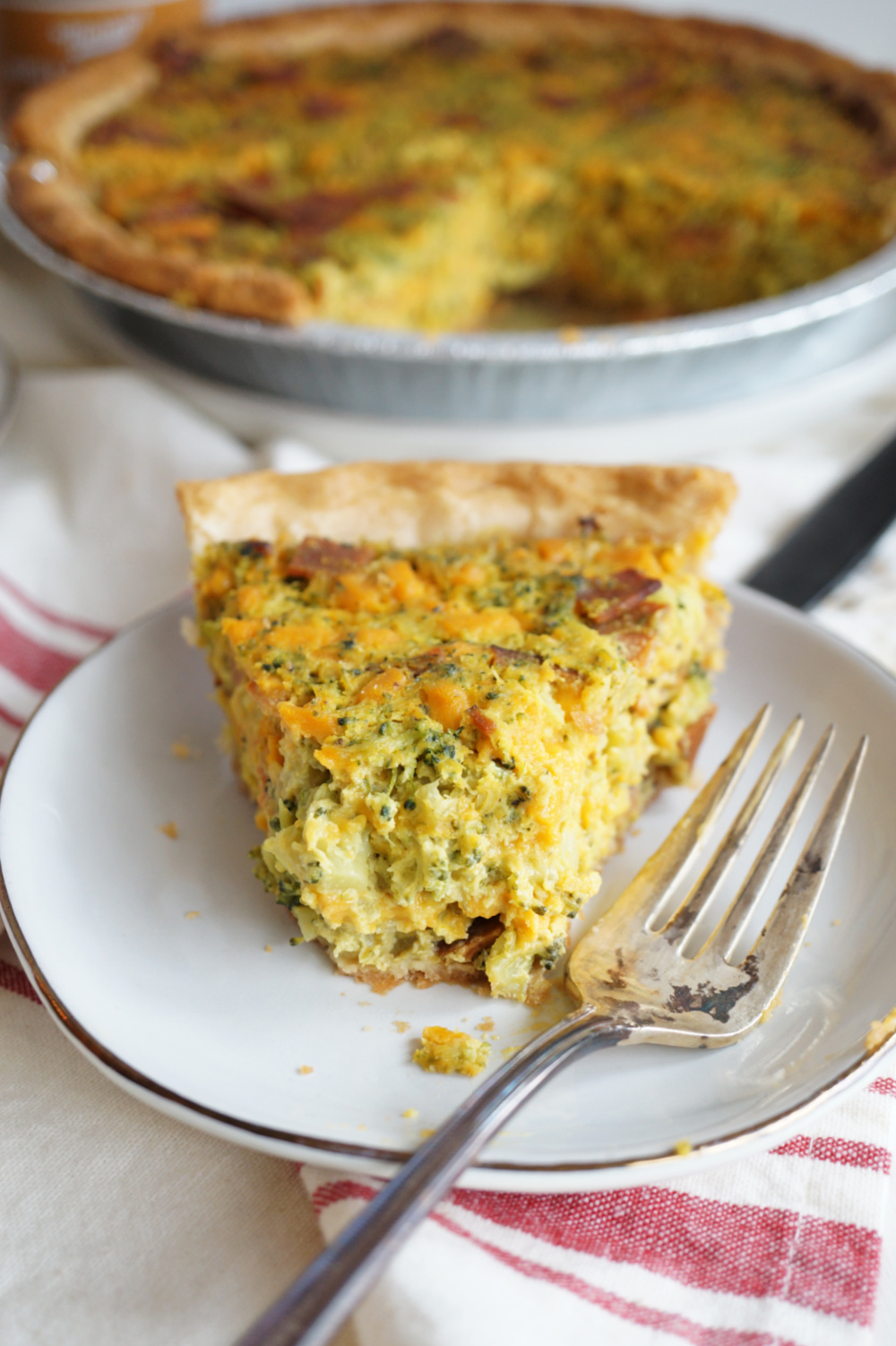 I hope you guys will give this vegan broccoli, ham & cheese quiche a spin soon... it is so easy to cook up and a perfect make-ahead or meal-prep breakfast or brunch option! Serve it with some home fries or a nice fresh salad to round out your meal 🙂 Happy cooking!
Check out these other delicious quiche recipes!
vegan broccoli, ham, and cheese quiche
No eggs or meat needed for this brunch classic! Vegan Broccoli, Ham & Cheese Quiche uses plant-based ingredients for a hearty and delicious savory pie, perfect for breakfast or make-ahead prep.
Author:
Valentina | The Baking Fairy
Ingredients
one 9-inch deep dish frozen pie crust
*for the filling*
12oz silken tofu
1 tablespoon extra virgin olive oil
3 tablespoon nutritional yeast
¼ teaspoon turmeric
¼ teaspoon Kala Namak black salt (optional, can sub with more regular salt)
½ teaspoon regular salt
¼ teaspoon freshly ground black pepper
¾ teaspoon garlic powder
½ teaspoon onion powder
*for the mix-ins*
12 oz (about 2 cups) broccoli florets
6-8 slices vegan ham
1 cup vegan cheddar shreds
Instructions
Preheat oven to 425F.
Prick the bottom of your frozen pie crust, and place a piece of foil on the surface. Top with pie weights or dry beans, and bake for 15 minutes.
While the crust par-bakes, start on the mix-ins. I bought steam-in-bag broccoli, but you can steam it or quickly blanch it in a pot, or use it raw. Chop it up into very fine pieces. Cut up the ham slices into small cubes as well. Set these aside for now.
To prepare the tofu filling, combine the silken tofu, olive oil, nutritional yeast, and all the spices in a food processor. Blend until smooth and creamy.
When the pie crust is finished par-baking, lower the oven temperature to 375F.
Combine the tofu cream with the chopped broccoli and diced vegan ham, add in the vegan shredded cheese, and pour into prepared crust.
Place in oven at 375F and bake for 40-45 minutes, until filling is set and light golden brown on top. If crust starts to get too dark, cover with a piece aluminum foil to keep it from burning.
Let quiche come to room temperature before attempting to cut and serve. I find that the texture is the best if you can make it a day ahead! Store leftovers in the fridge.
*Disclosure: I am part of the Amazon Associates Program, and there may be affiliate links on this page. If you buy anything through my website, I will receive a small percentage of the profit at no extra cost to you. Thank you for supporting my blog!*