This Vegan Spinach Artichoke Mushroom Quiche combines fresh veggies and a tofu "egg" filling in a flaky pie crust for the ultimate savory breakfast, brunch, or lunch!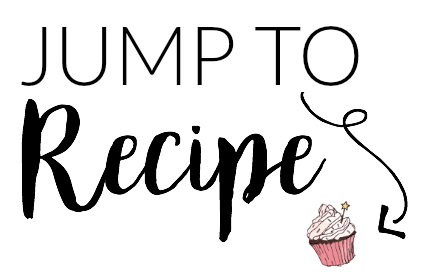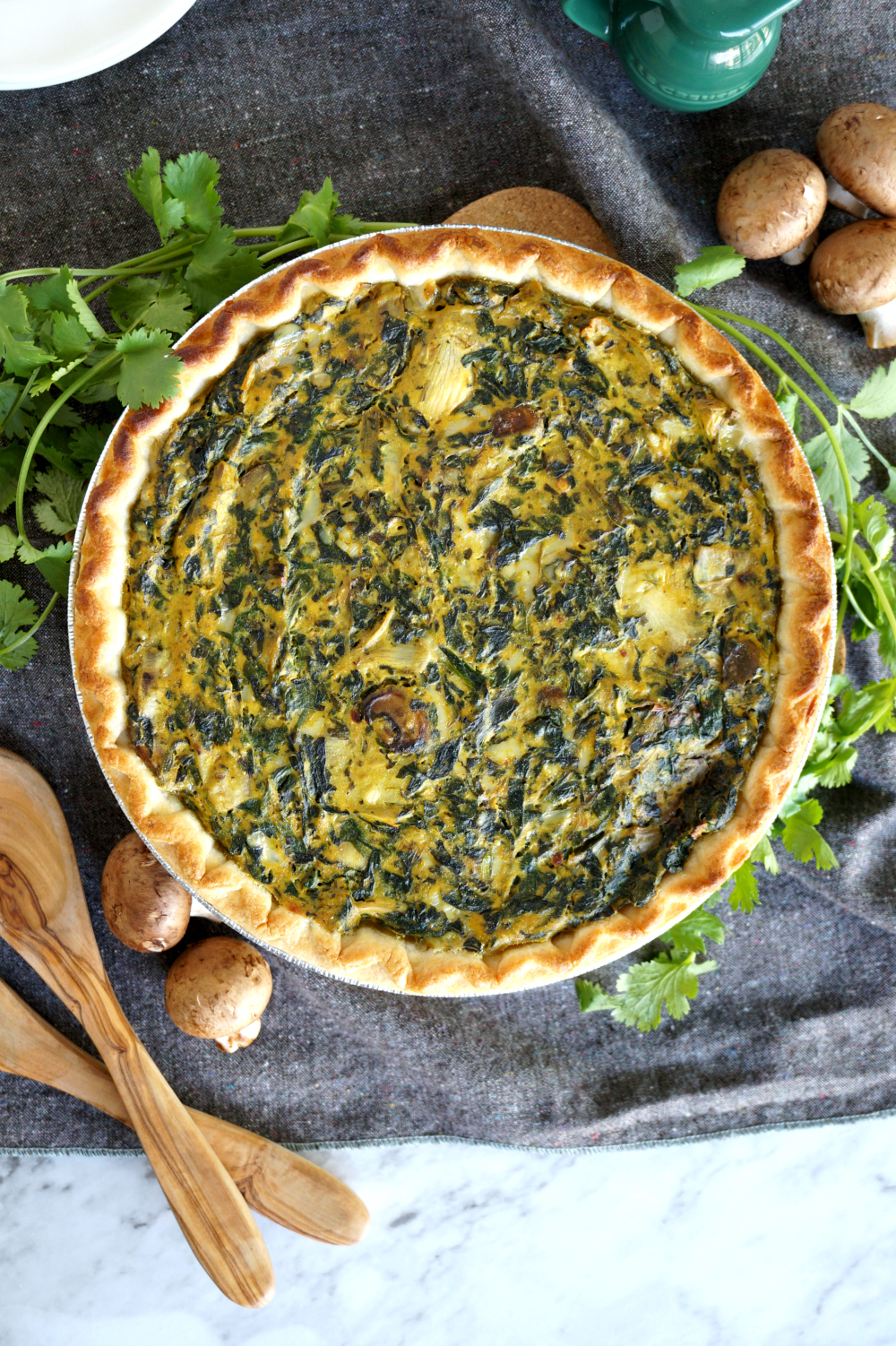 Happy Friday, friends!! I am super pumped to be sharing a savory vegan breakfast recipe with you today. I had gotten some requests for this a few weeks ago when I asked what kind of recipes you guys wanted, so here I am! This Vegan Spinach Artichoke Mushroom Quiche is incredibly delicious, easy to make, and perfect for breakfast, brunch, lunch - whatever your heart desires. Let's go make it!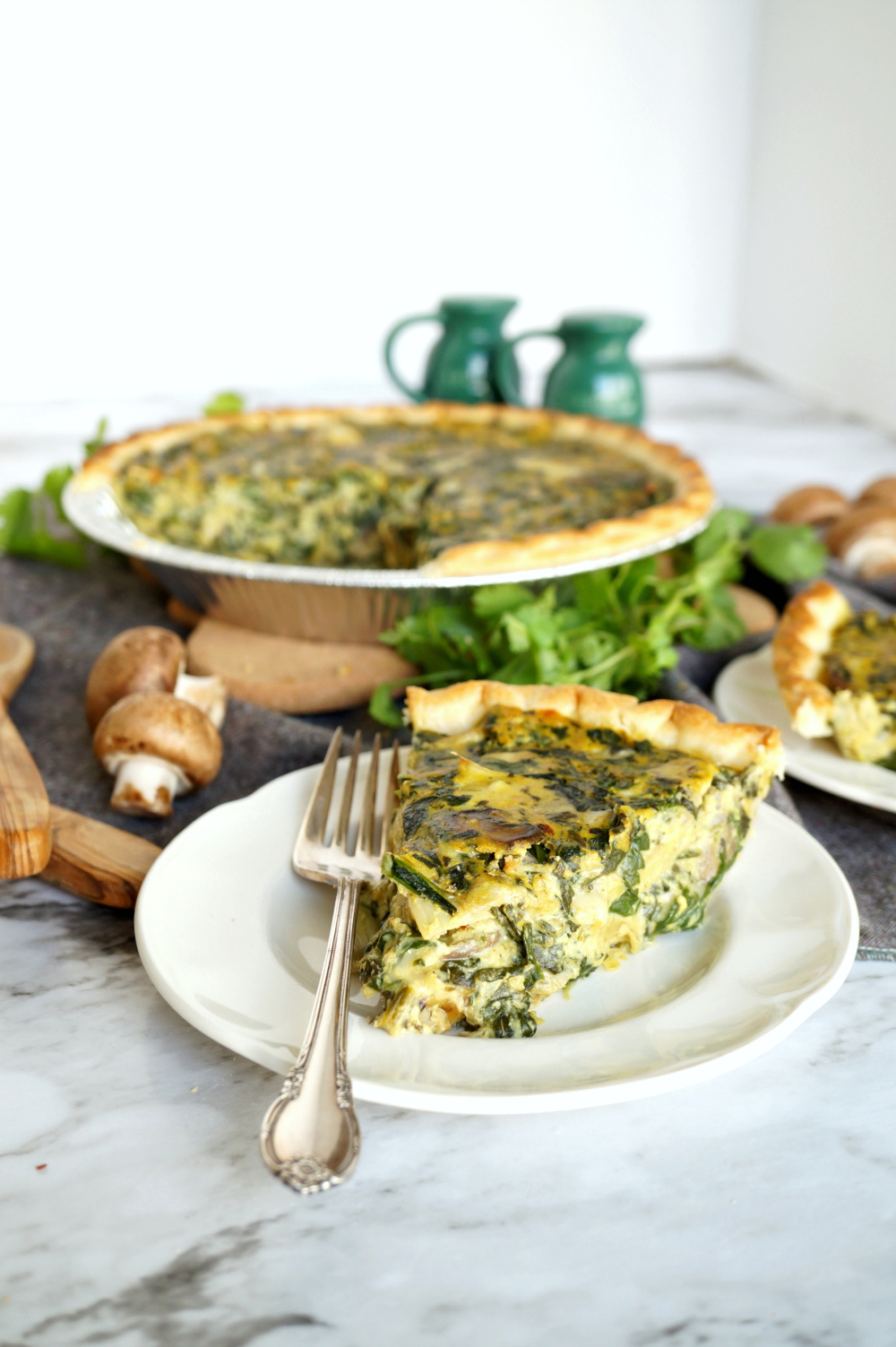 Vegan quiche - I know the concept sounds kind of crazy, but it turned out to be surprisingly simple to make! You pretty much proceed as you would for regular quiche... start by getting a frozen pie crust and sauteing the veggies you want to use in the filling. The main difference is that instead of eggs, we are using silken tofu! You just throw it in a food processor with some nutritional yeast, EVOO, and spices, and blend until smooth and creamy. That's it! Mix it with your veggies, pour it into your crust, and all that's left to do now is bake. I decided to make a vegan spinach artichoke mushroom quiche, but really, you can use whatever veggies or faux meat you like best!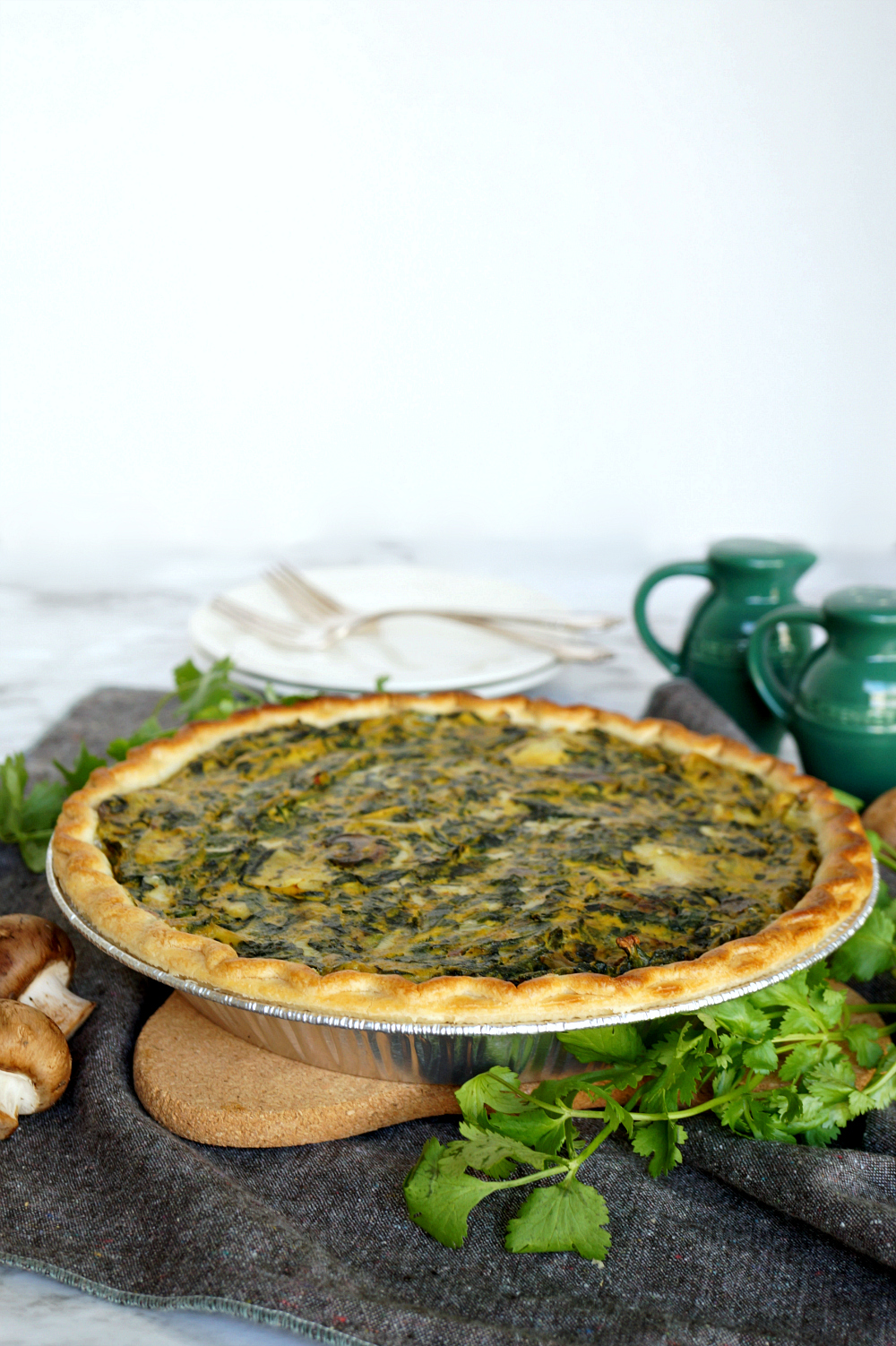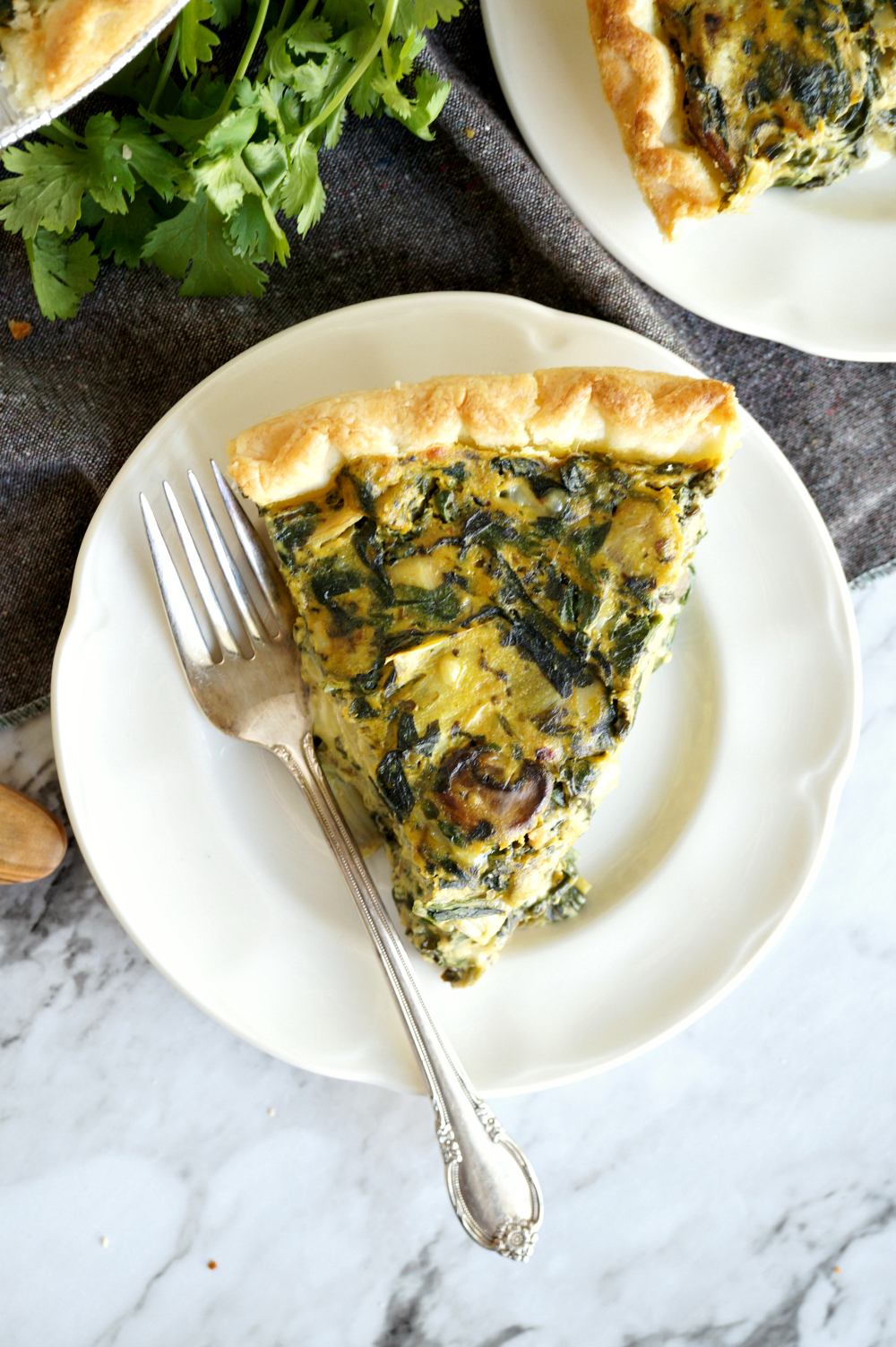 While this vegan quiche is awesome because of how easy and tasty it is, I think the best part has to be that leftovers taste EVEN BETTER than when it's fresh out of the oven! The silken tofu does need some time to set after baking, so when I enjoyed a slice freshly baked, it was almost too soft and creamy. The flavors were great, but I thought I needed some tweaking to the recipe. However... leftovers the next day were spot on! The texture was firm and it cut like a dream, just like an egg quiche. Hurray!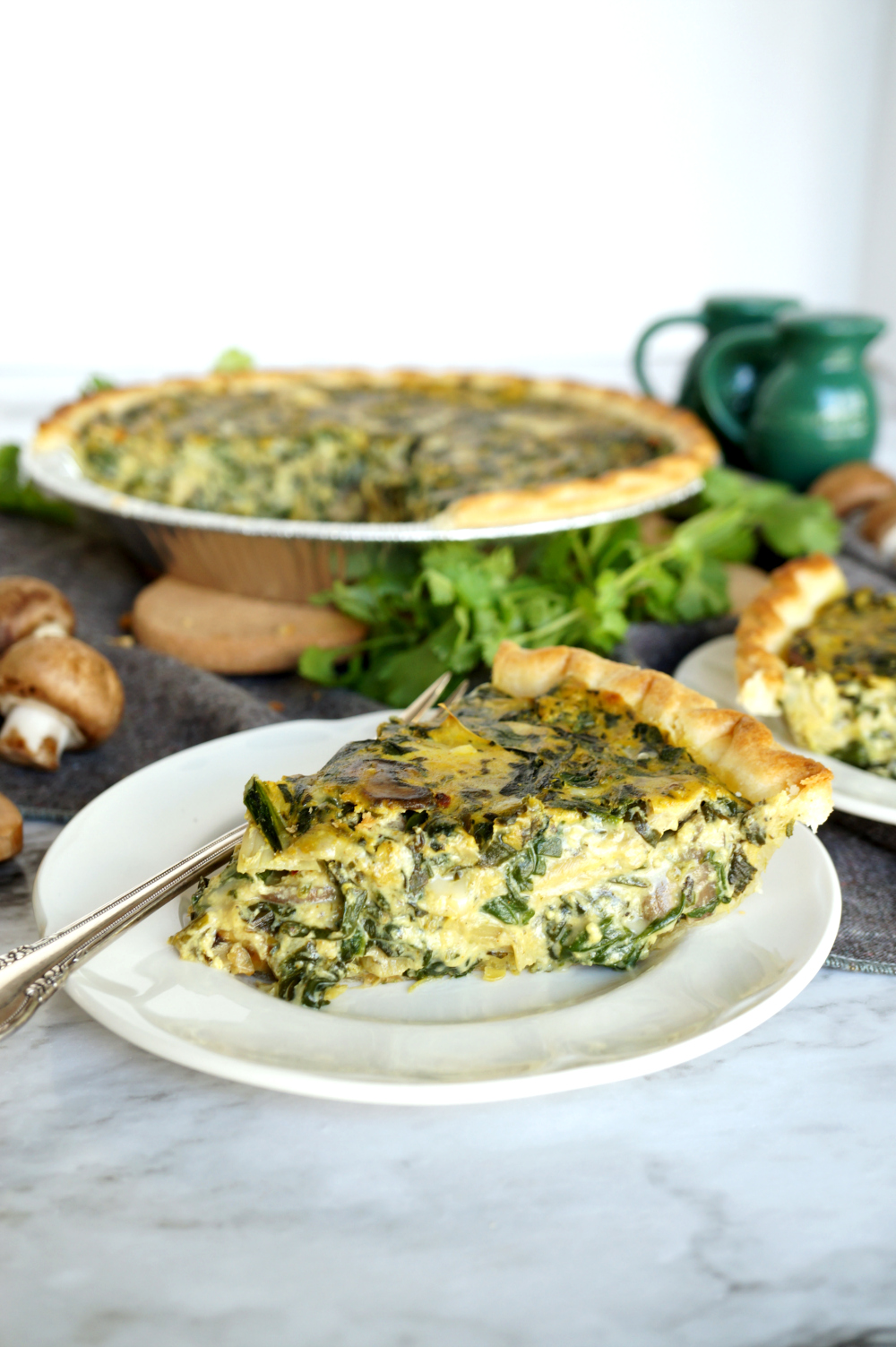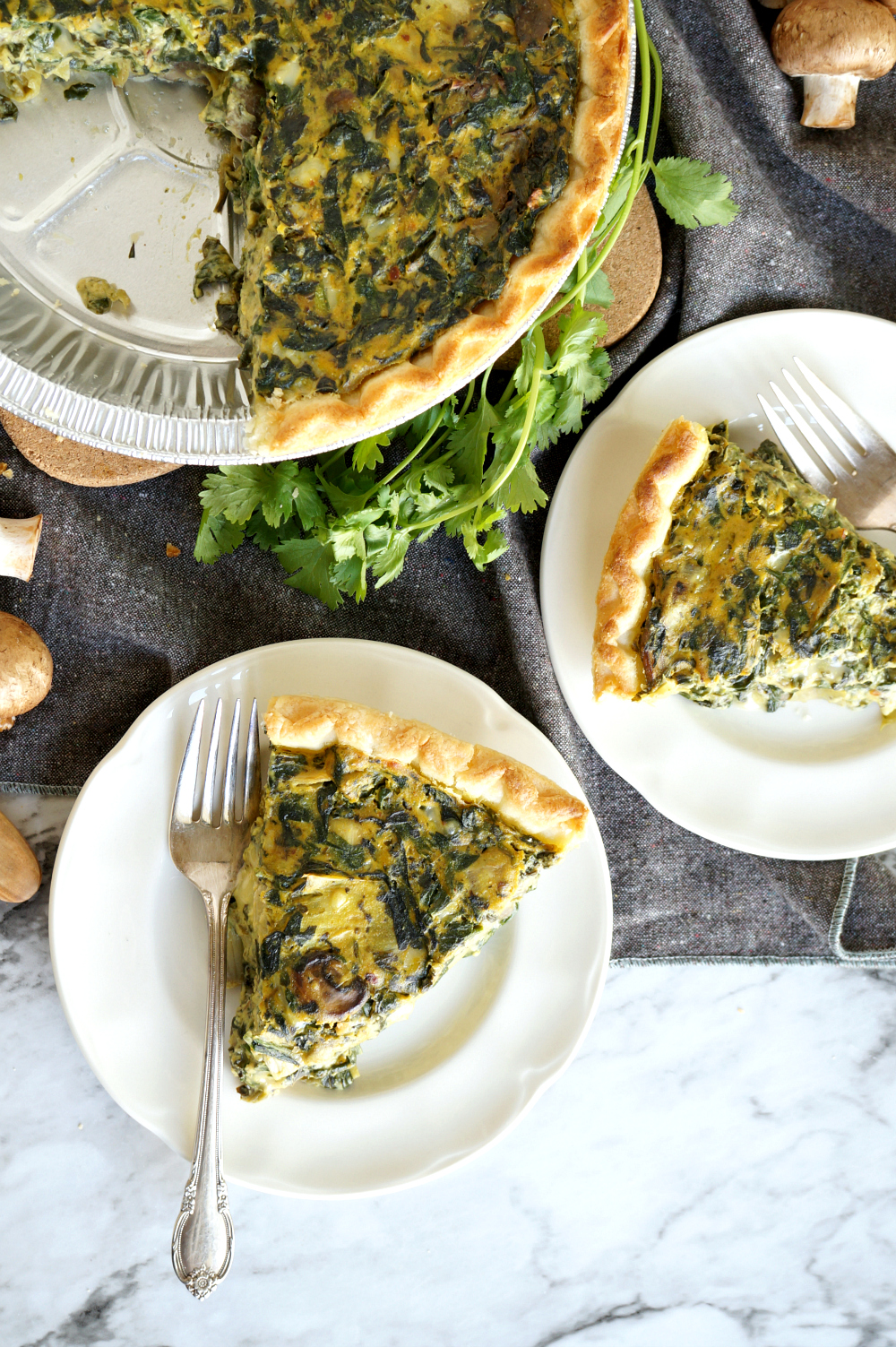 I hope you guys will give this vegan spinach artichoke mushroom quiche a try! It's awesome because:
It is so tasty and super easy to make!
You can use any kind of veggies, vegan cheese, or faux meat your heart desires - SUPER easy to customize!
It uses a frozen pie crust because who's got time to make pie crust from scratch?!
The leftovers are ACTUALLY incredible (and maybe... even better than eating it fresh IMO)
If you somehow still don't believe that it's delicious...  my very much NOT vegan, eats-meat-at-every-meal sister-in-law had to actually ASK me if it was vegan because it tastes like normal egg quiche to her. And she ate it all weekend long when she was here visiting. That's a win in my book!

Looking for more vegan breakfast ideas? Check out my Vegan Eggs Benedict, Vegan Breakfast Enchiladas, Vegan Tofu Scramble Breakfast Pockets, Vegan Buttermilk Pancakes, and my Apple Wheatberry Porridge. Happy eating!

vegan spinach artichoke mushroom quiche
This Vegan Spinach Artichoke Mushroom Quiche combines fresh veggies and a tofu "egg" filling in a flaky pie crust for the ultimate savory breakfast, brunch, or lunch!
Author:
Valentina | The Baking Fairy
Ingredients
one 9-inch deep dish frozen pie crust
*for the filling*
12oz silken tofu
1 tablespoon extra virgin olive oil
3 tablespoon nutritional yeast
¼ teaspoon turmeric
¼ teaspoon Kala Namak black salt (optional, can sub with more regular salt)
½ teaspoon regular salt
¼ teaspoon freshly ground black pepper
¾ teaspoon garlic powder
½ teaspoon onion powder
*for the filling*
1 cup frozen spinach
2 cups sliced mushrooms
one 14oz can of quartered artichokes, rinsed and drained
2 tablespoon olive oil
salt & pepper, to taste
½ cup vegan shredded cheese
Instructions
Preheat oven to 425F.
Prick the bottom of your frozen pie crust, and place a piece of foil on the surface. Top with pie weights or dry beans, and bake for 15 minutes.
While the crust par-bakes, start on the vegetables. In a large pan, heat up the olive oil over medium high heat.
Add in the mushrooms, and saute for a few minutes until golden brown. Add in the frozen spinach, followed by the rinsed artichoke hearts.
Season with salt and pepper, and cook until vegetables are soft and fragrant.
To prepare the tofu filling, combine the silken tofu, olive oil, nutritional yeast, and all the spices in a food processor. Blend until smooth and creamy.
When pie is finished par-baking, lower the oven temperature to 375F.
Combine the tofu cream and vegetables together, add in the vegan shredded cheese, and pour into prepared crust.
Place in oven at 375F and bake for 30-45 minutes, until filling is set and light golden brown on top. If crust starts to get too dark, cover with aluminum foil to keep it from burning.
Let quiche come to room temperature before attempting to cut and serve. Store leftovers in the fridge.