This post and recipe was created for #AppleWeek! I was sent products by some of the sponsor companies but as always opinions are 100% mine. #ad
Start your day off right with this warm and cozy vegan Caramelized Apple Wheatberry Porridge, topped with sweet cranberries and pumpkin seeds!
Hi friends and happy Thursday! #AppleWeek ain't over yet! I have yet another recipe for you tomorrow and you have until the end of the week to enter the giveaway so be sure to do that before it's too late! 😉 Today, I am sharing something a little healthier but still super warm and cozy. This Caramelized Apple Wheatberry Porridge with Cranberries and Pepitas is so creamy, comforting, and perfect for a cold weather breakfast! It's also totally vegan, but my title was already so long that I didn't add that in ?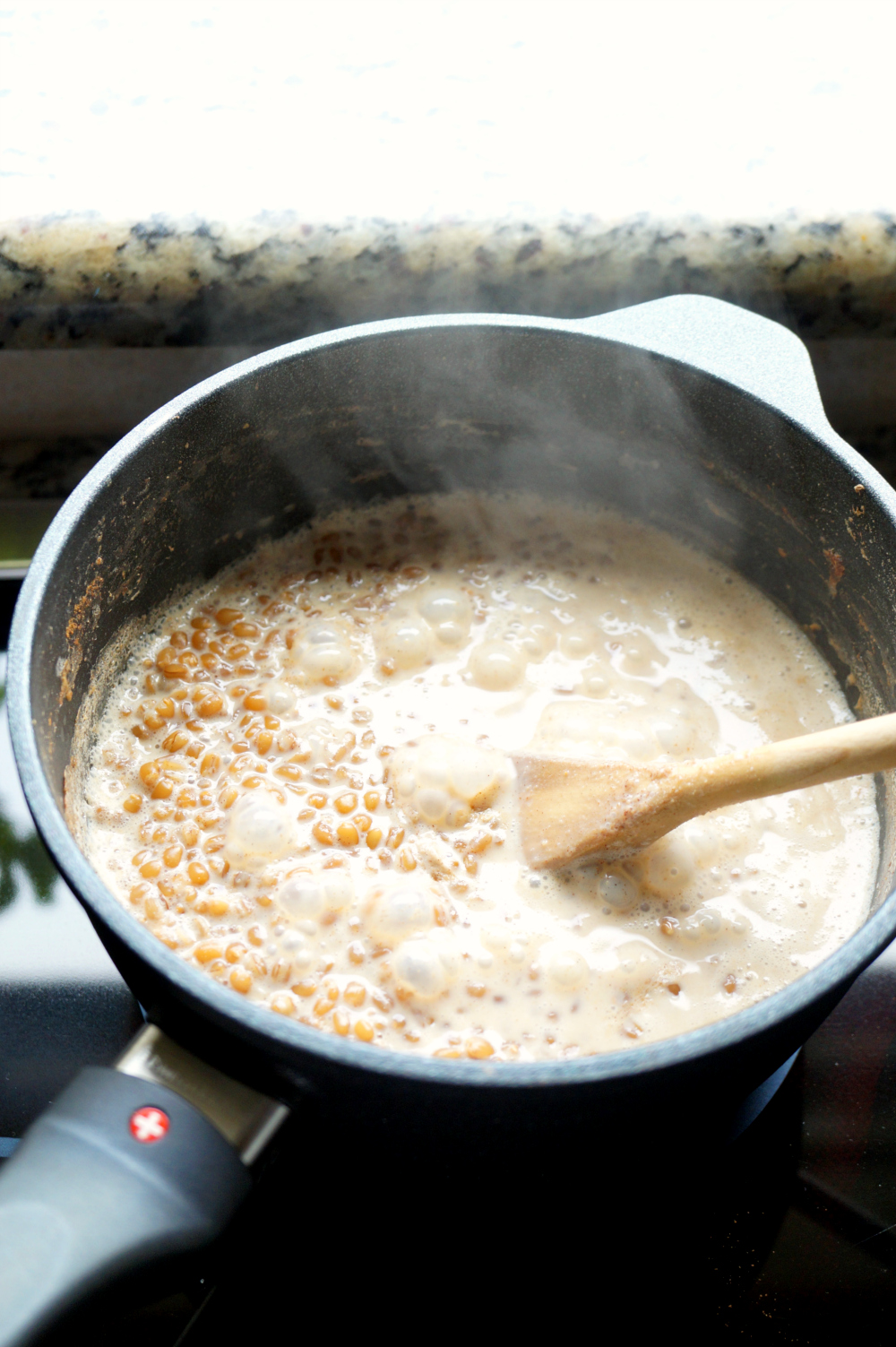 Today's lovely, generous sponsor is Swiss Diamond Cookware! I was sent this absolutely stunning 2.2Qt Saucepan with Lid and it worked perfectly to cook my wheatberry porridge! It was also equally great at making my caramelized apples 🙂 It's a heavy duty pot coated with their special non-stick diamond coating which works like a dream. I know it's crazy, but none of the sugars and cooked milk STUCK which is basically a small miracle when making any sort of caramelized fruit or grain pudding. It's not hard to see why this is definitely my new favorite pot! GAH ?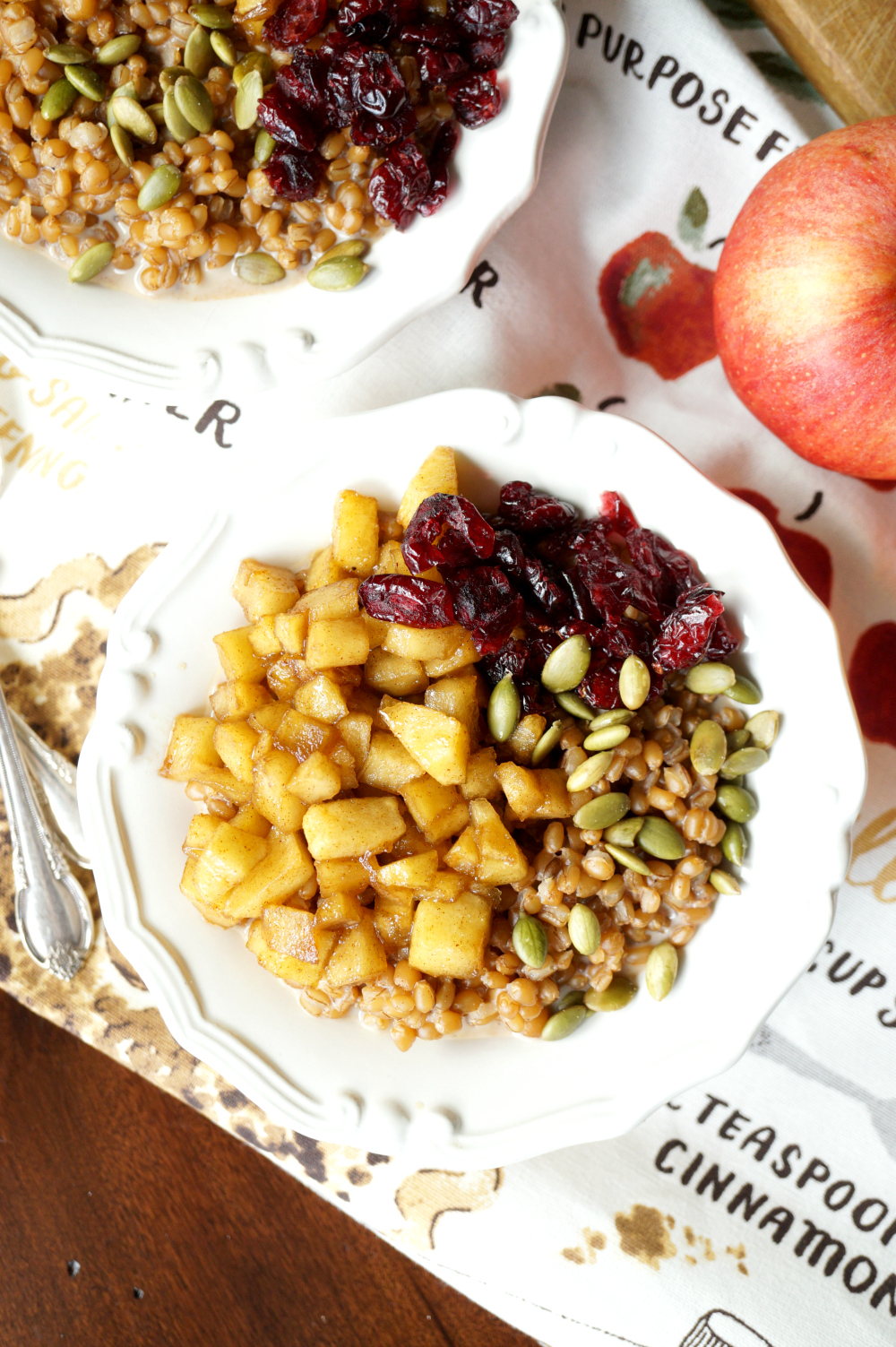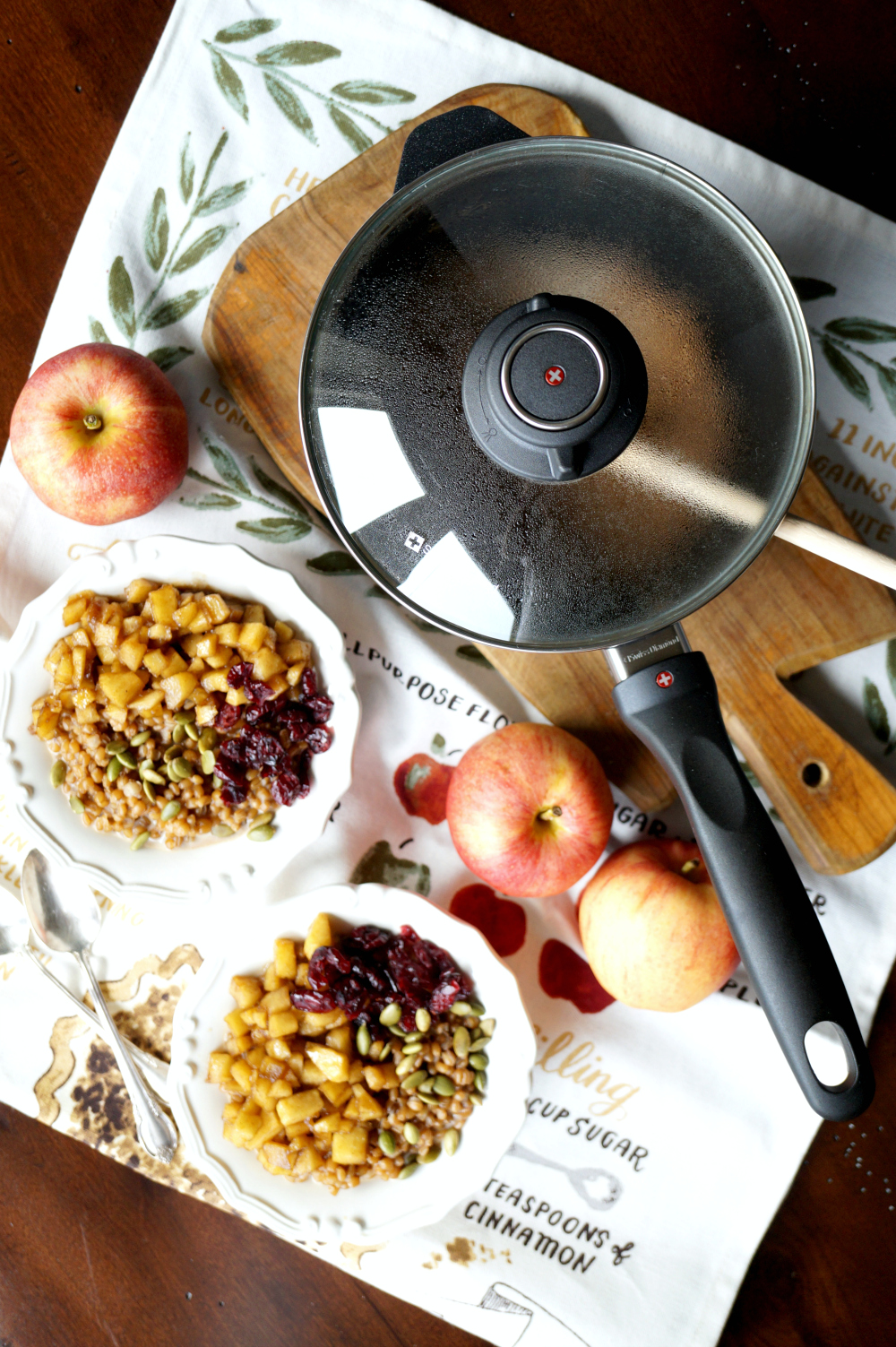 Have you had wheatberry porridge before? If not, then you are in for a treat! I wanted to make a breakfast dish using something other than the usual oatmeal or chia seeds, and these little babies definitely fit the bill. They do take a while to cook so be warned, but once ready, they are delightfully chewy and soft! They pair so well with the sweet caramelized apples, tart cranberries, and crunchy pepitas. It's the perfect fall breakfast!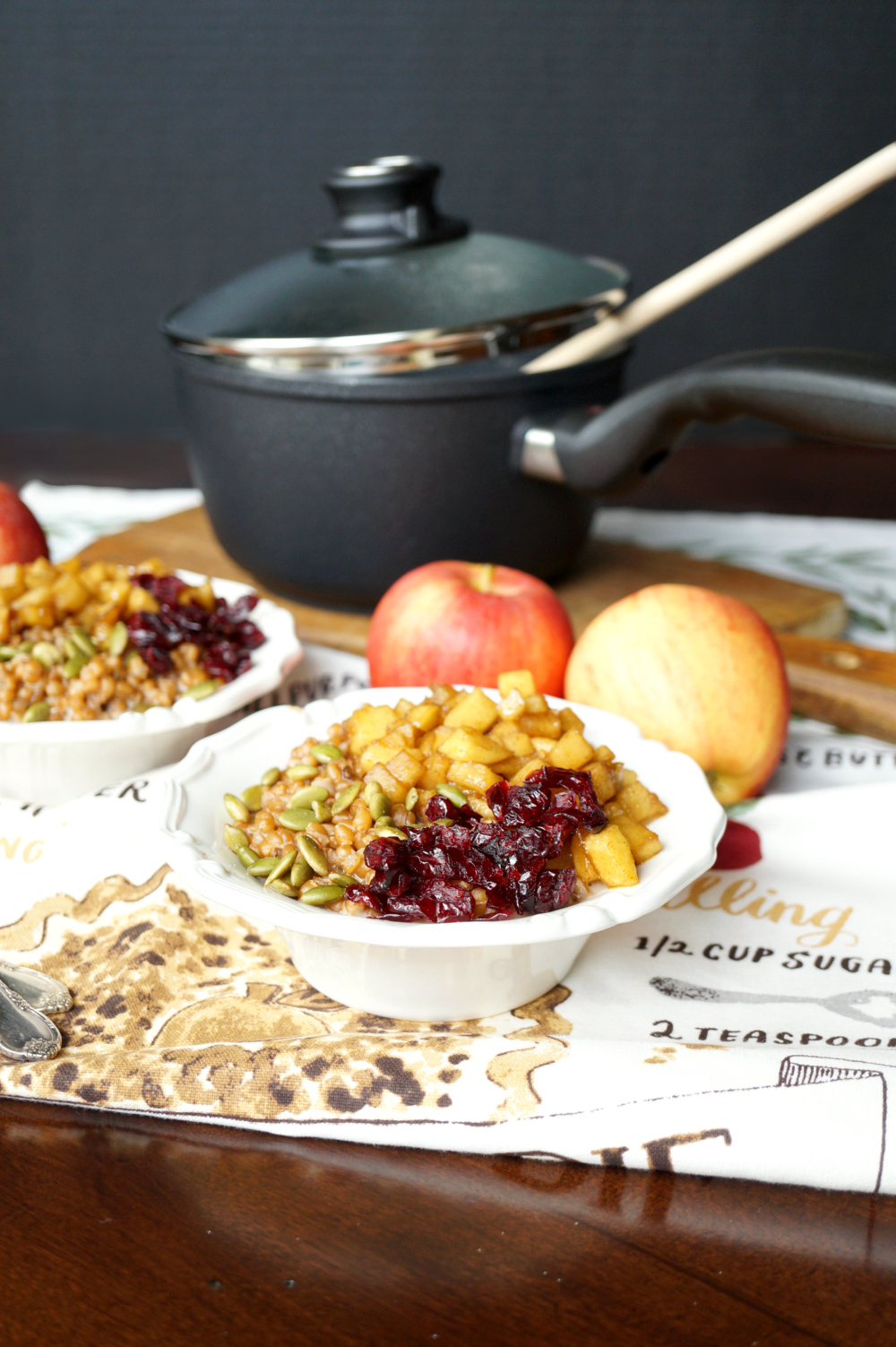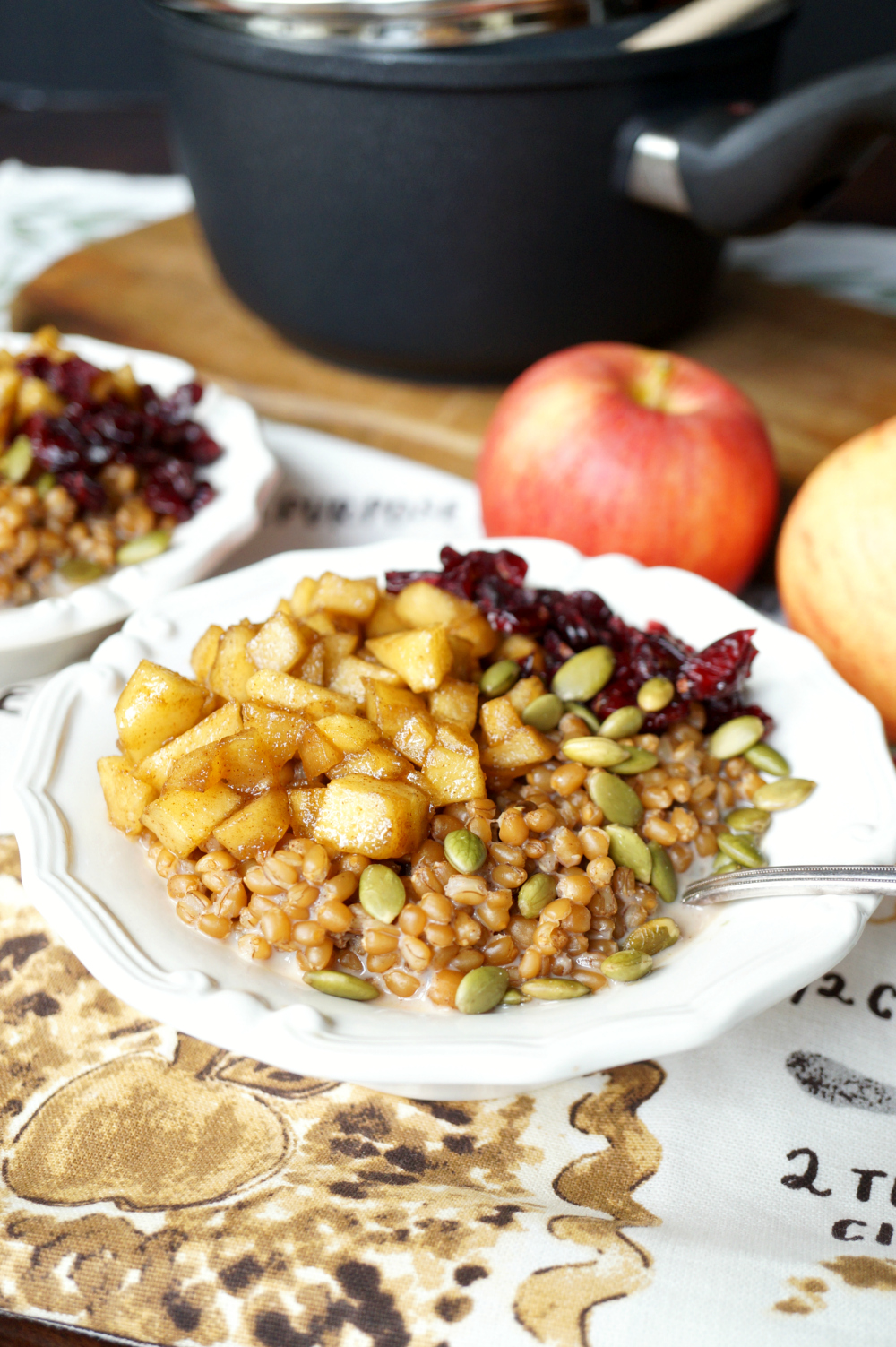 I hope you'll make this delightful caramelized apple wheatberry porridge sometime this fall! There really is nothing more comforting than a warm, steaming bowl to enjoy first thing in the morning 🙂 Happy cooking!

caramelized apple wheatberry porridge with cranberries and pepitas #AppleWeek
Start your day off right with this warm and cozy vegan Caramelized Apple Wheatberry Porridge, topped with sweet cranberries and pumpkin seeds!
Author:
Valentina | The Baking Fairy
Ingredients
1 cup wheatberries
4 cups water
1½ cups unsweetened soy milk
1 teaspoon apple pie spice
½ teaspoon ginger powder
½ teaspoon vanilla extract
5 packets Stevia (can also sub ¼ cup brown or granulated sugar)
*to make the caramelized apples*
2 apples, peeled, cored, and diced
1 tablespoon coconut oil
¼ cup brown sugar
½ teaspoon apple pie spice
*to serve: cranberries and pumpkin seeds
Instructions
First, cook the wheat berries. Place in medium pot with 4 cups of water, and bring to a boil. Once boiling, lower to a simmer and cook for about 1 hour, until wheat berries are soft and slightly chewy.
When ready to make the porridge, combine your cooked wheat berries with the soy milk, apple pie spice, ginger, vanilla, and Stevia. Simmer on low until milk mixture thickens, about 20-30 minutes.
While the wheat berries cook, prepare the caramelized apples. In a medium nonstick pot, melt the coconut oil over medium heat. Add in the apple chunks, brown sugar, and apple pie spice. Cook, stirring often, until apples are soft and syrup has turned thick, about 15-20 minutes.
When ready to serve, spoon out some of the wheatberry mixture, top with the caramelized apples, cranberries, and pumpkin seeds. Enjoy warm!
Be sure to check out all the other delicious blogger creations from today!
Thursday Recipes: