If you've ever had a baby, you know that the postpartum period is crazy busy, with no sleep or free time! These simple, nourishing recipes are here to save the day and keep you fed.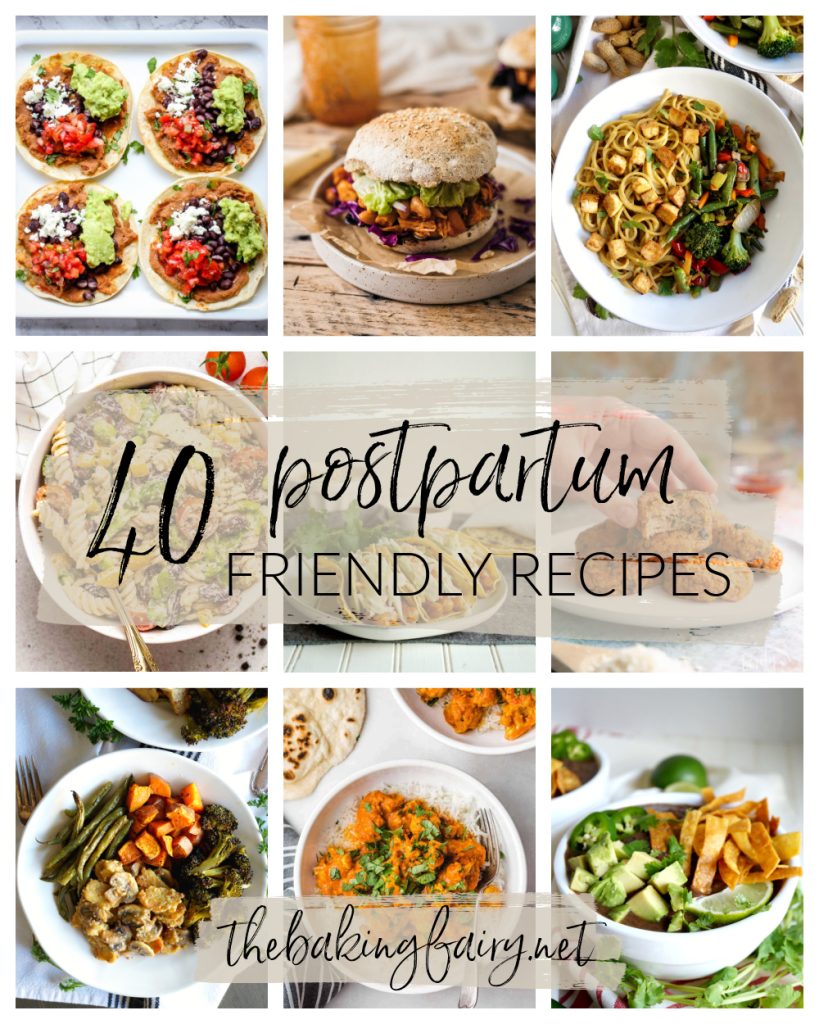 Hello my reader friends! Long time, no see! If you follow me on social media, you may have seen my announcement - we welcomed our little girl on 4th of July!!! Being mom to a newborn has been a complete whirlwind and we are just trying our best to survive on her schedule with limited sleep 🙂 But truly I can't complain - she is such a good baby and so stinkin' sweet. We are absolutely smitten with her!
Even with a newborn, my husband & I need to eat! I have been trying to focus on super fast, easy meals that I can throw together quickly or prep while baby is napping. We have done takeout a few times, but personally eating out too many days in a row makes me feel bad and that paired with the sleep deprivation is not a good combination. I prefer home cooked meals when I can manage them! I am here today to share some tips & tricks as well as a roundup of postpartum friendly recipes from both my site & my blogger friends. Enjoy!
Quick mealtime hacks
Frozen vegetables - frozen veggies are one of my all-time favorite mealtime hacks! I love having vegetables in my freezer that I can quickly cook and add to my meals - even better if they are steam-in-bag. This is an easy way to add extra nutrition with not much extra work (and no extra dishes if microwave-friendly)!
Bagged salad mix - another one of my favorite semi-homemade hacks! Bagged salad comes together in a couple of minutes and makes a great side dish or meal starter - just add some protein on top and you are good to go! I like getting the mixes that have the dressing and crunchy toppings included so it's super simple.
Frozen pizzas - listen, they sell some really good and fancy frozen pizzas nowadays! I like having a couple in the freezer to make for dinner in a pinch. Eat it as-is or pair it with the aforementioned salad for a fast meal.
Plan for leftovers - when able, I try to cook a bit extra so that we have leftovers for quick meals the following day or two! It's much easier to reheat a meal in the microwave while holding a baby than trying to cook from scratch. I like to pack my leftovers in individual portions when able to make the reheating super simple.
Breakfast Ideas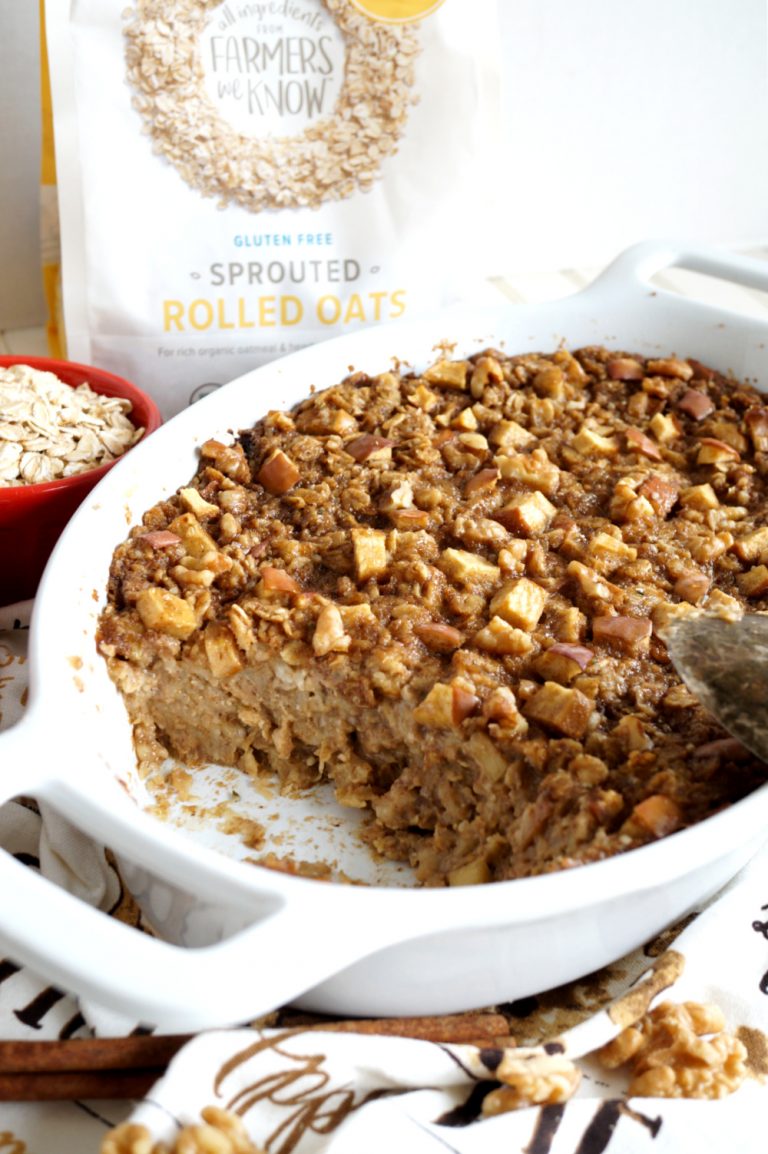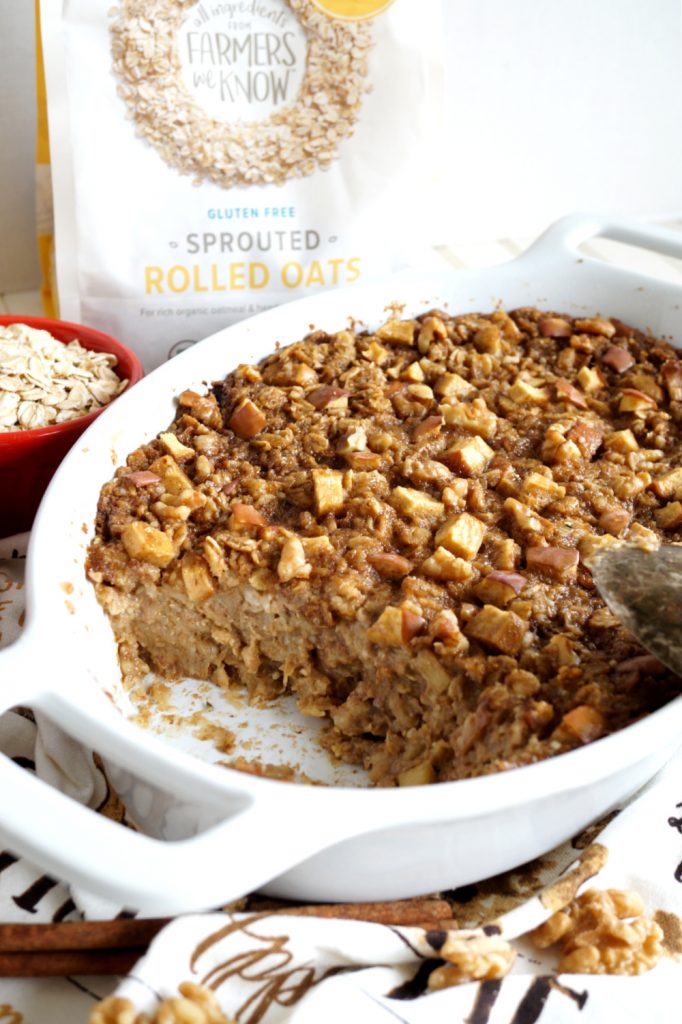 Apple Cinnamon Baked Oatmeal (The Baking Fairy) - This Creamy Vegan Apple Cinnamon Baked Oatmeal is incredibly simple to make, but tastes rich, hearty, and delicious. It is perfect for a make-ahead breakfast on chilly mornings!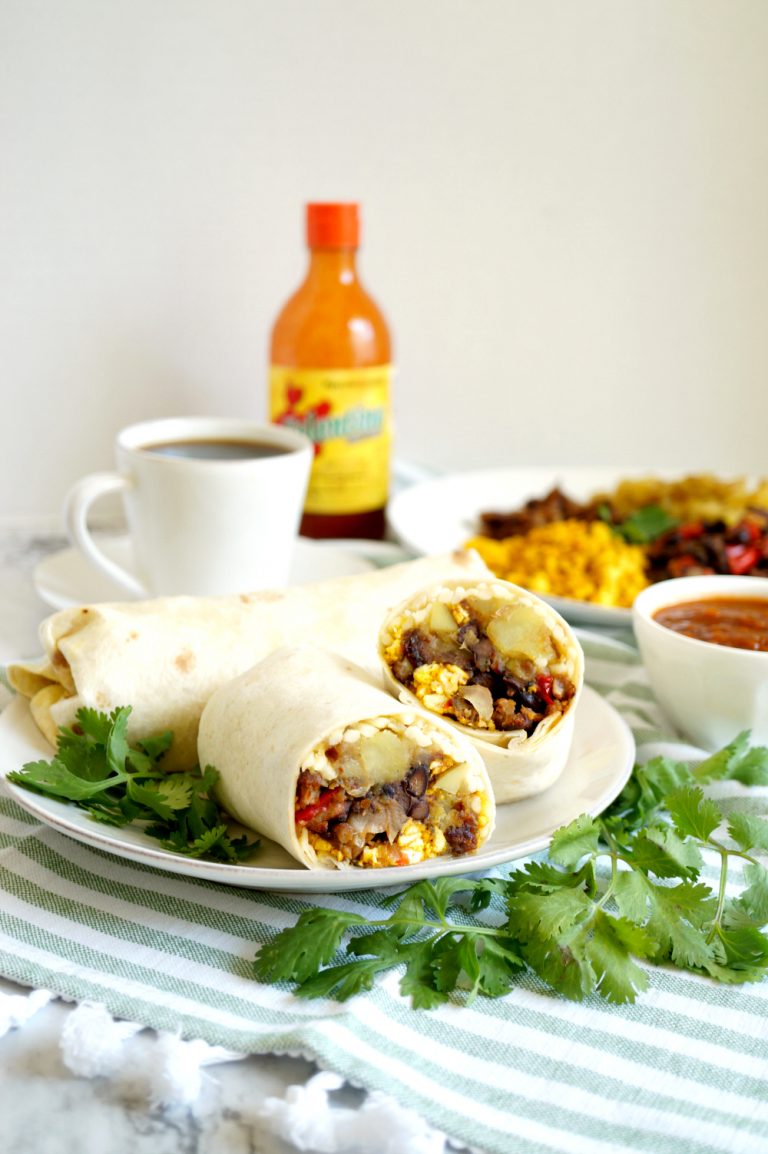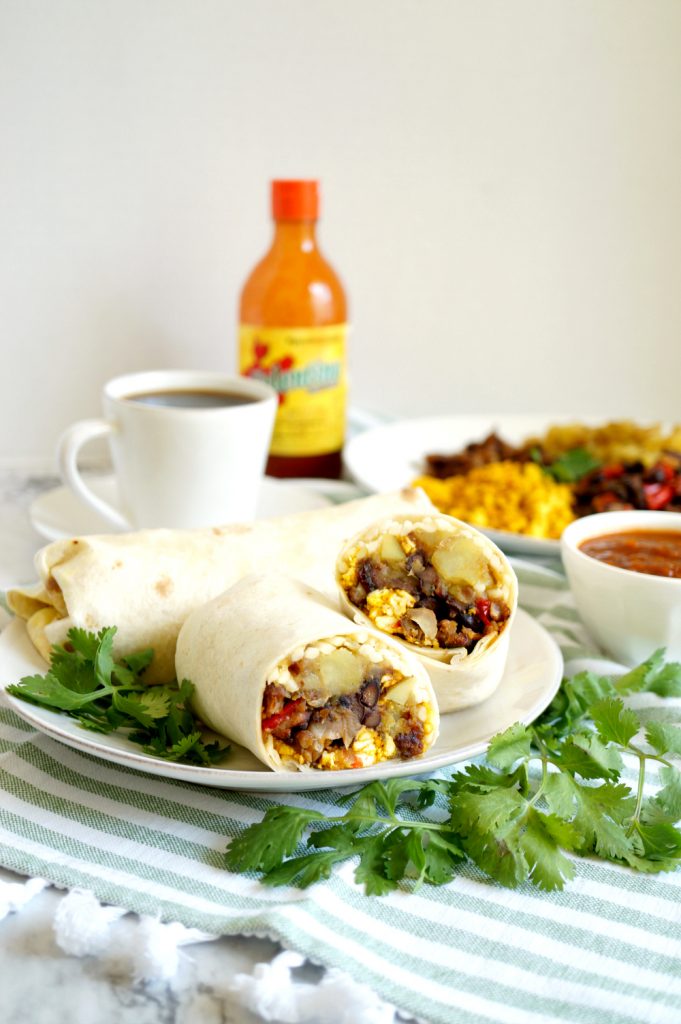 Loaded Vegan Breakfast Burritos (The Baking Fairy) - These delicious, hearty Loaded Vegan Breakfast Burritos are filled with all the classics - tofu scramble, vegan sausage, beans, onions, peppers, and potatoes. This filling breakfast is sure to start your day off on the right foot! This recipe is meal-prep and freezer friendly.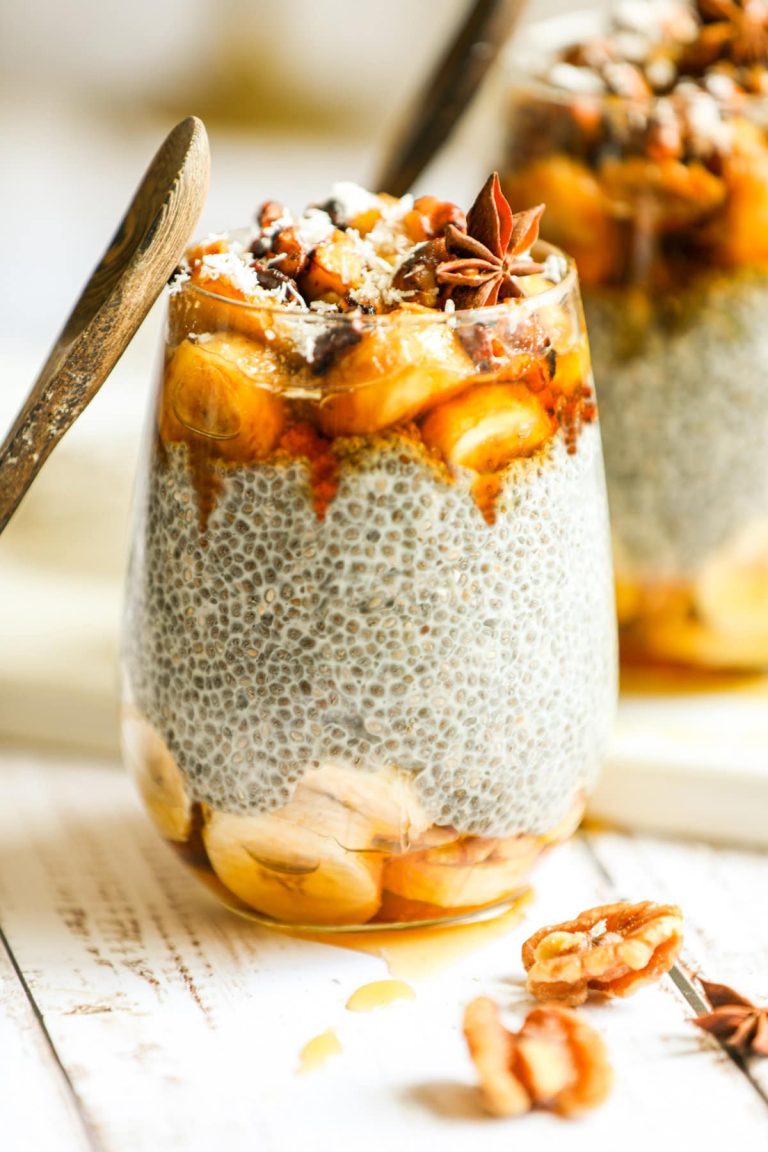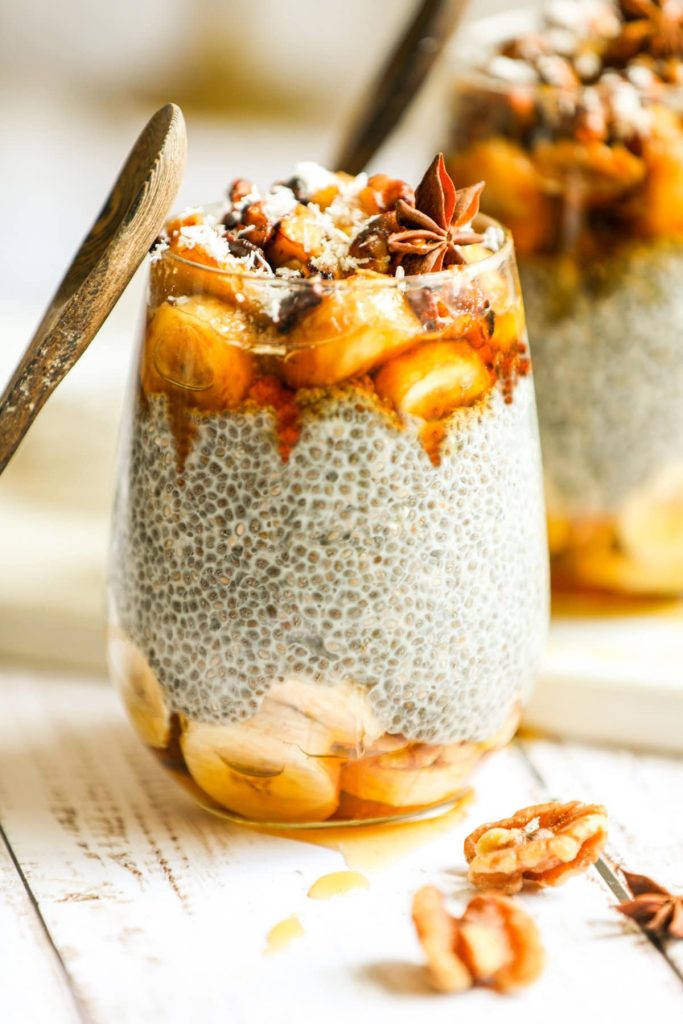 Oatmilk Banan Bread Chia Pudding (Ooh La La, It's Vegan) - The perfect dairy-free, gluten-free choice for breakfast, a snack or dessert. Made with oatmilk and infused with the comforting spices of nutmeg, cinnamon and cardamom, this vegan chia pudding is topped with caramelized bananas and crunchy walnuts toasted in sesame oil.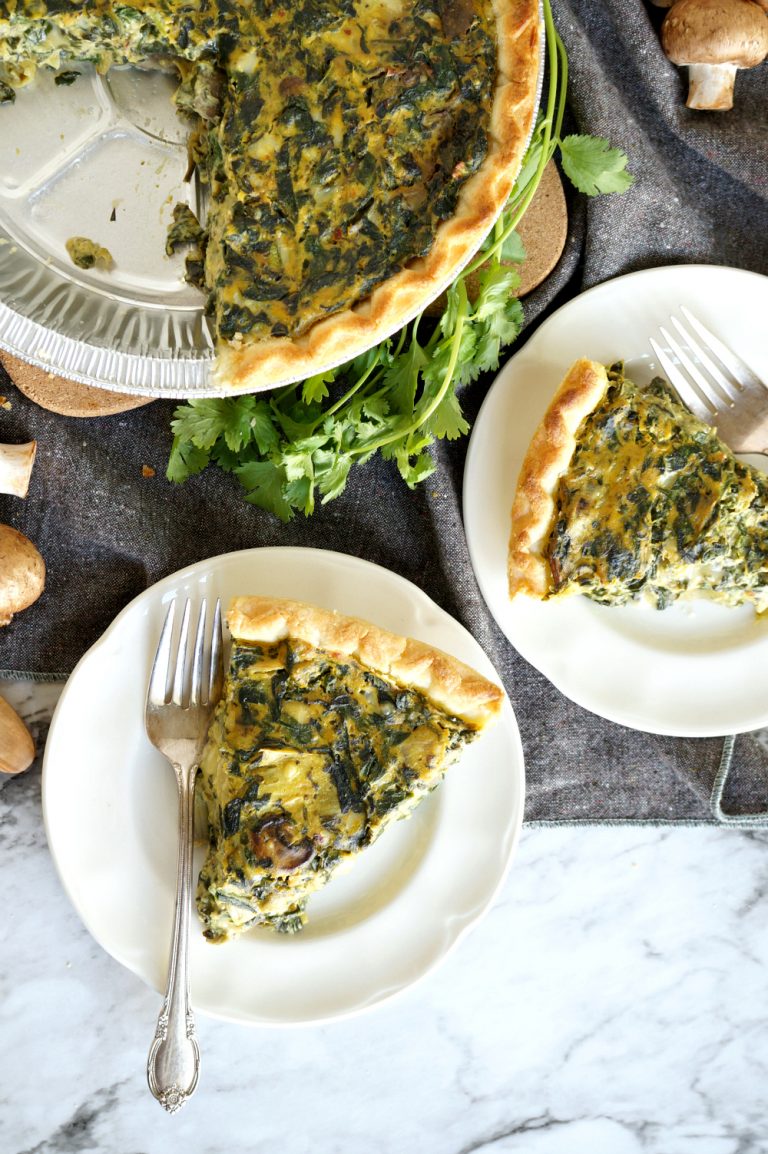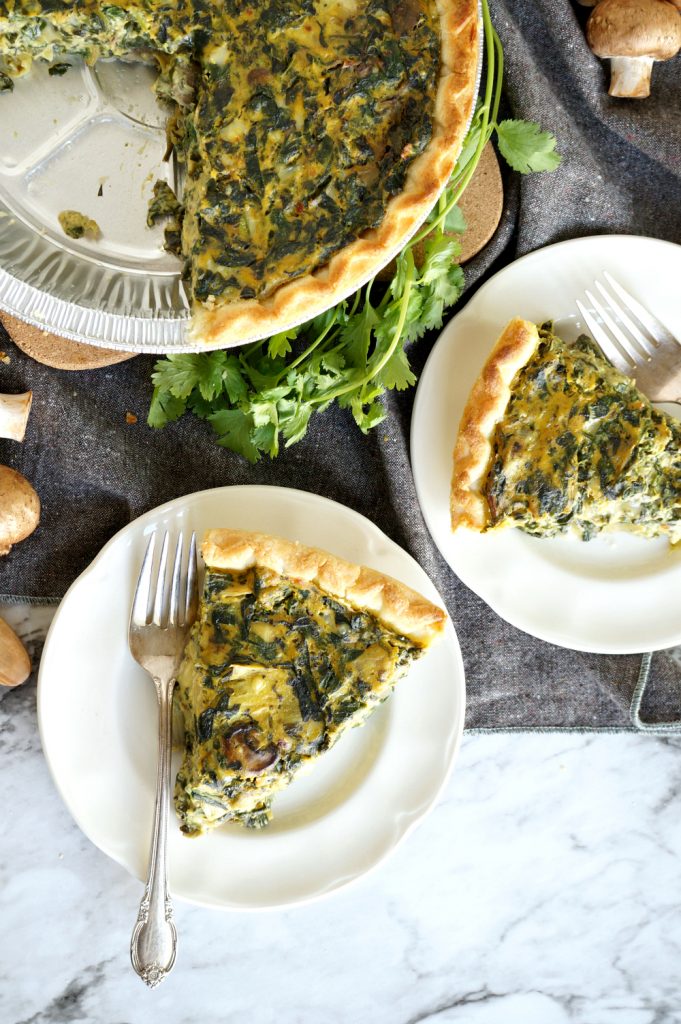 Vegan Spinach Artichoke Mushroom Quiche (The Baking Fairy) - This Vegan Spinach Artichoke Mushroom Quiche combines fresh veggies and a tofu "egg" filling in a flaky pie crust for the ultimate savory breakfast, brunch, or lunch!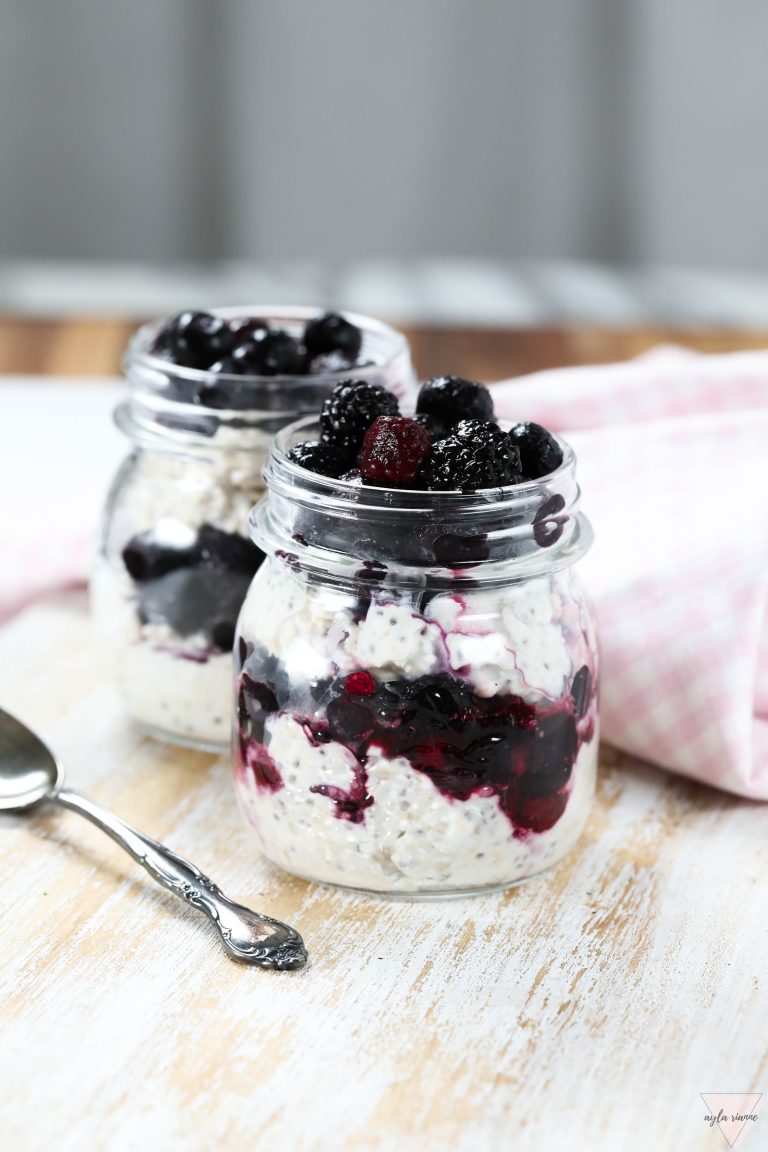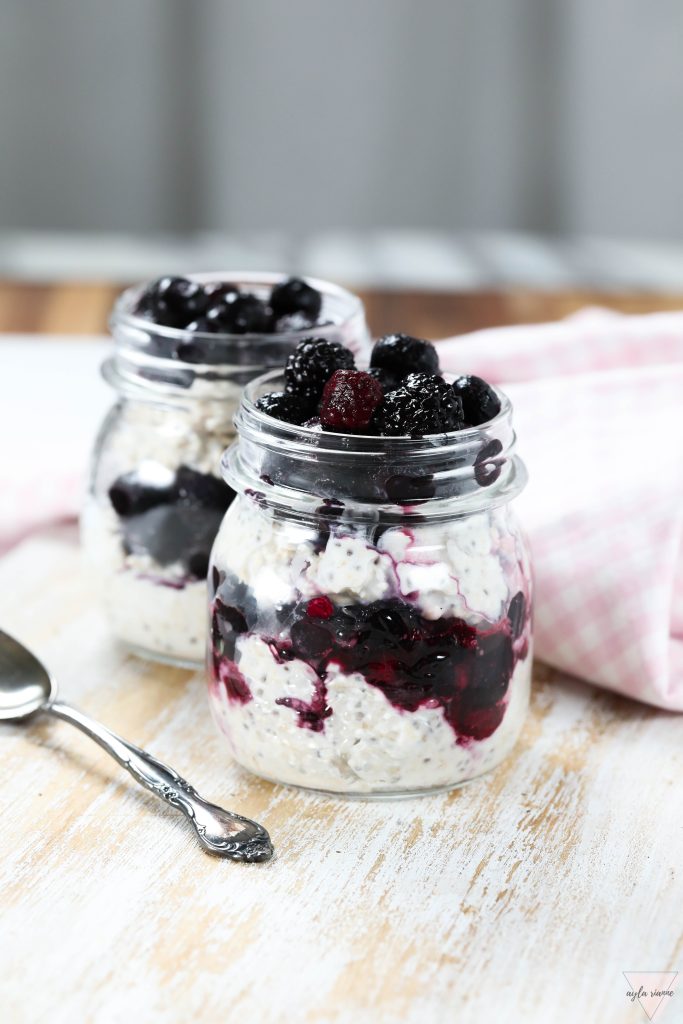 Coconut Milk Overnight Oats (Life with Ayla Rianne) - Plant based overnight oatmeal is the perfect item to meal prep to give you a healthy breakfast option all week long! This vegan breakfast will fill you up on healthy nutrients keeping you full until lunch.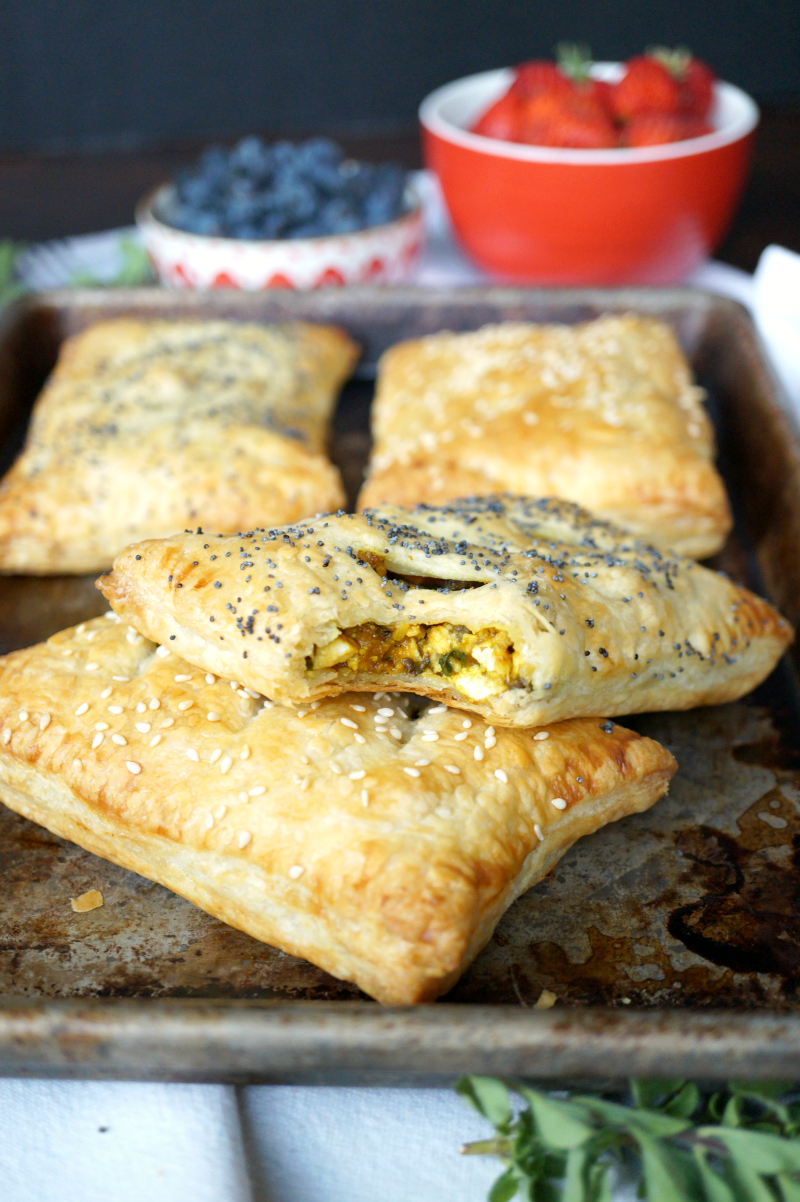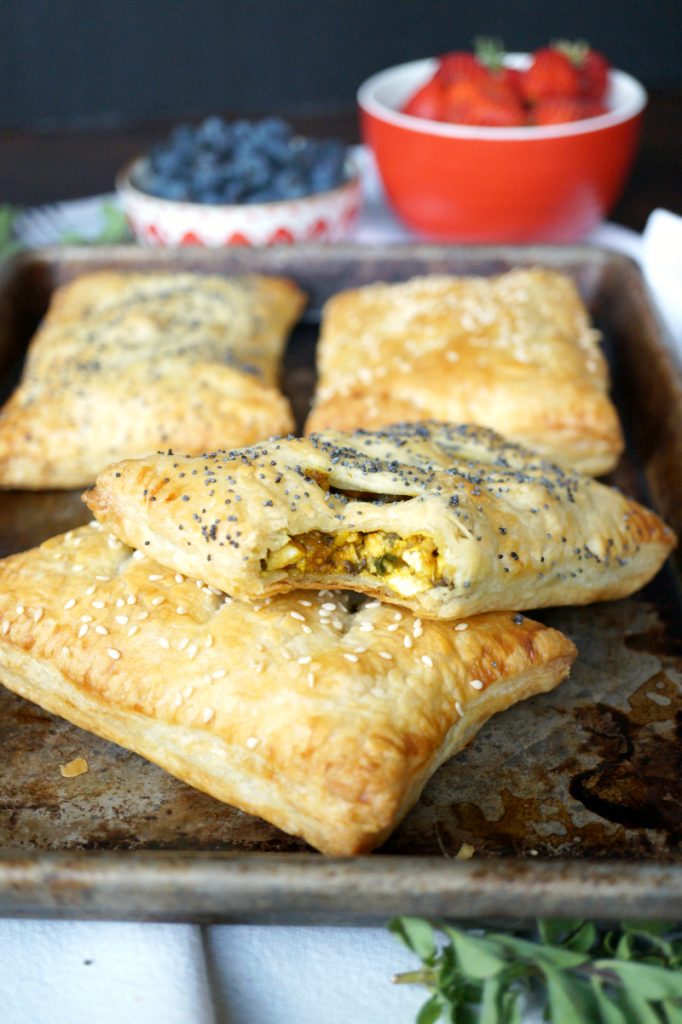 Vegan Tofu Scramble Breakfast Pockets (The Baking Fairy) - Who says you don't have time for a warm, filling breakfast on a weekday? Whip up a batch of these Vegan Tofu Scramble Breakfast Pockets over the weekend, and you'll be starting the whole week off on the right foot!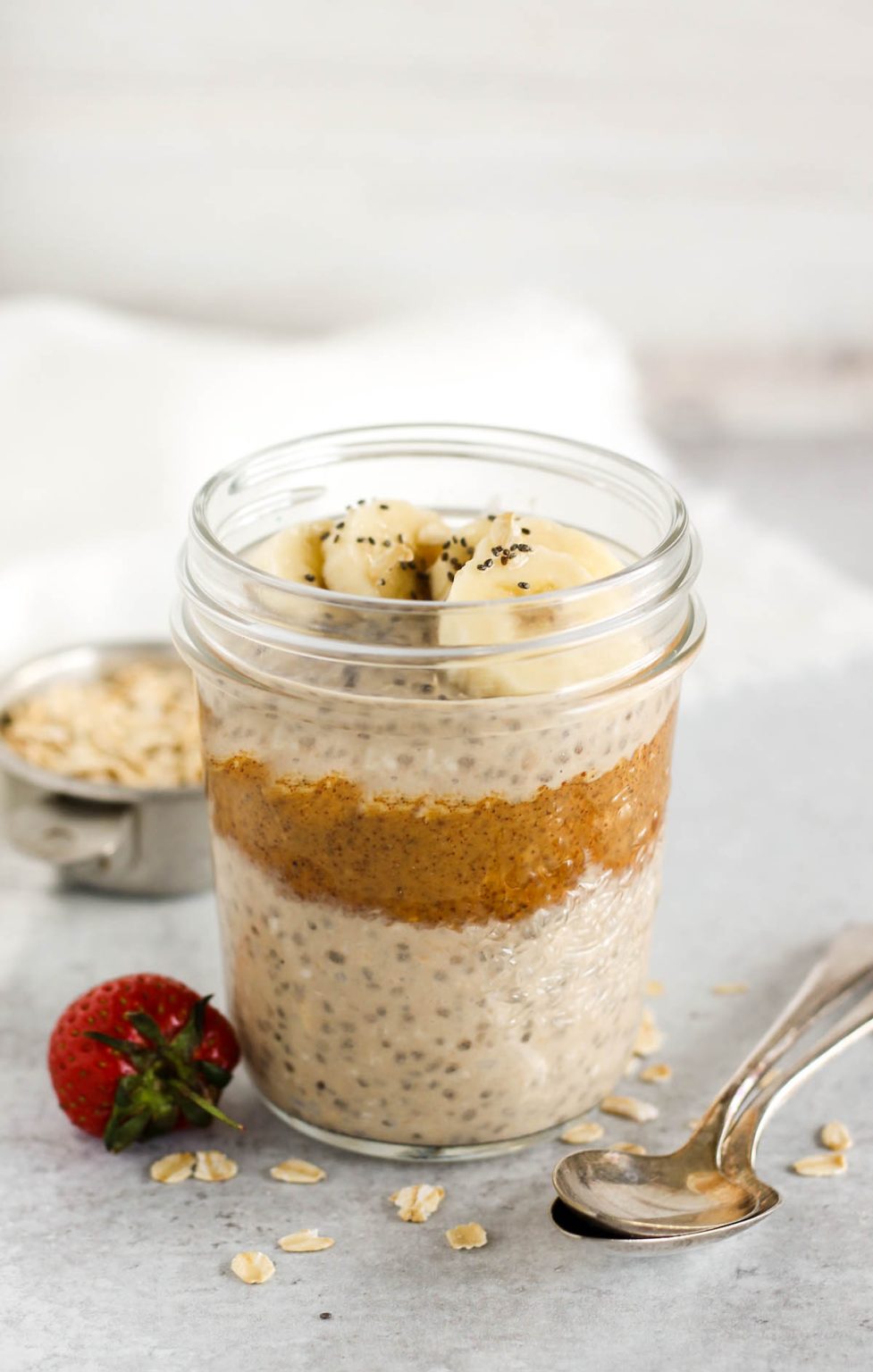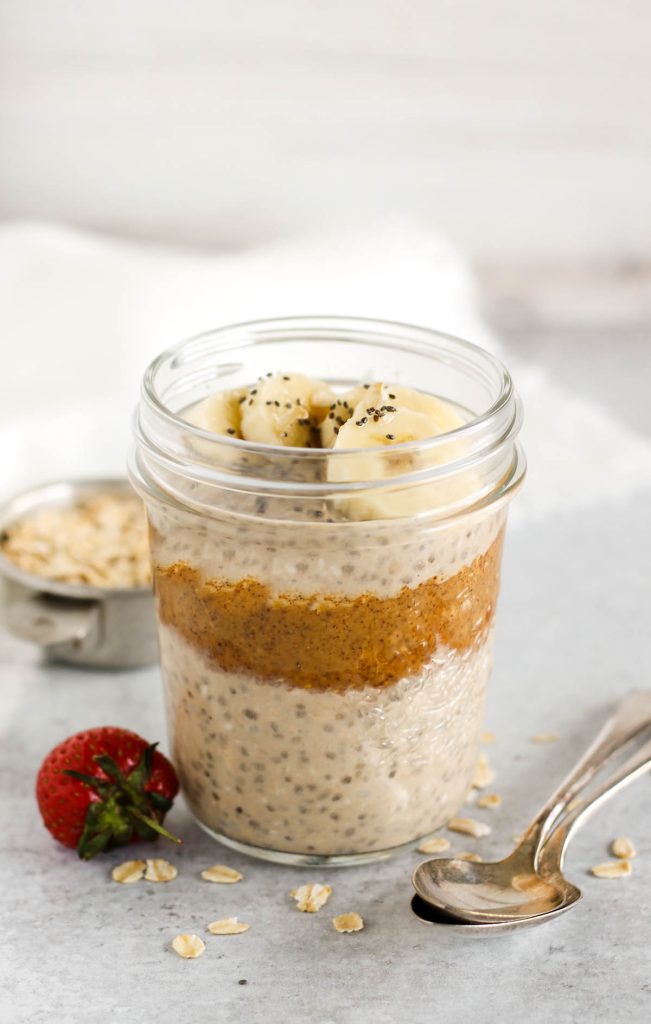 5-Ingredient Protein Overnight Oats (Clean Plate Mama) - These overnight oats with protein powder are a delicious and filling way to start your day! Packed with 26 grams of protein and made with simple ingredients. They only take 5 minutes to prep and are perfect for meal prep and busy mornings!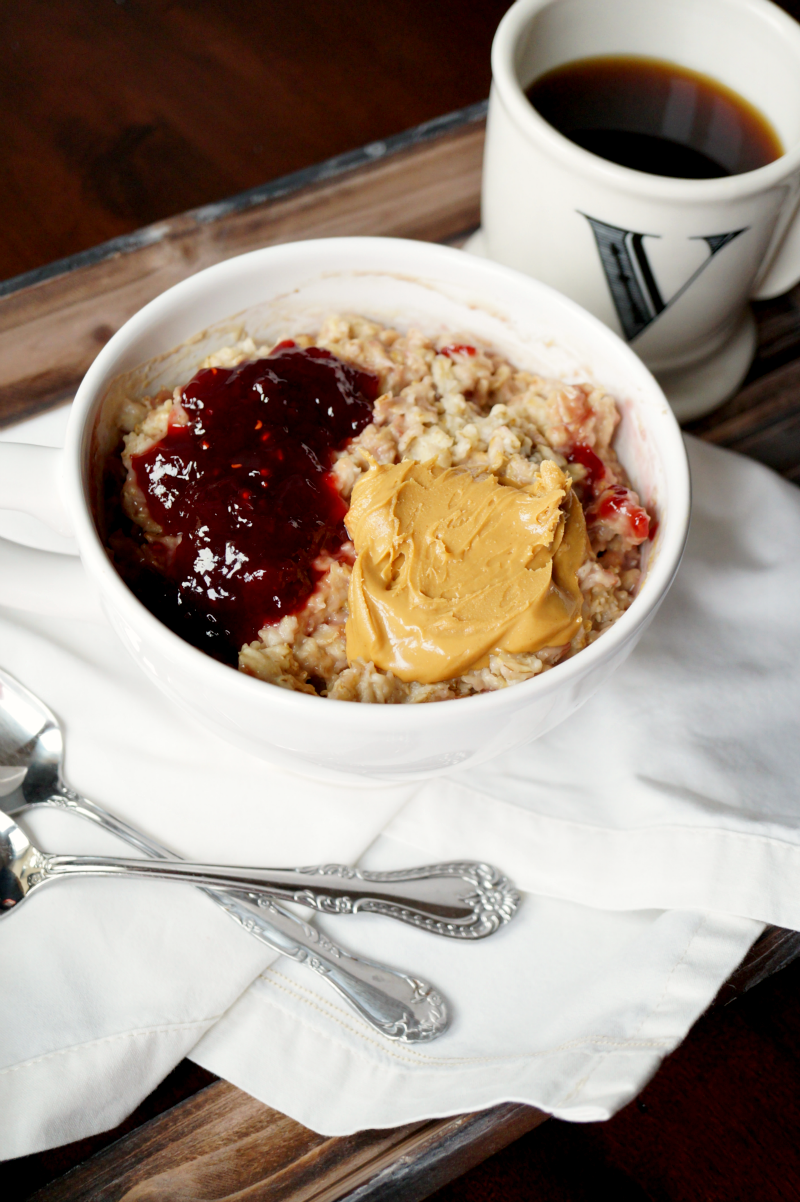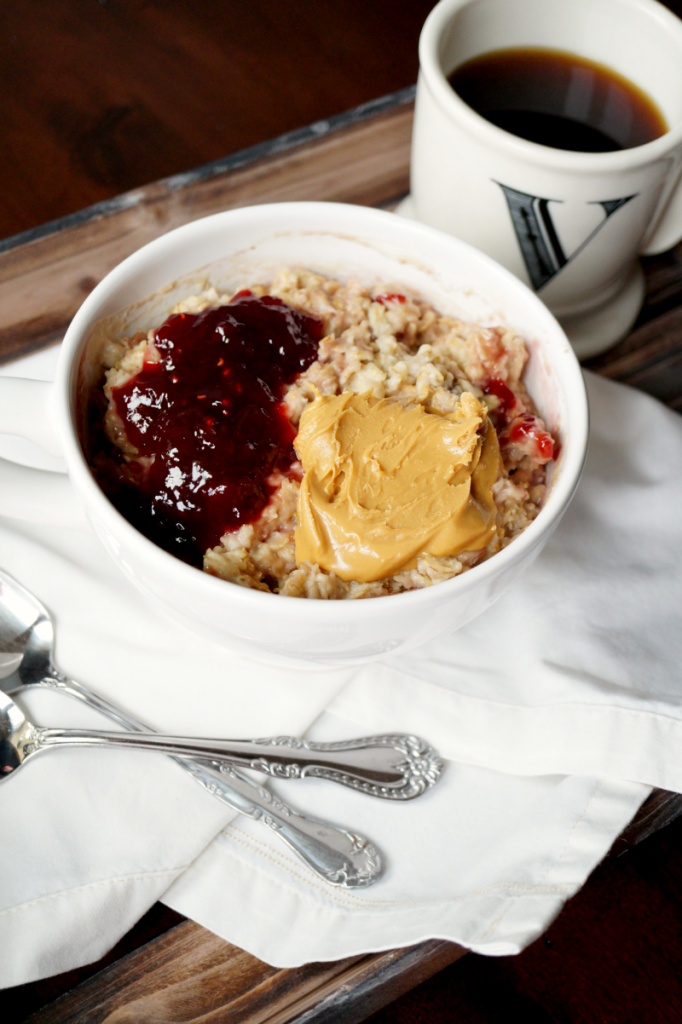 Peanut Butter & Jelly Oatmeal (The Baking Fairy) - This simple oatmeal is delicious, filling, and takes just 5 minutes to make! It uses household staples so you can make this even if your pantry is mostly bare!
Soups, Salads, & Pasta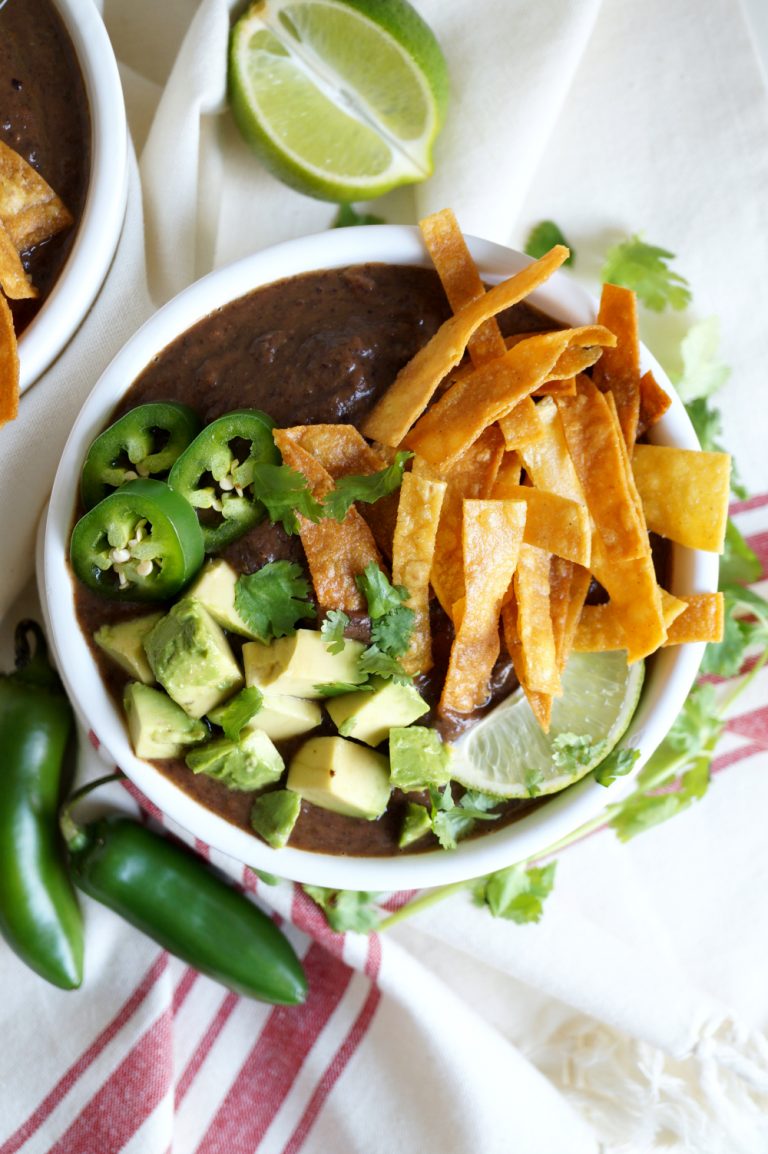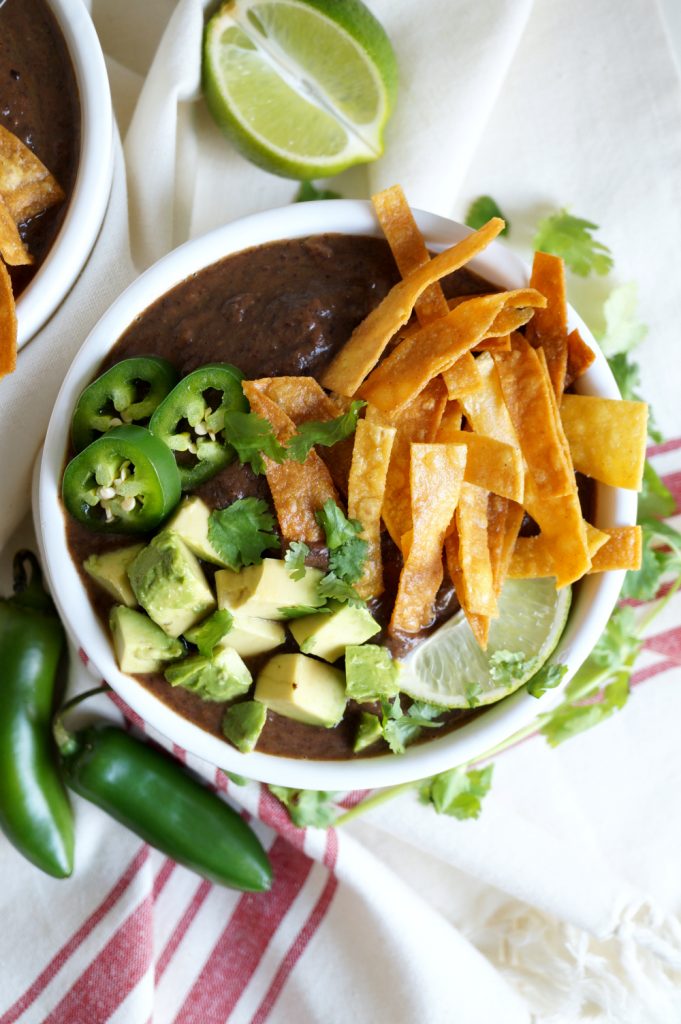 Creamy Vegan Black Bean Soup (The Baking Fairy) - This simple, savory Creamy Black Bean Soup is packed with healthy veggies and spices perfect to warm you up from the inside out! Top it with crispy tortilla strips, avocado, and a squeeze of fresh lime for the perfect finishing touch.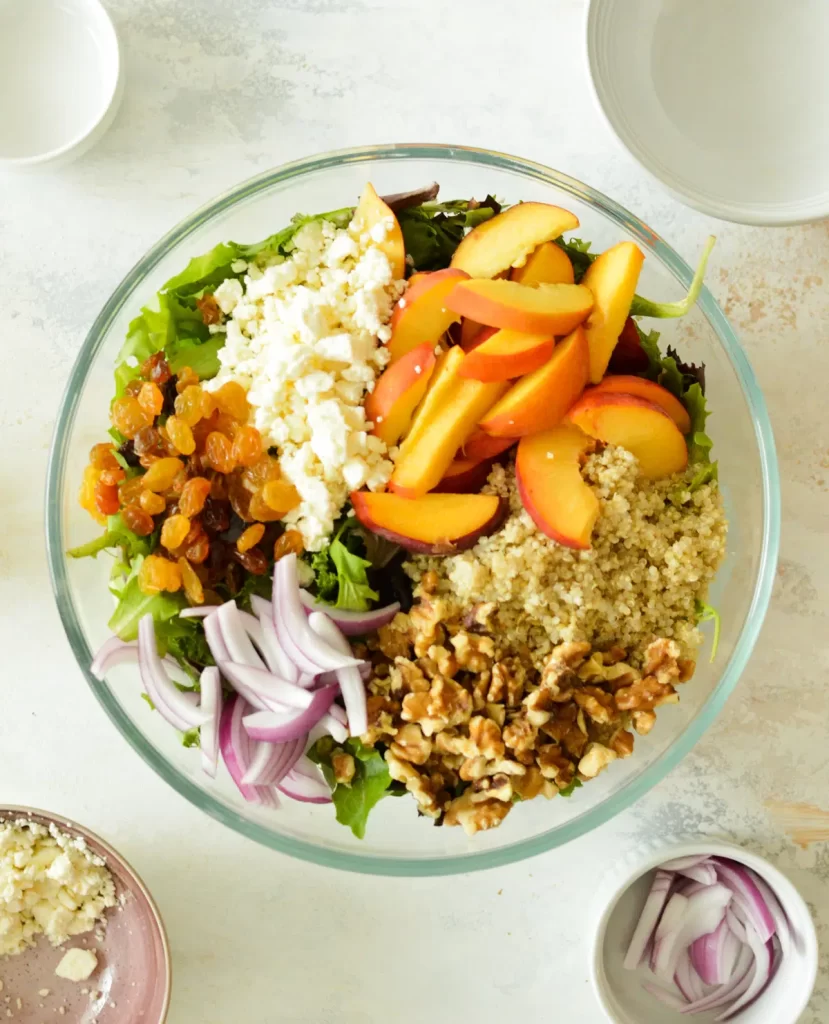 Quinoa Salad with Feta and Peaches (Caramel and Cashews) - Prepare the elements ahead of time, then assemble when ready to eat! This quinoa salad with feta is the perfect bite for summer! Greens, quinoa, peaches, and feta are tossed in a citrus vinaigrette for a healthy but filling salad. Substitute strawberries if peaches aren't in season.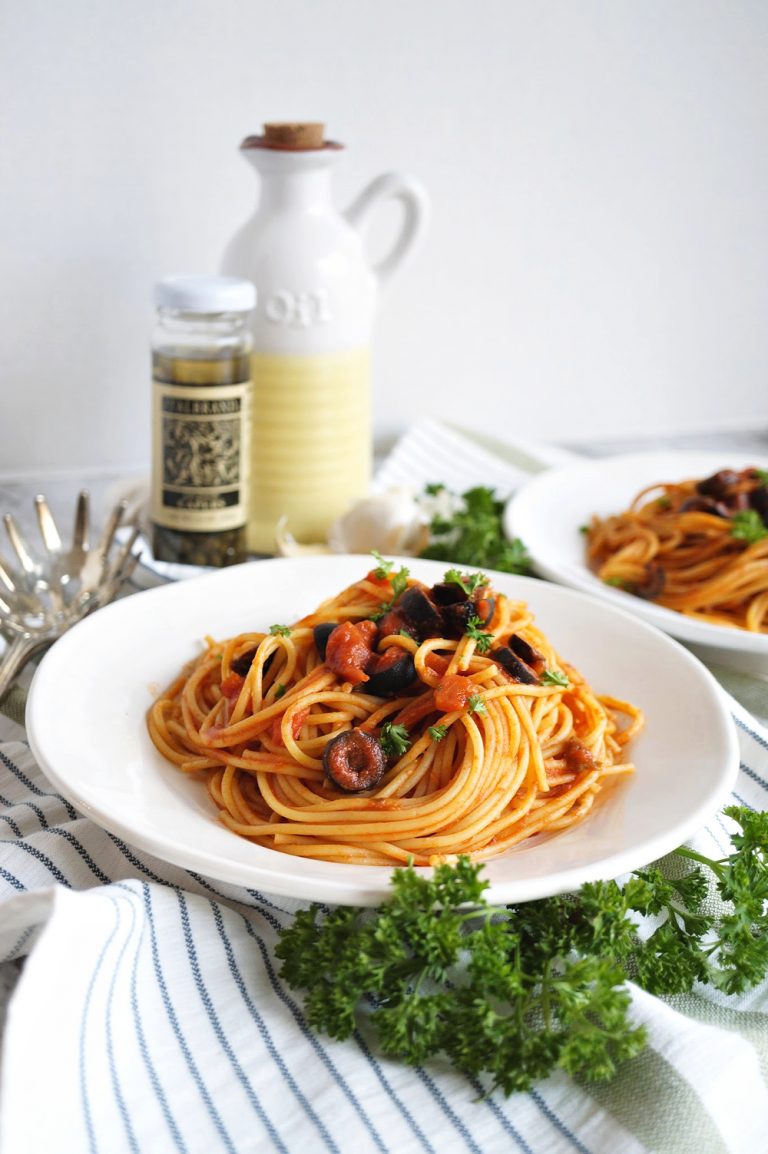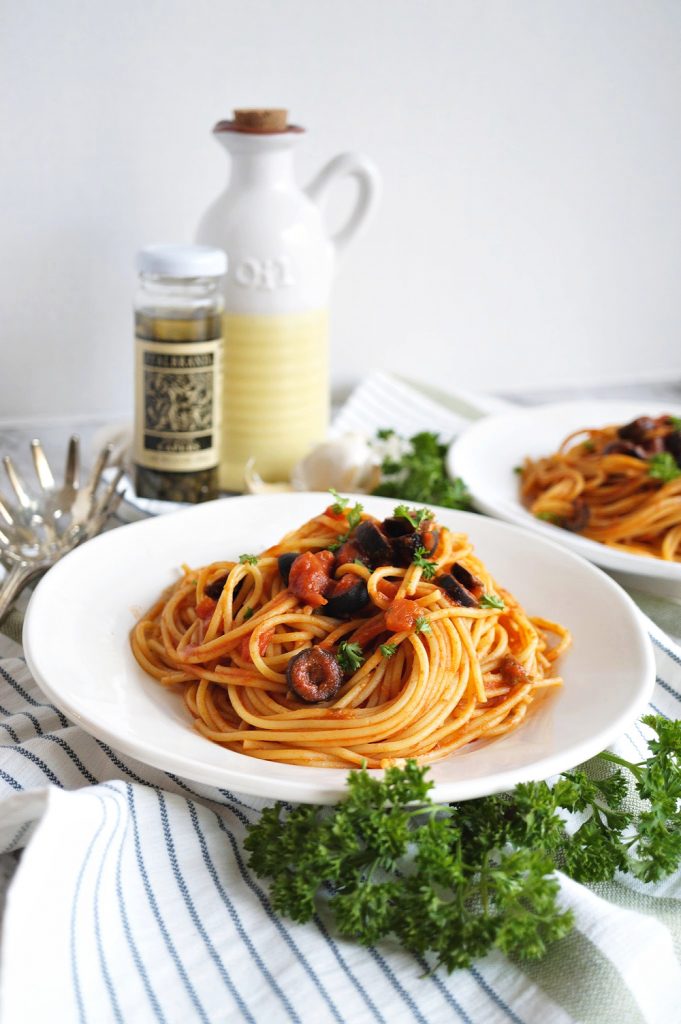 Simple Vegan Pasta Puttanesca (The Baking Fairy) - Are your fridge and pantry bare? Even then - I bet you have the ingredients to make this Simple Vegan Pasta Puttanesca! All you need is canned tomato sauce, olives, capers, and spaghetti.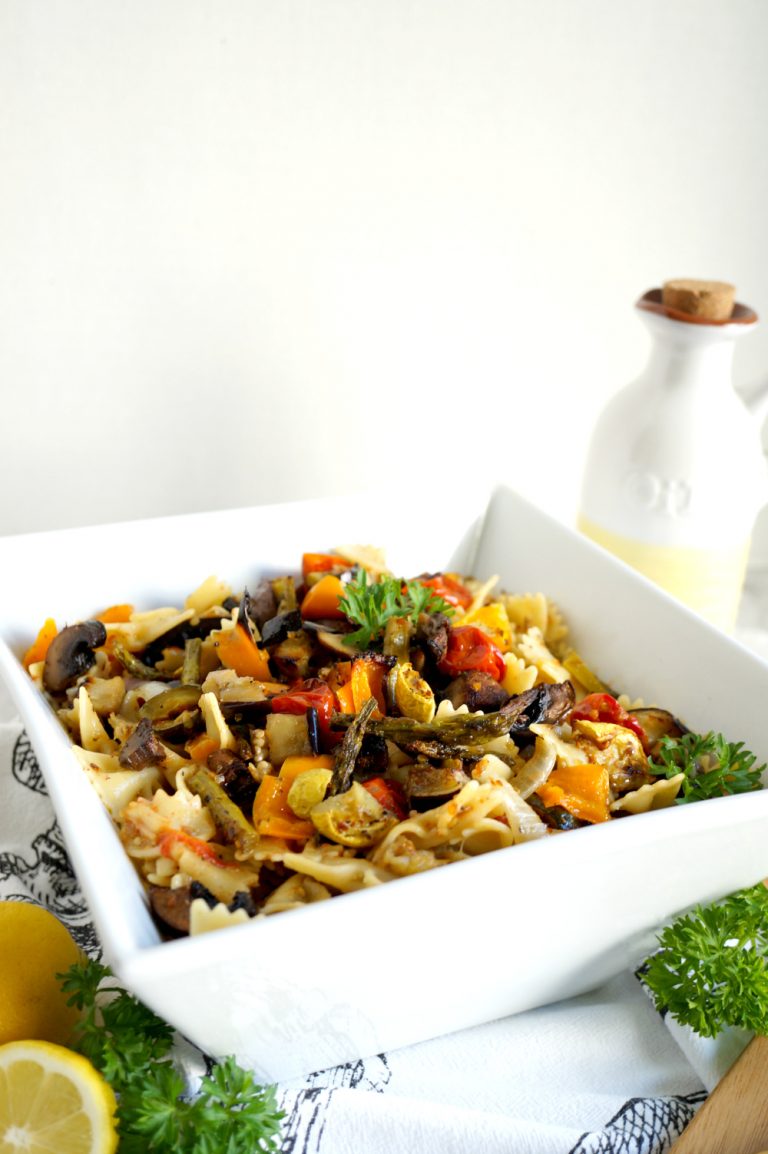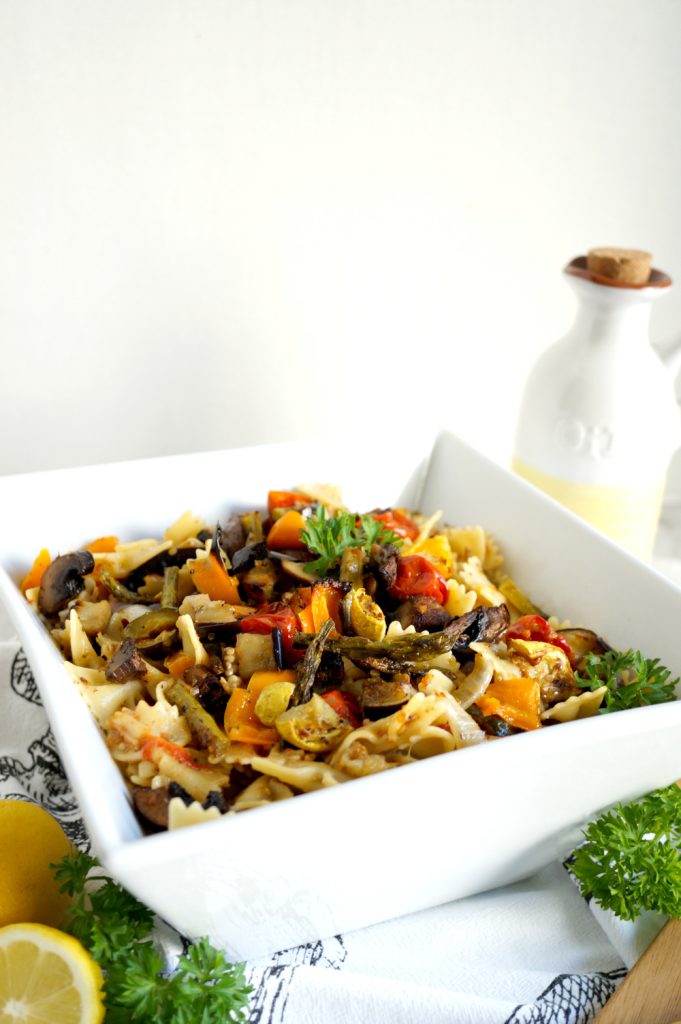 Easy Roasted Veggie Pasta Salad (The Baking Fairy) - This Easy Roasted Veggie Pasta Salad combines all your favorite summer produce into one addicting dish! You won't be able to stop eating this delicious fresh pasta!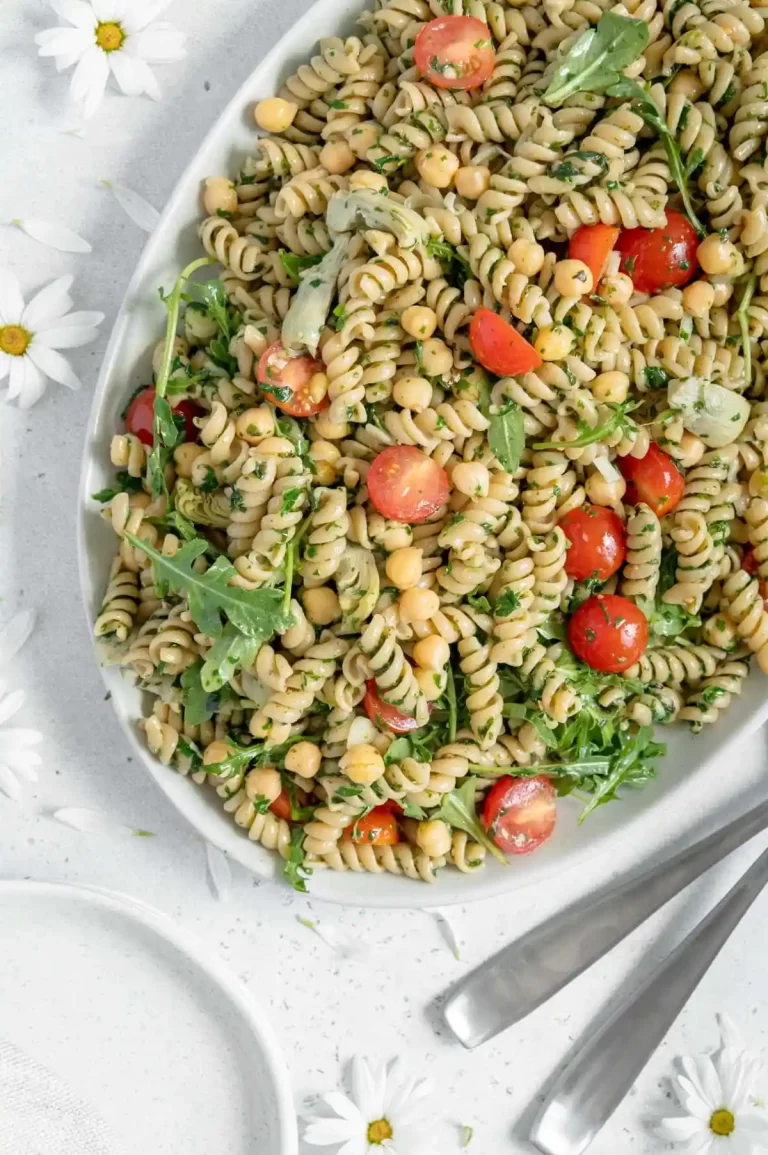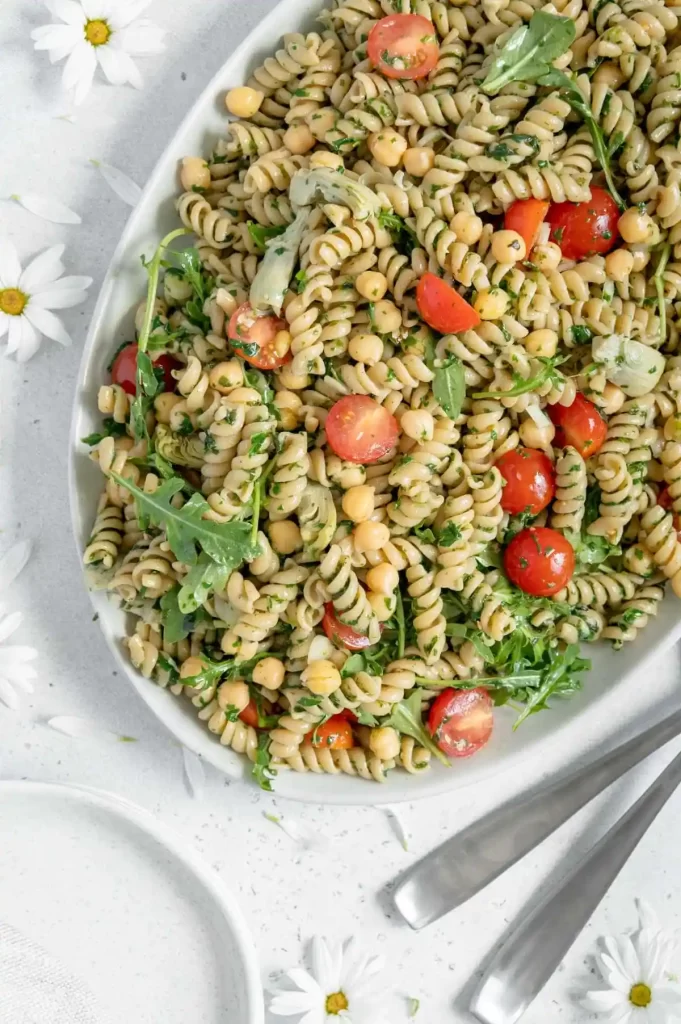 Vegan Pesto Pasta Salad (Best Served Vegan) - A healthy lunch or dinner option loaded with fresh veggies and plant-based protein – vegan pesto pasta salad. This dish is perfect to meal prep!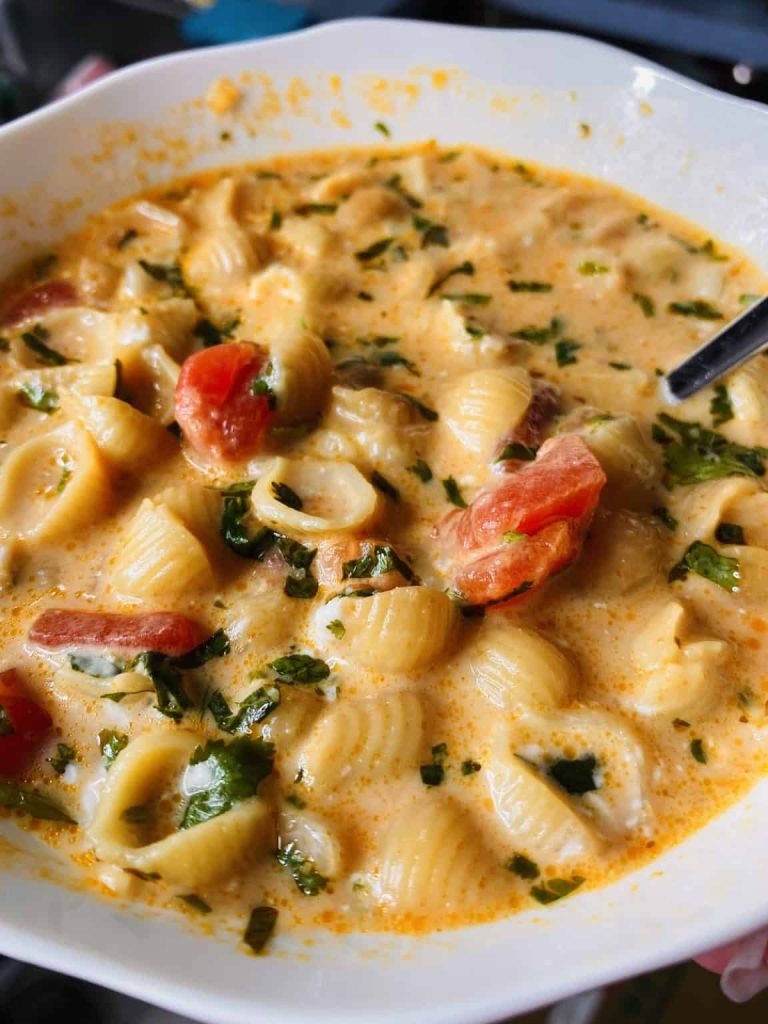 Mexican Shell Soup/Sopa de Conchitas (Cooking on Caffeine) - Mexican shell soup is a staple in Latinx households around the world. It's easy to make, and even easier with a few hacks to make it vegan.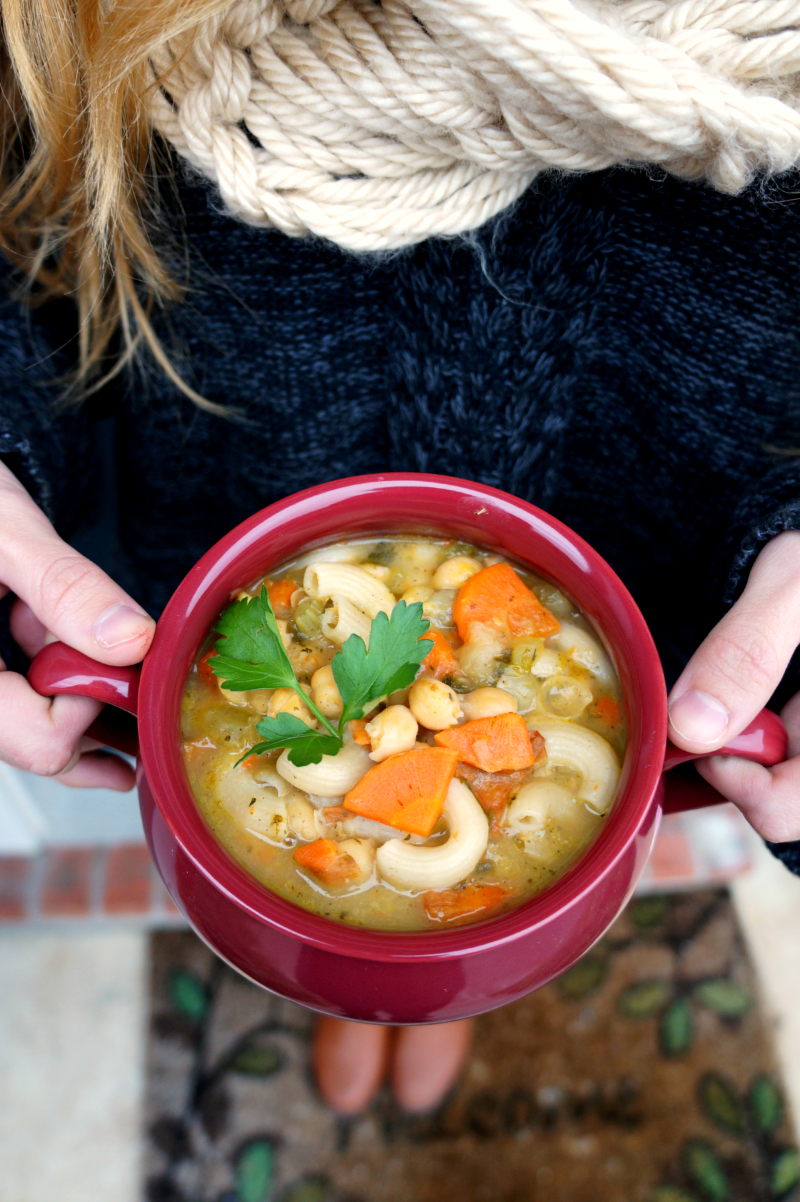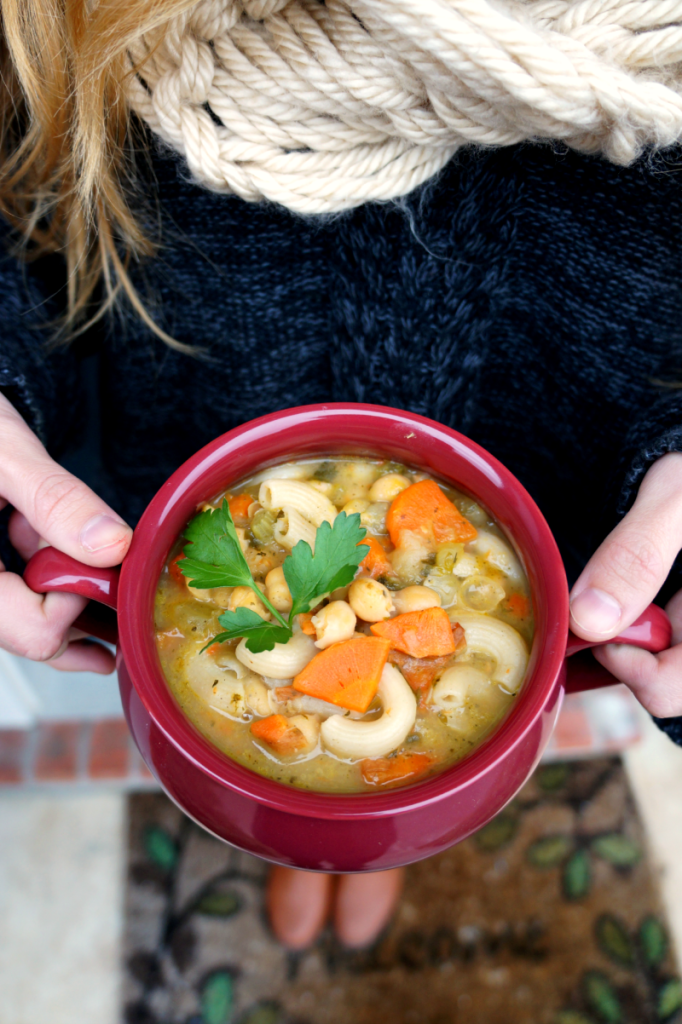 V/GF Chickpea Noodle Soup (The Baking Fairy) - This chickpea noodle soup is comforting and delicious! It's easy to prep and the leftovers heat up beautifully. It's a bowl of pure comfort!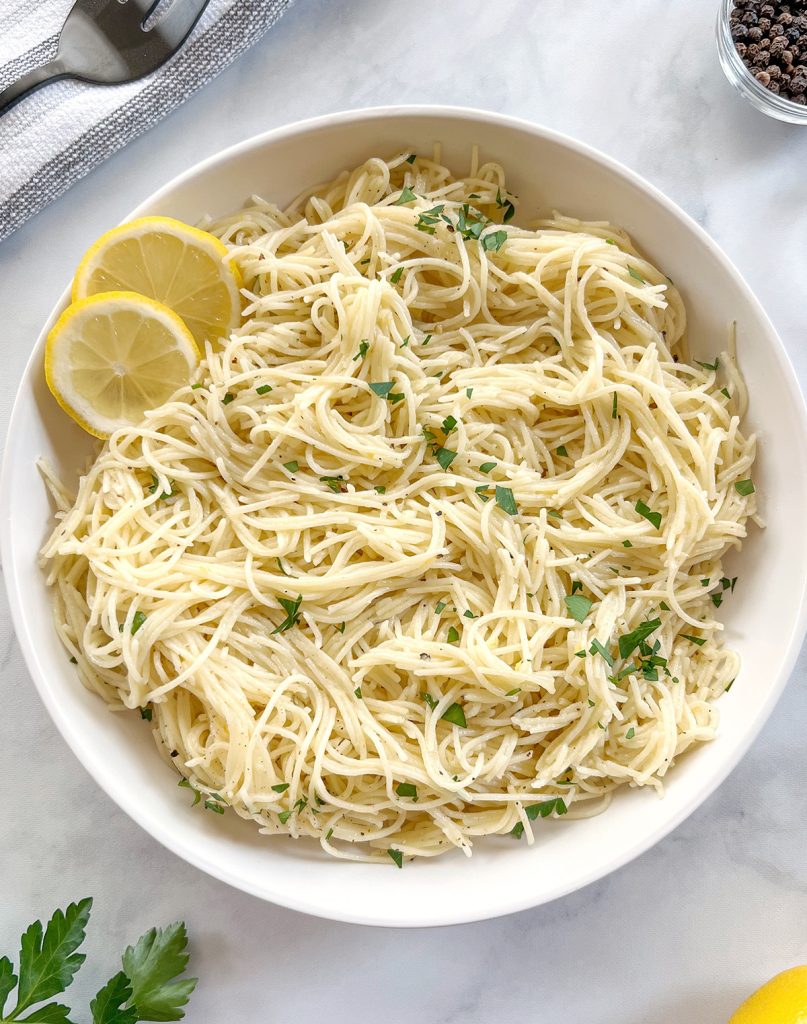 Lemon Pasta Without Cream (The Urben Life) - Recreate Ina Garten's lemon capellini with just 4 ingredients in 15 minutes. This garlic lemon pasta recipe is perfect served as the main entree or side dish.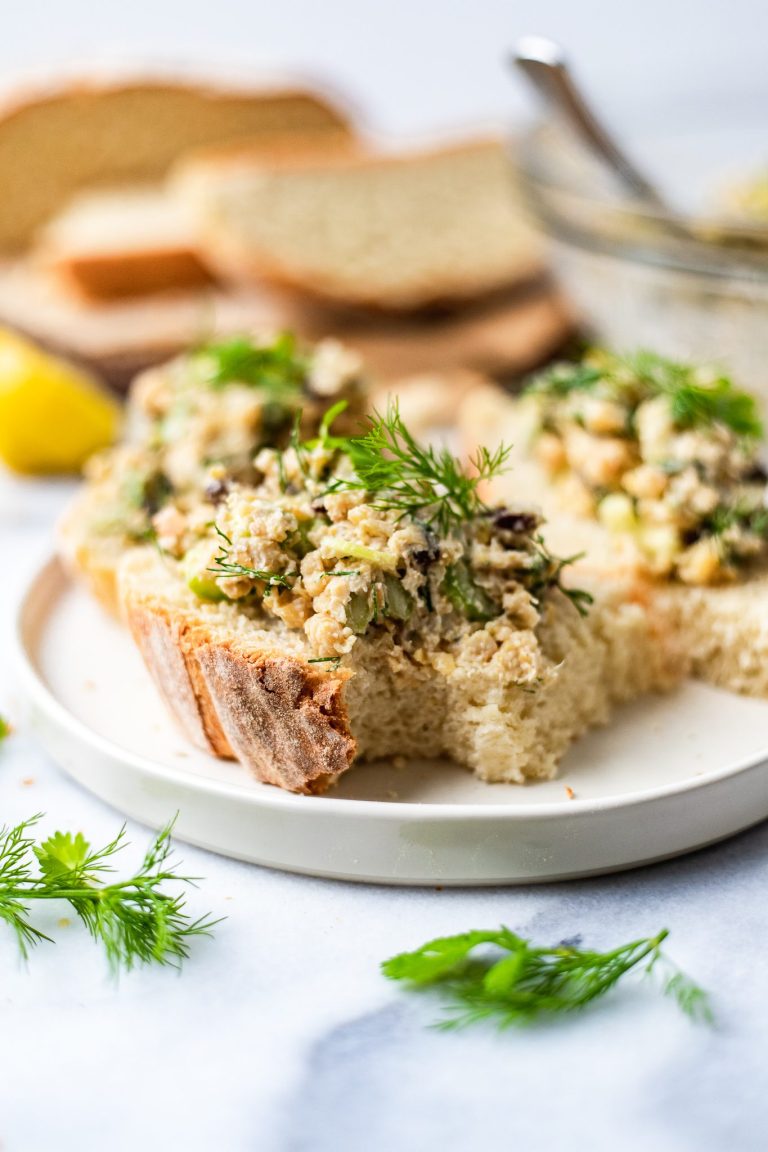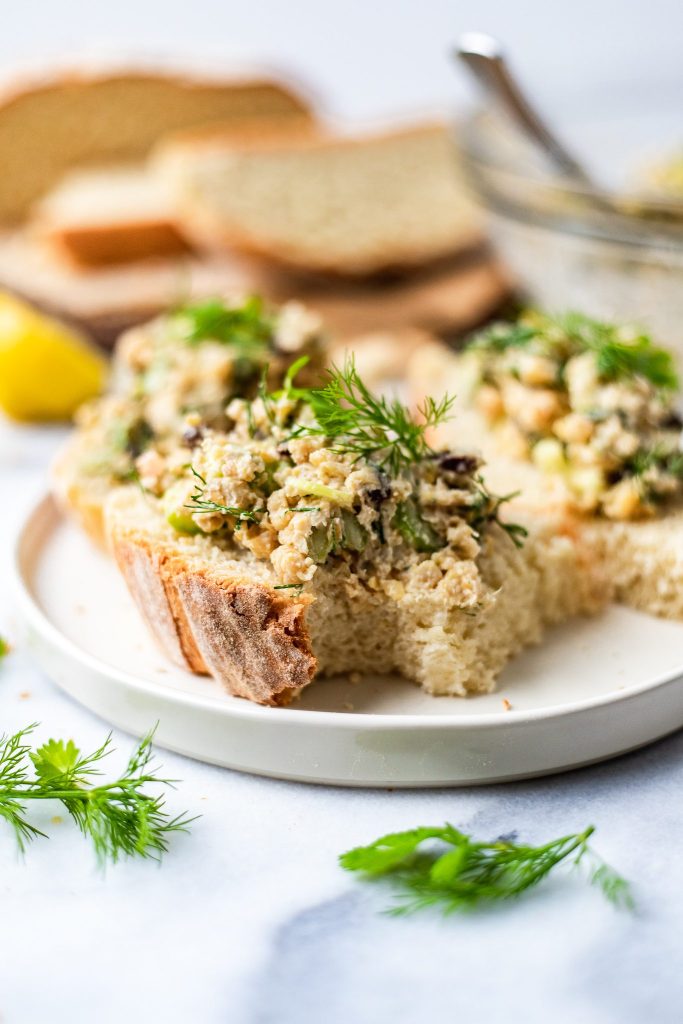 Vegan "Tuna" Chickpea Salad (The Banana Diaries) - This is hands down the BEST chickpea tuna salad around! Ready in just 5 minutes, no vegan mayo, yet tastes just like the classic, this vegan tuna salad is perfect for all eaters, vegan or not!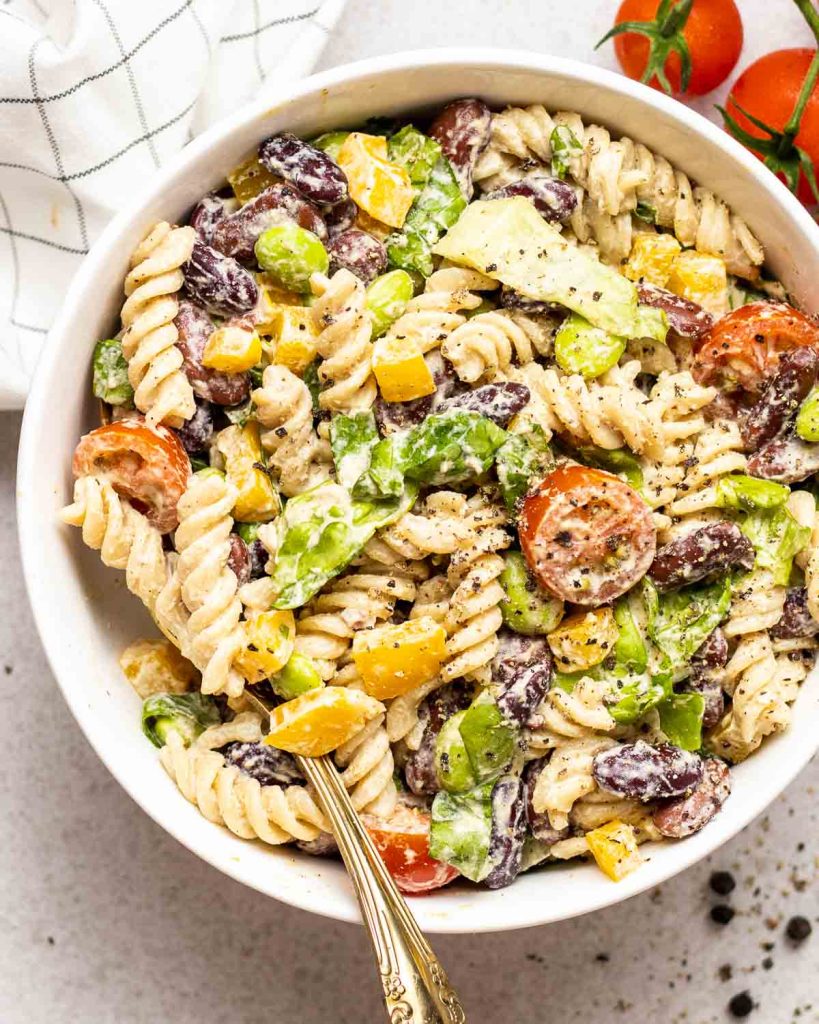 High Protein Pasta Salad (My Plantiful Cooking) - This creamy pasta salad is packed with protein, delicious, and incredibly versatile. A quick an easy side or main dish that is healthy and naturally gluten-free.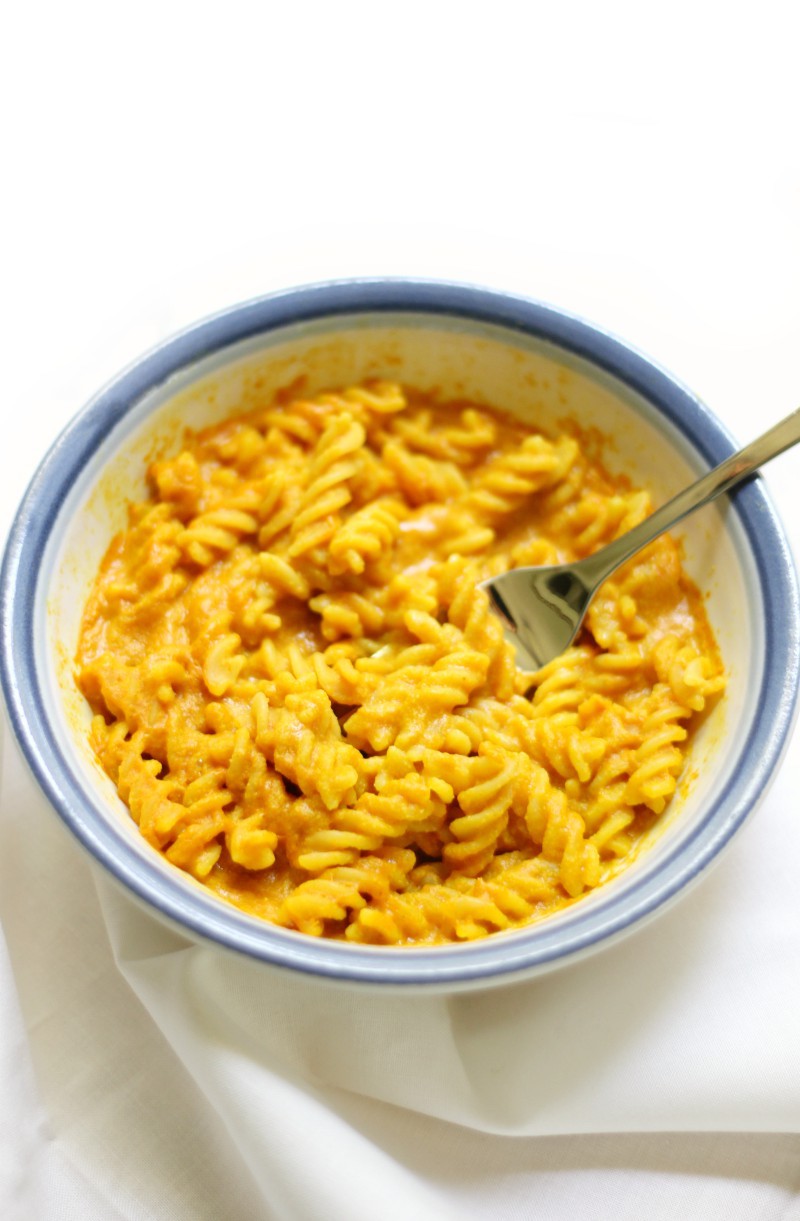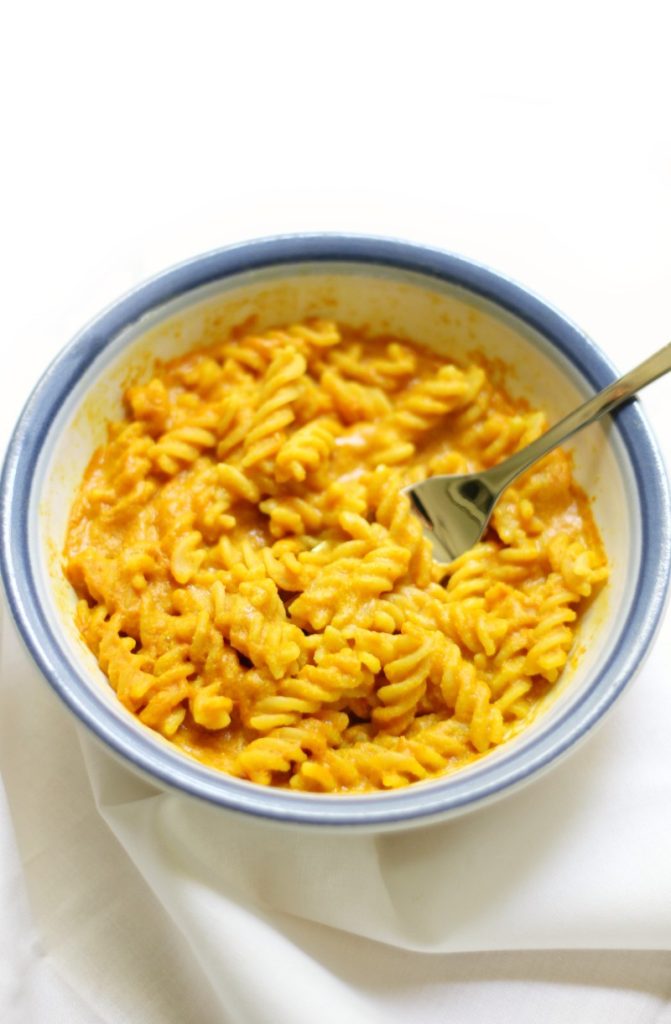 Microwave GF/V Mac & Cheese for One (Strength & Sunshine) - This microwave gluten-free, vegan, and top allergy-free mac & cheese for one is just the recipe you need! Nothing beats a quick and easy bowl of macaroni and cheese for lunch that's healthy and doesn't require pots and pans!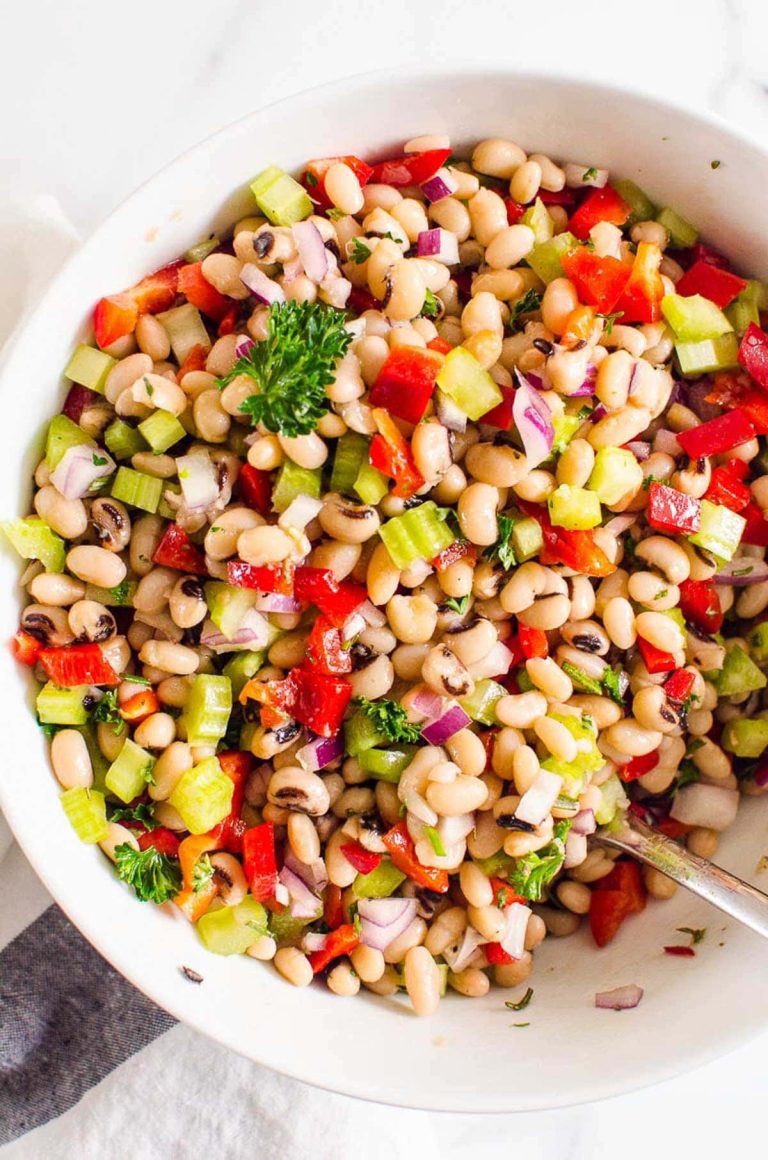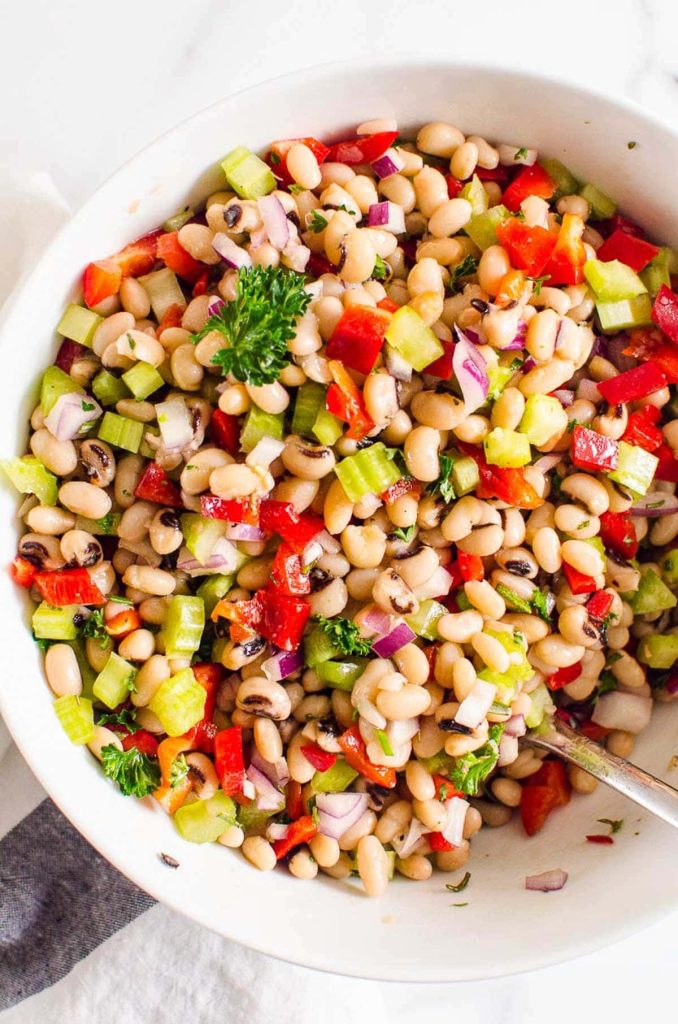 Easy White Bean Salad (iFOODreal.com) - Easy White Bean Salad with Mediterranean flavors of olive oil, vinegar, garlic, herbs and red onion. Add fresh crunchy veggies and this recipe is ready in only 15 minutes for any occasion!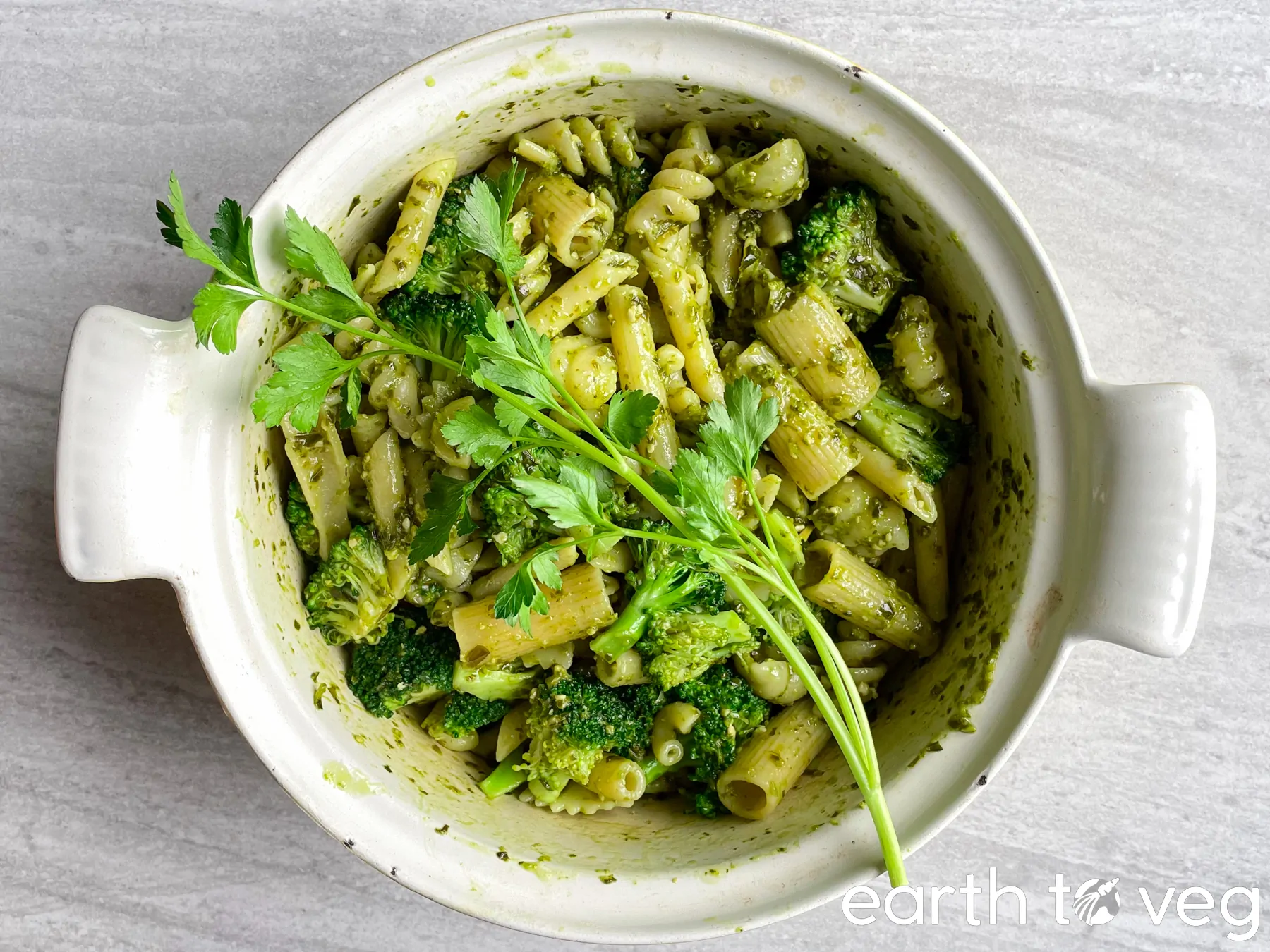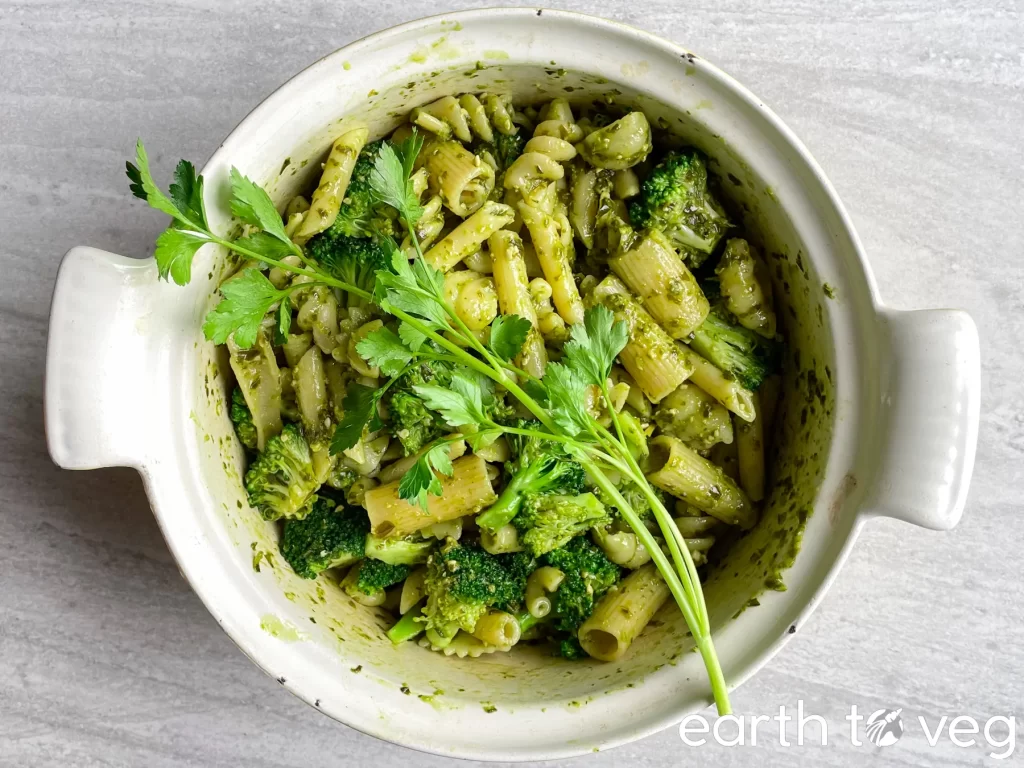 3-Ingredient One Pot Vegan Pesto Salad (Earth To Veg) - Only 3 ingredients are needed for this mouthwatering one pot pesto pasta and it takes 30 minutes to cook. Perfect for a quick lunch or dinner.
Main Dishes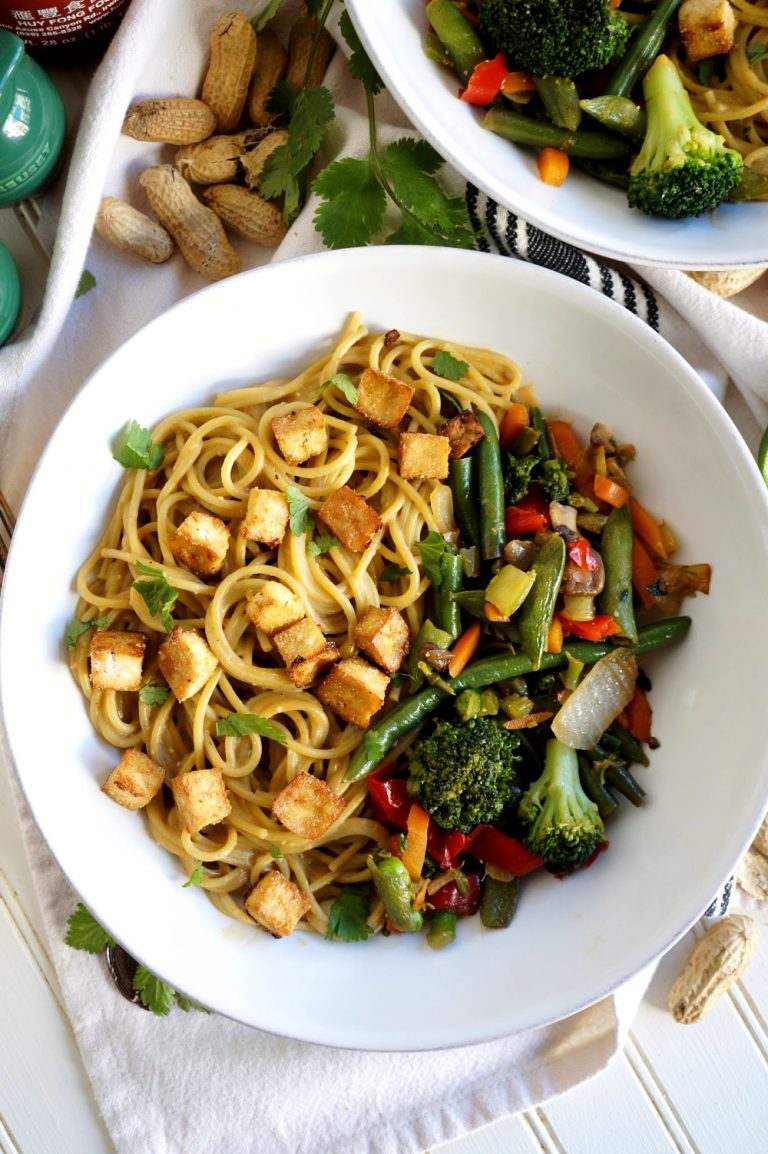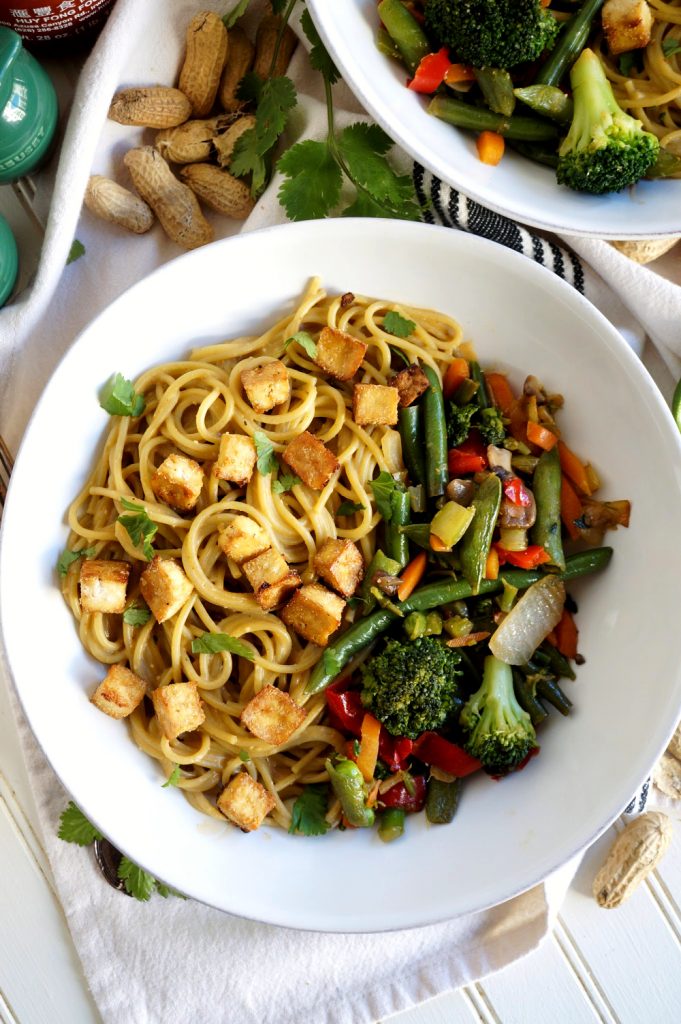 Quick & Easy Vegan Peanut Noodles (The Baking Fairy) - If you need dinner in a hurry, these Quick & Easy Vegan Peanut Noodles are the recipe for you! Boil up some pasta, toss it in a rich and simple peanut sauce made of pantry staples, and supper is served. Top it with some crispy baked tofu for extra flavor!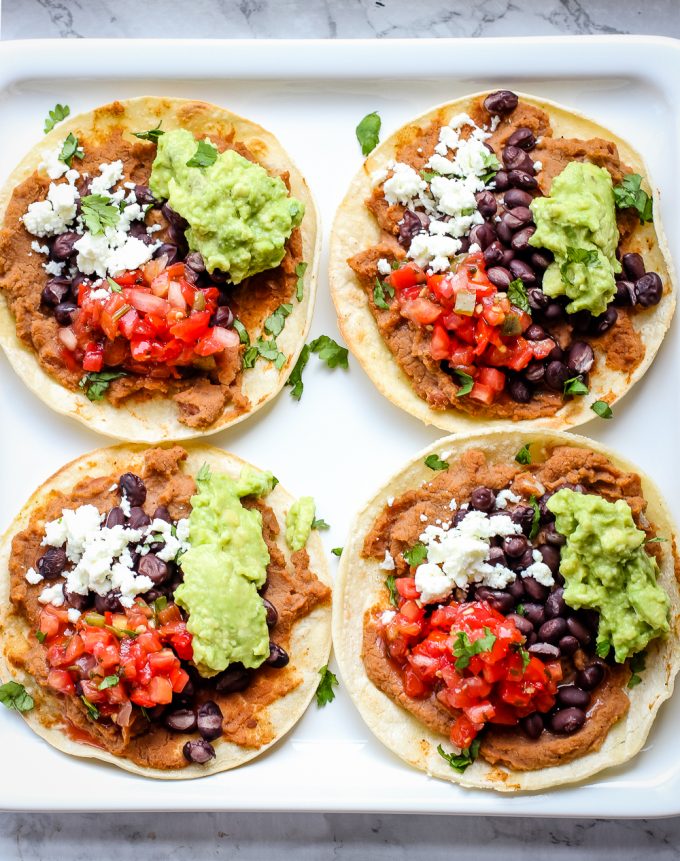 Baked Vegetarian Tostadas (I Heart Vegetables) - These vegetarian tostadas are perfect for post partum. They cook quickly, which means you can have dinner on the table in just 15 minutes! They're vegetarian, gluten-free, and customizable for the whole family!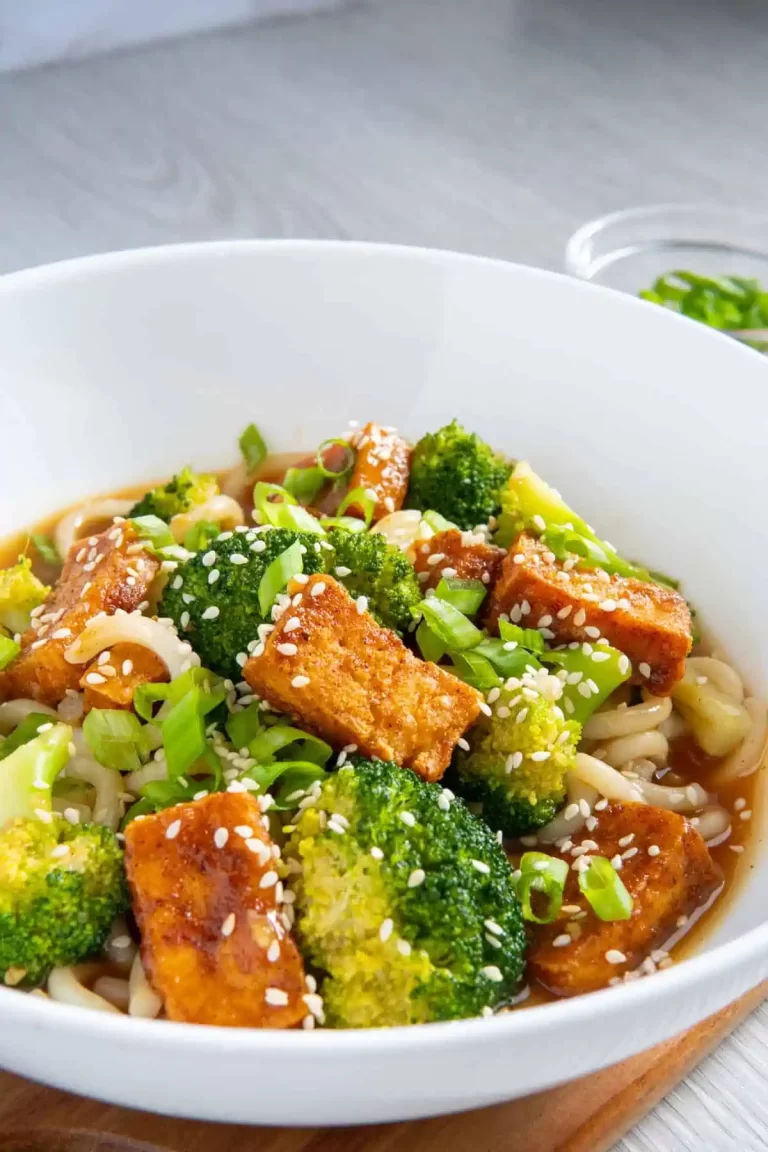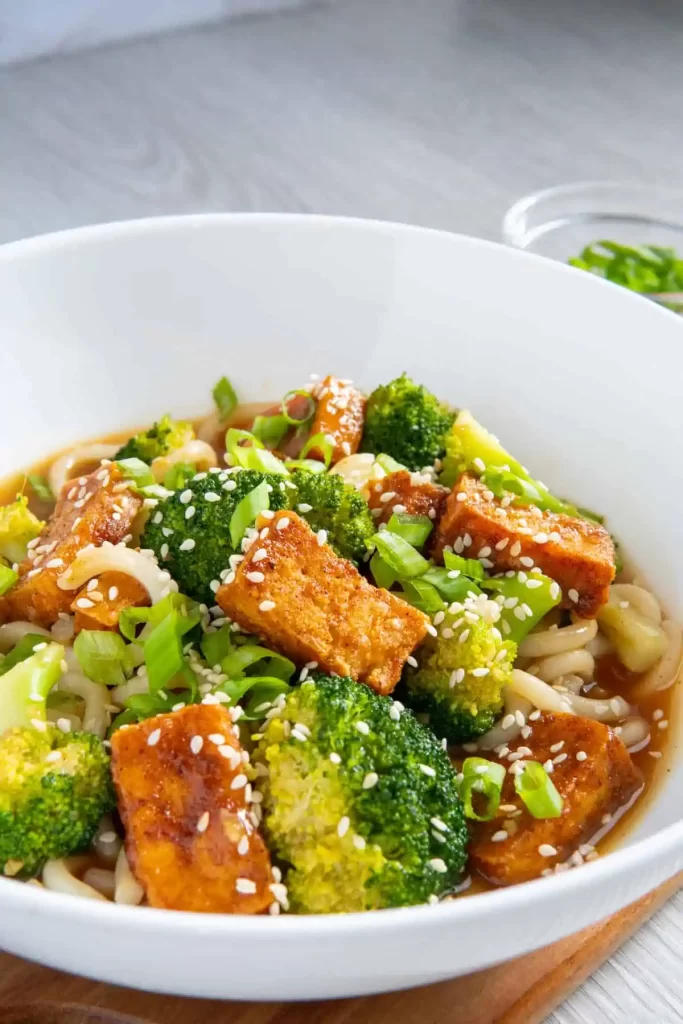 Honey Garlic Tofu Recipe (Salt & Spoon) - Looking for a delicious and easy honey garlic tofu recipe? Look no further! Crispy air fryer tofu is tossed in a delightfully sticky honey garlic sauce and accompanied by crunchy broccoli and noodles for a delicious, comforting meal.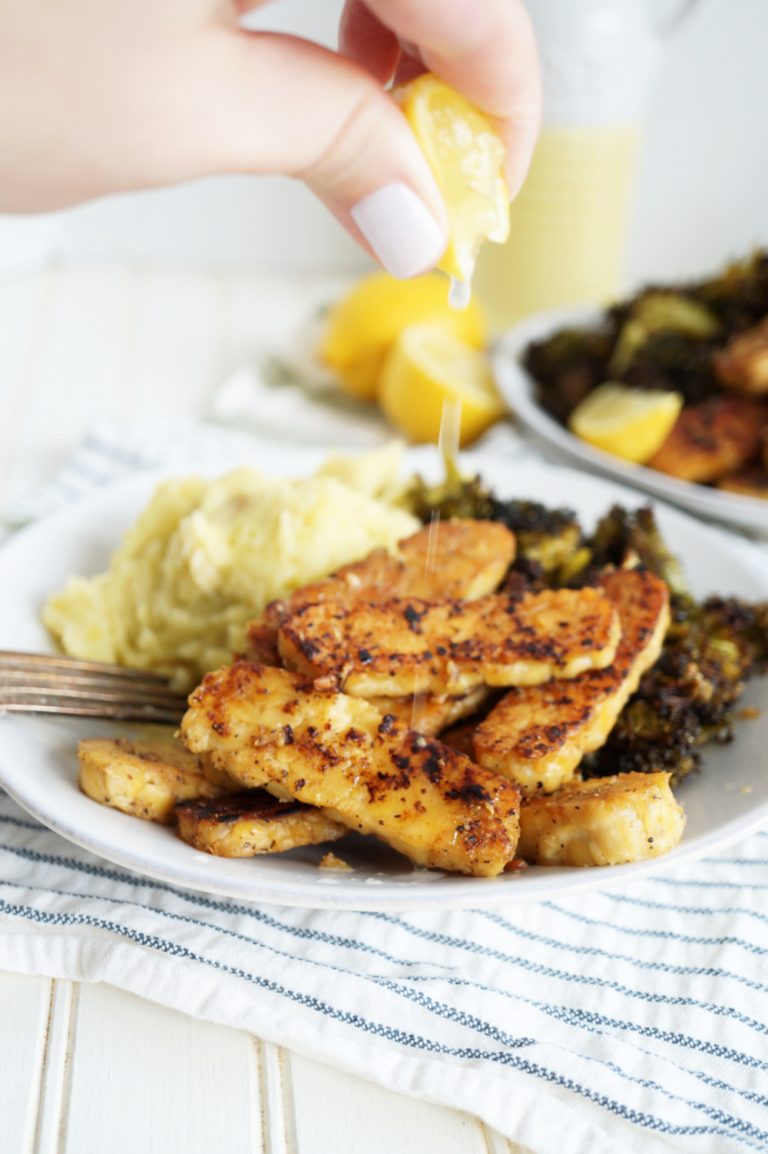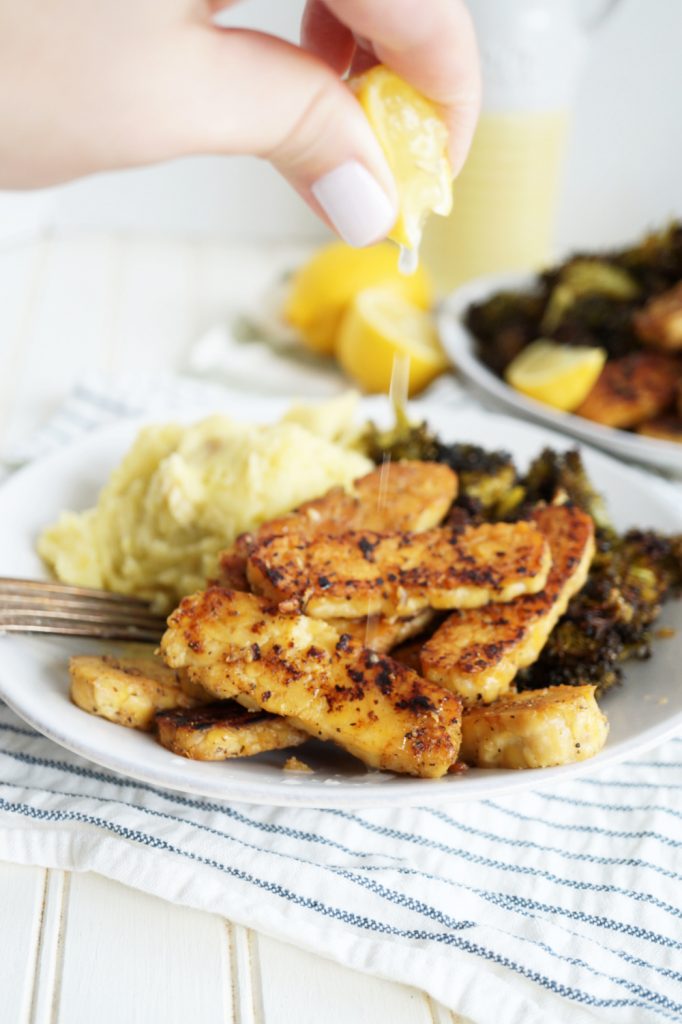 Easy Lemon Pepper Tempeh (The Baking Fairy) - Easy Lemon Pepper Tempeh is a simple and delicious plant-based dinner option. Pair it with your favorite side dishes for a quick healthy meal!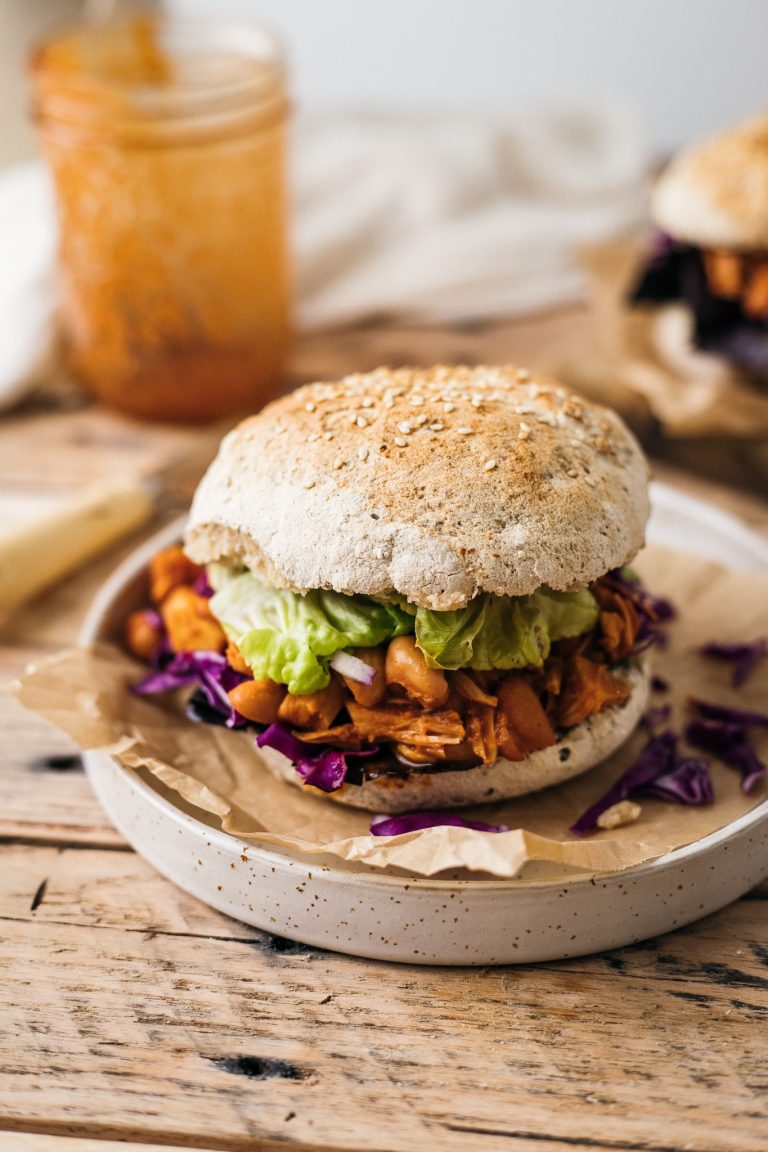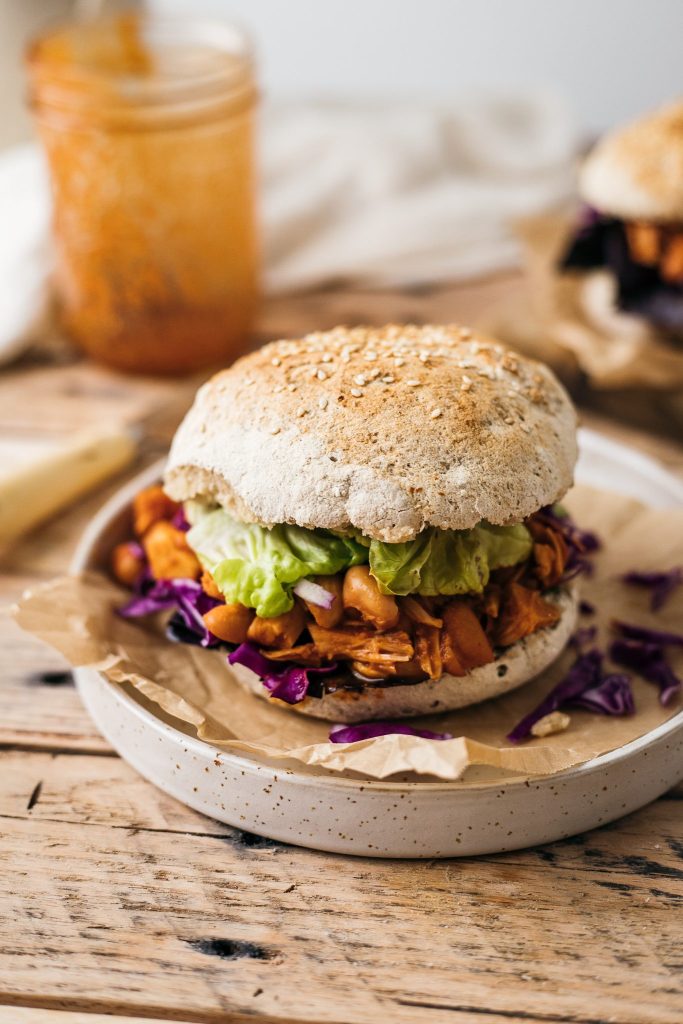 BBQ Jackfruit Pulled Pork (The Banana Diaries) - This quick and easy bbq jackfruit pulled pork is full of smokey flavor and a perfectly tender texture that all eaters love (vegan, vegetarian, and meat-eaters alike)! Ready in under 30 minutes, your entire family will just LOVE this vegan bbq jackfruit pulled pork.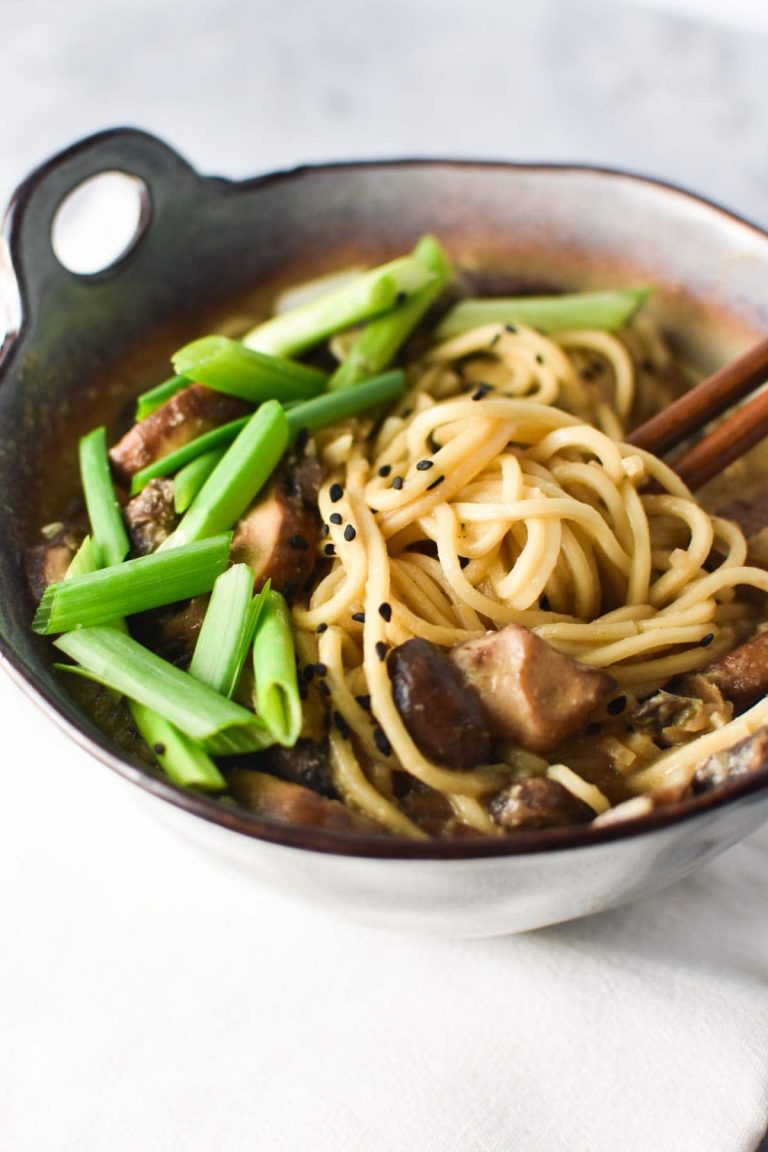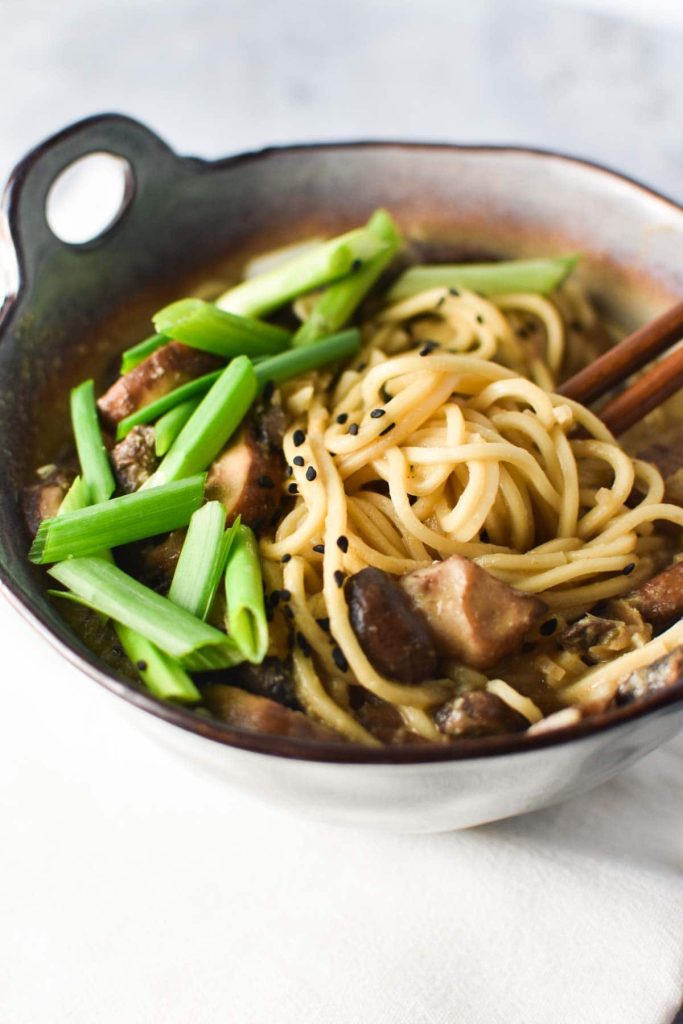 Soy-Free Mushroom Ramen (The Dizzy Cook) - Super quick and easy, this mushroom ramen can be ready in about 20 minutes from start to finish. Minimal ingredients and prep needed for this cozy meal.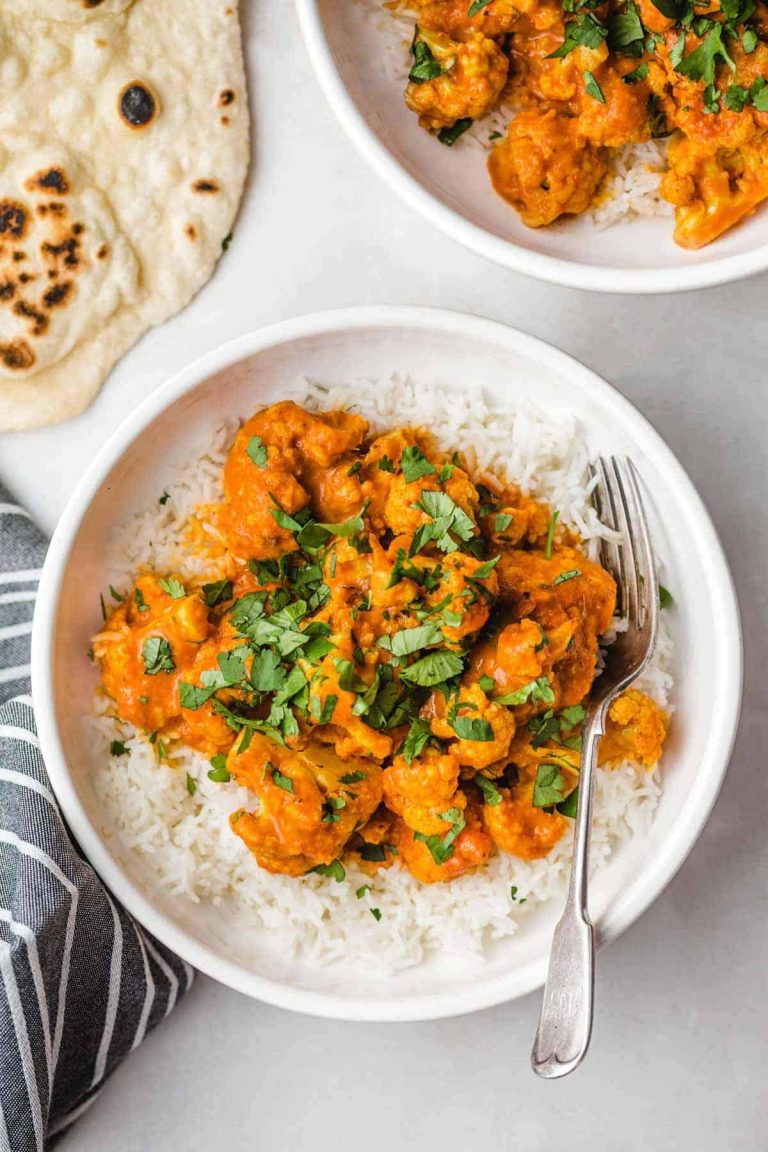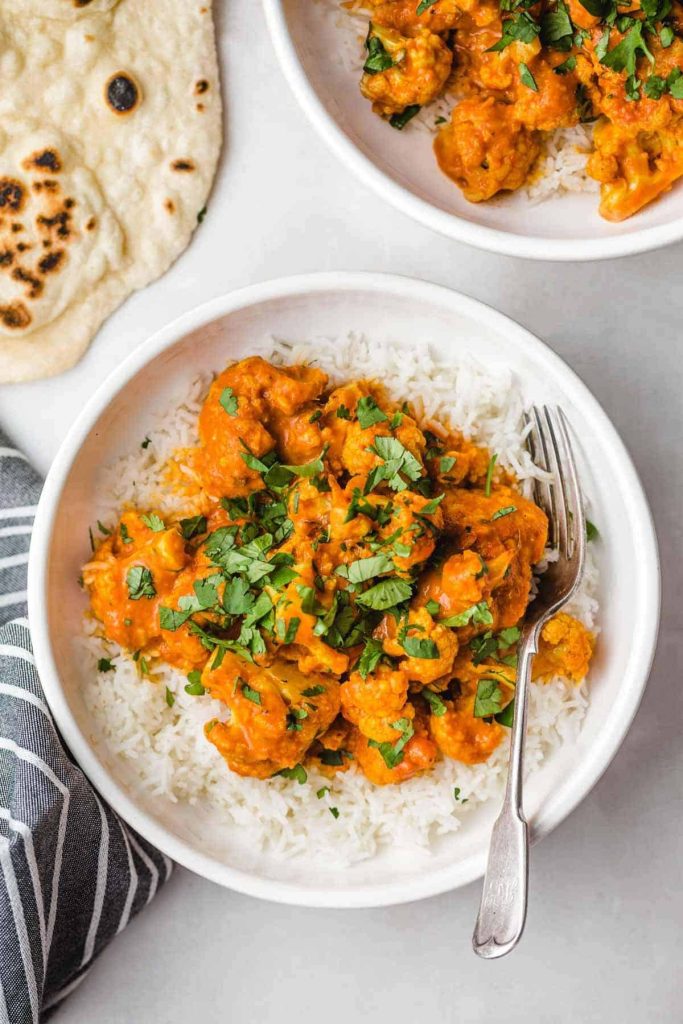 Vegan Butter Cauliflower "Chicken" (Little Sunny Kitchen) - Rich, fragrant, and healthy vegan butter chicken made with cauliflower. This easy family-friendly meal is so hearty, satisfying, and filling.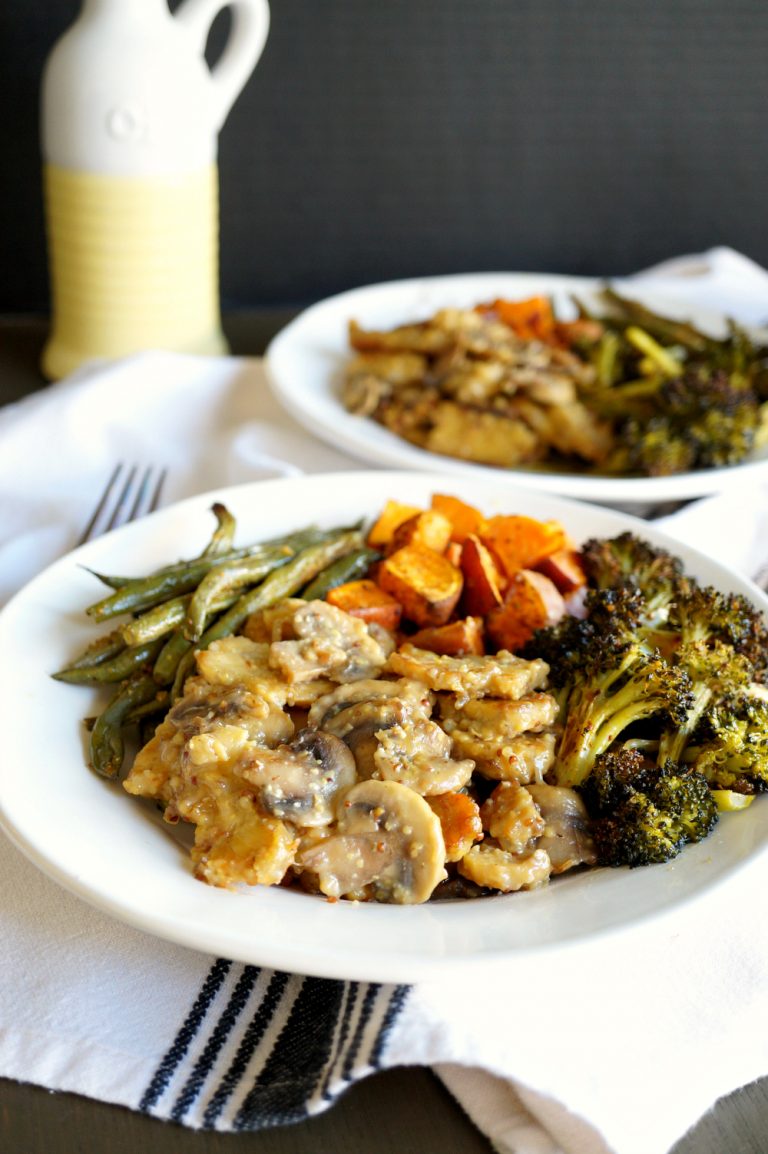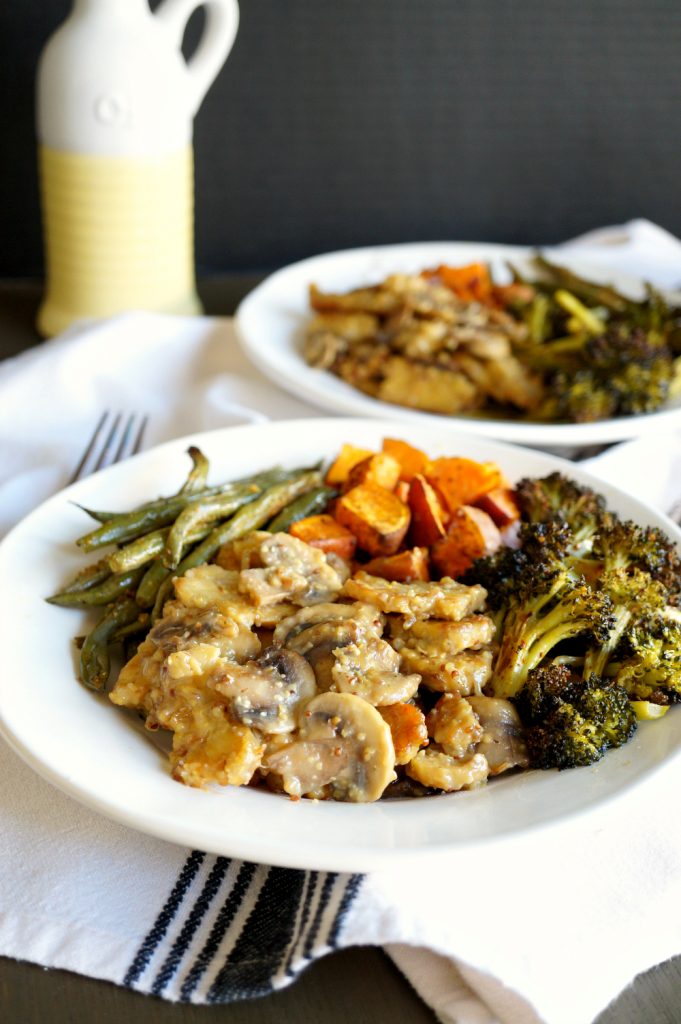 Maple Mustard Tempeh with Mushrooms (The Baking Fairy) - Need an easy, delicious plant-based meal? This Maple Mustard Tempeh with Mushrooms takes less than 20 minutes to come together, but tastes like you slaved over the stove for hours!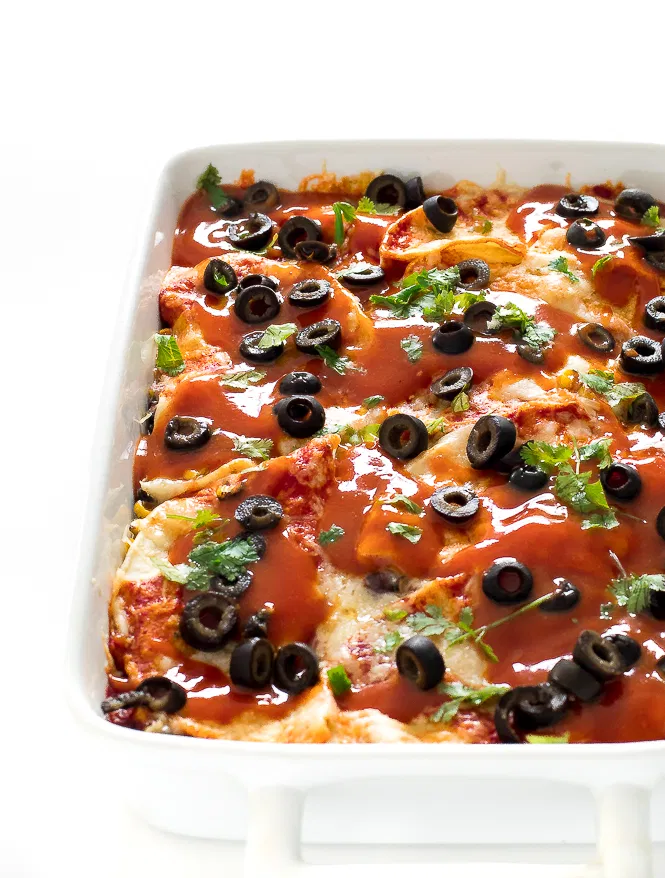 Vegetarian Enchilada Casserole (Chef Savvy) - Easy Vegetarian Enchilada Casserole. Layered with black beans, corn, green chilies, enchilada sauce and corn tortillas! This is an easy vegetarian meal the whole family will love! Ready in 40 minutes or less!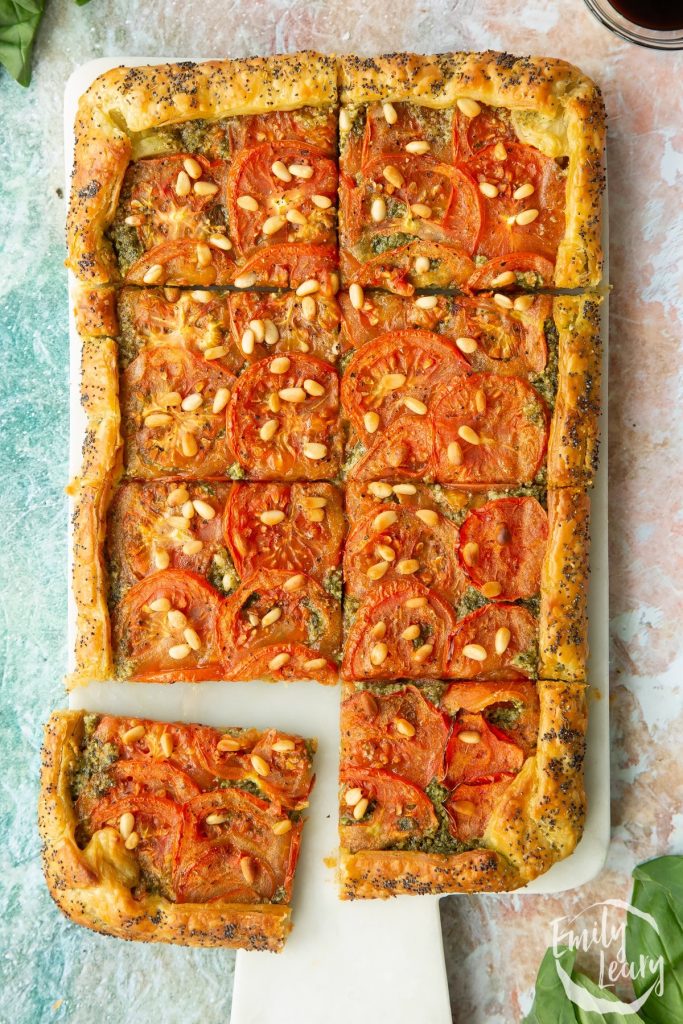 Vegan Puff Pastry Tart (Emily Leary) - This vegan puff pastry tart is the perfect option for a quick, flavourful lunch with a vegan pesto base, topped with thinly sliced vine tomatoes and baked to perfection to give a golden oregano and poppy seed crust.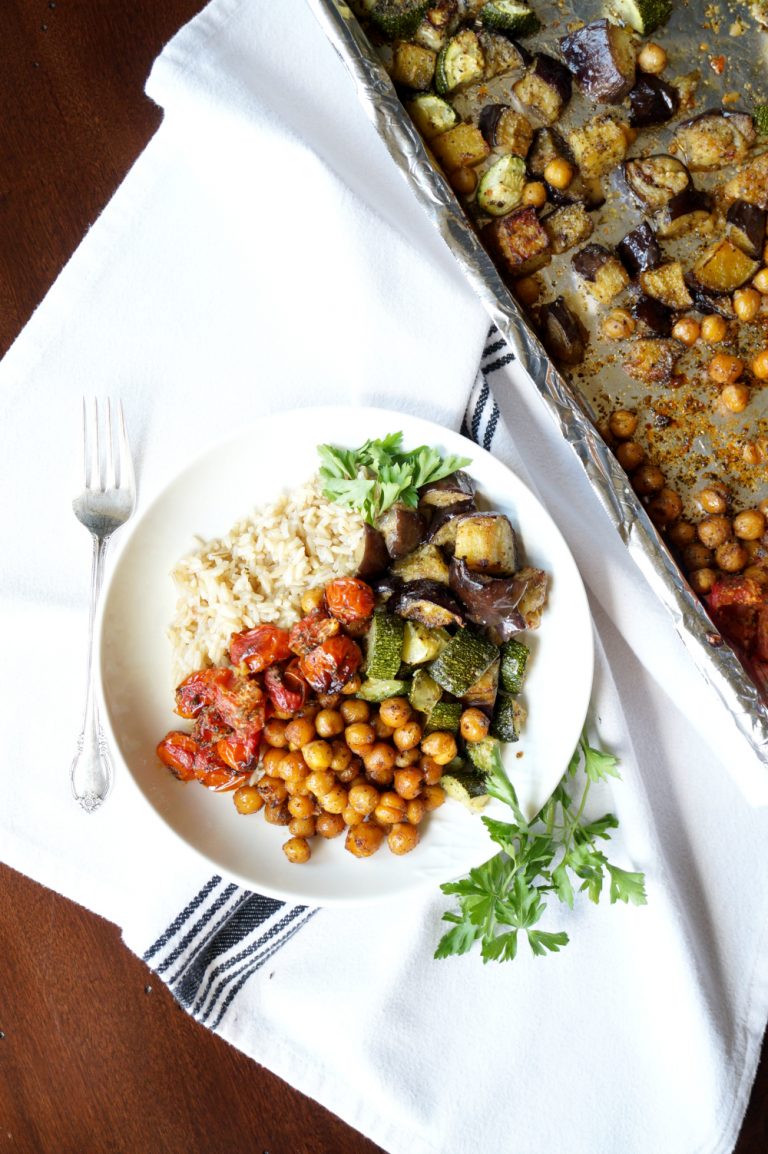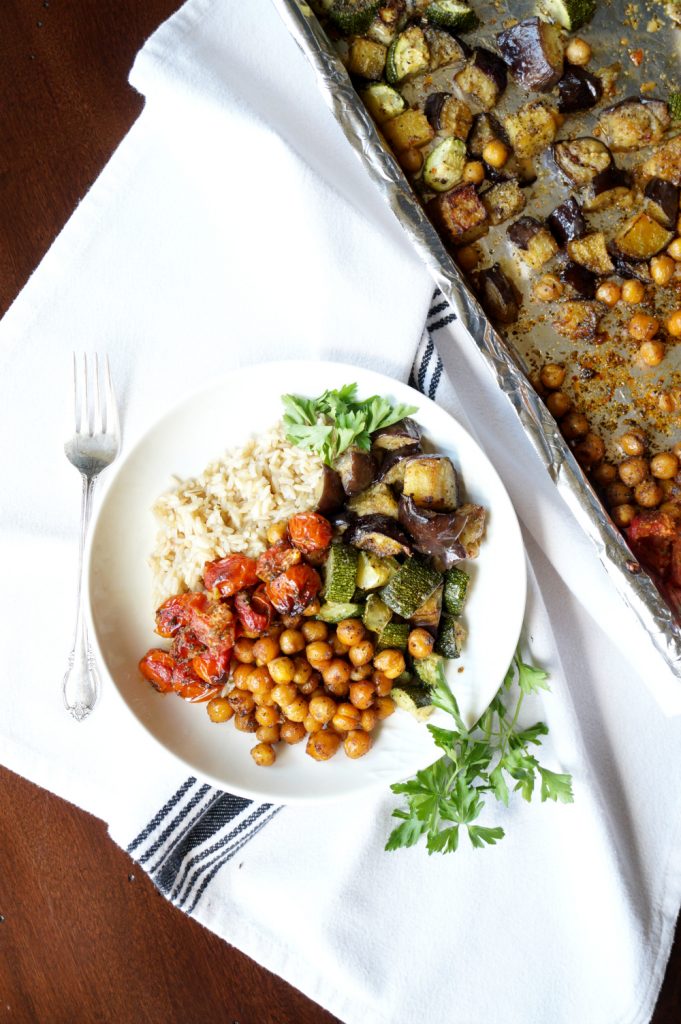 Vegan Roasted Ratatouille Sheetpan Meal (The Baking Fairy) - If you're needing a healthy, nourishing dinner in a hurry, this Vegan Roasted Ratatouille Sheetpan Meal fits the bill. Just serve over brown rice for a delicious meal. It's also great for packed lunches!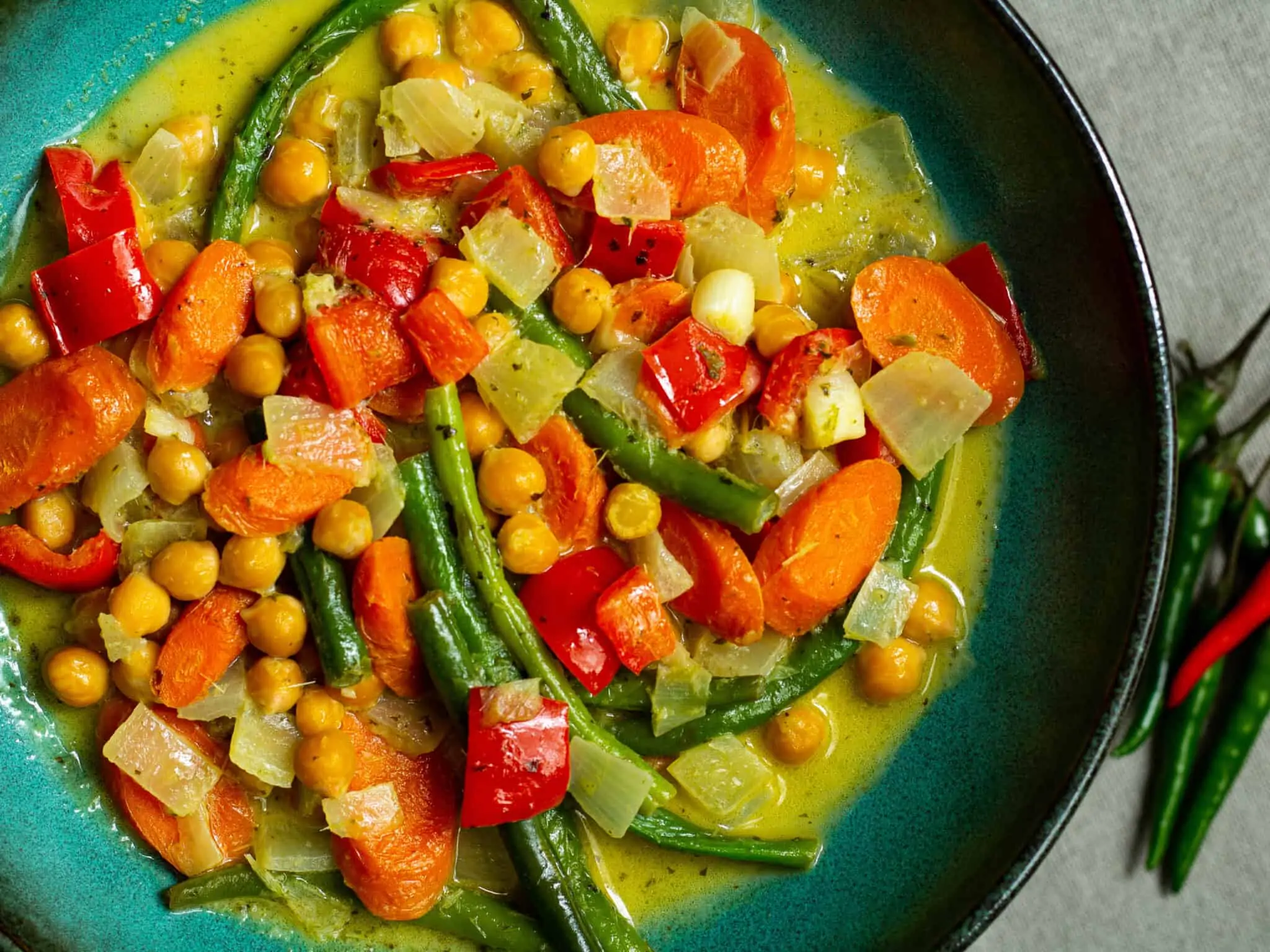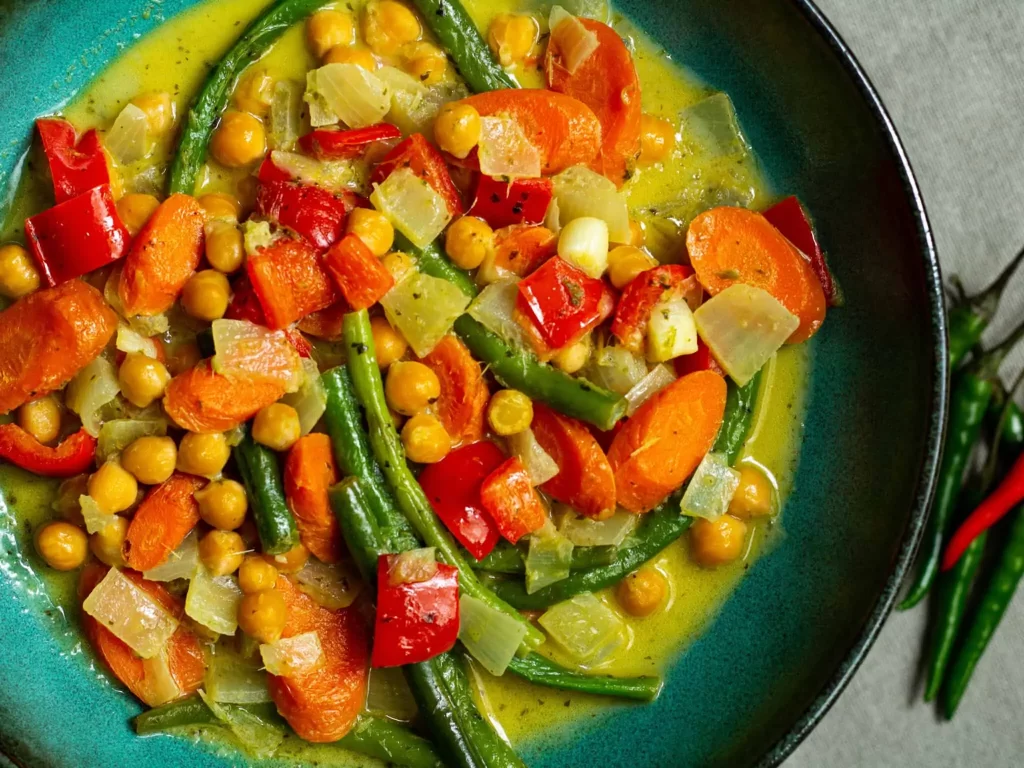 Thai Green Curry with Chickpeas (The Copper Table) - This delicious curry is on the table quickly. The curry paste is homemade and really easy to make, it can even be made ahead for later use. The veggies can be chopped in advance as well, making this really easy to throw together at the last minute!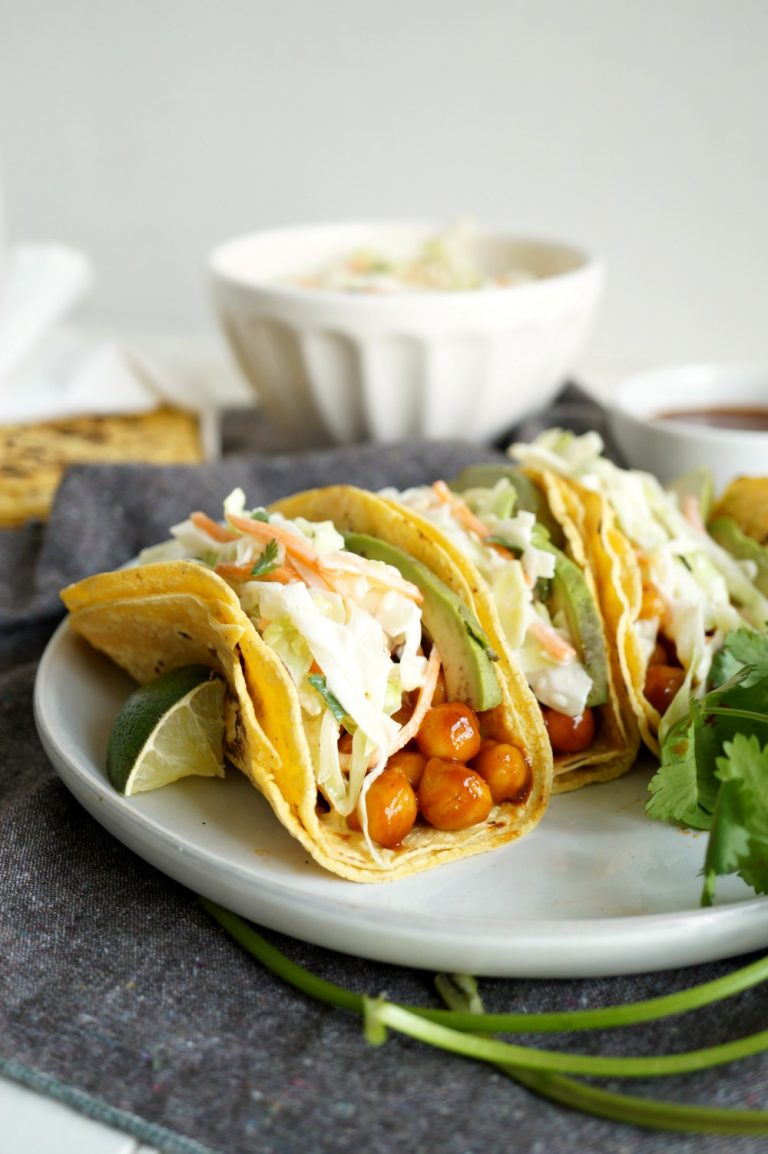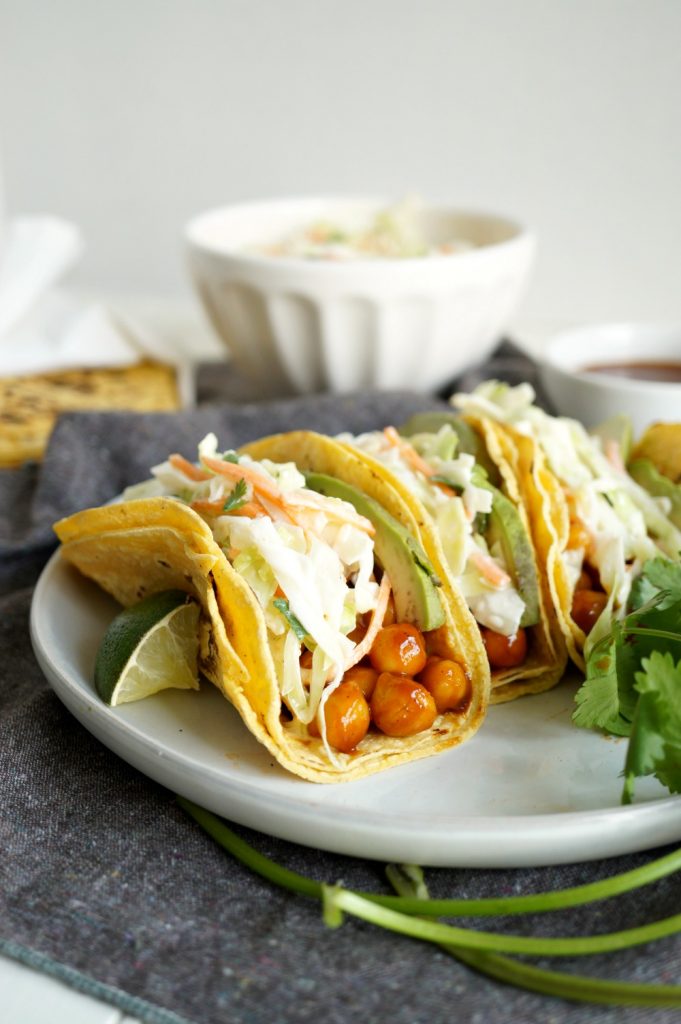 Quick & Easy BBQ Chickpea Tacos (The Baking Fairy) - These Quick & Easy BBQ Chickpea Tacos are a perfect 15 minute dinner! Smokey, savory, and topped with a fresh slaw and avocado slices.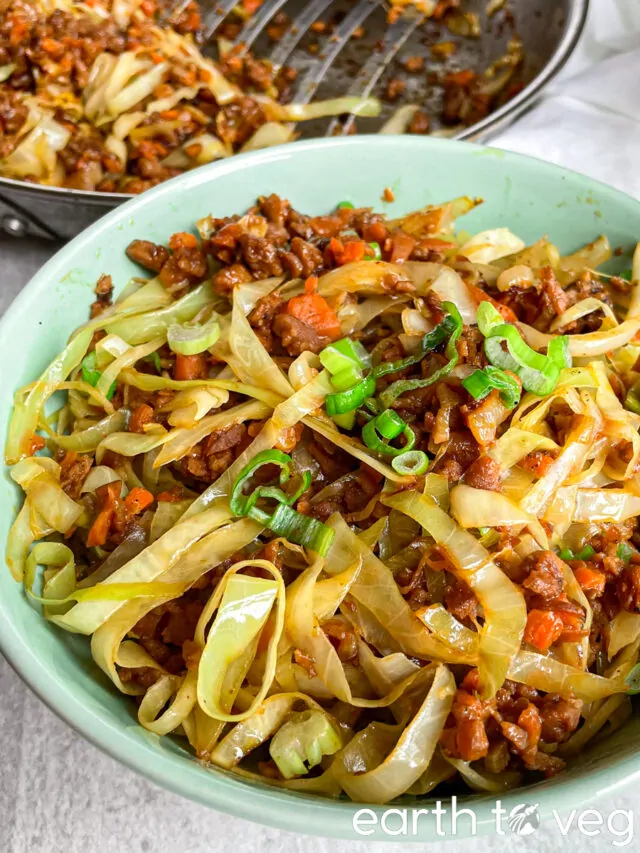 Vegan Eggroll in a Bowl (Earth To Veg) - Craving takeout? Try this mouthwatering vegan egg roll in a bowl. A keeper for your weekly rotation, this dinner comes together in under 30 minutes.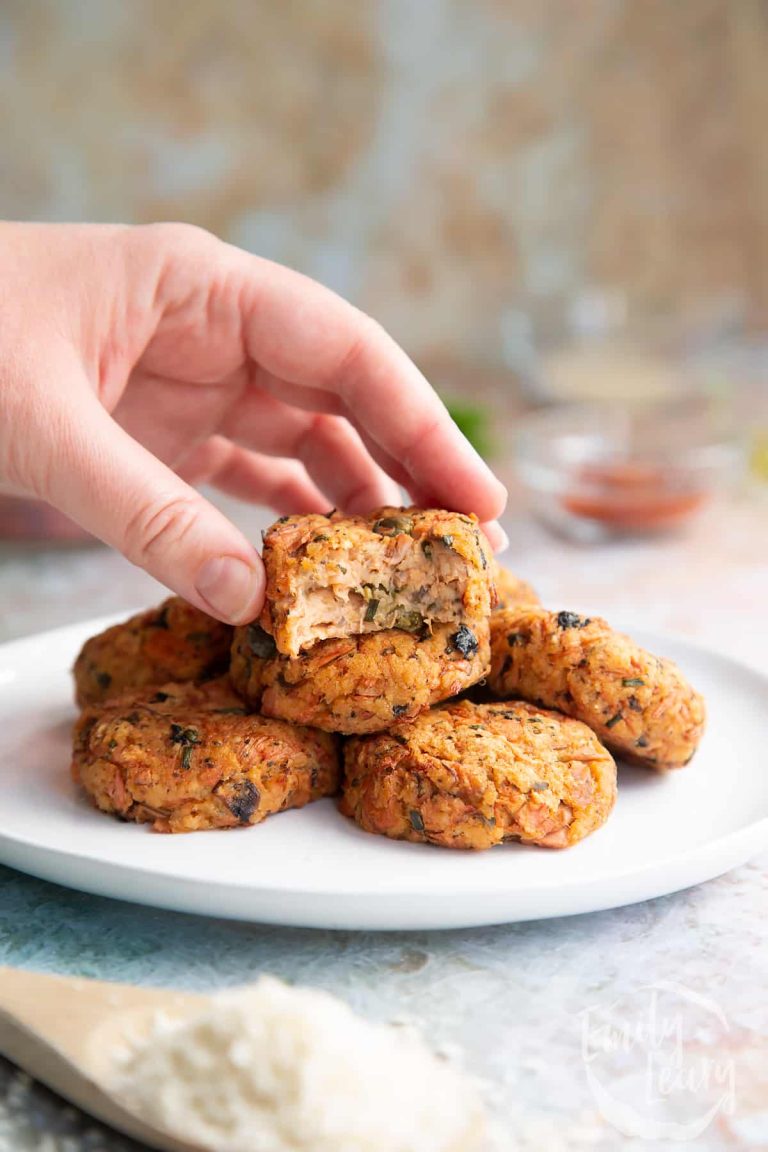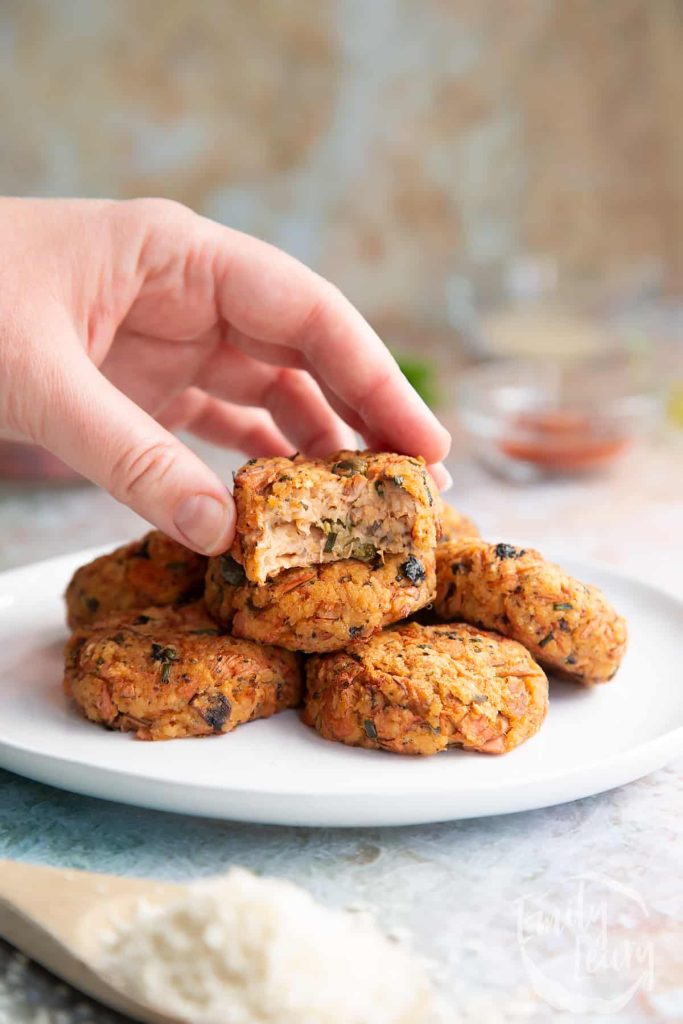 Vegan Fish Cakes (Emily Leary) - These vegan fish cakes are so like the ones made with seafood, you'll hardly believe they're totally free from animal products.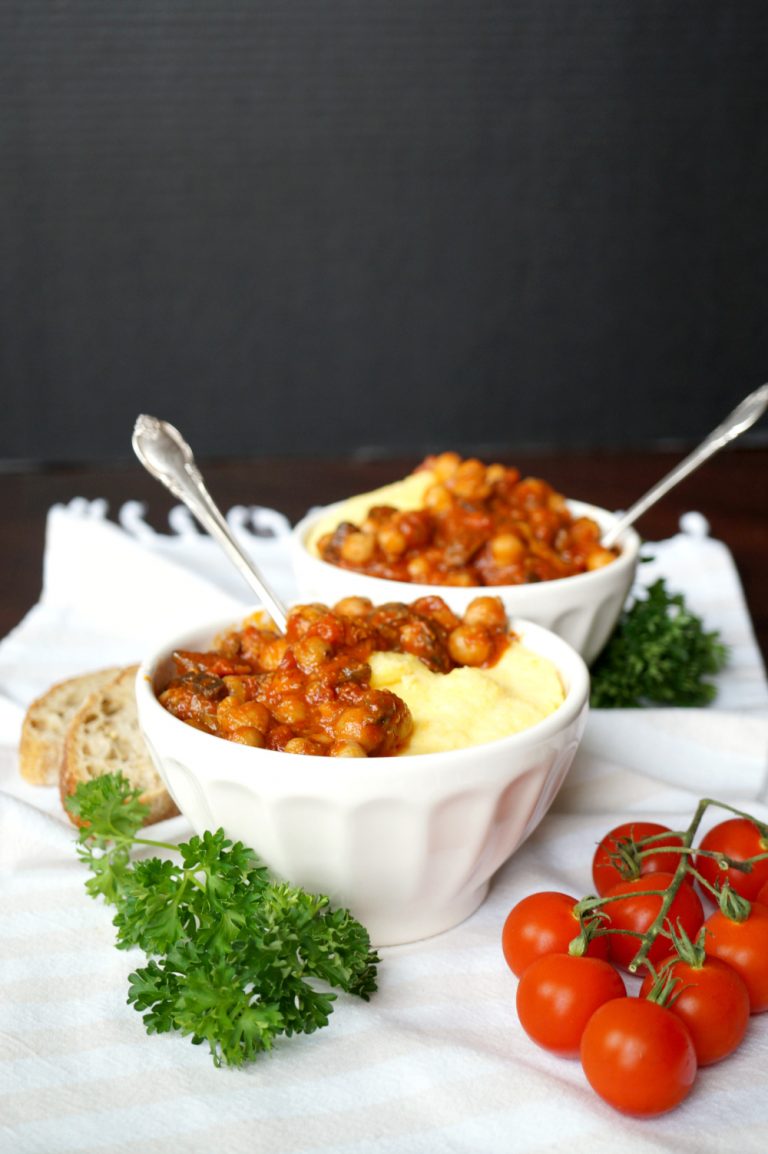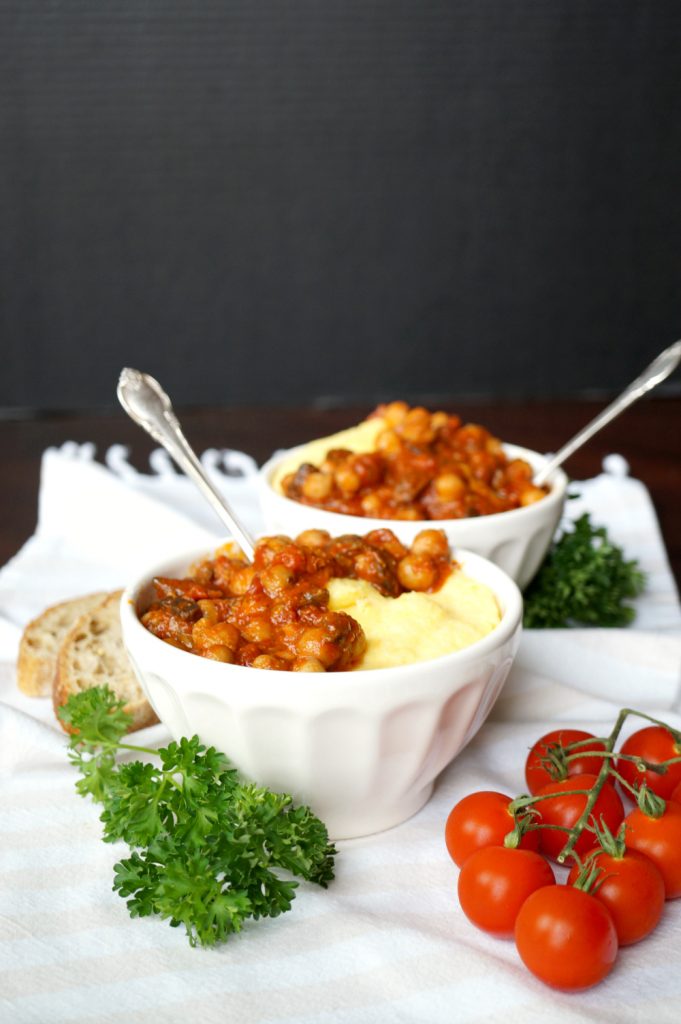 Chickpea Mushroom Tomato Stew with Polenta (The Baking Fairy) - If you're looking for a warm and cozy dinner that's easy to make, whip up this Vegan Chickpea Mushroom Tomato Stew with Polenta! Just a few minutes of prep and you'll be rewarded with a savory, comforting dish.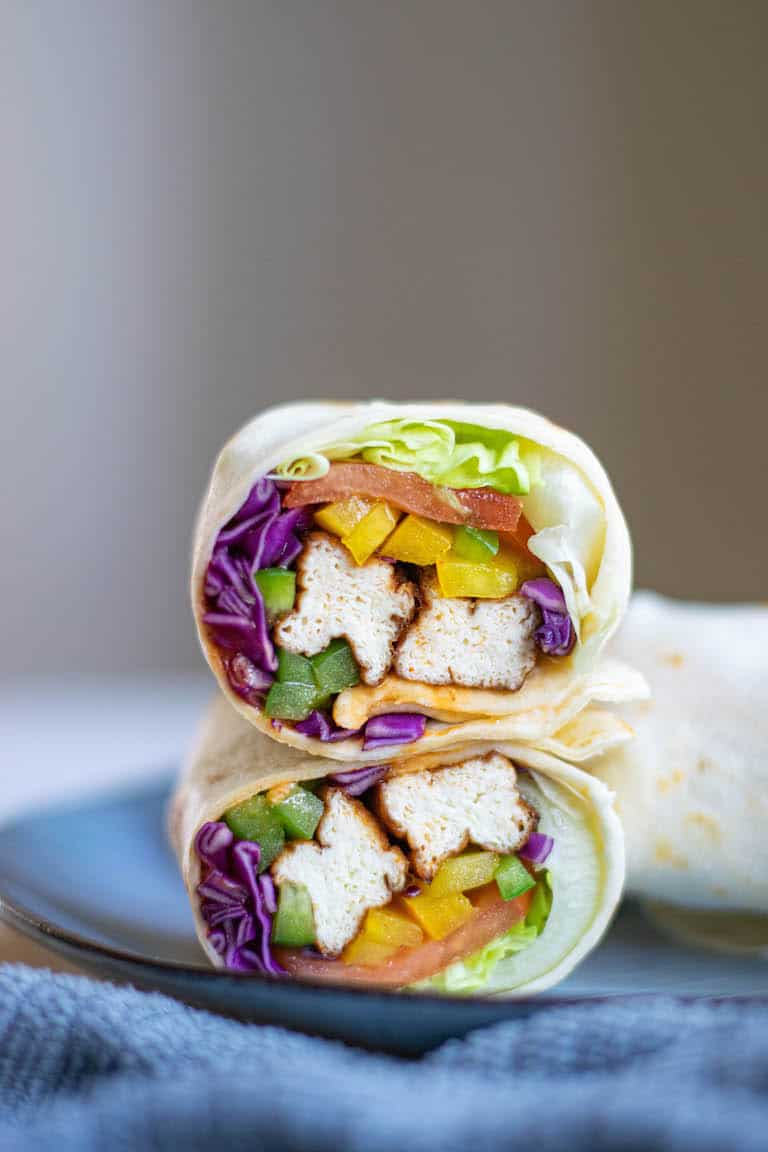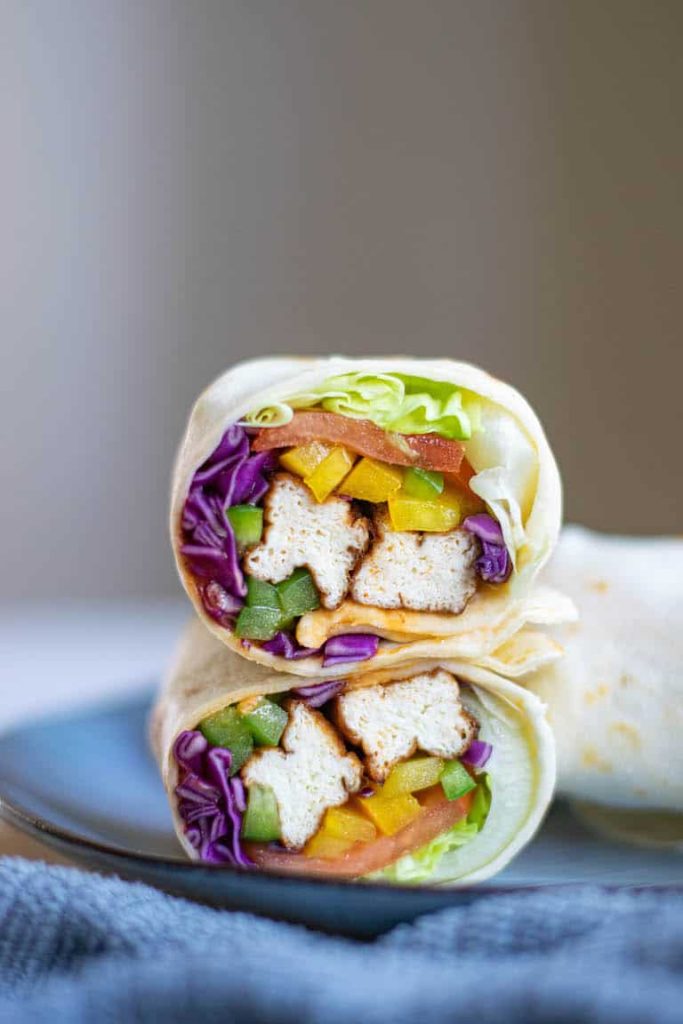 Air Fryer Asian Tofu Wrap (Recipes from a Pantry) - Air Fryer Tofu is delightfully crunchy on the outside and light on the inside. Learn how easy it is to make a delicious protein-packed Air Fryer Asian Tofu Wrap that's perfect for quick and healthy lunches, midweek dinners, and packing into lunch boxes.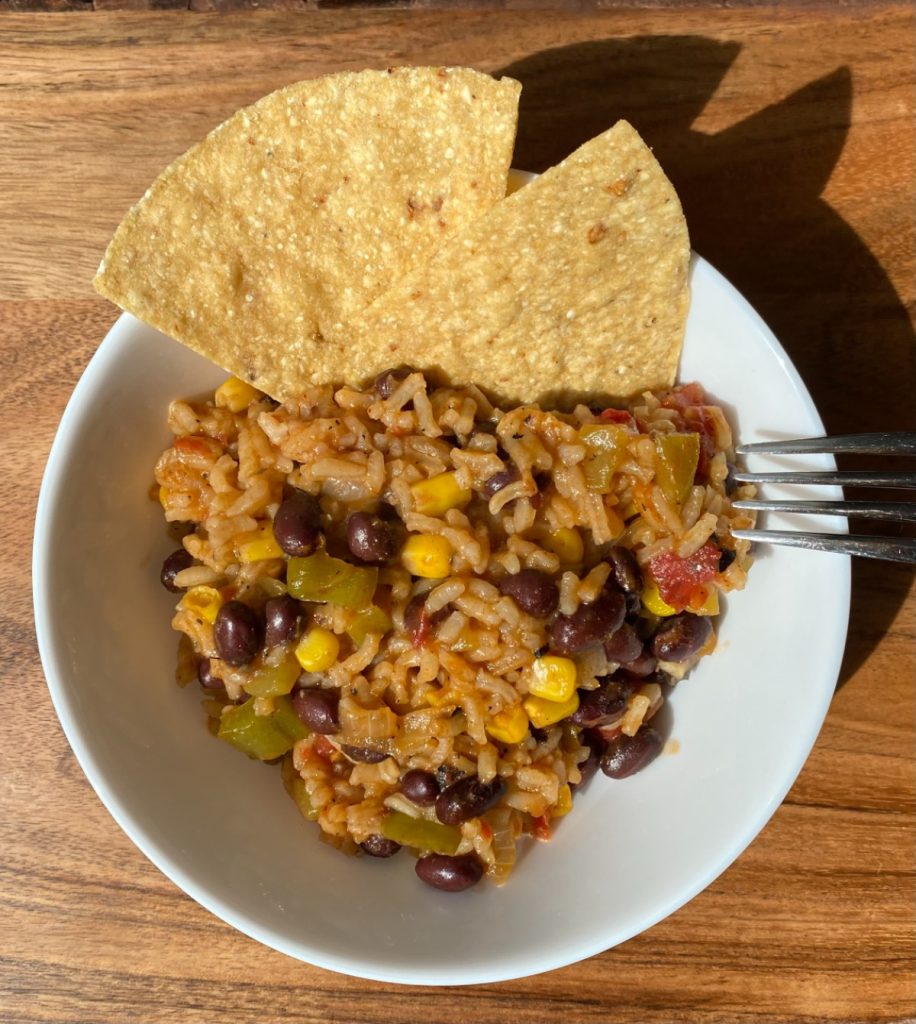 1-Pot Vegan Burrito Casserole (Hassle Free Vegan) - This 1-Pot Vegan Burrito Casserole is quick and easy to make. It uses simple ingredients that you probably already have in your pantry. This can be eaten with tortilla chips or used as a burrito filling.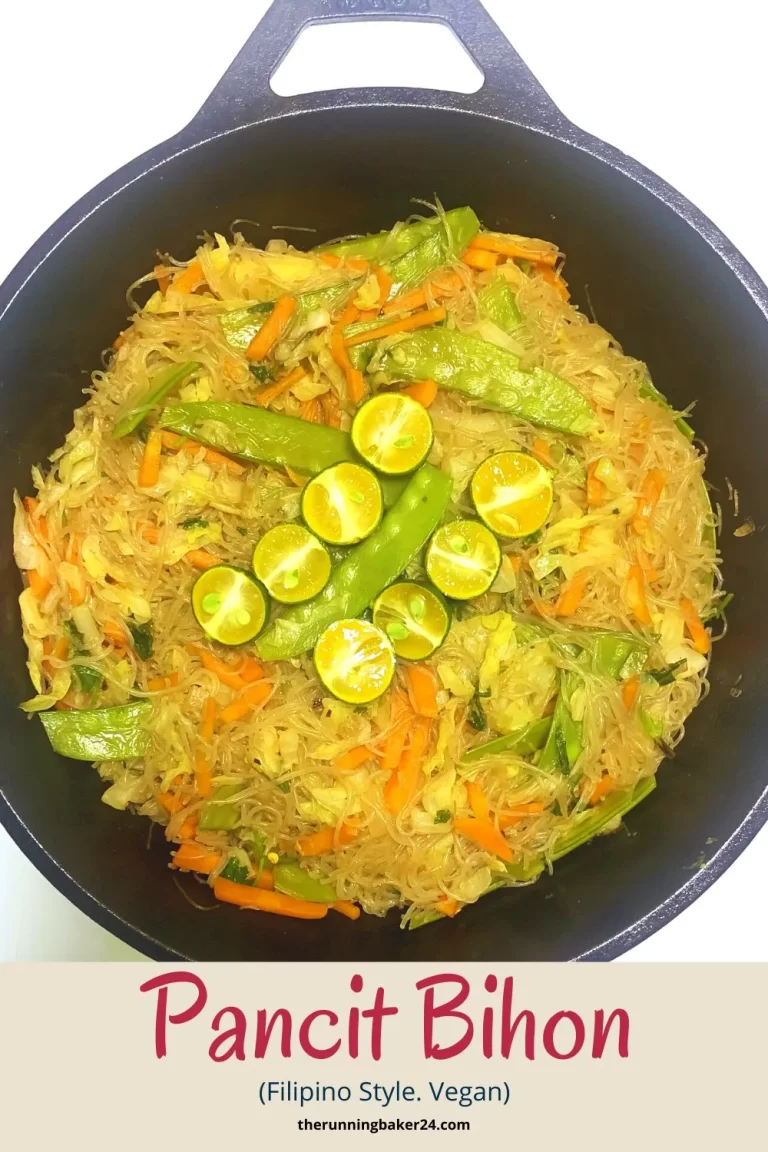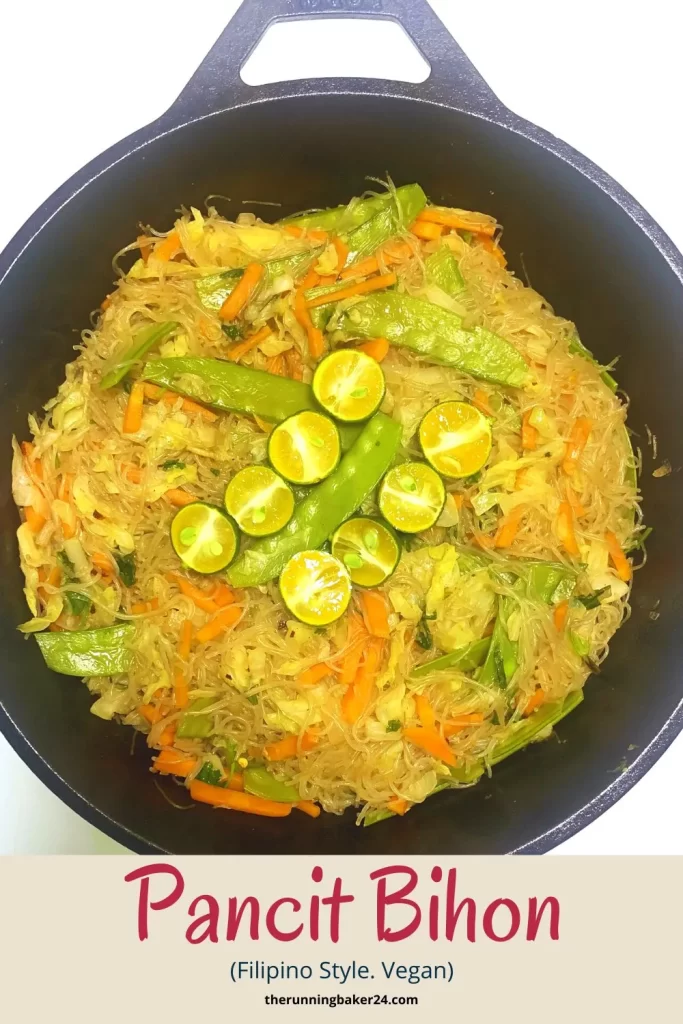 Filipino Style Pancit Bihon (The Running Baker) - Quick and easy to prepare, pancit bihon is a delicious asian recipe that can be eaten anytime of the day. It's vegan and gluten free.
I hope these delicious recipes will give you some inspiration for when you're ready to head back to the kitchen! Thanks for reading! 🙂