Who says you don't have time for a warm, filling breakfast on a weekday? Whip up a batch of these Vegan Tofu Scramble Breakfast Pockets over the weekend, and you'll be starting the whole week off on the right foot!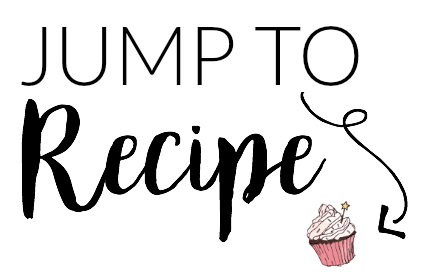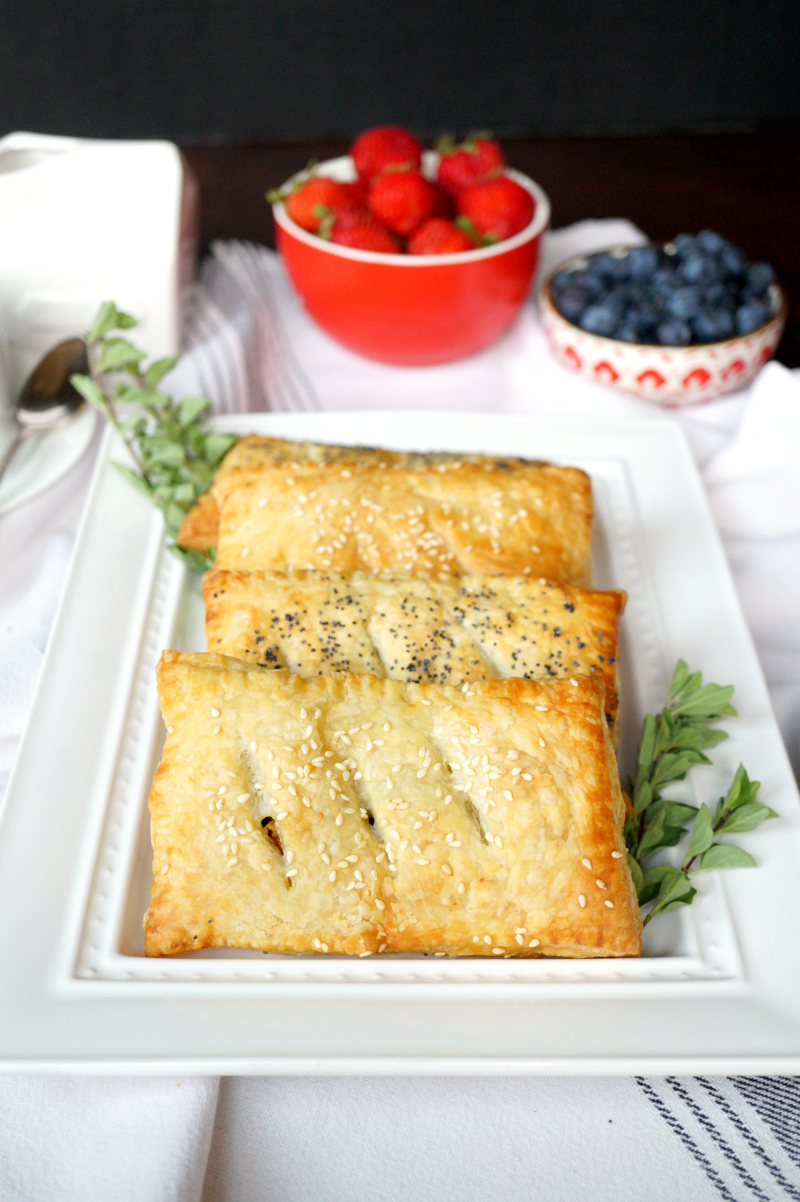 Happy Monday! Ya girl officially survived her first week of rotations, so now onto the next! I know I'm not the only one that's already headed back to school, with most grade schools near me starting up again this week. This means it is time for back-to-school school meal planning! I, for one, am bored to death of my daily protein shake for breakfast. Yes, it's convenient and it's healthy and it gets the job done but like... I've been doing this for like a year and a half. I am over it. Let's change up the weekday breakfast game! These Vegan Tofu Scramble Breakfast Pockets are absolutely AMAZING and sure to start your day off on the right foot. Prep them over the weekend, and simply pop them in the microwave or oven for a few minutes in the morning before enjoying. Let's go whip some up!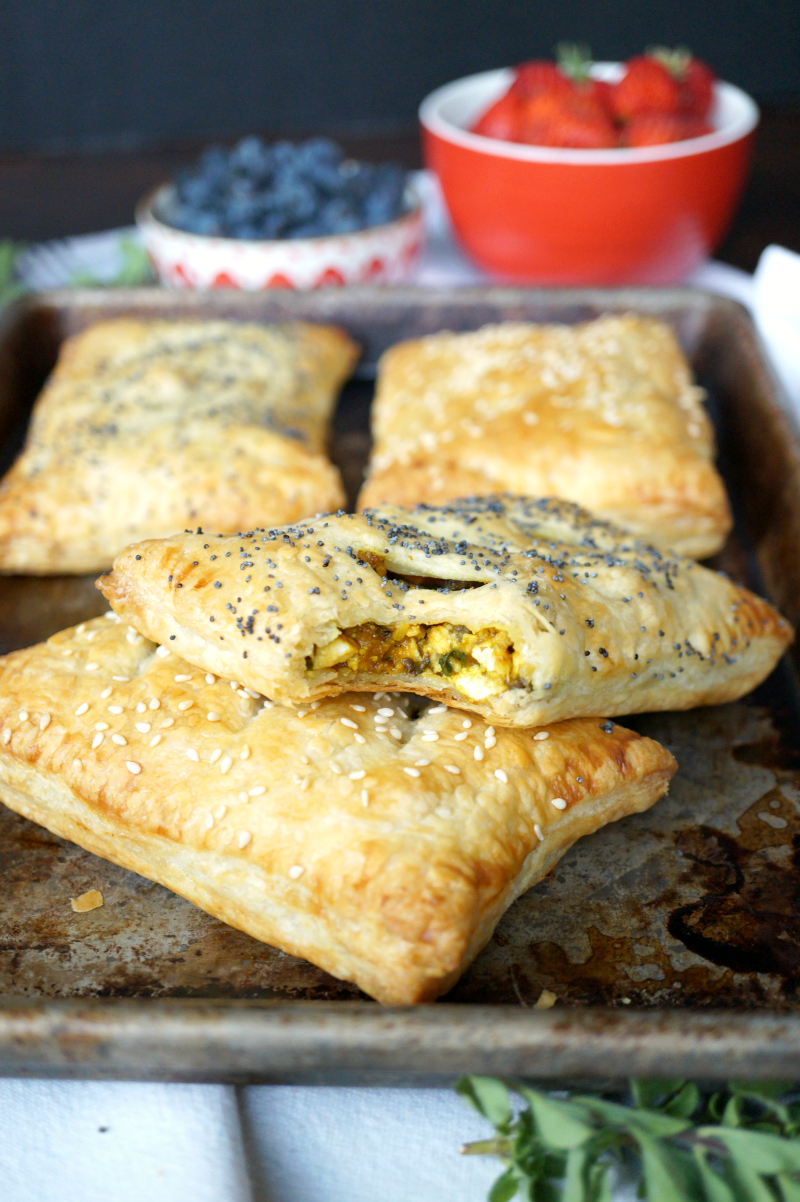 These savory puff pastry pockets are stuffed with tofu scrambled "eggs", and a sautéed mix of veggies including onions, carrots, celery, mushrooms, and spinach. The combination is seriously to die for! I know the idea here is for them to be breakfast pockets, but honestly you could eat them any time of day and it would totally be acceptable. And the best part - they totally don't even taste vegan. My fiance ate one and after eating the entire thing, he asked me what was in it. When I said tofu, he replied "So THAT'S why that chicken was so soft!" ? My dad and brothers each also ate second helpings without a peep!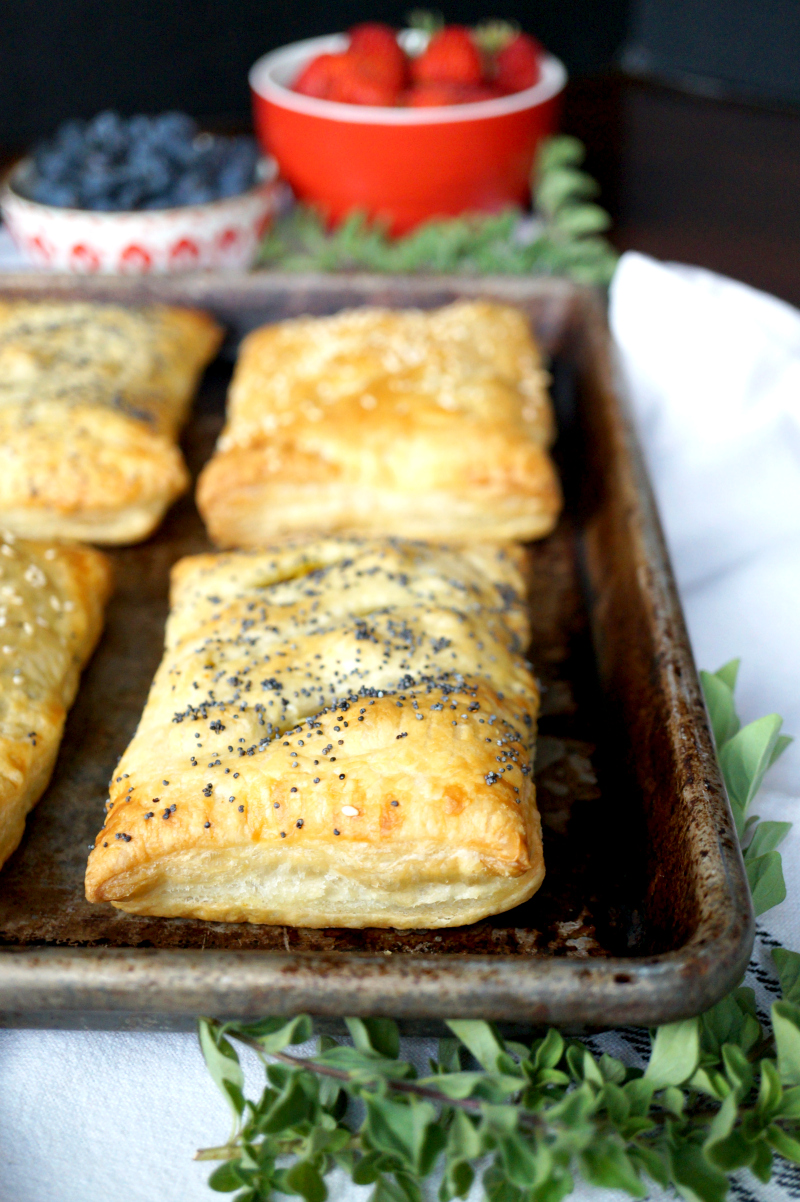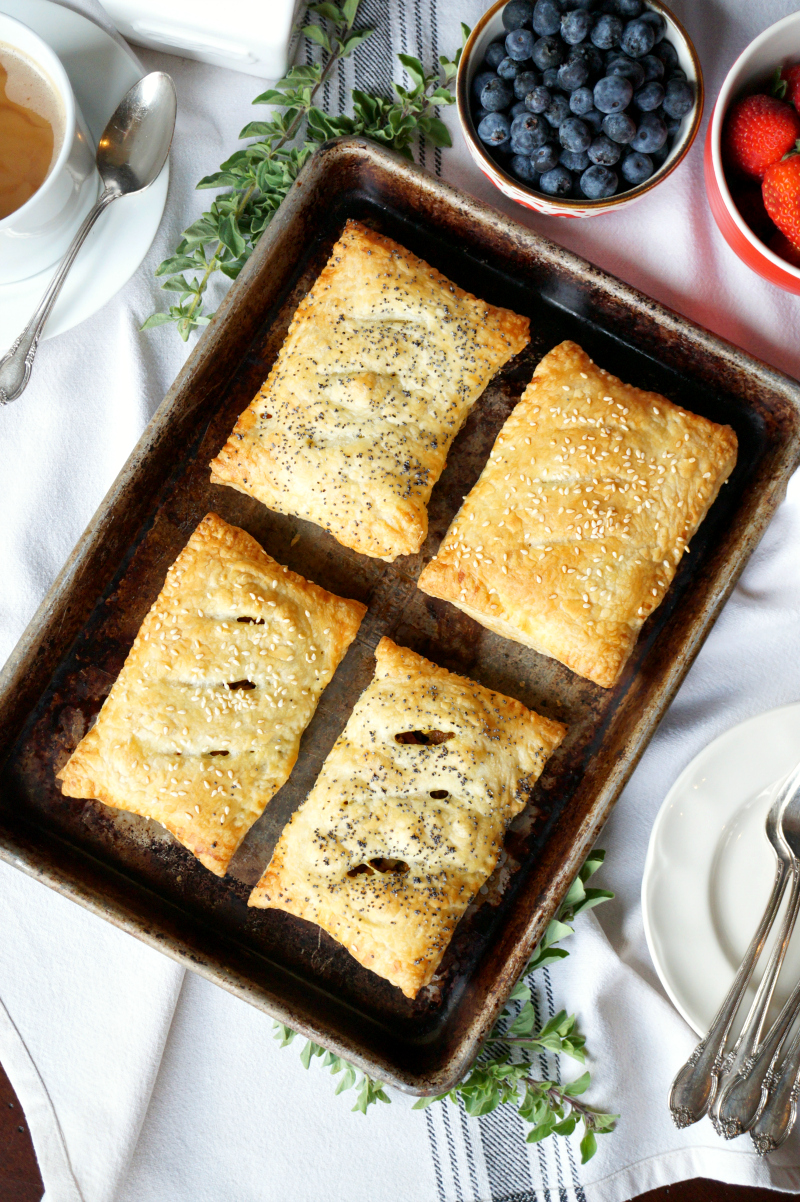 The inspiration for these tofu scramble breakfast pockets actually came to me from frozen breakfast toaster strudels ? Back in... middle school I think, they used to make savory toaster strudel filled with eggs, cheese, and bacon or sausage. I'd just pop them in my toaster and quickly have breakfast I could eat on the car ride to school! These are basically based on the same concept. Savory, flaky pocket filled with all kinds of deliciousness. Except vegan, of course!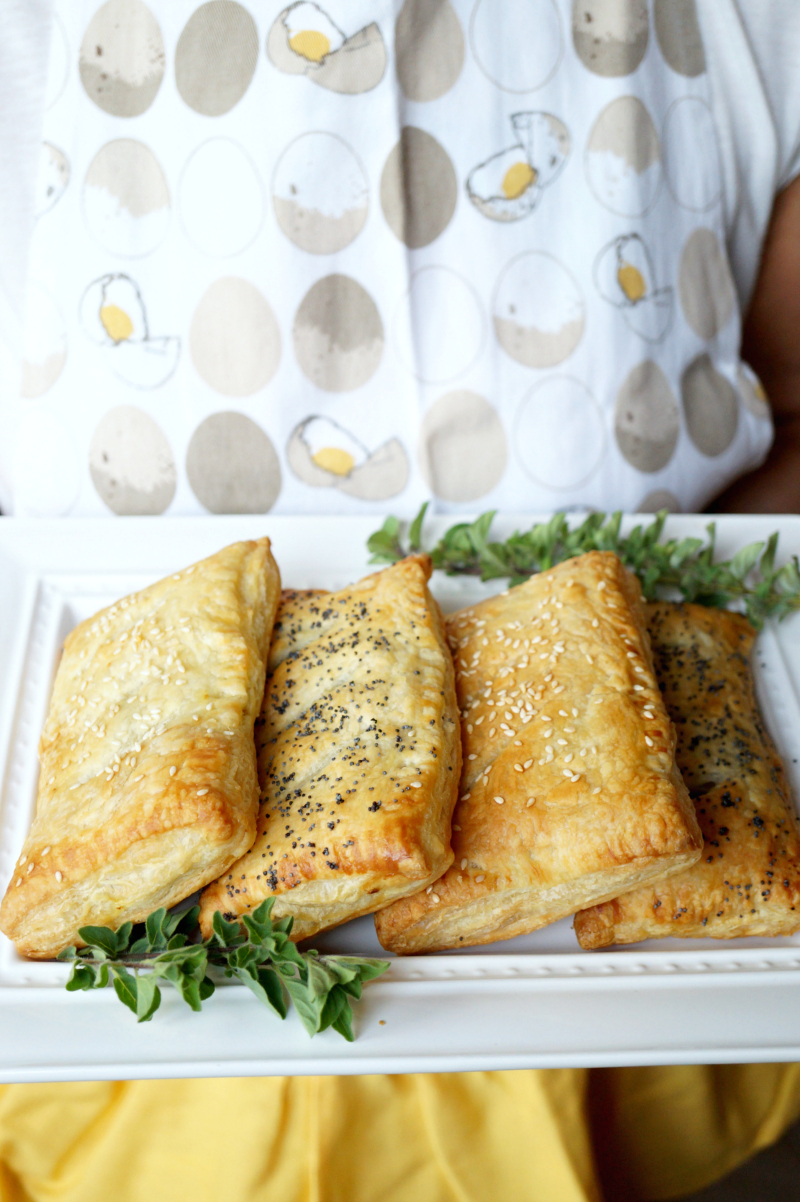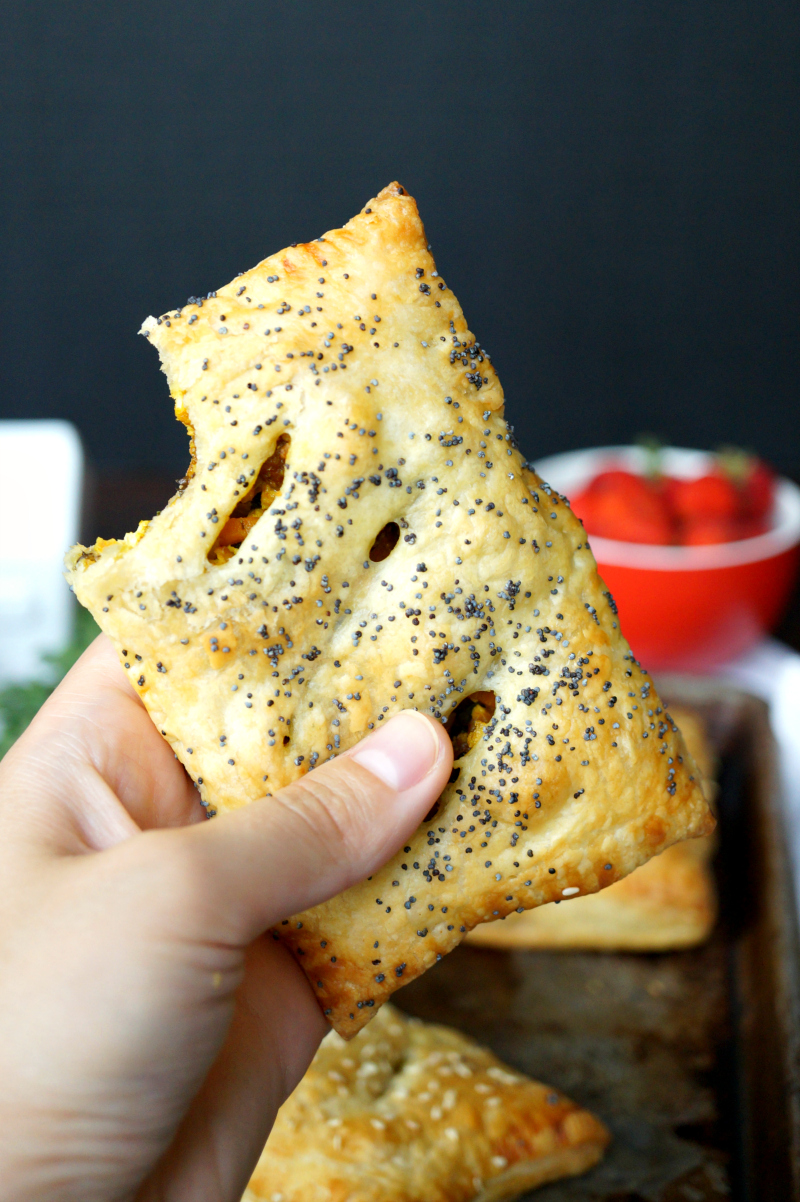 Whip up these vegan tofu scramble breakfast pockets over the weekend, and have a hot breakfast ready all week! Fill them with whatever brunch-y flavors you prefer, from veggies to vegan sausage and cheese, and begin your day on a delicious note. Happy cooking!
Looking for more vegan-friendly breakfast ideas? Check out my PB&J Oatmeal, Rainbow Green Smoothie Bowl, Banana Chocolate Chip Muffins, Caramelized Banana Pecan Oatmeal, and Vegan French Toast.
vegan tofu scramble breakfast pockets
Author:
Valentina | The Baking Fairy
Ingredients
1 box (2 rolls) puff pastry, thawed (Pepperidge Farm brand's is vegan)
1-2 tablespoon flour
1 block extra-firm tofu
2-3 tablespoon cornstarch
2 teaspoon turmeric
½ - 1 teaspoon smoked paprika
1 teaspoon garlic powder
1 teaspoon onion powder
2 teaspoon chicken seasoning blend
1 teaspoon salt
½ tablespoon low sodium soy sauce
½ tablespoon vegan worcestershire sauce
2 tablespoon + 1 tablespoon olive oil (separated)
2-3 tablespoon nutritional yeast
½ white onion, chopped
2 stalks celery, diced small
2 medium carrots, diced small
2 cups fresh spinach
4-5 mushrooms, diced small
1-2 tablespoon unsweetened soy milk
poppy seeds and/or sesame seeds, for topping
Instructions
First, press the tofu for about 30 minutes until most of the excess liquid has drained.
Crumble tofu with your hands into a medium bowl, and toss with the cornstarch.
Add in all of the spices, soy sauce, and worcestershire and mix until combined.
In a large saute pan, heat 2 tablespoon of olive oil on medium-high heat until it shimmers.
Add in the tofu, and cook, stirring often, until the edges are golden brown and slightly crisp. Transfer tofu to a separate bowl.
In the same pan, heat the other 1 tablespoon of olive oil, and toss in all of the vegetables. Cook over medium heat, stirring often, until all vegetables are softened and fragrant. Add them to the bowl with the tofu, and mix in the nutritional yeast. Taste, and add more salt and pepper as needed. Set the filling aside to cool.
Lightly flour a clean surface, and one at a time, lay out one sheet of puff pastry and stretch into a large rectangle using a rolling pin. Cut each sheet into 8 even rectangles.
Spoon the cooled filling onto half of the rectangles, lightly moisten the edges with a bit of water, and top with the other remaining rectangles.
Using a fork, press all the way around the edges to seal. Using a sharp knife, cut 3 small lines on the top of each pocket for steam to escape.
Brush the tops with the unsweetened soy or almond milk, and sprinkle with sesame or poppy seeds.
Place breakfast pockets on a baking sheet lined with parchment, and place in fridge for at least 15 minutes before baking.
When ready, preheat oven to 400F.
Transfer pans directly from fridge to oven, and bake for 22-24 minutes, until golden brown, crisp, and puffed.
Enjoy immediately, or let cool completely, wrap in plastic, and store in the refrigerator until needed.
*Disclosure: I am part of the Amazon Associates Program, and there may be affiliate links on this page. If you buy anything through my website, I will receive a small percentage of the profit at no extra cost to you. Thank you for supporting my blog!*

SaveSaveSaveSaveSaveSaveSaveSave
SaveSave
SaveSave