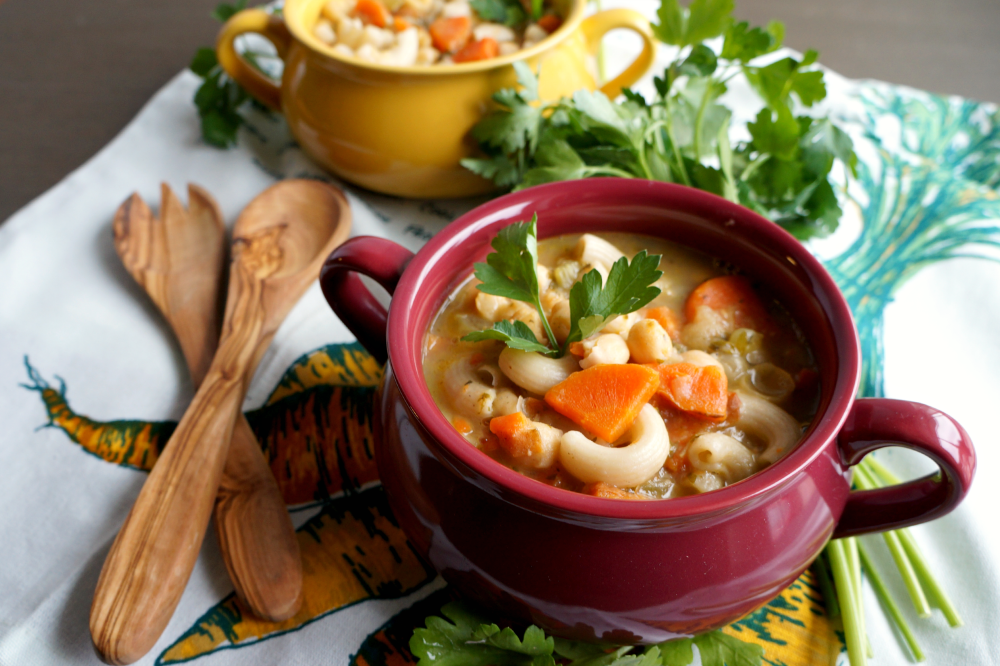 It's been colder than who-knows-what lately, and between the freezing rain and the windchill, I'm pretty sure everyone is getting sick. When your best friend is sick,  you make them chicken noodle soup, but when your best friend is a vegan... you make them chickpea noodle soup, of course! I made this for the first time a few weeks ago when my dear friend was feeling sickly, and she pretty much freaked out and declared this soup to be her favorite thing ever. The course of action is basically the same as for regular chicken noodle soup, except you replace the meat with two cans of chickpeas! This dish is seriously so easy and delicious, and the chickpeas have almost as much protein as chicken, so this will get you to feeling better in no time, meat-free.
Vegetarian/vegan or not, this soup is great for college students because it's so cheap to make a HUGE pot, and leftovers will last you for like a week! Delicious food that's easy, cheap, and lasts a few days is definitely the best. We are currently doing a gluten-free diet, so we used brown rice pasta for this, but we've used regular pasta in the past with great results! This soup is ridiculously simple to make, super satisfying, and perfect for cold, wintery weather. It's like a cozy hug in a bowl!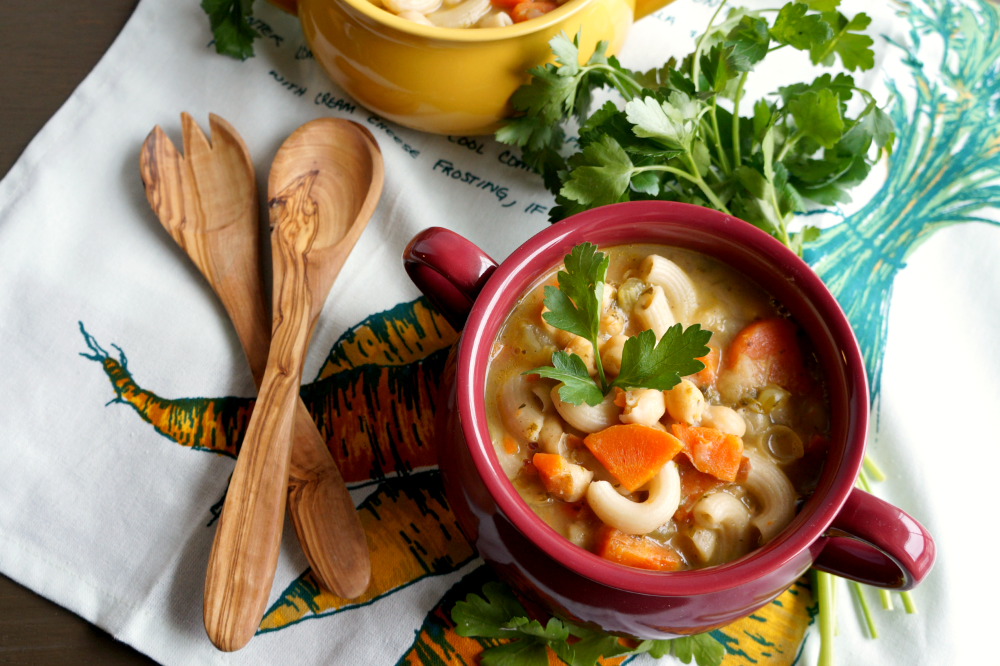 chickpea noodle soup
Author:
Valentina | The Baking Fairy
Ingredients
2 cans chickpeas, drained and rinsed
4 stalks celery, chopped
2-3 carrots, chopped
½ onion, chopped
2-3 cloves garlic, finely minced
1 tablespoon olive oil
¼ cup fresh parsley (or ½ teaspoon dried parsley)
1-2 sprigs fresh rosemary (or ½ teaspoon dried rosemary)
½ teaspoon oregano
1 teaspoon garlic powder
1 teaspoon onion powder
salt and pepper, to taste
½ bag brown rice pasta, or ½ box regular small pasta
Instructions
Pour the olive oil in a large soup pot turned to medium-high heat, and add in the onion, garlic, carrots, and celery. Cook, stirring occasionally, until vegetables are fragrant and slightly soft, 5-10 minutes.
Add in the 2 cans of rinsed chickpeas, along with all of the herbs and spices.
Add enough water to completely cover the vegetables, turn heat onto low, and let the soup simmer for at least 1 hour, until it has thickened and all vegetables are very soft.
When almost ready to serve, add in the pasta, along with about 2 cups extra water, and turn the heat on high.
Let the soup boil for 7-8 minutes, until noodles are cooked through. Taste and add salt and pepper as needed, and serve immediately!