These Quick & Easy BBQ Chickpea Tacos are a perfect 15 minute dinner! Smokey, savory, and topped with a fresh slaw and avocado slices.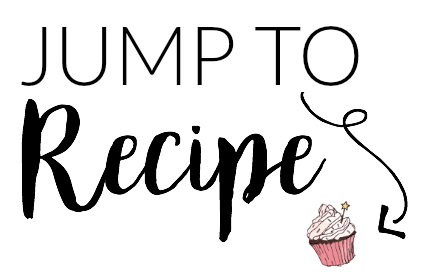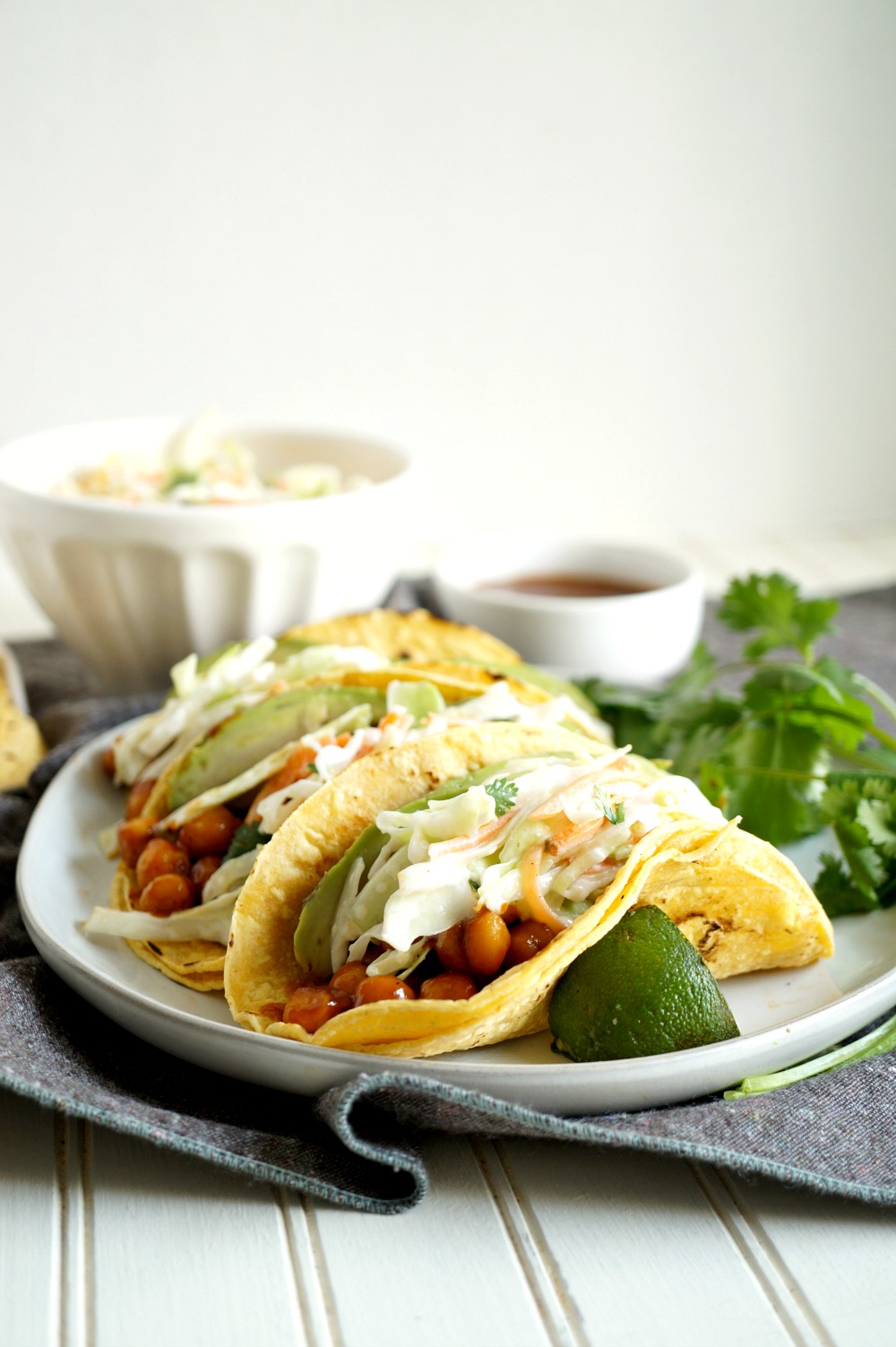 Hi friends and happy FRIDAY! I am sharing one of my favvvv quick & easy meals today - BBQ Chickpea Tacos! This is the perfect kind of meal for those nights when you have no time and no motivation to cook anything, but you still have to eat something. All you need is a can of chickpeas warmed with BBQ sauce, a bag of coleslaw mix dressed with some mayo and ACV, and some tortillas to serve everything in. Add some cilantro and sliced avocado if you have it in the house, but if not - no biggie. These are still pretty delicious either way!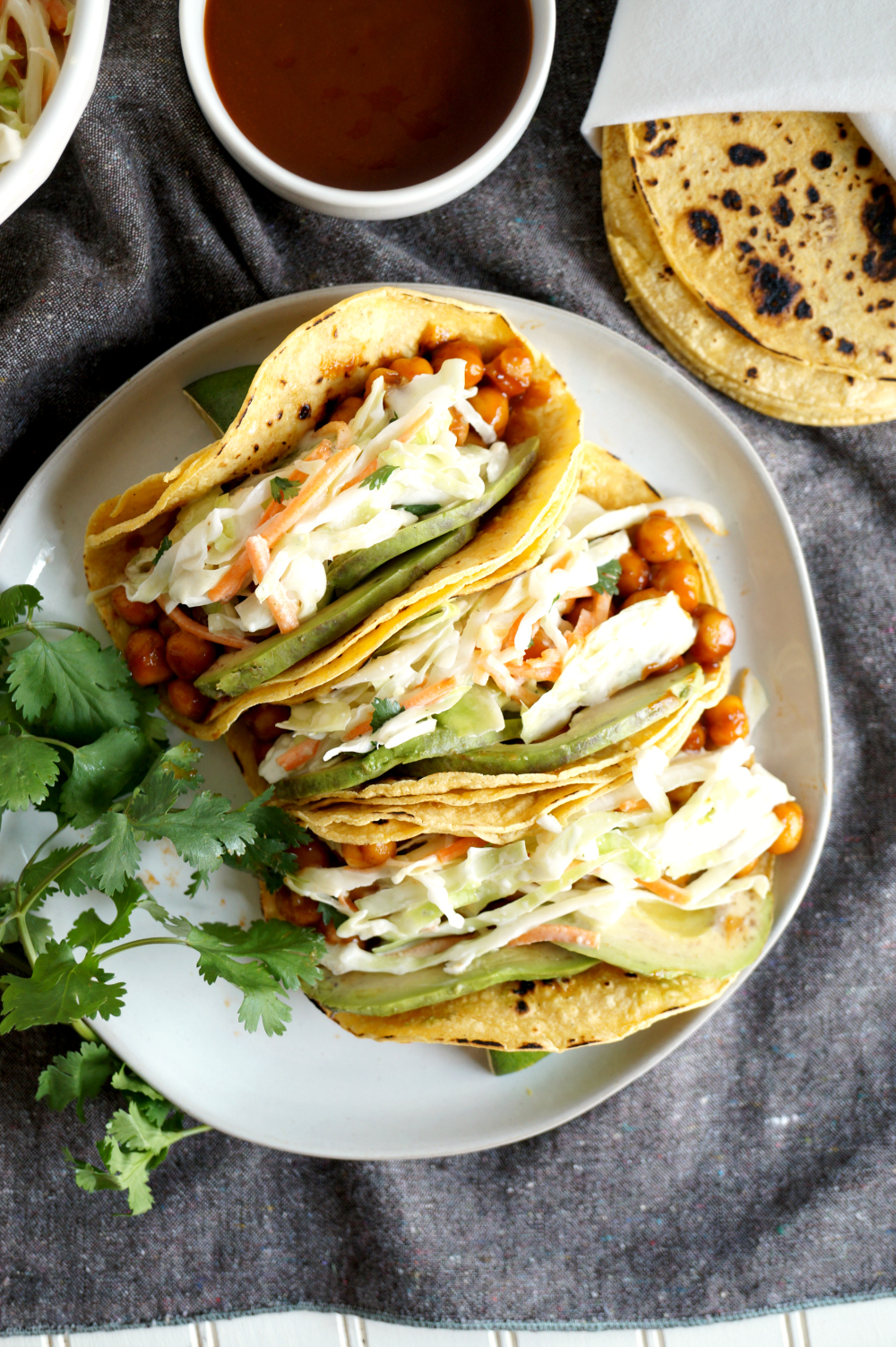 I don't know what to tell y'all about these BBQ chickpea tacos except you need to make them!! I rarely post true 15 minute recipes on here, but this one is really such a quick and easy one to add to your repertoire. And it's so easy to customize! You can use your favorite BBQ sauce, whether you like it spicier or sweeter or more smokey. Personally, even though I am from Texas, I am not into the "Texas style" BBQ sauce which is very peppery. What I used is called "Carolina Style" and it was nice and mellow, a perfect pairing with the cool and tangy slaw!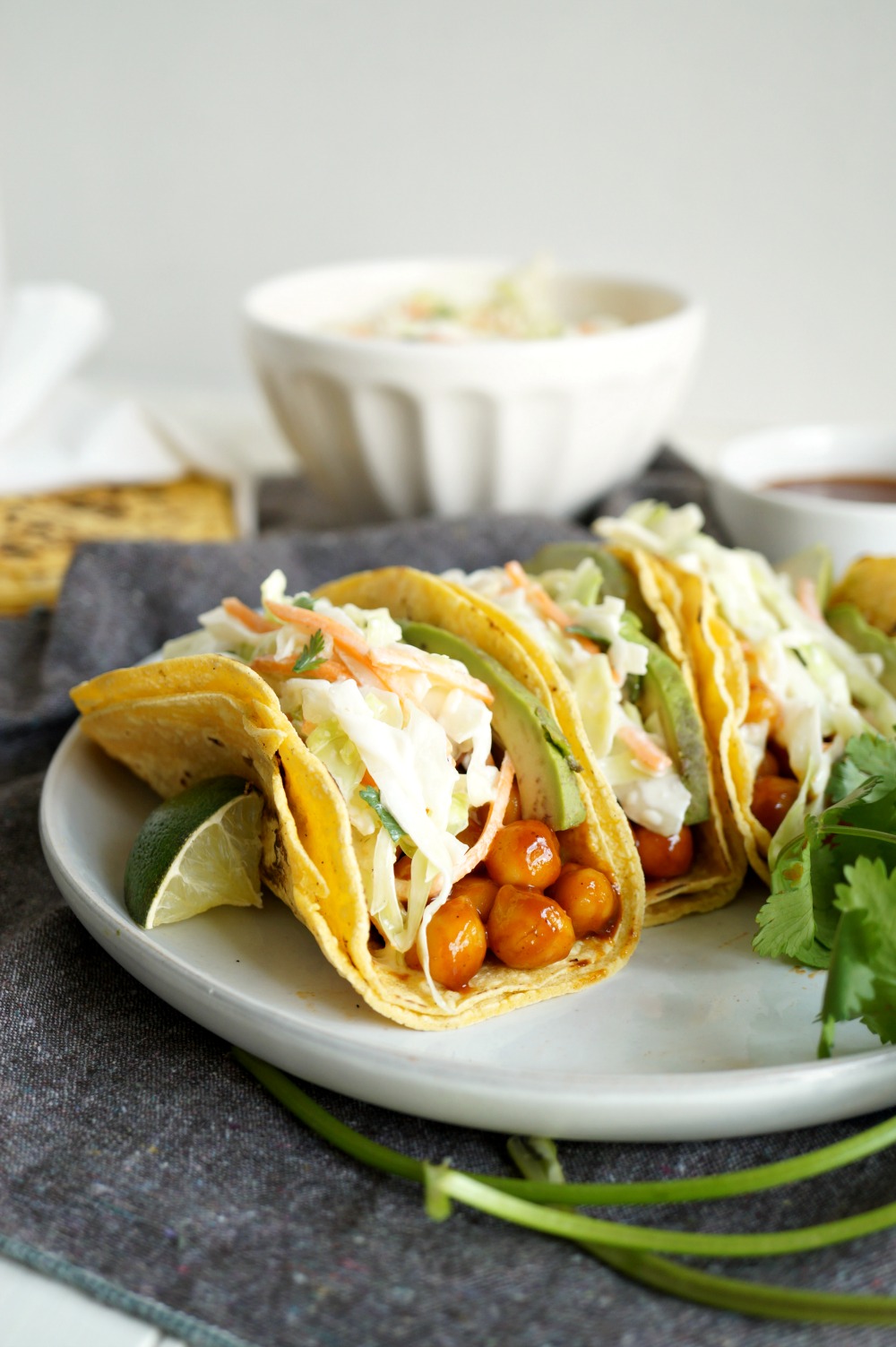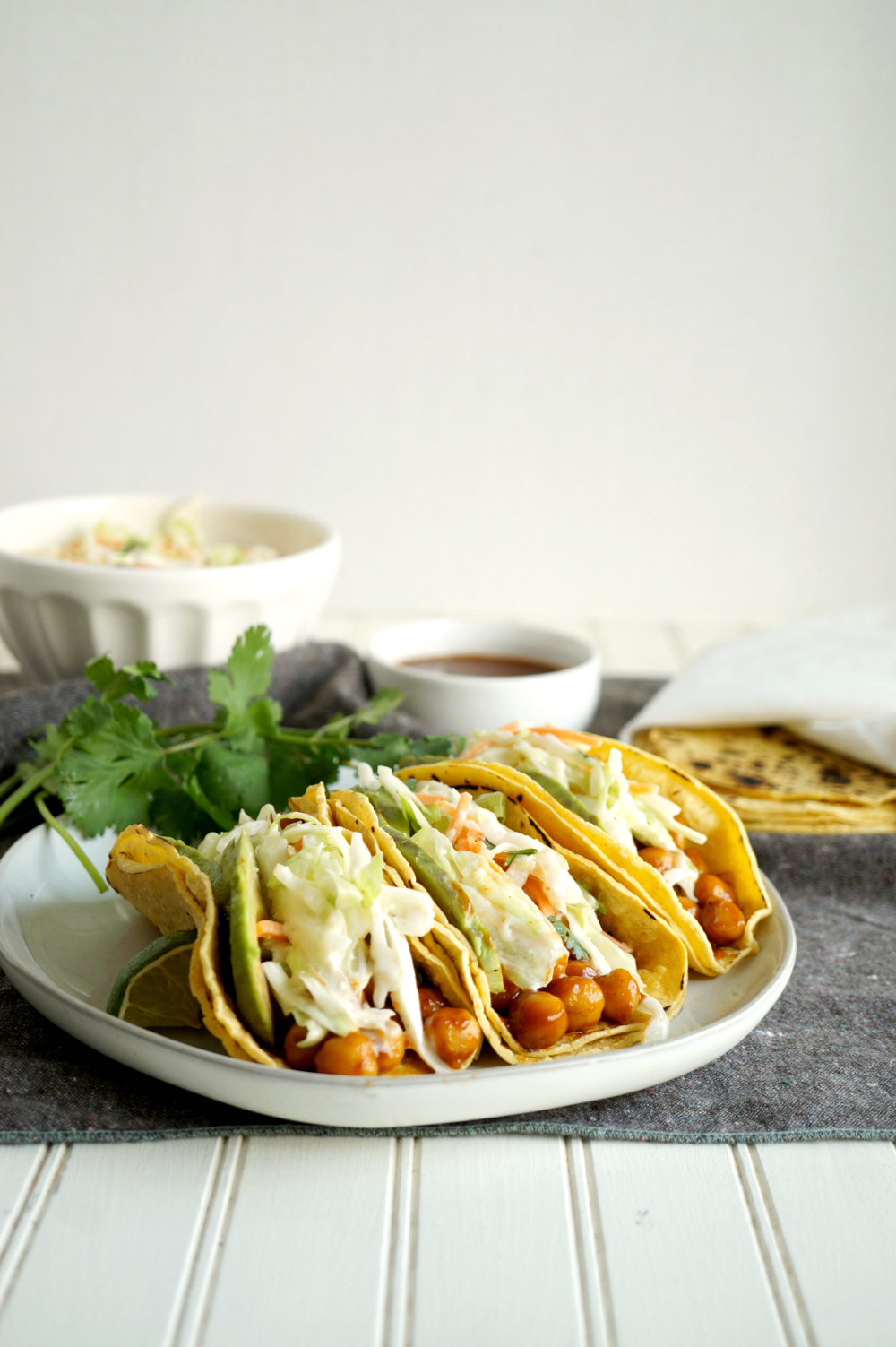 Tips for success:
Make these tacos your own! Use your favorite BBQ sauce, or use enchilada sauce for a more Tex-Mex version
Quick & easy is the name of the game for me, so I just toss coleslaw mix with some vegan mayo, apple cider vinegar, and garlic salt. Feel free to toss it in a different dressing (I bet ranch would be good!), or use a different mix of shredded cabbage and greens
I ALWAYS toast my corn tortillas in a cast iron skillet for more flavor! You can also do this with flour tortillas if you prefer.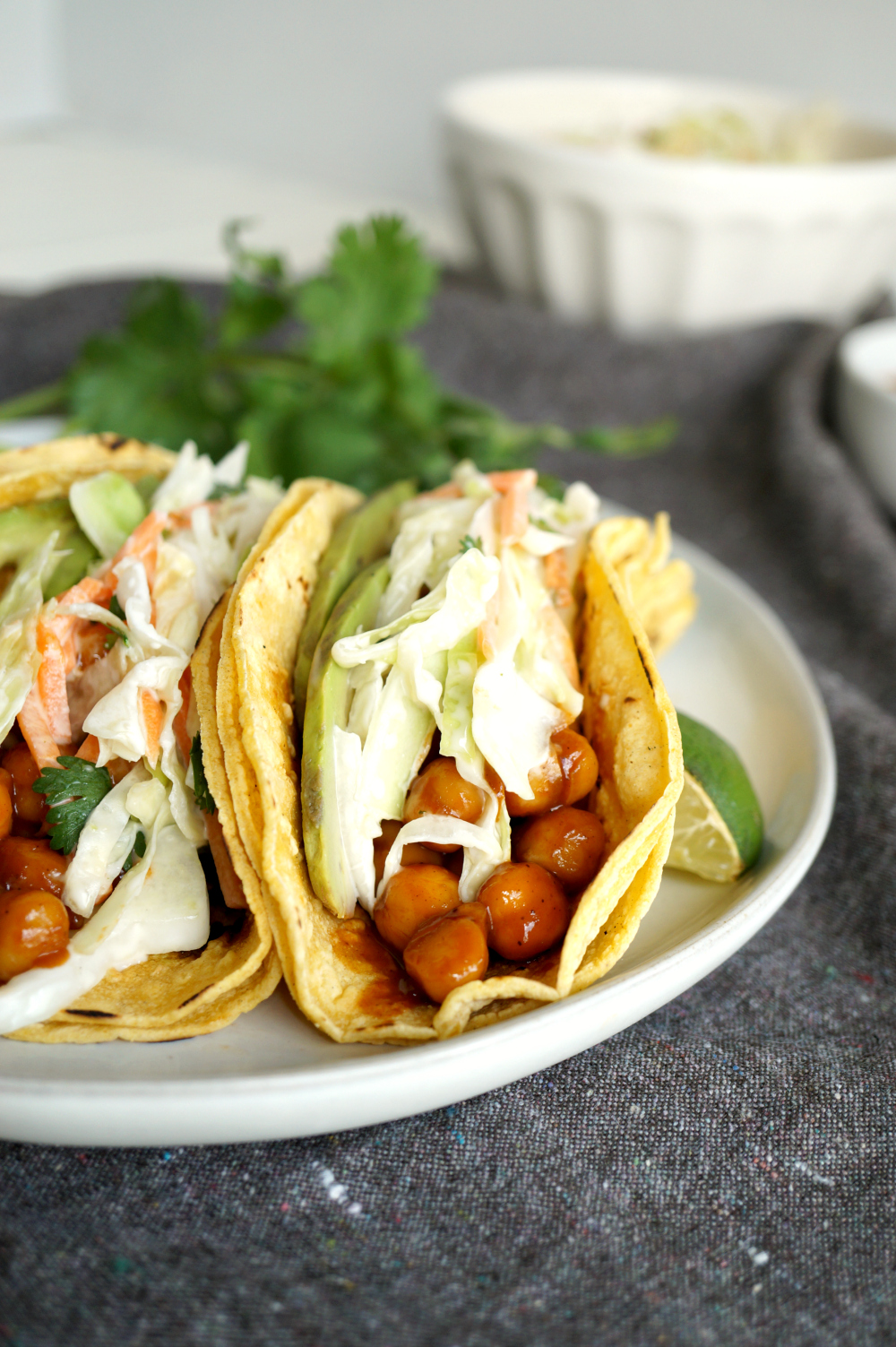 Looking for more vegan Tex-Mex recipes?
quick & easy BBQ chickpea tacos
These Quick & Easy BBQ Chickpea Tacos are a perfect 15 minute dinner! Smokey, savory, and topped with a fresh slaw and avocado slices.
Author:
Valentina | The Baking Fairy
Ingredients
2 cans chickpeas, rinsed and drained
⅓ cup BBQ sauce
3 cups shredded coleslaw mix
¼ cup vegan mayonnaise
2 tablespoon apple cider vinegar
1 large ripe avocado, sliced
garlic salt, to taste
tortillas, to serve (2-3 per person)
fresh cilantro
Instructions
First, rinse and drain the chickpeas and place in a nonstick saucepan. Add in the BBQ sauce, and turn heat on to medium. You want the BBQ sauce to thicken and coat the chickpeas nicely!
While the chickpeas heat up, make the slaw. In a large bowl, mix together the vegan mayo, ACV, and garlic salt. Add in the shredded coleslaw and toss until evenly coated.
To serve, warm up 2-3 tortillas per person. Spoon in the chickpeas, and top with the slaw, sliced avocado, and some cilantro leaves. Eat immediately!