This burger was created as part of #BurgerMonth, an event and giveaway hosted by GirlCarnivore. Recipe is an original creation of mine, and all opinions are my own.
Who says vegan food is boring? This Vegan Aloha Burger is stacked high with homemade tempeh bacon, grilled pineapple, fresh jalapeños, and a vegan patty. It's layers on layers of deliciousness!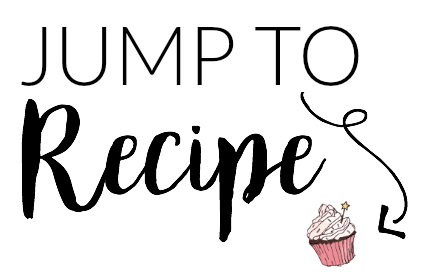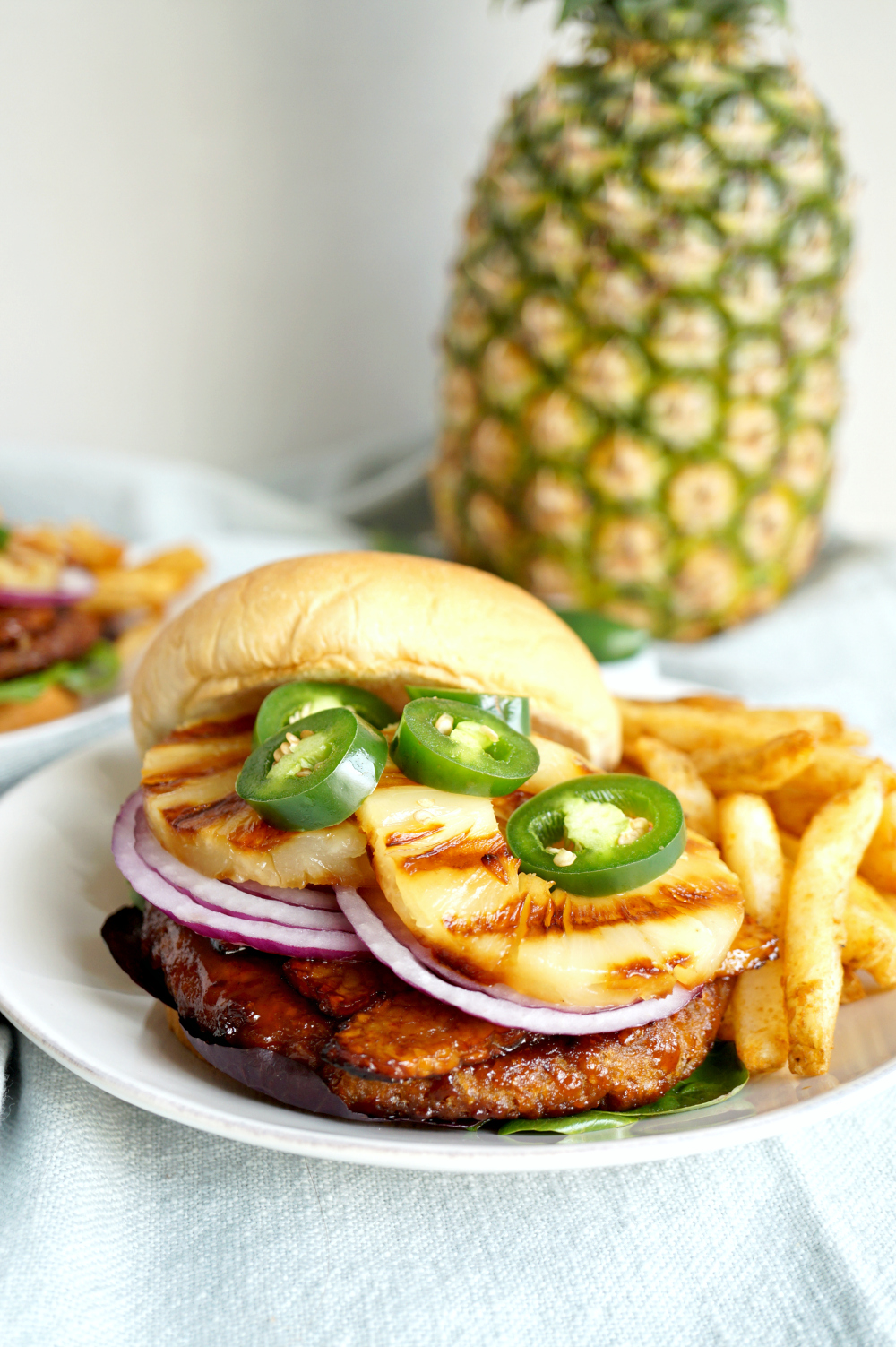 Hi friends and happy Monday! I am so pumped to be sharing this epic Vegan Aloha Burger with Tempeh Bacon with y'all today! I am participating in #BurgerMonth, hosted by Girl Carnivore, where over 100 bloggers are sharing unique burgers for the whole month of May. We also have an awesome giveaway with some fabulous sponsor prizes that you could win. Be sure to scroll to the bottom of this post for all the details on that!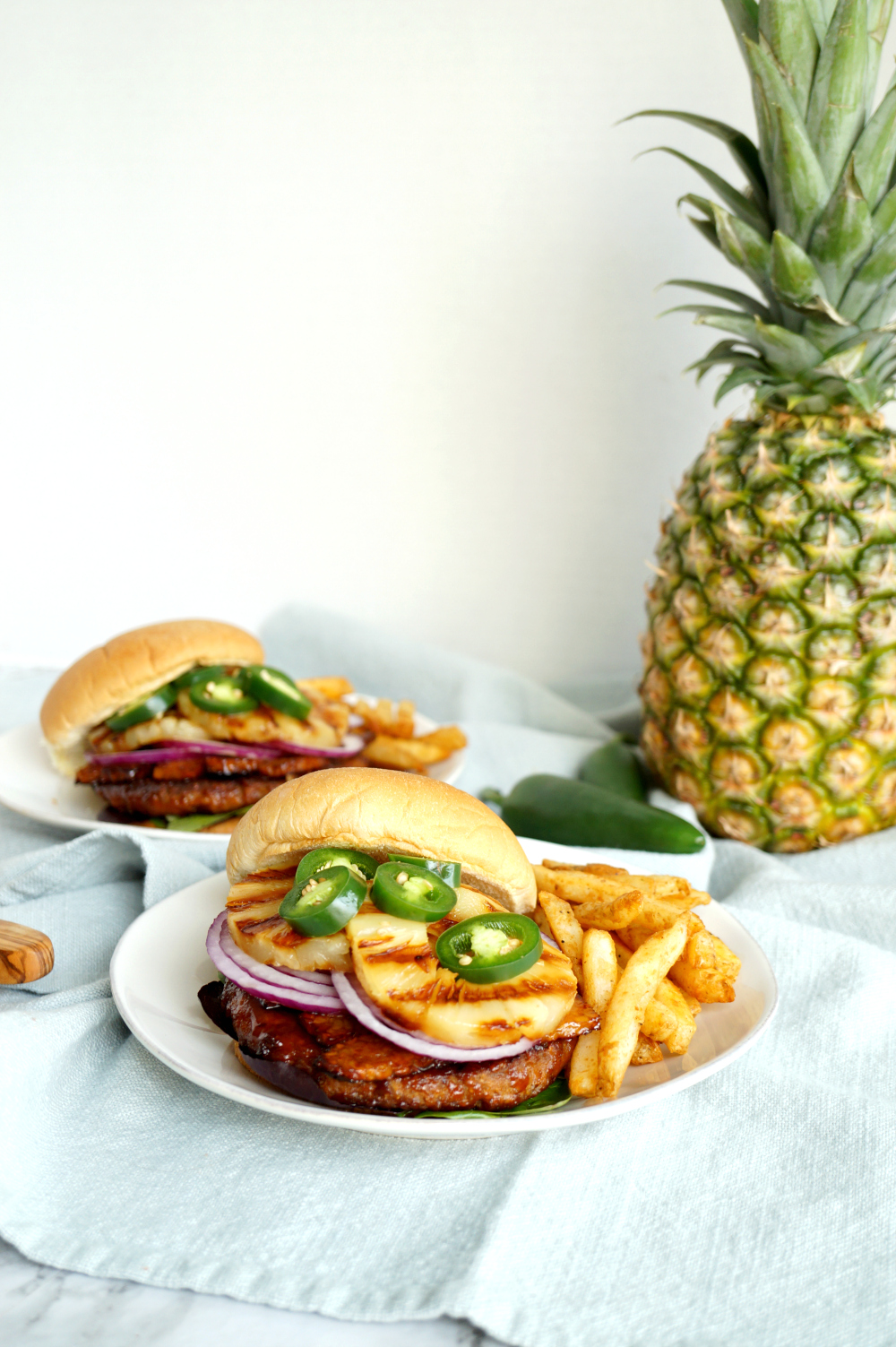 Okay, but let's talk about this vegan aloha burger - it's seriously insane. Where do I start?! There are so many different flavors and textures in this baby that just build on each other to deliver total perfection. On the bottom, you have the all-important base - the actual BURGER! I decided to use my beloved Beyond Burgers for that authentic faux meat experience. If you've never had these before, you must try them! They're freakishly meaty. In the best way! I finished my patties off with a brush of BBQ sauce for extra flavor.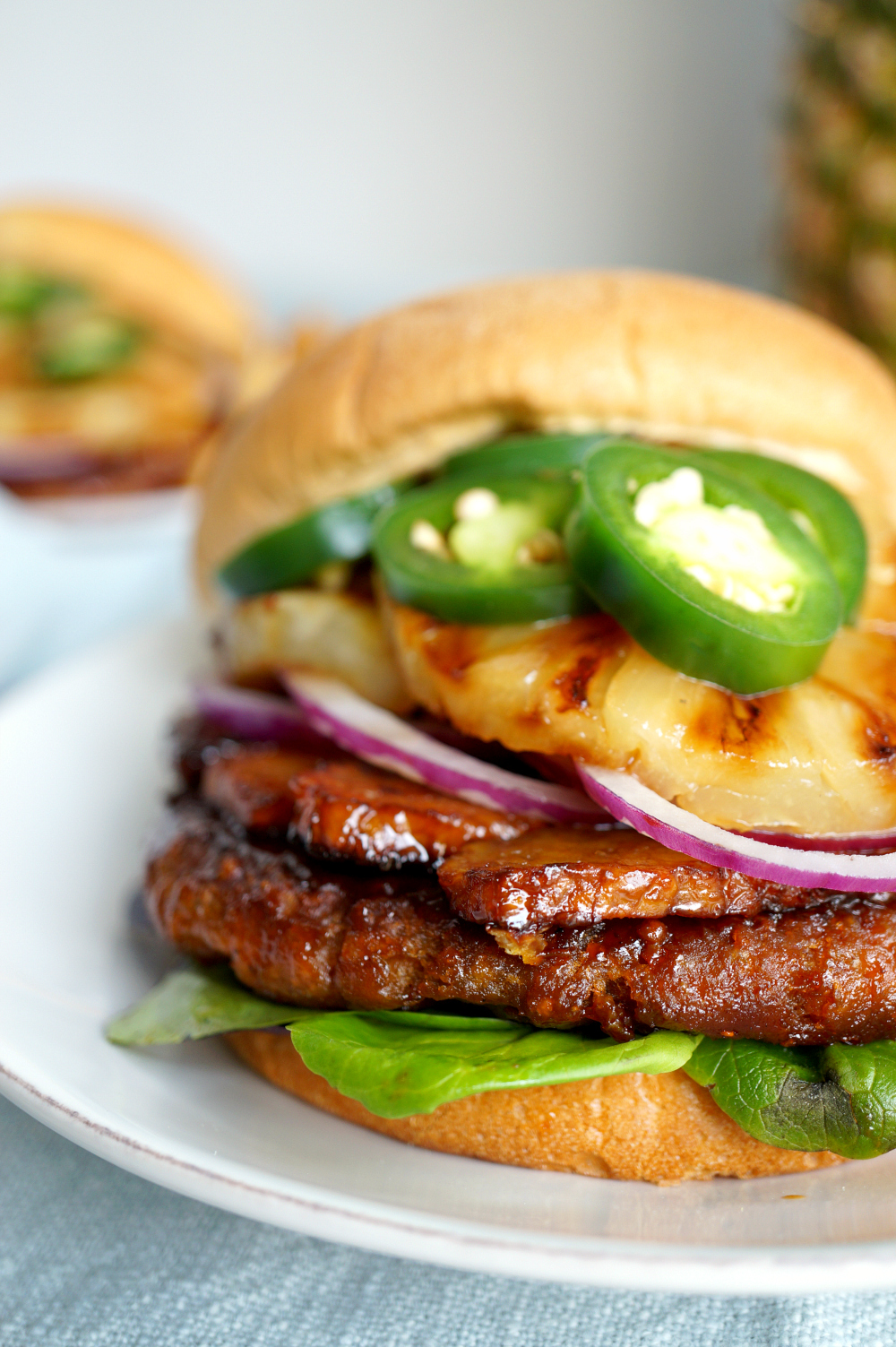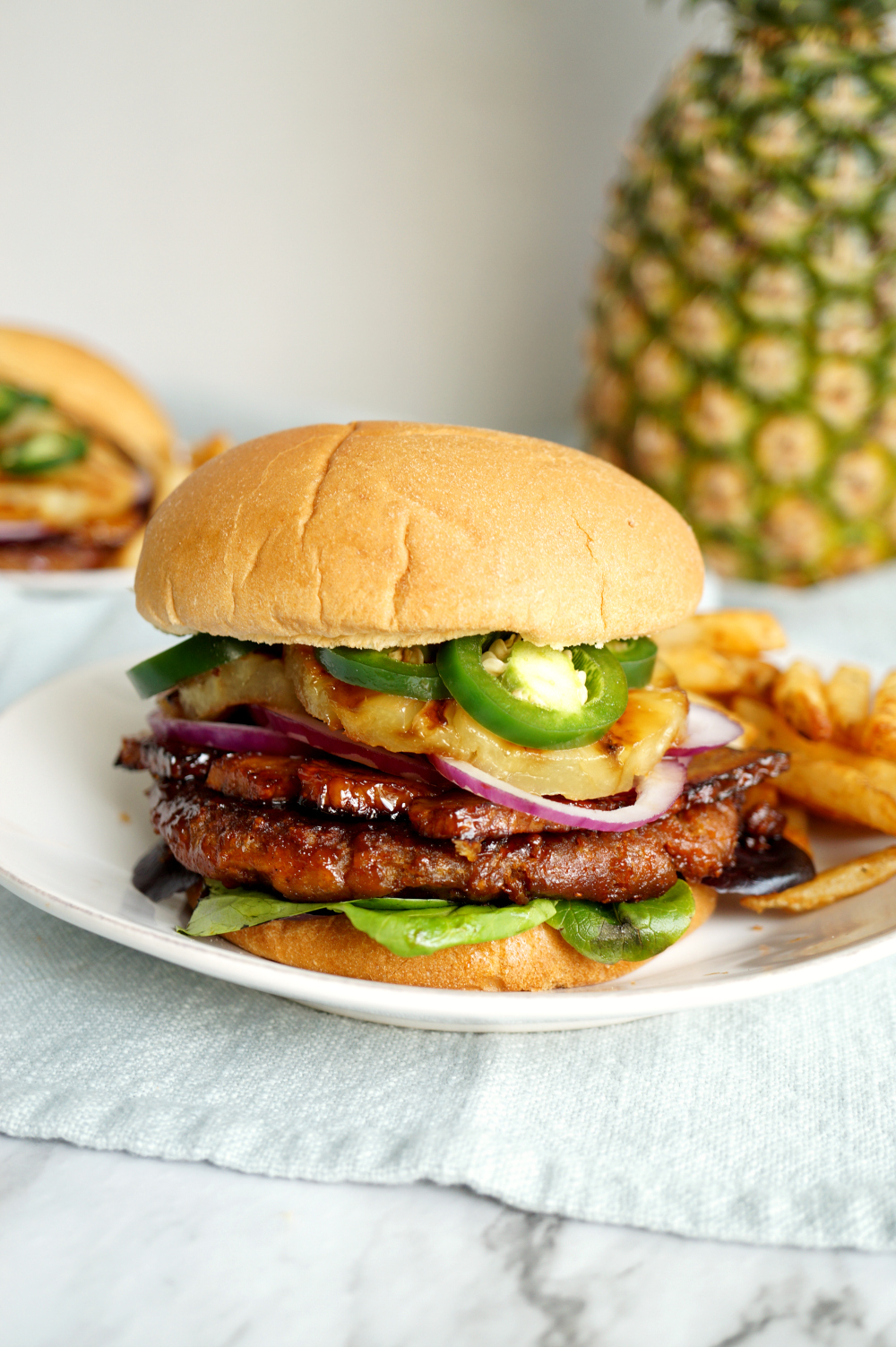 Next layer, we have homemade tempeh bacon for that sticky-sweet, smokey goodness. You'd be surprised at how easy it is to make homemade fakin bacon! Then some sliced zingy red onion, grilled pineapple rings, and slices of jalapeño on top for a nice kick. And to envelope the whole thing - well, it just had to be Hawaiian bread buns! Altogether, this combination of sweet, savory, smokey, spicy is just perfect. My first bite gave me goosebumps. I wish I was kidding because that's kind of embarrassing.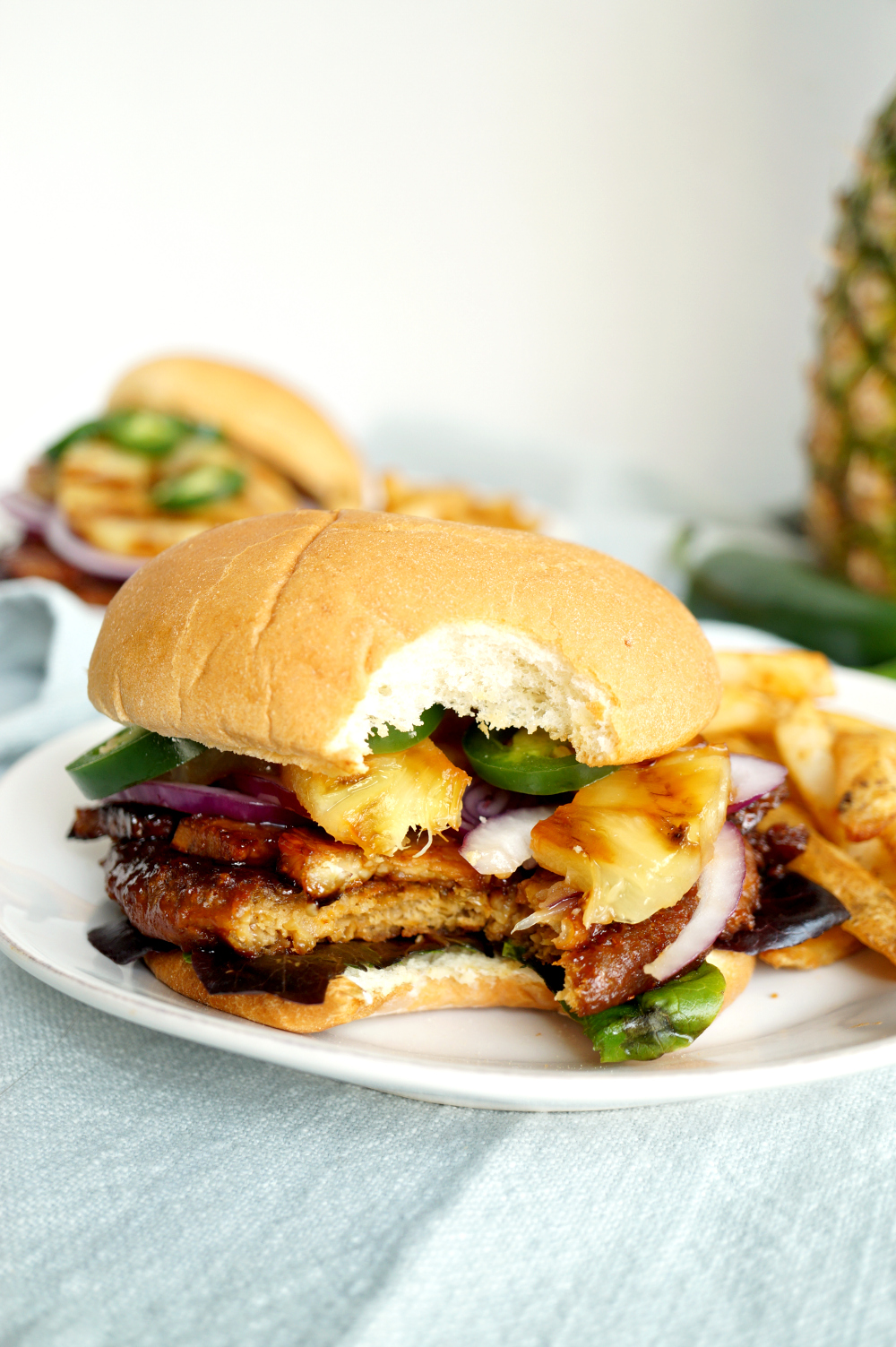 I hope this juicy, delicious vegan aloha burger proves (at least a little bit) that vegan food is not just for vegans!!! My motto the last few months has been, "Anything you can do, I can do vegan." So far... it's working! 😉 This burger is packed with so much flavor and texture that the very last thing on your mind will be, "But where's the meat?!"


Looking for more veggie-friendly cookout items?
vegan aloha burger with tempeh bacon
Who says vegan food is boring? This Vegan Aloha Burger is stacked high with homemade tempeh bacon, grilled pineapple, fresh jalapeños, and a vegan patty. It's layers on layers of deliciousness!
Author:
Valentina | The Baking Fairy
Ingredients
*for the tempeh bacon*
1 package of tempeh
2 tablespoon vegetable oil
2 tablespoon brown sugar
1-2 teaspoon liquid smoke
2 teaspoon garlic salt
*for the burgers*
2 Beyond Meat burgers (or your favorite vegan burgers)
2-3 tablespoon BBQ sauce
6 slices pineapple
1 tablespoon vegetable oil
*to serve*
2 Hawaiian bread burger buns
Lettuce
Thinly sliced red onion
Sliced jalapeños
Instructions
First, prepare the tempeh bacon. Slice the tempeh in thin slices. In a shallow bowl, combine the vegetable oil, brown sugar, liquid smoke, and garlic salt.
Toss in the tempeh pieces, and mix to combine. Set aside to marinade for 10-15 min.
Meanwhile, prepare the grilled pineapple. Heat up a grill pan or cast iron pan over medium high, and add in the vegetable oil.
Add in the pineapple slices and cook until caramelized, 5-6 minutes. Repeat with all the slices.
Next, prepare the bacon. You can make it in the same pan as the pineapple! Heat pan over medium heat, and add in the tempeh pieces (be sure to leave the marinade behind in the bowl so it doesn't burn).
Cook until crispy and caramelized on both sides. Add the reserved marinade and cook for 1 more minute so it thickens. Remove from pan.
Finally, cook the burgers. I find that Beyond Burgers cook best in a cast iron skillet! Add them to a hot skillet and press down to make them thinner. Cook each side for 7-8 minutes, until the edges are crispy and caramelized. To finish, brush on BBQ sauce to both sides.
Finally, build your burgers! Grab a Hawaiian burger roll and place some lettuce on top. Add on the burger patty, tempeh bacon, sliced onion, grilled pineapple, and sliced jalapeños. Dig in!!