This Easy Roasted Veggie Pasta Salad combines all your favorite summer produce into one addicting dish! You won't be able to stop eating this delicious fresh pasta!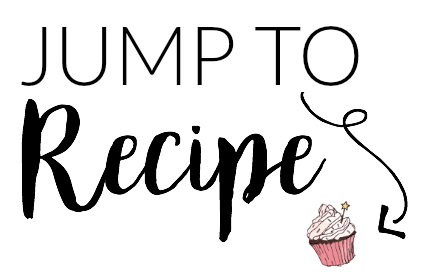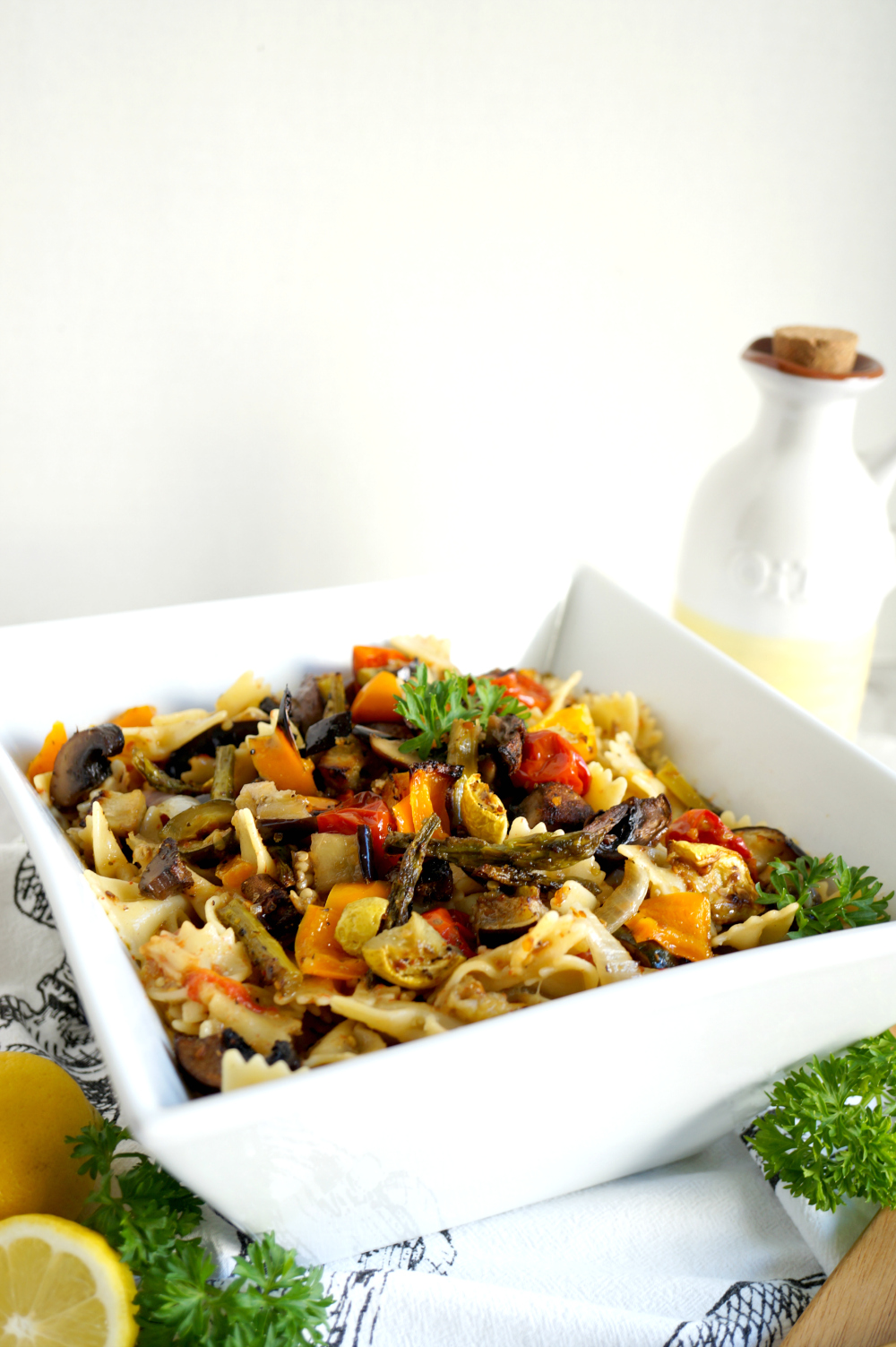 Happy Friday, buddies! I am continuing my "I have no motivation to cook" July theme, and sharing a super simple and delicious recipe today! This Easy Roasted Veggie Pasta Salad is incredibly, well, easy to make and it tastes soooo good. It's also the best way to get all your servings of vegetables, in my opinion. Everything's better when pasta is involved! If you can roast veggies, boil noodles, and whisk a dressing together, then you can make this dish. I promise!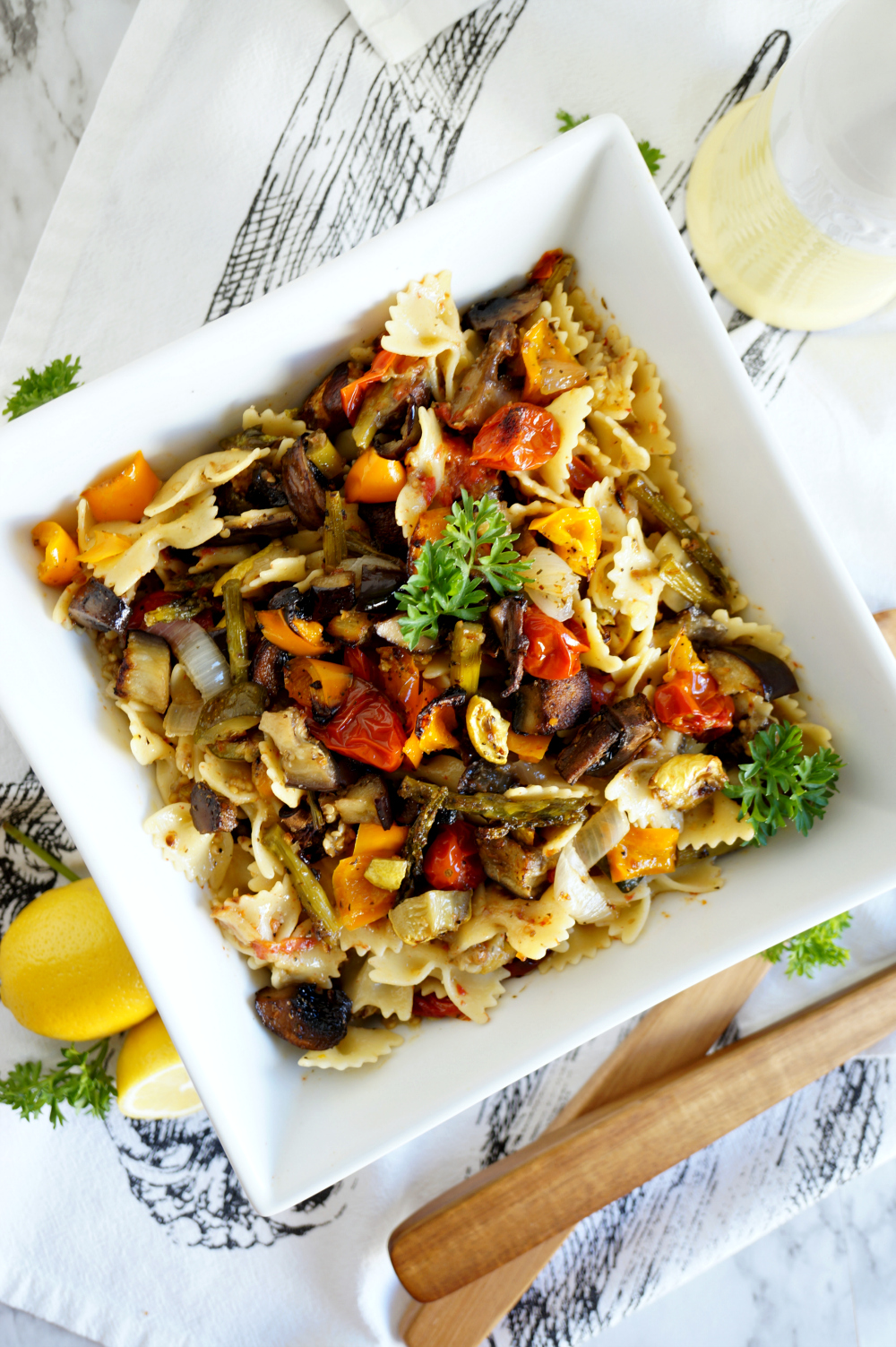 Ok soooo, confession time. I haven't said much about it on here because I don't wanna be whiny, but I have mentioned it off-hand a couple of times on my social media. But you GUYS, I have literally been sick for 3 weeks. I am seriously sick and tired of being sick and tired. I just have no energy to do anything (including cooking) and I have to tell you that's probably the main reason I've posted such easy recipes. Not that I'm complaining because they have been awesome! But I am just feeling so blah. Keeping my fingers and toes crossed that I feel better soon! And that kids stop coughing in my face. That probably does not help my case. ????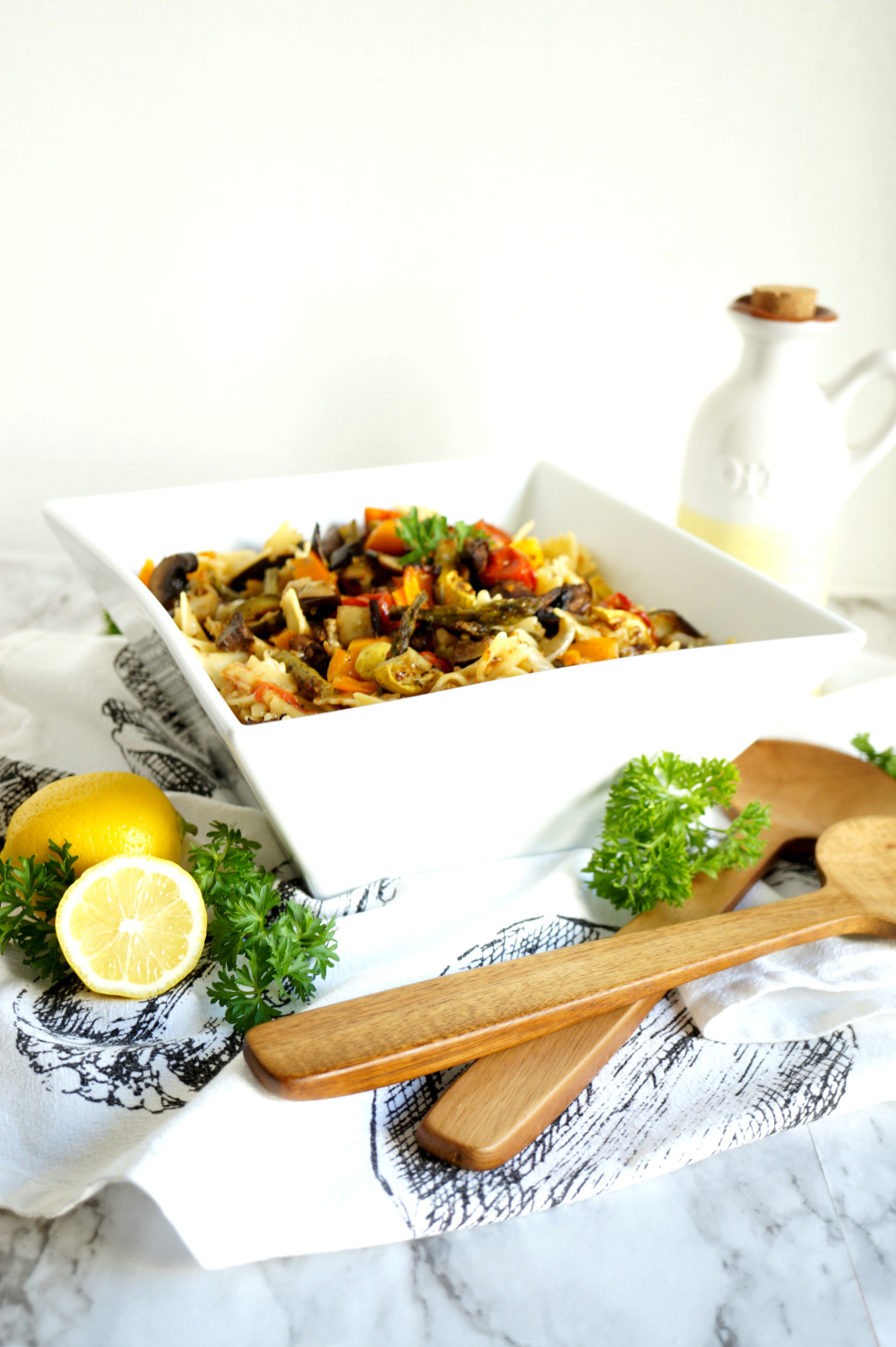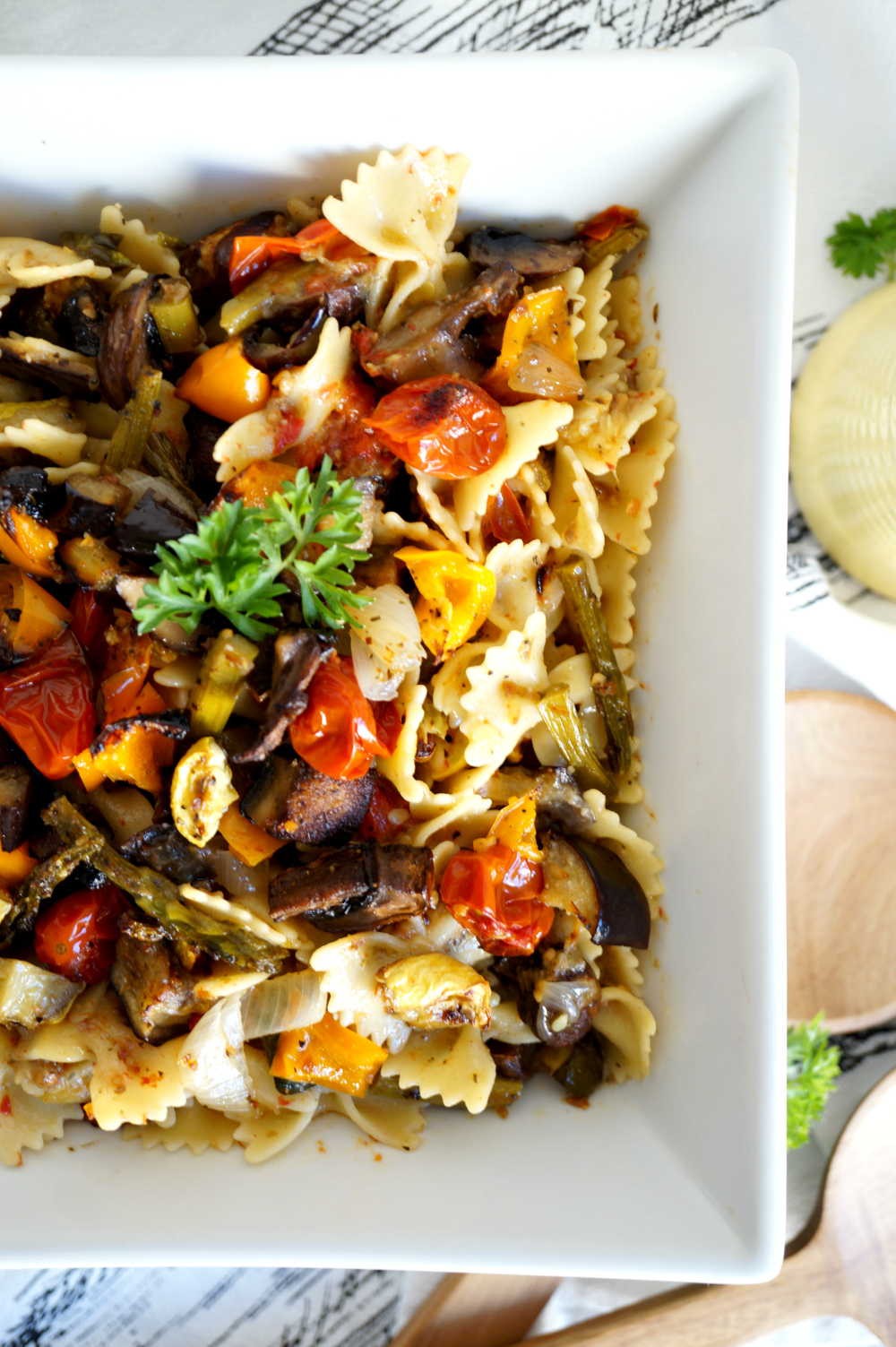 But anywayssss, back to this pasta salad situation! As you guys know, I am all sorts of obsessed with roasted veggies (see: my roasted veggie bowls and veggie focaccia sandwiches and teriyaki bowls and buddha bowls). They just taste so much better than regular veggies ok? So what I did is I just roasted up all of my favorite veggies, made a stupid-easy dressing with lemon juice and olive oil and garlic salt, and added some fun farfalle noodles to the mix. Toss it all together, and that's all! This roasted veggie pasta salad is seriously my new favorite thing.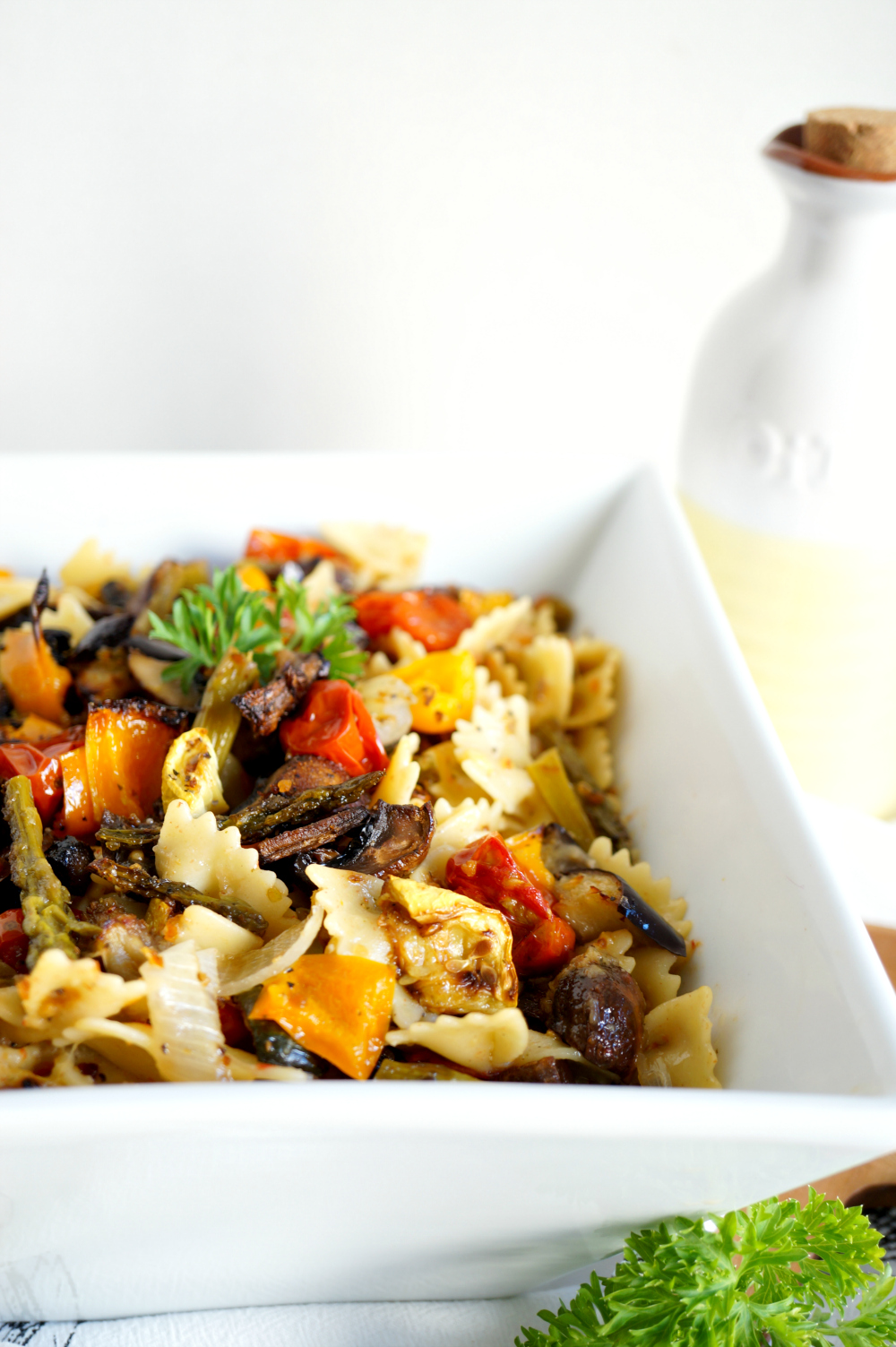 I hope you guys will love this roasted veggie pasta salad as much as we did! It's great hot, cold, room-temperature... really everything in-between!
Make it your own!
I used my favorite veggies for this pasta salad (aka basically all of them), but feel free to mix and match whatever you like best! Though don't skip on the mushrooms if you've never roasted them before... they are SO good like this!
The exact amounts of chopped vegetables (ie. 1 cup, 2 cups, etc) really isn't important. I really just used one of everything!
Since I seasoned the vegetables before roasting, I went super simple with the dressing but you can always add more herbs or flavorings if you want! A drizzle of balsamic added to the mix would be delicious!
Feel free to swap farfalle for any small pasta you like! Rotini is my other personal favorite!
easy roasted veggie pasta salad
This Easy Roasted Veggie Pasta Salad combines all your favorite summer produce into one addicting dish! You won't be able to stop eating this delicious fresh pasta!
Author:
Valentina | The Baking Fairy
Recipe type:
Pasta & Noodles
Ingredients
1 lb small pasta (I used farfalle)
1 pint baby tomatoes
1 small eggplant
1 zucchini
1 yellow squash
handful of asparagus
1 small white onion
1 bell pepper (any color)
1 pint mushrooms
2-3 tablespoon olive oil
1 tablespoon Italian herb seasoning
1-2 teaspoon garlic salt
*for the dressing*
¼ cup extra virgin olive oil
¼ cup lemon juice (about 2 lemons)
½ tablespoon garlic salt
Instructions
Preheat the oven to 425F and line two baking sheets with parchment or foil.
Next, prep all the veggies. Wash and dry, and chop everything into small pieces. You want everything to be bite-sized!
Toss the veggies with olive oil, Italian herb seasoning, and garlic salt. Spread between the two prepared pans in a single layer. Roast veggies for 35-40 minutes, until crispy and caramelized.
When ready to assemble, bring a large pot of water to a boil and cook pasta according to package directions.
While pasta cooks, grab a large serving bowl and make the dressing. Whisk together the lemon juice, olive oil, and garlic salt. Add more herbs if desired.
When the pasta is ready, drain and add it to the large bowl with the dressing, then toss in all the roasted vegetables.
Mix everything well, and add more seasoning if needed. Enjoy warm or cold!