Who needs take-out when you can make delicious food at home? These Teriyaki Tofu Quinoa Bowls combine a base of quinoa and brown rice with fresh stir-fried veggies, crispy tofu cubes, and sliced avocado, all tossed in a homemade savory teriyaki sauce.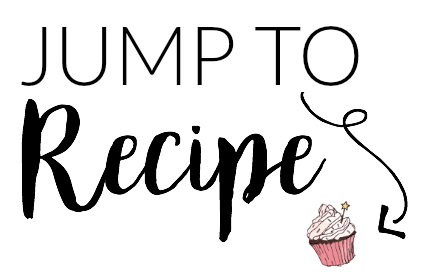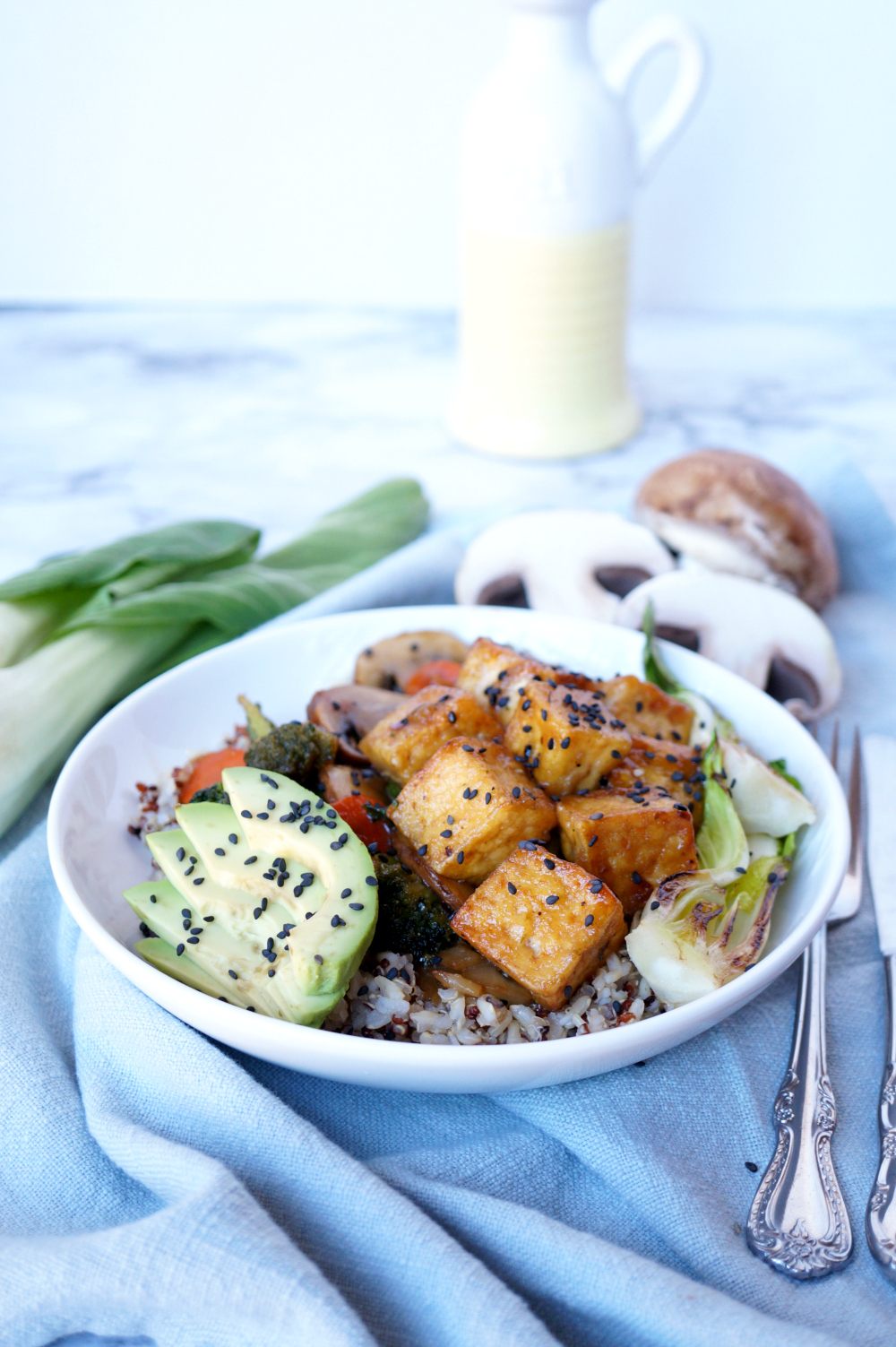 Happy Wednesday, buddies! I hope you guys are enjoying my #Veganuary theme thus far for the month 🙂 I promise I still have lots of delicious recipes in store. I have really been trying to focus on sharing MEALS this month as I felt like that would be the most helpful! Like, yes, vegan desserts are great and all but what's a girl supposed to eat for dinner?! Today, I am sharing these fabulous Teriyaki Tofu Quinoa Bowls inspired by True Food Kitchens! We went there on New Years Day and my sister in law got this (but with chicken because well... I haven't converted her over to the dark side yet. I'm working on it with cookies). She loved it so much that she asked me to recreate a version to make at home, and here it is!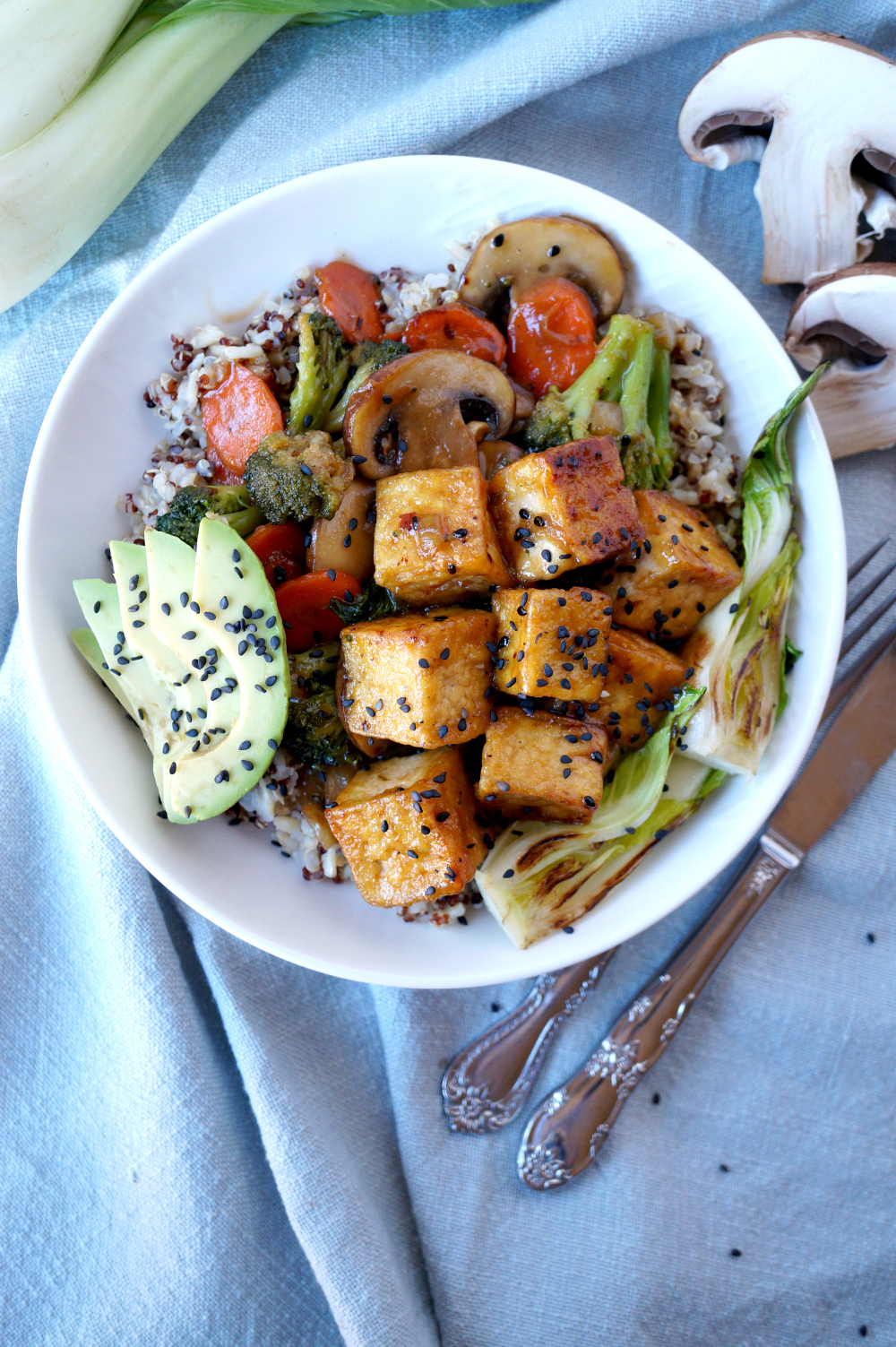 These tofu teriyaki quinoa bowls start with a base of quinoa and brown rice, are topped with a delicious combination of veggies (carrots, boy choy, mushrooms, and broccoli), and crowned with irresistibly crispy cubes of tofu and a few slices of avocado. It's so good, satisfying, and the kind of meal you just feel GOOD about eating. Whole grains, saucy veggies, protein-packed tofu, and all-natural fats from the avocado to round it out. I seriously loved these!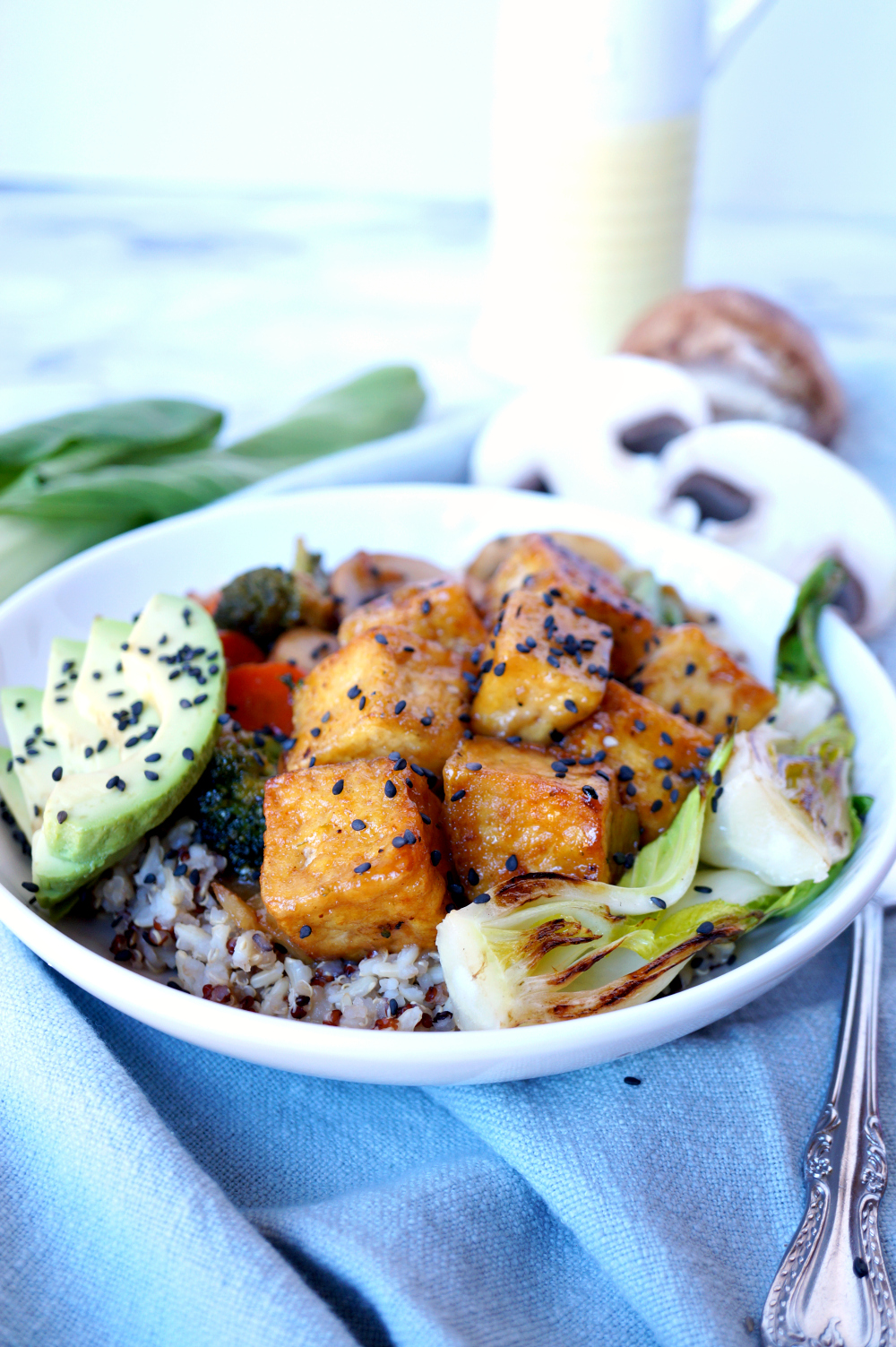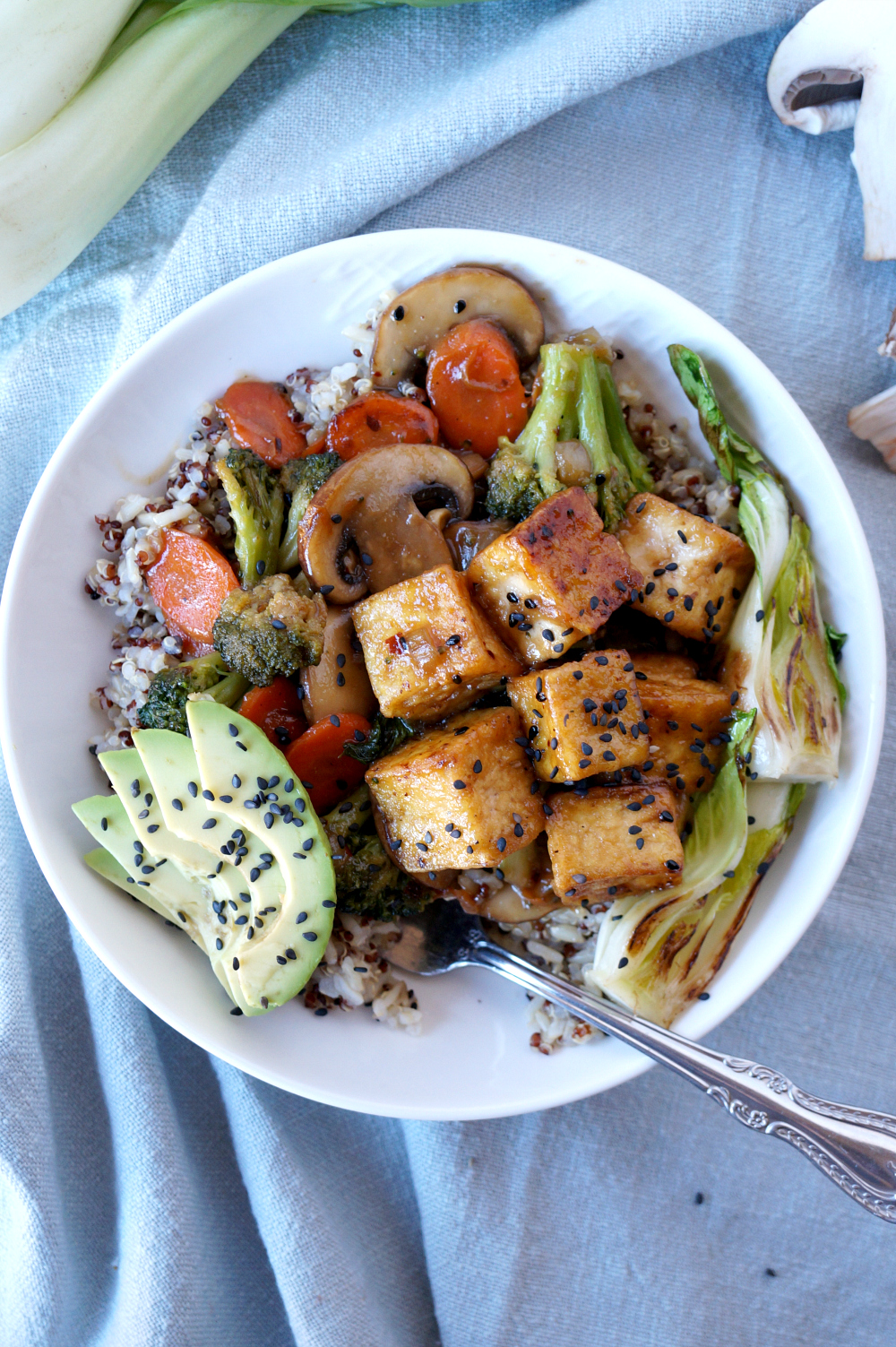 Going back to talking about True Food Kitchen though... while this was good, my all time favorite dish of theirs is a vegan pizza! It's made with creamy butternut squash and a homemade almond ricotta that is to dieeeee for. That might have to be next on the to-cook list 😉 In the meanwhile though, enjoy these teriyaki tofu quinoa bowls! They are full of all things good for you! If you want a shortcut, you can definitely use store-bought teriyaki sauce. Just be wary of the ingredients as they have high fructose corn syrup, caramel color, and a lot of other junk in them most of the time. And they may not be vegan! If you're a diligent label-reader though, I trust you! It may seem tedious to make it from scratch but it honestly only takes a few minutes, and you can tweak the spices however you like!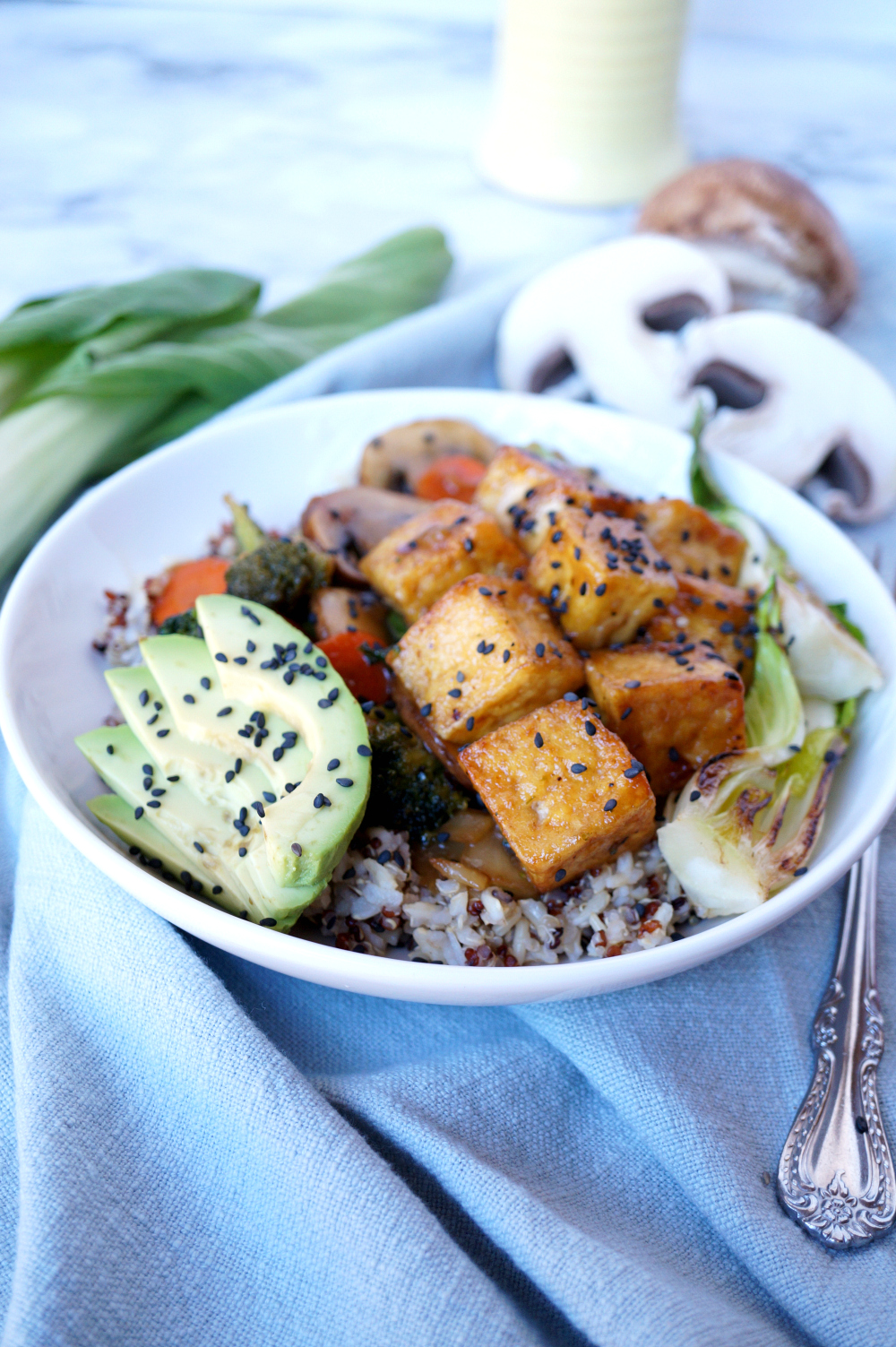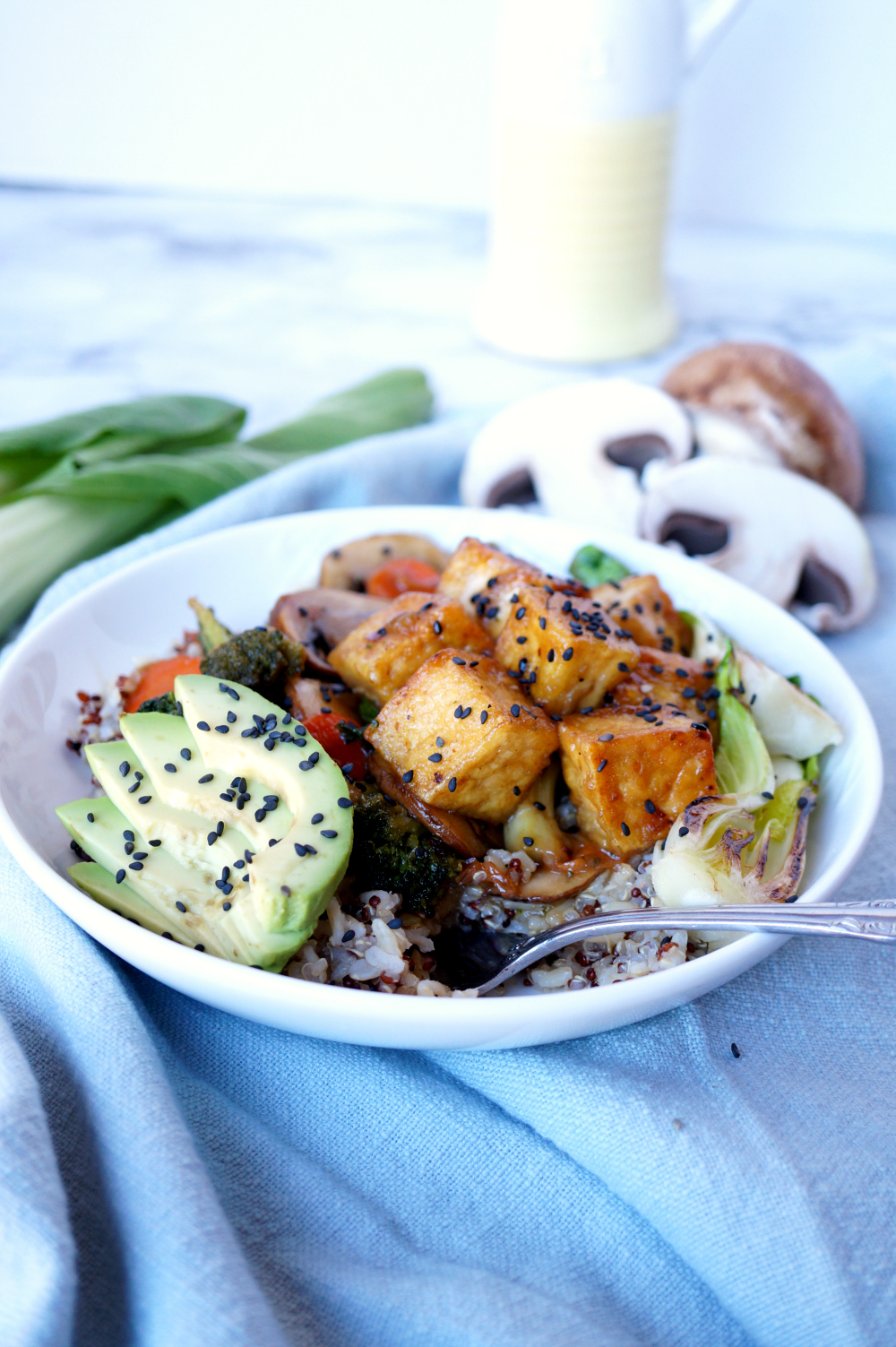 I hope you guys will make these teriyaki tofu quinoa bowls! This month or whenever you'd like. They really are so good and satisfying!
Tips for success:
In a hurry? Simply use a store-bought teriyaki sauce instead of making it from scratch!
Prep the quinoa and rice ahead of time so it's ready when you need it. They also sell pouches of ready-made quinoa/rice blends at the store that just need to be heated up.
Substitute vegetables as needed to make it your own!
Not into tofu? It's super easy to substitute it for chicken, beef, shrimp, or even a different vegan protein.
Looking for more plant-based dinner ideas? Check out my Vegan Burrito Bowls with Jackfruit Carnitas, Sheetpan Tofu Fajitas, Sheetpan Roasted Ratatouille, Japanese Eggplant No-Meatballs, Pesto Tofu Buddha Bowls, and Creamy Pumpkin Macaroni!
teriyaki tofu quinoa bowls
Who needs take-out when you can make delicious food at home? These Teriyaki Tofu Quinoa Bowls combine a base of quinoa and brown rice with fresh stir-fried veggies, crispy tofu cubes, and sliced avocado, all tossed in a homemade savory teriyaki sauce.
Author:
Valentina | The Baking Fairy
Ingredients
*for the teriyaki sauce*
2 tablespoon soy sauce
2 tablespoon coconut aminos
¼ cup water
2 tablespoon cornstarch
2 tablespoon rice vinegar
1 tablespoon sesame oil
½ teaspoon garlic powder
¼ teaspoon ginger powder
½ teaspoon red pepper flakes
¼ teaspoon sesame seeds
*for the quinoa*
½ cup multicolor quinoa
½ cup brown rice
4 cups water
½ vegetable bouillon cube
*for the bowls*
1 block extra firm tofu
2-3 tablespoon cornstarch, as needed
2 medium carrot, sliced
2 baby bok choy, chopped
1 cup sliced mushrooms
2 cups broccoli florets
2-3 tablespoon oil, as needed
1 avocado
Instructions
First, prepare the teriyaki sauce. Combine all ingredients in a bowl or cup, and whisk well to combine. Set aside
Next, prepare the quinoa. Rinse the quinoa and brown rice, and place in a pot. Add in the 4 cups of water and vegetable bouillon.
Bring mixture to a boil, then lower to a simmer and cover. Allow to cook until all water has been absorbed and quinoa and brown rice are tender, about 30-40 minutes.
While quinoa cooks, wrap block of tofu in a few layers of paper towels and press to get rid of excess water. When ready, cut tofu into cubes and lightly toss with some cornstarch.
When ready to cook, heat a large wok pan over medium-high heat and add in 1-2 tablespoon of neutral oil (like corn or canola).
Add in the veggies, and cook, stirring often, until they start to soften and smell fragrant. Transfer vegetables to a plate, and add more oil to the pan.
Add in the cornstarch-covered tofu cubes, and cook until all sides are golden brown and crisp.
Add the vegetables back into the pan, and add in the teriyaki sauce you made. You may not need it all! Add some and stir, adding more as needed.
Serve immediately over the prepared quinoa/rice mixture. Serve with sliced avocado and an extra sprinkle of sesame seeds.
*Disclosure: I am part of the Amazon Associates Program, and there may be affiliate links on this page. If you buy anything through my website, I will receive a small percentage of the profit at no extra cost to you. Thank you for supporting my blog!*