Change up your weeknight dinners (or meal prep routine) with these Vegan Sheetpan Tofu Fajitas! Marinated tofu is baked with onions and peppers for the perfect savory tortilla filling. 
Hi friends and happy Monday! Sorry for things being a bit quiet here last week. It was my final week on internal medicine so I had to study for my test on Friday which took up like, all my time! And I also had a fabulous birthday cake that I made (also for Friday) that took up any spare time I had between studying. 😉 But now I'm back and I'm so excited to be sharing these Vegan Sheetpan Tofu Fajitas! It might be a clear theme on this website, but I just find tex-mex food to be so easy to make veg-friendly! After tacos and enchiladas and queso... of course I had to veganize fajitas, too.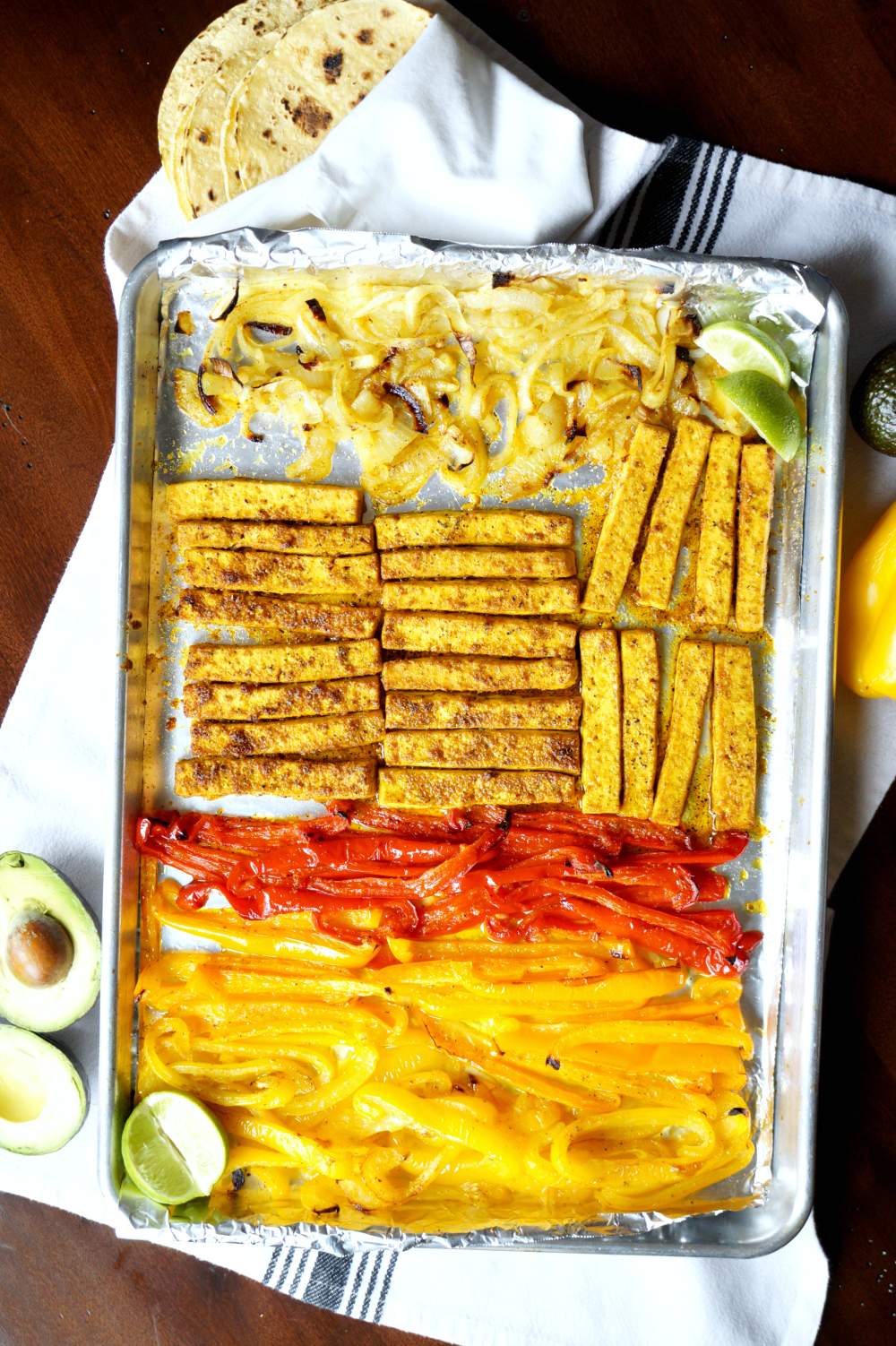 If you've ever gotten veggie fajitas at a restaurant before, you know they can be totally hit or miss. Some places do the traditional peppers & onions and add in some beans, zucchini, and mushrooms for bulk. Those are the good ones. Sometimes, you get broccoli and cauliflower and baby carrots (really??) which... I don't know what they're thinking there. I knew there had to be something a bit more exciting out there. My vegan sheetpan fajitas have the star ingredient of TOFU to make these filling and delicious!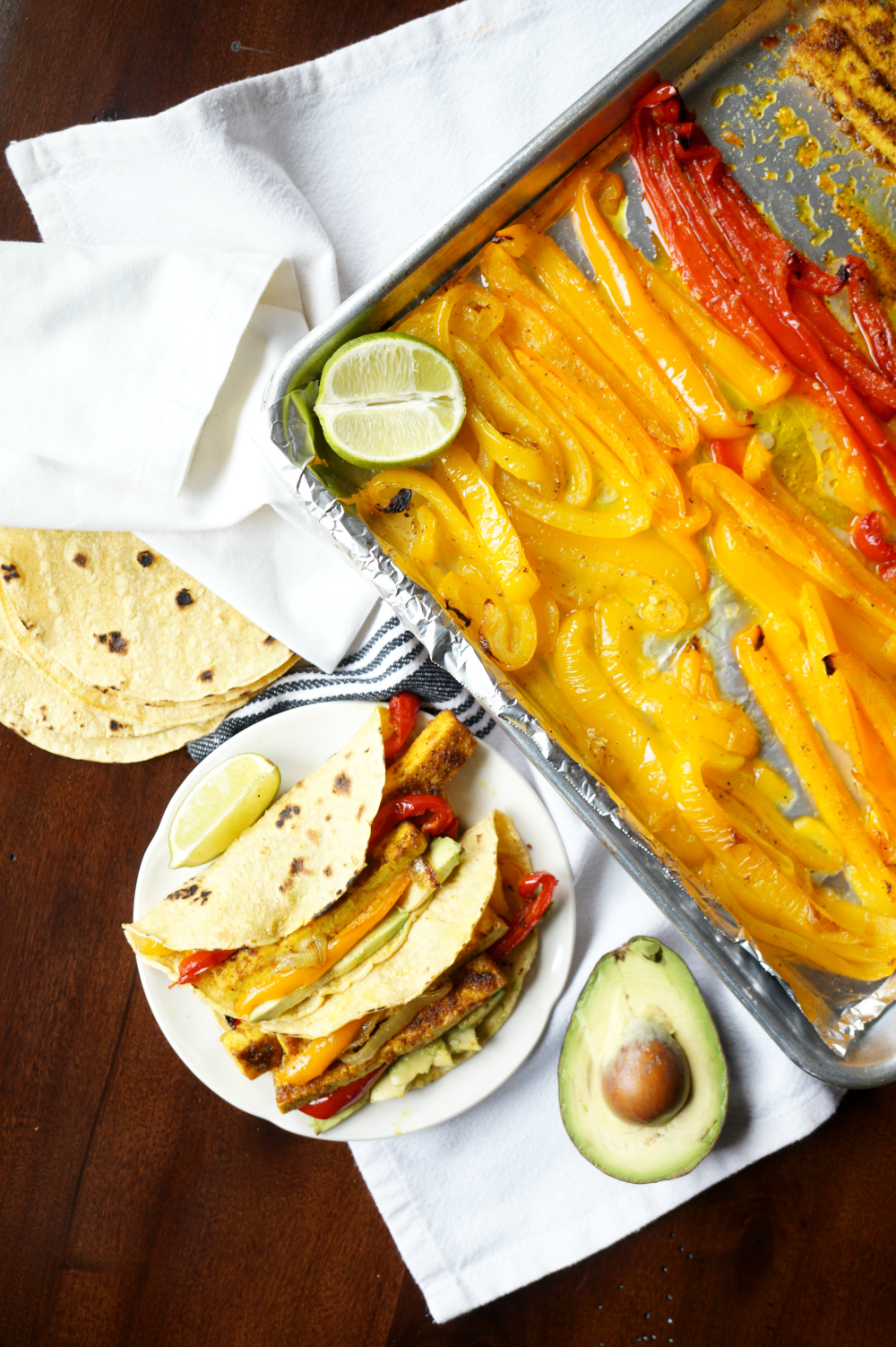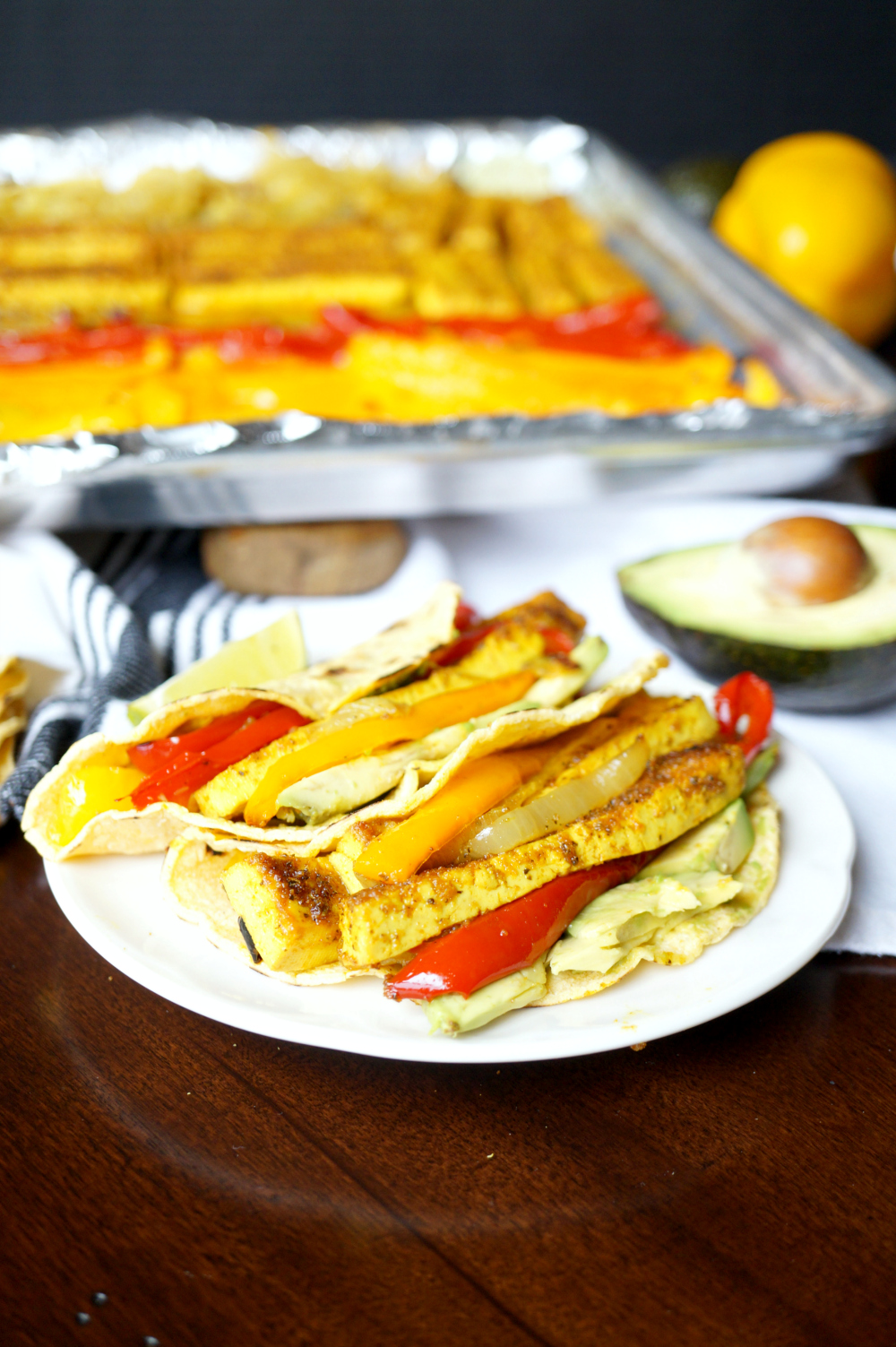 So what do you do to make the humble block of tofu fajita-worthy? I pressed it for a while, then cut it into strips and let it marinade in a mixture of lime juice, vegetable oil, garlic and onion powder, smoked paprika and cumin. This packs in tons of flavor! When it comes time to eat, just lay out all your veggies and tofu in a single layer on a sheetpan, throw it in the oven, and be rewarded with delicious tofu fajitas with minimal effort. Just put it all in a tortilla with some sliced avocado and refried beans and you are all set!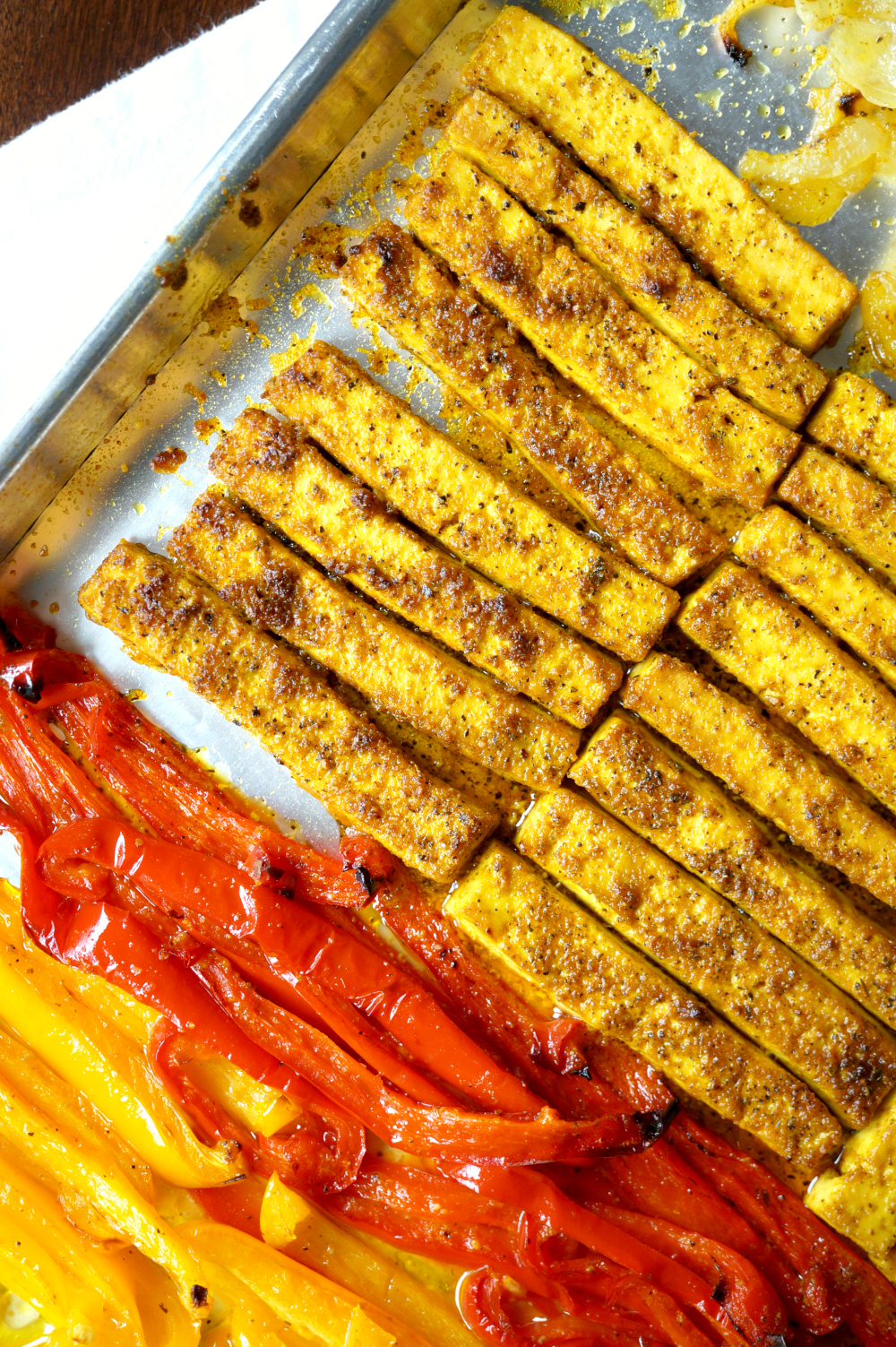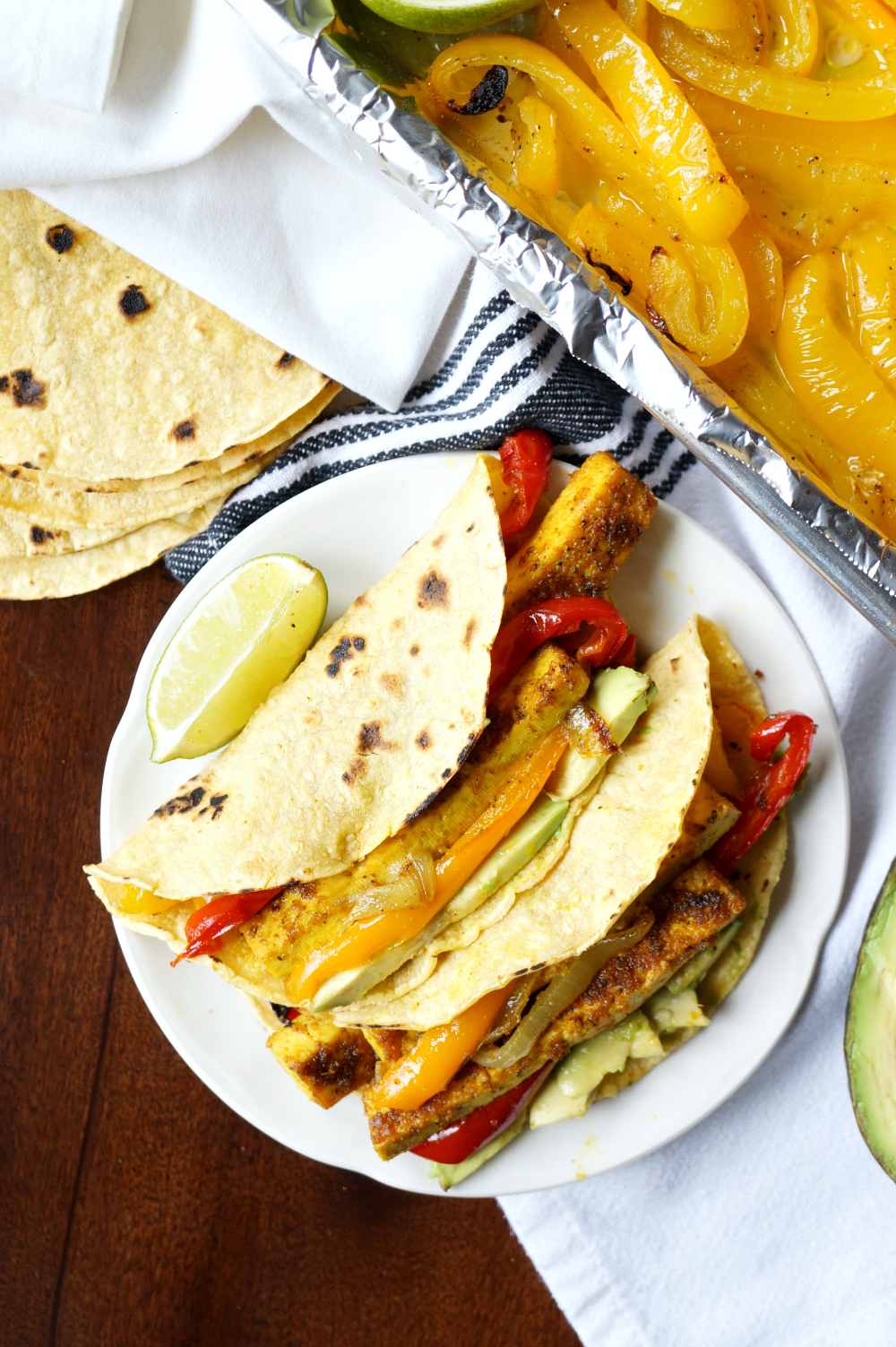 I hope you give these vegan sheetpan tofu fajitas a whirl! They would be a great addition to your vegan or vegetarian meal plan for the week. And again - SO EASY to make. You'll love them! 🙂
Looking for more vegan tex-mex yummies? Check out my Homemade Sofritas Tacos with Cilantro Lime Cashew Cream, Vegan Fajita Enchiladas with "Cheesy" Sauce, Loaded Vegan Queso, and Vegan Chorizo Taco Chili.
vegan sheetpan tofu fajitas
Author:
Valentina | The Baking Fairy
Ingredients
1 block extra-firm tofu
3 bell peppers
1 white onion
2-3 tablespoon vegetable oil
1 teaspoon cumin
salt & cayenne to taste
*for the marinade*
juice of 1 lime
3-4 tablespoon vegetable oil
1 teaspoon cumin
1 teaspoon garlic powder
1 teaspoon onion powder
1 teaspoon oregano
½ teaspoon smoked paprika
½ teaspoon turmeric
½ teaspoon cayenne pepper
2 teaspoon salt
Instructions
First, prep your tofu. Drain the packaging water, and wrap your tofu block in paper towels. Place on a plate (ideally something with a lip) and top with a cutting board and then with some heavy objects. I find that some cookbooks work well!
Press tofu for at least 30 min, ideally an hour, to get rid of all the excess water. You can periodically dump out the water and change out the paper towels.
Now, cut your tofu block into thin sticks and set aside.
In a large bowl, whisk together all the ingredients for the marinade. Add in the tofu sticks, and toss to combine. Cover tightly, and place in fridge ideally overnight.
When ready to cook, preheat oven to 400F.
Slice the onion and the bell peppers, and toss with the vegetable oil, cumin, salt, and cayenne.
Line a baking sheet with foil, and arrange the vegetables and marinated tofu in a single layer.
Bake for 30 minutes, then broil for 3-4 minutes (watching closely!) for a little more char.
Serve tofu fajitas with toasted tortillas, avocado slices, and beans. Enjoy!
*Disclaimer: I am part of the Amazon Associates Program, and there may be affiliate links on this page. If you buy anything through my website, I will receive a small percentage of the profit at no extra cost to you. Thank you for supporting my blog!*

SaveSave
SaveSave