If you're needing a healthy, nourishing dinner in a hurry, this Vegan Roasted Ratatouille Sheetpan Meal fits the bill. Just serve over brown rice for a delicious meal. It's also great for packed lunches!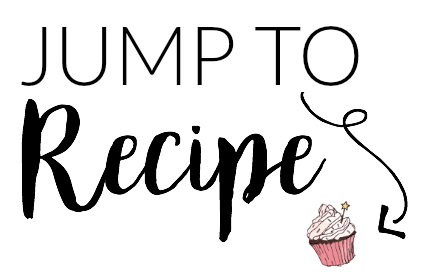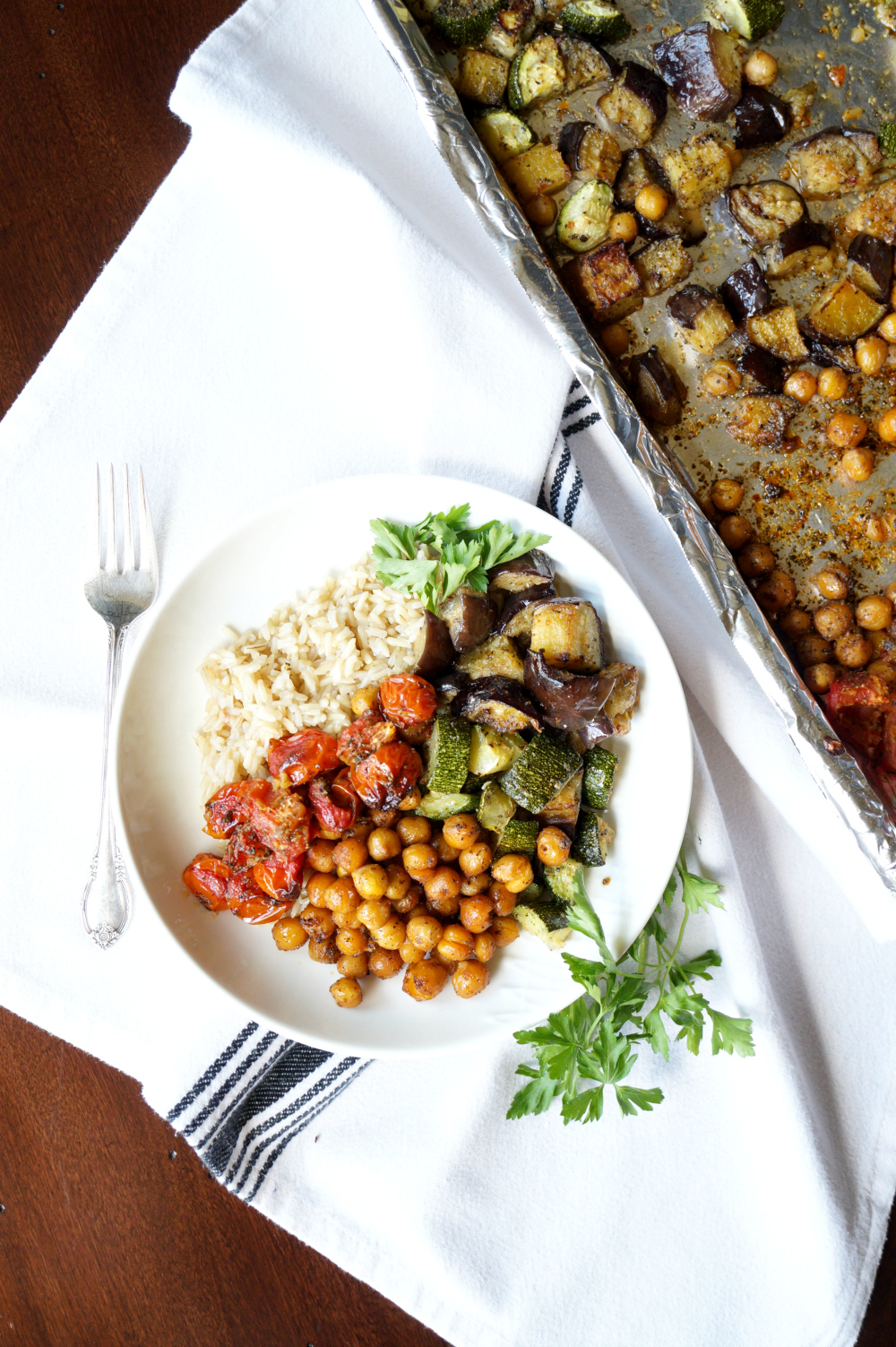 Hi friends and happy Tuesday! The week is back in full swing and I'm sure with all the Memorial Day festivities, we could all use a little healthy reset. I am sharing this Vegan Roasted Ratatouille Sheetpan Meal today which has become one of my FAVORITE things to eat! Tomatoes, chickpeas, zucchini, and eggplant are tossed with olive oil and herbs and roasted until caramelized and delicious. Serve over brown rice or quinoa and... well, that's really it. So simple and insanely flavorful!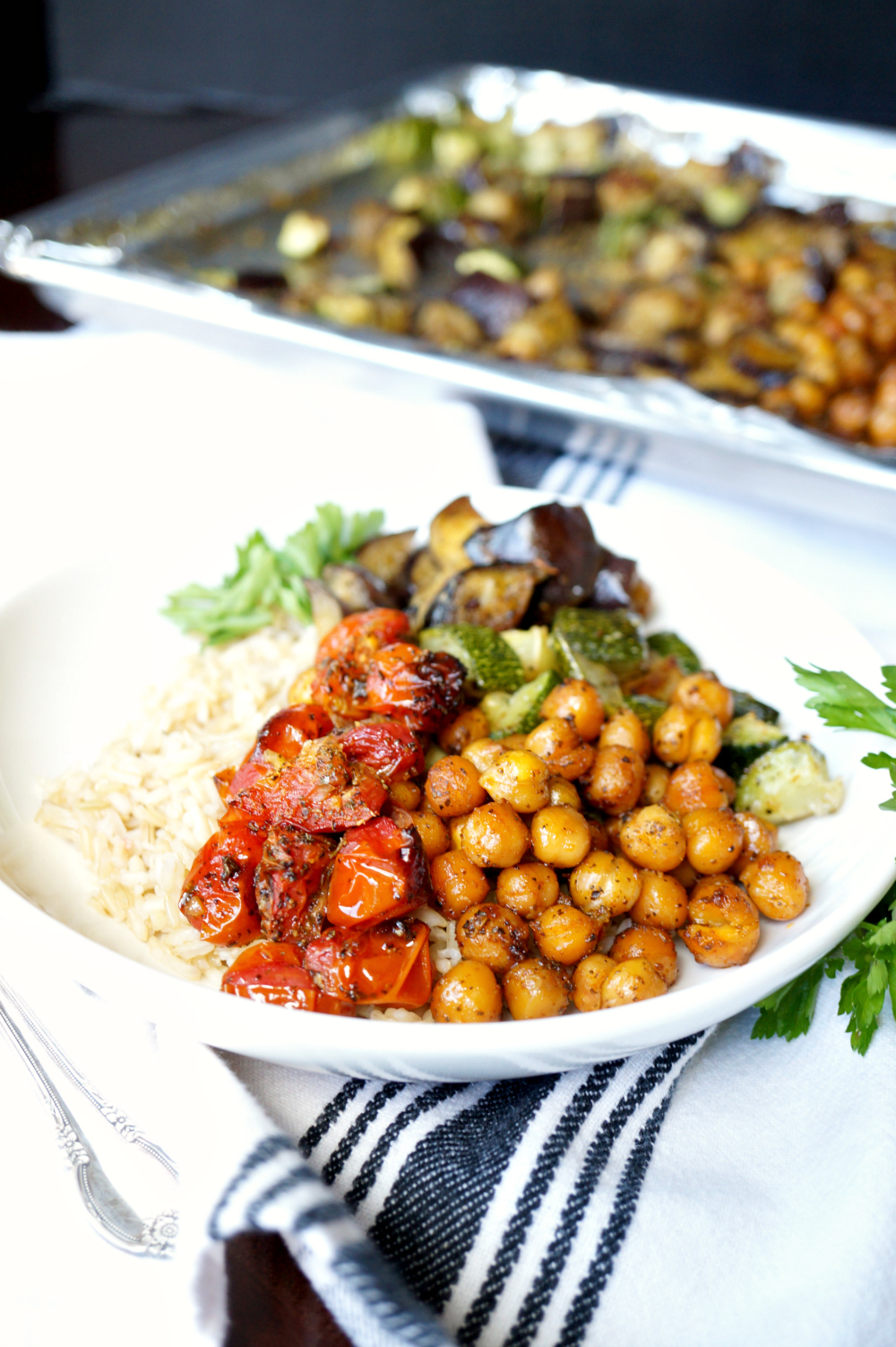 Initially, I wasn't even planning on sharing these roasted ratatouille bowls. I just needed something fast and easy for meal-prep so I could call it a day. But one bite, and I was hooked! I decided these were definitely blog-worthy. And I know you guys are all about the quick & easy recipes, too! As much as I love the intricate desserts and fancy dinners, there really is something to be said for those brainless recipes you can toss together in a few minutes.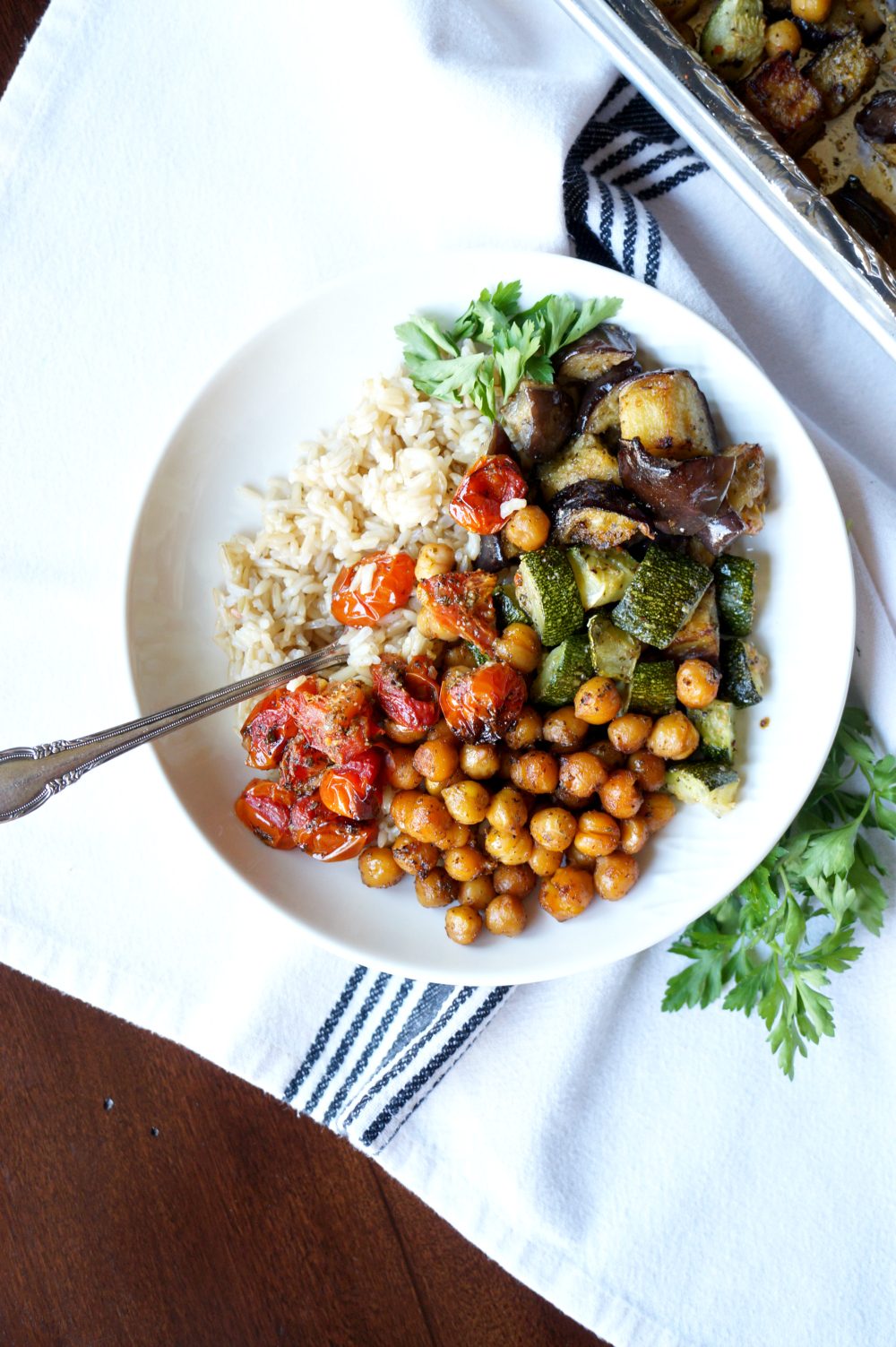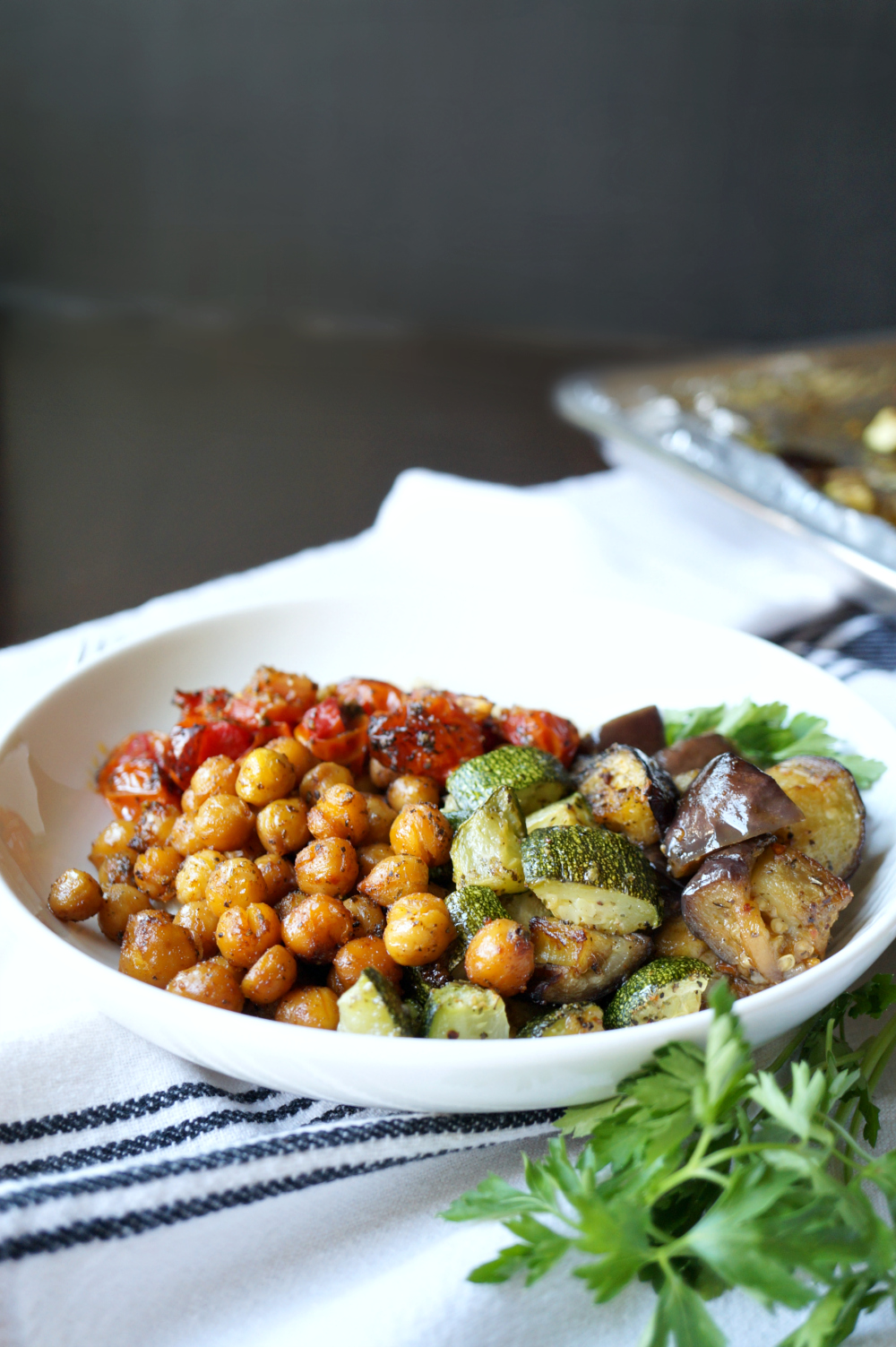 As you guys can see with the recipe trend I've had lately, I am always moving in a more vegan direction! Which honestly is how I've been eating every day! I try to eat as vegan as possible when it's up to me. When it's not up to me (i.e. going out to eat or someone else is cooking) then I settle for vegetarian. But it really hasn't been hard. Everyone I've talked to about just being vegetarian is like, oh I could NEVER do that. Well, I also thought I could never. I had half-heartedly tried to go veggie many times over the years and I could never stick to it, mainly because my heart wasn't in it but also because I didn't really have any social support. It's hard to not eat meat when everyone around you is so judgey and condescending! ESPECIALLY when it's the people you live with and who you eat most of your meals with. Right now, I can't promise I will NEVER ever eat meat again but I'm currently 6 months strong and I am happy with myself 🙂  And my family is supportive which has made all the difference in the world!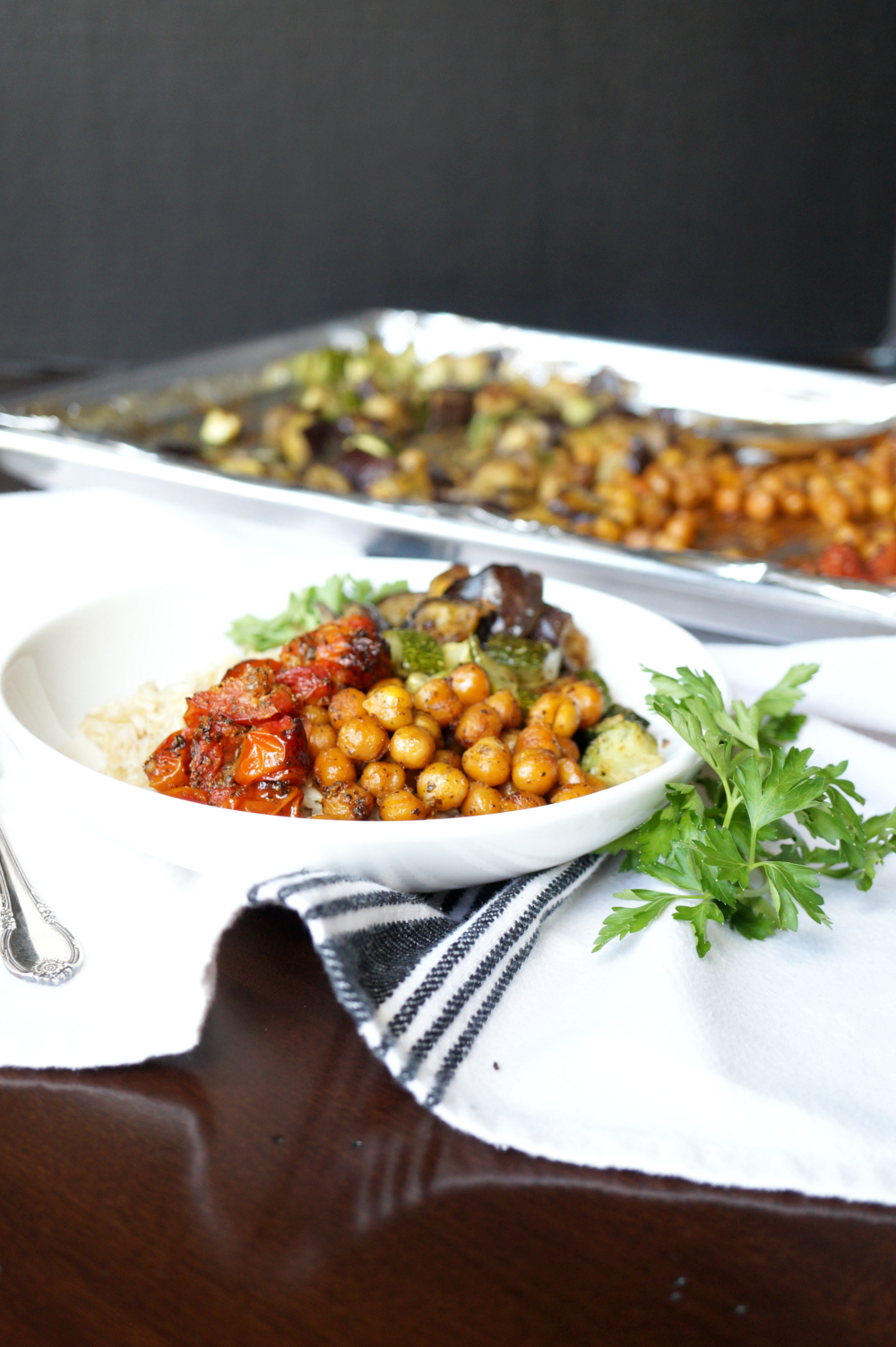 The biggest thing you have to think about when going vegan or even just vegetarian is that cooking is KEY. Eating out is a hassle at best, and buying pre-made products at the store can be a gamble sometimes. I've definitely had to get more creative with my cooking to stick to plant-based, but easy and nourishing meals like these roasted ratatouille bowls definitely help! Easy, quick, and they taste SO good. My meat-eating family just added some chicken and they were happy. But I can promise you the chicken is TOTALLY not needed. I speak from experience 😉

FYI - these Nordic Ware baking pans are my all time FAVORITE and I use them for all my baking! Highly recommend them if you're in the market for new pans. 🙂
Looking for more easy veggie meals? Check out my Vegan Sausage, Kale, and Sweet Potato Sheetpan Meal, Vegan Sheetpan Tofu Fajitas, Vegan Chorizo Taco Chili, and Vegan Mushroom Tomato Chickpea Stew. Happy cooking!
vegan roasted ratatouille sheetpan meal
Author:
Valentina | The Baking Fairy
Ingredients
1 zucchini, cut into cubes
1 eggplant, cut into cubes
3 roma tomatoes, cut into cubes
1 can of chickpeas, drained and rinsed
1-2 tablespoon olive oil
½ teaspoon oregano
½ tablespoon herbes de provence mix
1 teaspoon garlic salt
brown rice or quinoa, to serve
Instructions
First, preheat oven to 425F. Line a baking sheet with foil.
Arrange the chickpeas and cut vegetables on the prepared baking sheet, drizzle with the oil and sprinkle the herbs on top. Gently mix to combine.
Bake in preheated oven for 30 minutes, until everything is golden brown and crisp.
Serve over brown rice or quinoa!
*Disclosure: I am part of the Amazon Associates Program, and there may be affiliate links on this page. If you buy anything through my website, I will receive a small percentage of the profit at no extra cost to you. Thank you for supporting my blog!*
SaveSave