If you've been itching to try the trendy new cutout cakes that have been all over the internet, this is your chance! This Gluten Free Chocolate Candy Cutout Number Cake is much easier to make than it looks, and its perfect for any party!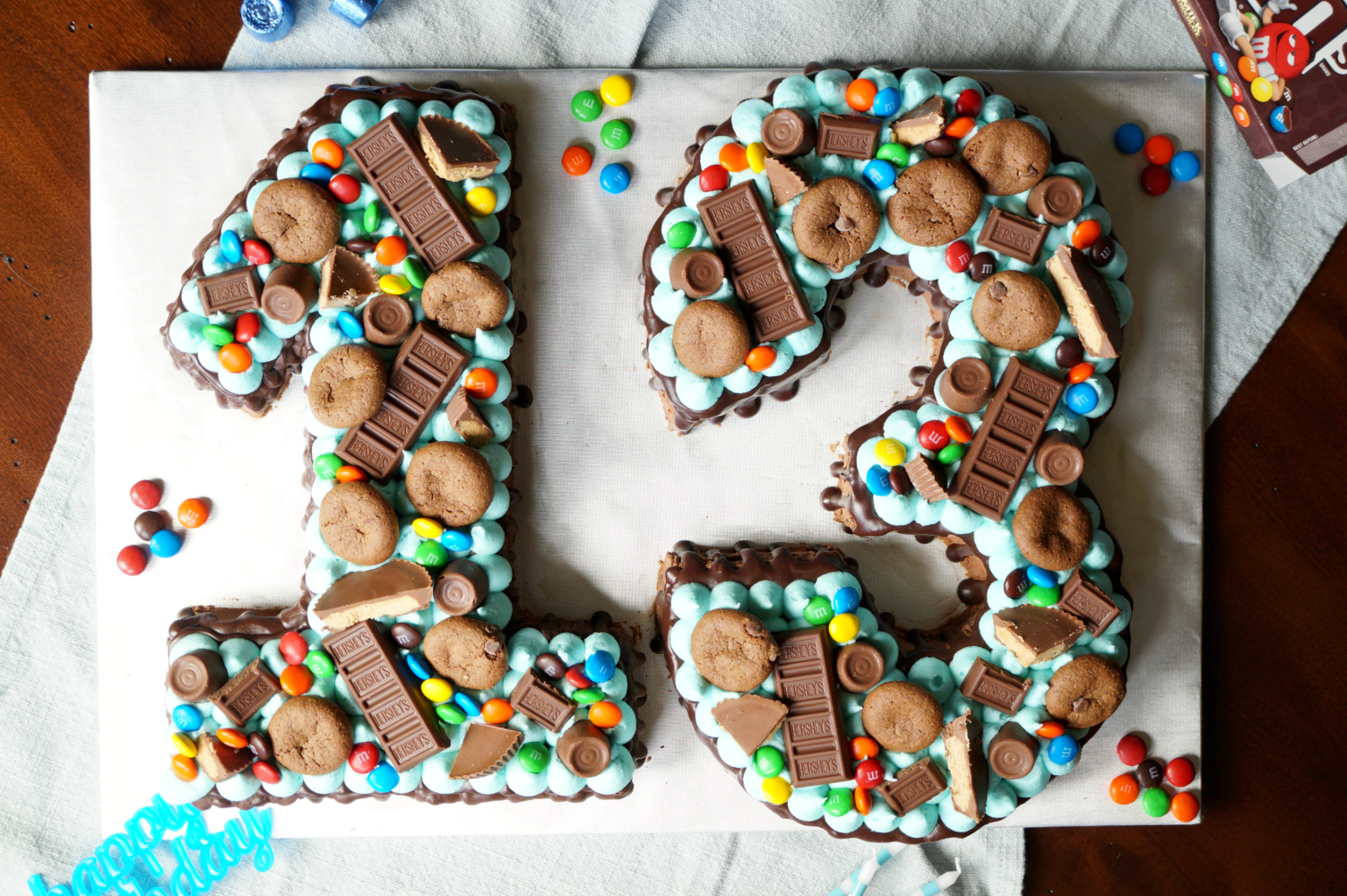 Hiiii friends and happy FRI-YAY! I am so excited to be sharing this super fun cake with you guys today! This Gluten Free Chocolate Candy Cutout Number Cake is something I made recently for an order and I am OBSESSED. It was so much fun to put together and, though I know you guys never believe me, it's really not that hard. I promise. Let me show you how to build your very own cutout number cake!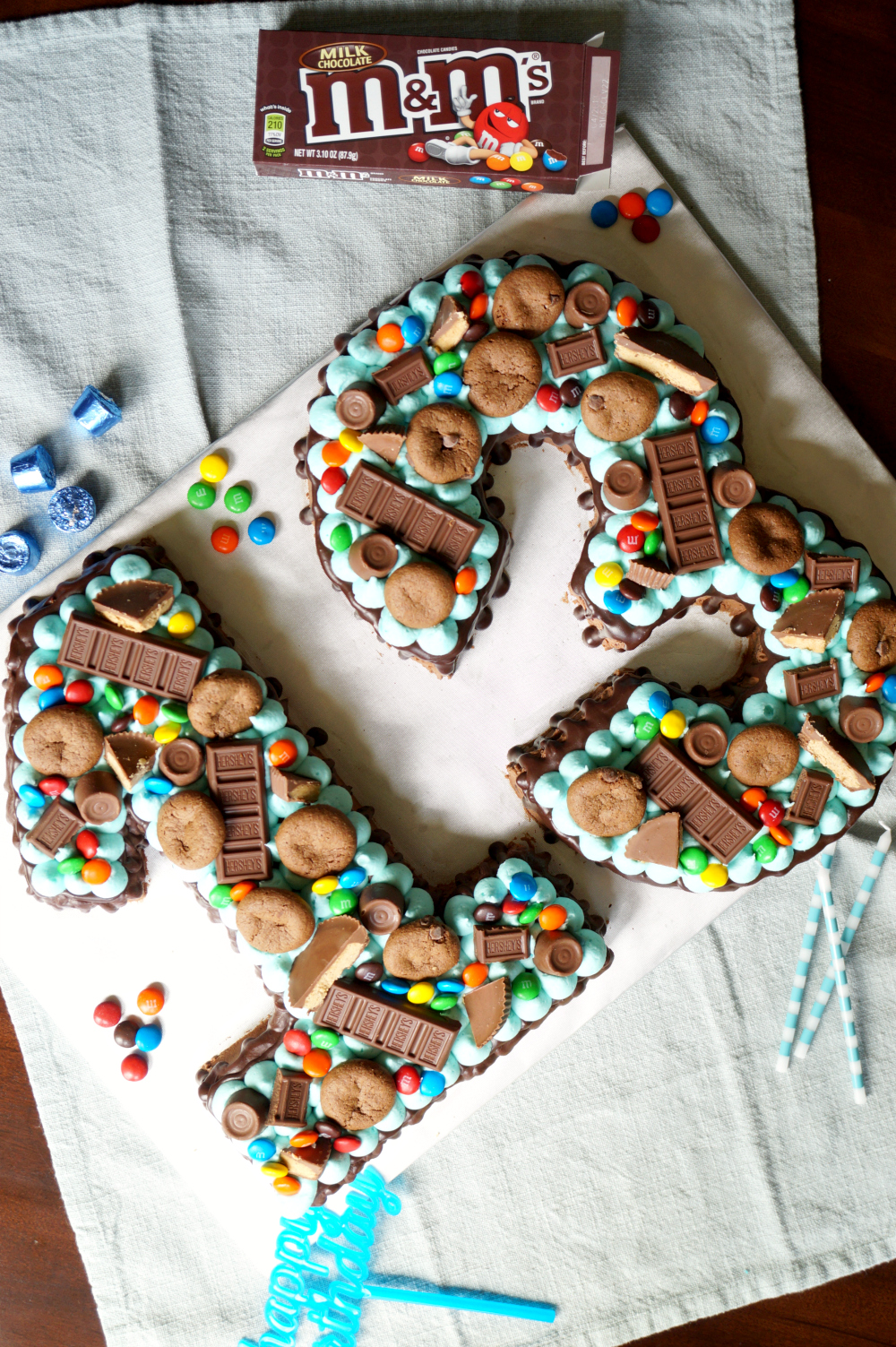 I feel like I need to preface this with, this cake was requested gluten-free for preference. My customer did not have any food allergies, sensitivities, or Celiac's disease regarding gluten. So while the candies I used are GF as far as ingredients go, I am not sure if they are not contaminated somehow in the manufacturing process. I just needed to put that out there before you friends who actually suffer from Celiac's come after me for making my customer sick. I promise they loved it and nobody suffered! 🙂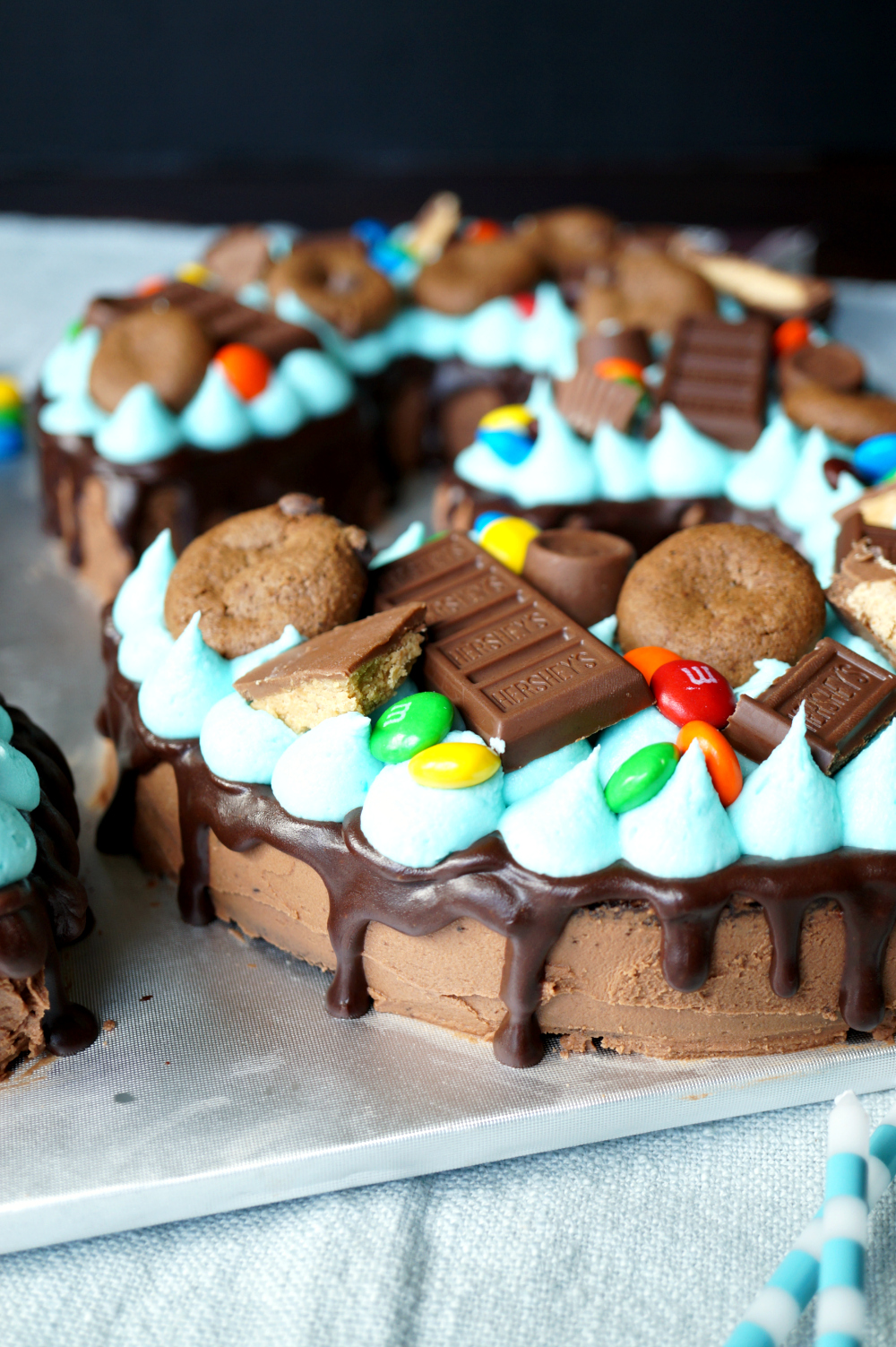 So - how do you make your very own cutout number cake? Start with your favorite cake recipe or cake mix. I used King Arthur Flour Gluten Free Chocolate Cake Mix
and it was AMAZING. Making a cutout cake means there are lots of scraps, and we seriously devoured them. The best GF cake I've ever had by far! ANYWAYS. Bake up your cake. I made a 9x13 cake as the base for my "1", and two 8" round cakes to build my "3".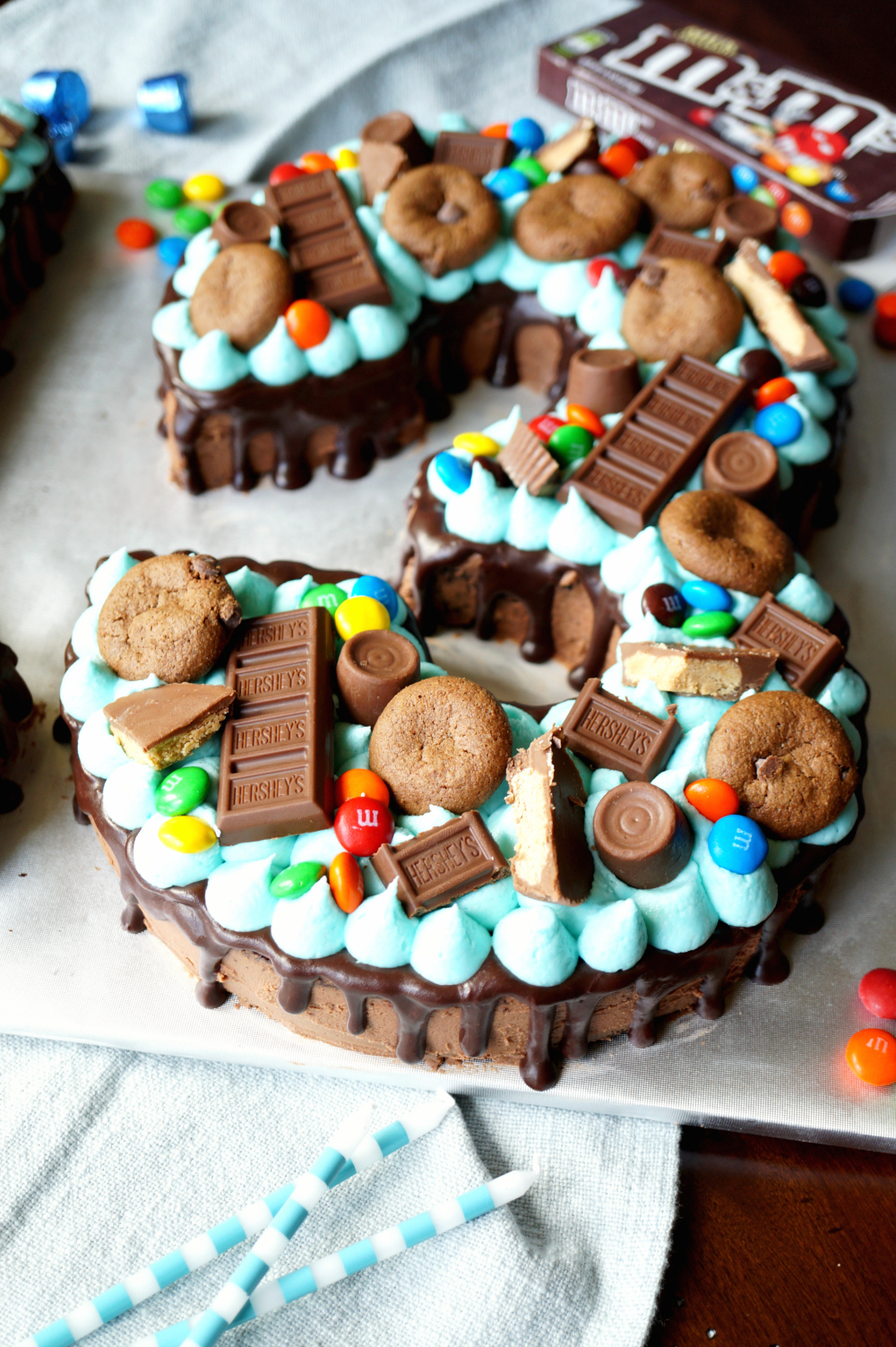 After they were baked and cooled, I placed a big piece of wax paper right on top of the cake, and using a sharpie, I traced out exactly what I wanted my number to look like. This lets you fix as needed before actually cutting! Then I cut out the piece of wax paper, laid it on top of my cake and secured it with a couple toothpicks, and THEN I actually cut the cake with a knife.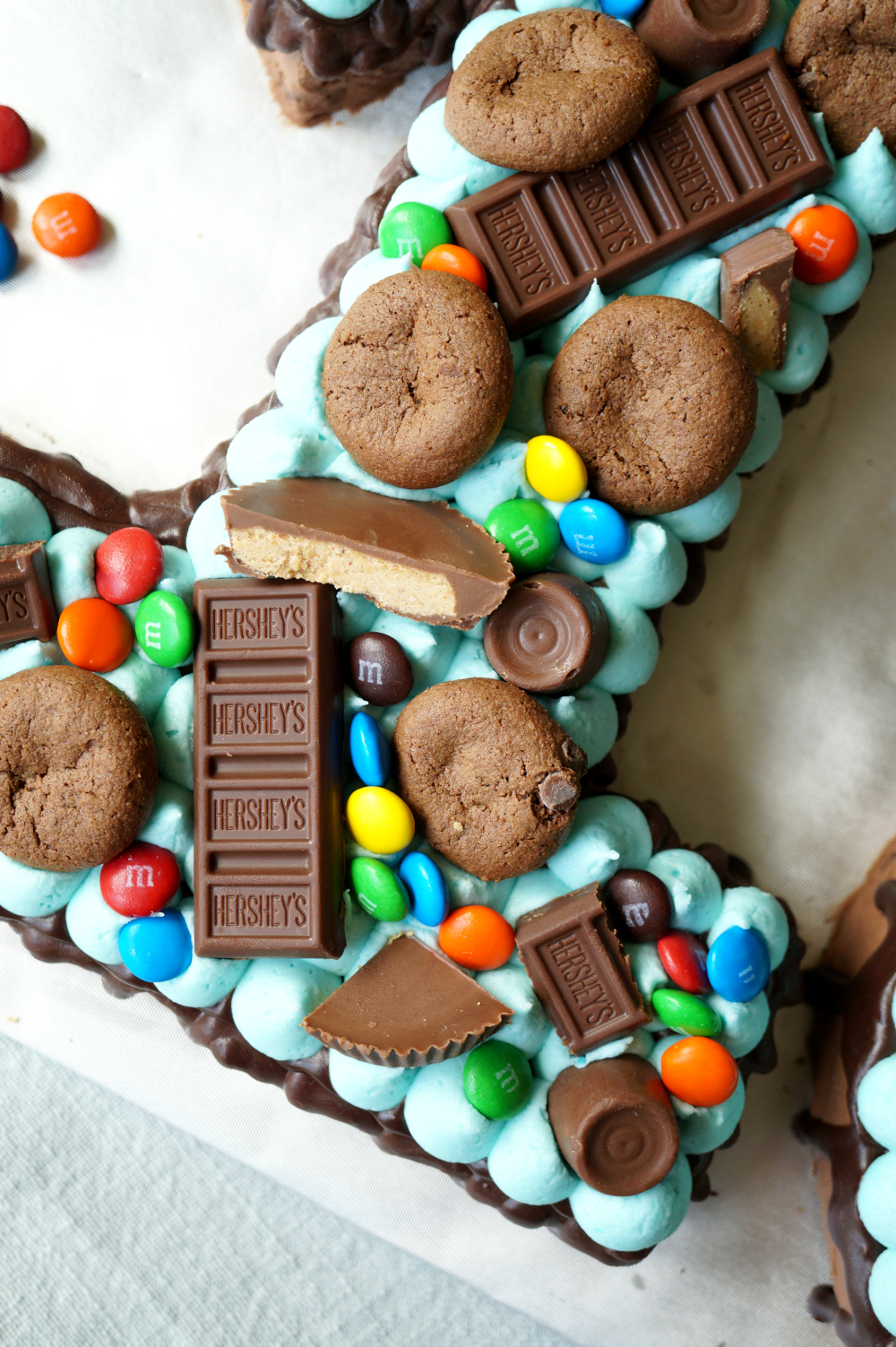 Next, I frosted the cakes using a chocolate frosting and then I did a chocolate ganache drip (just mixed semisweet chocolate chips with some heavy cream, melted in the microwave and then decorated with a squeeze bottle). And on top of THAT, I piped some vanilla frosting using a Wilton 1A tip
(which is just a jumbo round tip). After that - the fun part!! I decorated my cutout number cake with mini Hershey's bars, M&Ms, Rolos, Reese's Cups, and double chocolate chip cookies. I happened to find these Home Free cookies
at Sprout's and they are DELICIOUS. They also happen to be vegan and soy free!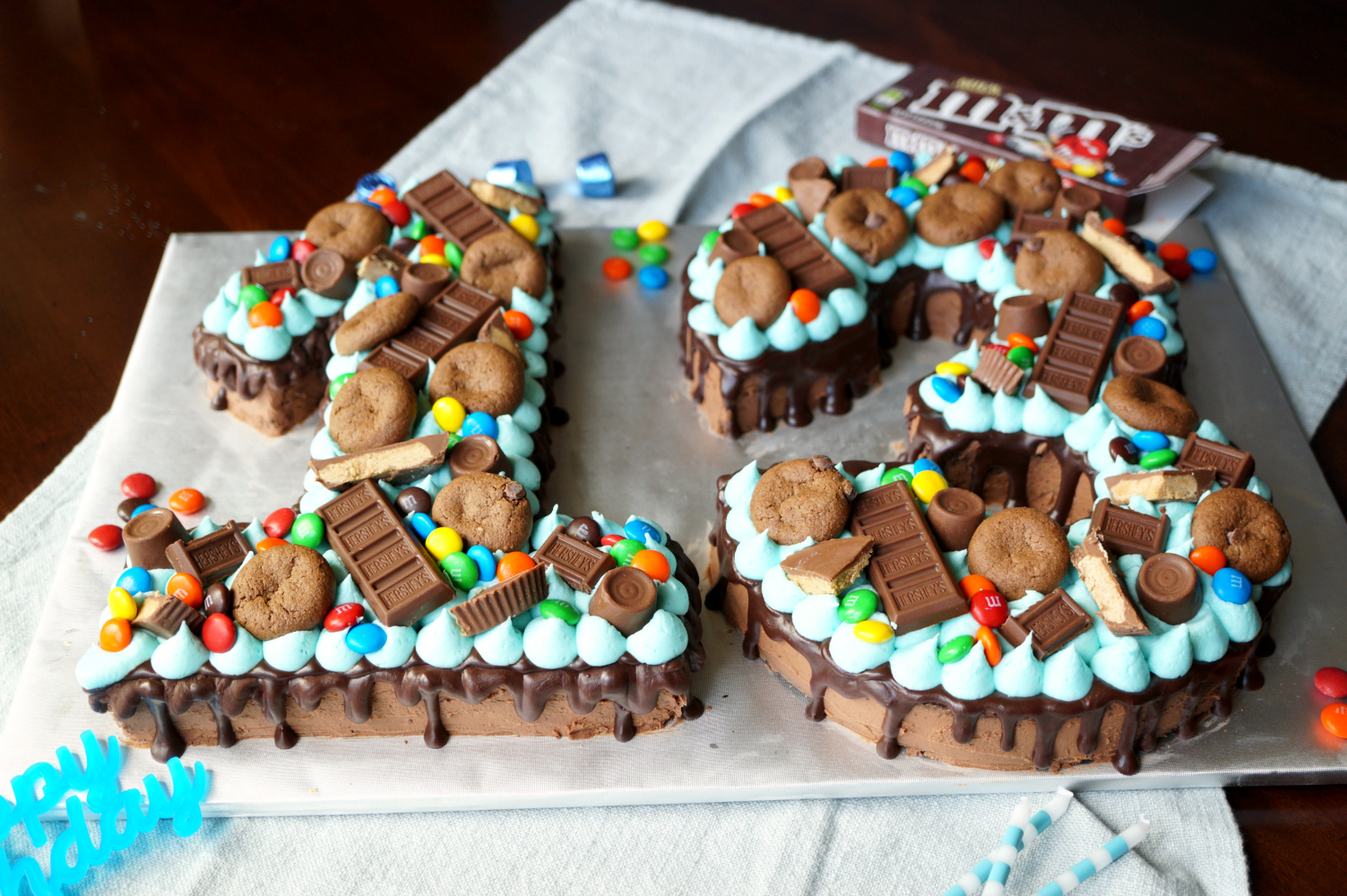 And - that's really it! This was so fun to make and I think much easier than the cutout cookie version I have been seeing all over the internet 🙂 I hope you guys give this chocolate candy cutout number cake a try! It's so much fun for a birthday. If you have any questions, please let me know, I am happy to help!
*Disclosure: I am part of the Amazon Associates Program, and there may be affiliate links on this page. If you buy anything through my website, I will receive a small percentage of the profit at no extra cost to you. Thank you for supporting my blog!*
SaveSave
SaveSave
SaveSave