If you're looking for a hearty vegan main dish, look no further! These delicious Vegan Japanese Eggplant No-Meatballs are plant based but savory, satisfying, and covered in a homemade teriyaki sauce.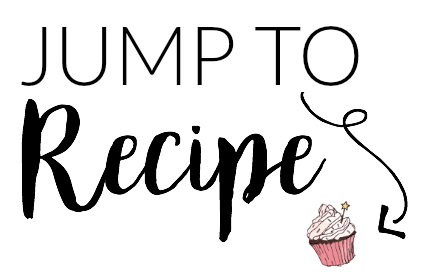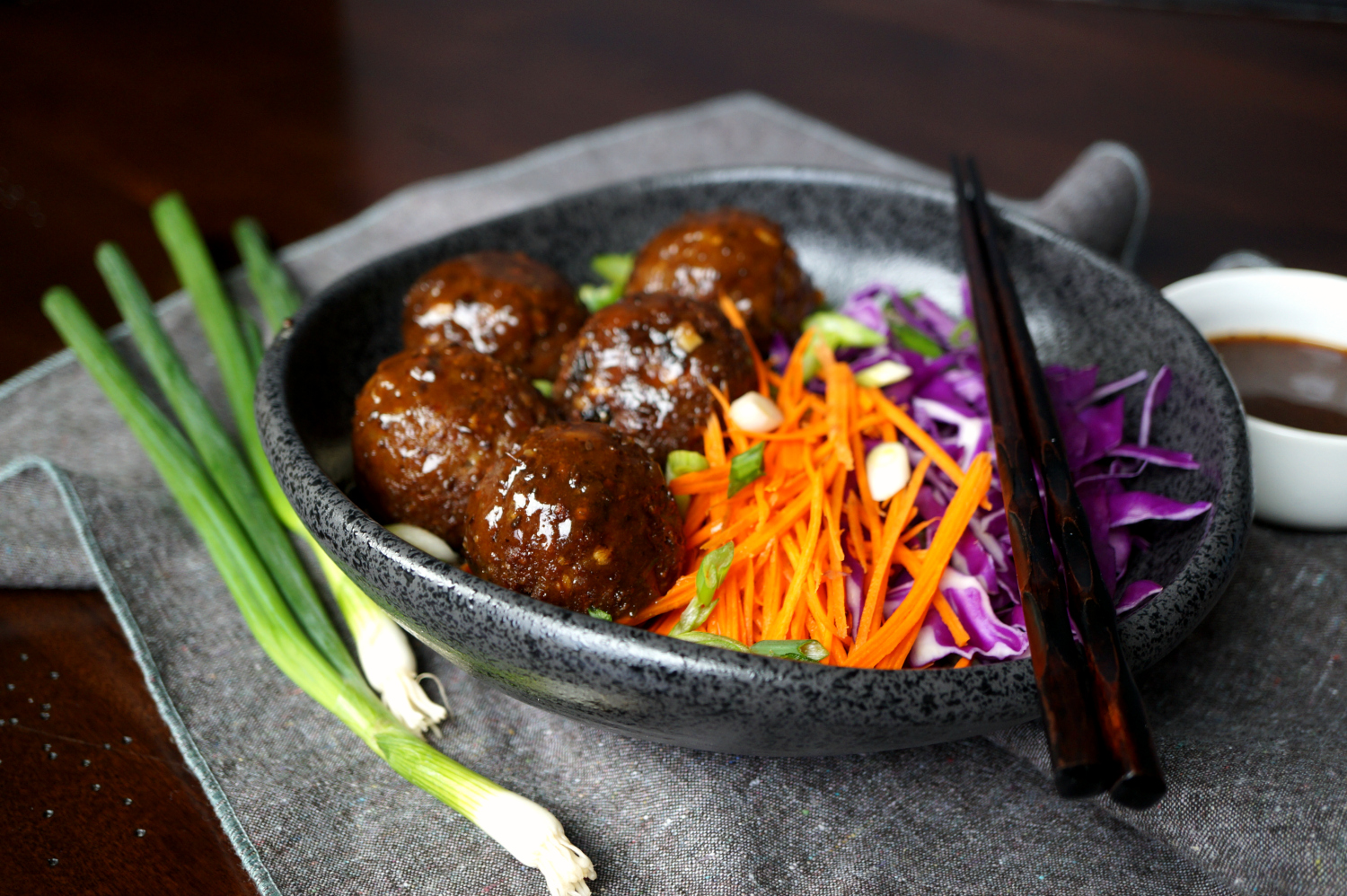 Hi friends and happy Tuesday! I am so excited to share the best news ever... YA GIRL PASSED HER BOARDS! Which means I am officially a Physician Assistant. Oh, heck yes. Now I gotta update all my social media ? The other exciting news I have, which you are probably more interested in, are these delicious Vegan Japanese Eggplant No-Meatballs which are from my blog friend Amanda's soon-to-be-published cookbook, Great Vegan Meals for the Carnivorous Family. It is such a fabulous book and I swear she must have written it for me and my family. Do you see that title?! ?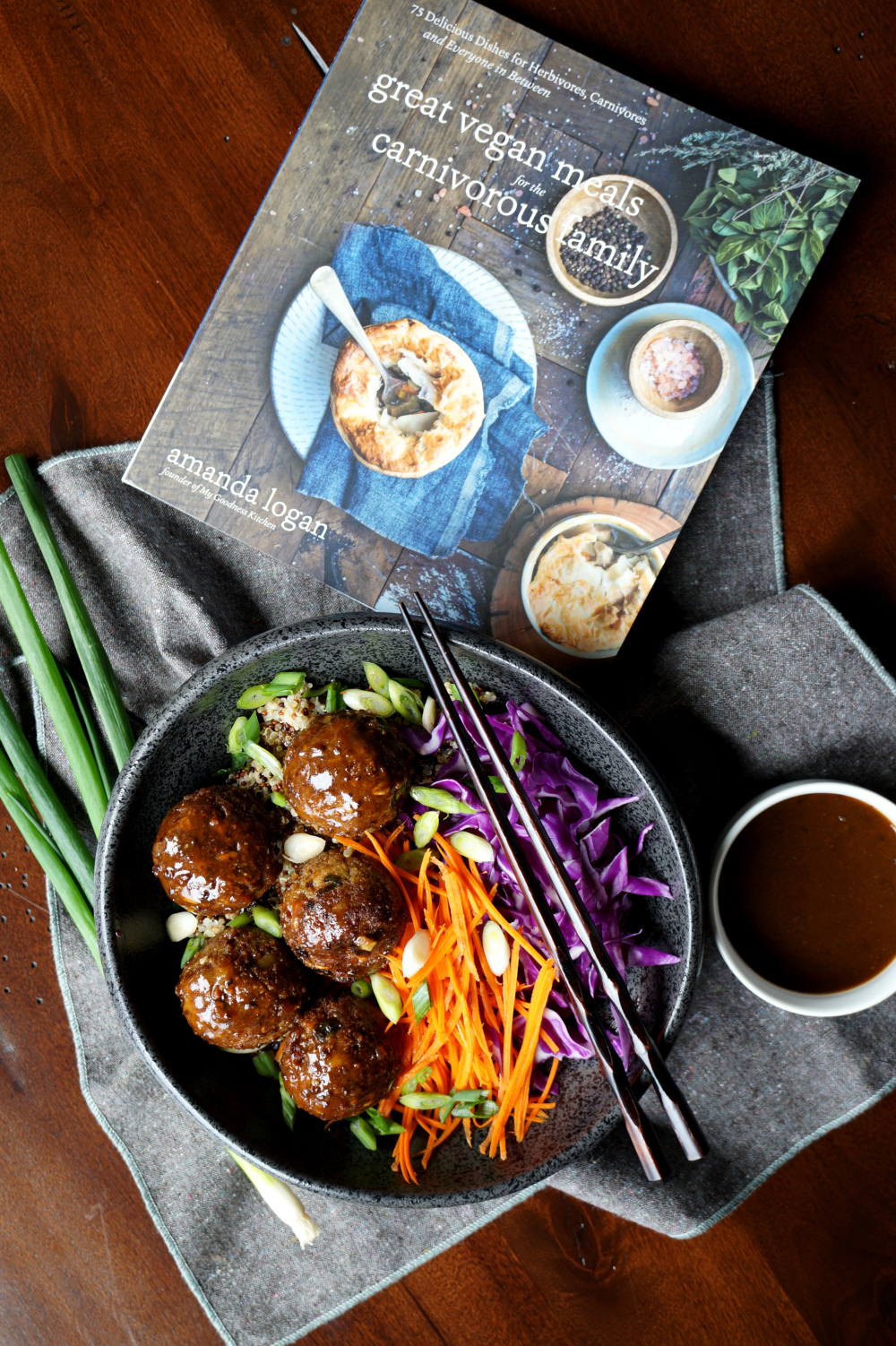 I had quite a few recipes that I could've picked from when making this blog post, but while doing a quick flip-though the cookbook, these eggplant no-meatballs immediately stood out to me! There are a million vegan meatball recipes out there, but I personally have never seen one made with eggplant before. They're also quite simple to put together and the ingredients are all staples in my everyday meatless cooking - tofu, rice, oats, and of course the eggplant just to name a few! I was also intrigued with the Japanese direction these meatballs took instead of the traditional Italian route.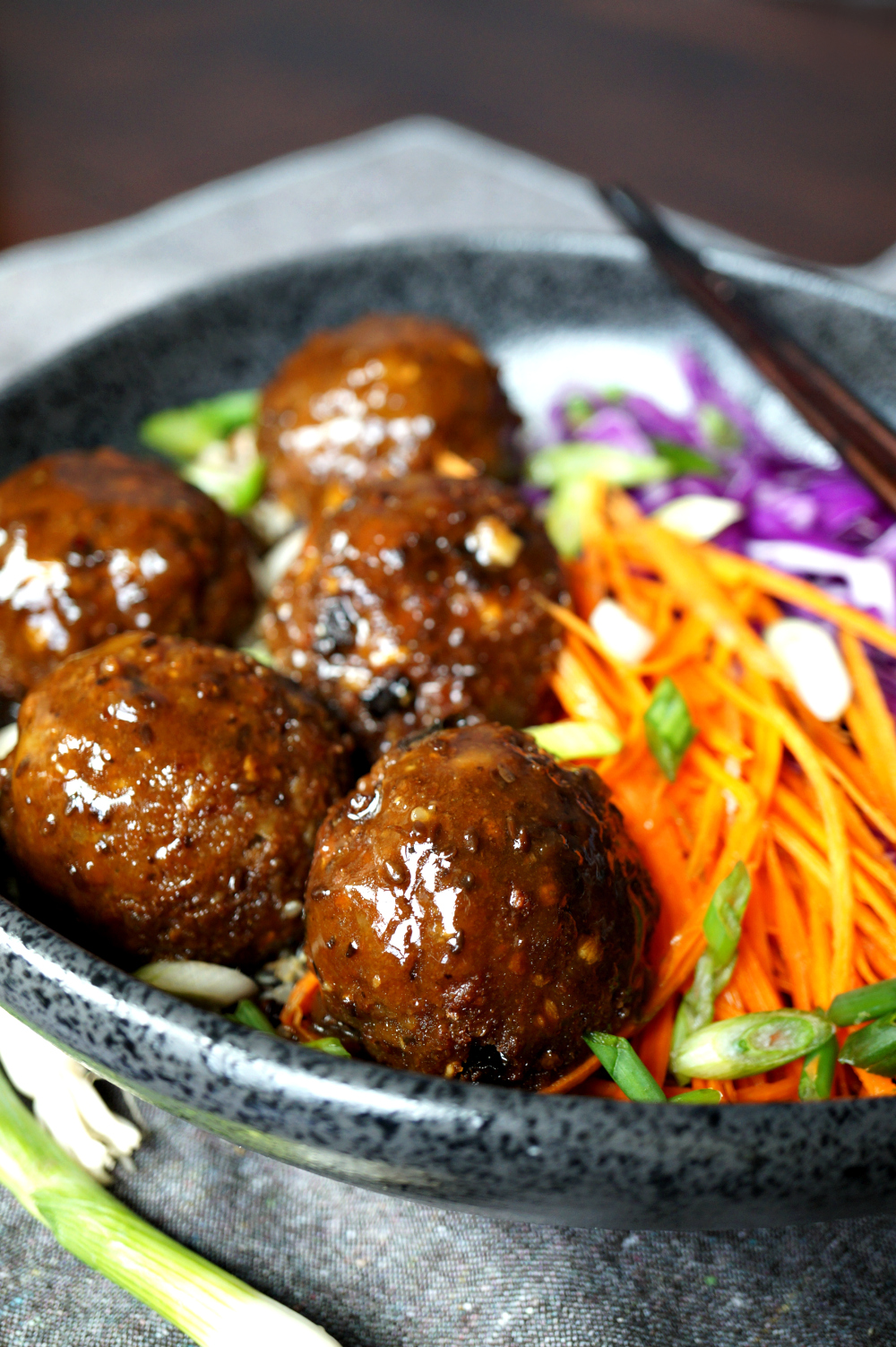 So let's talk about the cookbook! Great Vegan Meals for the Carnivorous Family is a lovely collection of 75 meat-eater approved recipes that are, of course, totally vegan-friendly! It includes 6 chapters covering breakfast, lunch, main dishes, veggie sides, desserts, and staples including sauces, gravies, vegan parmesan, and even hot fudge! Amanda is the sole vegan in a family of omnivores, something which I totally relate to. LOL. When she asked if I was willing to cook some things from her new book and leave a review, I was only too happy to. It's right up my alley! 🙂 Besides these eggplant no-meatballs, you can find other tasty recipes including Savory French Toast (OMG), Tastes-Like-Chicken Pot Pie, Vegan Po-Boys (made of mushrooms!), Crab-Free Crab Cakes, and the most luscious Silken Chocolate Peanut Butter Pots. I'm not a huge cookbook user, but I can already tell you I will be cooking my way through this one. I've already made her super-creamy (date-sweetened!) hot chocolate and I am in love!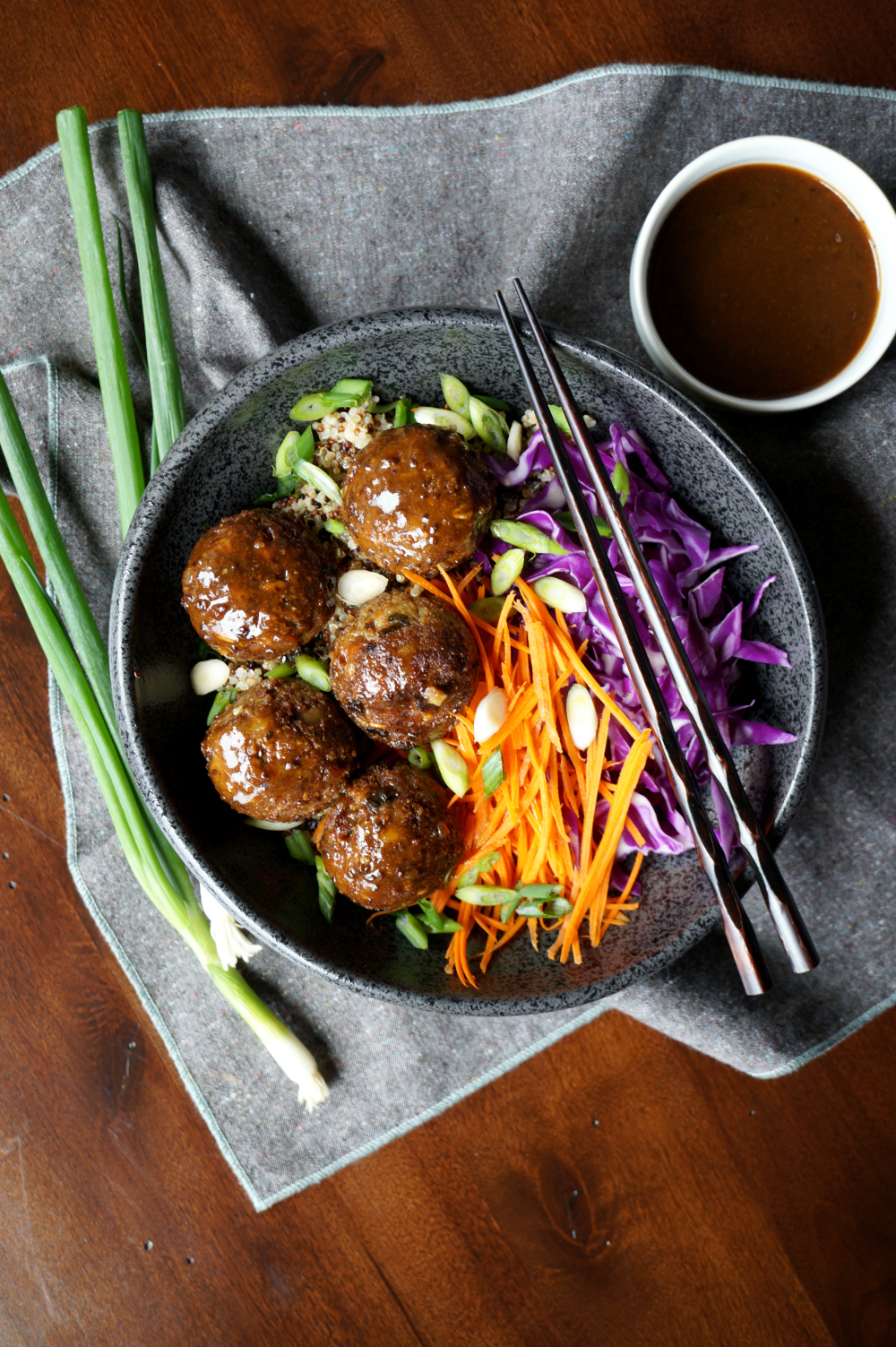 I am so thankful to Amanda for trusting me with her book baby! I adore it and my family absolutely LOVED these vegan Japanese eggplant no-meatballs! I didn't even tell them they were vegan, and they didn't suspect a thing 😉 Who wouldn't love crispy, crunchy, tender meatballs, no matter what they're made with... especially with a delectable teriyaki sauce for dipping! The book Great Vegan Meals for the Carnivorous Family is coming out soon in December! In the meanwhile you can check out her website to pre-order the book! I highly recommend it and I hope you love it as much as I do!
This recipe is reprinted with permission from Great Vegan Meals for the Carnivorous Family by Amanda Logan, Page Street Publishing Co. 2018. This recipe can be found on page 94.
vegan japanese eggplant no-meatballs
If you're looking for a hearty vegan main dish, look no further! These delicious Vegan Japanese Eggplant No-Meatballs are plant based but savory, satisfying, and covered in a homemade teriyaki sauce.
Author:
Valentina | The Baking Fairy
Ingredients
*for the eggplant meatballs*
1 large eggplant (~14oz), cut into cubes
1 cup (160g) cooked rice
¼ cup (20g) old fashioned oats
2 cloves garlic, chopped
1 inch piece ginger, chopped
1 teaspoon sesame oil
2 teaspoon (10mL) tamari or soy sauce
10oz (300gr) extra firm tofu, pressed and finely crumbled
2 scallions/green onion, whites finely sliced
1 8-oz (227g) can water chestnuts, drained and finely chopped
¼ - ½ cup (13-25g) panko breadcrumbs, as needed
2-3 tablespoon (30-45mL) sunflower or peanut oil, to fry
*for the teriyaki sauce*
1 teaspoon grated ginger
¼ cup (60mL) mirin
¼ cup (60mL) tamari or soy sauce
1-2 tablespoon (12-20g) raw sugar
¼ cup (60mL) water
*to serve*
cooked quinoa
thinly sliced red cabbage
thinly sliced carrots
green onion
sesame seeds
Instructions
First, prepare the no-meatballs.
To steam the eggplant, add 3 inches of water to a saucepan and place eggplant cubes in a steamer. Place the steamer on top of the saucepan, making sure the water doesn't touch the underside, and bring the water to a simmer over high heat.
Reduce heat and steam the eggplant for about 10 minutes or until soft. Remove from heat and set aside to cool.
When the eggplant is cooled off, transfer to a food processor and add in the cooked rice, old fashioned oats, garlic, ginger, sesame oil, and tamari/soy sauce. Pulse until the mixture comes together but is still slightly textured.
Transfer this mixture to a large bowl and add in the crumbled tofu, sliced scallions, diced water chestnuts, and panko breadcrumbs. Use a large spoon to combine the mixture; test it out to make sure it will hold together and add more breadcrumbs as needed.
Line a large tray with wax paper and roll the mixture into golf-ball sized balls. Place on prepared tray and place in fridge for about 30 minutes.
Meanwhile, prepare the teriyaki sauce. Combine the grated ginger, miring, tamari/soy sauce, sugar, and water in a small saucepan over medium heat.
Bring the sauce to a boil, then reduce heat and simmer for about 2 minutes. Remove from heat and set aside.
When ready to cook, heat the oil in a large frying pan over medium heat. Fry the no-meatballs in batches of 6-8 for around 6 minutes each.
Place the cooked no-meatballs in a warm oven (200F/95C) while you cook the rest.
Serve with the prepared teriyaki sauce over quinoa with red cabbage, carrots, green onions, and a sprinkle of sesame seeds. Enjoy!
*Disclosure: I am part of the Amazon Associates Program, and there may be affiliate links on this page. If you buy anything through my website, I will receive a small percentage of the profit at no extra cost to you. Thank you for supporting my blog!*