This sweet combo of Pink & Gold Cake and Cupcakes is perfect for a little girl's first birthday party!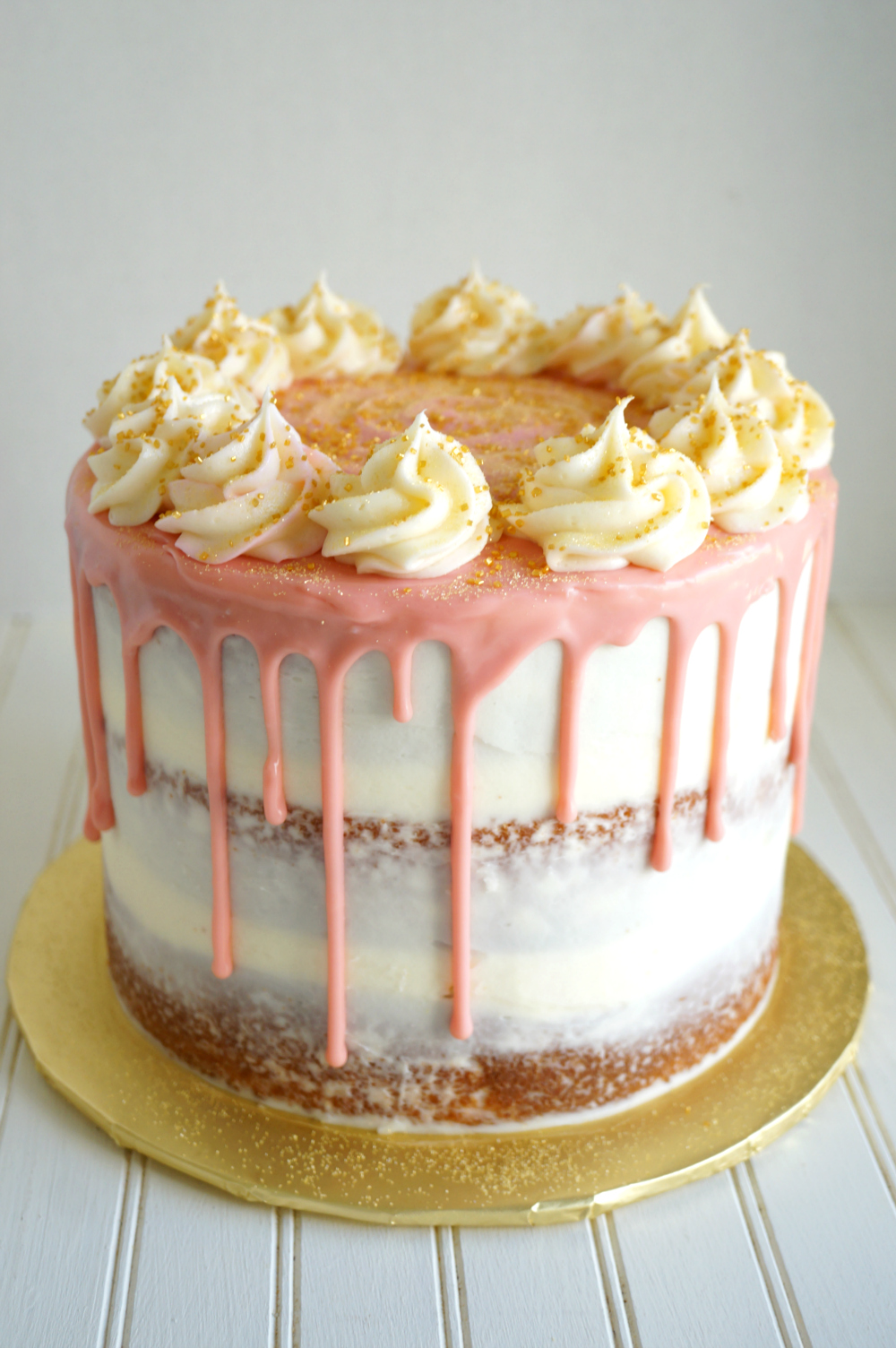 Hi friends! It has been awhile since I made dessert for an order, but I am back at it! I made this sweet cake and cupcake combo for my co-worker's daughter's first birthday and I am so in love! These First Birthday Pink & Gold Cake and Cupcakes were so fun to make, and they fit in so perfectly with the party theme! The cupcakes are vanilla with pink vanilla frosting, and the cake is strawberry with vanilla frosting. Of course, I just HAD to do a pink drip for the occasion! You know me... #TeamDripCakes4Ever.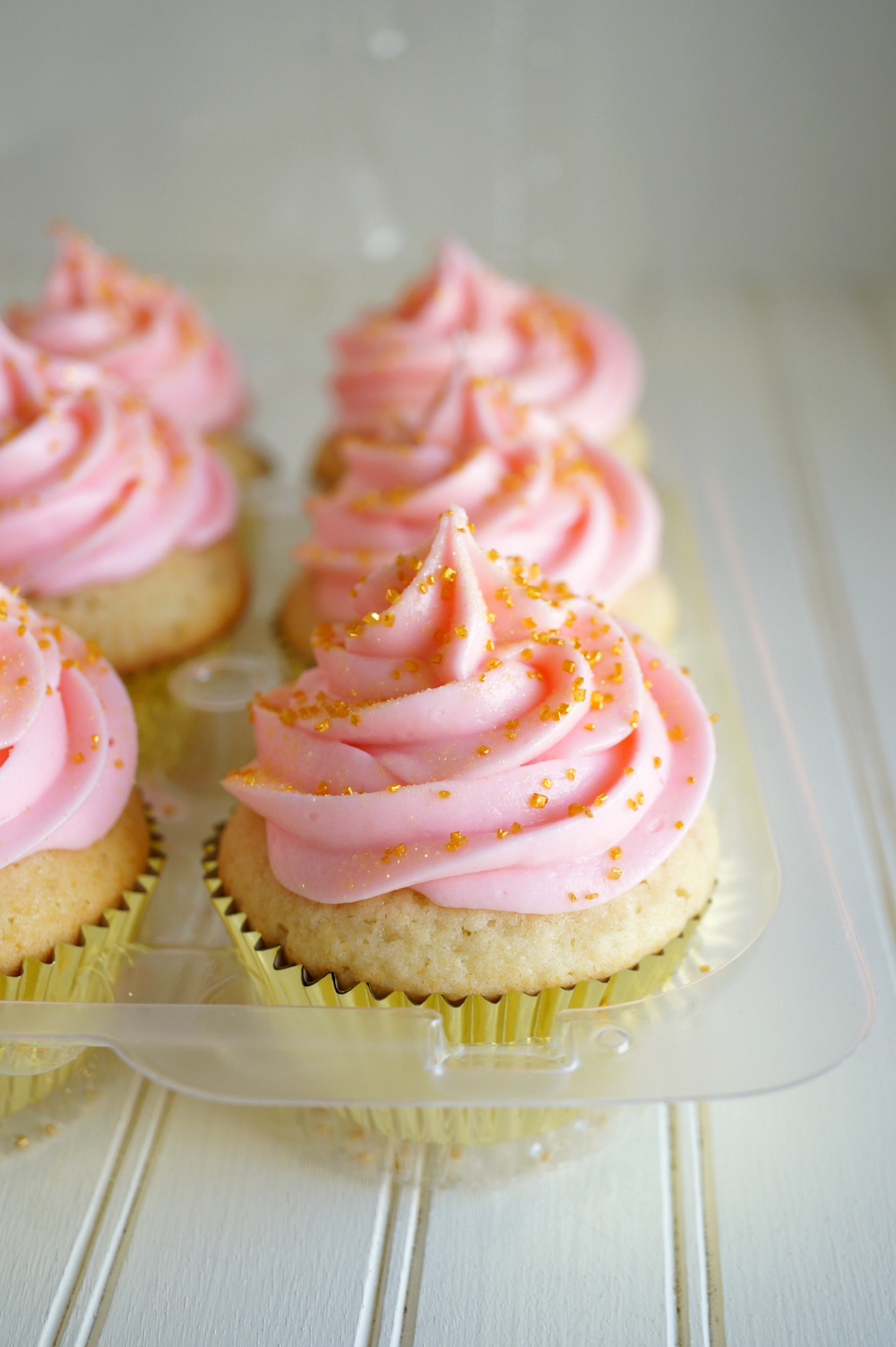 I don't know if you can see it very well in the photos, but in addition to the big gold sprinkles, the cupcakes and cake also had edible gold GLITTER. It was so sparkly and magical! I lucked out at Hobby Lobby and found a big container of a variety of gold and silver sprinkles, and they worked perfectly for this little project. I also had to grab gold cupcake liners and a roll of gold cake board covering to fit with the theme.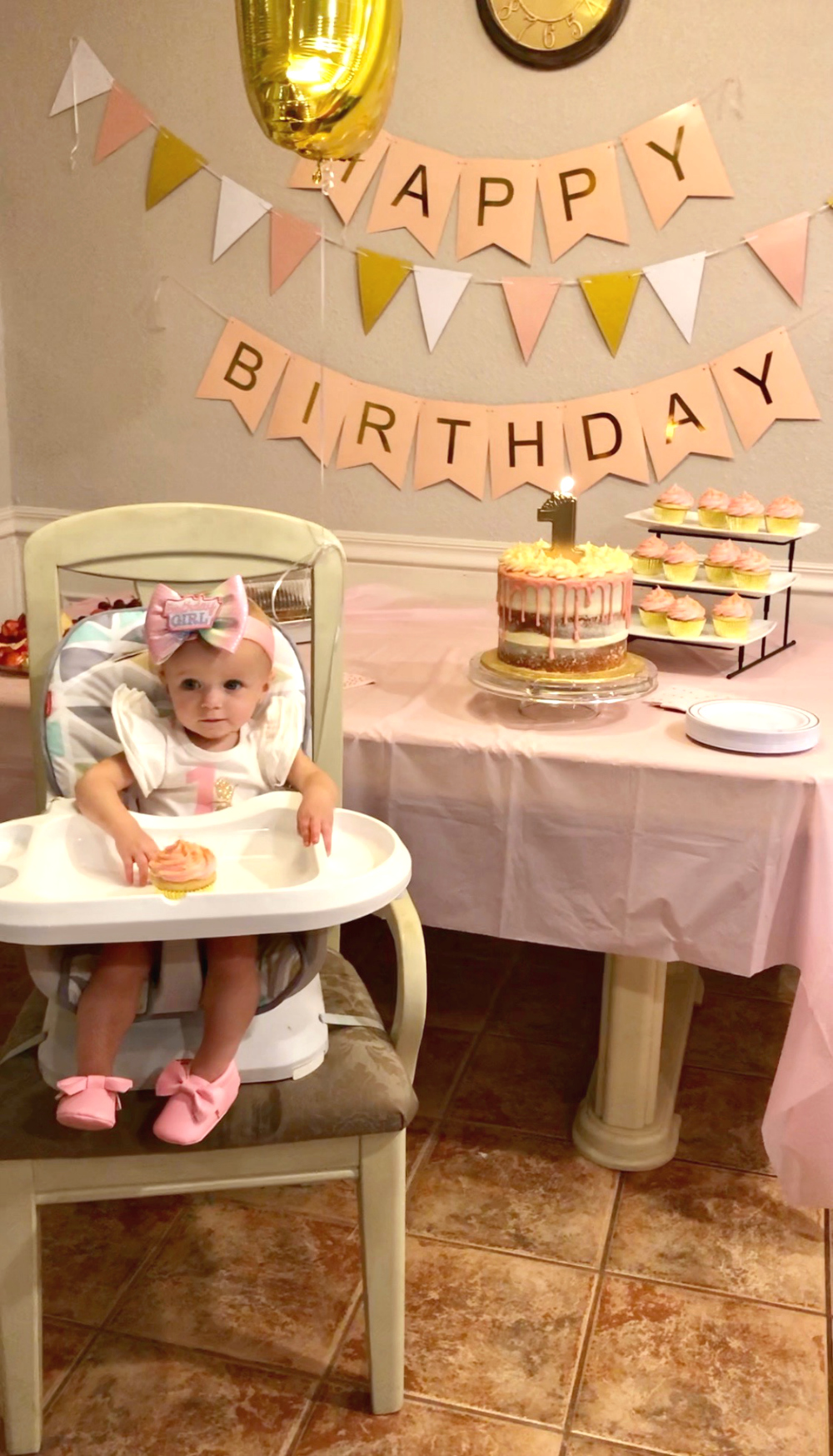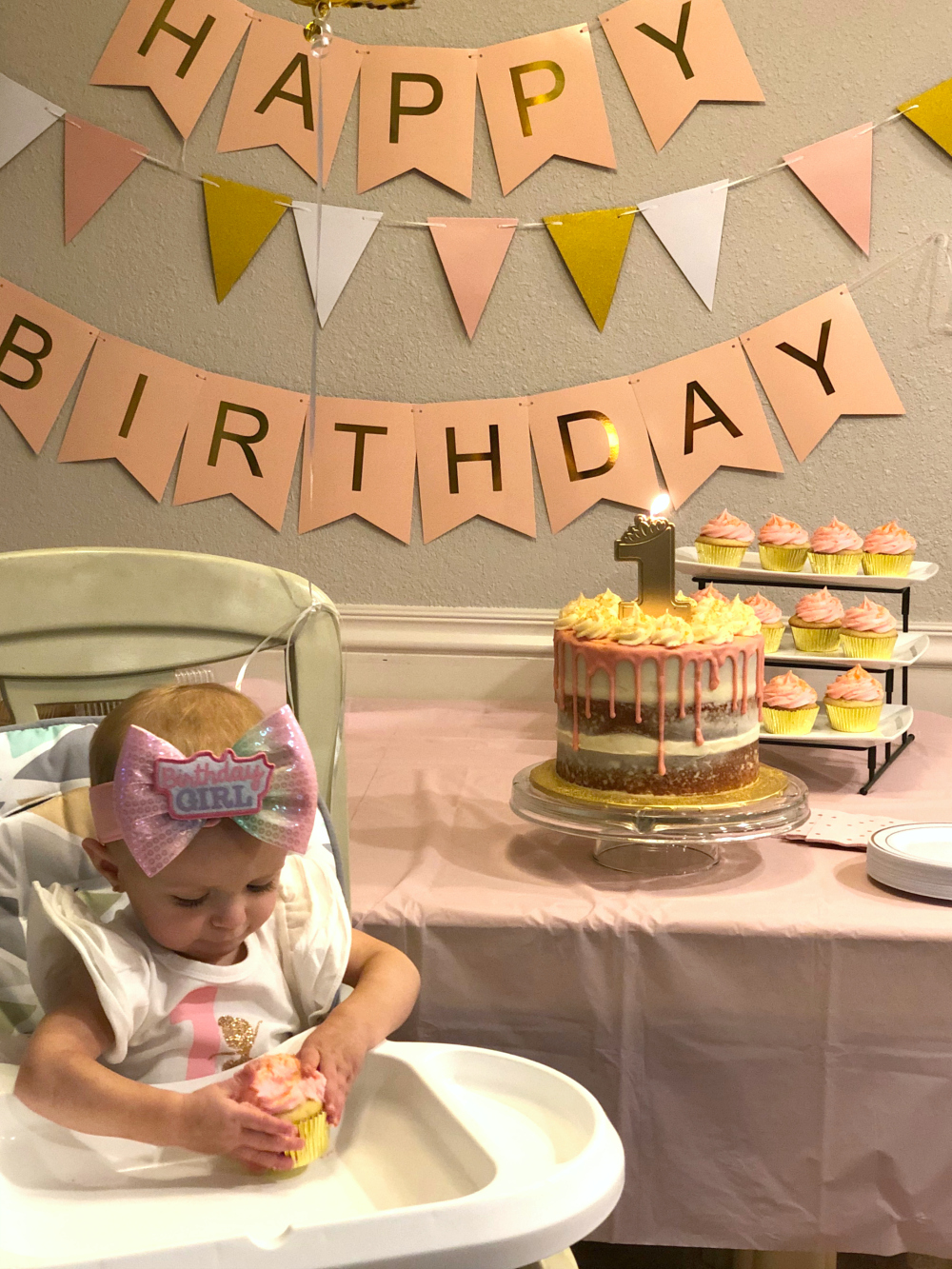 Look at this precious birthday girl with her smash cupcake! Like... can you even deal? She's the cutest. I'm obsessed. And check out that color coordination with the cake and decorations in the background! I couldn't have matched everything that perfectly if I tried! 😉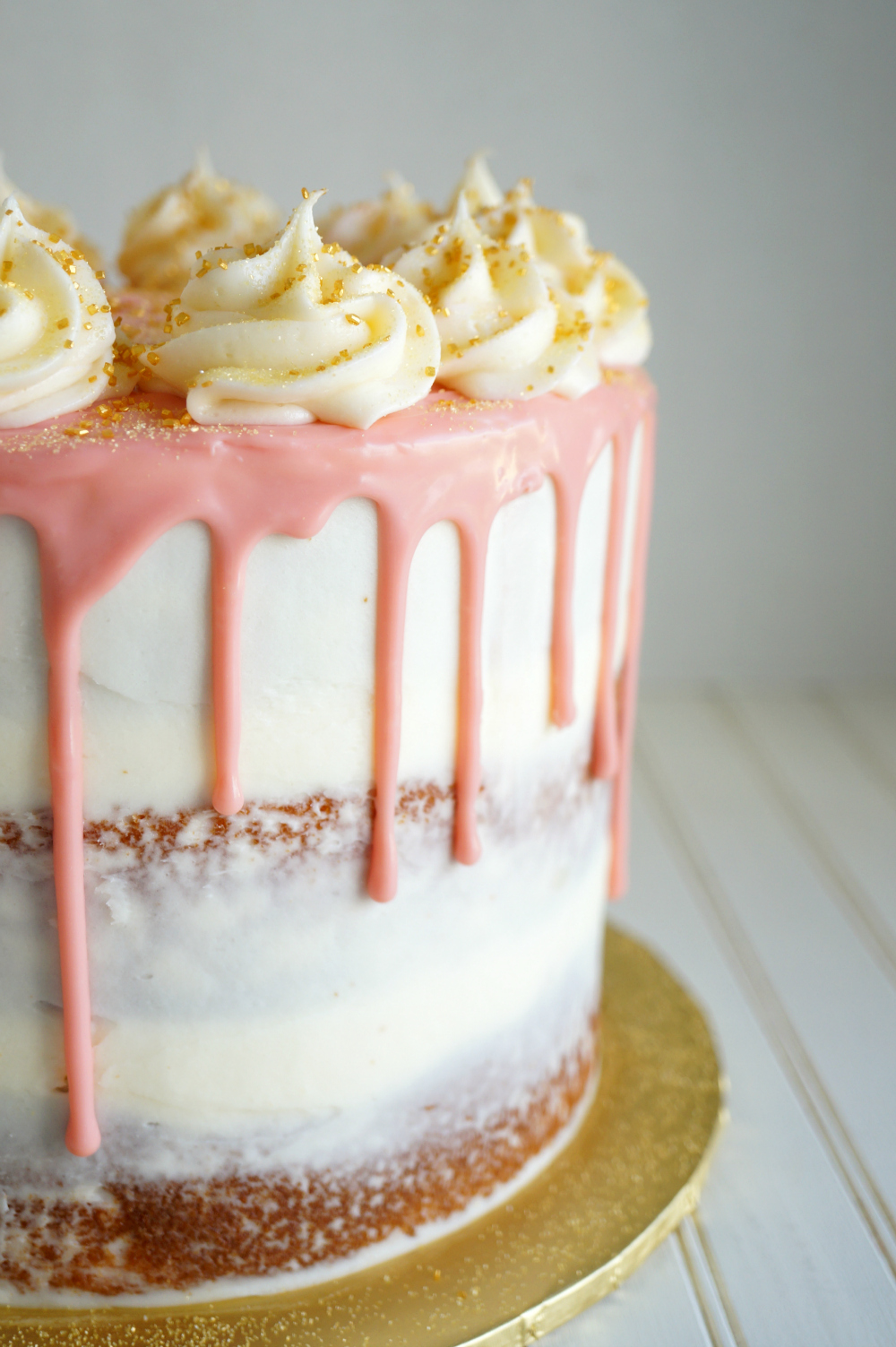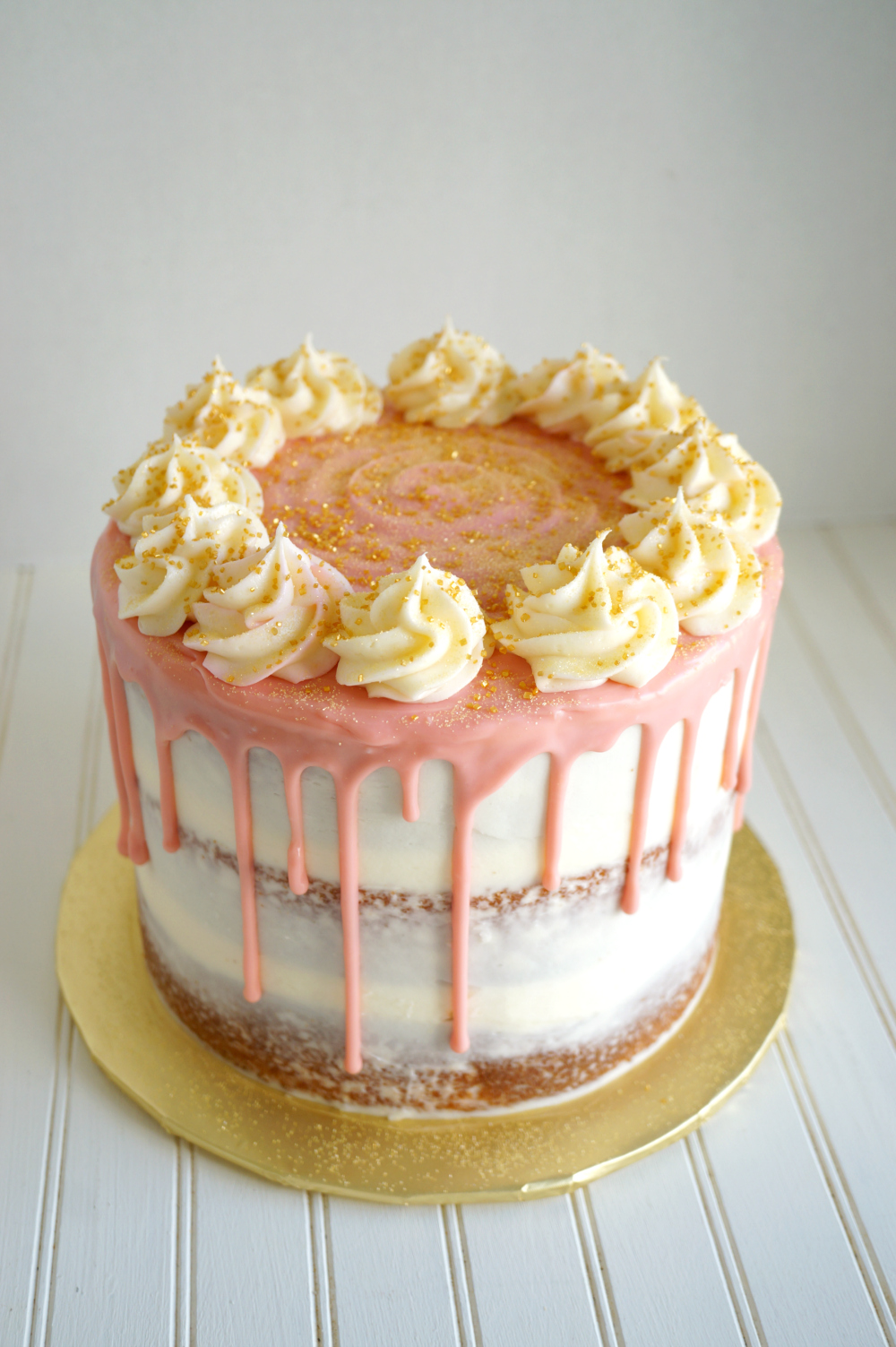 So, I have to admit I cheated juuuuust a little bit when it came to the cake. Strawberry is a tricky flavor to make from scratch, and while I have mastered the homemade strawberry cupcake, I have found that translating that recipe into a big cake makes it dry. And nobody likes a dry cake 🙁 Instead of making it from scratch, I started with strawberry cake mix and jazzed it up to make it extra rich and bakery-style! You can easily do this with any cake mix. My tricks are that I 1. Add an extra egg (per box), 2. Use whole milk instead of water, 3. Use melted butter instead of vegetable oil, and 4. Add a dash of salt (the mix is always too sweet!). This way I was sure that the cake would be super soft and moist, AND have the perfect strawberry flavor! There ain't no shame in the cake mix game, y'all.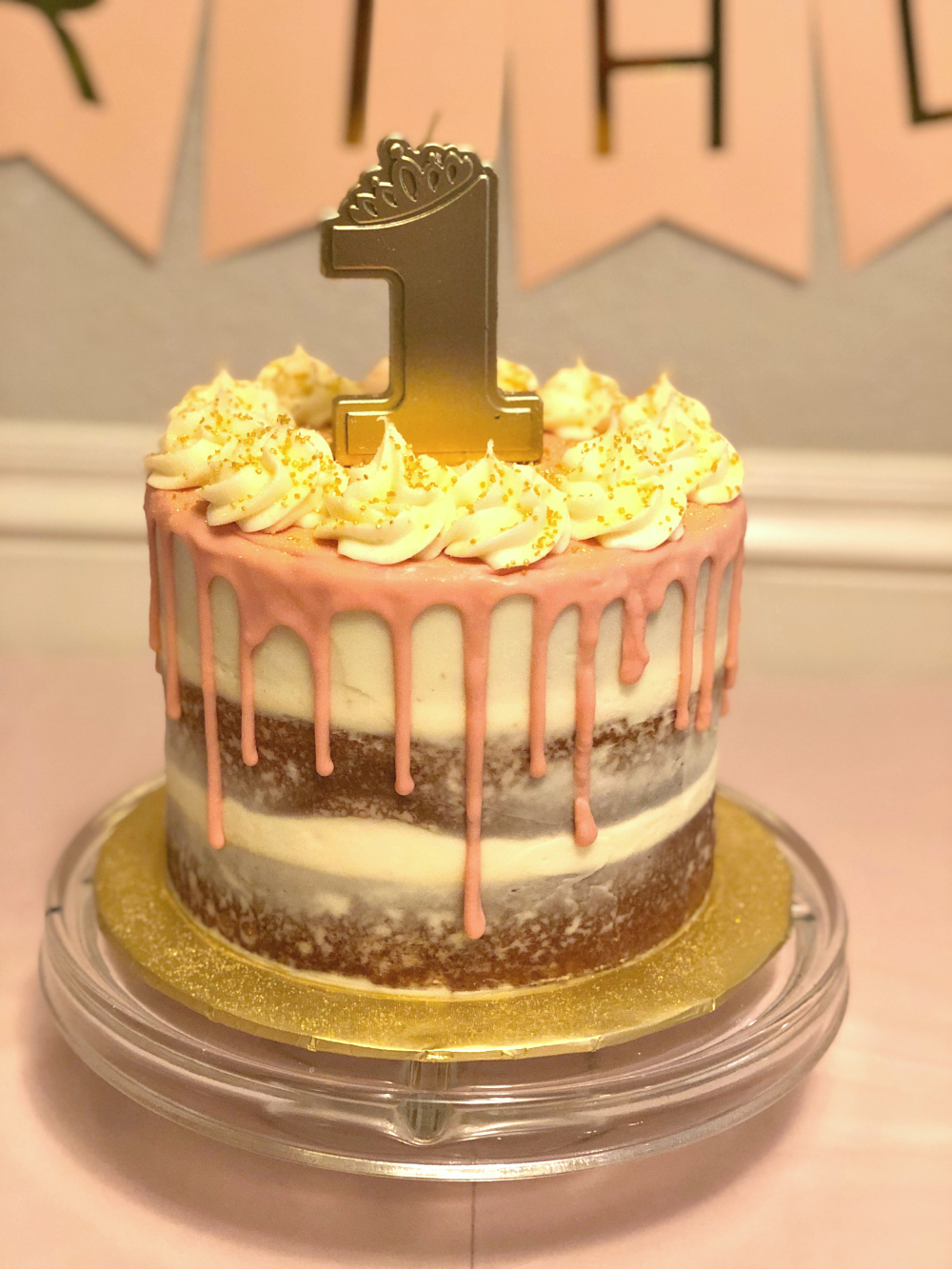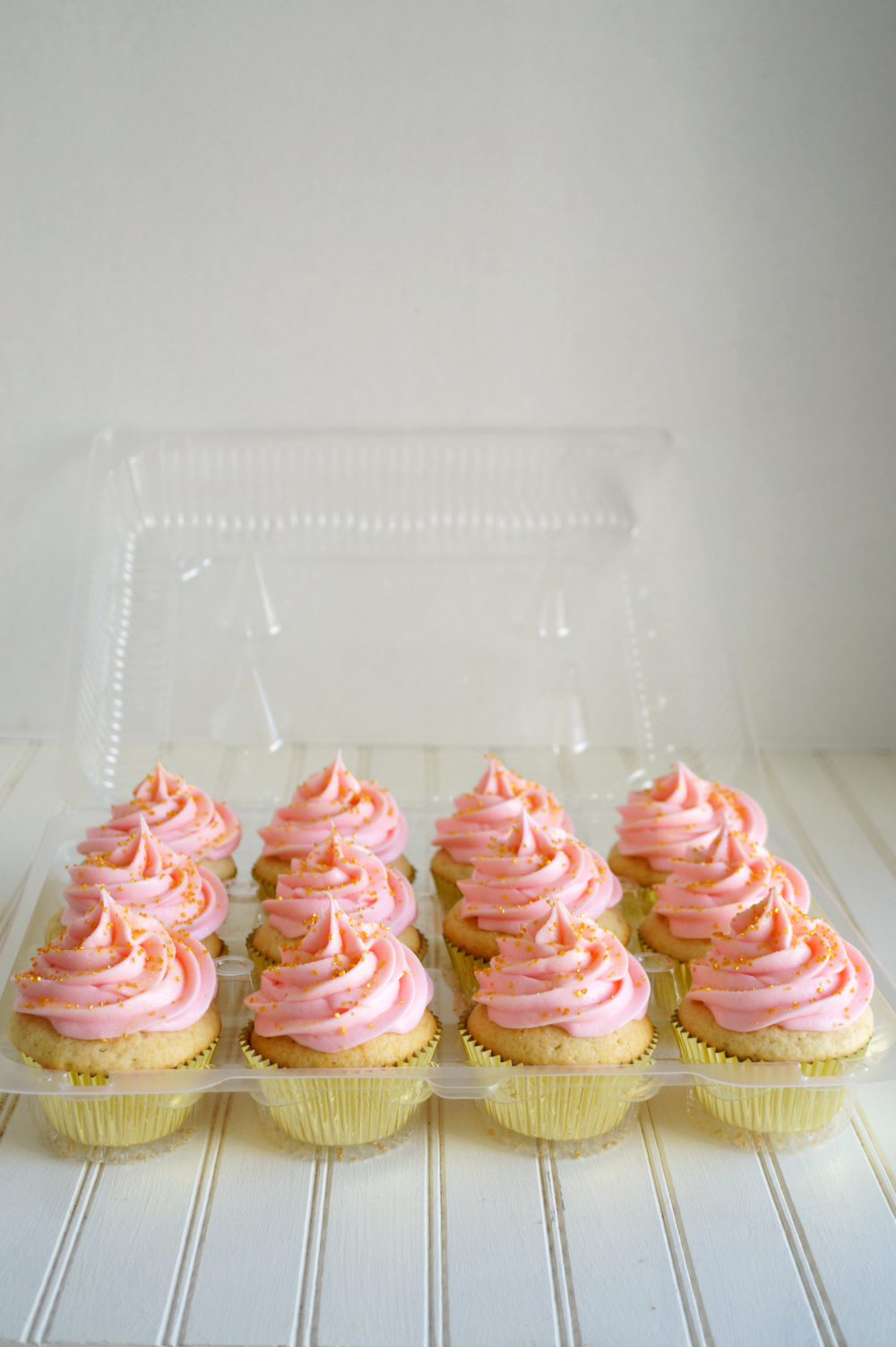 I hope you guys loved this little cake and cupcake set as much as I did! I'm a sucker for a good pink and gold combo!
Check out some of my other favorite orders!
You can find the recipe I used for the cupcakes and frosting HERE!
Like I mentioned, the formula for making a box mix of cake taste like a bakery cake is:
Add 1 extra egg
Use whole milk instead of water
Use melted butter instead of oil
Add an extra pinch of salt
You can also add a splash of vanilla extract, too!
The pink drip on top is just pink candy melts from Hobby Lobby with a splash of milk to thin it out. Easy peasy!
Let me know if you guys have any questions! I am happy to help! 🙂
*Disclosure: I am part of the Amazon Associates Program, and there may be affiliate links on this page. If you buy anything through my website, I will receive a small percentage of the profit at no extra cost to you. Thank you for supporting my blog!*