This collaboration has been compensated by One Degree Organics. All opinions are mine alone. #OneDegreeOrganics #ad
This Creamy Vegan Apple Cinnamon Baked Oatmeal is incredibly simple to make, but tastes rich, hearty, and delicious. It is perfect for a make-ahead breakfast on chilly fall mornings!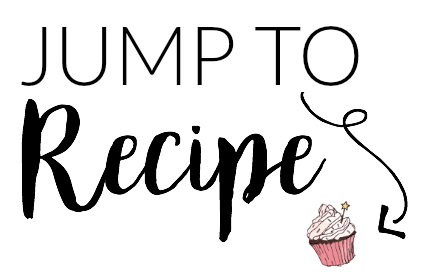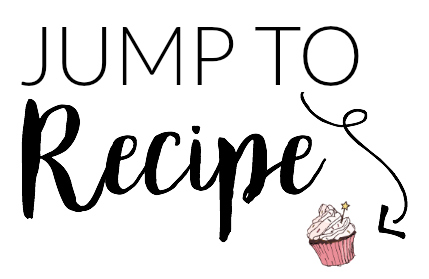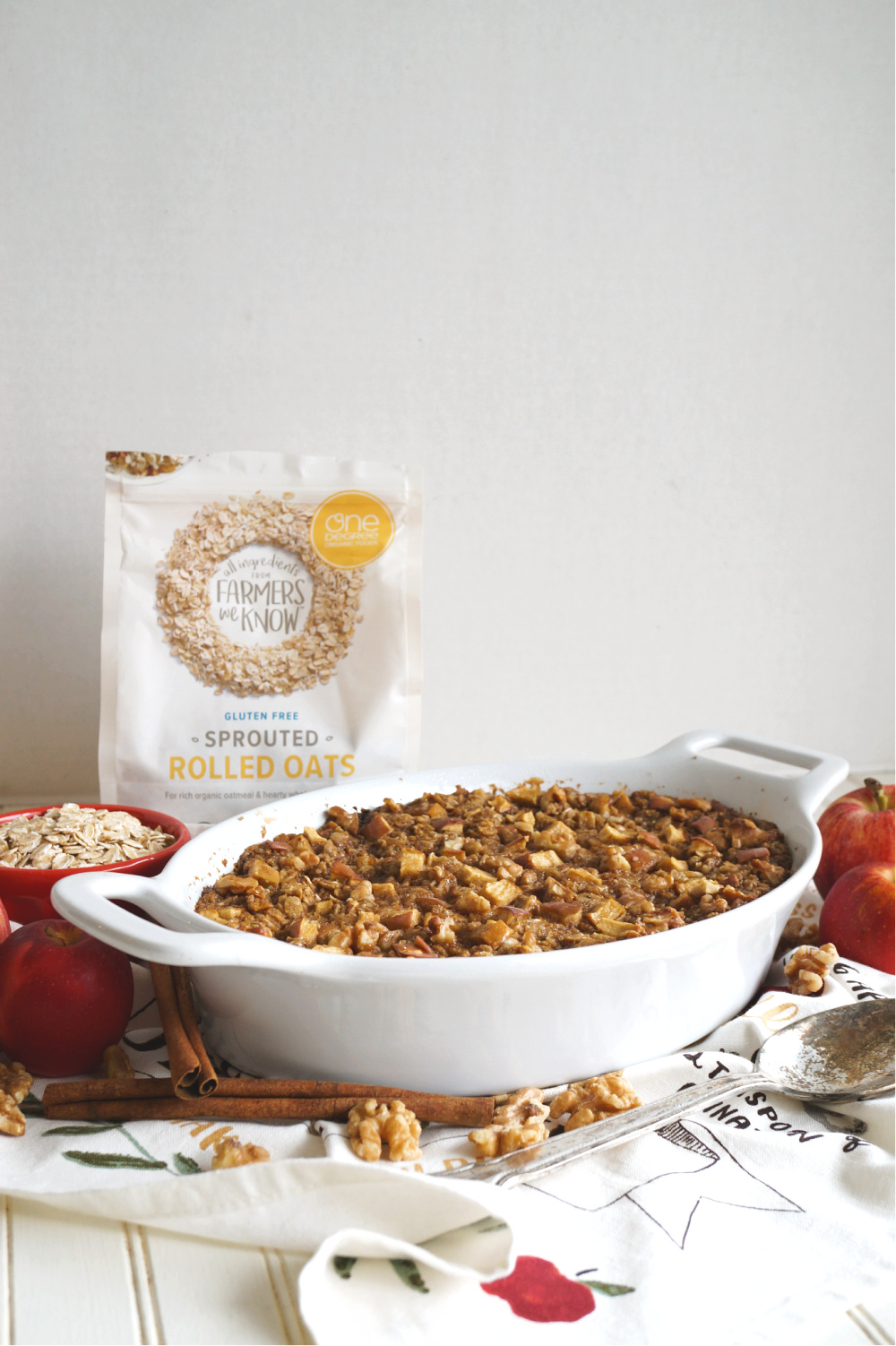 Hellooo friends, and happy Wednesday! I am so excited to not only be sharing a delicious recipe today, but also to introduce you to a fabulous brand. I partnered up with One Degree Organics to bring you this Creamy Vegan Apple Cinnamon Baked Oatmeal! It is creamy, filling, delicious, and so perfect for chilly fall mornings. If you've been struggling to come up with breakfast ideas (me too!), this baked oatmeal is the best thing ever - easy to whip up, tasty, and you've got leftovers for days. Yes, please!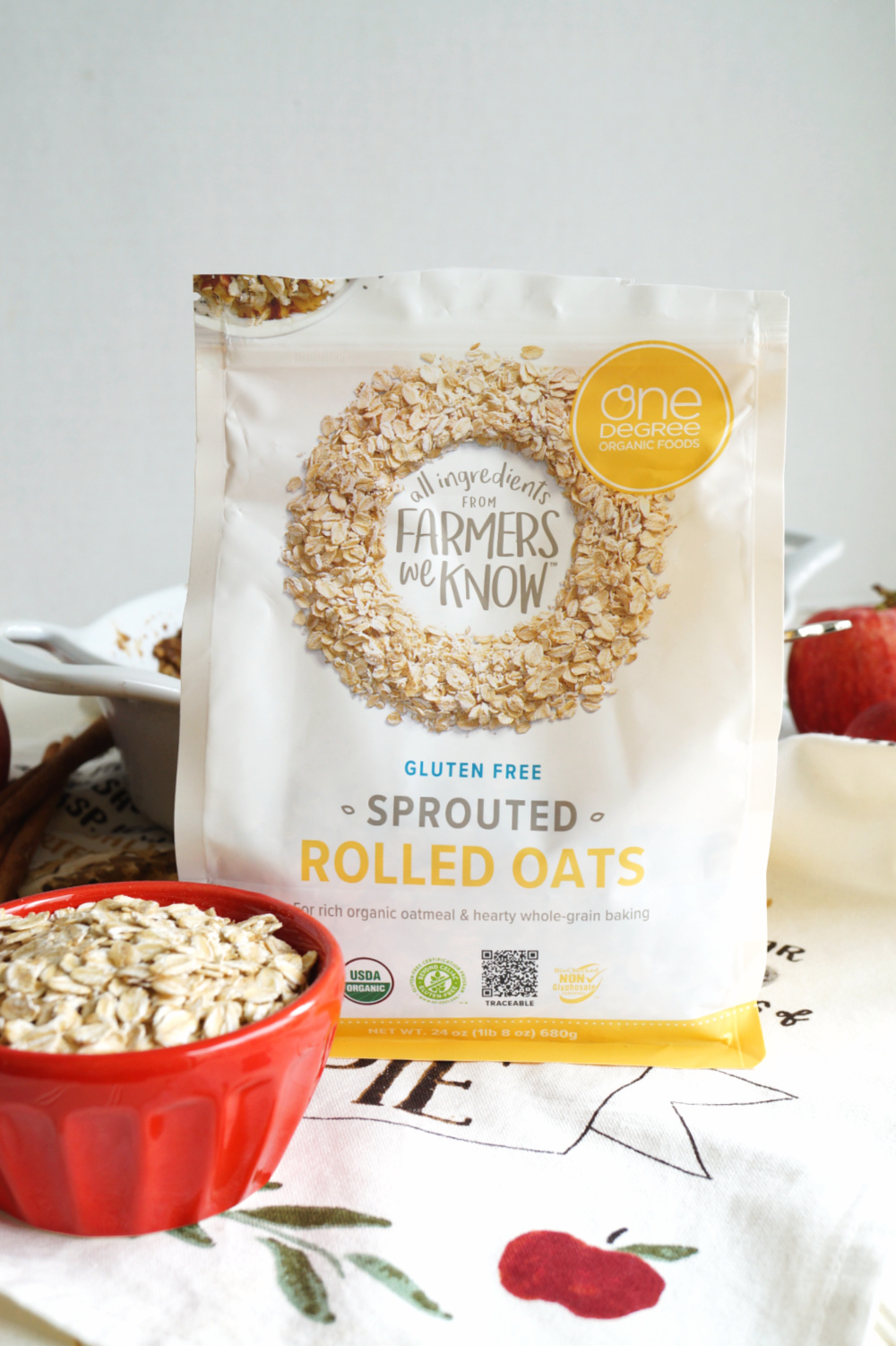 The star of the show is definitely these Sprouted Rolled Oats from One Degree Organics! The oats are not only vegan & GF, but also organic and most importantly glyphosate free. What is glyphosate? Well, I'm glad you asked! The majority of North Americans are not familiar with what it is, and neither was I before this campaign.
Glyphosate is the main ingredient in the weed killer Roundup, and the most widely used herbicide in the world, which is used on more than 100 food crops including oats and grains.
The EWG (Environmental Working Group) found glyphosate in almost ALL popular breakfast foods tested, including popular brands of oats, cereals, and granola bars. (source)
While many people are aware of pesticides used in fruits, vegetables and other fresh foods, awareness is much lower in the grains category (about 49% vs 89% for fresh produce). 93% of people surveyed said they believe food companies should disclose if their ingredients are sprayed with glyphosate during growing. (source)
The WHO (World Health Organization) has classified glyphosate as a probable carcinogen! Yes, even legally approved pesticides can be carcinogens - a 2010 report showed that pesticides are associated with numerous types of cancers including brain, pancreatic, non-Hodgkin lymphoma, myeloma, colon, testicular, and soft tissue sarcoma. (source)
The good news is that this IS a reversible issue - once pesticides are decreased or eliminated from the diet, levels in the body can decrease more than to 70% in just a week. This is especially effective with an all-organic diet; but you know me, my philosophy is progress over perfection - every little bit can help! (source)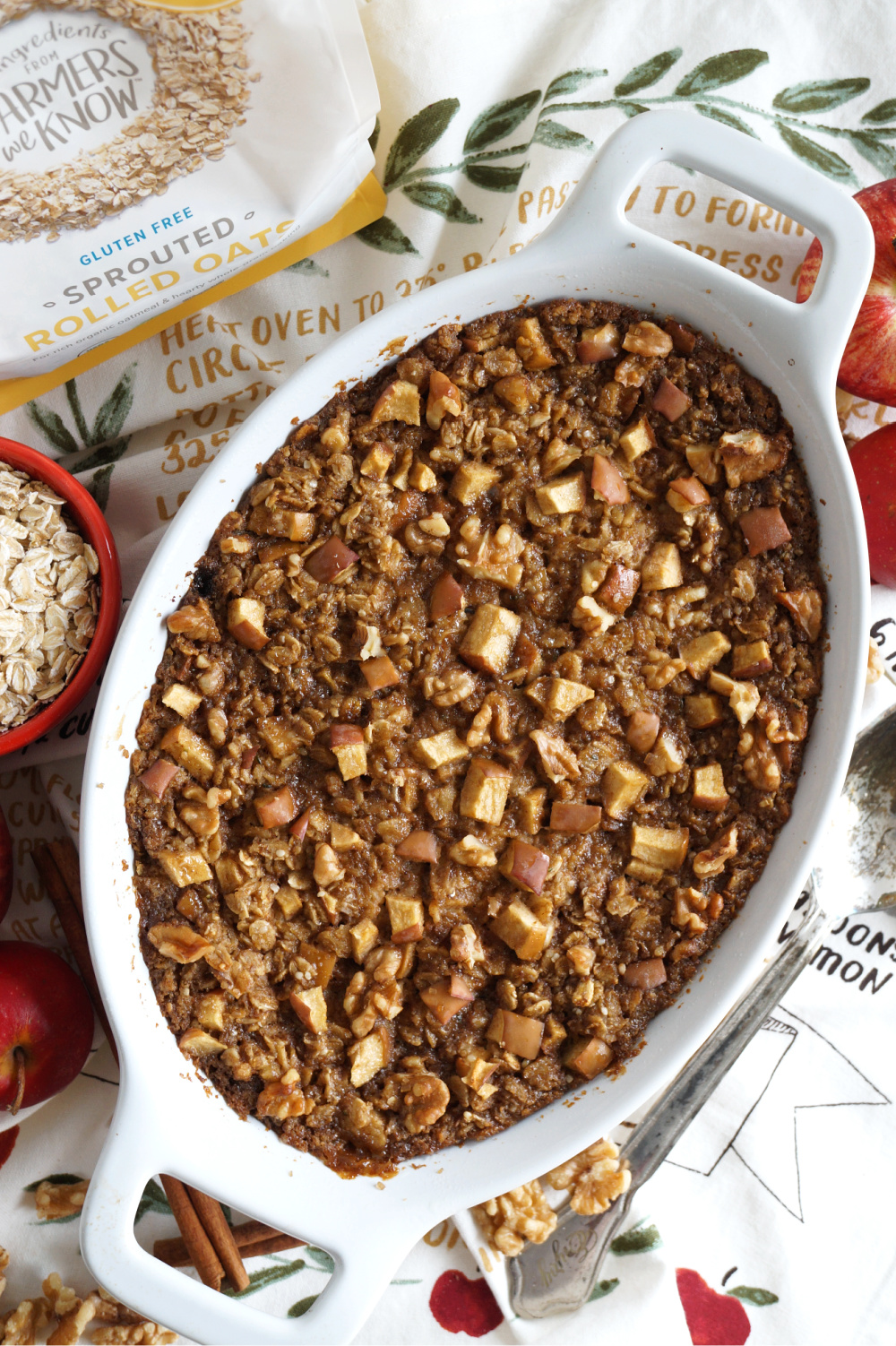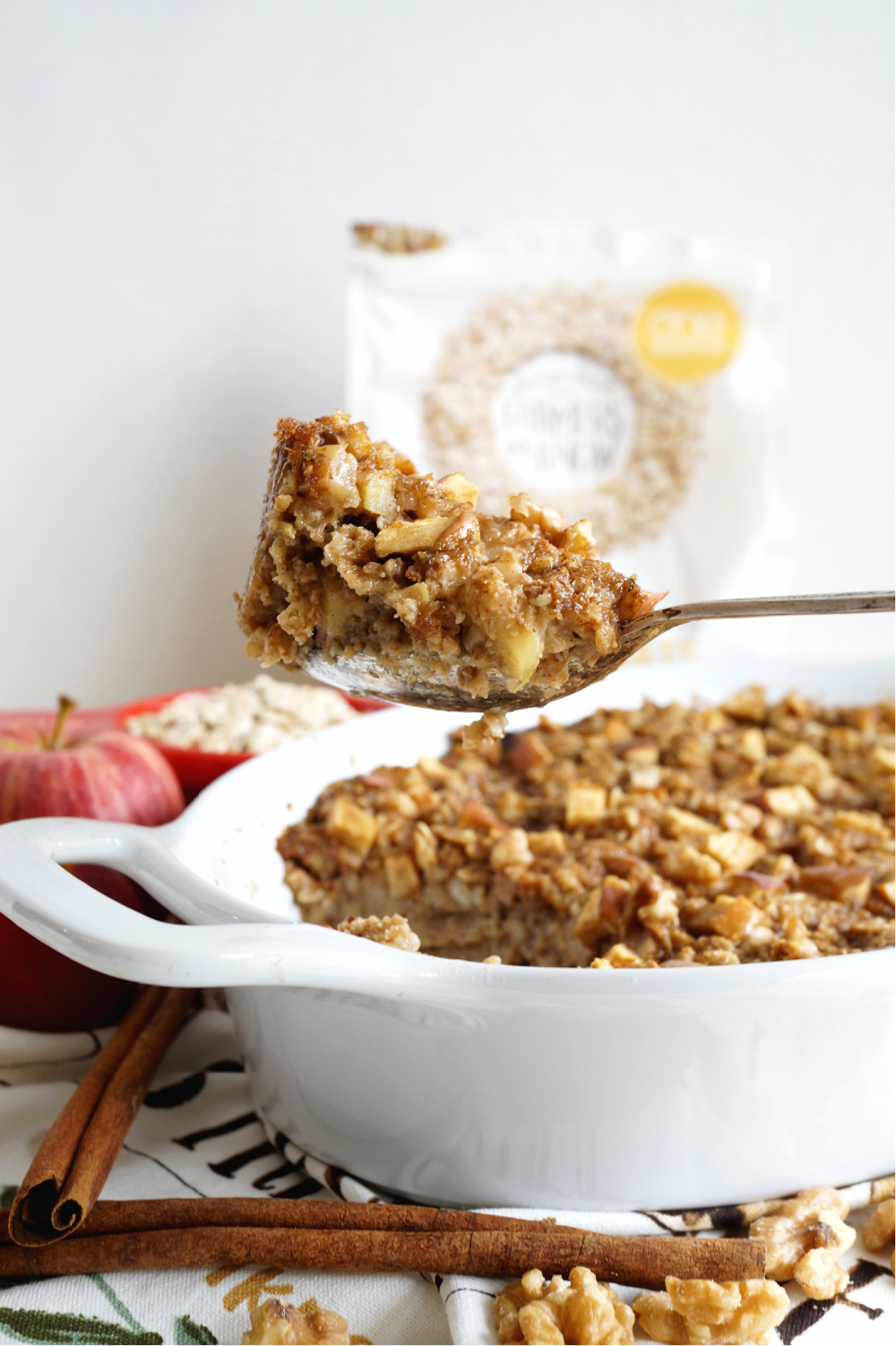 What makes One Degree Organics different is that they are family-founded and family-run! All of their products are organic, non-GMO, plant-based, and chiefly gluten-free. They are committed to sourcing ingredients from organic farmers and producers who ONLY use plant-based cultivation methods - isn't that amazing? This is a brand that you can truly feel good about buying, eating, and feeding to your family. Today, I featured their Sprouted Rolled Oats, but they sell various products including cereals, granola, bread, and even flours and dry beans! I can't wait to try more of their foods!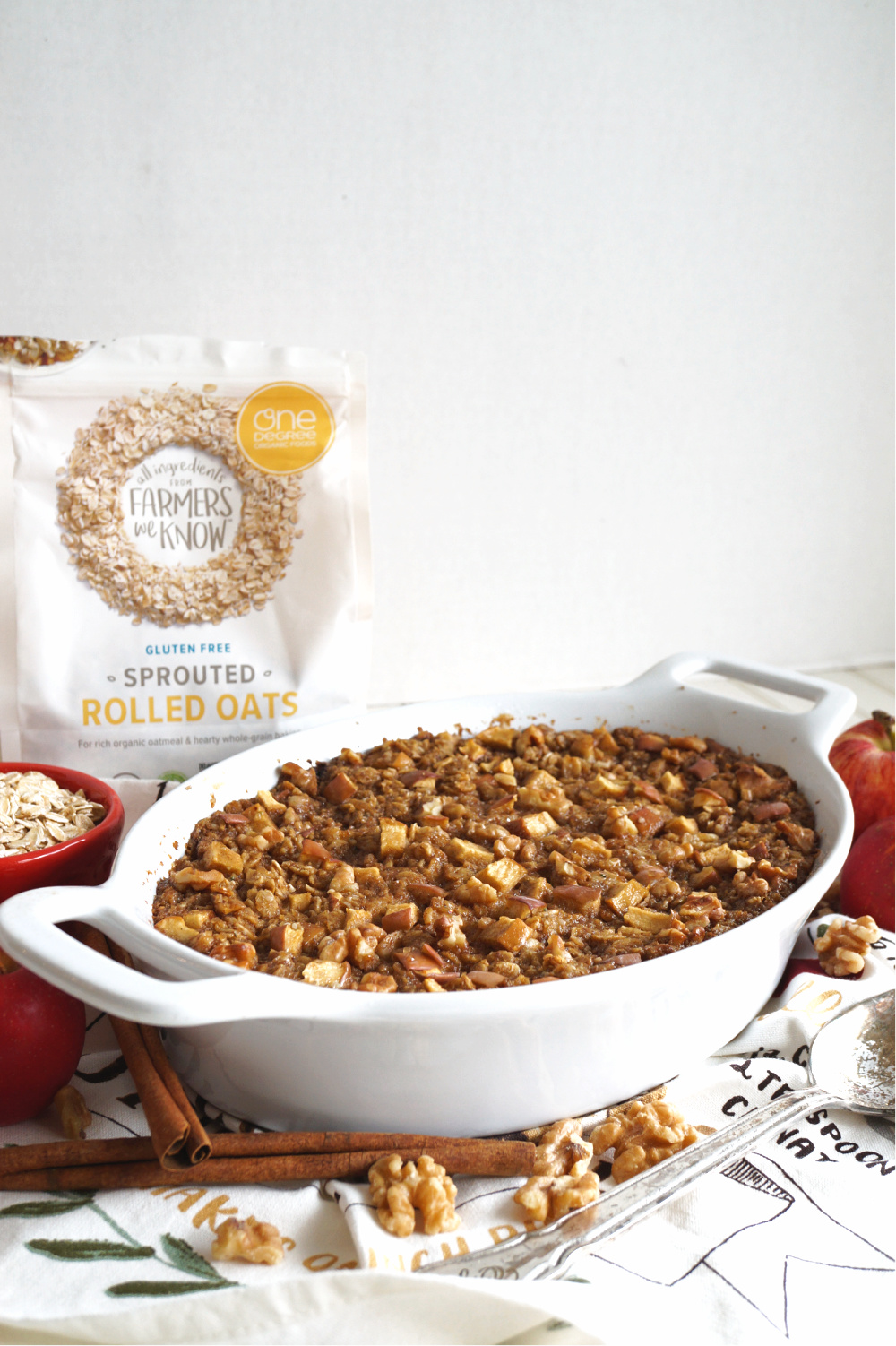 Alright, now let's talk about this creamy apple cinnamon oatmeal! It is criminally easy to make, and pretty healthy too! 
What do I need to make this creamy apple cinnamon baked oatmeal?
Old-fashioned oats: I used the sprouted oats from One Degree Organics today, but any organic old-fashioned oats will work. Be sure to use old-fashioned and not quick cooking or steel cut - we want that extra texture!
Applesauce: this works to add on an extra layer of apple flavor, but it also helps keep the oats creamy and delicious!
Flaxseed: most baked oatmeal recipes call for eggs, so I am using ground flaxseed today as my egg replacer. This helps bind everything together so the oats are not too soupy.
Oatmilk: any nondairy milk will work, but it seemed too perfect to use oatmilk in oatmeal, no?
Brown sugar: this serves to add sweetness and a bit of a caramel note to the oats. Apples and brown sugar are the perfect match! You can substitute for coconut sugar or maple syrup, if you wish.
Vegan butter: we do need to live a little! The vegan butter makes this baked oatmeal extra rich and creamy. If you want, you can omit it or substitute for coconut oil (or even nut butter!).
Fresh apples: these are a must in our apple cinnamon baked oatmeal! I used one medium apple and felt like it was plenty. Don't feel like you need a ton! 
Walnuts and hemp hearts: I added these for some extra texture and goodness, but feel free to omit or swap with your favorites. Pecans would be fabulous in here. I also thought about it afterwards, but chia seeds would have been a great addition as well.
Baking powder, salt, vanilla extract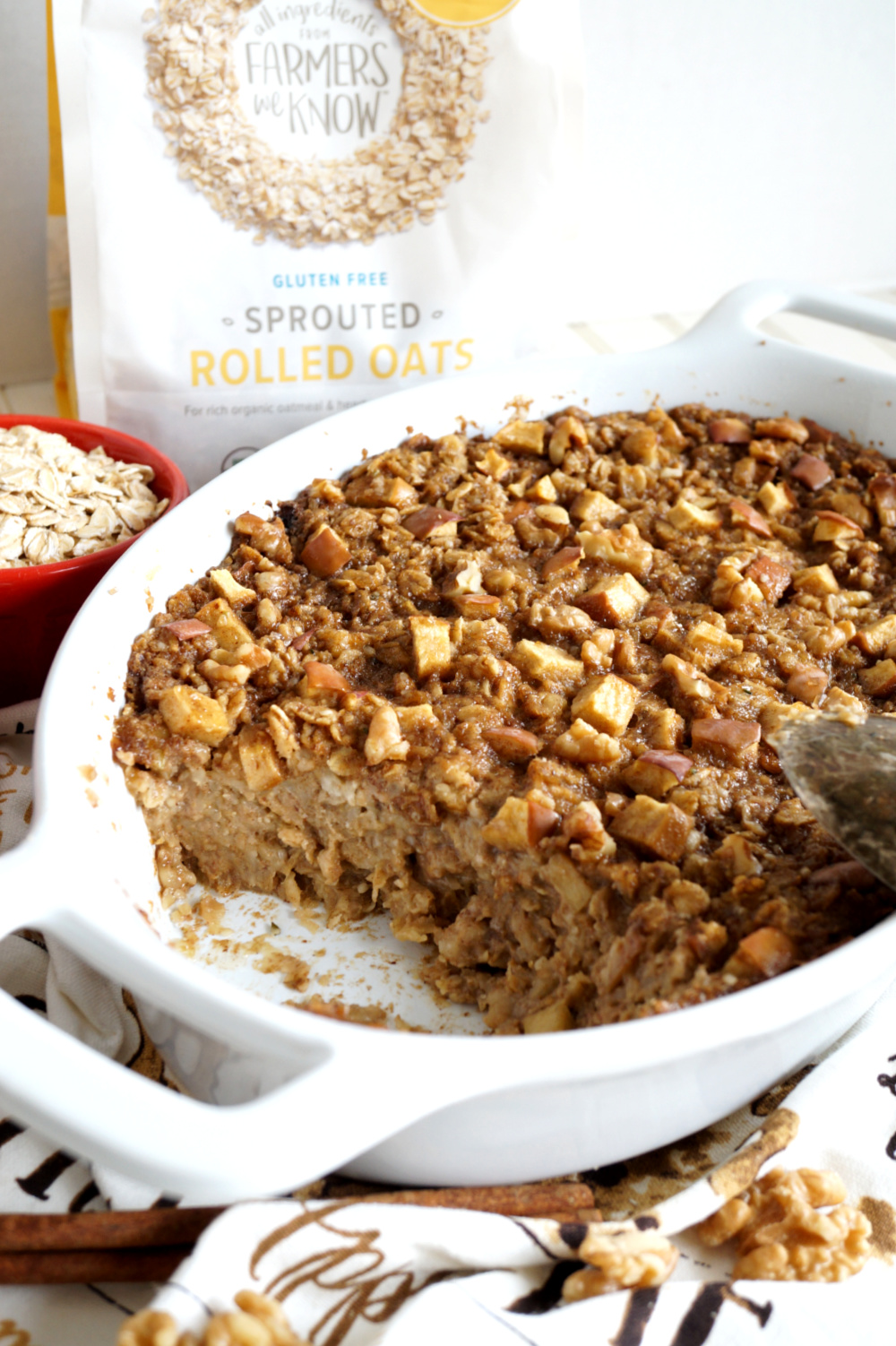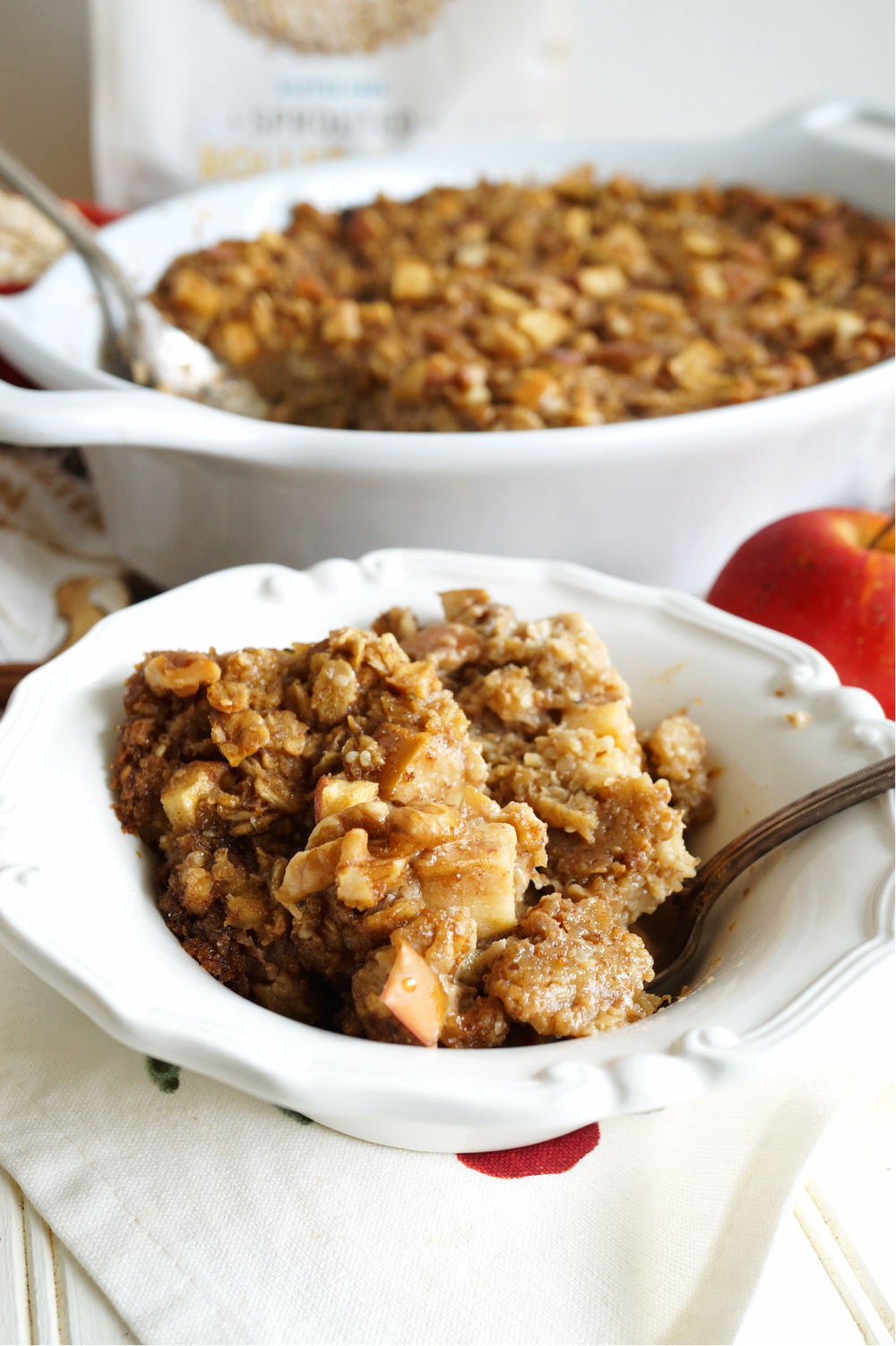 As for how to make this creamy vegan apple cinnamon baked oatmeal well... it couldn't be easier. Just mix everything up in a big bowl, pour into a baking dish, and bake! Easy peasy, lemon squeezy 🙂 I hope you guys will give this breakfast treat a try! It was my first time eating baked oatmeal, but I can definitely tell you it won't be my last. The texture is so creamy and wonderful - it feels way more decadent than a regular bowl of oats! 
Be sure to check out the One Degree Organics website for more info on their company & products.
Looking for more apple treats?
creamy vegan apple cinnamon baked oatmeal
This Creamy Vegan Apple Cinnamon Baked Oatmeal is incredibly simple to make, but tastes rich, hearty, and delicious. It is perfect for a make-ahead breakfast on chilly fall mornings!
Author:
Valentina | The Baking Fairy
Ingredients
2¼ cups old-fashioned oats (I recommend One Degree Organics)
½ cup brown sugar
½ cup applesauce
2½ cups nondairy milk (I used oat milk)
4 tablespoon vegan butter, melted
2 tablespoon ground flaxseed
2 tablespoon hemp hearts
1 teaspoon apple pie spice
1 teaspoon baking powder
½ teaspoon salt
1 tablespoon vanilla extract
½ cup walnuts
1 apple, diced small (about 1 cup)
Instructions
Preheat oven to 375F, and lightly grease a baking pan. I used 11x7, but 9x9 or 9x13 also work (baking time may need to be adjusted).
In a large bowl, combine the oats with the brown sugar, applesauce, milk, melted butter, ground flaxseed, and hemp hearts.
Mix everything together, then add in the spices - apple pie spice, baking powder, salt, and vanilla extract.
Finally, fold in the walnuts and apple pieces.
Pour oatmeal mixture in the prepared pan, and sprinkle on additional brown sugar if desired. Bake for 30-35 minutes, until middle barely jiggles, and edges are set and caramelized.
Enjoy warm! I like to pour some extra oat milk on top to make it extra creamy 🙂
Disclosure: I received materials from One Degree Organics for this recipe. Posts are truthful, and all thoughts and opinions are my own and not influenced by this sponsorship. Recipe is an original creation of Valentina Celant at TheBakingFairy.net