The classic brownie gets a fall makeover with these Vegan Pumpkin Swirl Brownies! Chocolatey batter and pumpkin spice are marbled together for a perfectly delicious dessert.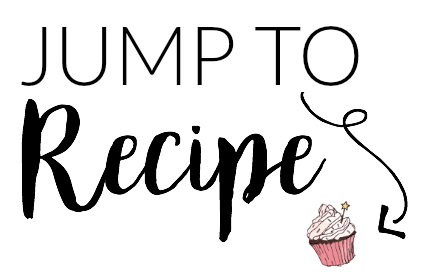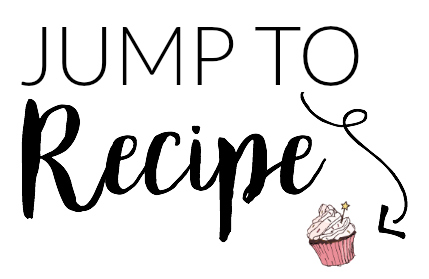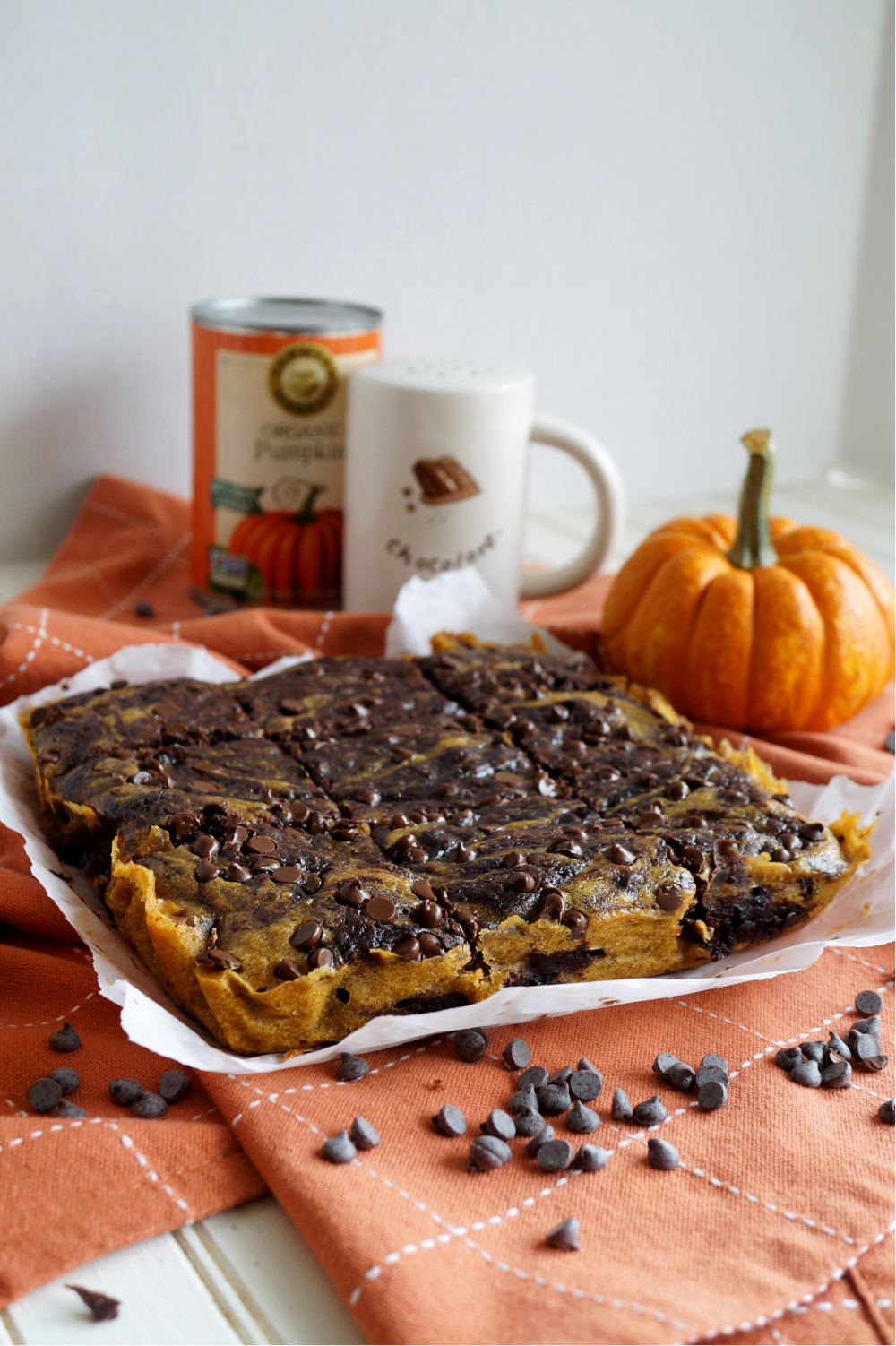 Hi friends and happy Friday! I have another fall-inspired recipe for you guys today, and it is such a good one. I have made so many pumpkin recipes on this blog over the years, but so many were made back in the day when my photography wasn't great - not to mention, none of them are vegan. It's been fun to revisit old favorites and adapt them to my current plant-based lifestyle. Enter, these Vegan Pumpkin Swirl Brownies! I made a version of them in 2011 (can you say vintage) and these cuties were much overdue for a makeover. I love how these turned out! Rich, fudgy, and with the perfect hint of pumpkin spice.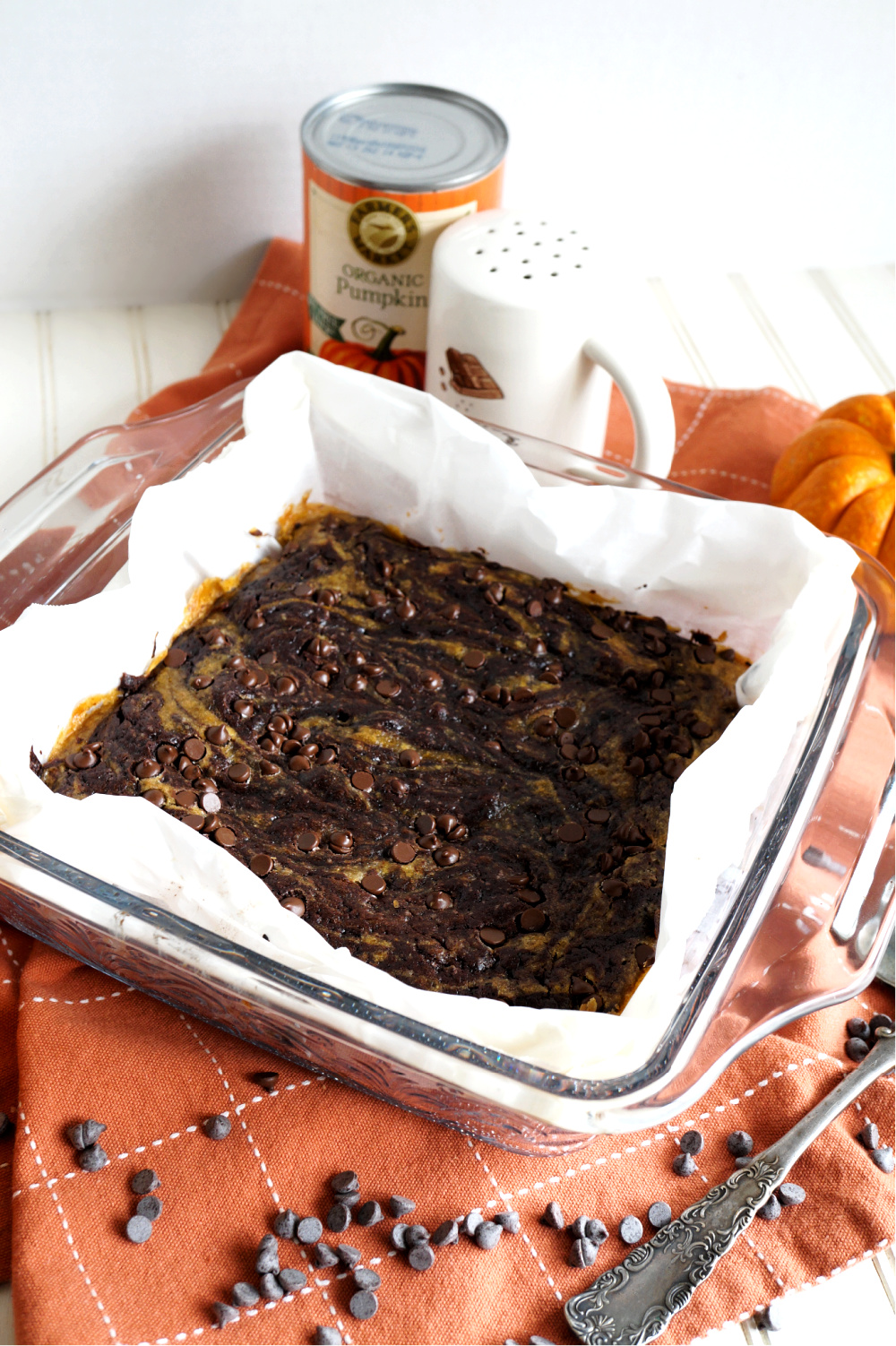 The base for these pumpkin swirl brownies is actually my infamous cosmic brownies! They are pretty great even without the cosmic sprinkles 😉 As always, I try my best to not call for any crazy, hard-to-find ingredients! The only vegan-specific things you need for these brownies are ground flaxseed (to use as an egg replacer) and vegan butter. Besides that, it's all pantry staples!
What do I need to make vegan pumpkin swirl brownies?
Pumpkin puree! Of course! Can't have pumpkin brownies without pumpkin. In this case, be sure to grab the plain puree and not the pumpkin pie filling. 
Cocoa: dark cocoa powder is my favorite! I love that rich, deep chocolatey flavor it gives to baked goods. A high quality cocoa means high quality brownies!
Granulated sugar: as always, be sure to grab the vegan stuff that isn't processed with bone char! My go-to is Zulka.
Ground flaxseed: every baker has their favorite, but ground flax is definitely my go-to when I need an egg replacer in my baked goods. So easy to use and cheap! And it works perfectly every time without having to worry about whipping or reducing anything down.
Chocolate chips: mini chips work perfectly here! I used the Enjoy Life mini chocolate chips.
Pumpkin pie spice: can't have a pumpkin dessert without the spice! I like buying the pre-mixed blend for ease.

To make your own, just combine cinnamon with ginger, nutmeg, allspice, and cloves. I recommend doing a 4:1 ratio with the cinnamon as that is the main event - the other spices are supporting actors! Add as much as you like of each to your preference.
In a pinch - substitute with straight cinnamon. It's not a huge difference!

Vegan butter: this is what makes our brownies so rich and fudgy! I prefer the Country Crock plant butter, but feel free to use your favorite.
Vanilla extract: a must in all baked goods!
All purpose flour, baking powder, salt.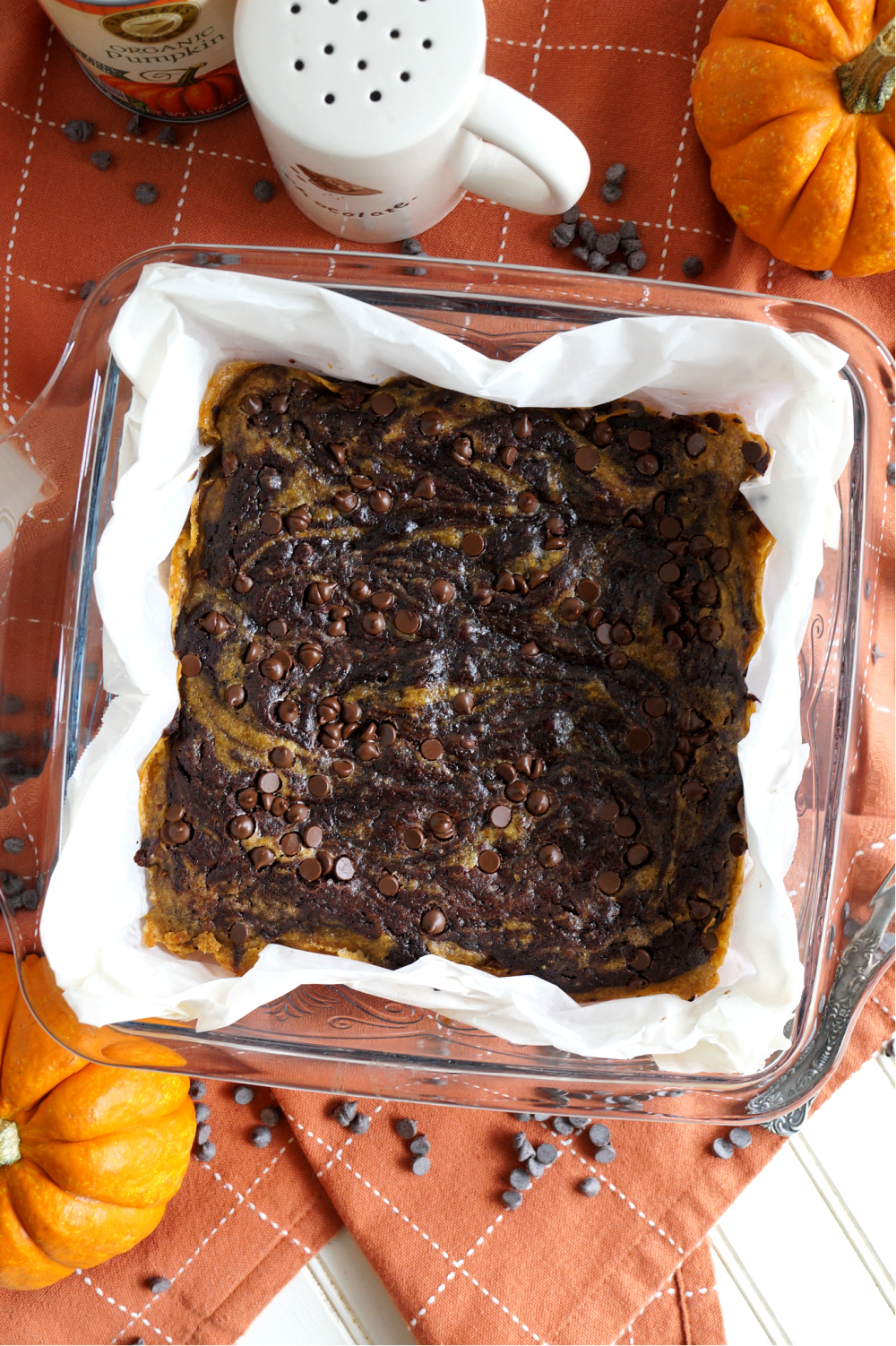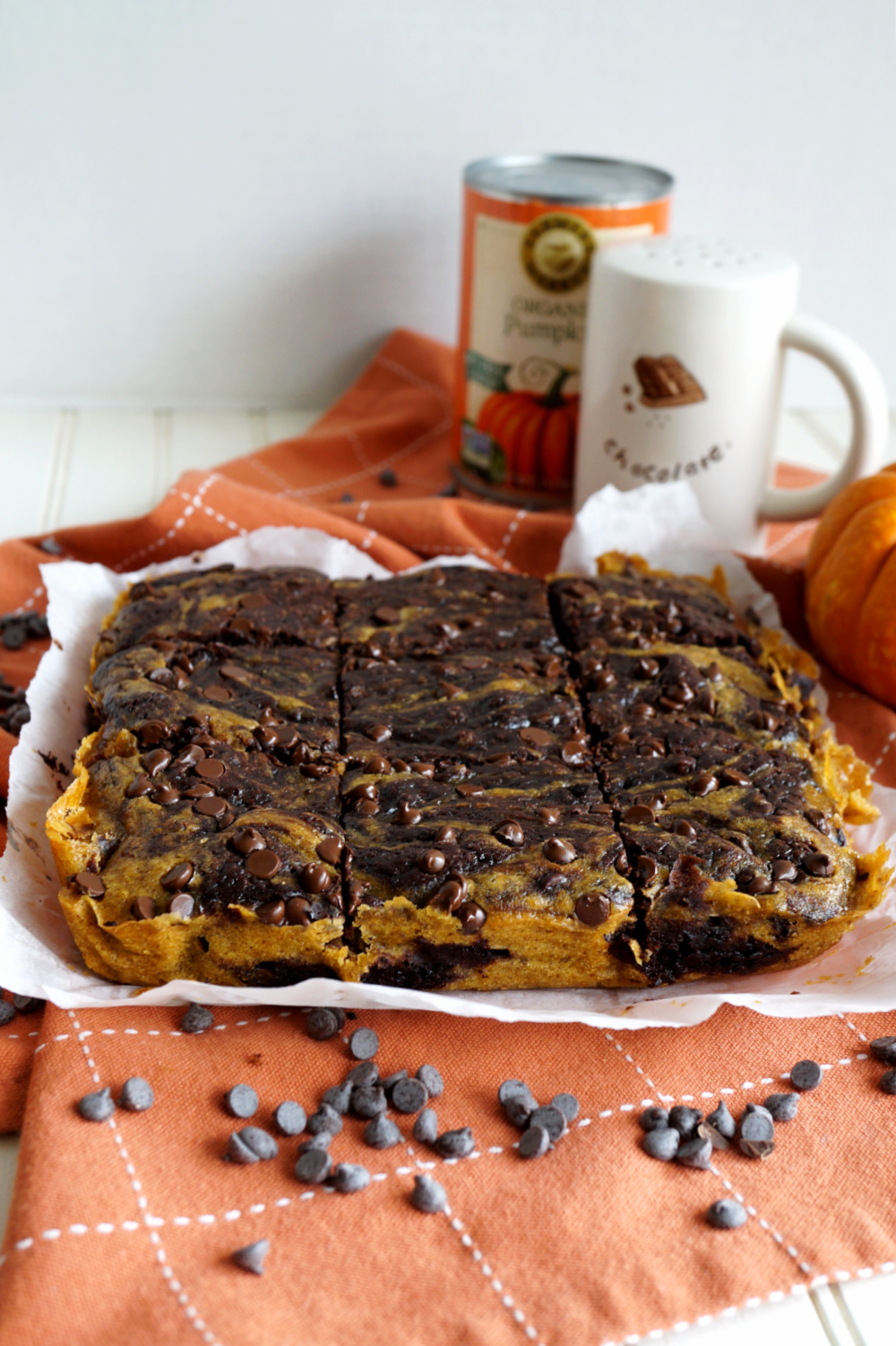 To make these vegan pumpkin swirl brownies, we are gonna start with one batter and actually divide it in two - creating one chocolate half and one pumpkin half! It's super simple and I promise you can't mess it up. After that - just add alternating spoonfuls of batter to your pan and finish the masterpiece by swirling it together with a butter knife! I also sprinkled extra chocolate chips on top for good measure 🙂 Lastly just bake, let cool (if you can), and dig in! Ahhh. If you haven't had chocolate + pumpkin together before, you are totally missing out. This is actually how my family and I started really enjoying pumpkin - with chocolate treats! Chocolate makes everything better.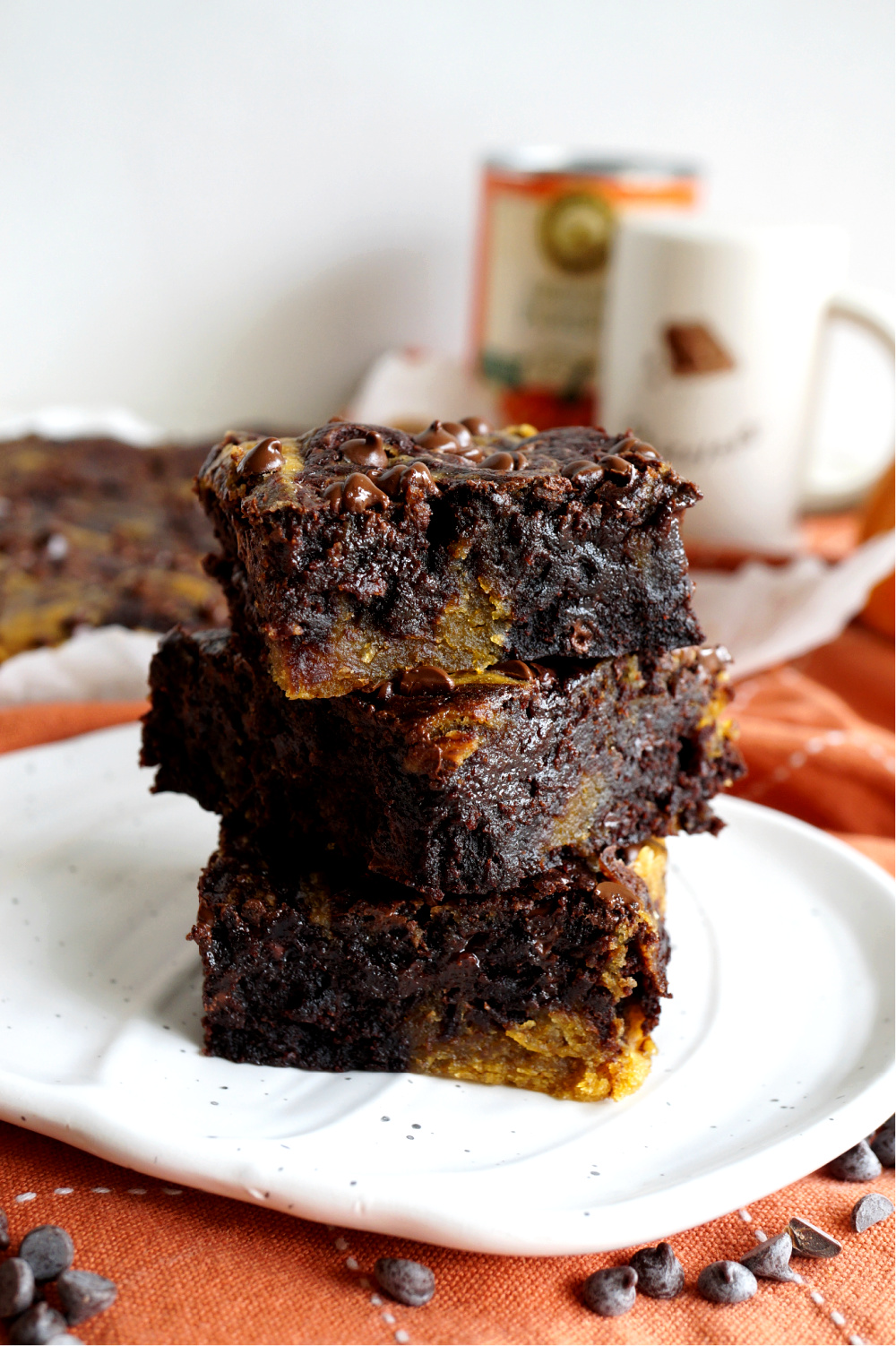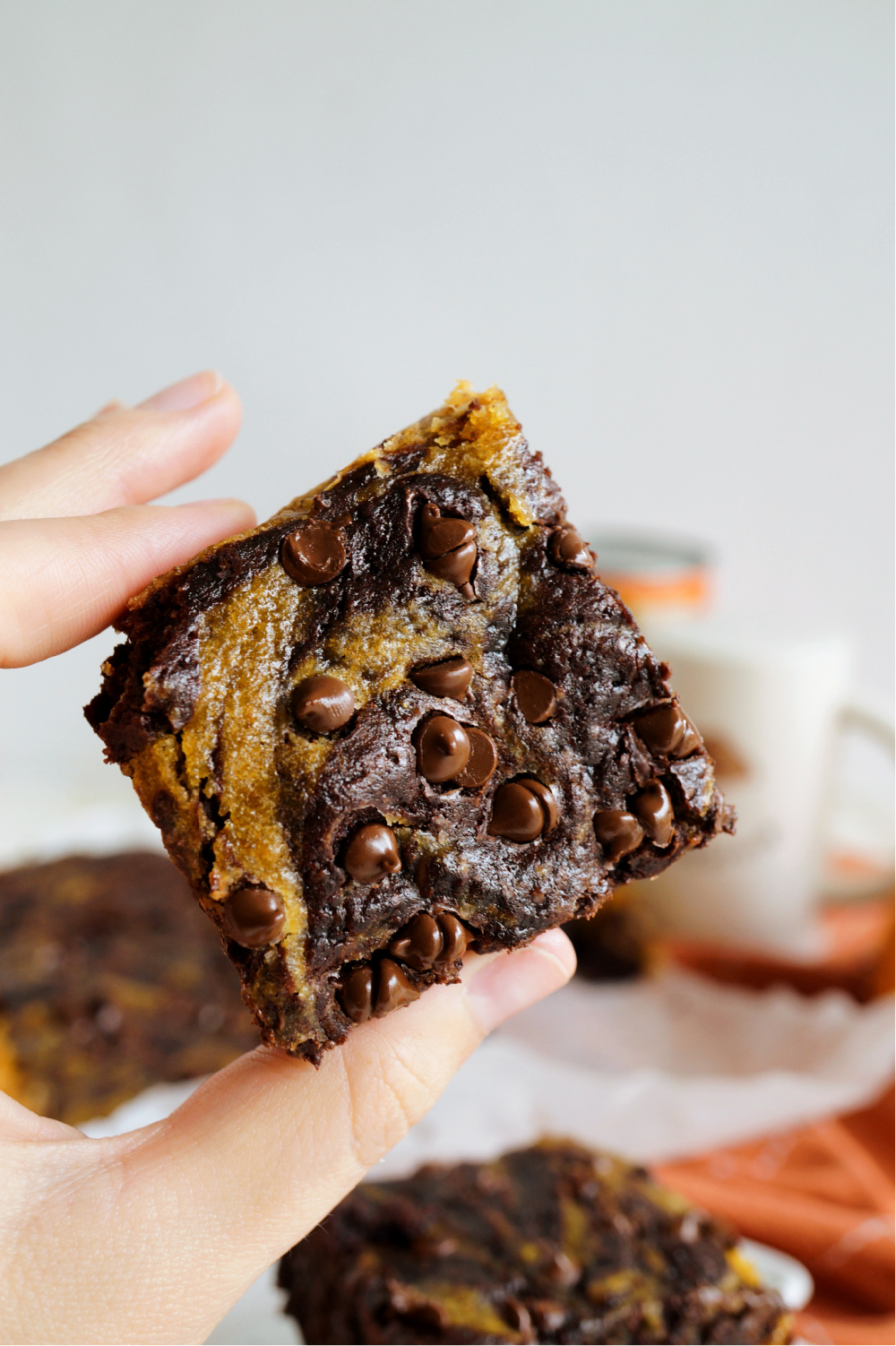 I hope you guys will give these vegan pumpkin swirl brownies a try! They are so easy to make, delicious, and taste just like fall. You brownie lovers can't miss on these!
Looking for more pumpkin treats?
vegan pumpkin swirl brownies
The classic brownie gets a fall makeover with these Vegan Pumpkin Swirl Brownies! Chocolatey batter and pumpkin spice are marbled together for a perfectly delicious dessert.
Author:
Valentina | The Baking Fairy
Recipe type:
Brownies & Bars
Ingredients
2 tablespoon ground flaxseed + 6 tablespoon warm water
1 cup white sugar
1 cup all-purpose flour
¼ teaspoon salt
¼ teaspoon baking powder
½ cup melted vegan butter
1 teaspoon vanilla
¼ cup cocoa powder
2 tablespoon nondairy milk
¼ cup vegan chocolate chips
¼ cup pumpkin puree
1 teaspoon pumpkin pie spice
Instructions
Preheat oven to 350F, and line an 8x8 baking pan with parchment (this is important, if you just use baking spray they WILL stick).
In a small bowl, mix together the flaxseed and water, and set aside for now.
In a medium bowl, whisk together the sugar, flour, salt, and baking powder.
Add in the vegan butter and vanilla, followed by your flaxseed mixture. Mix to combine.
Now, transfer HALF of this mixture to a different bowl! To one half of the mixture, add in the cocoa powder, milk, and chocolate chips. To the other half, add in the pumpkin puree and pumpkin spice.
Now, add alternating spoonfuls of brownie batter and pumpkin batter to your prepared baking pan until you've used it all up. Use a spoon or a butter knife to gently swirl the batter together to make a marbled effect. Sprinkle additional chocolate chips on top if desired.
Bake brownie in preheated oven for 35-40 minutes, until barely set in the middle and a toothpick inserted comes out clean (aside from the melted chocolate chips).
Let brownie cool slightly, then slice and enjoy!
*Disclosure: I am part of the Amazon Associates Program, and there may be affiliate links on this page. If you buy anything through my website, I will receive a small percentage of the profit at no extra cost to you. Thank you for supporting my blog!*