Pumpkin Banana Bread is the fall version of the beloved classic! Bananas and pumpkin come together and make a bread that's moist, sweet, and totally irresistible. Don't forget the sprinkle of cinnamon on top!
I'm baaaack! And I have resurrected yet another delicious recipe from the bottomless pit that is my recipe index. This Pumpkin Banana Bread had an exceedingly successful fall season like... 4 years ago? And then I mostly forgot about it. But that year, I kid you not, I made it probably twice a week for months. My nanny kiddos loved it and it was a great way to sneak in some fruits and veggies. I am not below deception, ya know 😉 The craving for it hit once again this year, and I was only too happy to dig the recipe back out!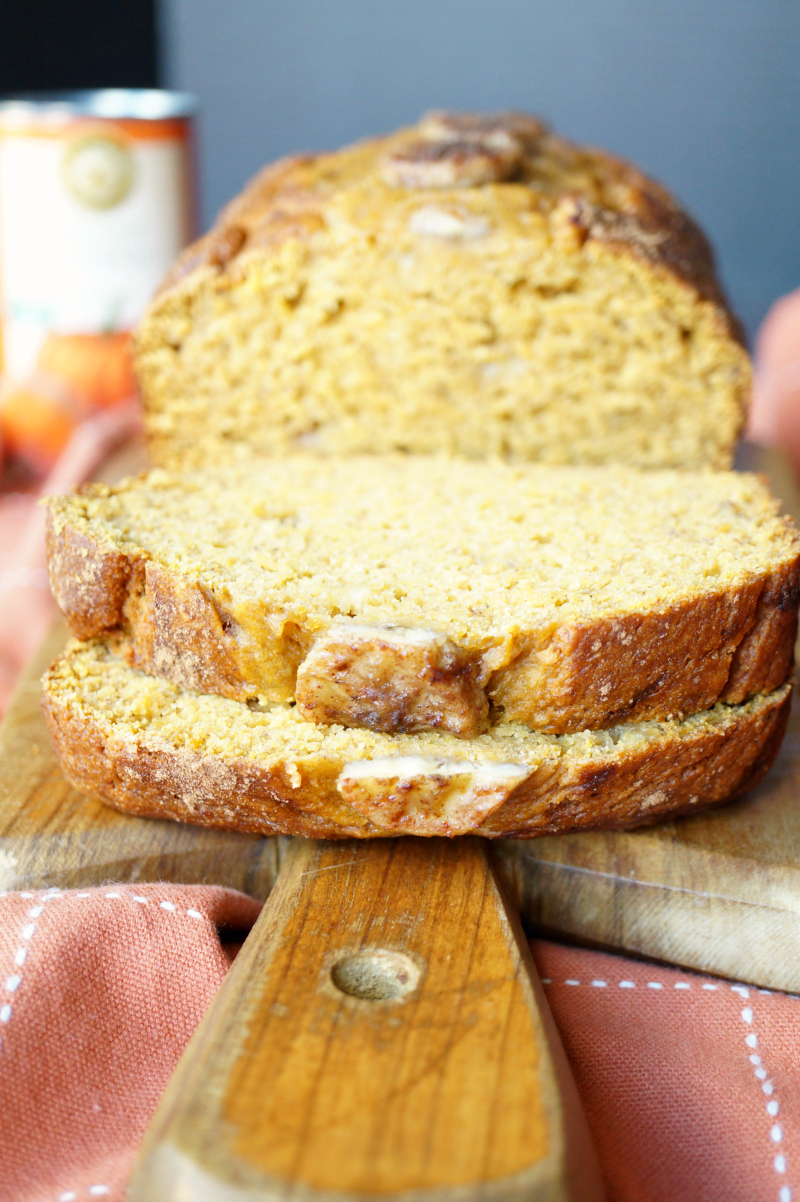 If you like banana bread, you will love this little fall twist on the classic! And even if you don't love banana baked goods... I bet you will still really like it. I think this pumpkin banana bread strikes the perfect balance between the two, and keeps the banana from getting too overpowering! I feel like that's the most common complaint when it comes to baking with this fruit. It's just as simple as the classic, but the pumpkin and spice add the perfect extra touch of yumminess. And if you really want to indulge... add in some chocolate chips! I'm not judging.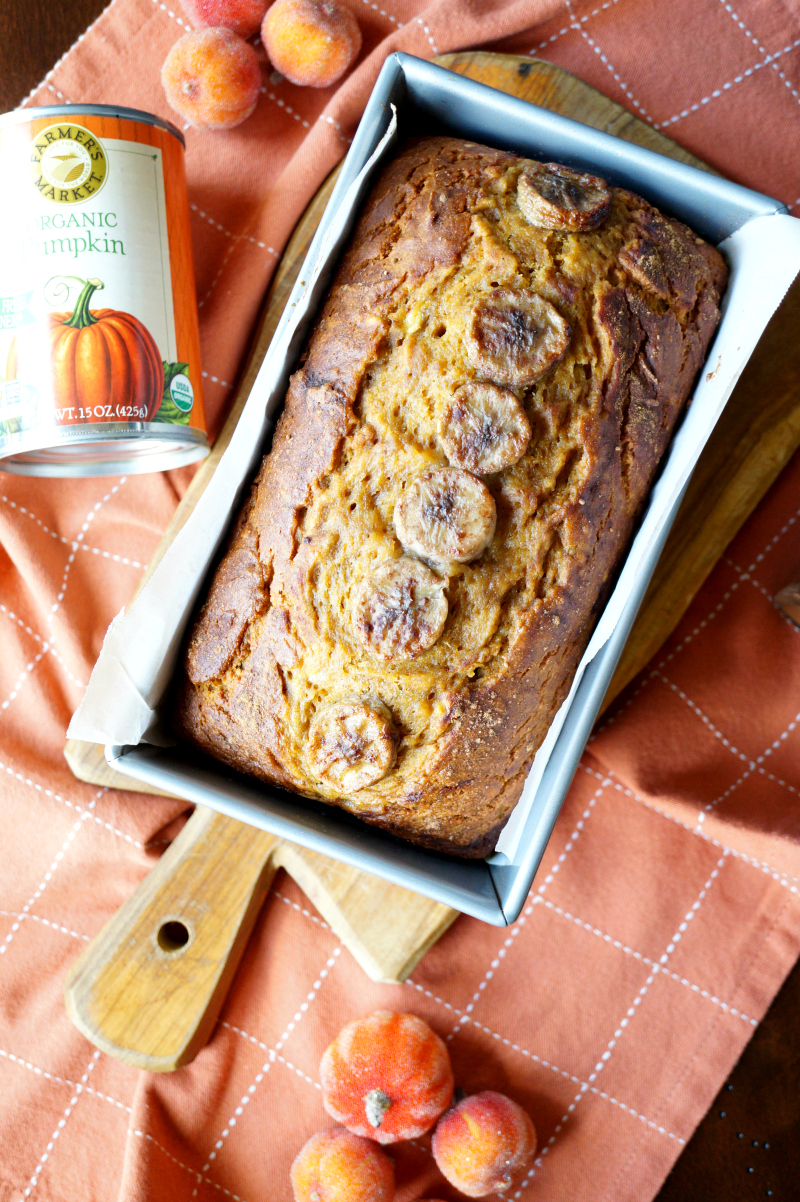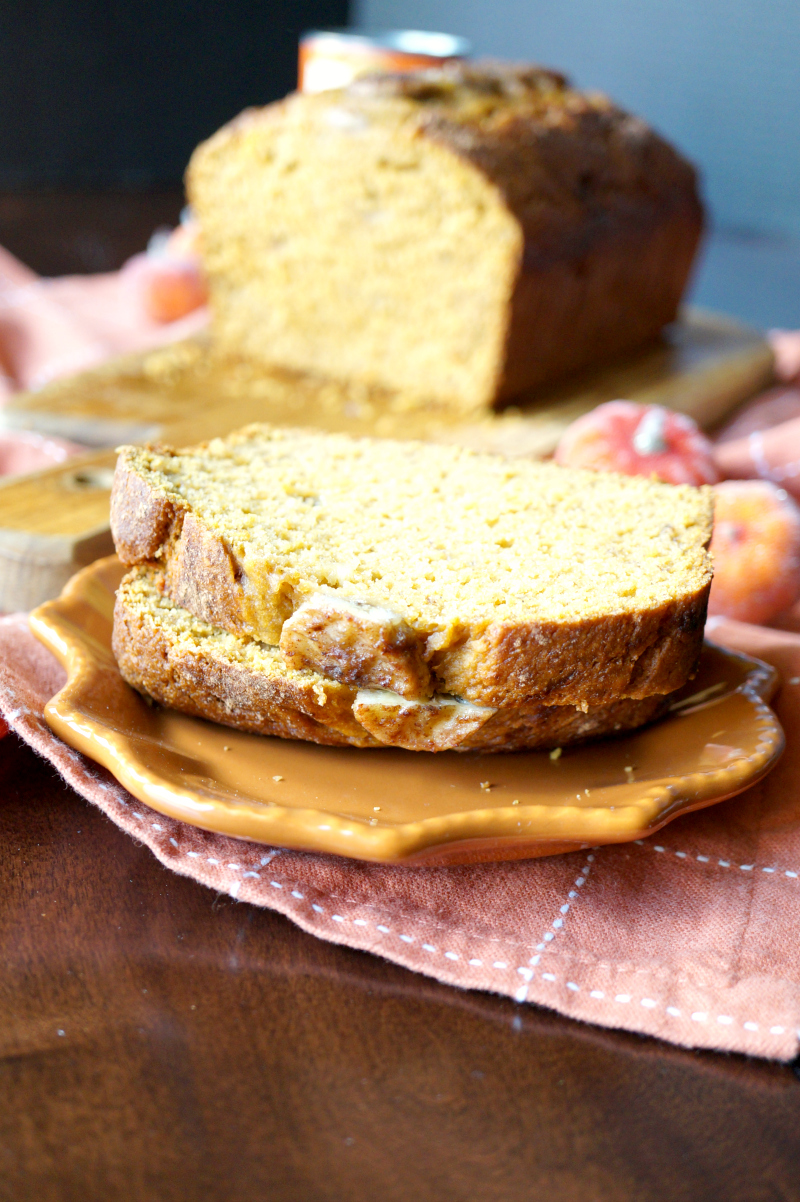 As for life things, PA school is still keeping me busy busy busy! Last week was nothing short of insane which is why things were pretty quiet around here. This week is a little more lax so I'm hoping to be able to cook up some stuff and stockpile it for later! Being a food blogger is so bizarre because cooking just does not happen like it does for normal people. I mean... it does for normal everyday food, but blog food is such an ordeal. And with my crazy schedule, you can see how busy days would turn into lack of blog posts. I already photographed something cozy and savory for y'all, and I'm hoping to crank out a few more yummy things while I have the time! What's been cooking in your kitchen? I wanna hear all about it!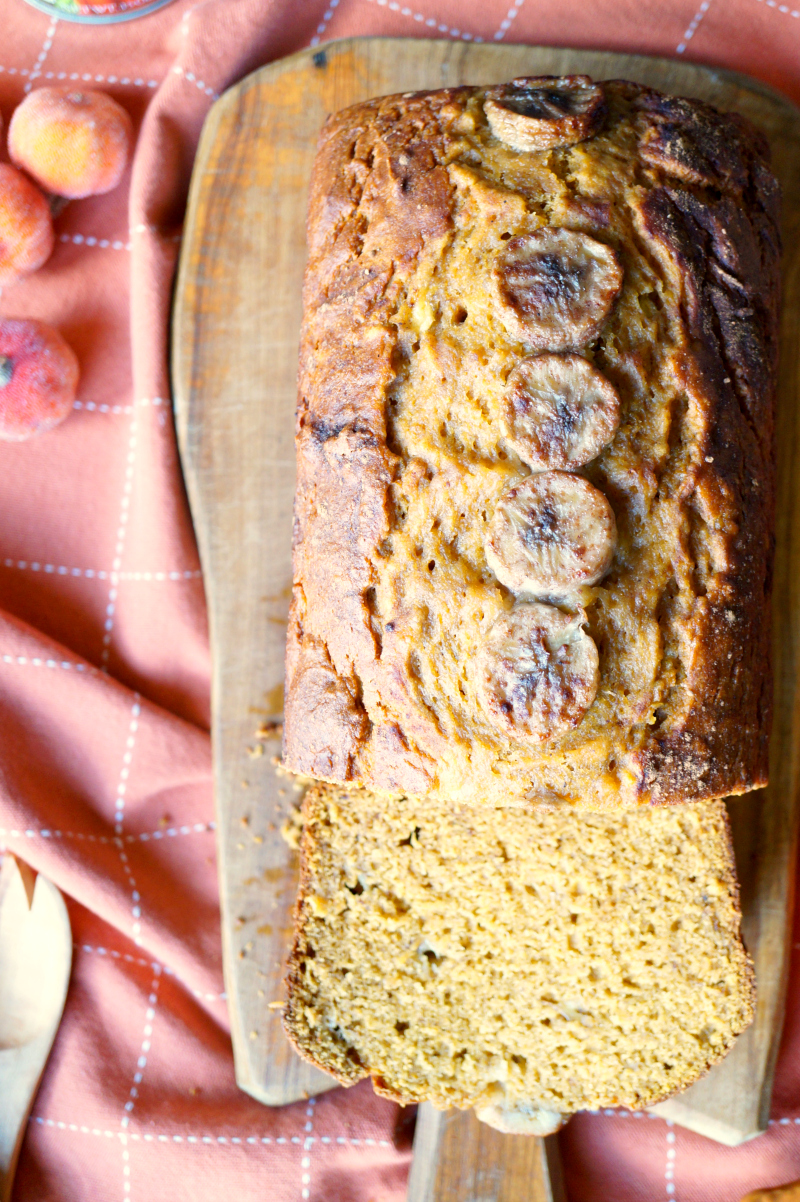 pumpkin banana bread
Author:
Valentina | The Baking Fairy
Ingredients
2 ripe bananas
1 cup pumpkin puree
¾ cup white sugar
2 eggs
2 tablespoon vegetable oil
2 teaspoon vanilla
1 cup whole wheat pastry flour
¾ cup white all-purpose flour
1 teaspoon baking soda
¼ teaspoon salt
½ teaspoon pumpkin spice
**NOTE: you can just use 1¾ cups of all purpose flour if you don't have wheat flour!**
Instructions
Preheat the oven to 350F.
In a large bowl, mash the bananas. Add in the pumpkin puree, sugar, oil, vanilla, and eggs, and mix til combined.
Add in the flours, baking soda, salt, and spice, and mix just until it all comes together.
Spray a 9x5 loaf pan with nonstick spray, then pour the batter in. If desired, top with banana slices.
Bake until golden brown, and a toothpick inserted in the center comes out clean, 55-60 min.
Let cool slightly before cutting, and enjoy!