If you need dinner in a hurry, these Quick & Easy Vegan Peanut Noodles are the recipe for you! Boil up some pasta, toss it in a rich and simple peanut sauce made of pantry staples, and supper is served. Top it with some crispy baked tofu for extra flavor!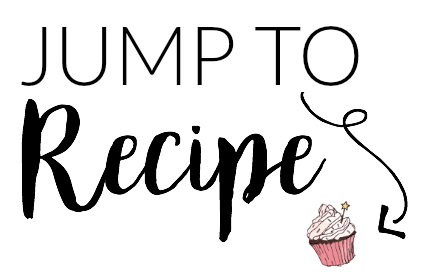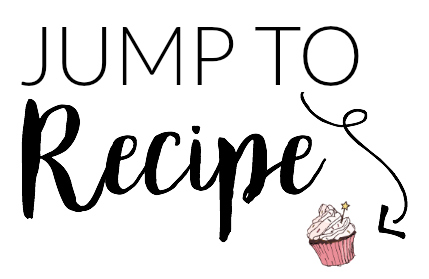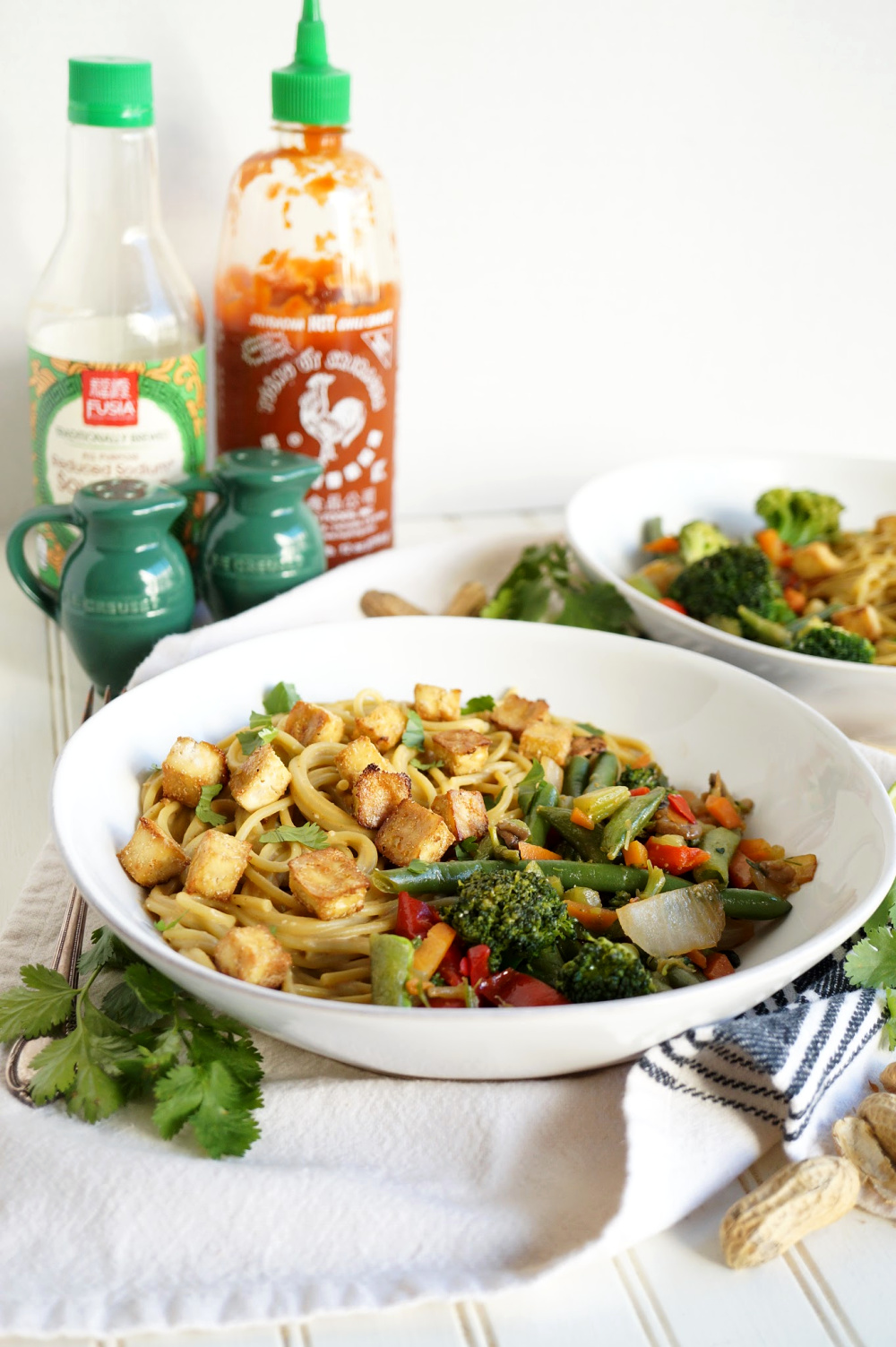 Happy Tuesday my loves! I am super pumped to be sharing this new recipe today, as it is one of my absolute favorites and the perfect pantry-friendly dinner. These Quick & Easy Peanut Noodles are, well, quick and easy, but also absolutely delicious and so comforting! This dish is simple to pull together using whatever you have in the pantry - all you need is some sort of twirly noodle, nut butter, and a few seasonings. To round out the meal, I like to serve it with crispy oven-baked tofu and stir fry (from the freezer, because we like to work smarter not harder around here). But, in a pinch, a bowlful is also perfect with just a sprinkle of green onions!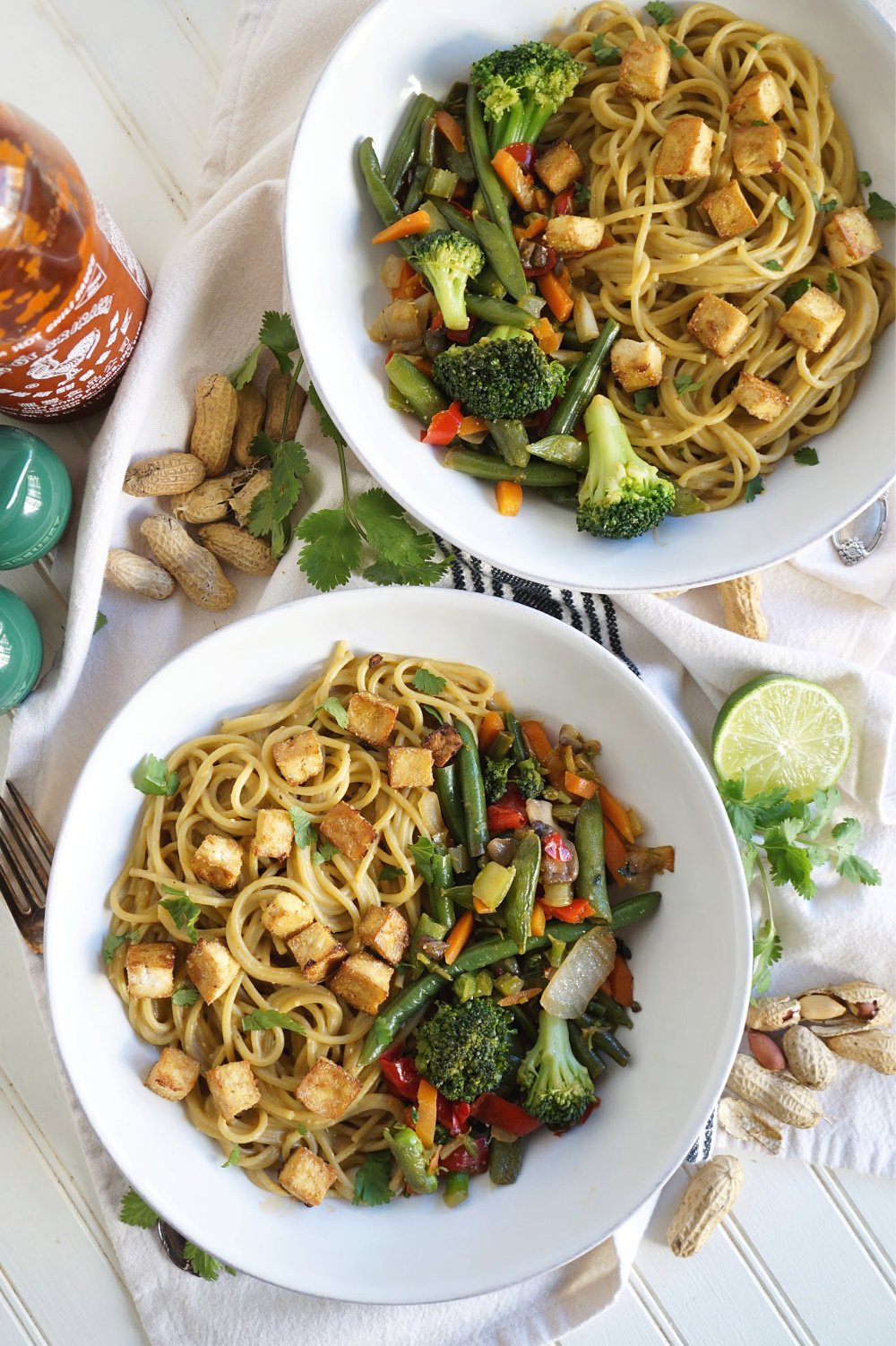 As always, a disclaimer that these peanut noodles are likely not authentic in any level. But I think they are so tasty and I just love them! I tend to cook Asian-inspired dishes quite often, and this uses condiments and ingredients that I always have in the house, so it's super easy for me to make.
What are some basic ingredients to have in the house for Asian-inspired dishes?
This is just what I keep stocked up, as I find that it gives me the most flavor bang for my buck!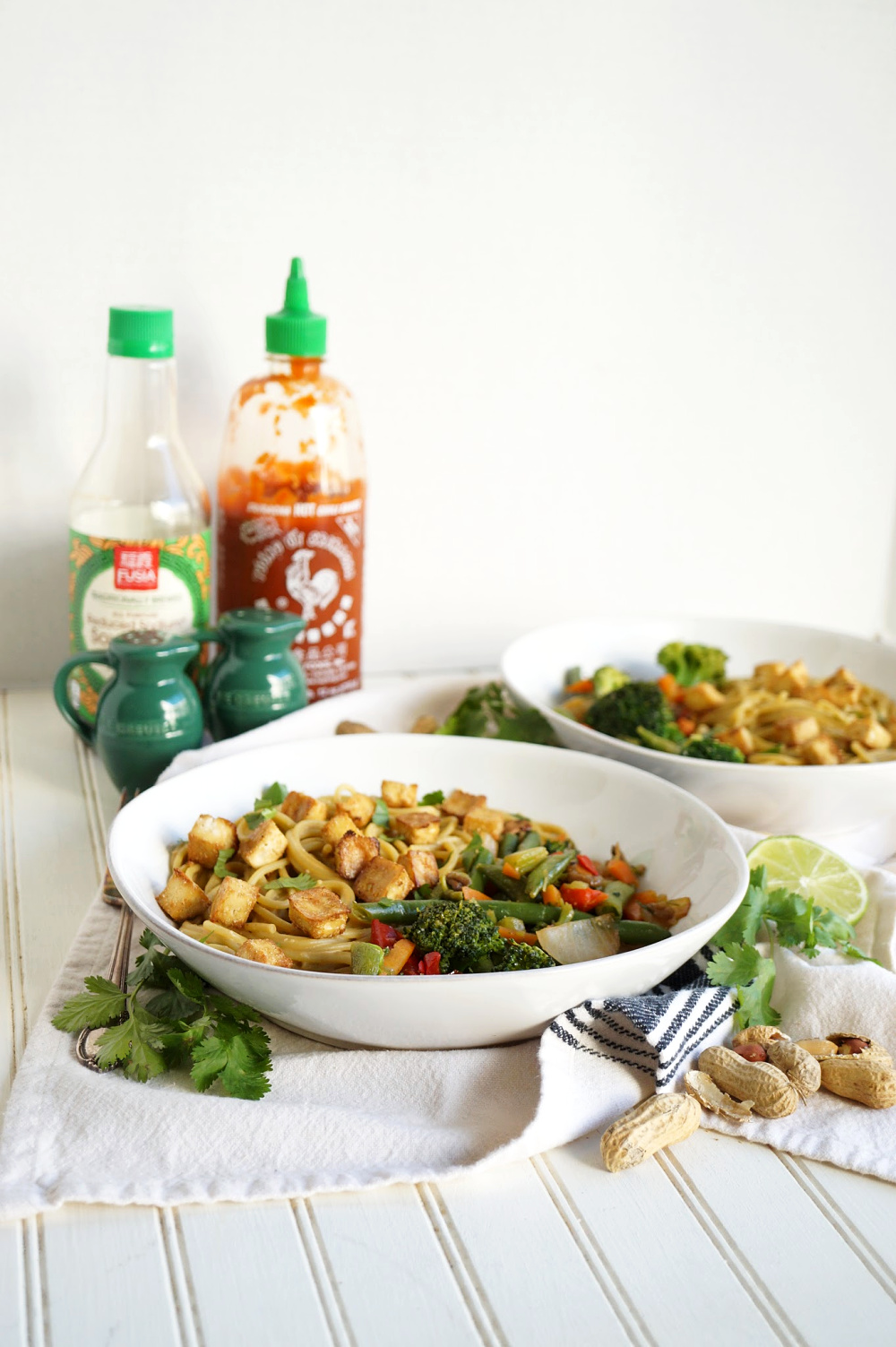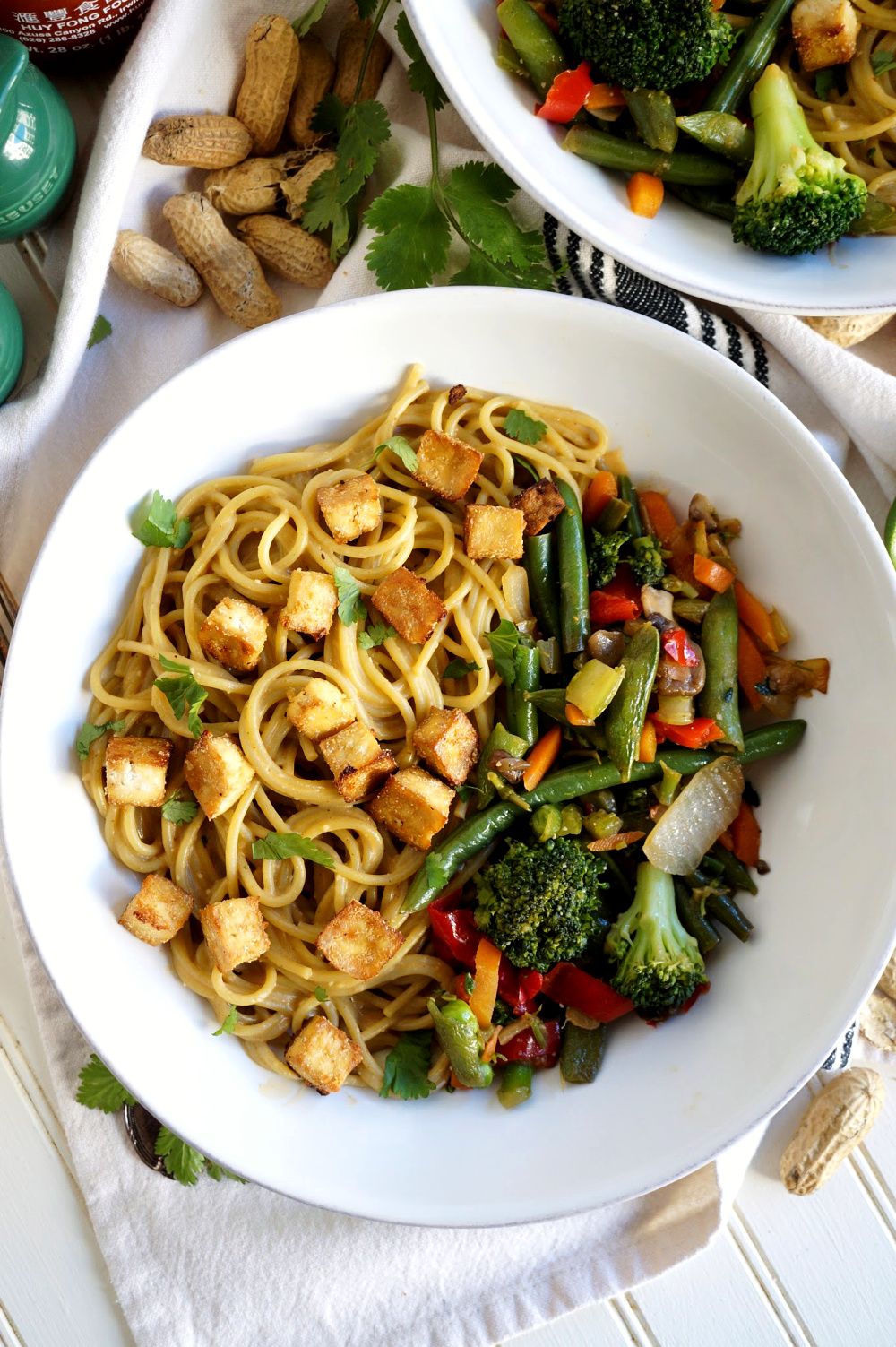 What do I need to make peanut noodles at home?
Besides the aforementioned seasonings, the ingredient list is minimal!
Noodles - legit any noodles you have in the house work! I do recommend a slightly thicker noodle, as very thin ones tend to get a bit clumpy. Generally, I use thin spaghetti or ramen noodles. You can definitely use a gluten-free option too, and I've made these with rice noodles with great results.
Nut butter - traditionally, these peanut noodles are made with peanut butter, but if you have a peanut allergy, I think they would be phenomenal with cashew butter. If you are allergic to all nuts, I think sunbutter would be delicious, too!
Soy sauce - like I mentioned above, I use soy sauce, but you can absolutely substitute coconut aminos or tamari to make this gluten friendly.
Garlic and ginger - there are three different approaches you can take to this! You can do fresh garlic in a garlic press, and finely minced ginger (overachiever). You can use store-bought garlic and ginger in a squeeze tube (this is what I usually do). Or if you are working with bare minimum ingredients, just use garlic powder and ginger powder!

To serve

- tofu and veggies! I like to make my simple baked tofu cubes (like I had shared for my creamy ramen noodles), and toss with a bit of soy sauce after baking to flavor them. I then use some sort of frozen stir fry mix to add some veggies and keep the dish from feeling too heavy. I like using frozen since this is an EASY dish!

For garnish

- green onions are my favorite, but I didn't have any when I took these photos so I added cilantro which was delicious too!
I hope you guys will give these peanut noodles a spin! They are so delicious, comforting, and come together so quickly! If you are only making the noodles, then dinner is ready in the time it takes the pasta to cook. If you want to make the tofu with it, then you'll just need about 30 minutes so it can bake! This is super flexible though, so feel free to make it with whatever you have at home 🙂
Check out some of my other favorite Asian-inspired dinners!
quick & easy vegan peanut noodles
If you need dinner in a hurry, these Quick & Easy Vegan Peanut Noodles are the recipe for you! Boil up some pasta, toss it in a rich and simple peanut sauce made of pantry staples, and supper is served. Top it with some crispy baked tofu for extra flavor!
Author:
Valentina | The Baking Fairy
Recipe type:
Pasta & Noodles
Ingredients
*for the noodles*
1 lb thin spaghetti (or noodles of choice)
⅓ cup creamy peanut butter
2 tablespoon soy sauce
1 tablespoon rice wine vinegar
½ tablespoon toasted sesame oil
1 tablespoon sriracha (or more as desired)
½ tablespoon fresh minced garlic
½ tablespoon fresh minced ginger
juice of ½ lime
cilantro or green onion, to serve
*for the tofu (optional)*
14 oz pack extra firm tofu
garlic salt
1-2 tablespoon soy sauce
Instructions
First, prepare the tofu (if making). Preheat oven to 425F, and line a baking sheet with a silicone liner or parchment paper.
Drain the tofu, and wrap tightly in paper towels to get rid of excess moisture. Allow the tofu to sit for 5-10 minutes.
Next, cut the tofu into small cubes, and arrange on the prepared baking sheet. Sprinkle on some garlic salt, and bake for 25-30 minutes, flipping halfway, until cubes are golden brown.
When the tofu has about 10 minutes left, you can start to prepare the noodles. Bring a large pot of water to a boil, and cook noodles according to package directions.
While the noodles are cooking, mix up your sauce. In a large bowl, mix together all of the sauce ingredients. Mixture will be thick - that's ok!
When noodles are cooked, strain them and reserve the pasta water. Toss the noodles with the peanut sauce, adding pasta water as needed to make sure everything is smooth and creamy. The pasta soaks up the sauce as it sits, so make it a bit thinner than you think you need.
When the tofu is cooked, quickly toss it with some soy sauce. Serve noodles topped with tofu and fresh cilantro or sliced green onions. Enjoy!
*Disclosure: I am part of the Amazon Associates Program, and there may be affiliate links on this page. If you buy anything through my website, I will receive a small percentage of the profit at no extra cost to you. Thank you for supporting my blog!*