This Vegan Chickpea Curry with Tofu and Spinach is quick and easy to make, and uses mostly pantry ingredients for a simple Indian-inspired dinner.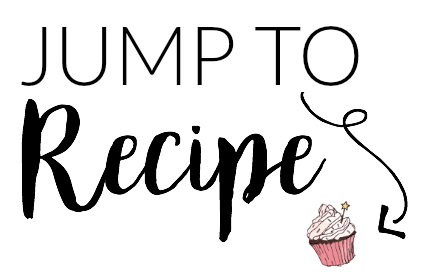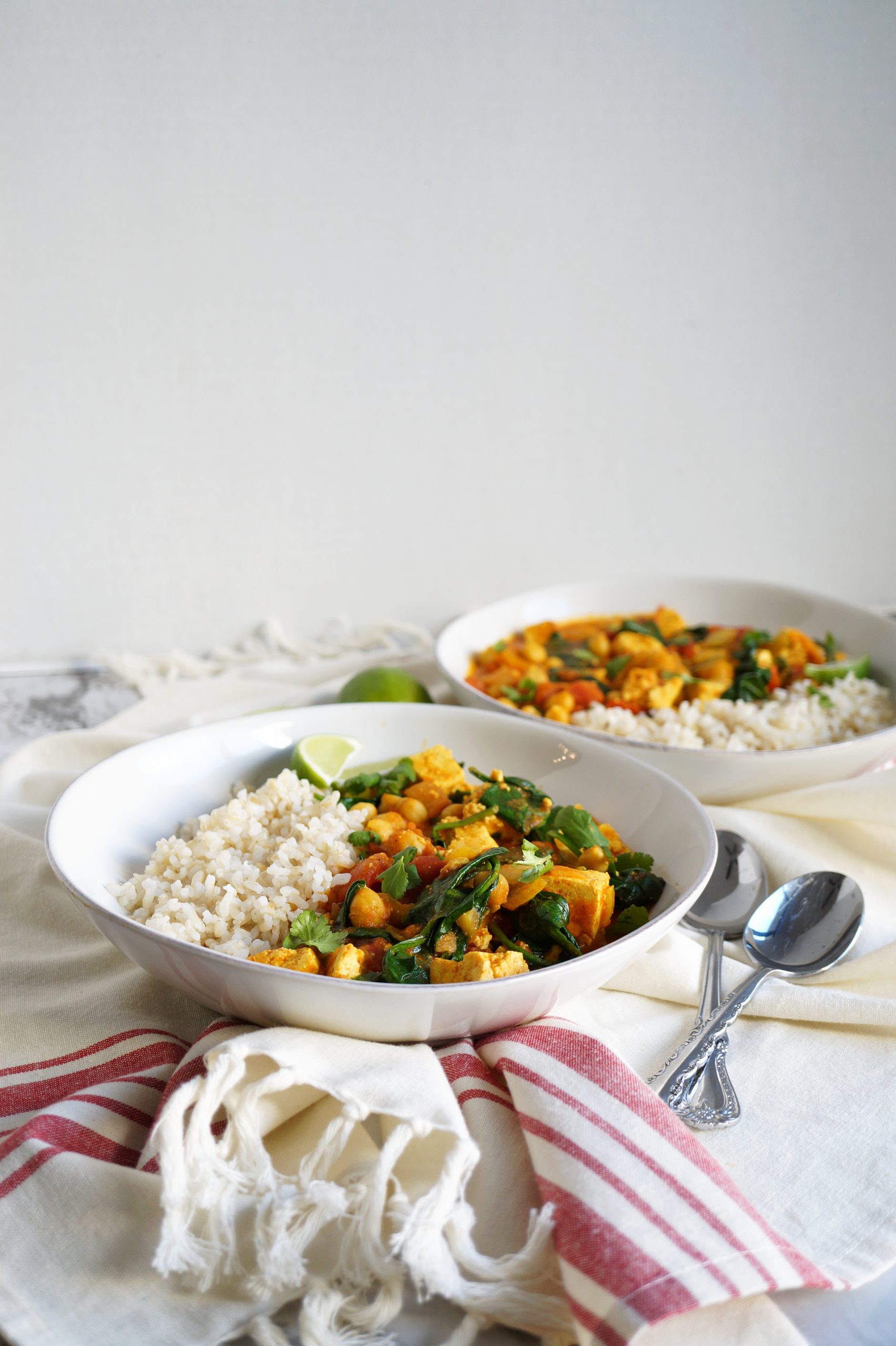 Hello lovelies and happy Monday! I am so excited to be sharing this recipe today, as it may be new to the blog but it is a weekly staple in my household. This Vegan Chickpea Curry with Tofu and Spinach is super simple to make, uses mostly pantry staples, and is a great introduction to cooking Indian food at home if you are not familiar with it! I have to put a disclaimer right here that I have NO idea what I am doing when it comes to Indian food. I am 100% white. I just like playing with spices and this is what tastes good to me! I hope you'll give it a try and maybe you will like it too 🙂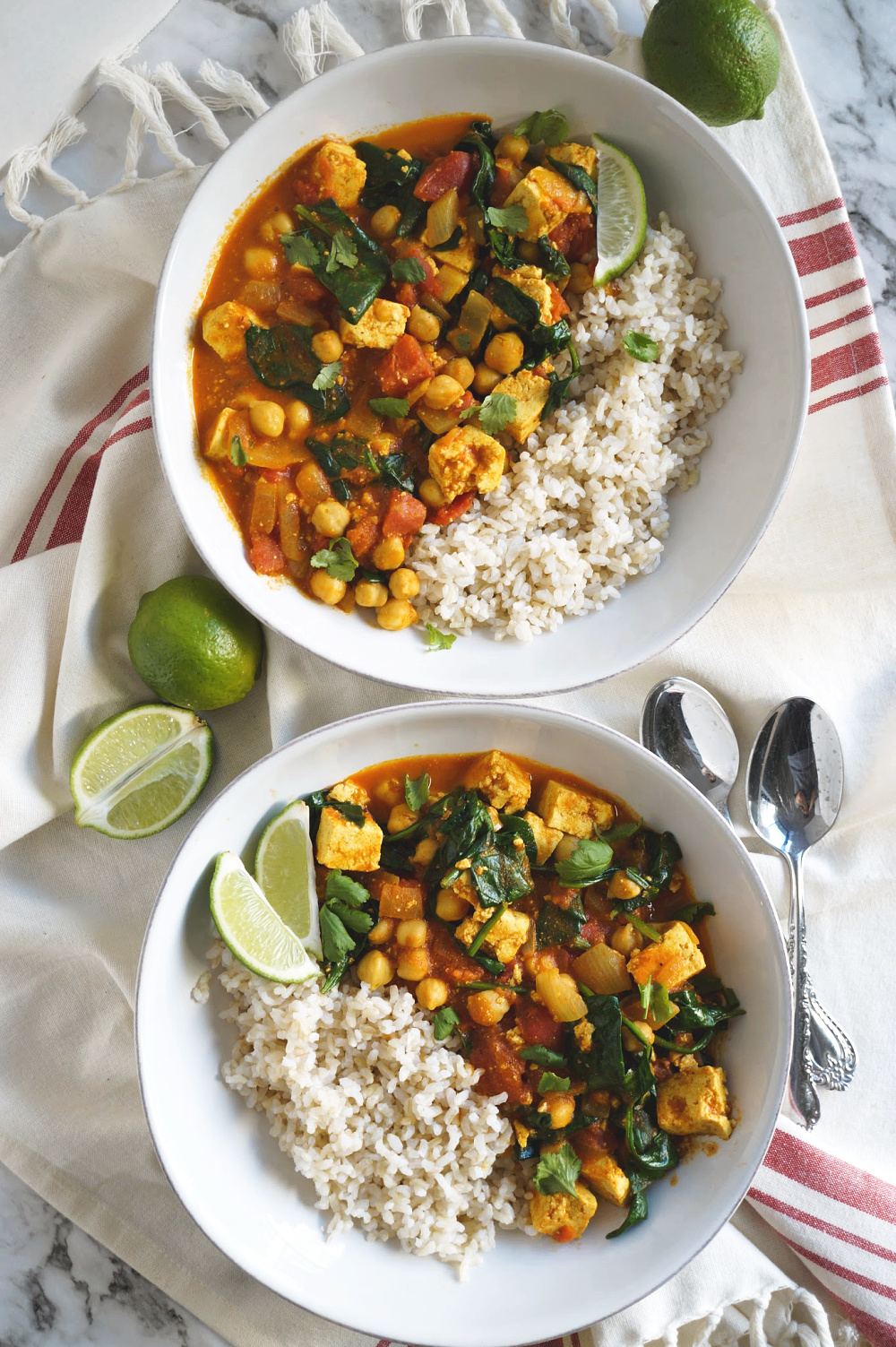 I have to admit that I didn't really eat Indian food until I started eating more plant-based dishes! My mom is a traditional Italian cook and we very rarely had anything but Italian food growing up, so as I learned to cook on my own, I have loved exploring different cuisines and playing with spices and flavors. Ironically, I feel like I hardly ever make Italian food now. Indian and Tex-Mex are a big inspiration when I am in the kitchen! Curries have become one of my weekly staples, and this chickpea curry specifically is what started it all. It's a very mild curry, and it uses ingredients that most people are very comfortable with: chickpeas, tomatoes, onions, and spinach. I feel like the fact that it starts with very basic ingredients makes it a great canvas for then adding spices you may not be as familiar with!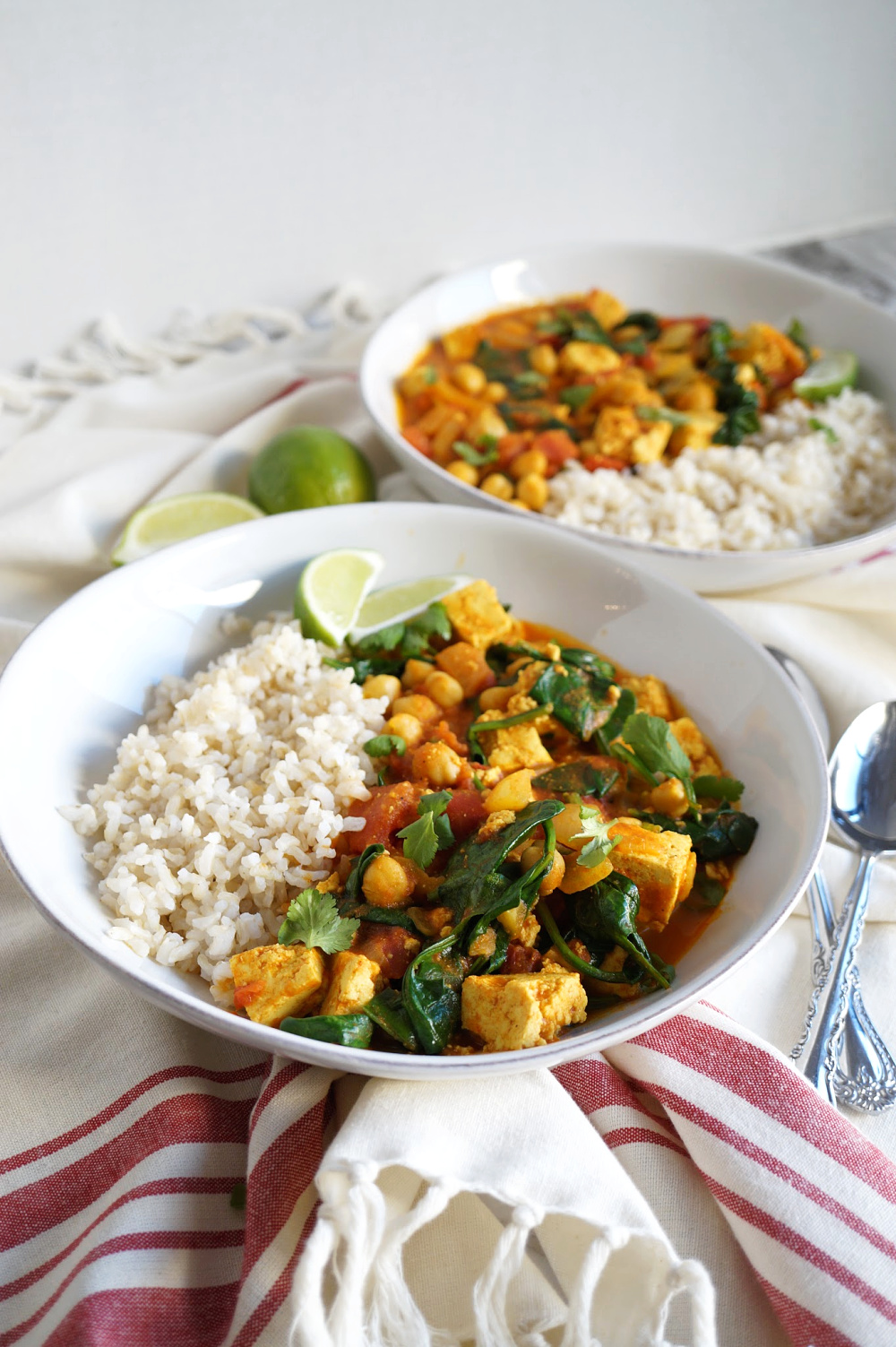 Why I love this chickpea curry
It's quick and simple to make! Let go of the notion that to have a flavorful curry, it has to simmer for hours on the stove. This chickpea curry takes just a few minutes of prep, and comes together really quickly! If you can chop up an onion and open up some cans... you've got this ????
It uses pantry ingredients. Now, I know MY pantry staples may not be YOUR pantry staples, but the main ingredients in this curry are canned chickpeas, canned diced tomatoes, and canned coconut milk. You then add whatever fresh ingredients you have at home to jazz it up, but the bulk of ingredients are canned and easy to find!
It's a great introduction to Indian-inspired dishes. I don't know about you guys, but I didn't start cooking Indian food at home until maybe 1-2 years ago. Before that, my exposure was very minimal because it's not a flavor palette that my parents are used to eating. If you're not familiar or comfortable cooking with Indian spices, this is a great starter! My #1 tip is to buy curry paste at the store. This is such a gamechanger! If nothing else, this is the one ingredient that will give your curry tons of flavor with very little work and effort. Once you're comfortable, then you can add more spices on top of that. But the ready-made curry paste is a great starting point!
It's easy to adapt with whatever you have at home. Like I mentioned, the key ingredients here are chickpeas, tomatoes, and coconut milk. If you have some tofu at home, throw it in for some extra protein. I also like adding spinach, kale, or another green for some color. If you have fresh tomatoes at home that need to be used, feel free to use those instead of the canned tomatoes. If you have a couple of bell peppers laying around... you can throw those in. It's such an adaptable and forgiving recipe, so feel free to make it your own! To serve, I love adding on a squeeze of fresh lime and some cilantro for some freshness.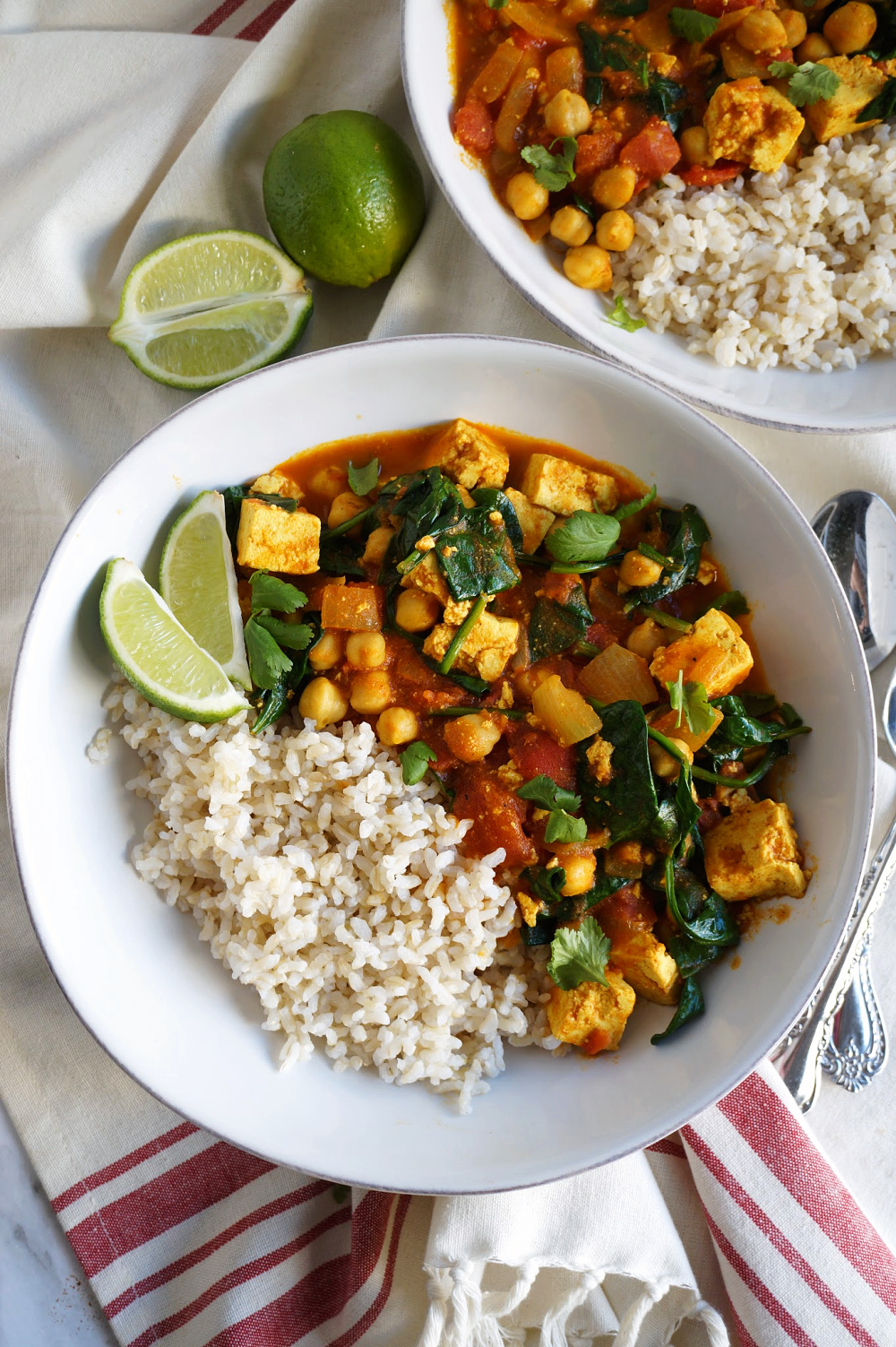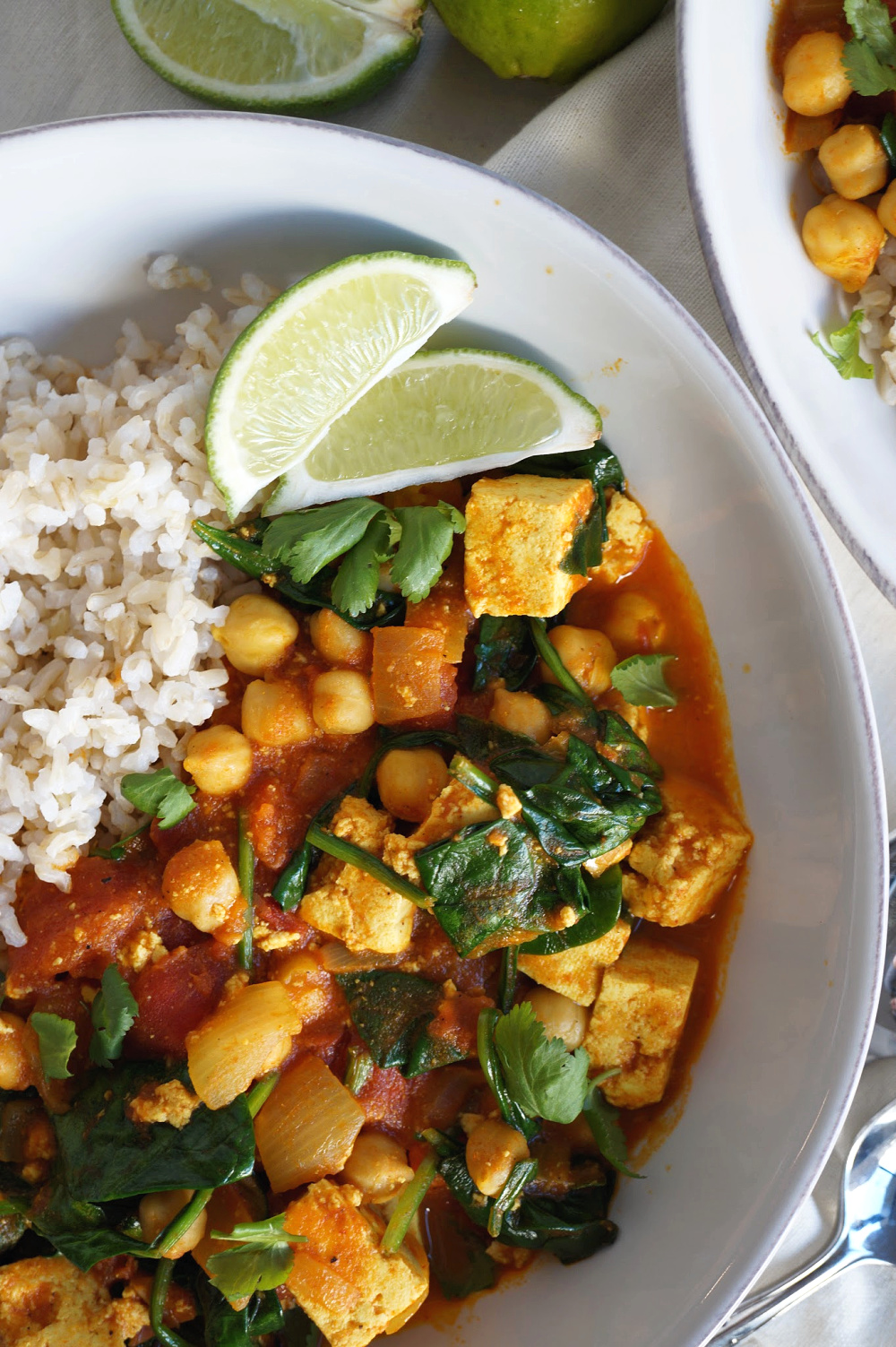 I hope you guys will give this simple vegan chickpea curry a try! It is so good and one of my favorites! And come back around on WEDNESDAY cause I have a big round-up planned with tons of chickpea recipes!
Check out these favorite chickpea recipes!
vegan chickpea curry with tofu and spinach
This Vegan Chickpea Curry with Tofu and Spinach is quick and easy to make, and uses mostly pantry ingredients for a simple Indian-inspired dinner.
Author:
Valentina | The Baking Fairy
Ingredients
1 tablespoon coconut oil (can also use olive oil)
½ white onion, chopped
1-2 tablespoon red curry paste (to taste)
1 teaspoon garlic powder
1 teaspoon curry powder
½ teaspoon turmeric
½ teaspoon onion powder
¼ teaspoon cumin
salt and black pepper to taste
2 (15 oz) cans of chickpeas, rinsed and drained
2 (14.5 oz) cans diced tomatoes
1 can coconut milk (I like light, but you can use full fat)
1 lb extra firm tofu, pressed and cubed
3 cups fresh spinach (optional)
to serve: brown rice, fresh lime, cilantro
Instructions
First, heat the coconut oil (or olive oil) over medium heat in a large pot.
Add in the onion, and cook for a few minutes, until translucent and starting to turn light golden brown.
Add in the curry paste and the spices, and let them toast for a minute or so.
Next, add in your rinsed and drained chickpeas, followed by the tomatoes and coconut milk. Then, add in your tofu cubes.
Lower the heat to medium-low, and allow the mixture to simmer for 10-15 minutes. You can use this time to cook your brown rice.
When almost ready to serve, stir in your spinach (if using). Taste your curry at this point, and add more spices if desired.
To serve, spoon the curry over your brown rice, and add a squeeze of lime and some fresh cilantro on top. Enjoy!
*Disclosure: I am part of the Amazon Associates Program, and there may be affiliate links on this page. If you buy anything through my website, I will receive a small percentage of the profit at no extra cost to you. Thank you for supporting my blog!*