Pantry cooking got you in a slump? These 40 Quick and Easy Canned CHICKPEA Recipes are sure to inspire you, with delicious dishes covering everything from salad to dessert.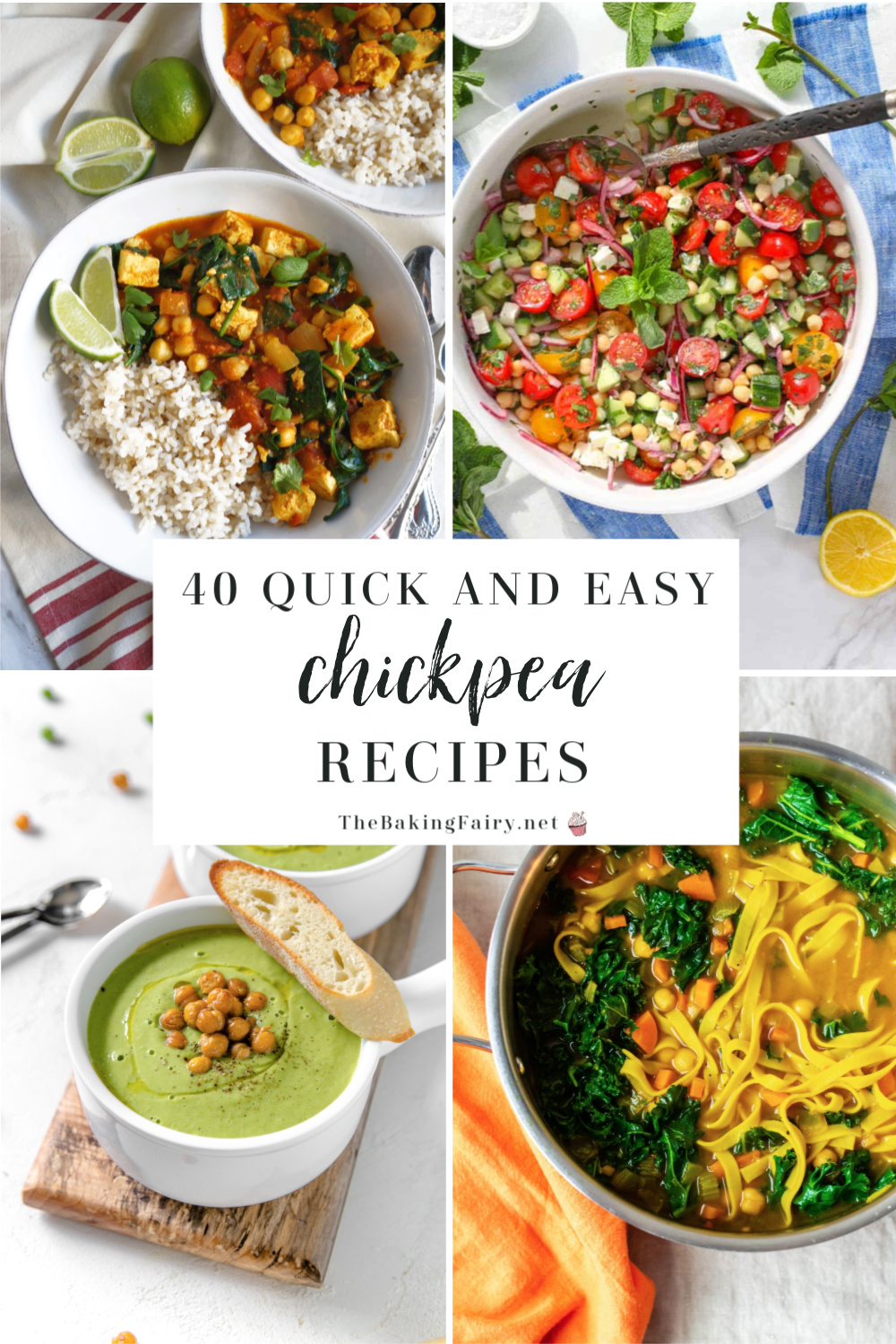 Hi friends and happy Wednesday! How is everyone doing so far with the social distancing and house arrest? 😉 I am sure we are all getting to a major slump in our pantry cooking, so I am doing something little different today and sharing a roundup of recipes from me and my blogger friends! I absolutely LOVE chickpeas, and I always have a few cans in the house for quick recipes. Today, I am sharing a collection of 40 Easy Recipes You Can Make With Canned Chickpeas! All of these are vegetarian-friendly (they are not ALL vegan, so be sure to double check) and they will help you break out of the usual bean monotony 😉
Jump to:
Appetizers | Salads | Soups | Main Dishes | Desserts | Aquafaba Recipes
Appetizers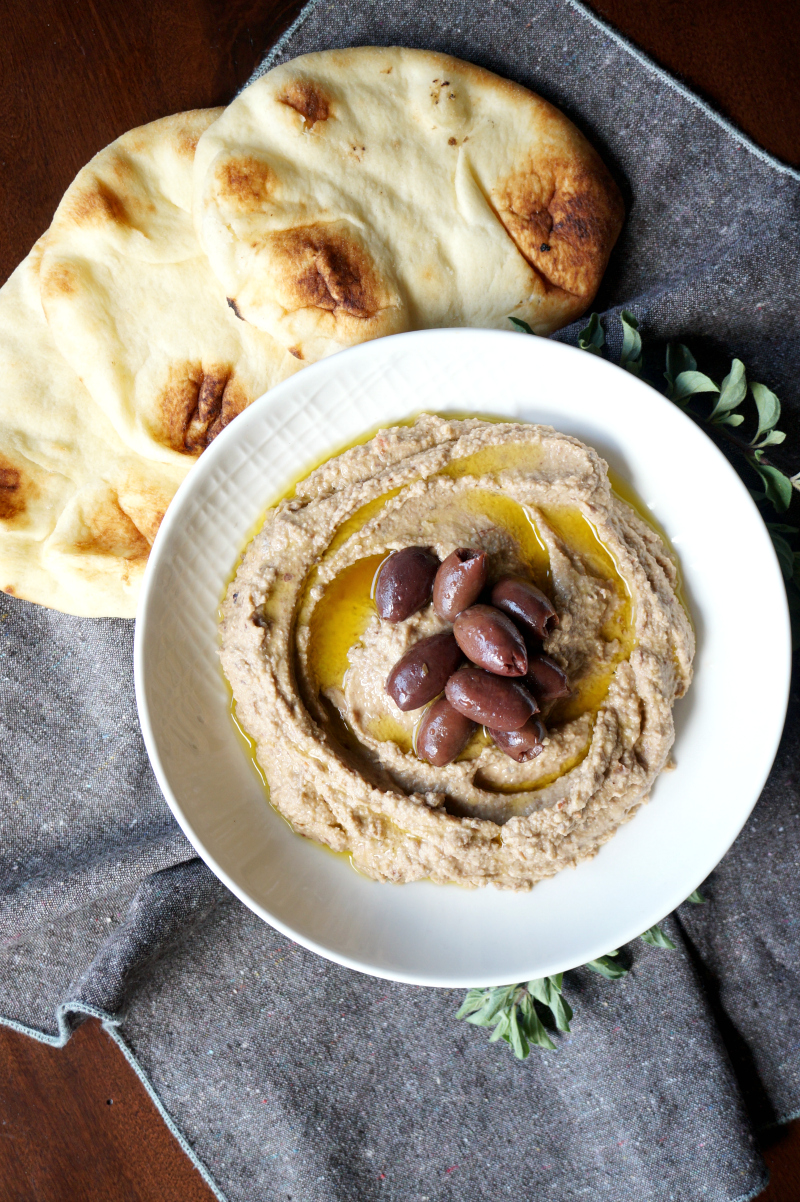 Kalamata Olive Hummus - I am a HUGE olive fan, and this homemade hummus is a change from the usual with the addition of zesty, savory kalamata olives.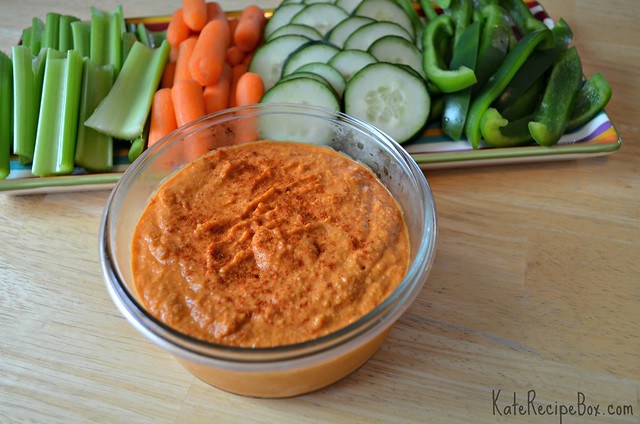 Buffalo Hummus (Kate's Recipe Box) - change up your hummus game with this creamy, spicy, buffalo dip inspired hummus!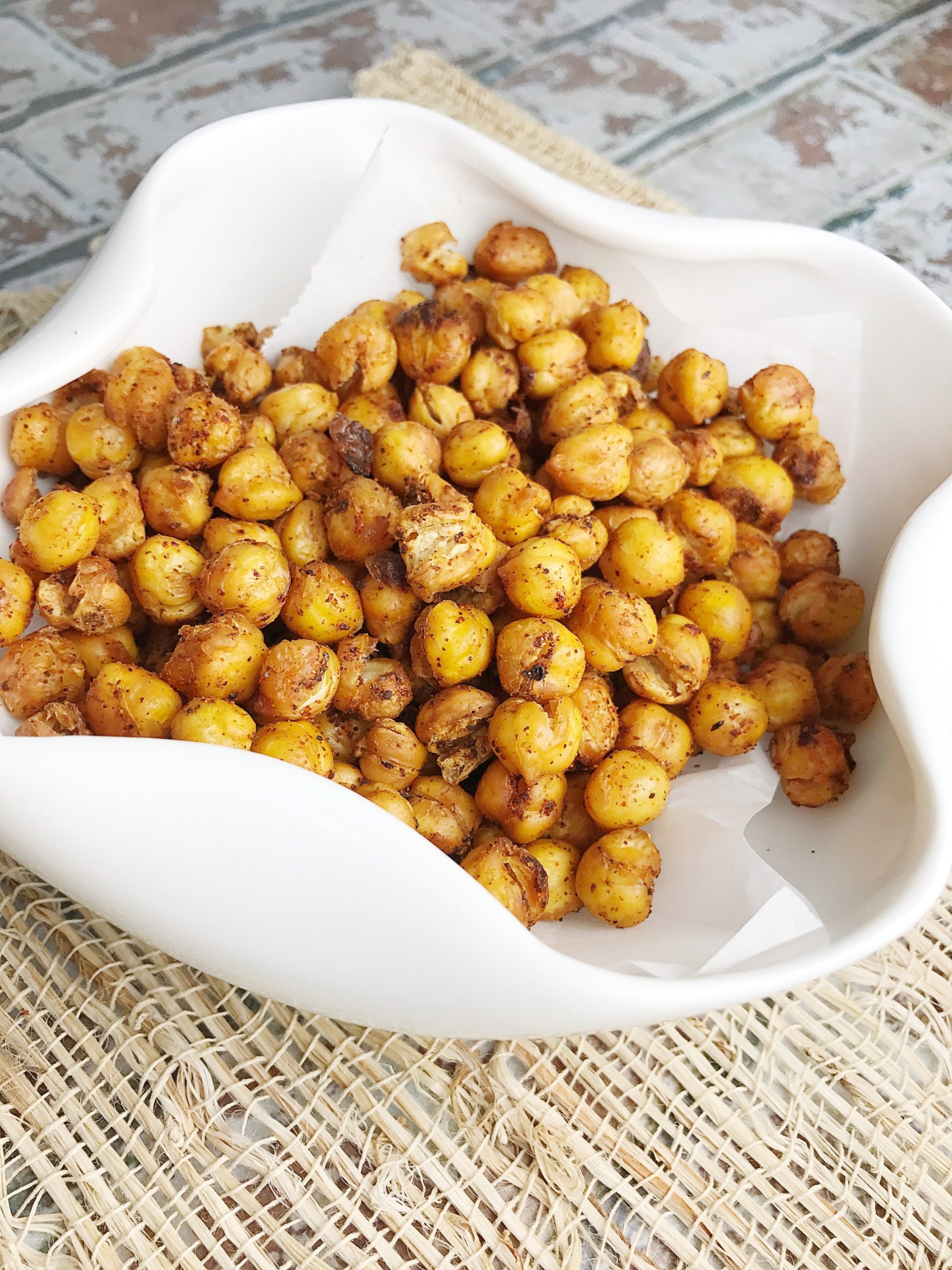 Spicy Crispy Baked Chickpeas (Kelly Lynn's Sweets and Treats) - these crispy chickpeas are positively addicting! Munch on these as a healthier alternative to chips, or sprinkle them on salads and buddha bowls for a yummy crunch.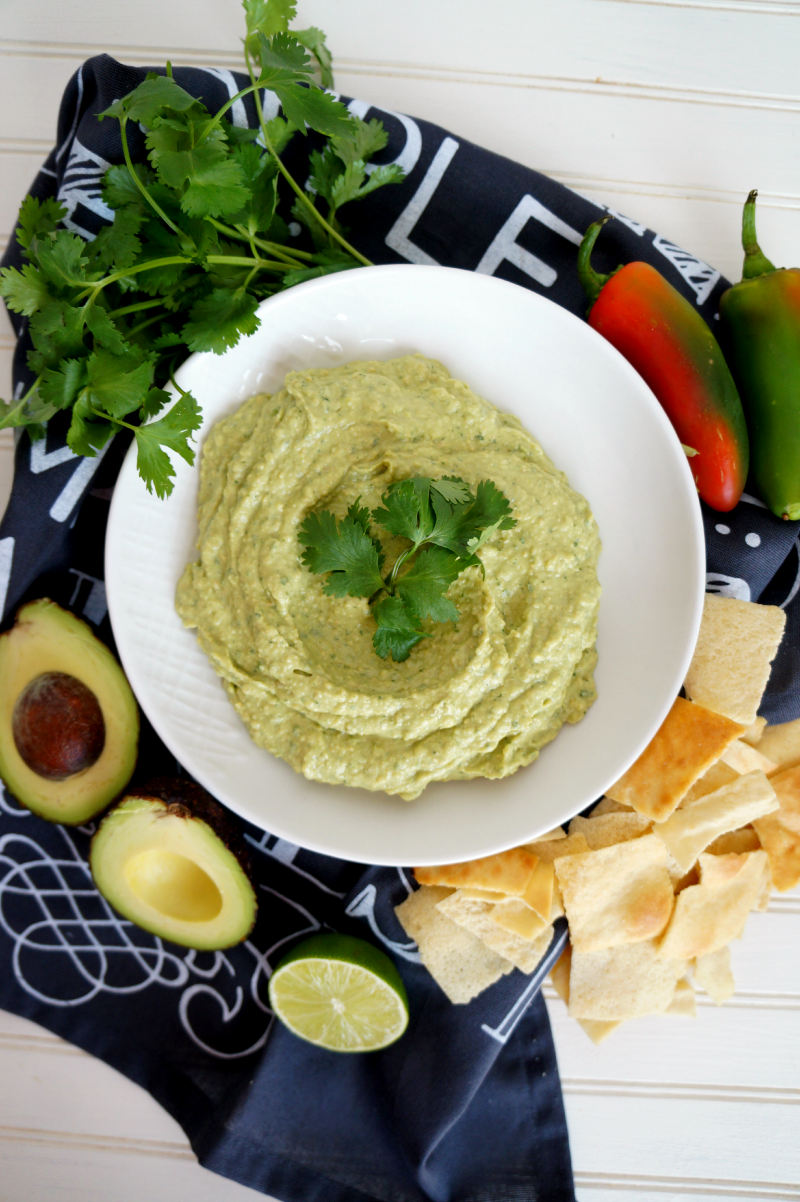 Guacamole Hummus - if you can't pick between the two creamy spreads, combine them into one! This homemade guacamole hummus is made with chickpeas, avocado, cilantro, and lime juice for a perfect mash-up of flavors.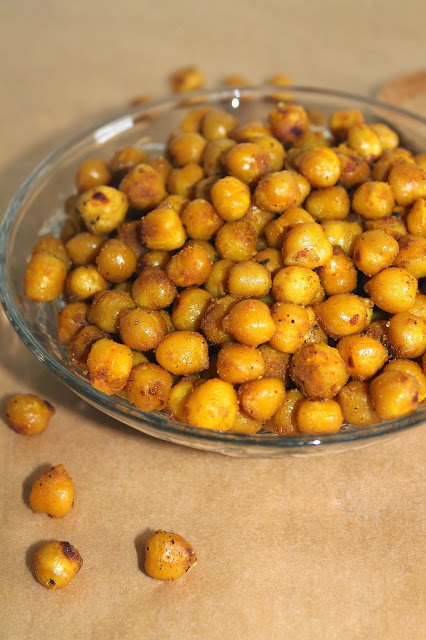 Turmeric and Honey Roasted Chickpeas (Savory Moments) - these chickpeas are perfectly sweet & savory, and have the bonus of being coated with immune-boosting (and delicious) turmeric!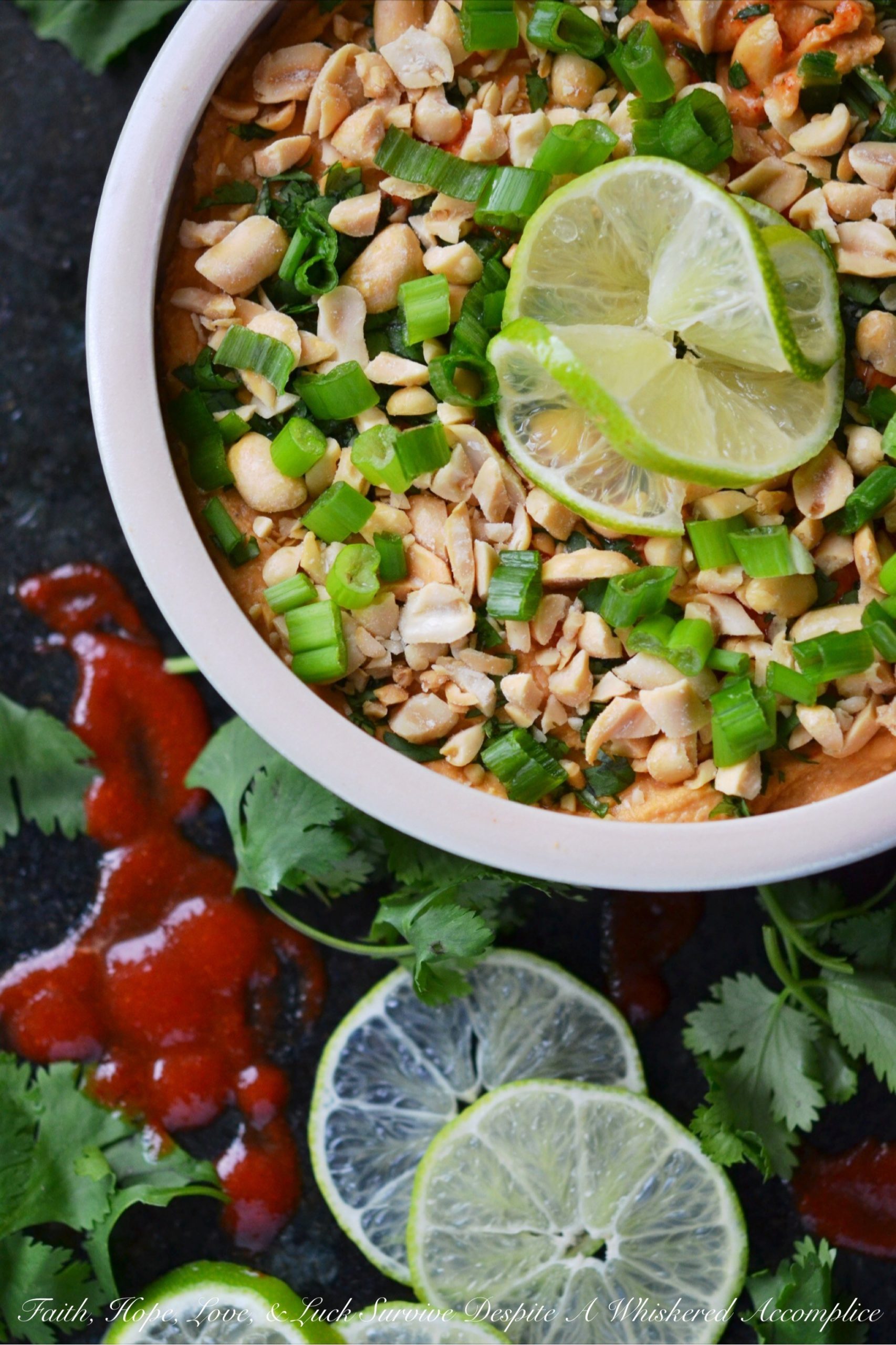 Drunken Thai Peanut Hummus (Faith, Hope, Love and Luck Survive Despite a Whiskered Accomplice) - this fun hummus is rich, spicy, savory... everything you could  want! It's made with a handful of spices, sriracha sauce, and a splash of beer - so you know it's got a kick to it!
Salads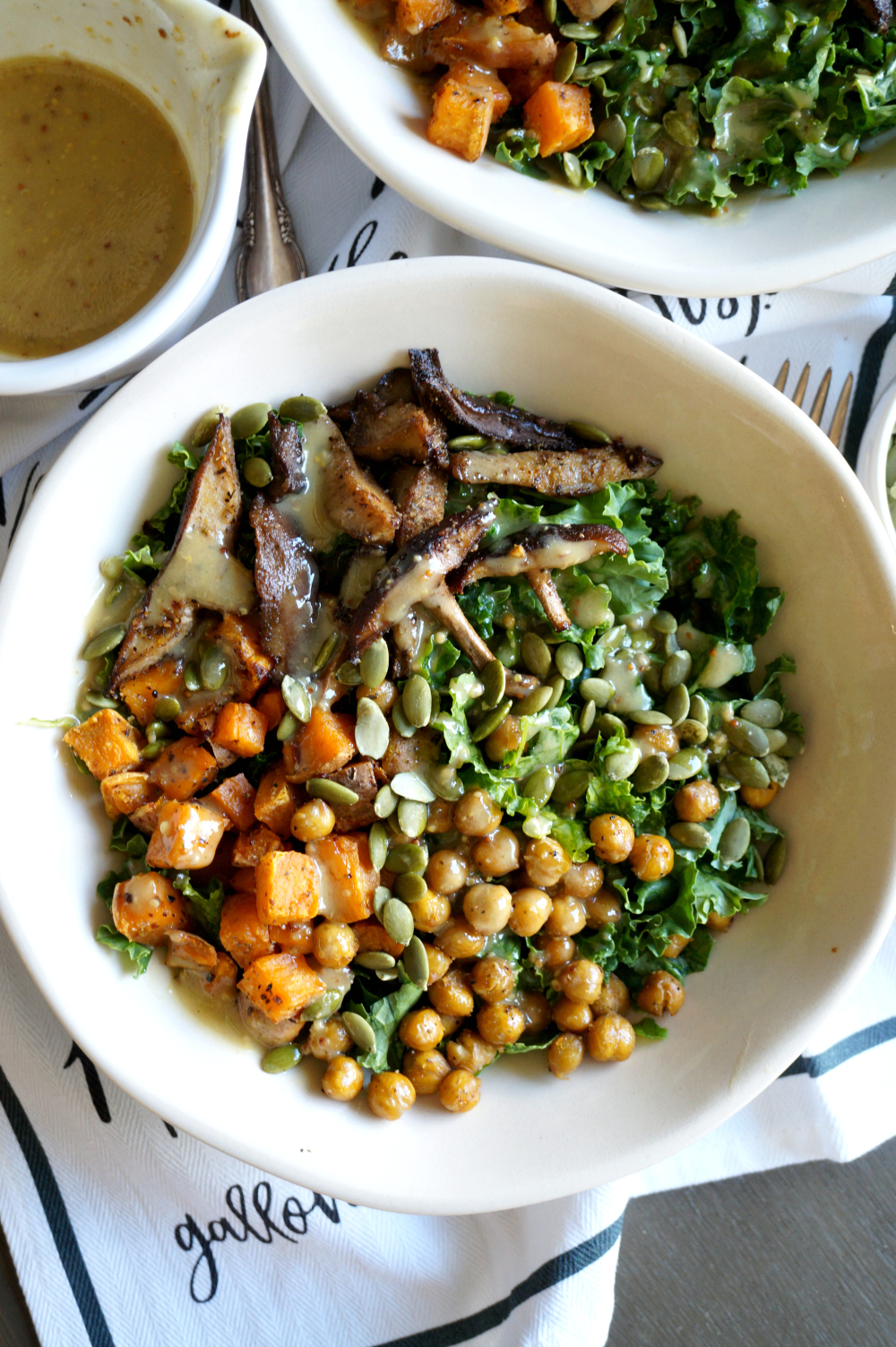 Vegan Autumn Kale Salad with Roasted Shiitake Mushrooms - I marketed this as a "fall" salad, but honestly, these delicious flavors are perfect all year round! The crispy chickpeas on top round out this hearty, plant-based salad that will leave you full and satisfied.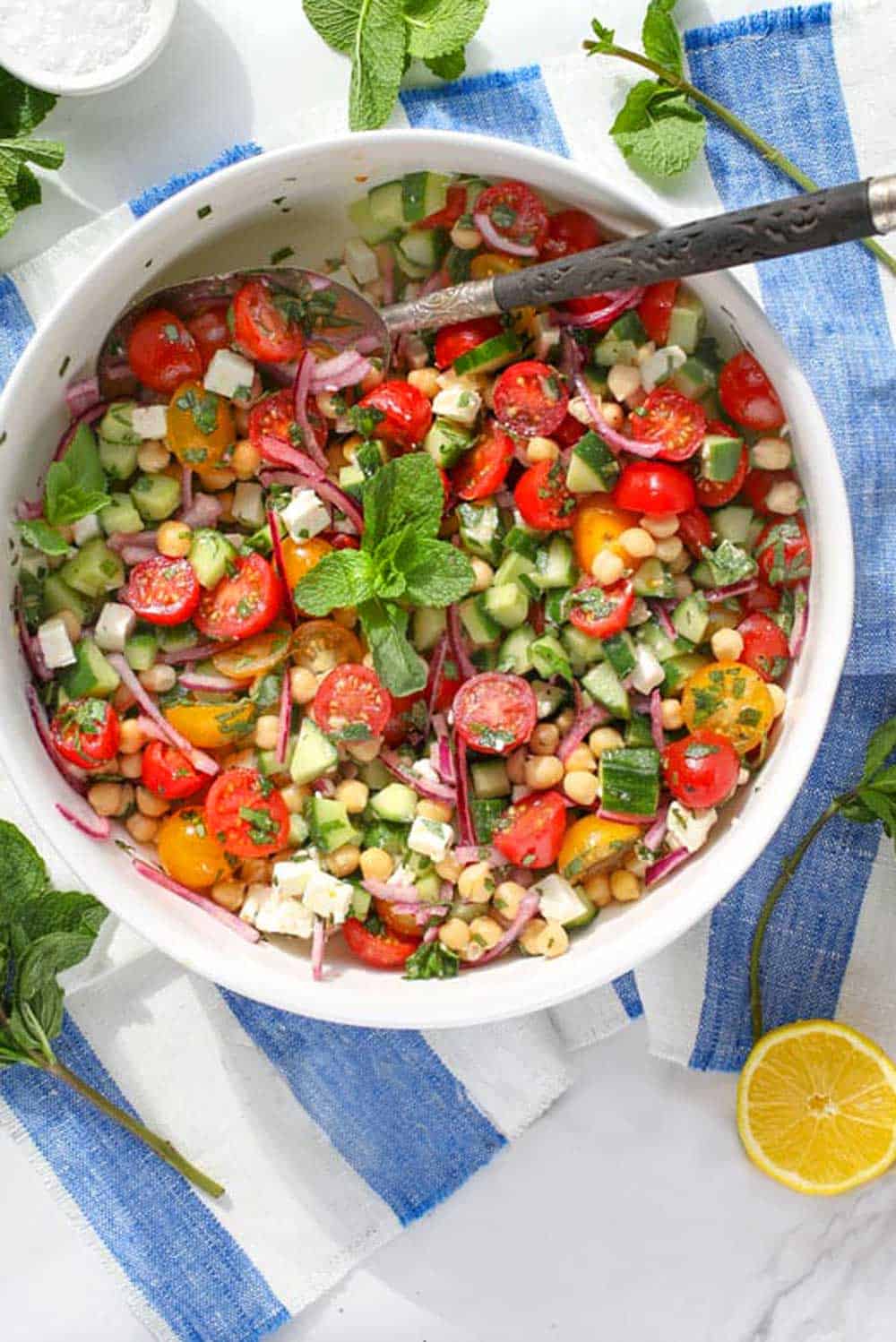 Mediterranean Chickpea Salad (Panning the Globe) - this gorgeous colorful salad is packed full of fresh veggies! This would be perfect on a hot day - no cooking required and it comes together in just a few minutes.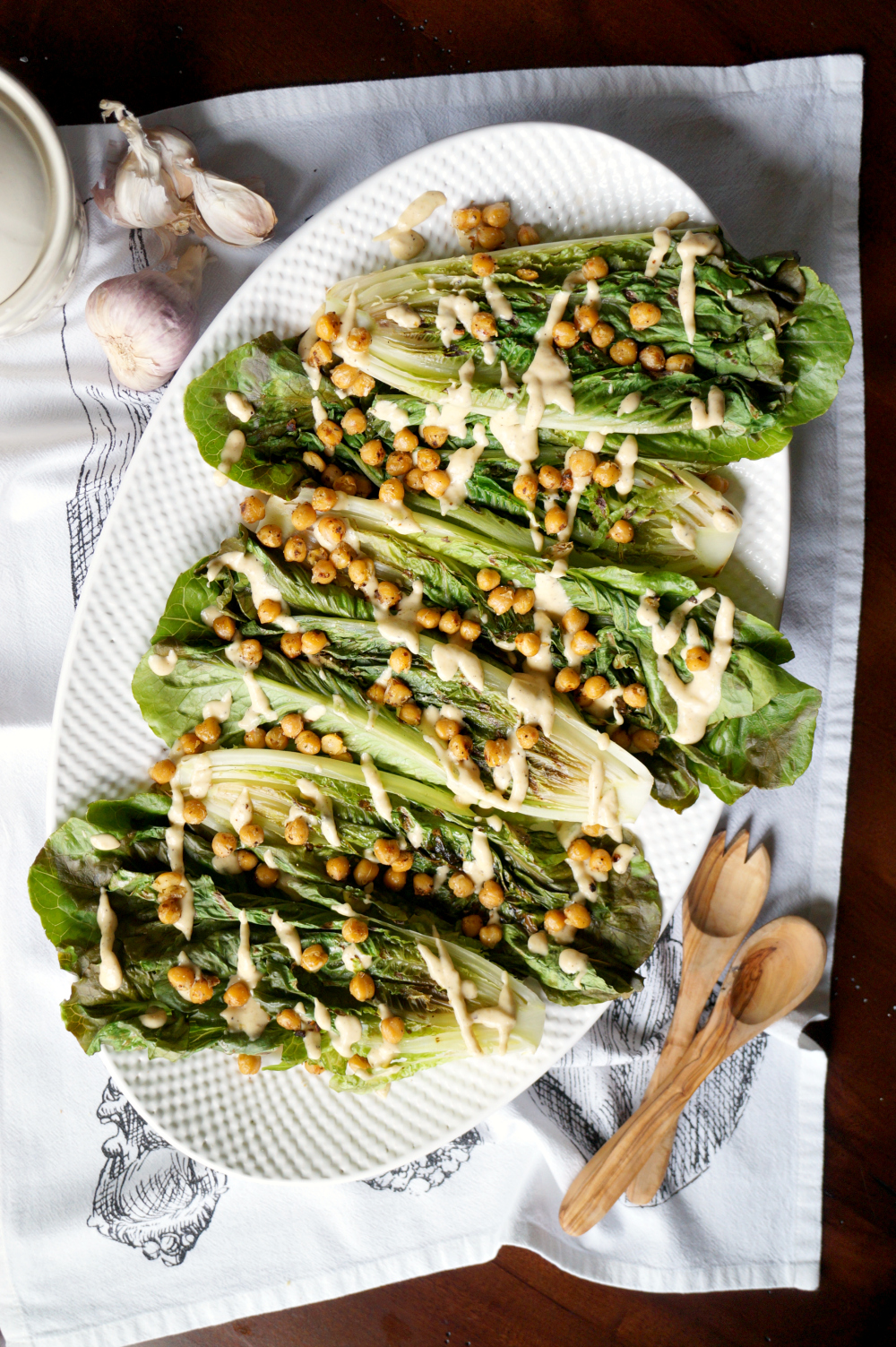 Vegan Charred Caesar Salad with Crispy Chickpeas - this twist on the classic Caesar salad is super tasty! If you have your grill up and running in the backyard, use it to quickly sear your heads of romaine for a nice flavor boost. They are then drizzled with homemade vegan dressing and crispy chickpeas in place of the classic croutons.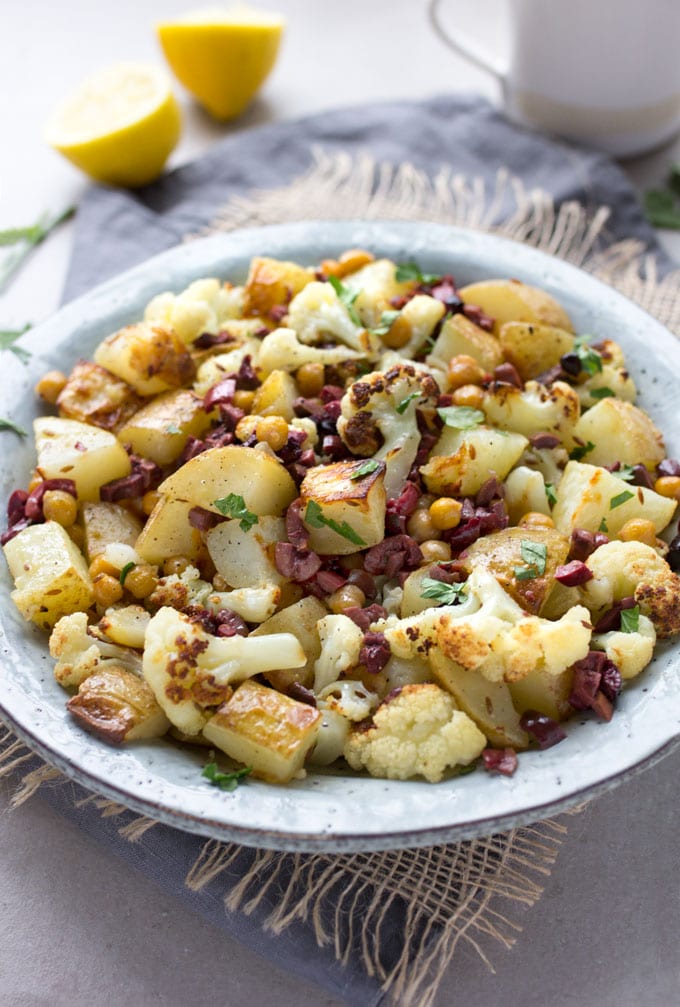 Roasted Cauliflower, Potatoes, and Chickpeas with Kalamata Olive Vinaigrette (Panning the Globe) - I am obsessed with all of the amazing savory flavors in this dish! Roasted vegetables are so flavorful, and the olive dressing on top just seals the deal.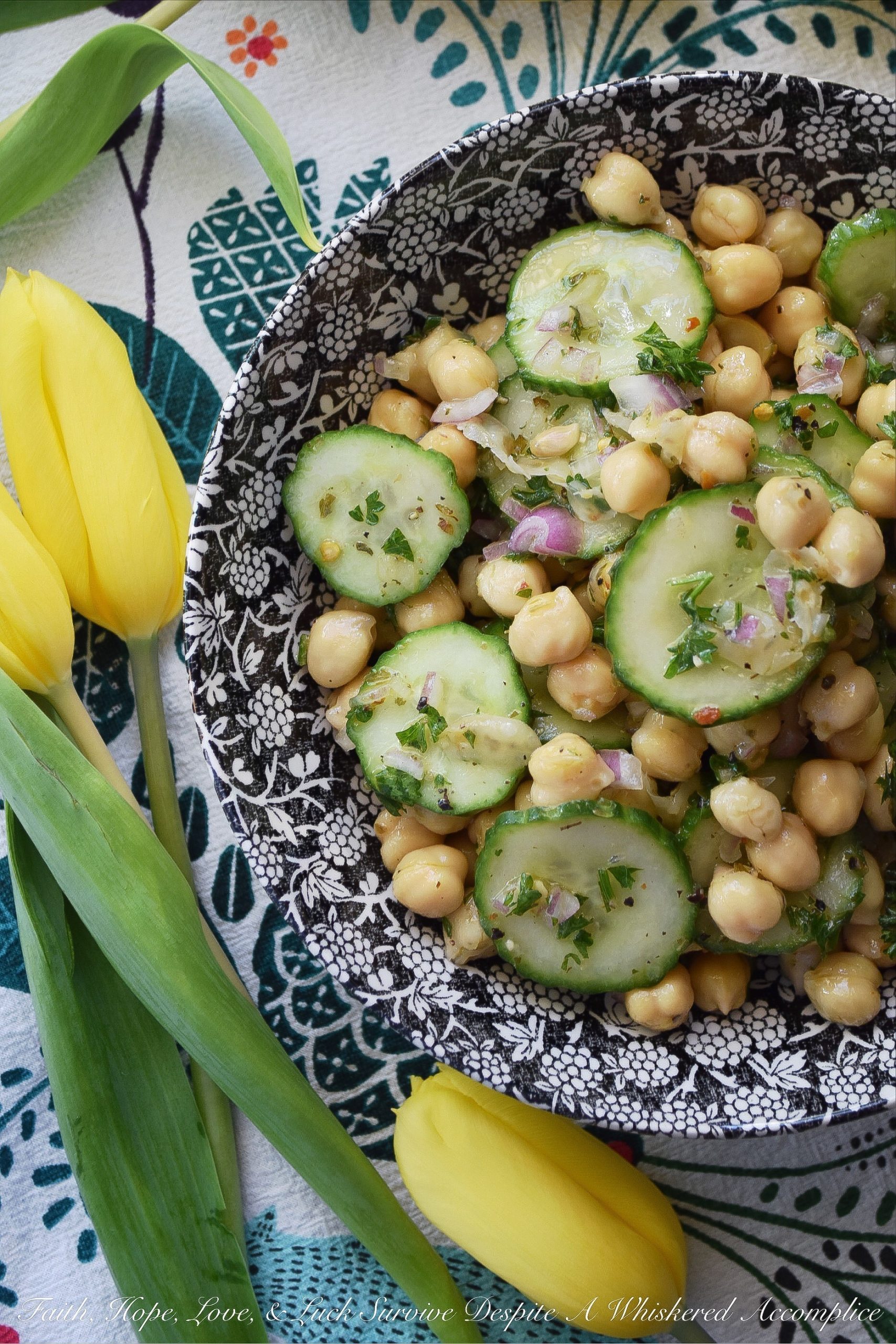 Tangy Chickpea & English Cucumber Salad (Faith, Hope, Love and Luck Survive Despite a Whiskered Accomplice) - this fresh salad combines chickpeas with cucumbers, red onion, and a lemony dressing for a light main or side dish!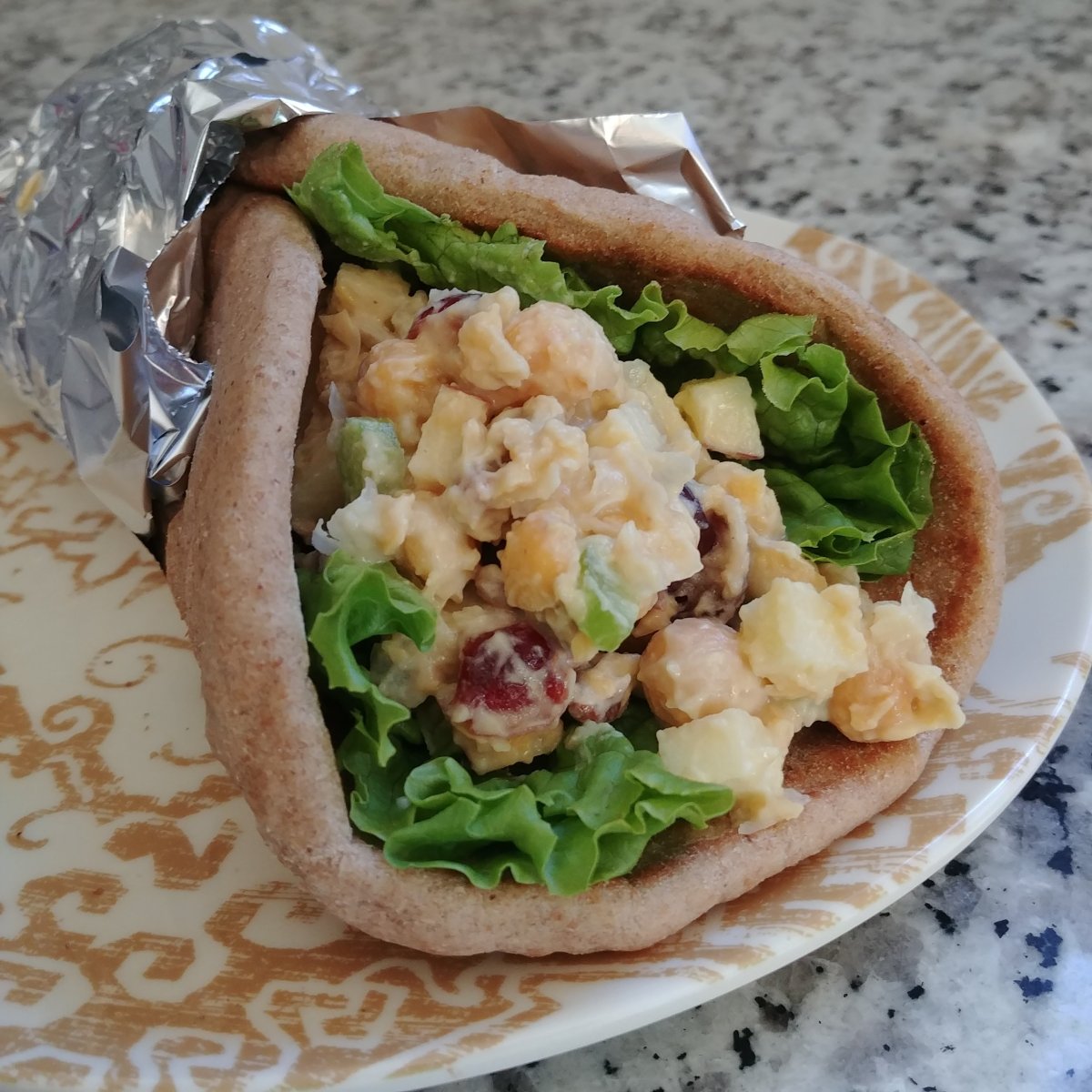 Vegan Cranberry Apple Chickpea Salad (Join Us, Pull Up a Chair) - this creamy salad is easy to make and perfect to put in a pita wrap (like pictured here), tortilla, sandwich, or eat with some crackers for a quick lunch!
Soups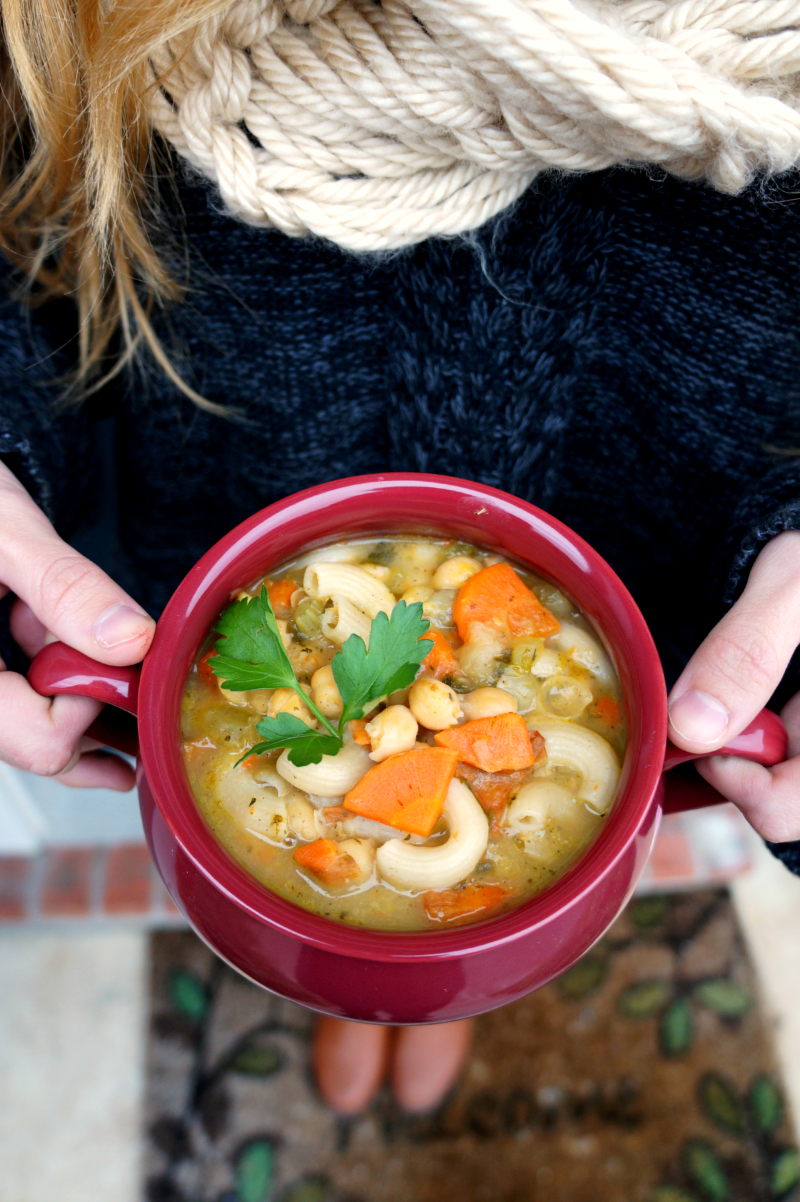 Chickpea Noodle Soup - I absolutely adore this soup! It is so easy, cozy, and comforting. Just replace the chicken in the classic chicken noodle soup with some canned chickpeas. I love adding fresh herbs when I have them in the house, they really add a special touch. You can easily make this gluten-free by using GF noodles.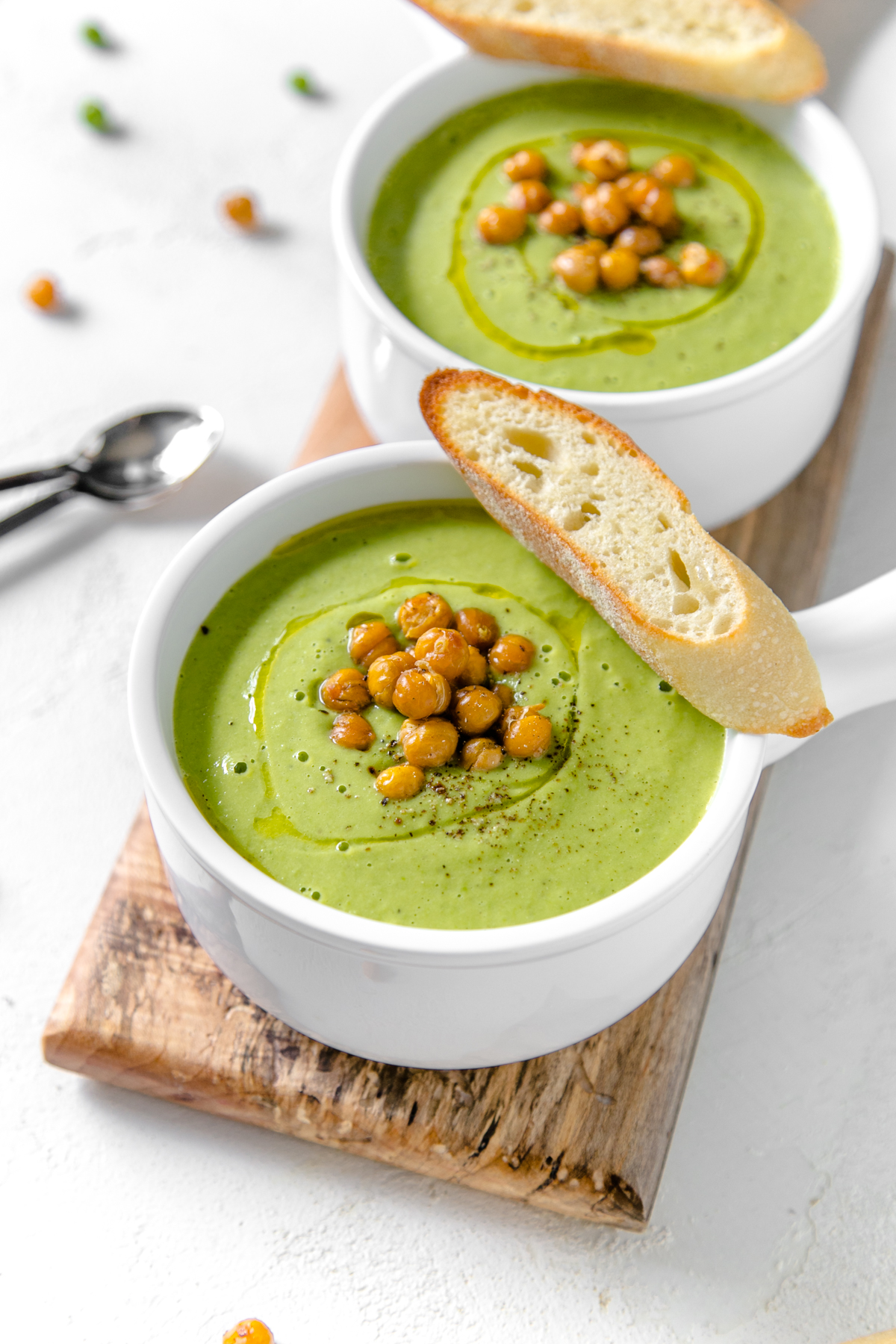 Green Pea Hummus Soup (The Plant Philosophy) - this simple, creamy soup comes together with just a few  ingredients! Grab a couple of cans of chickpeas, dig that bag of peas out of the back of the freezer, and dinner is sorted!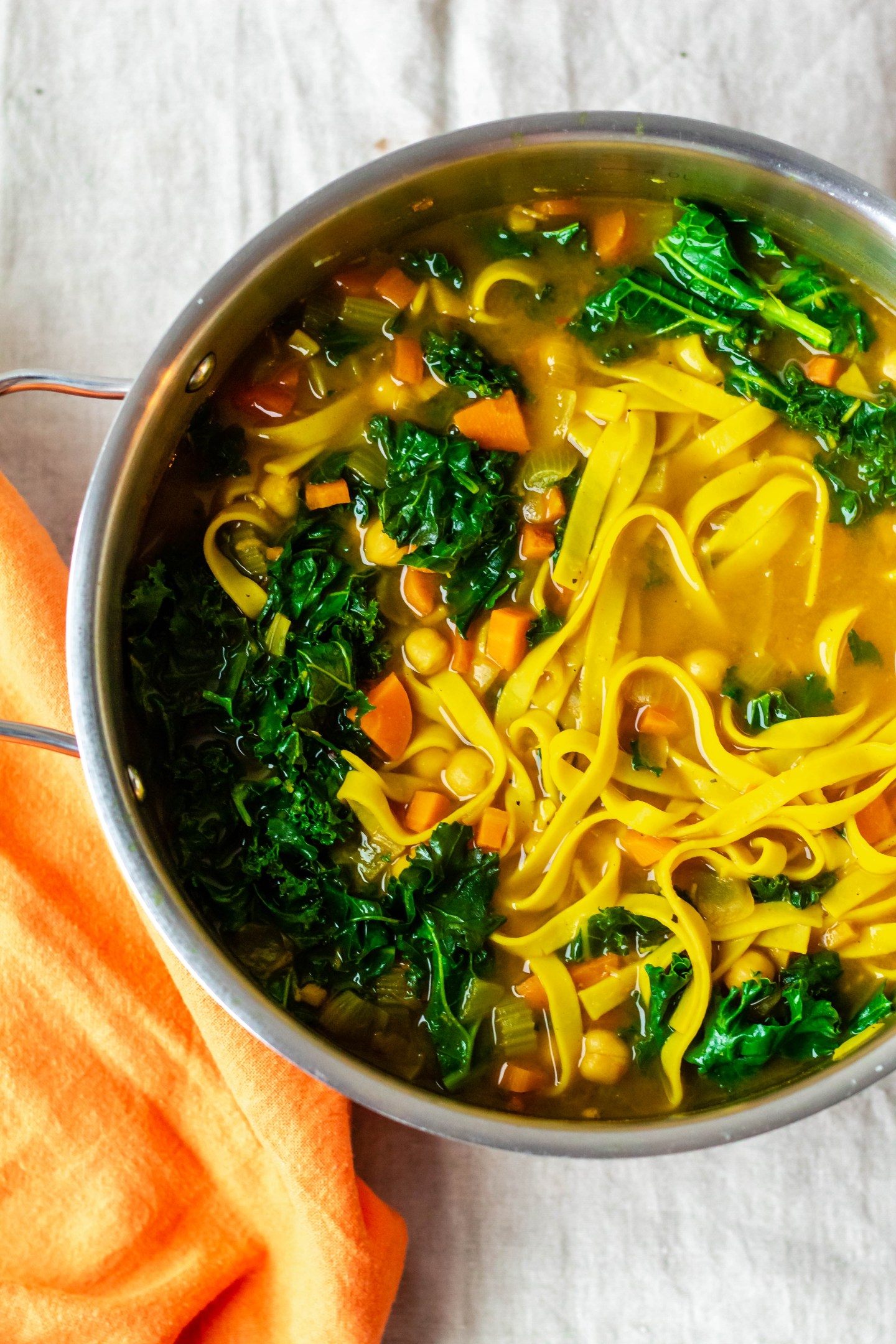 Healing Chickpea Noodle Soup (Up Beet Kitchen) - this simple, delicious soup combines garbanzo beans and noodles with superfoods like turmeric, kale, and miso to help you feel better from the inside out.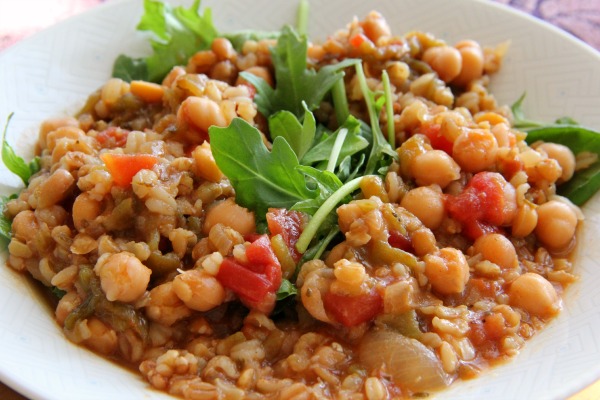 Vegan Chickpea Chile Soup with Greens and Grains (ShockinglyDelicious) - this is another extremely pantry-friendly recipe. Combine canned chickpeas with canned tomatoes and hearty grains like farro and brown rice for a filling, delicious soup!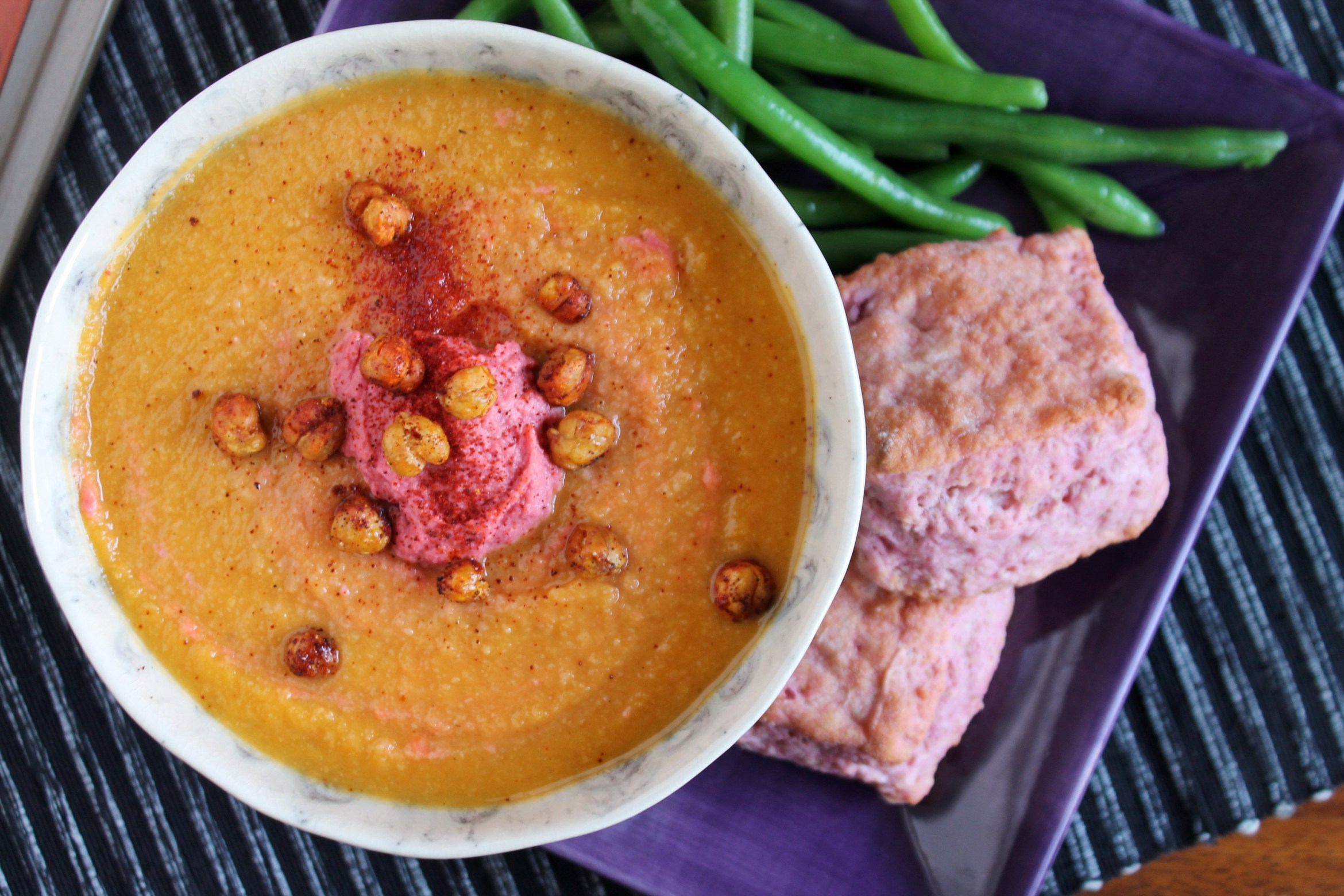 Roasted Cauliflower and Butternut Squash Soup (The Spiffy Cookie) - this hearty soup combines creamy vegetable goodness with crispy chickpeas on top for the ultimate texture-flavor combination!
Main Dishes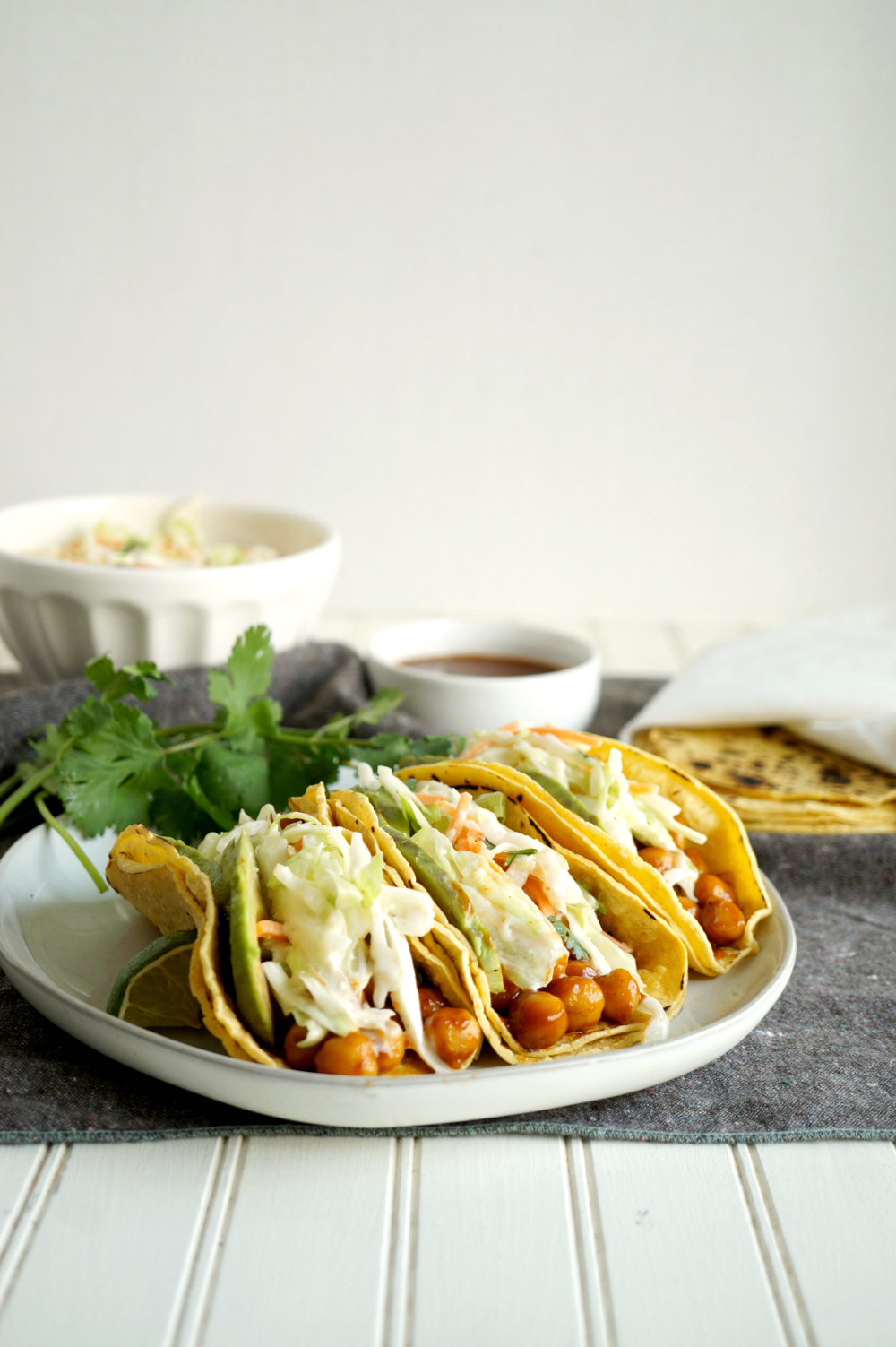 BBQ Chickpea Tacos - these tacos are one of my all time favorite easy meals! You just combine store-bought sauce and canned chickpeas for the filling, and top them with a quick homemade coleslaw. It's the perfect mix-mash of tex-mex and barbecue.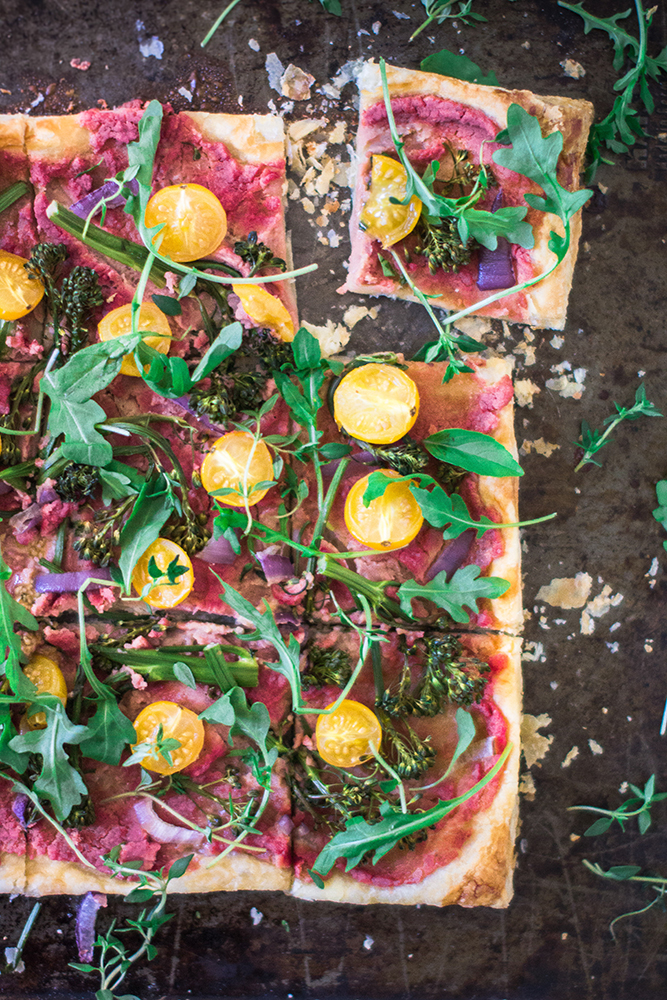 Savory Beet Hummus Tart (Plantcrush) - this gorgeous tart starts with a base of frozen puff pastry, which is then topped with simple homemade beet hummus, greens, and tomatoes for a delicious dish. This would be perfect for Easter brunch!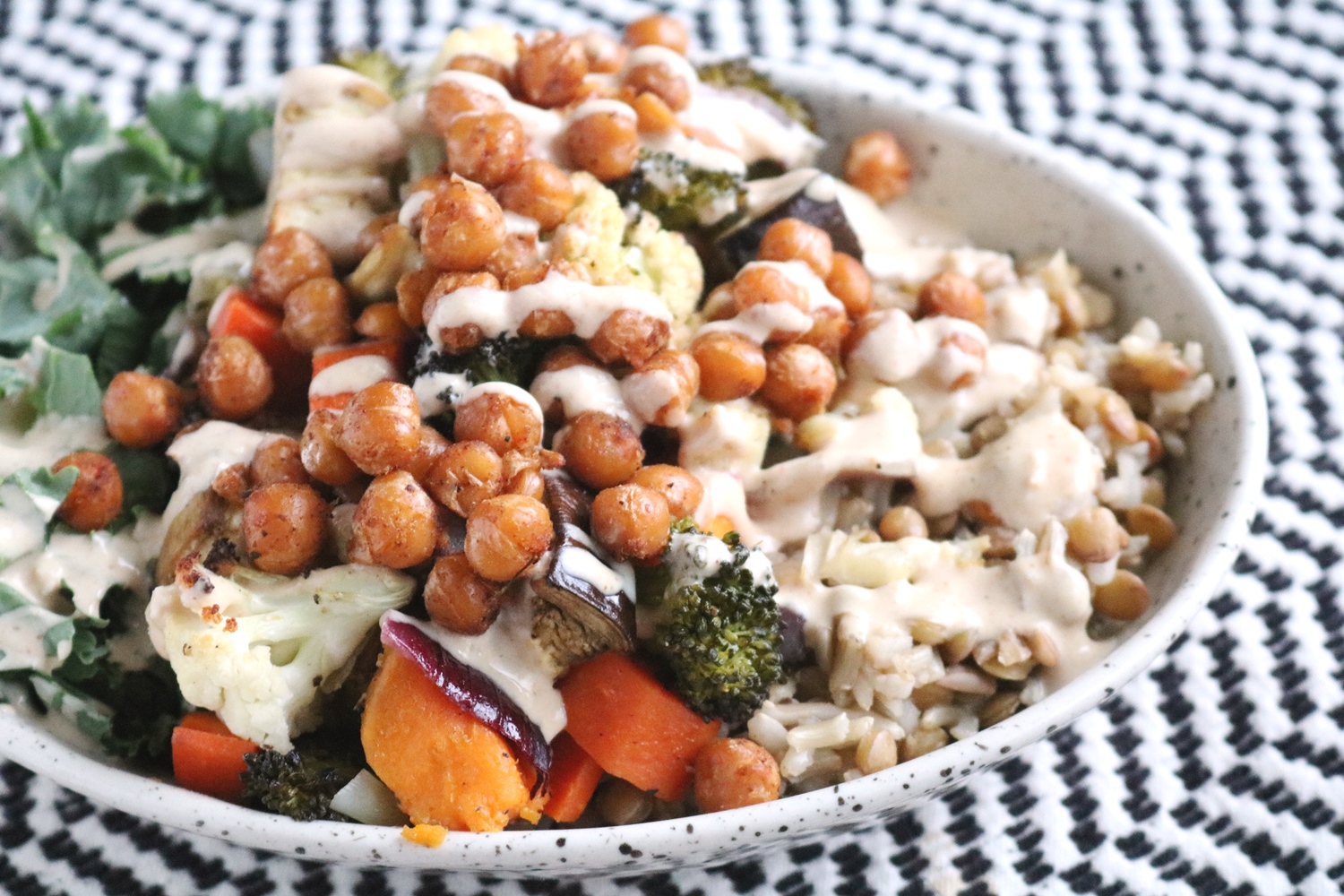 Roasted Veggie Bowls with Lemon Tahini Dressing (The Spiffy Cookie) - everyone knows roasted vegetables are the BEST vegetables! These plant based bowls are topped with a tangy lemon tahini dressing and crispy chickpeas for a delicious combination.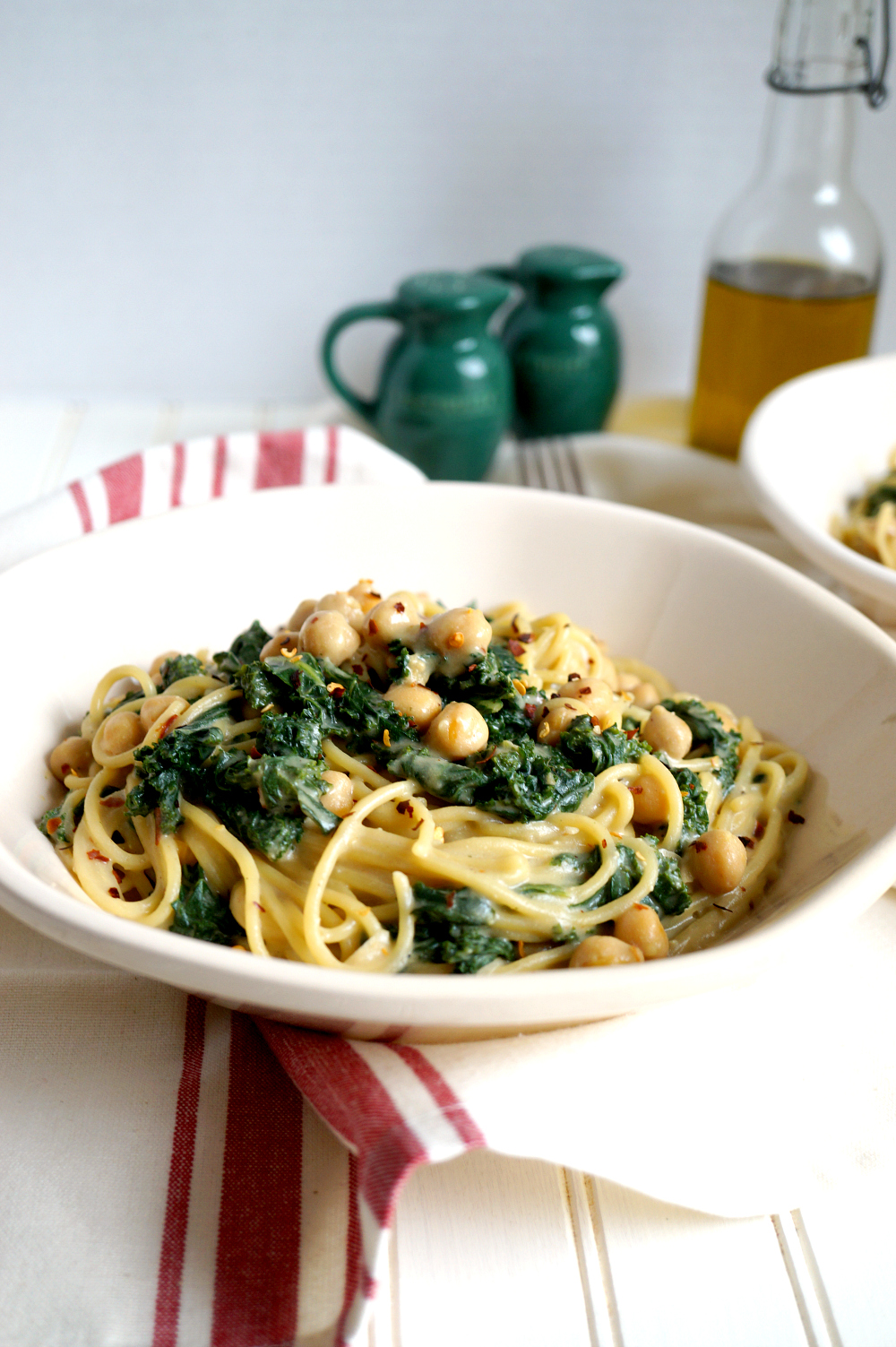 Creamy Kale and Chickpea Pasta - this creamy, rich pasta comes together in just 15 minutes and it is delicious! You can substitute the kale for any leafy green in you have in the house.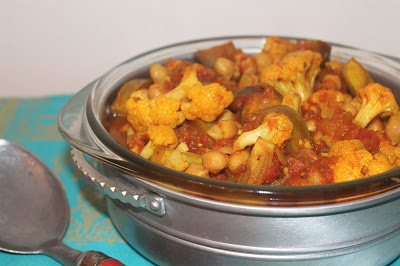 Indian Spiced Eggplant, Cauliflower, and Chickpeas (Savory Moments) - this easy curry-inspired stew combines whatever veggies you have in the house with saucy tomatoes and chickpeas for a great dinner. Just serve with some rice and naan!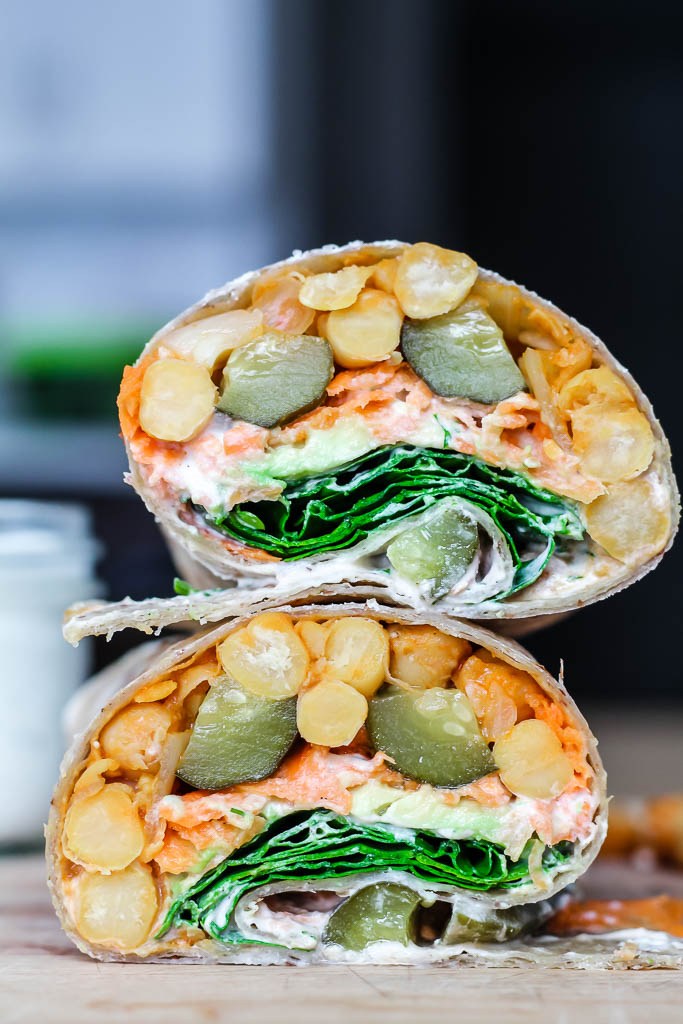 Vegan Buffalo Chickpea Wraps with Cashew Ranch (Up Beet Kitchen) - don't these wraps sound amazing?! Combine spicy chickpeas with a creamy homemade cashew ranch and fresh veggies for a delicious meal.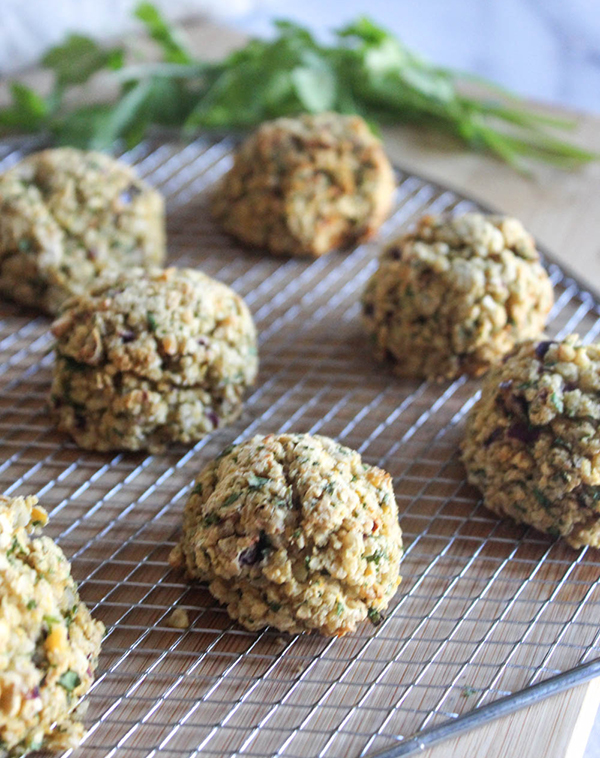 Easy Falafel (Simple & Savory) - these falafel are simple, delicious, and naturally vegan. You can make them in the air fryer or the oven for crispy, savory perfection!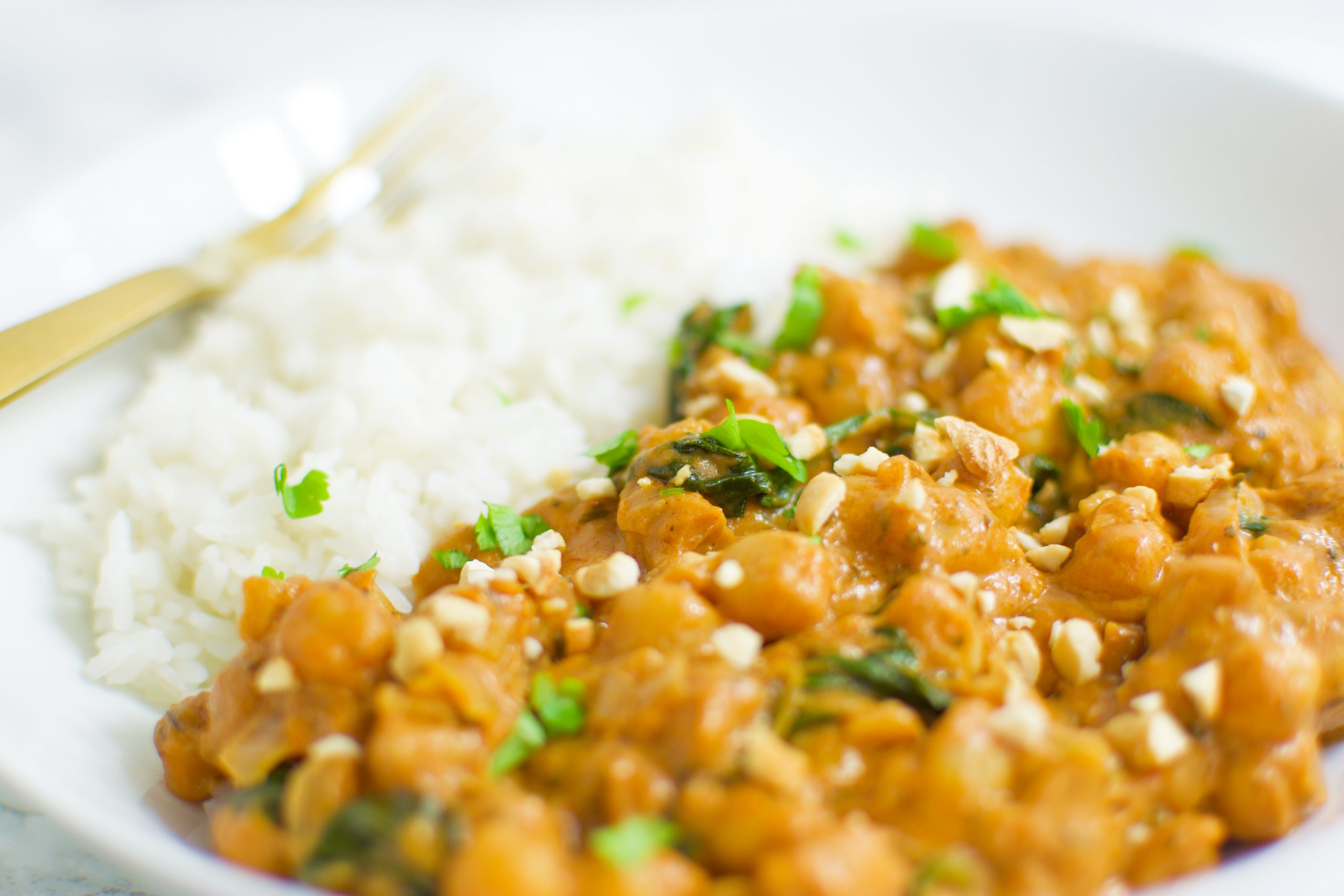 Chickpea Peanut Stew (I Can You Can Vegan) - this dish is rich, hearty, and satisfying! Nobody will be asking "Where's the meat?" after they eat this deliciousness. Canned chickpeas are combined with creamy peanut butter, spices, and fresh lime juice to create a tasty, easy meal.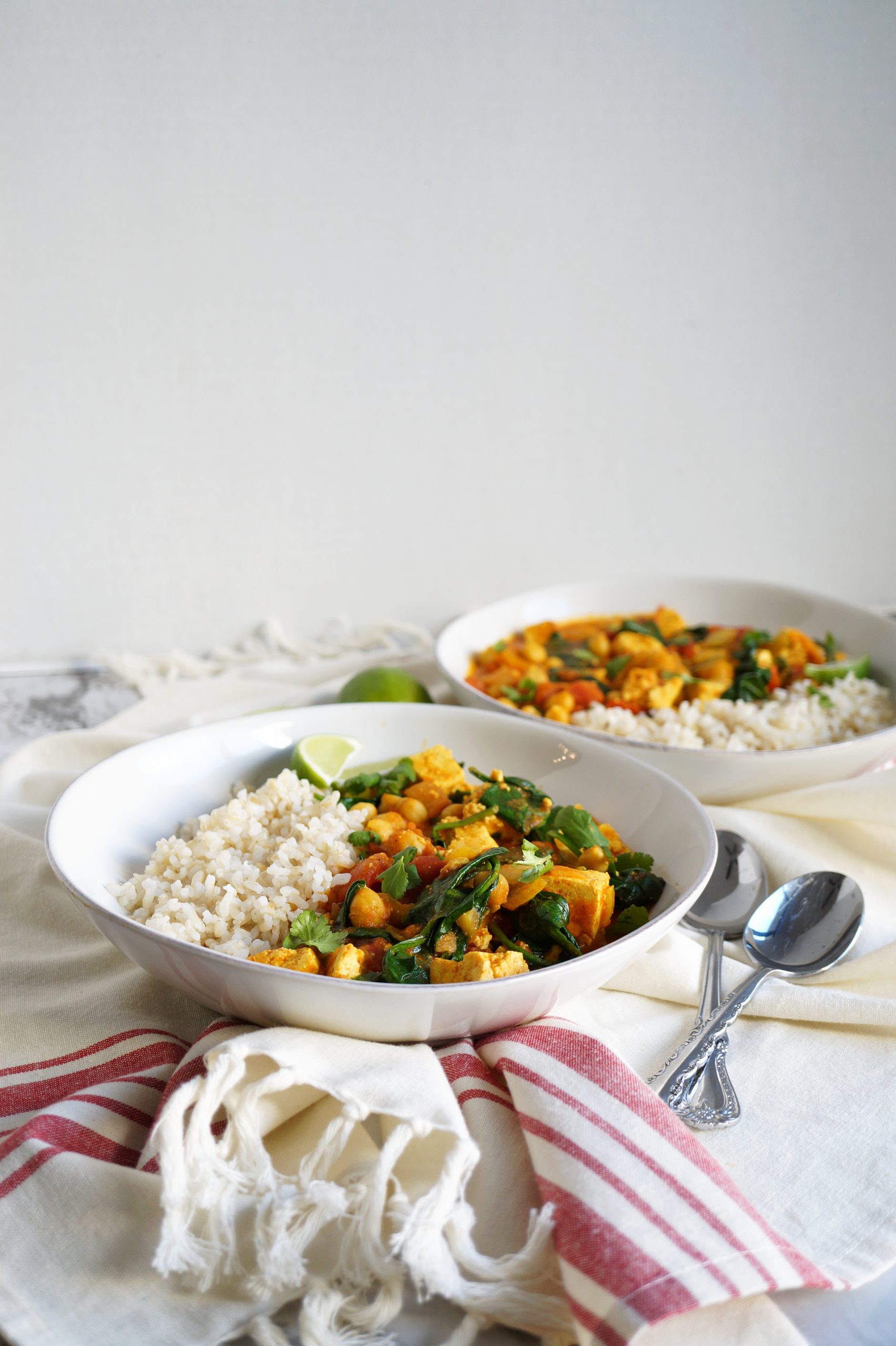 Vegan Chickpea Curry with Tofu and Spinach- this is new on the blog but an old favorite in my house! This simple curry combines canned chickpeas and diced tomatoes with coconut milk for a super easy Indian-inspired dish. I like adding tofu and spinach to bulk it up, but you can add in whatever you like!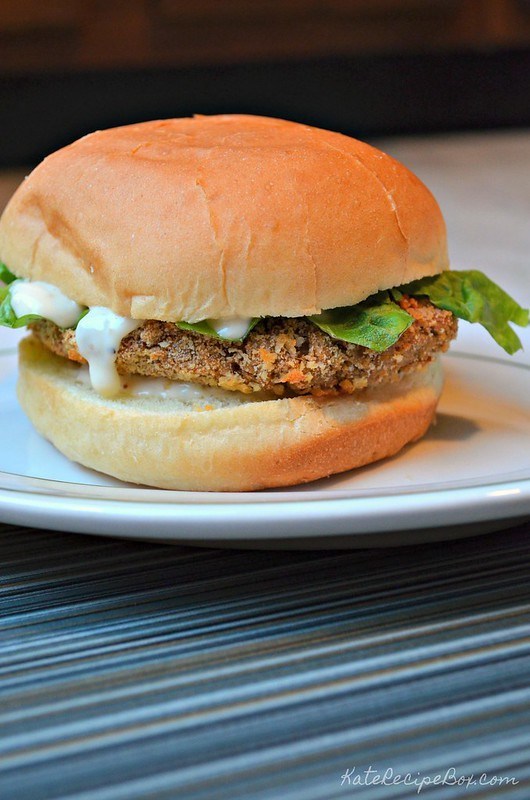 Chickpea Caesar Sandwiches (Kate's Recipe Box) - I love the idea of turning the chickpeas into crispy patties! They're then topped with some creamy Caesar dressing for an extra does of deliciousness.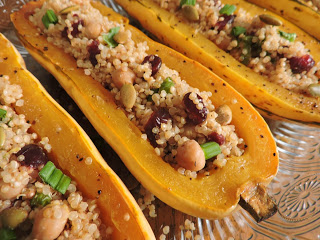 Quinoa Stuffed Squash Boats (Jolene's Recipe Journal) - these tasty delicata squash boats are filled with chickpeas, quinoa, pumpkin seeds and cranberries for a seriously tasty fall-inspired dish!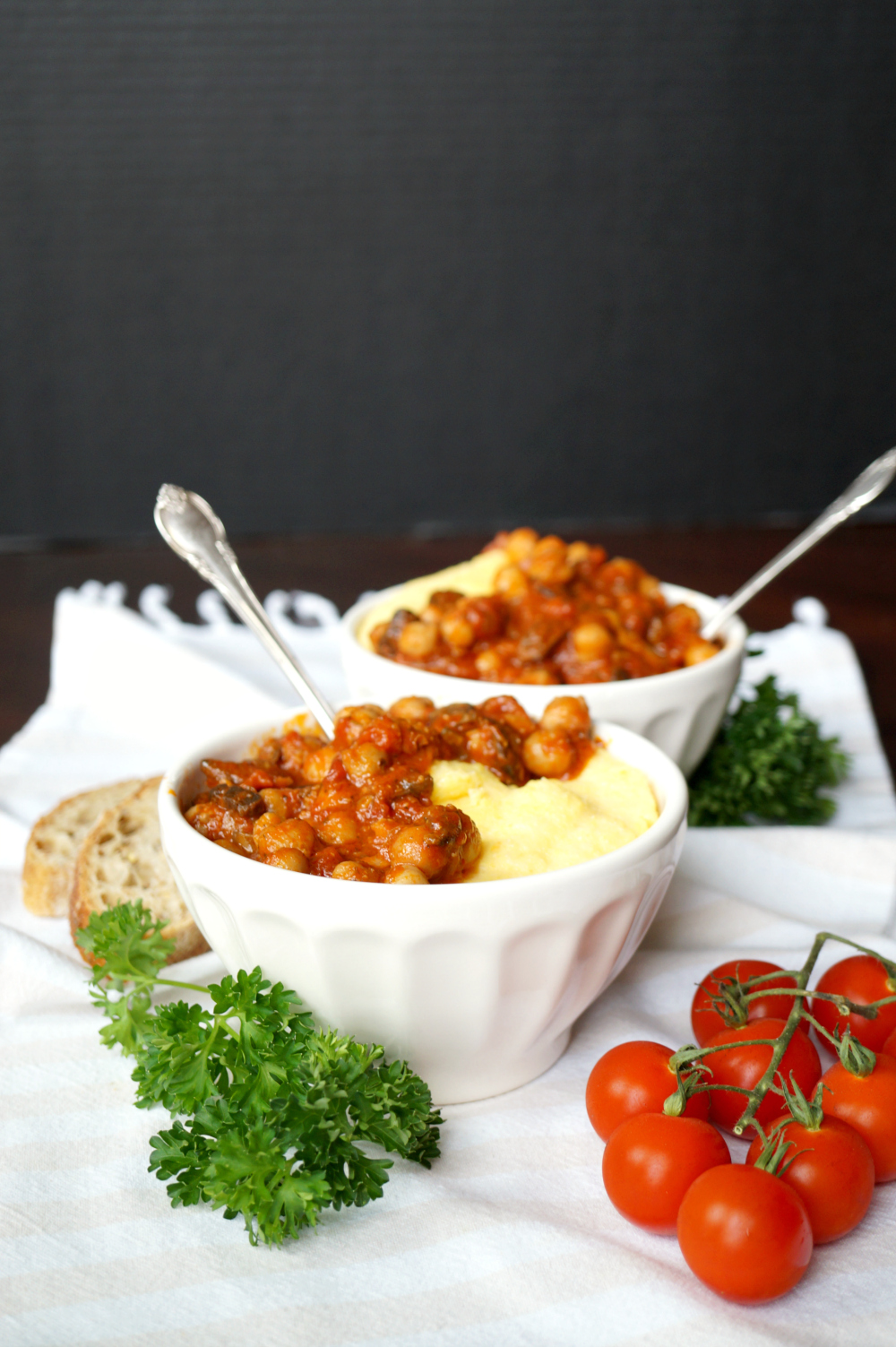 Vegan Chickpea, Tomato, and Mushroom Stew with Polenta  - this is another old favorite that is super pantry-friendly! Canned chickpeas and canned tomatoes are combined with fresh mushrooms (if you have them) and served over creamy, rich polenta for a hearty meal.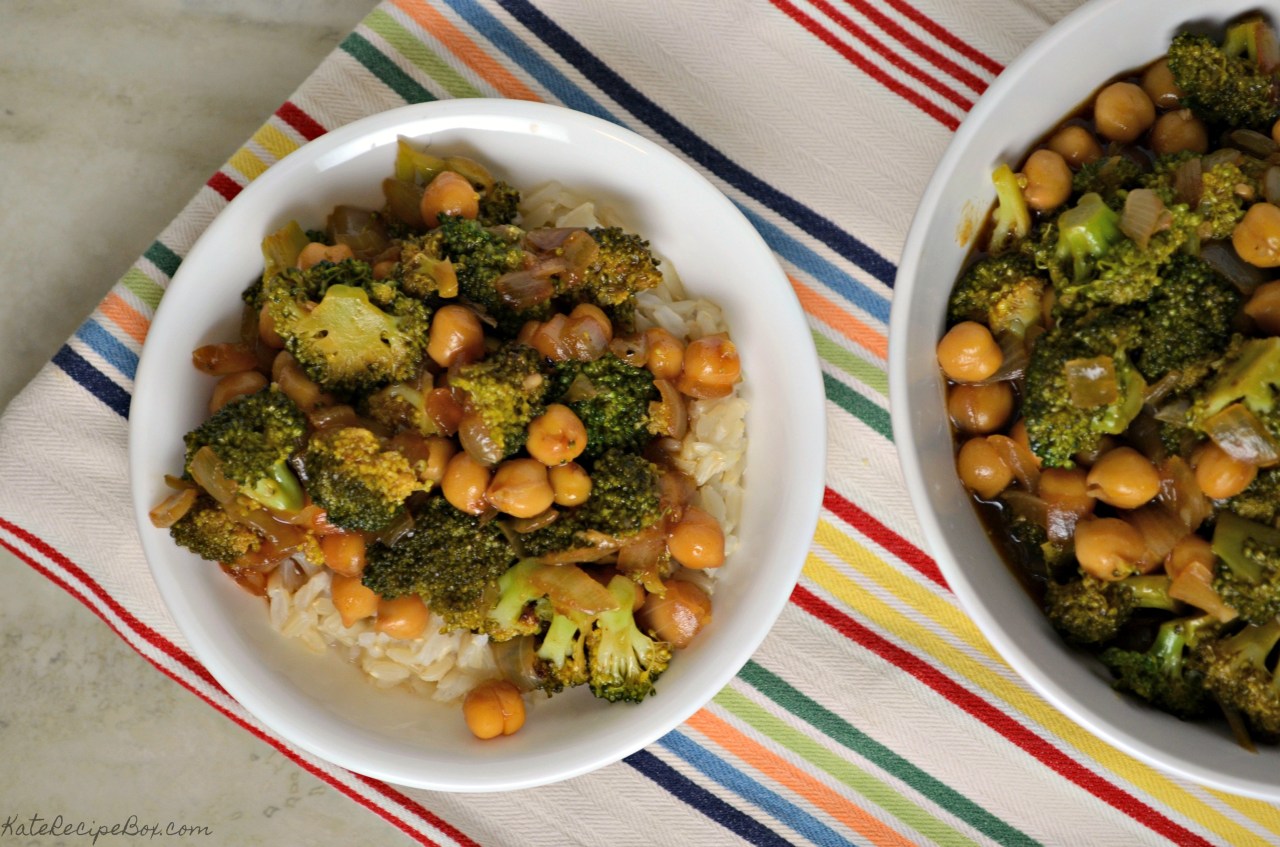 Chickpea & Broccoli Stir Fry (Kate's Recipe Box) - garbanzo beans and broccoli come together in a sweet and savory sauce for a homemade takeout option! Serve over rice for a complete meal.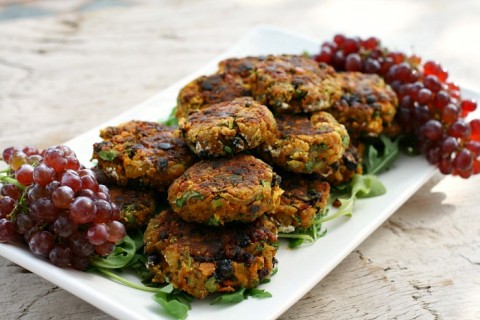 Vegetarian Chickpea, Carrot, Cilantro, Curry Burgers (ShockinglyDelicious) - these veggie patties combine canned chickpeas and chickpea flour with Indian-inspired spices for a delicious meatless burger!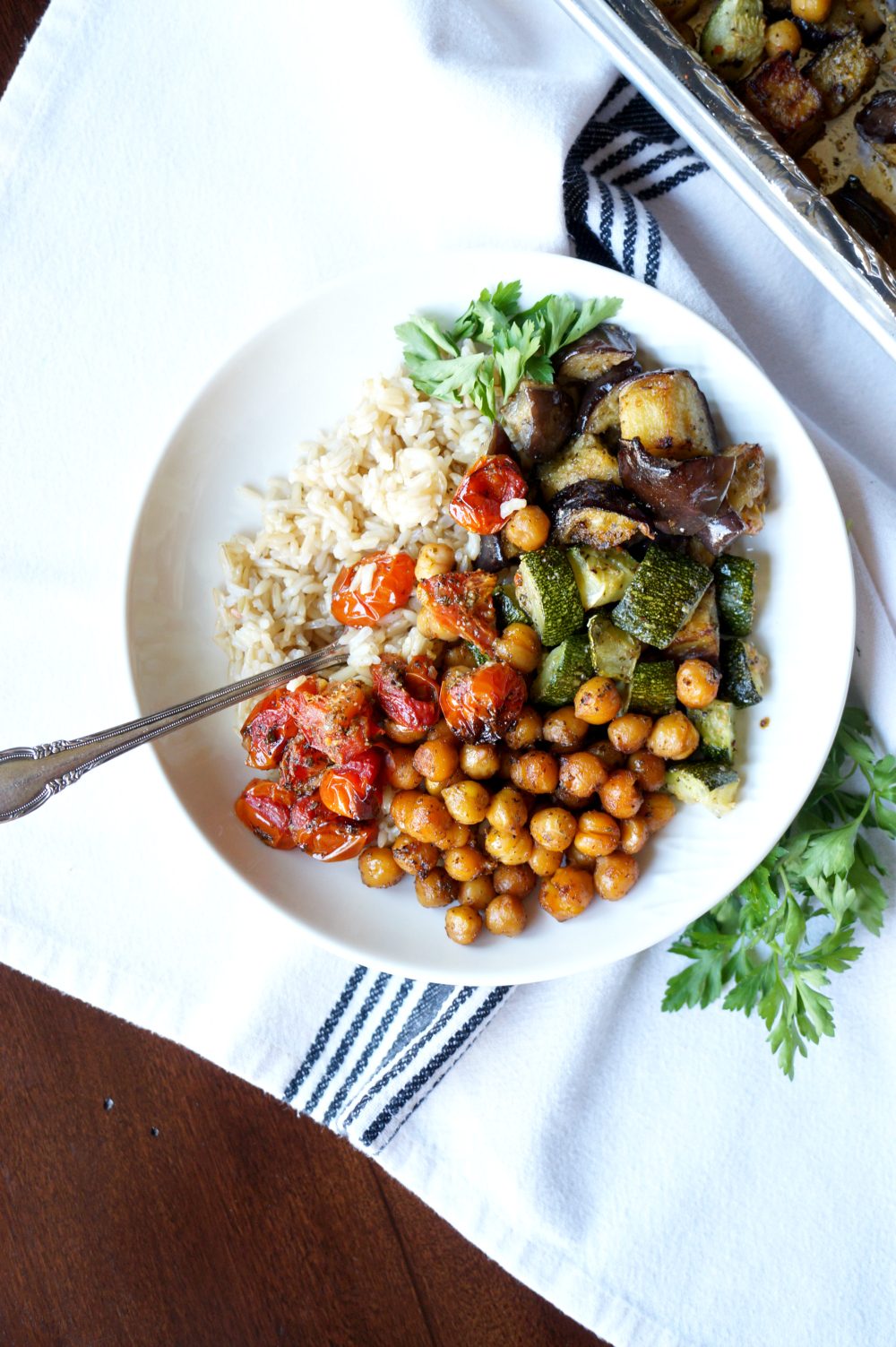 Vegan Roasted Ratatouille Bowls - this laid back take on the classic French dish cooks fresh vegetables and chickpeas with olive oil and herbs until perfectly caramelized, crispy, and melt-in-your-mouth. This is a simple one but don't sleep on it!
Desserts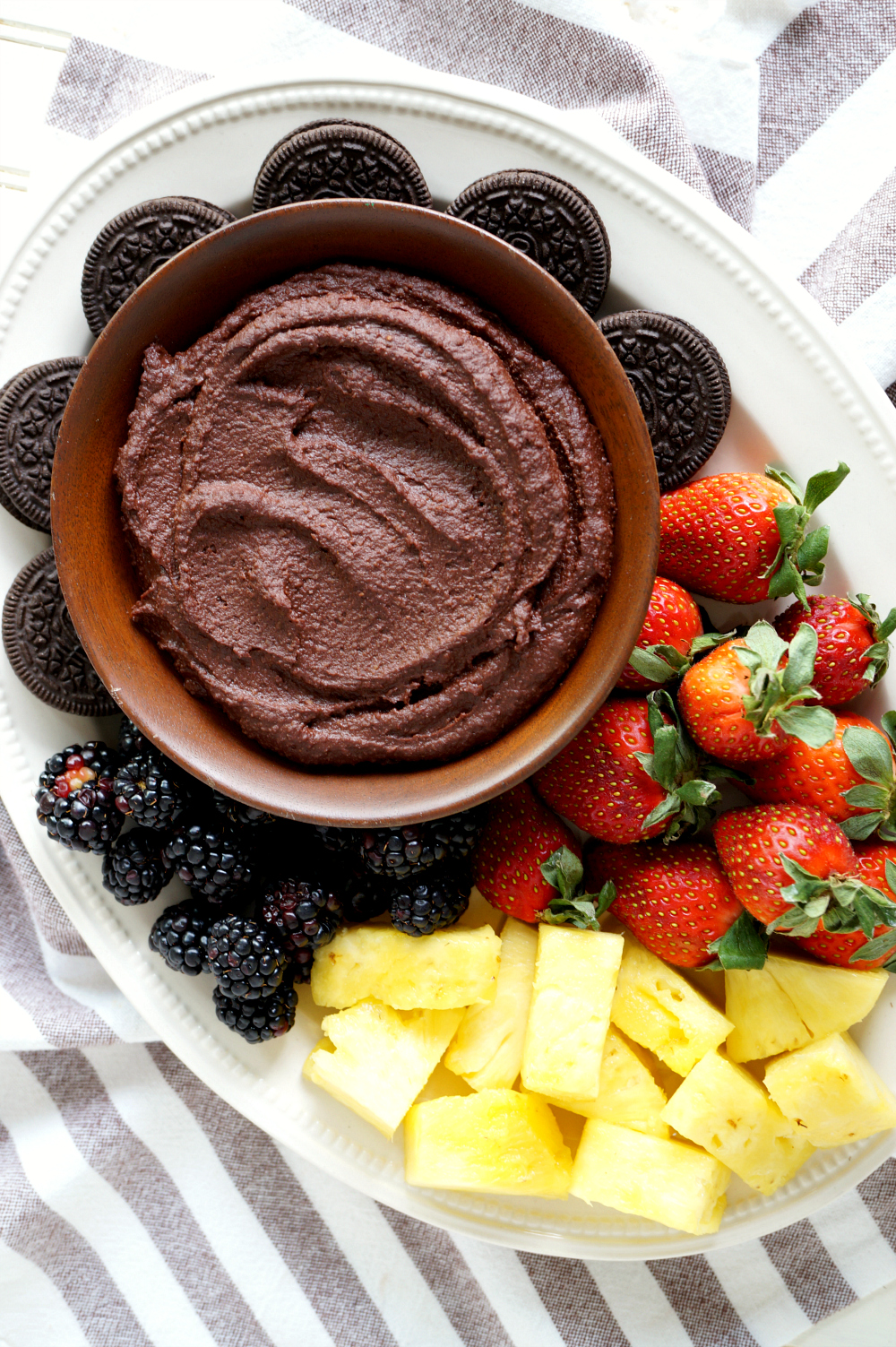 Chocolate Peanut Butter Dessert Hummus - if you're getting tired of the savory stuff, don't forget about dessert hummus! I promise you can't taste the chickpeas in here - this stuff tastes like brownie batter!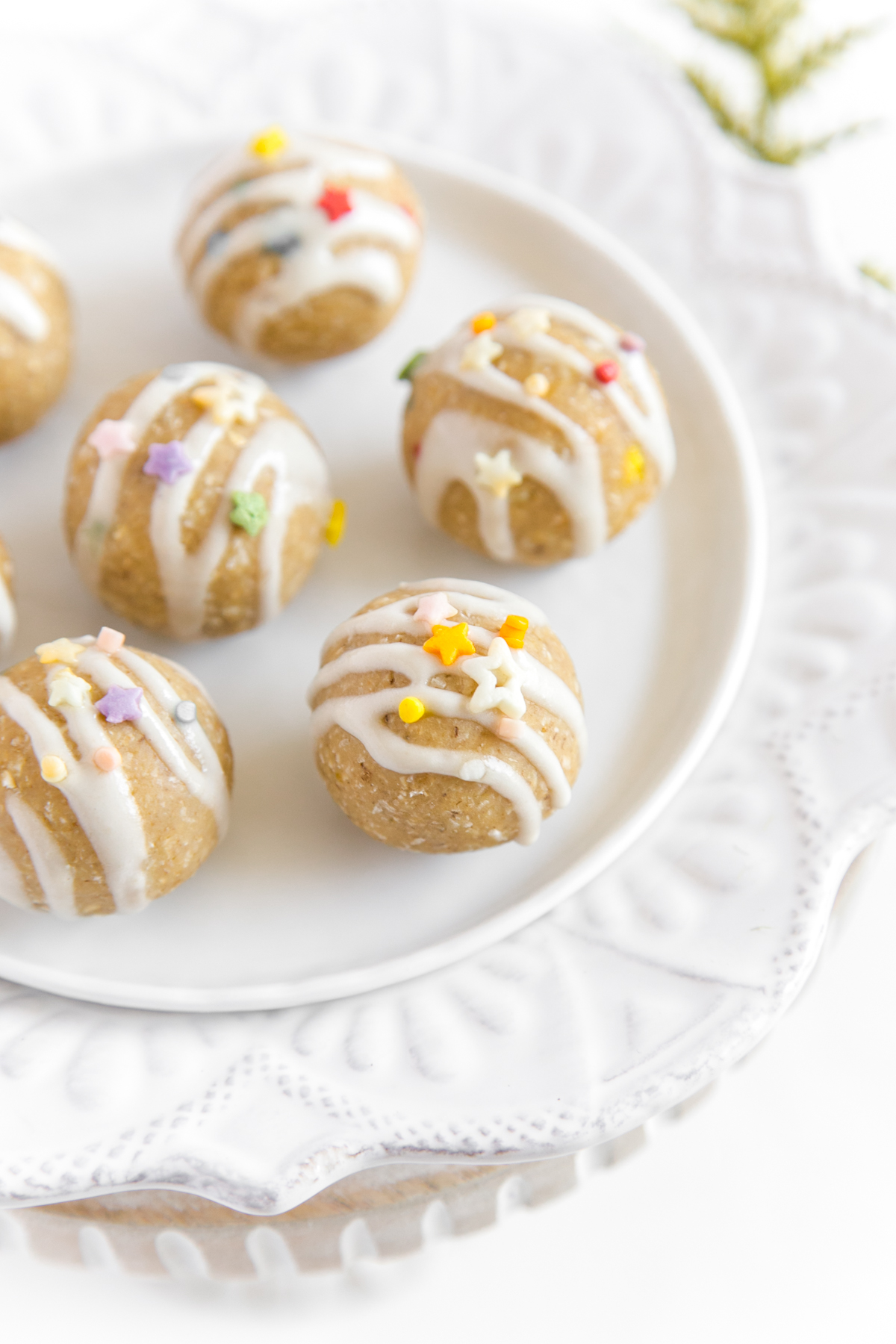 No-Bake Birthday Cake Bites (The Plant Philosophy) - you already know the secret ingredient in these sweet bites - chickpeas! They get blended up in the food processor with oats, coconut, maple syrup, and some other ingredients for a deceivingly healthy treat.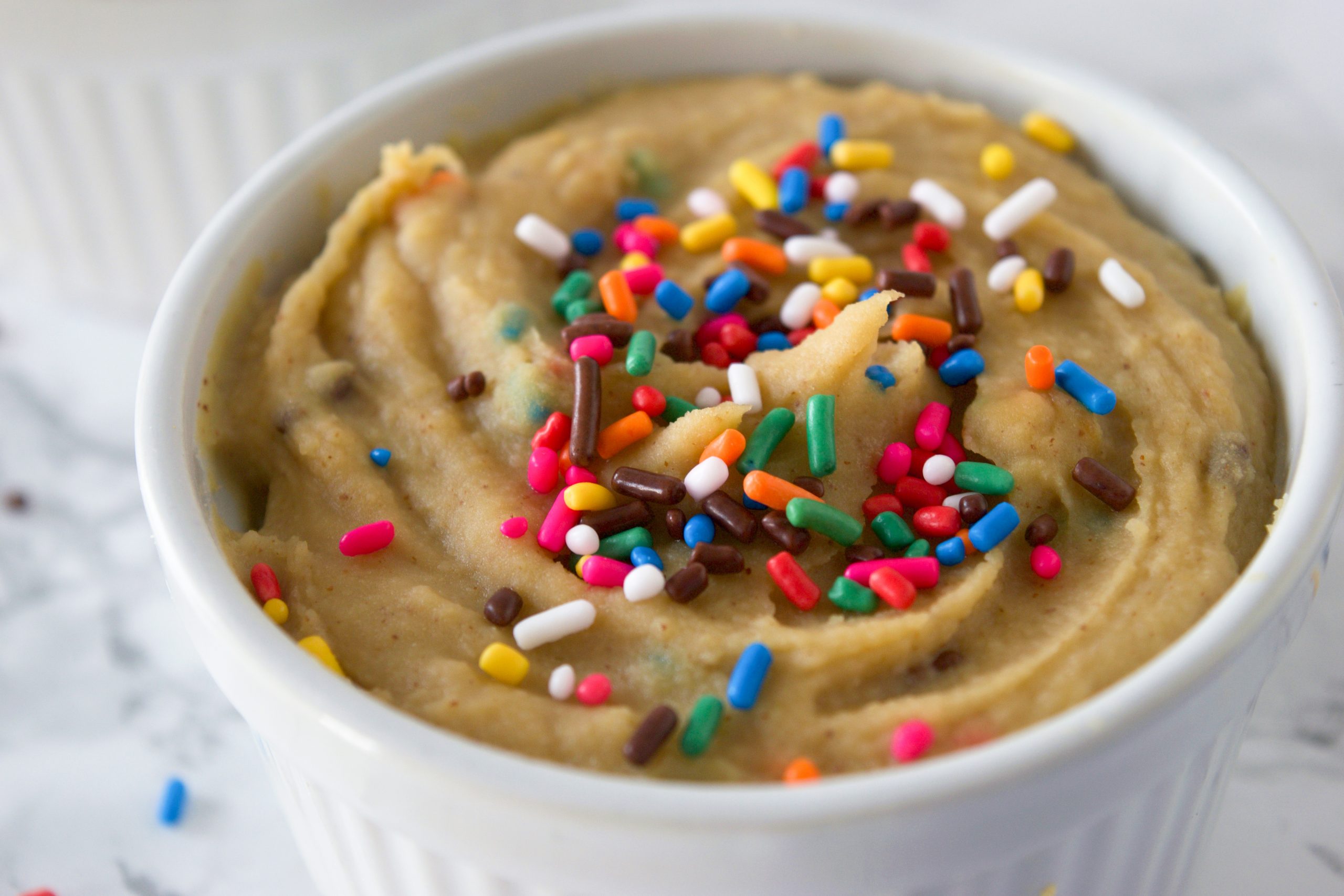 Cake Batter Dessert Hummus (I Can You Can Vegan) - if you're not into chocolate, then this cake batter hummus may be more your speed! Super simple to make, guilt-free, and delicious.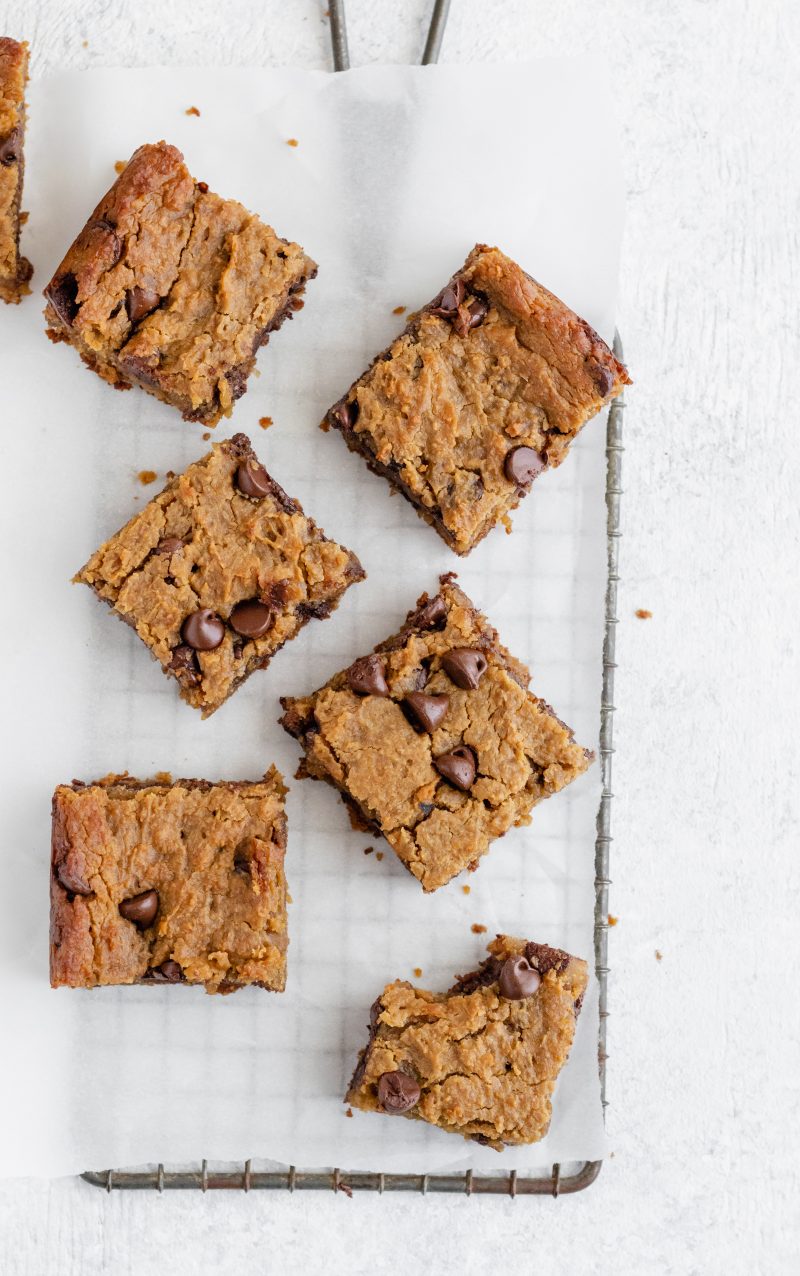 Flourless Chocolate Chip Chickpea Blondies (Ambitious Kitchen) - don't these blondies look decadent?! You'd never guess that they were vegan, gluten free, and secretly healthy. Chickpeas are combined with some pantry staples to make these tasty treats!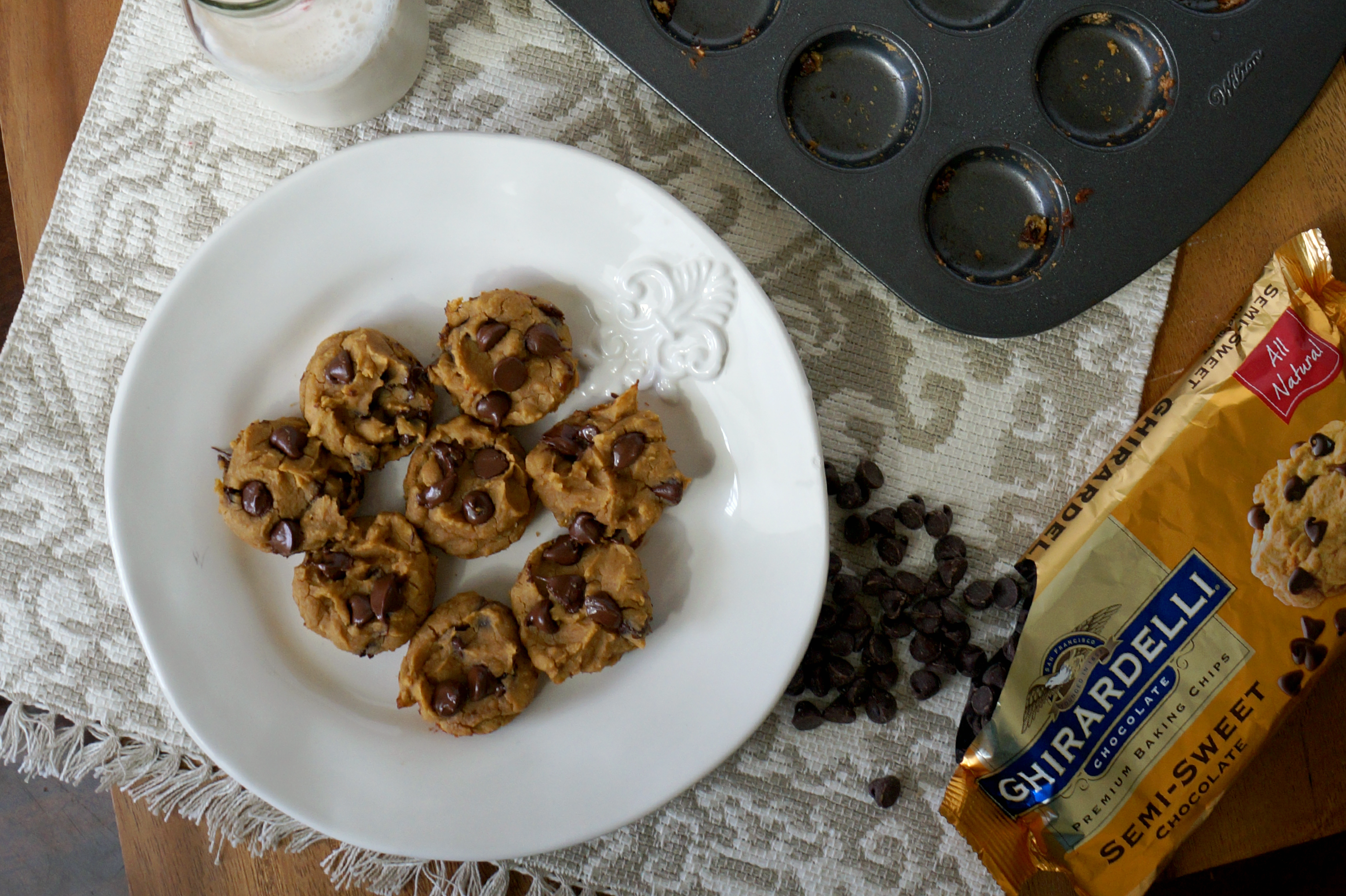 Peanut Butter Chickpea Chocolate Chip Cookies - this recipe might be "vintage" but it's still delicious! Sneak in some extra veggies by making cookies with chickpeas in the dough. As a bonus, these are vegan AND gluten free!
BONUS- Aquafaba recipes
If you're using all those canned chickpeas, be sure to save the liquid! It is called aquafaba - it's basically liquid gold in vegan baking. It works perfectly as an egg replacer! Here are some of my favorite aquafaba recipes...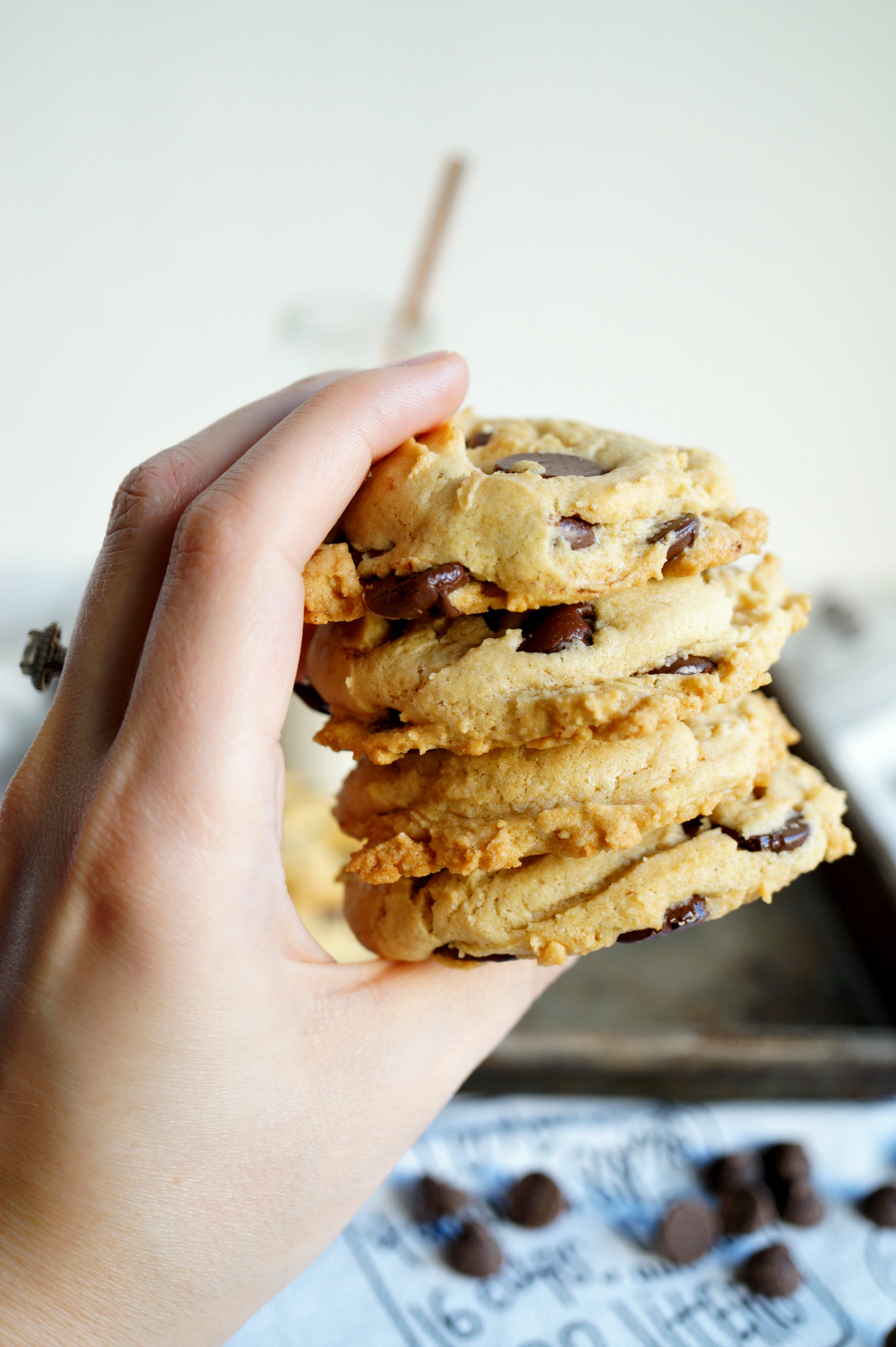 The Perfect Vegan Chocolate Chip Cookies - oh, I just love these so much. Perfectly chewy-gooey in the middle and crisp at the edges. The recipe goes like a traditional CCC recipe, you just replace the egg with some aquafaba and use vegan butter!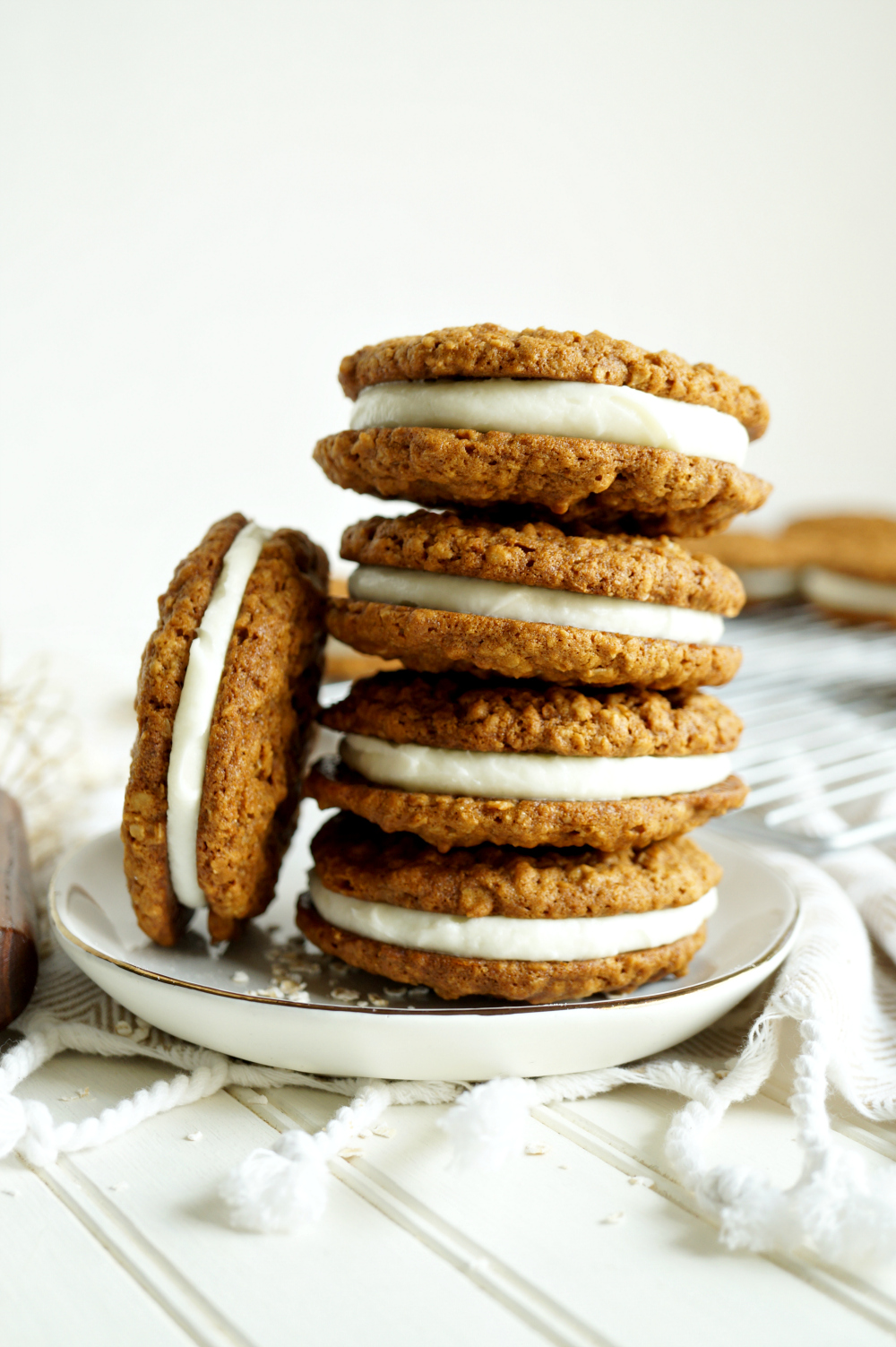 Vegan Oatmeal Creme Pies - hello, nostalgia! These perfectly fluffy, spiced oatmeal cookies also require aquafaba to achieve that perfect chewy edge.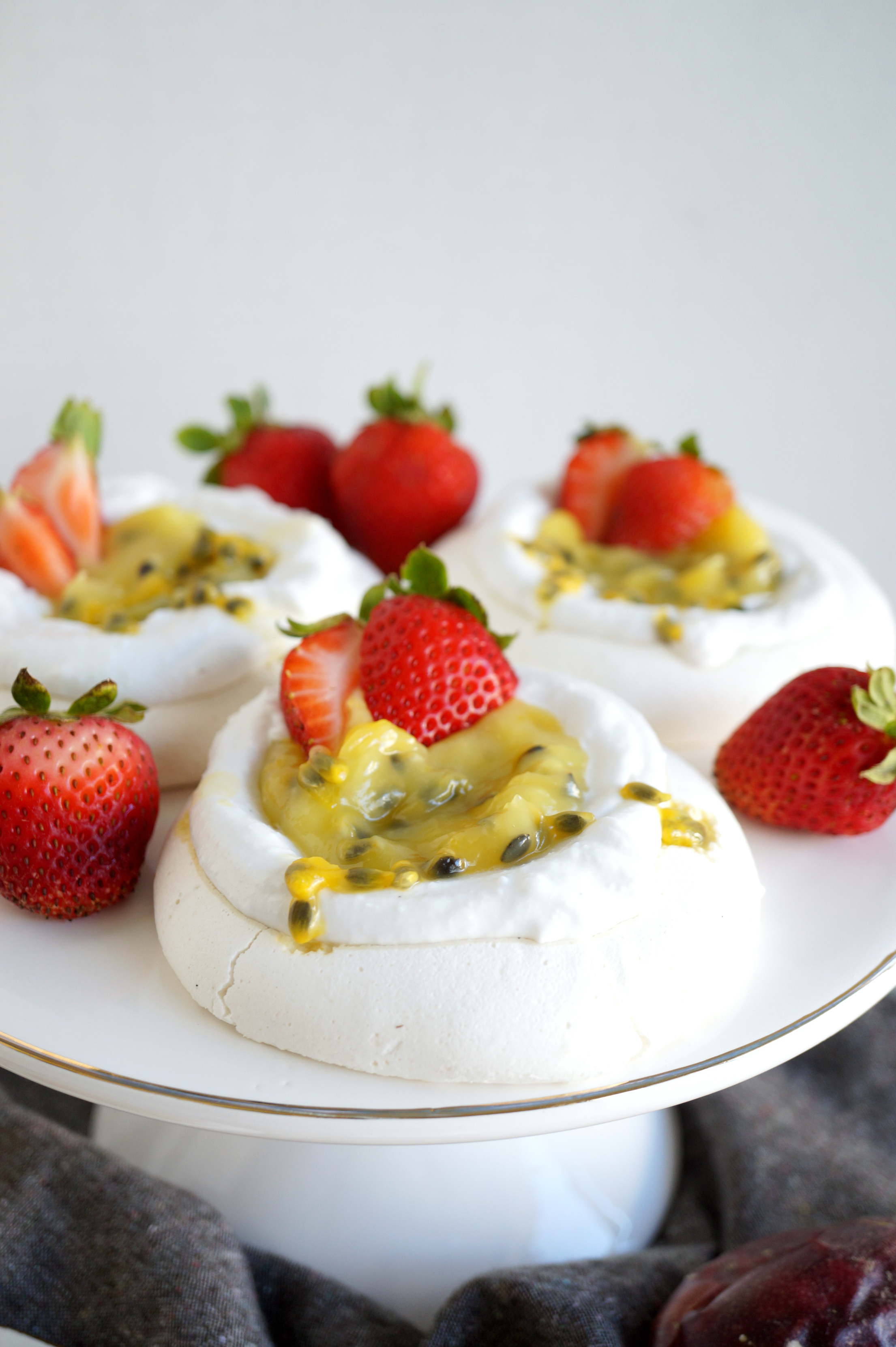 Mini Vegan Pavlovas - these are great if you have a lot of free time (who doesn't, right now?) and numerous cans of chickpeas. In this case, the aquafaba has to be cooked and reduced on a low simmer until it thickens, so this requires a few cans' worth of brine to work. Totally worth it, though!