This really is the easiest Vegan Chocolate Cake you'll ever make! It uses simple pantry ingredients, comes together in just a few minutes, but tastes rich and decadent. You don't need eggs, butter, or any special equipment to make it. Once you try it, you'll never go back!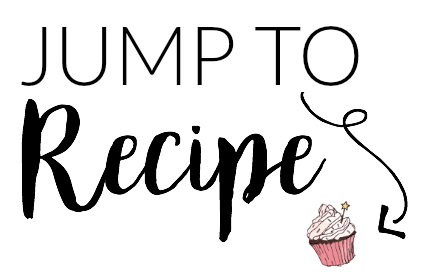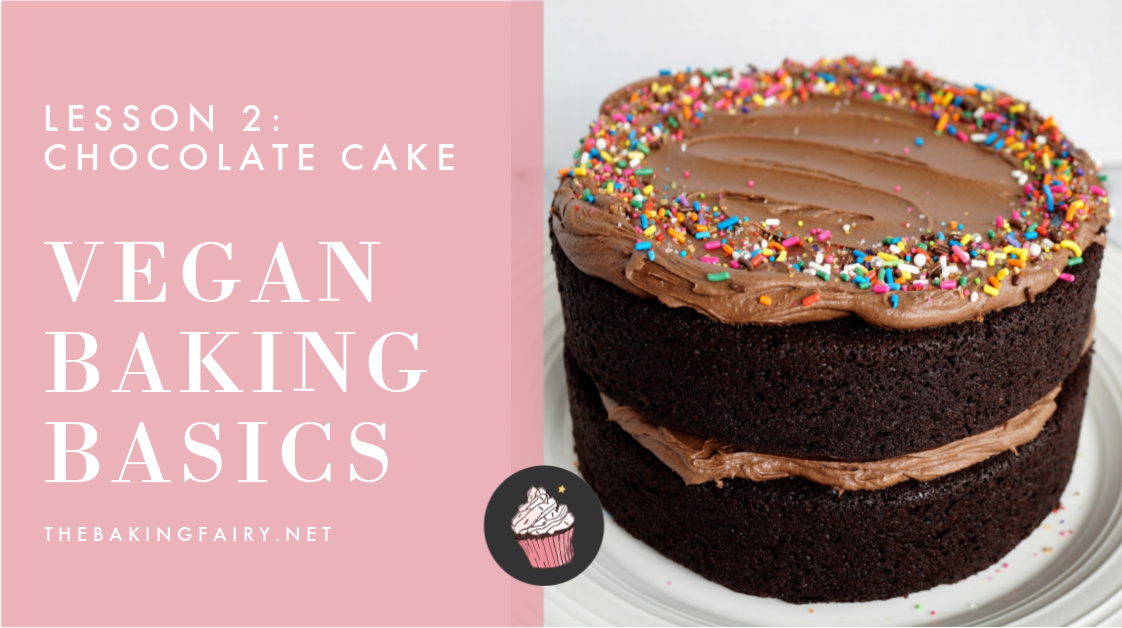 Hello dear followers and happy Friday! Today, I am sharing Lesson 2 of Vegan Baking Basics! I am so excited to be sharing this recipe for Easy Chocolate Cake, as it is absolutely delicious, super simple, and one of my all-time favorites. If you need a quick chocolate cake that is made with basic pantry ingredients and is GUARANTEED to taste delicious, I got you! Once you try this chocolate cake recipe, you will never go back.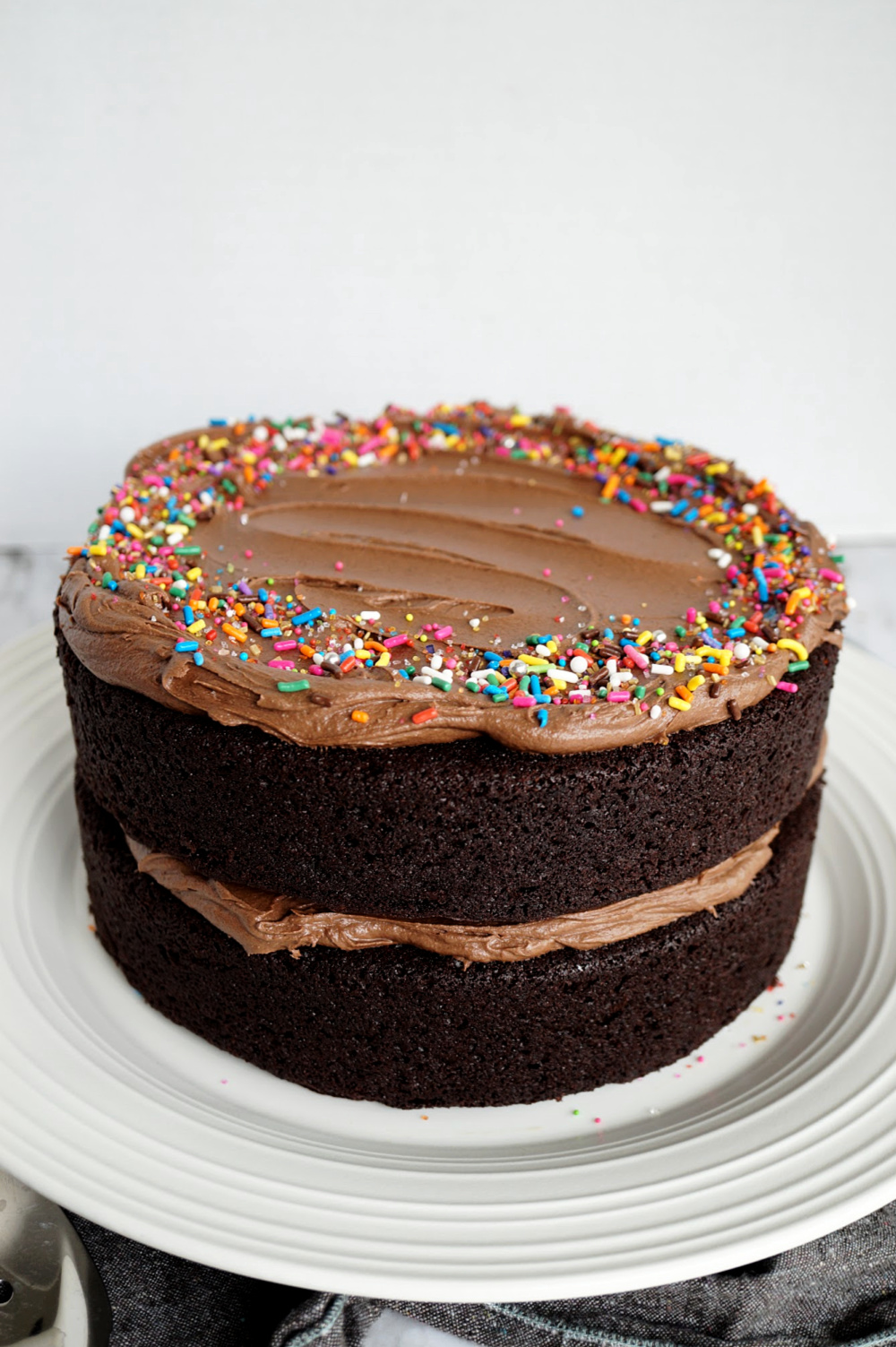 Once I share with you how MANY recipes on my website are secretly this basic chocolate cake recipe... your mind is gonna be blown. I know chocolate cake doesn't sound super versatile, but this baby really can do it all. Ready?
What can I make with this Easy Chocolate Cake recipe?
Umm... yeah. Pretty impressive, right?! And honestly I'm probably forgetting some, too. The only difference between all of these cakes is (1) the pan they are baked in, (2) the kind of frosting I put on them, (3) how I decorate the resulting dessert. In a couple of them (the turtle cake, peanut butter cupcakes, and Oreo cupcakes) I also added a mix-in into the batter to change it up a little more. But this is truly the core of the Vegan Baking Basics concept... once you have a recipe that you KNOW won't let you down, you can have fun with it and create new desserts!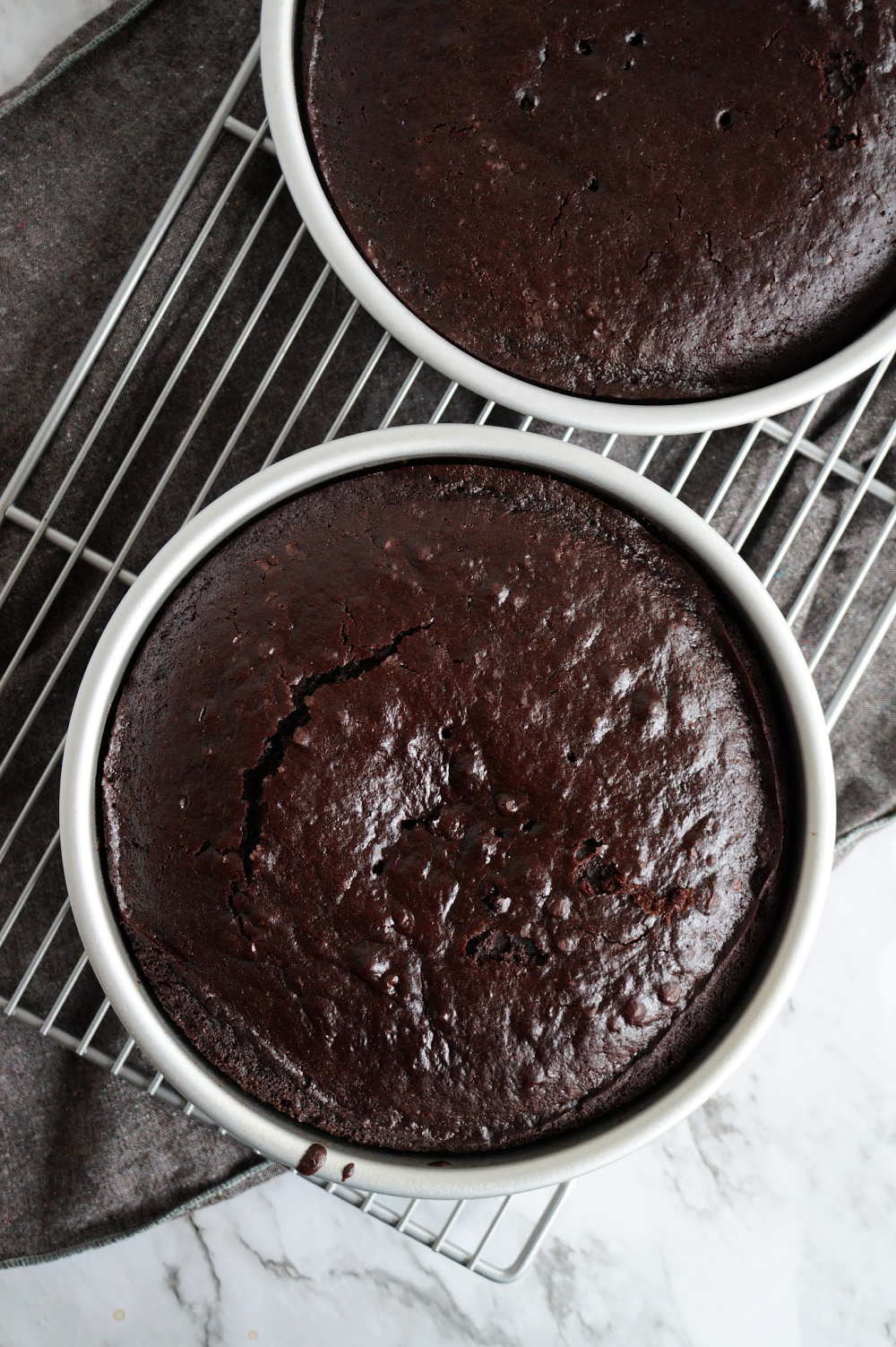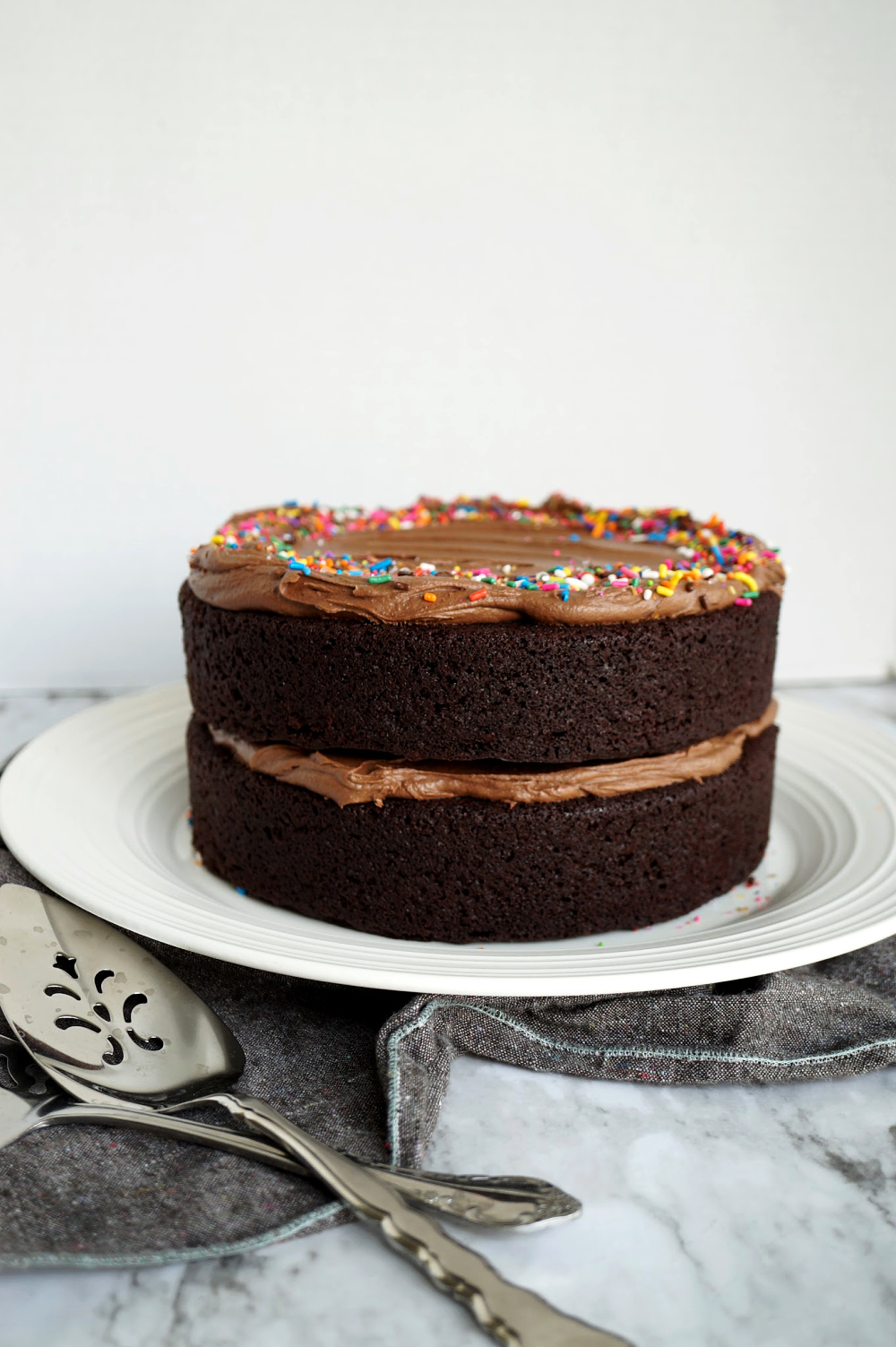 What do I need to make vegan chocolate cake?
This ingredient line-up is SUPER basic, friends! Even right now when you have no eggs and no butter, I am almost 100% certain you have everything you need right in your pantry!
White granulated sugar - literally just... plain sugar. Some readers have also used coconut sugar with good results. Brown sugar will do as well if that is all you have!
Cocoa powder - any type will do! I have tried everything from super fancy Dutch process to cheap-o Aldi store brand and honestly, everything works. Don't worry yourself about finding a specific kind.
Baking powder, baking soda, and salt
Vegetable oil - I usually just use cheap vegetable oil, but you can also use canola oil, sunflower oil, melted coconut oil, melted vegan butter, mild olive oil... seriously, whatever you have WORKS!
Non-dairy milk - again, anything you have at home is fine. I usually do unsweetened almond milk or cashew milk since that is what I tend to have in the house. If you use a sweetened milk, you may need to dial back the sugar a small bit. You can also use vanilla flavored milk, it won't make a big difference!
The most important ingredient of all: WHITE VINEGAR! Yes, the humble, cheap white salad vinegar is truly the secret ingredient that helps this cake work. You may have noticed there is no sort of egg replacer in this line-up. This is because we use the vinegar as a reagent to the baking powder and baking soda to make our cake super light and fluffy! I talk about this briefly in the video as well, but you can substitute apple cider vinegar VERY CAUTIOUSLY. I would halve the amount of vinegar you use. Any time I have tried using ACV, my cakes pour over the sides of the pans and onto the bottom of the oven. Like, science fair volcano style. Every single time!
For topping: you can either make frosting, or simply sprinkle powdered sugar on top! For this recipe, I made the frosting from lesson 1, but added some cocoa powder to turn it into chocolate frosting. I did also add a splash of nondairy milk to help it all come together.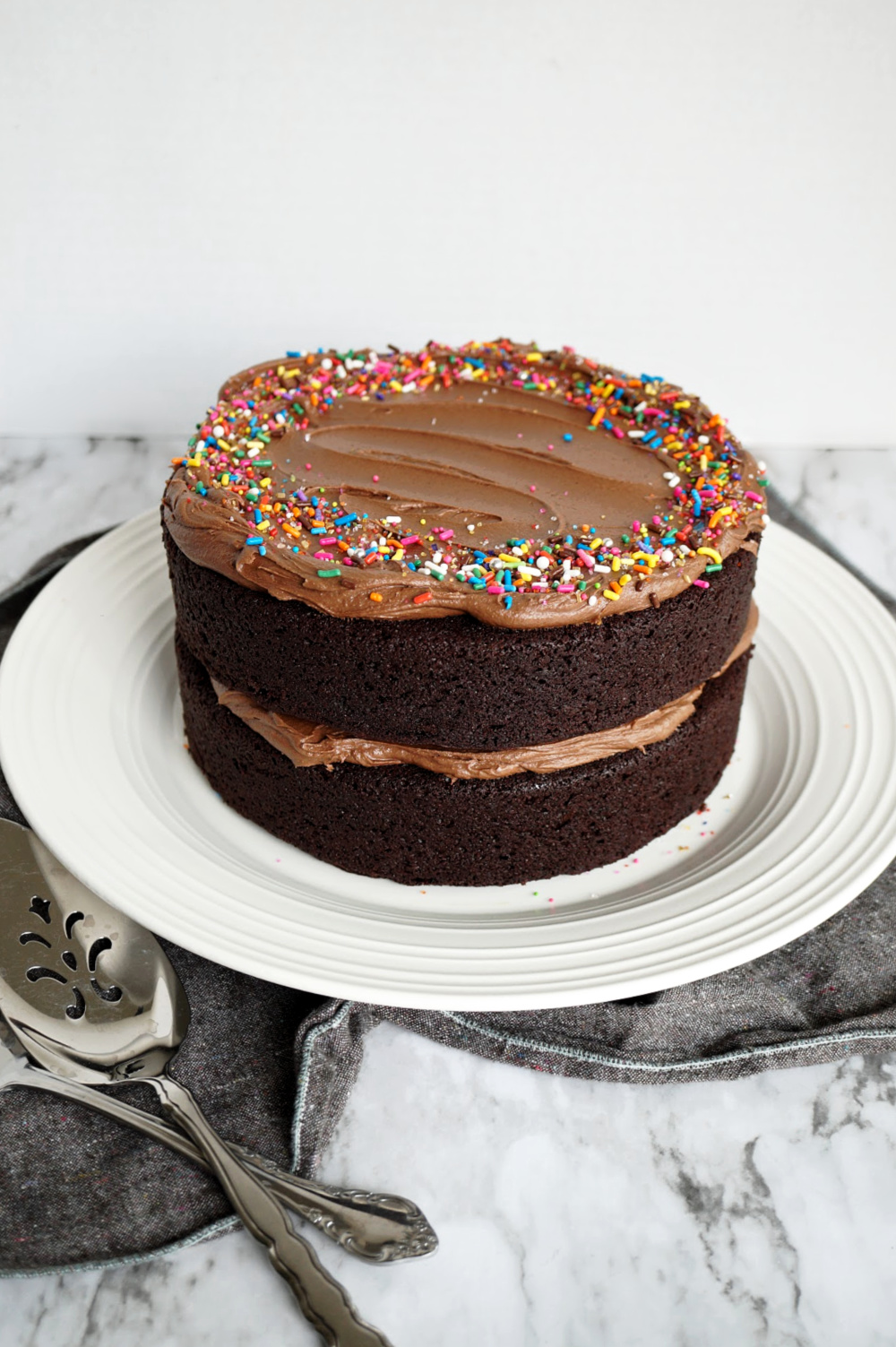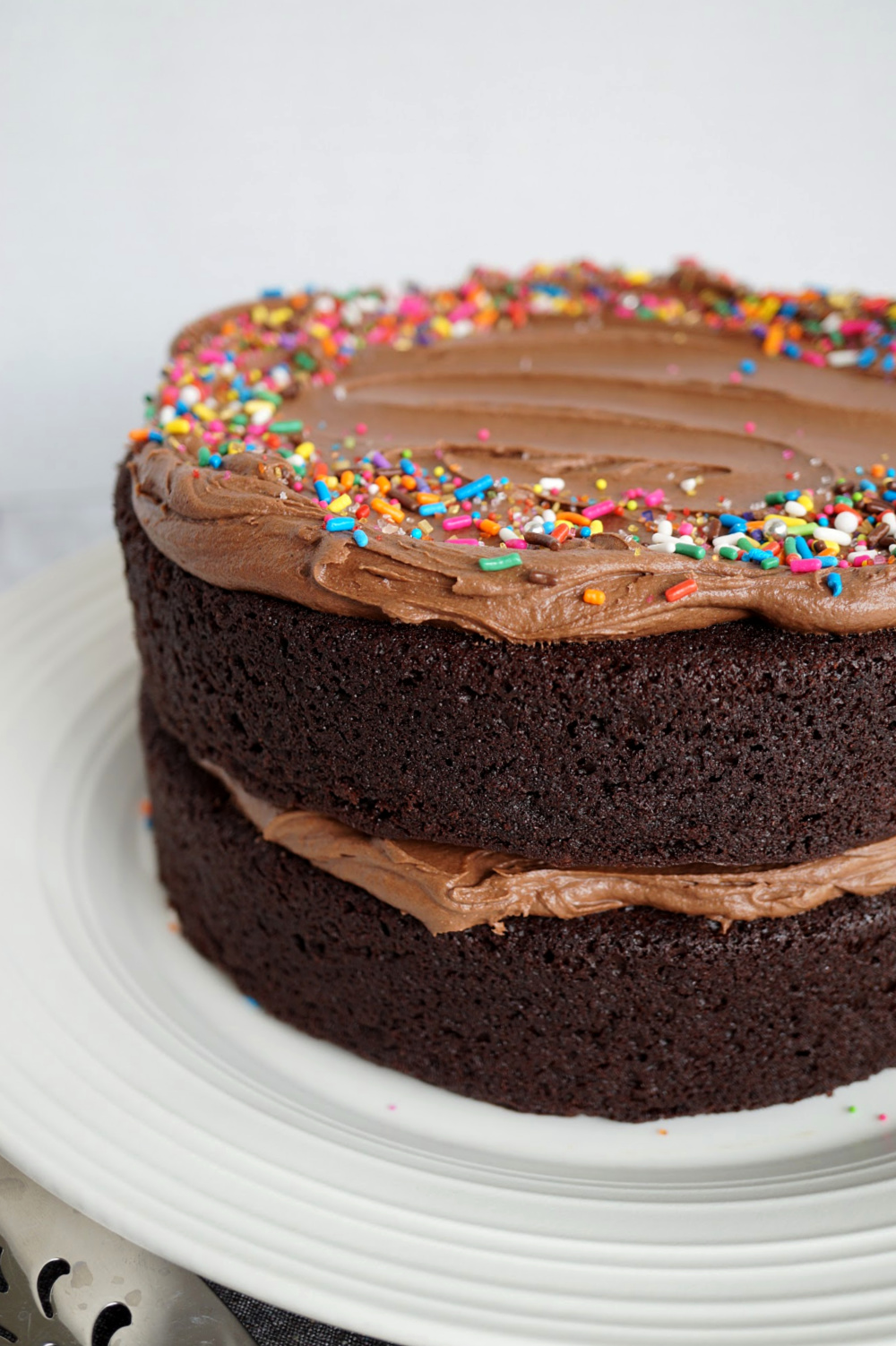 So, was I right? Do you have everything you need right at home? That's what I thought! The process to make this cake is even easier, if you can believe it. Start by mixing up the dry ingredients in a big bowl. Then add the wet ingredients. Mix to combine. And you are done!! Now you just have to bake it, which is super simple as well. For this recipe, I split my batter into two 8" round pans, but you can make this into two 6" inch pans (for my signature mini layer cake look), cupcakes, bundt cake, even a loaf pan. Seriously, this cake is hard to mess up.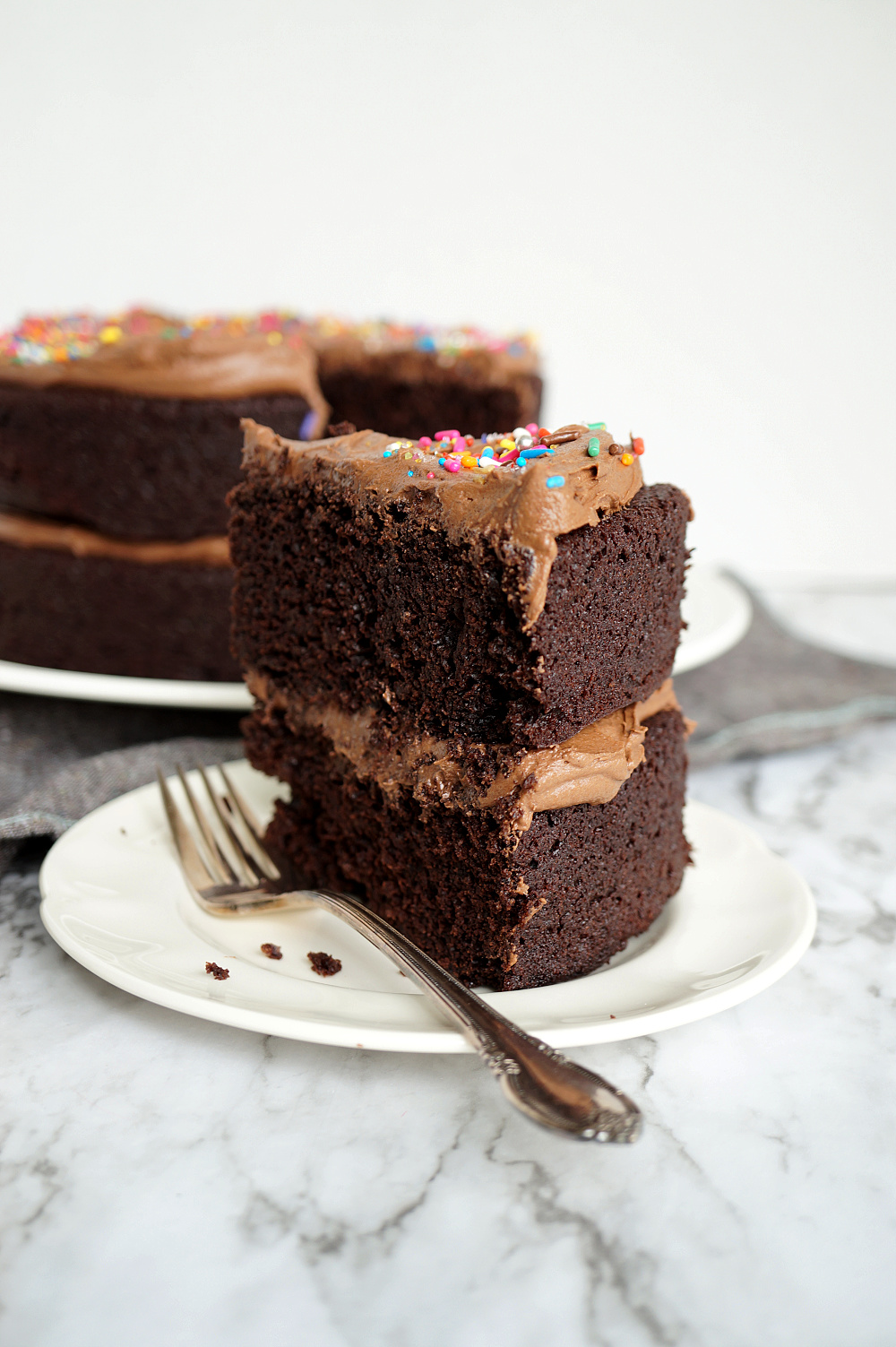 I hope you guys will give this easy chocolate cake a try because it's so delicious and I just LOVE it so much! Be sure to check out the YouTube video to see me make it step-by-step and talk about the process a bit more. If you have any questions, don't hesitate to ask! 🙂 Be sure to come back next week for our next lesson!
Previous Vegan Baking Basics lessons:
easy chocolate cake
This really is the easiest Vegan Chocolate Cake you'll ever make! It uses simple pantry ingredients, comes together in just a few minutes, but tastes rich and decadent. Once you try it, you'll never go back!
Author:
Valentina | The Baking Fairy
Ingredients
2½ cups all-purpose flour
2 cups white granulated sugar
1 cup cocoa powder
2 teaspoon baking powder
1 teaspoon baking soda
½ teaspoon salt
1 cup nondairy milk
1 cup water
⅔ cup vegetable oil
4 tablespoon white vinegar
1 tablespoon vanilla extract
Instructions
Preheat the oven to 350F.
Spray your two 8" cake pans with nonstick spray, dust with flour, and set aside. You can also use a baking spray with flour in it.
In a large bowl, whisk together the flour, cocoa, sugar, salt, baking powder, and baking soda.
Add in the nondairy milk, water, and oil, and mix vigorously. Add in the vinegar and vanilla extract, and mix until well combined.
Pour the batter into the prepared pan, and bake for 30-35 minutes.
Let cake cool slightly in the pan, then remove and allow to finish cooling on a wire rack.
Let cake cook off completely before frosting!
*Disclosure: I am part of the Amazon Associates Program, and there may be affiliate links on this page. If you buy anything through my website, I will receive a small percentage of the profit at no extra cost to you. Thank you for supporting my blog!*