If you're craving something delicious and comforting, these Vegan Creamy Curry Ramen Noodles are sure to satisfy your cravings. They are simple to make and full of flavor!
Hi buddies and happy Tuesday! I am so pumped to be sharing this recipe for Vegan Creamy Curry Ramen Noodles today! This recipe has been on repeat in my house for nearly a year now, and it seemed like a crime to keep it locked away for any longer. These ramen noodles are savory, satisfying, and so comforting. The fact that this recipe is super simple to make doesn't hurt, either! If you are craving some restaurant-style fancy ramen, this recipe is sure to scratch the itch at home.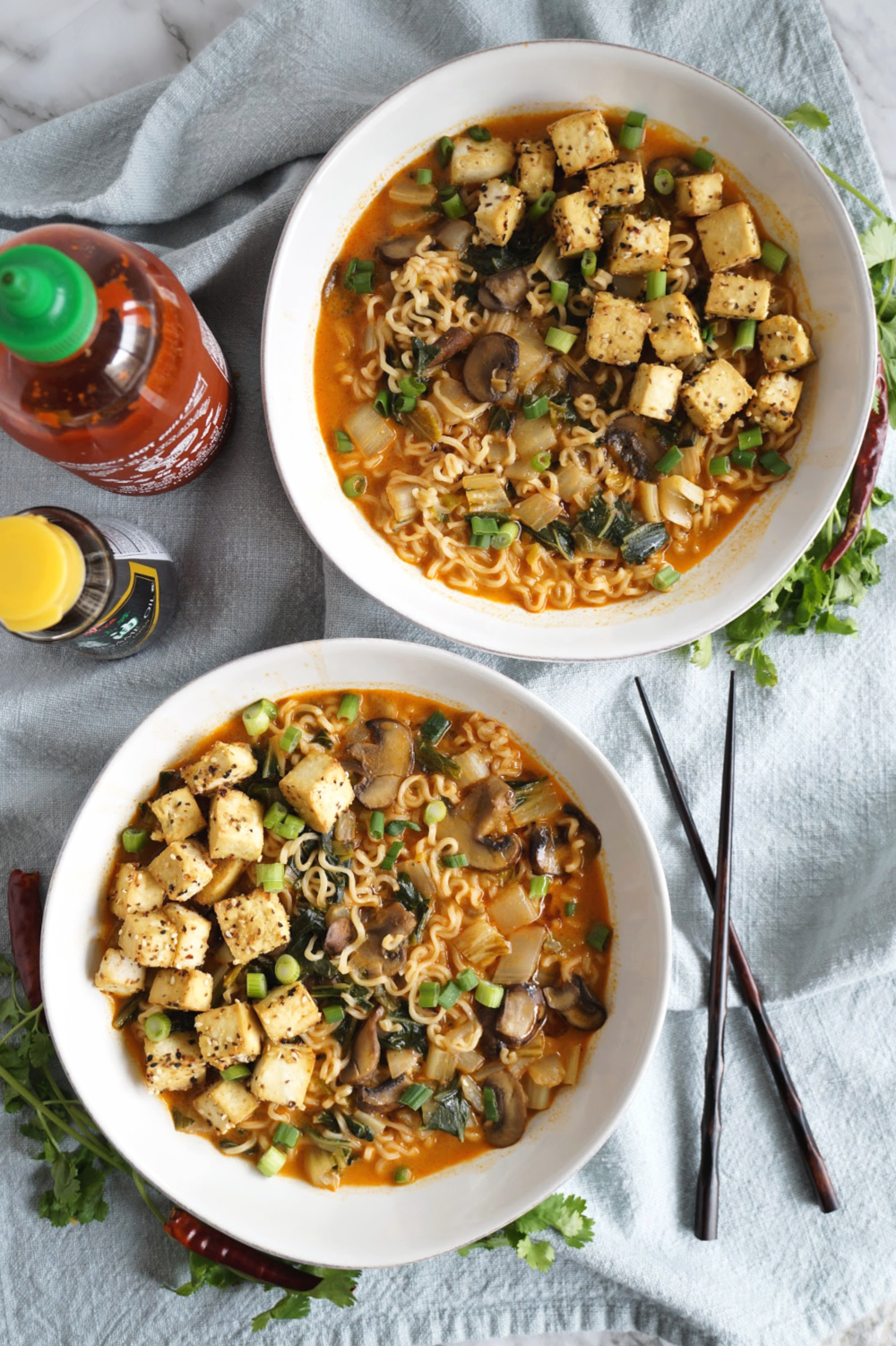 These curry ramen noodles are my absolute favorite recipe to whip up on a night when nothing sounds good! All you really need to do is chop - cut up the tofu, slice the mushrooms and green onions, and chop up the bok choy. Besides that... it really cooks itself! I know with everything going on right now, some ingredients may be harder to find so I will try my best to share some substitutions you can use in a pinch 🙂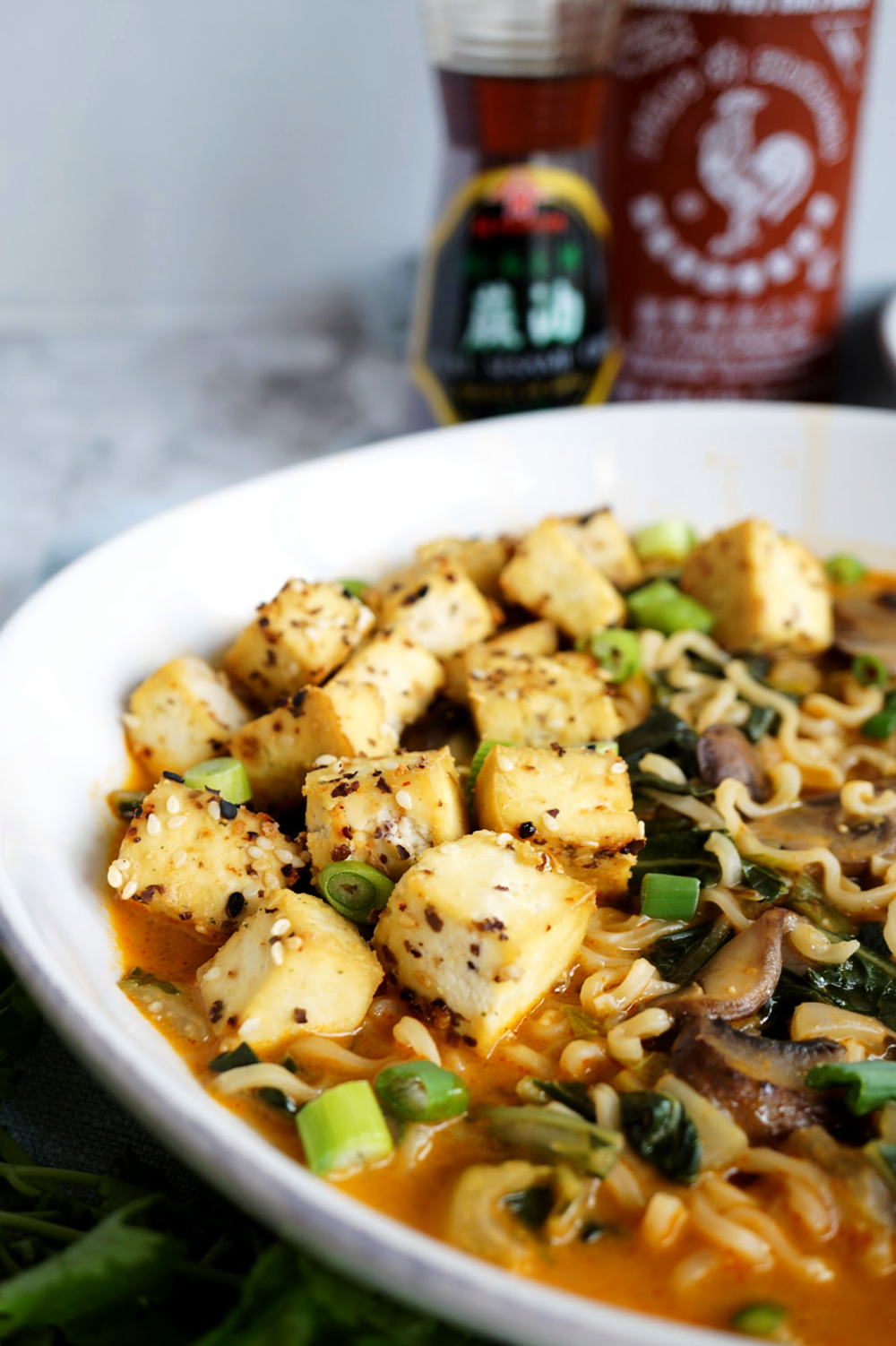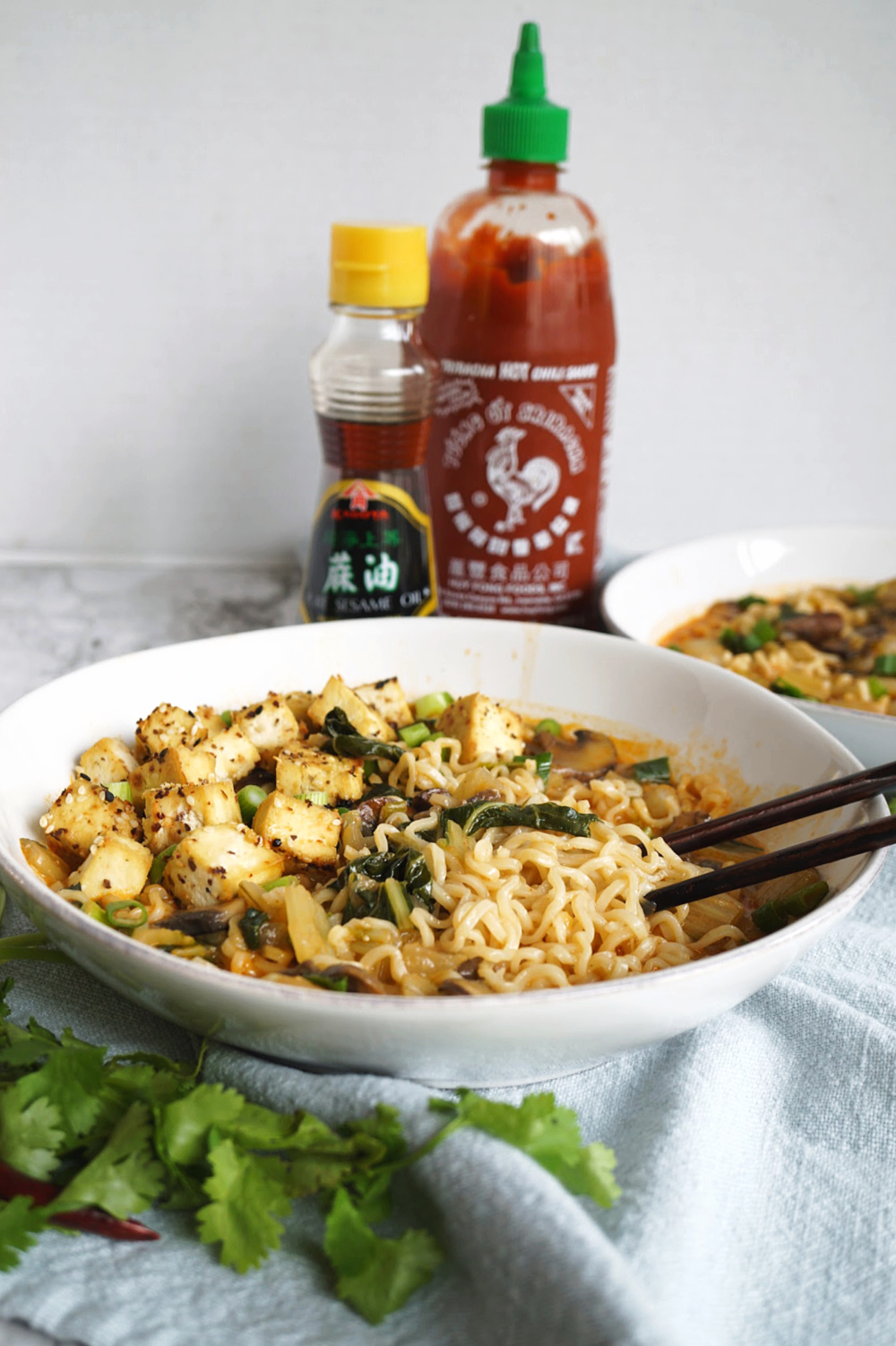 What do I need for these curry ramen noodles?
Red curry paste: I feel like there is only ONE non-negotiable ingredient in these noodles, and it is curry paste! This is such a magical ingredient to have at home and packs so much flavor. I buy the Thai Curry brand which is easy to find at most big chain grocery stores, but any brand will do. If you don't have it, you CAN technically substitute with curry powder but you'll be missing the depth of flavor that the curry paste has, since it is a combination of several herbs and spices.
Coconut milk: coconut milk is also important but technically can be substituted. I generally use a can of lite coconut milk, or I will use HALF of a can of full-fat and water it down. In a pinch, you could add a splash of unsweetened nondairy plant milk for the creamy factor. But I recommend the canned coconut milk if you can get it!
Noodles: any noodles will do, honestly! Lately, I have been partial to the traditional Top Ramen squares of ramen - I just throw away the seasoning packet and only use the noodles. But I've also used fine spaghetti, wheat ramen noodles, and rice noodles for a GF version. I am sure you could even do a healthy version with zoodles!
Vegetables: my go-to's for this creamy curry ramen is green onions, mushrooms, and bok choy but of course... you can substitute! I recommend something onion-y for some extra flavor, whether that is green onions, regular chopped onions, or even shallots. Mushrooms add a touch of meatiness and some umami. And bok choy is a great hearty green, but you can easily use spinach, kale, Swiss chard, or any other dark leafy green in its place.
Tofu: for this recipe, the tofu is baked oil-free, which makes it super light and crispy. I love cooking it this way! I prefer extra-firm tofu, but technically anything that is medium or firmer will work. You could also sub for a different vegan protein like faux chicken or tempeh. Or omit it altogether!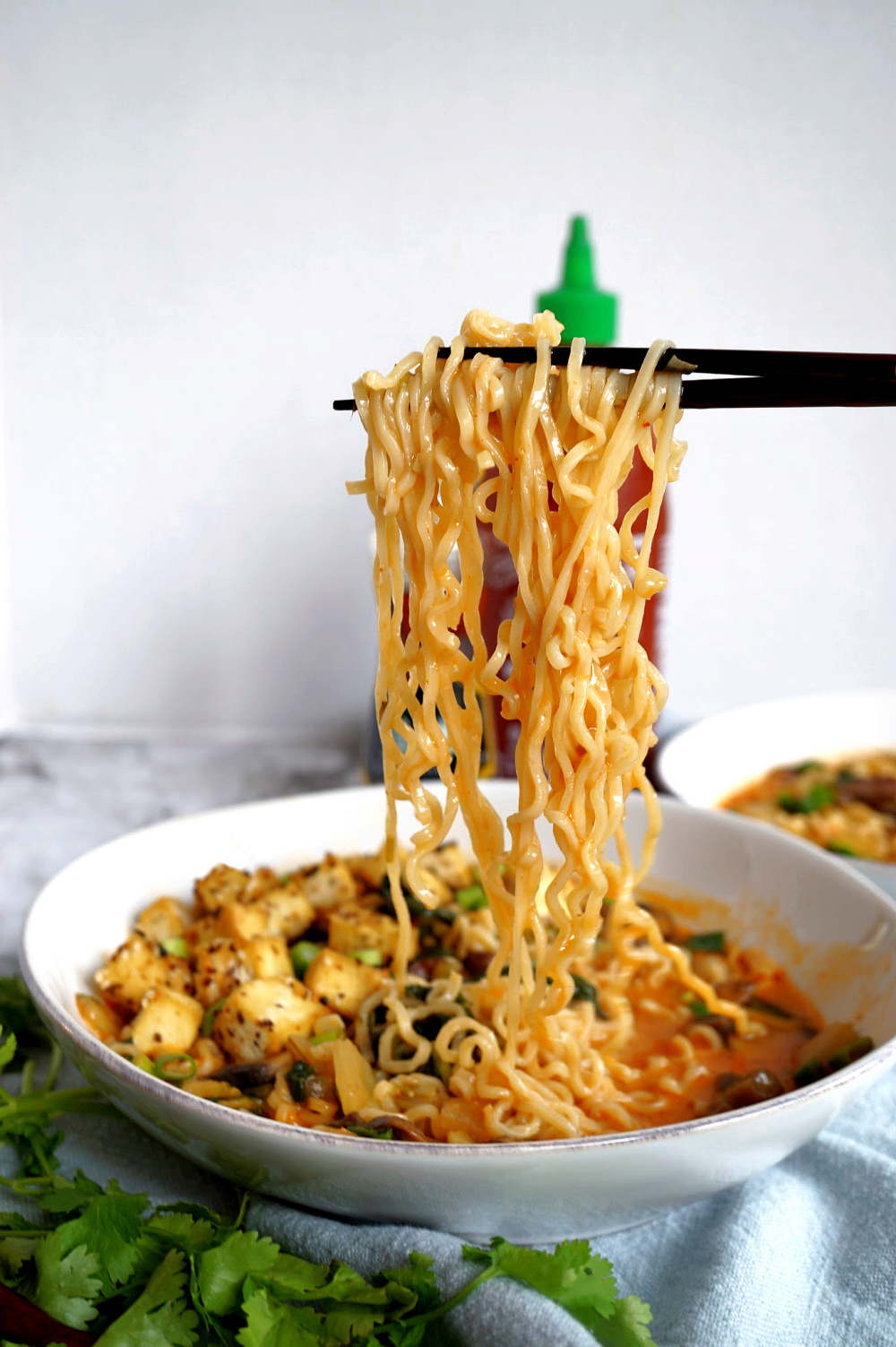 How do I make creamy curry ramen noodles at home?
The process is really super simple, friends! There is no special equipment needed for these curry ramen noodles - just a sheet pan to bake the tofu, and a large pot for everything else. If you want to cook the broth and noodles separately, then you'll need a second pan. But that is a question for later!
First, you prepare your tofu. Cut it up, season it, and pop it in the oven to get all crispy and delicious.
While the tofu bakes, we prepare the broth. We cut up all our veggies, and saute them in a large pot with some oil. I honestly rotate between olive oil, coconut oil, and vegetable oil. It's not that important!
To your caramelized, delicious veggies, you then add your curry paste, coconut milk, and vegetable broth. And... well. That's it!
Next, cook your noodles. You can either toss them right in the broth to cook, or you can cook them in a separate pot and combine the noodles and broth when you serve.
When everything is ready... plate it up! Ladle up the noodles and broth, add the tofu squares on top, and you can get fancy with a sprinkle of sesame seeds, some extra green onions, and a drizzle of sesame oil. My husband likes it hot so he also adds sriracha and chili garlic sauce. But add whatever you want!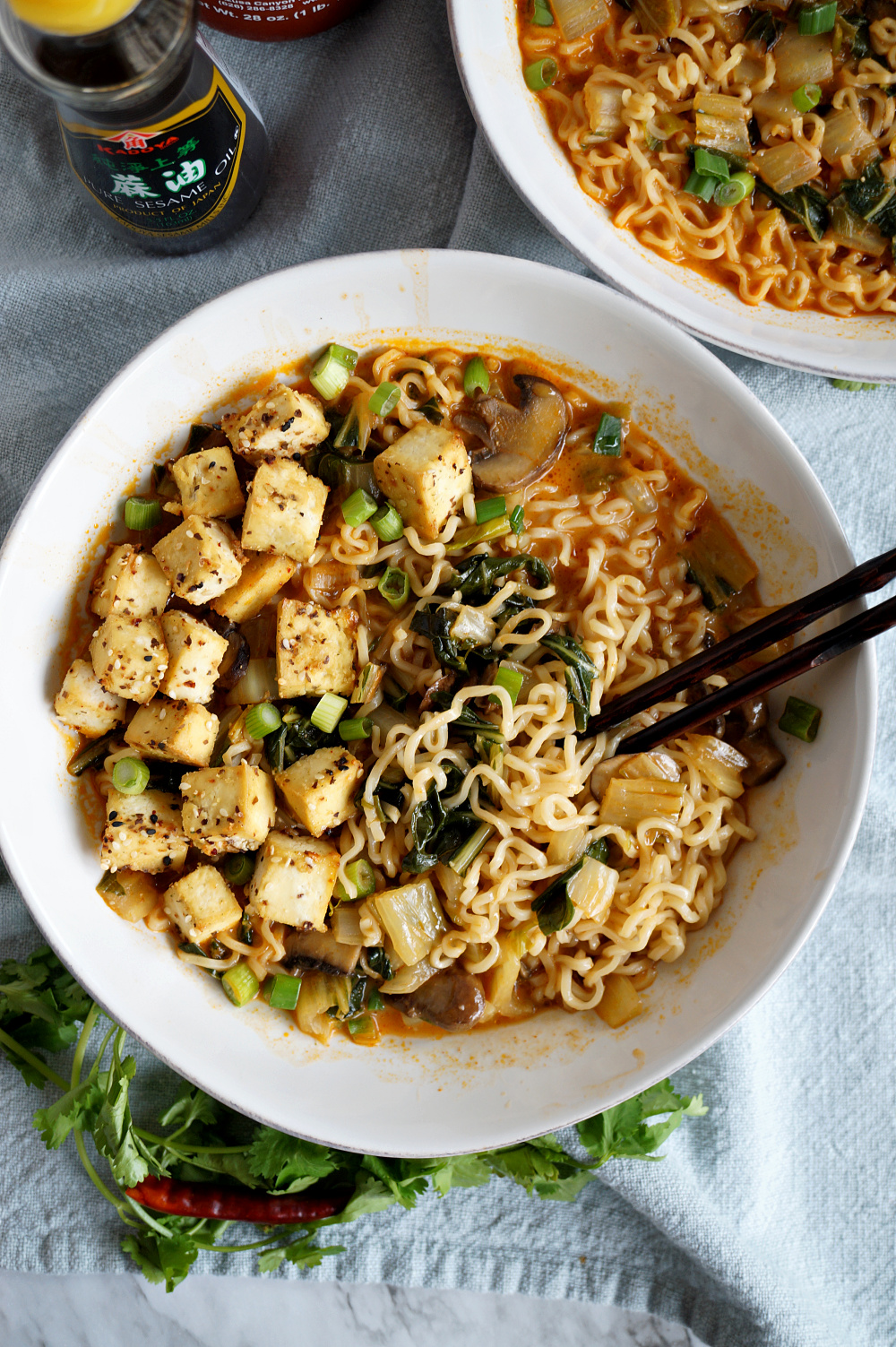 I hope you guys will give these vegan creamy curry ramen noodles a try! We absolutely love them in my house and they are always on repeat. Hopefully these will break up the monotony of pantry cooking a little bit 🙂 Happy cooking!
Check out my other ramen recipes!
vegan creamy curry ramen noodles
If you're craving something delicious and comforting, these Vegan Creamy Curry Ramen Noodles are sure to satisfy your cravings. They are simple to make and full of flavor!
Author:
Valentina | The Baking Fairy
Recipe type:
Pasta & Noodles
Ingredients
*for the tofu*
one 14oz pack extra firm tofu
garlic salt
Japanese seaweed seasoning, or another sesame seasoning like Everything Bagel
*for the ramen noodles*
3-4 packs of ramen noodles
1 tablespoon olive oil
8 oz mushrooms
1 bunch green onions
4 cups chopped bok choy (about ½ a bunch or 2 baby bok choy)
2 tablespoon curry paste
one 13.5oz can lite coconut milk
4 cups vegetable broth
To serve: green onion tops, sesame seeds, sesame oil, Sriracha sauce
Instructions
First, prepare the tofu. Preheat oven to 425F, and line a baking sheet with silicone or a piece of parchment paper.
Drain the tofu and remove excess moisture with paper towels. Cube up the tofu to desired size, and toss with some garlic salt and seasoning.
Arrange in a single layer on prepared baking sheet, and bake for 25-30 minutes, until golden brown and crispy.
While the tofu bakes, prepare the broth. Slice the green onions and mushrooms, and chop up the boy choy in small pieces. You can reserve the tops of the green onions for serving.
Add your oil to a large nonstick pot and heat to medium-high. Add in your vegetables and cook, stirring often, until softened and slightly caramelized.
Add in the curry paste and mix to combine. Next, add the coconut milk and vegetable broth. Add salt to taste.
Lower heat to medium-low, and simmer broth until tofu is ready.
When tofu is cooked, you can cook the noodles. Either add them to the broth, or use a separate pot to boil some water and cook them according to package directions. If you add the noodles to the broth, you may need to add a bit of water to make sure you also have enough broth to serve.
As soon as noodles are ready, plate it up! Divide the noodles and broth between 4 bowls, and top with the baked tofu. Sprinkle on the reserved green onion tops, sesame seeds, and a drizzle of sesame oil. Enjoy!
*Disclosure: I am part of the Amazon Associates Program, and there may be affiliate links on this page. If you buy anything through my website, I will receive a small percentage of the profit at no extra cost to you. Thank you for supporting my blog!*