These Vegan Crispy Tofu Ramen Noodles are reminiscent of your favorite ramen restaurant, with homemade broth, fresh vegetables, and pan-fried cubes of savory tofu. 
Hello, dear readers! I am so excited to be sharing this delicious recipe with y'all today! The latest recipe on my little vegan kick is this Vegan Crispy Tofu Ramen. I'm not kidding when I say an Italian is about to teach how to make ramen. Or, at least, my personal rendition of ramen because heaven knows it's probably 0% authentic. BUT. I liked it. And I thought it tasted good. So here we are. 🙂 Warm, comforting, and full of veggies. Here we go!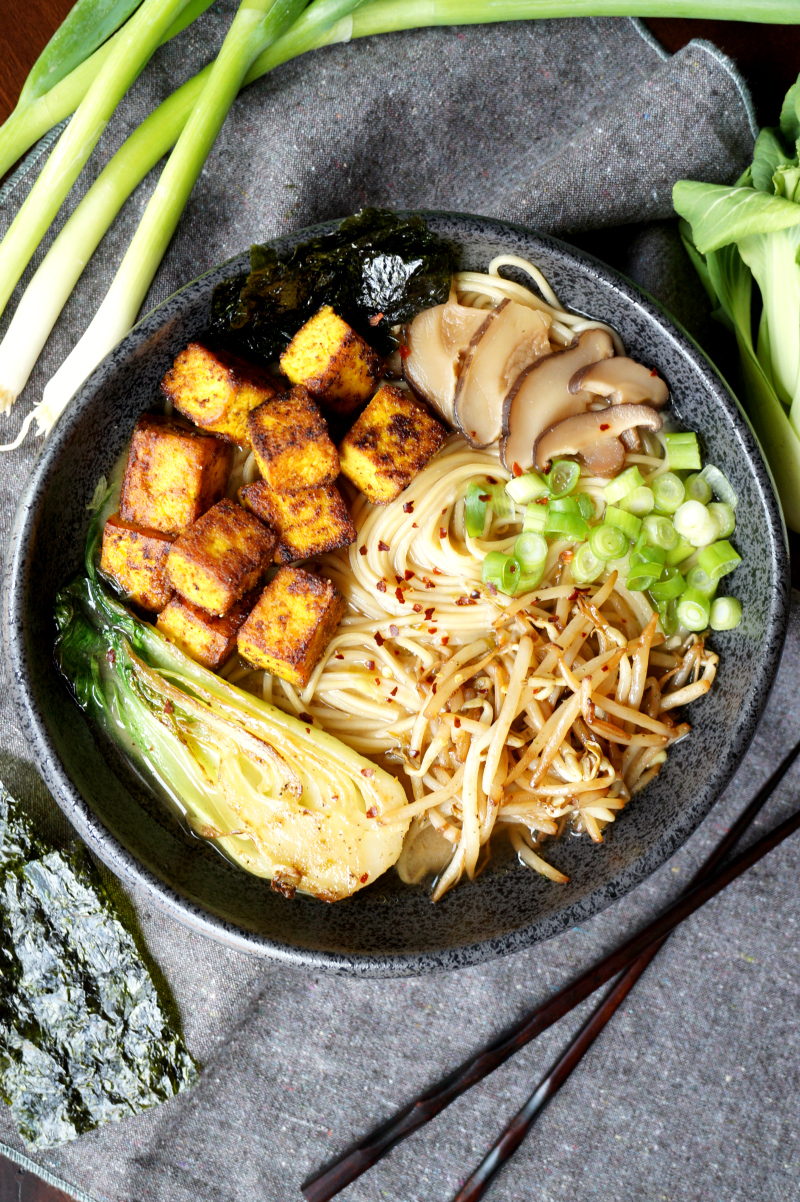 The first step to making this vegan crispy tofu ramen is making the vegetable broth! Of course, you could easily use store-bought veggie broth, but where's the fun in that? For this, you'll need some carrots, onions, garlic, celery, mushrooms, jalapeño, nori, ginger, and white miso! This was my first time cooking with miso and I have to say I was very pleasantly surprised. It's mild but very savory and flavorful, and I can't wait to think of other foods to use it in! But I digress. Throw all the veggies in a pot, cover with water, and let them go to town.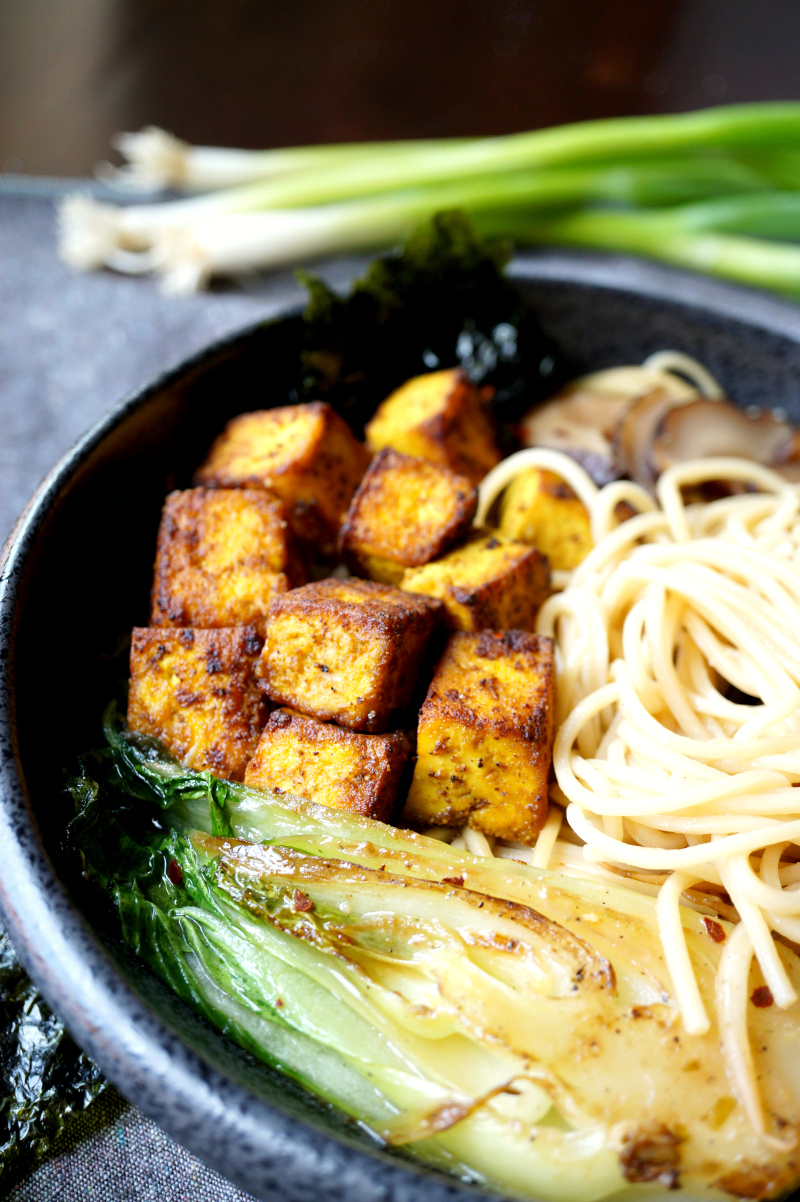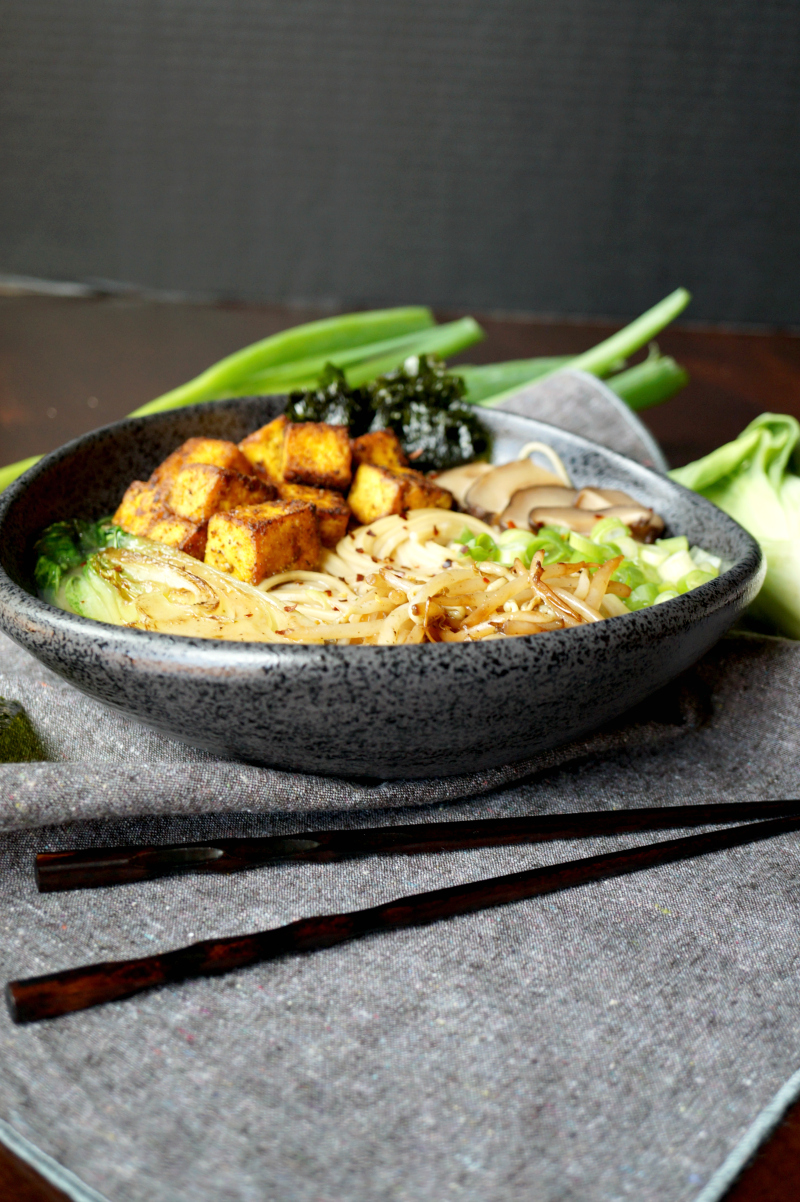 So the vegetable broth is all good and well, but we all know the real fun comes from the toppings! To add some texture and heartiness to my ramen, I made some crispy tofu! The essential first step to cooking with tofu, as any seasoned vegetarian or vegan will tell you (aka not me) is that you have to press it first to get rid of the excess liquid! You can buy yourself a fancy tofu press
, but in a pinch, just use some cutting boards, paper towels, and heavy books. Trust me, it can be done. I speak from personal experience. In addition, I also added baby bok choi, bean sprouts, mushrooms, green onion, and nori! Honestly I love nori because it's so flavorful and it adds such a tasty little punch of umami wherever you put it. It works great in broth because it melts away, so if you don't like the texture then you really just get the taste!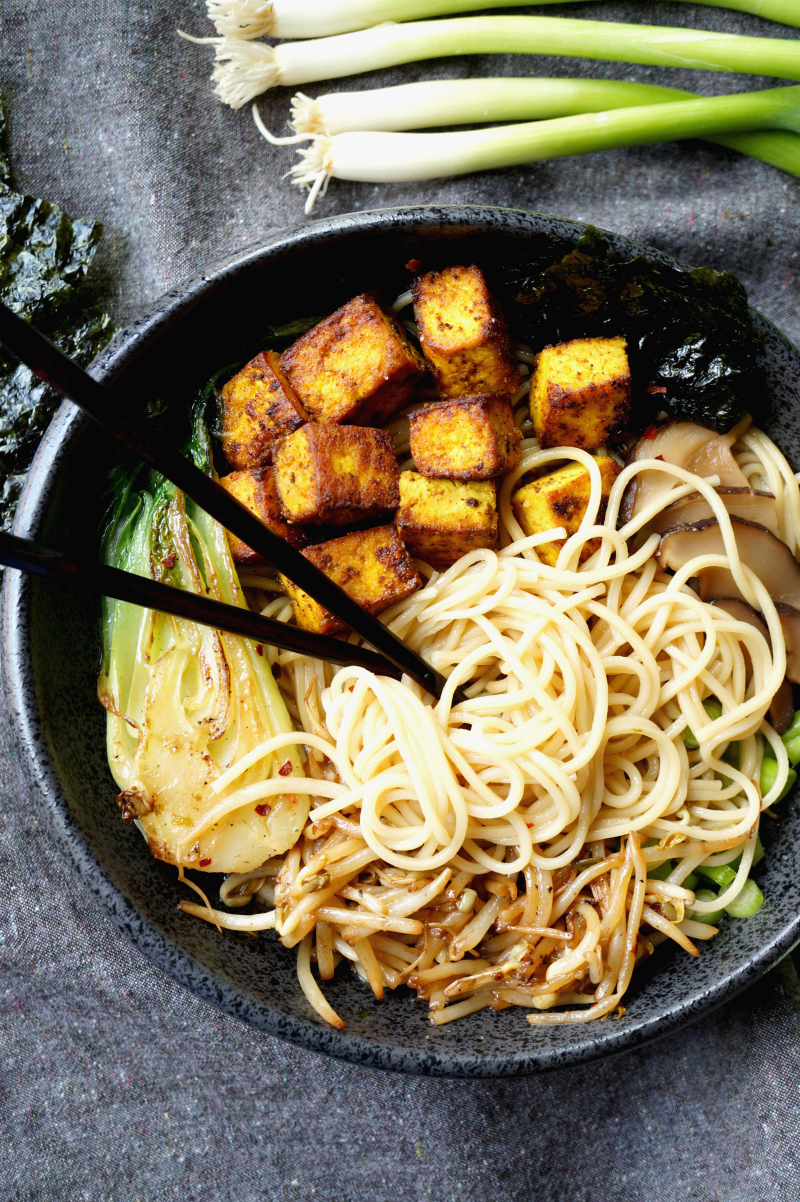 That's what I decided to put on my ramen, but of course the possibilities are endless! For a vegetarian version, I'll admit that I love the soft-boiled eggs they serve with ramen at restaurants, so that would be totally delicious on here. You could also add tiny carrot shreds! Fresh chopped chilies if you're brave. Corn is a classic, as are snap peas. Really, I encourage you to go crazy. Start with my vegan crispy tofu ramen and add whatever your heart desires. Happy cooking! 🙂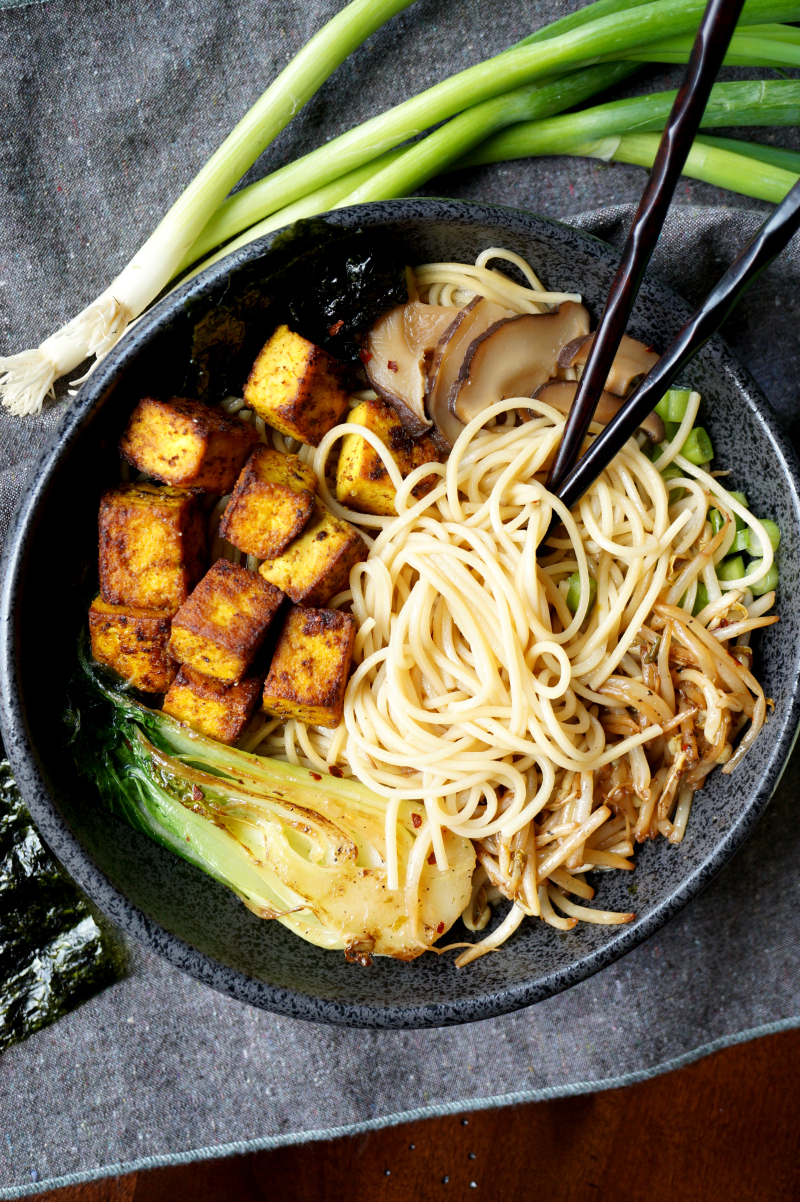 vegan crispy tofu ramen
Author:
Valentina | The Baking Fairy
Ingredients
*for the broth*
1 carrot
½ onion
3-4 cloves garlic
1 inch segment ginger
1 jalapeno, seeded
⅓ cup mushrooms
2-3 small sheets nori
½ cup white miso
2 tablespoon soy sauce
1 vegetable bouillon
1 teaspoon salt
*for the ramen*
1 14oz package extra firm tofu
2-3 tablespoon soy sauce
½ teaspoon paprika
½ teaspoon turmeric
½ teaspoon salt
½ teaspoon crushed red chili flakes
½ teaspoon garlic powder
½ teaspoon onion powder
1 package straight ramen noodles
2 baby bok choi, cut in half
1½ cups fresh bean sprouts
½ cup mushrooms, sliced
2-3 green onions, cut into rounds
4 small sheets nori
Instructions
First, prepare the broth. Peel and largely dice all the vegetables for the broth
Place in a medium pot, add in the soy sauce, miso, nori, and salt, and add enough water to cover (aim for at least 8 cups).
Bring mixture to a boil, then lower to a simmer and cook for 1-2 hrs.
At this point, also drain the tofu and either press in a tofu press or on a cutting board with heavy books on top.
After 1-2 hrs, drain all excess liquid from the tofu, cut into cubes, and toss in a medium bowl with the soy sauce, paprika, turmeric, salt, chili, garlic powder, and onion powder. Set these aside to marinade.
In a medium nonstick pot, heat 1 tablespoon olive oil over medium-high. Add in the baby bok choi, cut side down, and cook undisturbed for 2-3 minutes. Flip, and cook for 2-3 minutes more. Repeat the process 1-2 more times so that the bok choi is lightly golden brown and cooked without being burnt. Season with some salt and garlic powder.
Remove from pan, add another ½ tablespoon of oil, and throw in the bean sprouts with a little more salt and garlic powder. Cook for 4-5 minutes, until slightly tender and warmed through. Remove from pan.
Finally, add in 1 tablespoon olive oil and cook the tofu on medium heat. Let it cook undisturbed for 2-3 minutes, then flip and let it cook more. Repeat until all sides of the tofu cubes have had a chance to brown.
Set all toppings aside.
Going back to the broth, strain off all the vegetables so you're left with just the liquid. Bring to a boil, add in the ramen noodles, and cook according to package directions.
When ready, divide noodles and broth among 4 bowls, and top with the crispy tofu, bok choi, bean sprouts, mushroom slices, green onion, and one small sheet of nori each. Enjoy!
*Disclaimer: I am part of the Amazon Associates Program, and there may be affiliate links on this page. If you buy anything through my website, I will receive a small percentage at no extra cost to you. Thank you for supporting my blog!*