This post and recipe was created for #Choctoberfest! I was sent samples by some of the sponsor companies but as always opinions are 100% mine. #ad
You won't miss the eggs or dairy in this decadent Vegan Dark Chocolate Sacher Torte, made with rich Divine Chocolate bars and filled with apricot preserves.
Hi friends! We are back to the #Choctoberfest festivities with another decadent, delicious dessert! Today, I am showcasing the amazing Divine Chocolate in this Vegan Dark Chocolate Sacher Torte! The Sacher torte is a classic German chocolate cake made of layers of rich and fudgy cake, stuffed with apricot preserves, and covered in a chocolate glaze. It's a patisserie staple, and I'm happy to report it is MUCH easier to make at home than I expected! Let's go be fancy!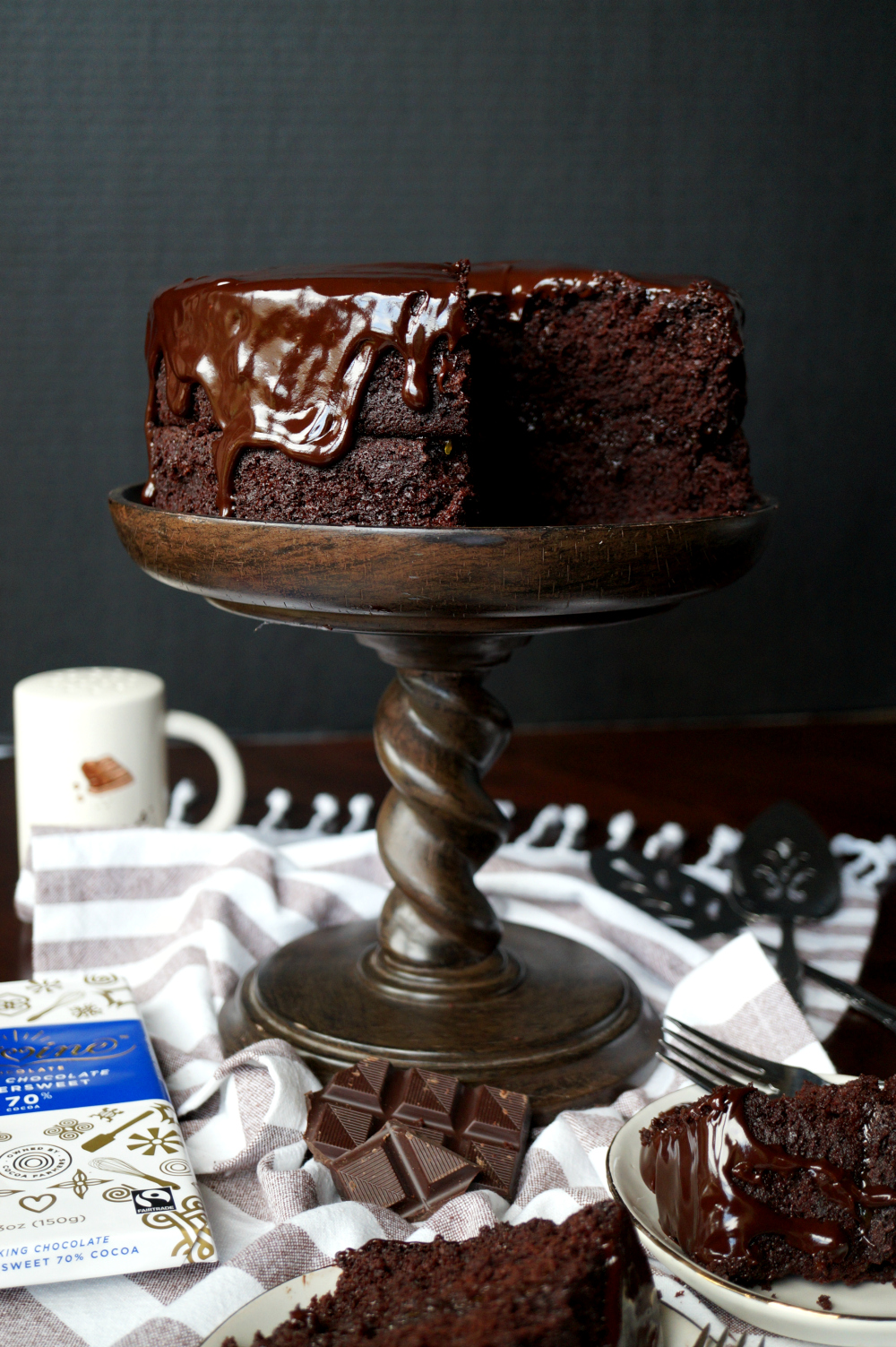 Before we get into the Sacher torte, I really do have to shine the spotlight on Divine Chocolate! This company is the ONLY Fair-trade chocolate company in the world that is co-owned by cocoa farmers! 44% of the business is actually owned by the farmers which is amazing. Not only that, but their chocolate bars are also all Vegan Society Certified and made with the highest quality cocoa. Oh, and did I mention they are absolutely delicious? You really couldn't ask for anything more!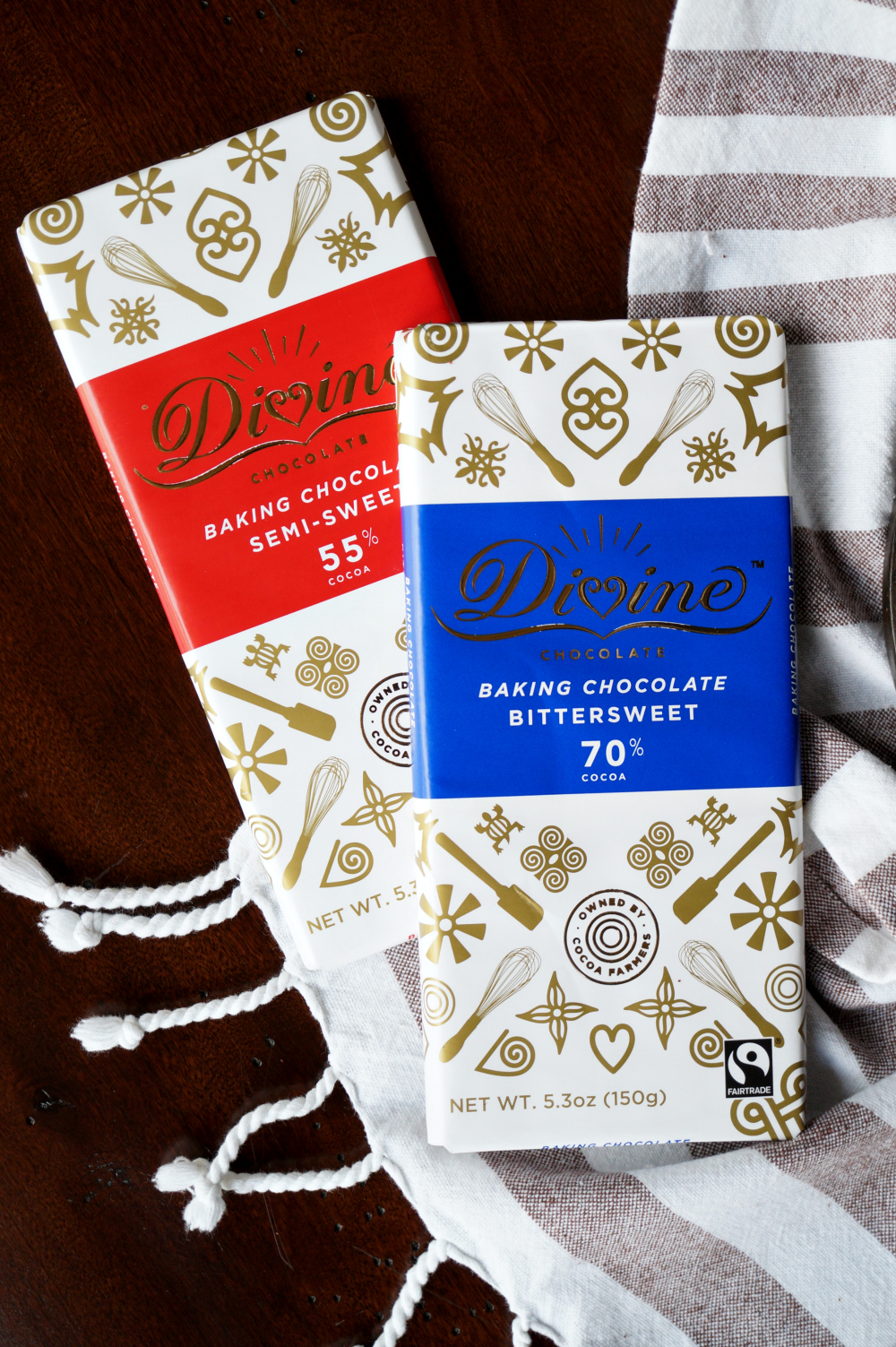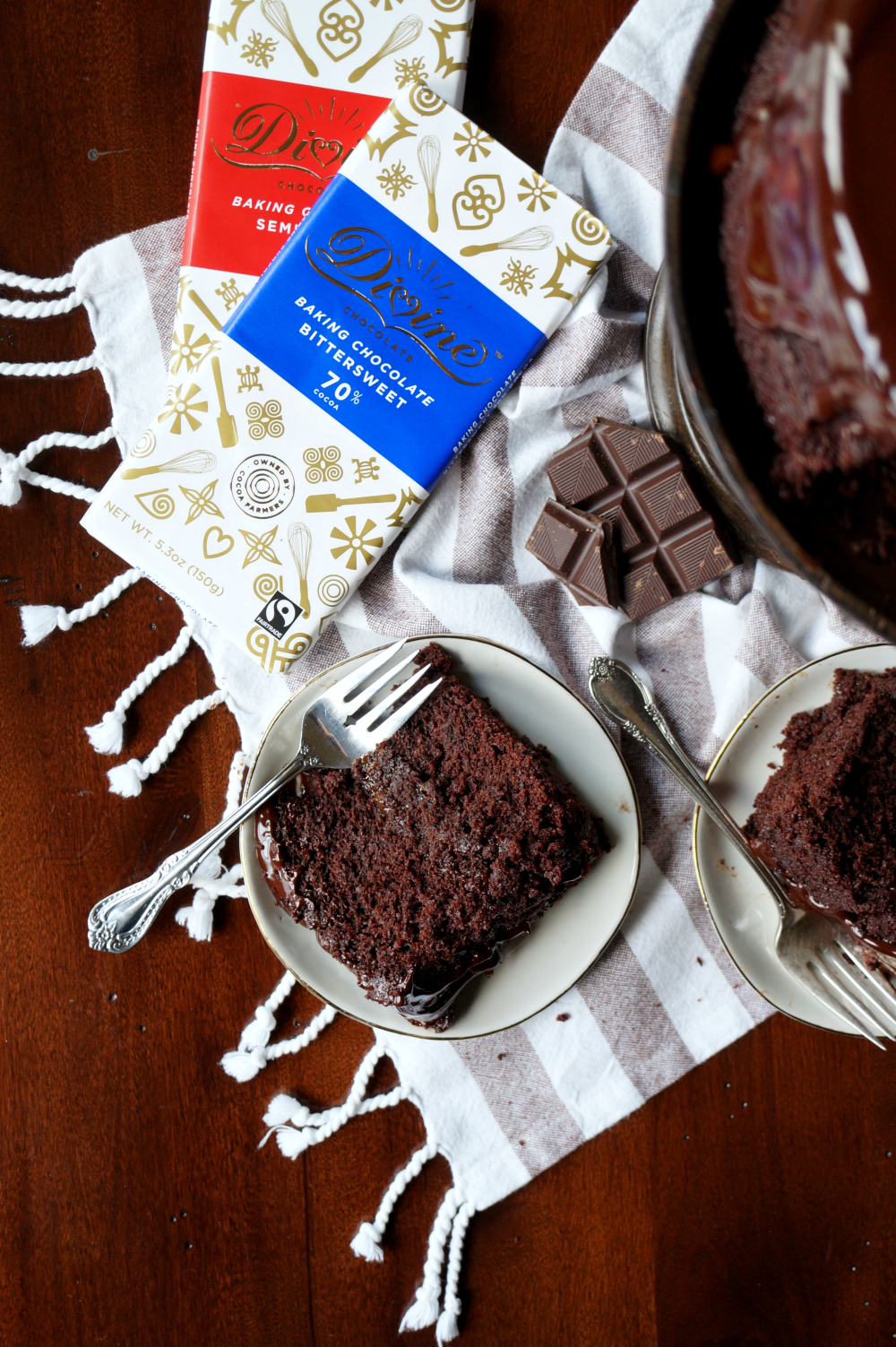 Now, let's talk about all things chocolate Sacher torte! To make this decadent cake, I started with my go-to vegan chocolate cake and added almost an entire bar of melted 70% dark Divine chocolate into the batter. Oh, yeah. I'm not messing around! When it was all baked and fluffy, I added a thick layer of apricot preserves in the middle and sandwiched the two cakes together. Finally, I whipped up a quick ganache with the 55% dark chocolate and a splash of almond milk, and poured it allll over the cake. YUM. I will say the traditional Sacher torte is COMPLETELY covered in ganache, so if that's the look you want, you'll have to make even more ganache topping. I didn't mind my cake looking a little more rustic 🙂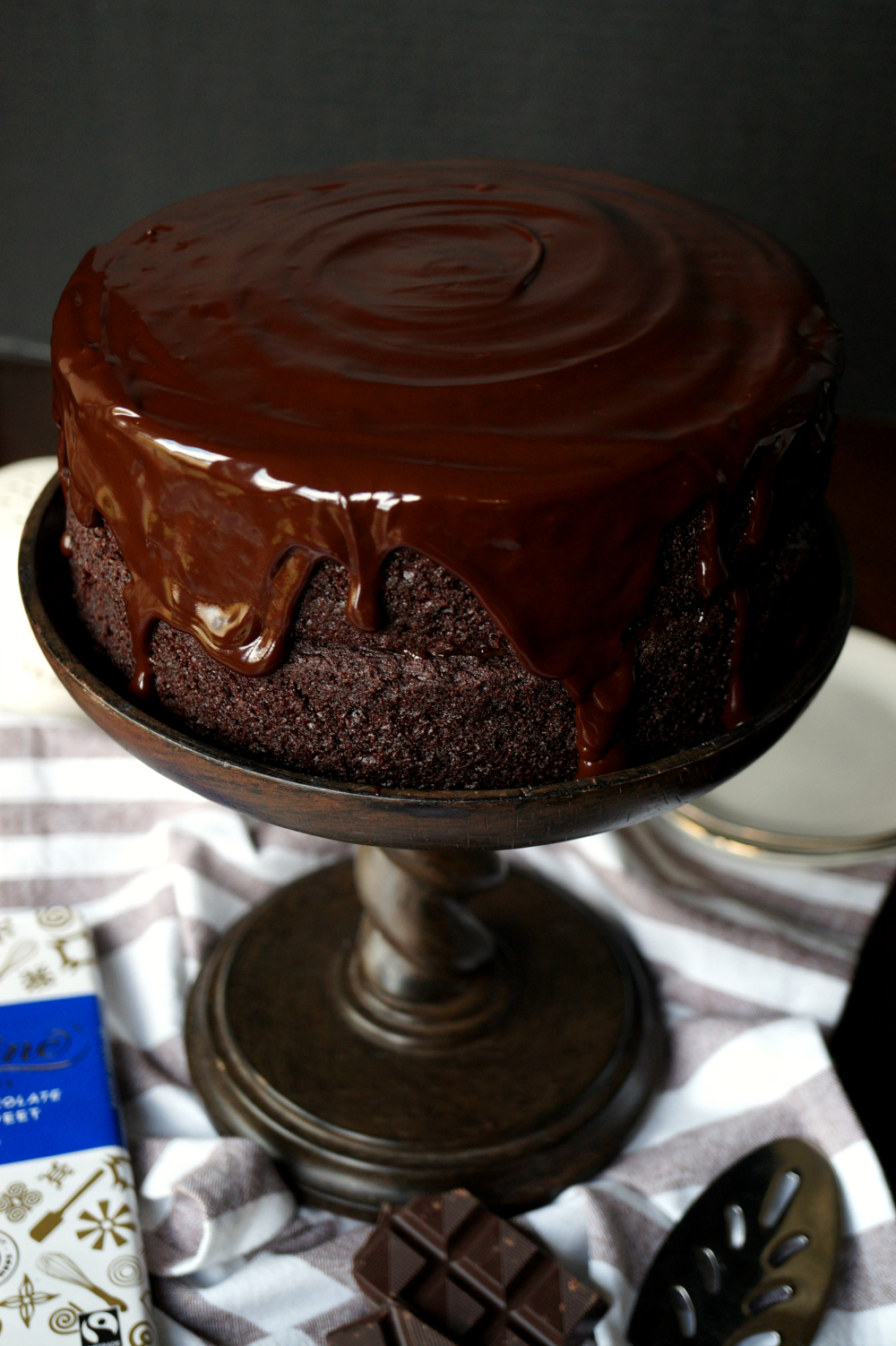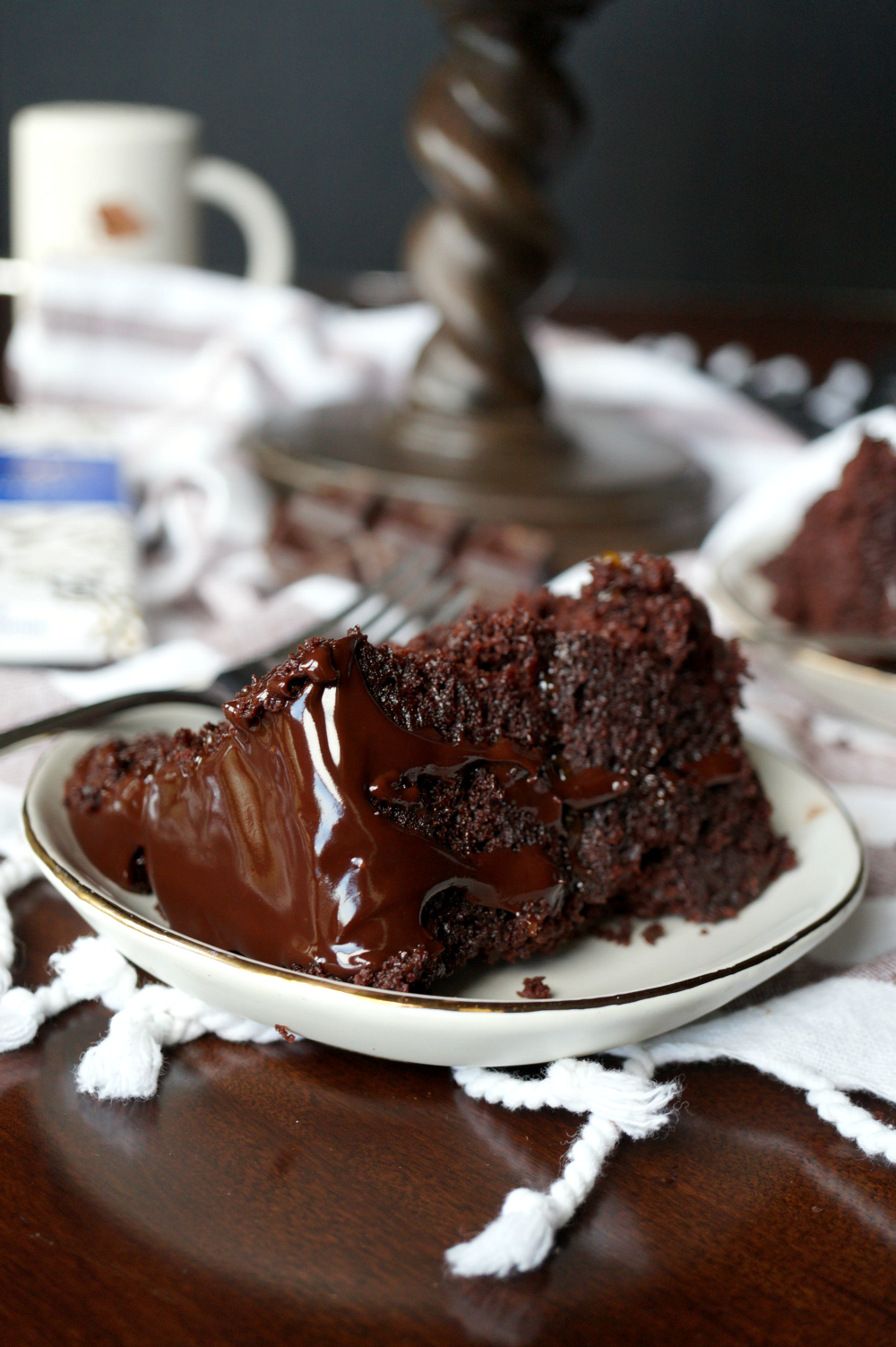 I hope you guys whip up this amazing Vegan Dark Chocolate Sacher Torte soon! I promise it is really so simple to make and SO delicious. The Divine Chocolate bars really make it extra-decadent!
Don't forget to ENTER THE GIVEAWAY before the week is over!!
vegan dark chocolate Sacher torte
You won't miss the eggs or dairy in this decadent Vegan Dark Chocolate Sacher Torte, made with rich Divine Chocolate bars and filled with apricot preserves.
Author:
Valentina | The Baking Fairy
Ingredients
*for the cake*
2½ cups all-purpose flour
2 cups white granulated sugar
1 cup cocoa powder
2 teaspoon baking powder
1 teaspoon baking soda
½ teaspoon salt
3.5oz 70% dark Divine Chocolate bar
1 cup unsweetened vanilla almond milk
1 cup water
⅔ cup vegetable oil
4 tablespoon white vinegar
1 tablespoon vanilla extract
1 teaspoon chocolate extract
*for the filling*
½ cup apricot preserves
*for the ganache*
½ cup unsweetened nondairy milk
1 55% dark Divine Chocolate bar
Instructions
Preheat the oven to 350F. Spray two 9" pans with baking spray and set aside.
In a large bowl, whisk together the flour, cocoa, sugar, salt, baking powder, and baking soda.
In a small microwave-safe bowl, combine the 1 cup of almond milk and 3.5oz of chocolate. Heat in 30 second increments until smooth and creamy.
Add the chocolate mixture to the dry ingredients, followed by the water and oil, and mix vigorously. Add in the vinegar, chocolate extract, and vanilla extract, and mix until well combined.
Pour the batter into the prepared pans, and bake for 40-45 minutes.
Let cake cool completely before removing from the pans.
While the cakes cool, make the ganache.
Combine the milk and chocolate bar in a microwave-safe bowl, and heat in 30 second intervals, mixing in-between, until the mixture is smooth and melted.
Once cakes are cooled, flip one onto a plate or cake stand. Spread the apricot preserves on top, and place the second cake on top of the filling.
Pour the ganache all over the top, and smooth with a spatula if desired. Serve immediately or let ganache harden and cool before serving!