Missing the classic storebought Hostess Cupcakes? These Vegan Copycat Hostess Cupcakes (Faux-stess!) combine fluffy chocolate cupcakes with soft vanilla filling, chocolate topping, and the signature loopy decoration on top!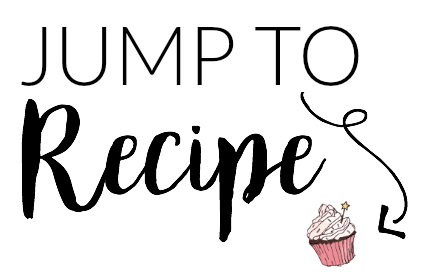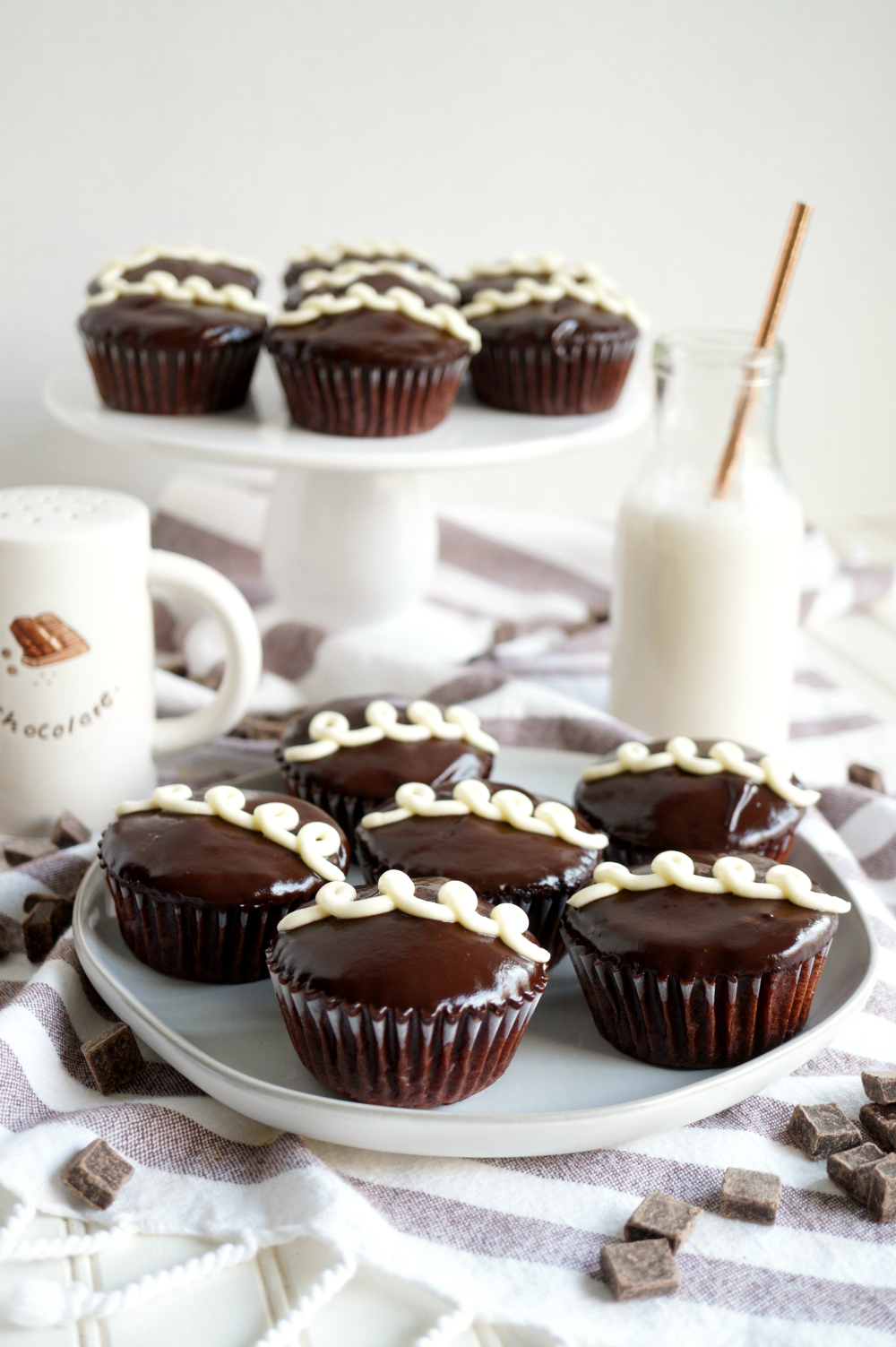 Hiii friends! Happy Thursday! I am so so excited to be sharing this amazing recipe with you today. It was high time that I had another installment of #ThrowbackTreats (and on a Thursday, no less). After the success of my Vegan Cosmic Brownies and Vegan Oatmeal Creme Pies, I give you... Vegan Copycat Hostess Cupcakes! Oh lawdy, these are SO GOOD y'all! Soft chocolate cake, creamy vanilla filling, and a decadent layer of melted chocolate on top. And these just had to be finished off with the signature swirly on top, of course 🙂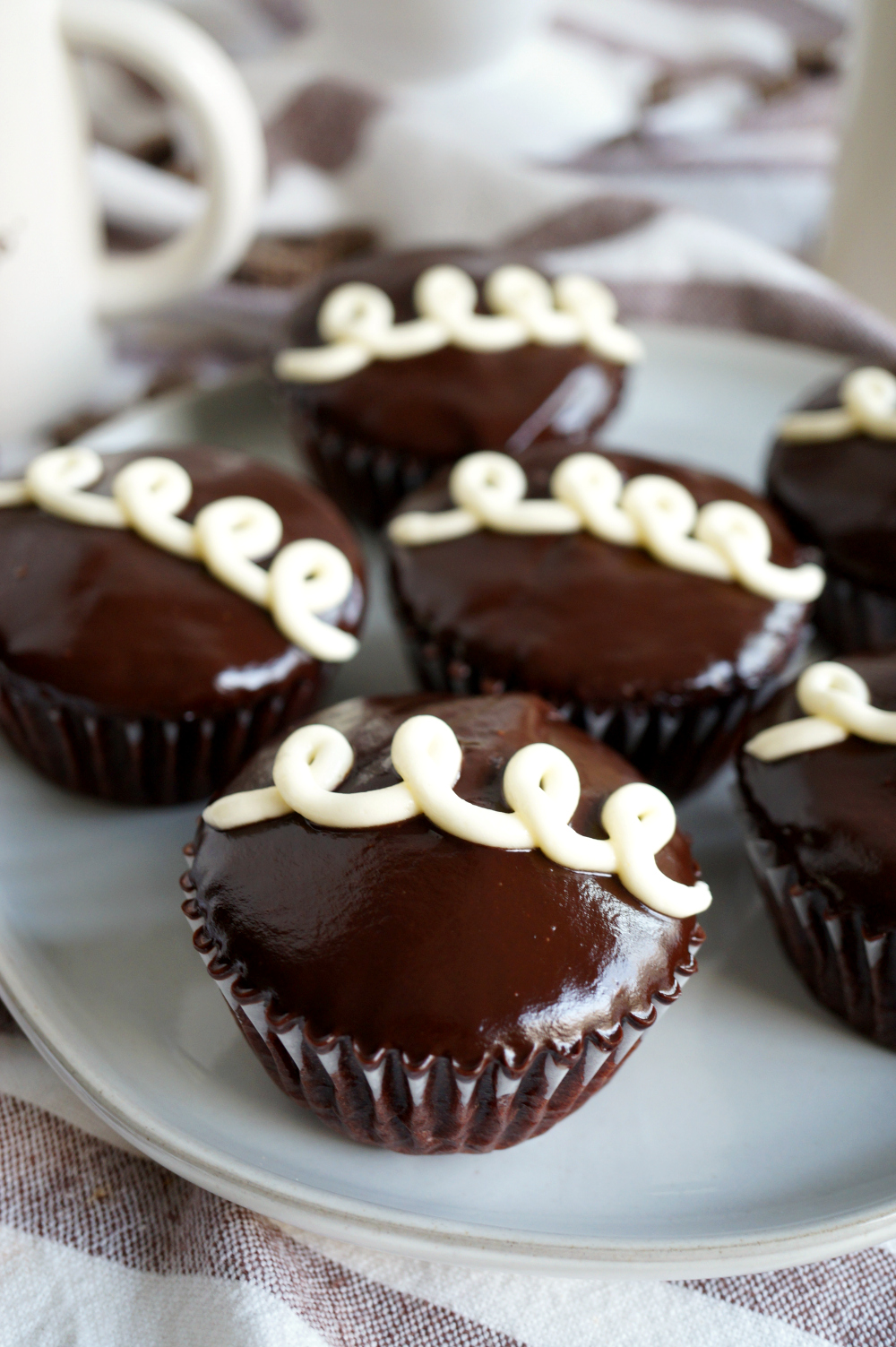 I really have been having so much fun with this #ThrowbackTreats series, especially in the middle of the summertime slump! Inspiration to cook and bake is so hard to come by at this time of year with the HEAT! Gah. So going to the grocery store and perusing the boxed treats has been a great way to get my little baker brain going. I can't say I had the original Hostess cupcakes many times as a child, but the signature white icing on top is unmistakeable! I'll hazard a guess that my version tastes much better than the real thing. And it's vegan, which is the best bonus!!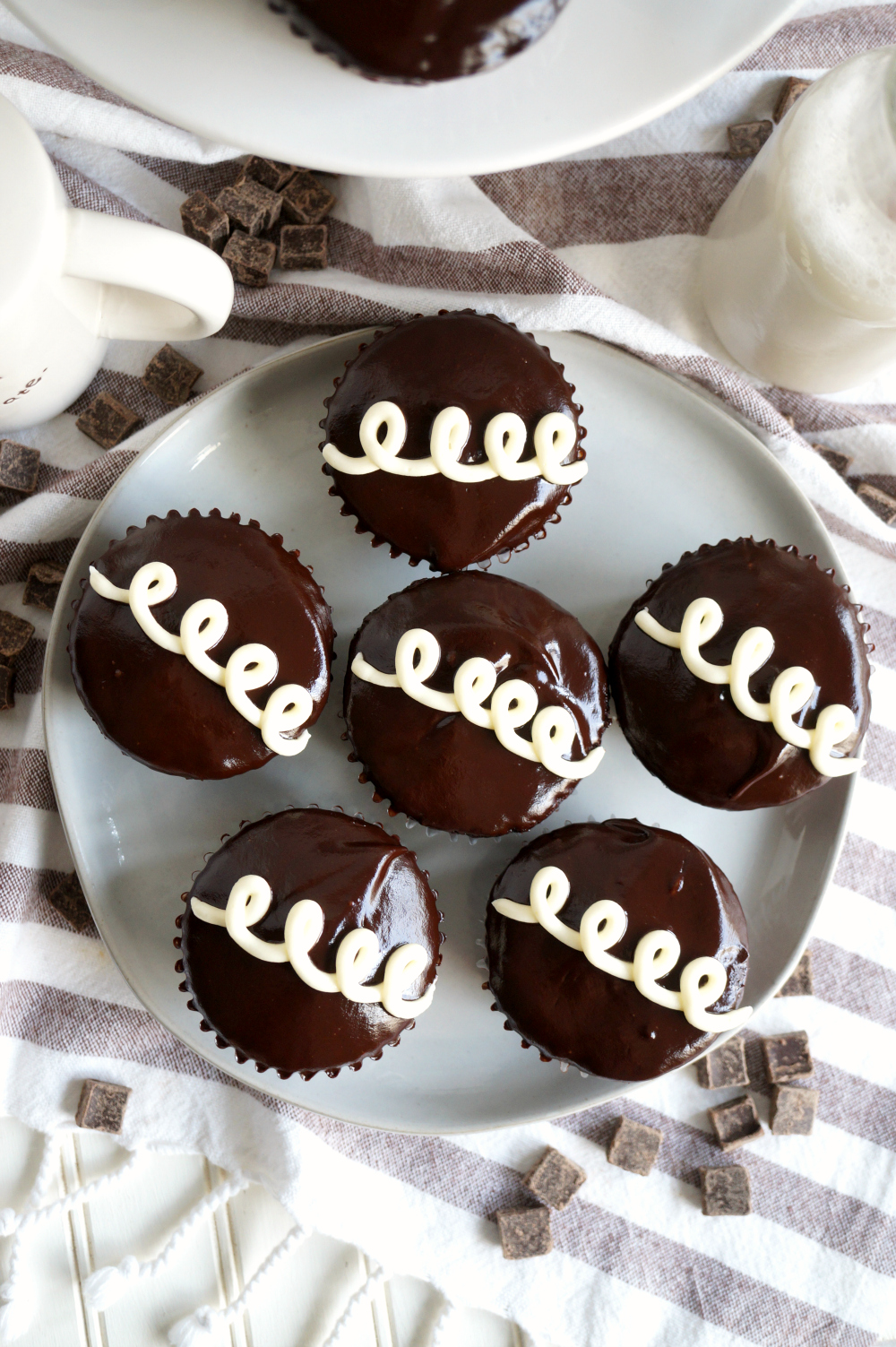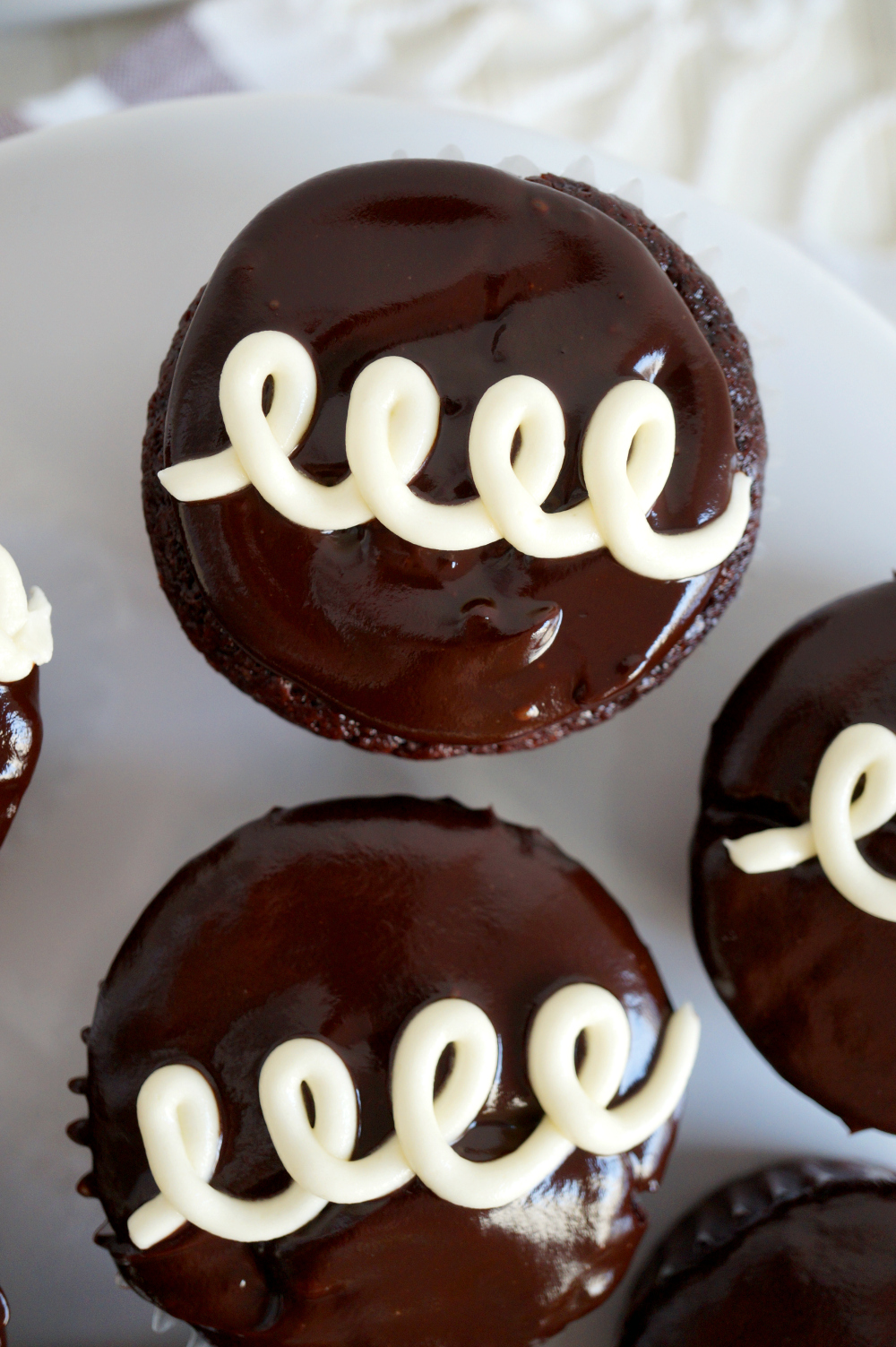 Would you believe me if I told you that these copycat Hostess cupcakes are truly not hard to make?! Because it's true! First you make the chocolate cupcakes, which just happen to be one-bowl (bonus!). Then you whip up the vanilla frosting. Stuff your cupcakes with the frosting, and then cover the top with chocolate! I made my ganache in a small bowl and dunked the tops directly into it, but you can also just spoon the chocolate on top of your cupcakes and spread it around to make it all pretty. You can see one of the "spooned" cupcakes above. This is a great technique if your cupcake cracks from too much cream filling! The last thing is to make the swirly on top which is... still the same frosting you used for the filling. Easy peasy!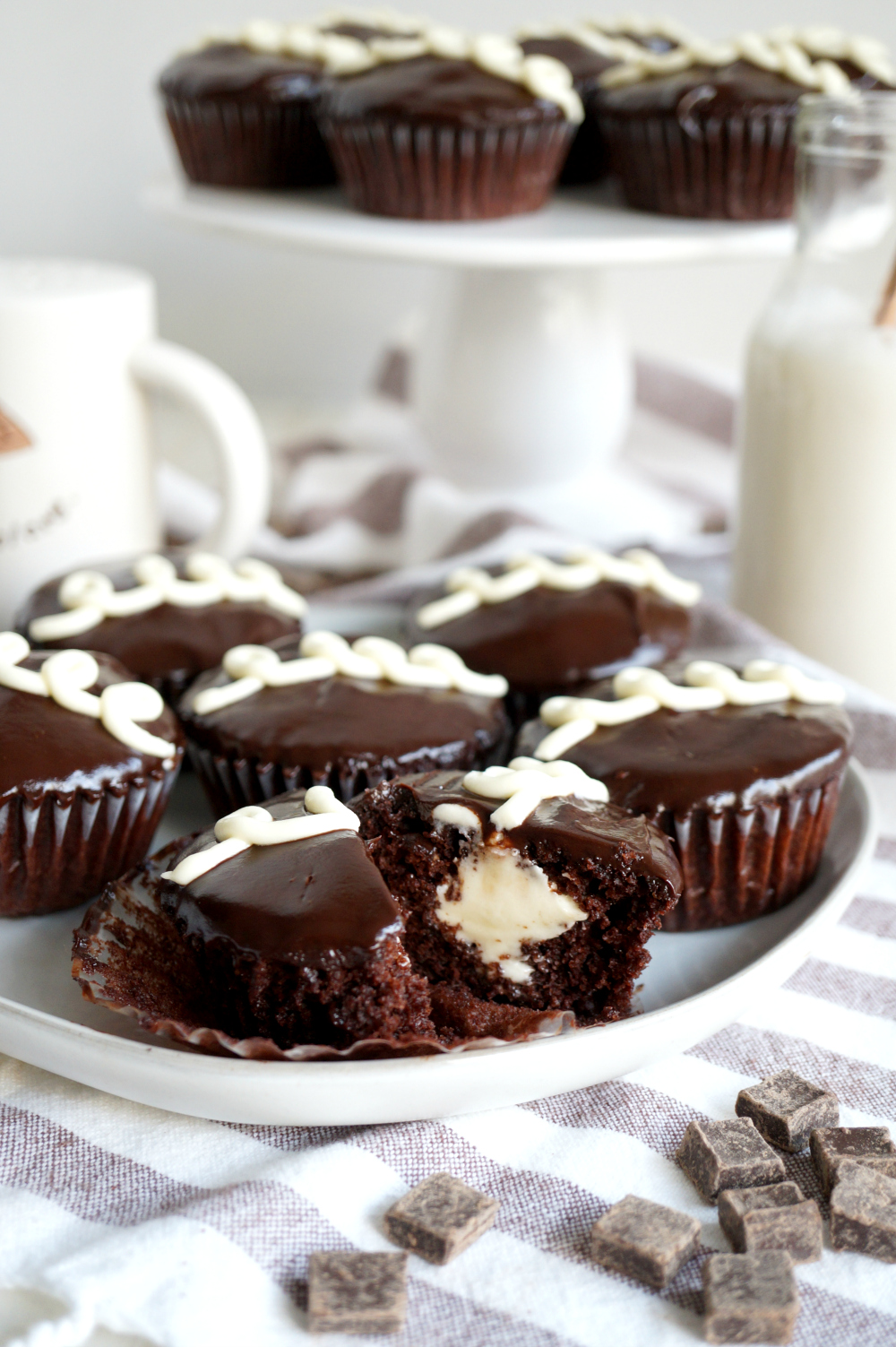 As far as FILLING the cupcakes go, you do have a couple of options. I own a filling tip, so that is what I use! It is long and skinny, so it's perfect to stuff cupcakes and donuts without making a giant hole. It's just a couple of dollars online (but you can also find it at Hobby Lobby, JoAnn's, and other craft/baking stores). The other option is to scoop out the top, fill the cupcake, and place the top back on! You can use a small scoop (it looks like an ice cream scoop), or even a melon baller. They also sell "cupcake corers" made especially for this reason! Personally, I don't super love the corer because I feel that it takes too much cake out. ???? But, moral of the story is you have lots of options!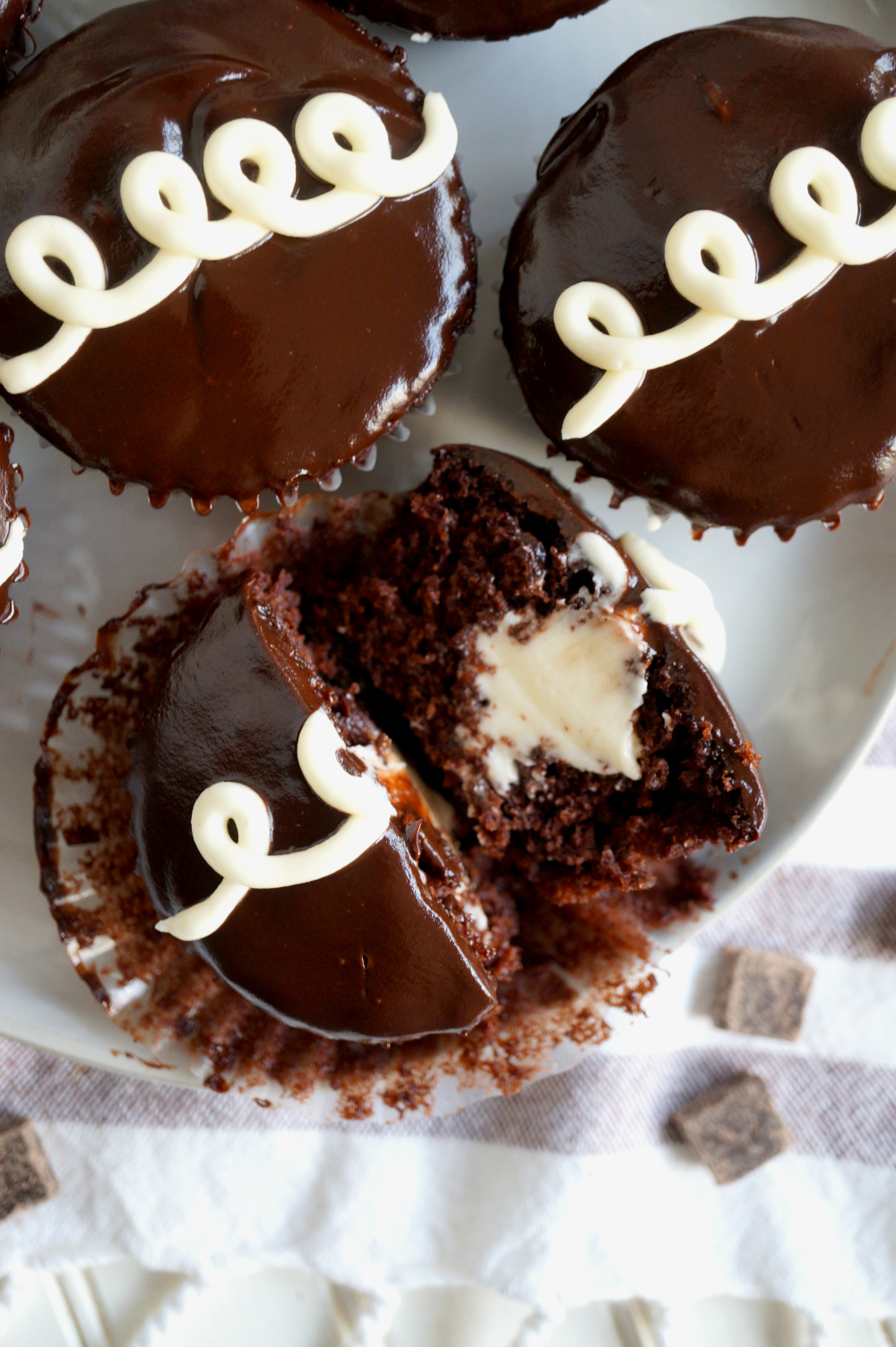 I hope you guys will give these copycat Hostess cupcakes (or ~Faux-stess) a try! They are seriously amazing! I brought the leftovers to work and they went SO fast. My co-worker actually asked me if I had really made them myself, because that's how good they are!! Don't sleep on this classic chocolate and vanilla combo... it's a classic for a reason! 🙂
Check out my other homemade #ThrowbackTreats!
What should I make next?!

vegan copycat Hostess cupcakes
Missing the classic storebought Hostess Cupcakes? These Vegan Copycat Hostess Cupcakes (Faux-stess!) combine fluffy chocolate cupcakes with soft vanilla filling, chocolate topping, and the signature loopy decoration on top!
Author:
Valentina | The Baking Fairy
Ingredients
*For the cupcakes*
1¼ cups all purpose flour
1 cup granulated white sugar
½ cup cocoa powder
1 teaspoon baking powder
½ teaspoon baking soda
¼ teaspoon salt
1 cup nondairy milk
⅓ cup vegetable oil
2 tablespoon white vinegar
½ tablespoon vanilla extract
*for the frosting*
½ cup vegan shortening
¼ cup vegan butter
¼ cup vegan cream cheese
3 cups powdered sugar (plus ¼ cup separated for LATER)
½ tablespoon vanilla extract
½ teaspoon almond extract
pinch of salt
*For the chocolate topping*
½ cup vegan chocolate chips (or chocolate bar broken into pieces)
2-3 tablespoon nondairy milk, to thin
Instructions
Preheat oven to 350F. Place 18 cupcake liners in 2 muffin pans and set aside.
To make the cake, whisk together the flour, cocoa, sugar, salt, baking powder, and baking soda in a large bowl.
Add in the nondairy milk and oil, and mix vigorously. Add in the vinegar and vanilla, and mix until well combined.
Divide the cake batter between the prepared cupcake liners, and bake for 15-17 minutes, until a toothpick inserted in the center comes out with just a few crumbs. Set aside to cool completely before filling.
To make the frosting/filling, combine the vegan butter, vegan shortening, and vegan cream cheese in the bowl of a stand mixer fitted with the paddle attachment. Beat until smooth and creamy, then add in the vanilla and almond extracts.
Mix in the powdered sugar, one cup at a time until frosting is thick and holds its shape.
To fill the cupcakes, you can either use a cupcake corer/small scoop or a frosting tip made specifically for filling. If you are using a small scoop/corer, gently scoop out the top of each cupcake, then fill with the cream, and replace the piece of cupcake back on top.
If you are using a filling tip, fill a piping bag with the frosting. Insert the tip in the center of a cupcake, and gently squeeze as you pull the bag upwards. Be careful not to over-fill as the cupcakes will crack otherwise! Repeat with all. You should have some frosting left over either way.
Now, it is time to make the chocolate topping. Place the chocolate chips/pieces in a small microwave-safe bowl, and add in the nondairy milk. Heat in 20 second increments until chocolate has melted and it's smooth and creamy. You can add more milk until your chocolate is smooth and thin enough to be able to dip cupcakes into it! If you dip a spoon into it and pull it up, it should easily make ribbons. If it falls down in big globs, it is too thick.
To cover the cupcakes, either dip the tops directly into the bowl of chocolate, or use a spoon to spoon the chocolate on top, and use the back of the spoon to smooth it out. Repeat with all.
Finally, let's make the swirly topping. Grab your leftover frosting/filling, and add in some of that reserved powdered sugar to make it thicker. You may not need all of it!
Place the thickened frosting in a piping bag fitted with a small round piping tip (I used a #5). Pipe the swirls on top of each cupcake.
Enjoy immediately and store leftovers at room temperature. Enjoy!
*Disclosure: I am part of the Amazon Associates Program, and there may be affiliate links on this page. If you buy anything through my website, I will receive a small percentage of the profit at no extra cost to you. Thank you for supporting my blog!*