This post is sponsored in conjunction with #SpringSweetsWeek. I received product samples from sponsor companies to help in the creation of the #SpringSweetsWeek recipes. All opinions are mine alone.
Have you ever tried the old-fashioned Turtle candies? This Vegan Turtle Layer Cake uses the classic combination of chocolate, caramel, and pecans in one decadent stacked dessert.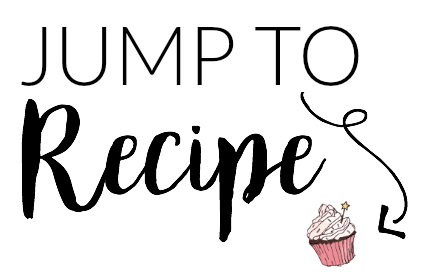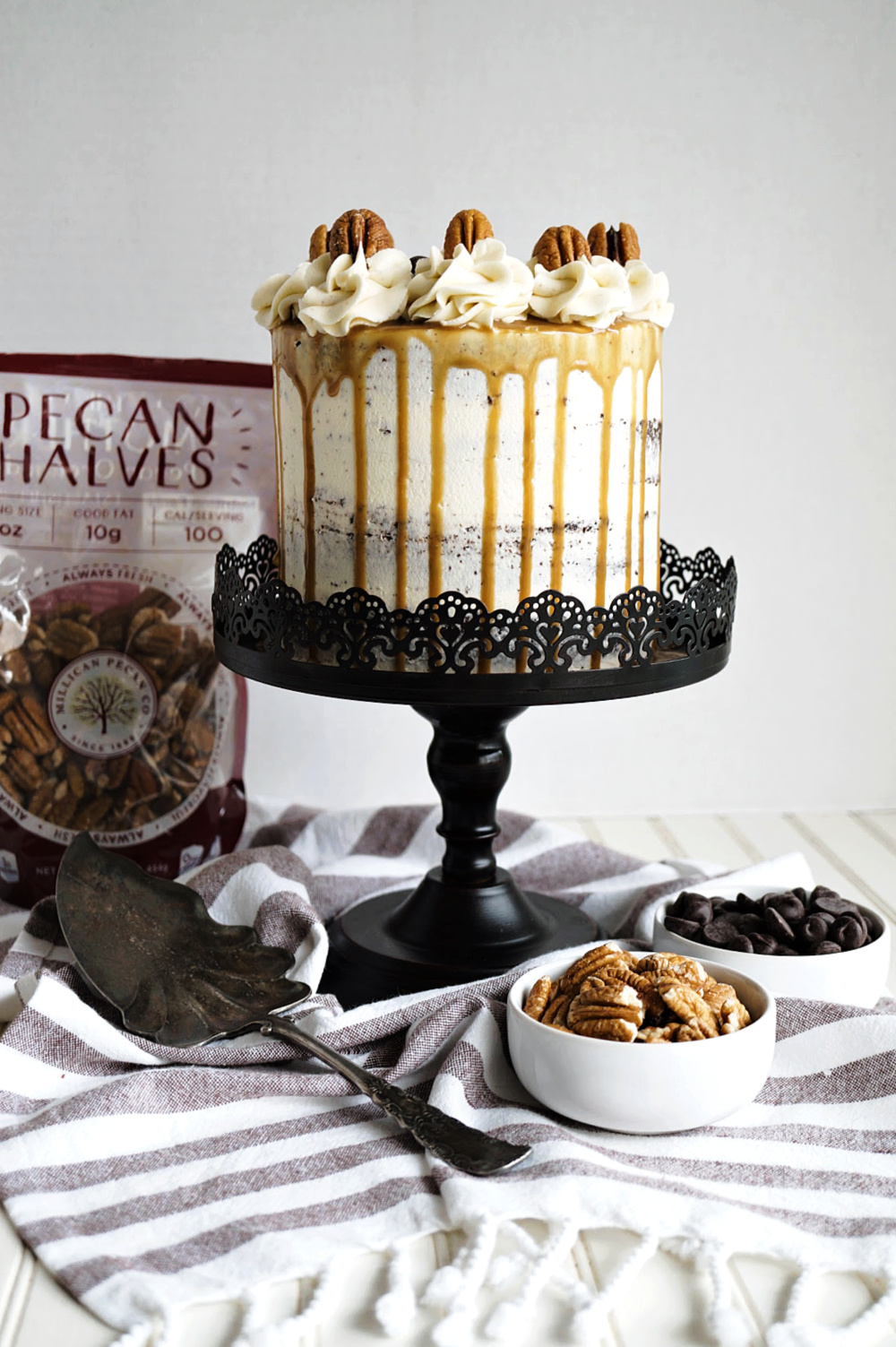 Hello friends and happy Monday! I am so excited to share that today is the beginning of #SpringSweetsWeek! All week long, I (along with some of my blogger friends) will be sharing delicious dessert recipes all week long to inspire you. You may remember I participated last year, and I couldn't wait to get back to it and create more special treats. The first creation I have for you guys is this Vegan Turtle Layer Cake, made with Millican Pecans! Chocolate-pecan cake layers are sandwiched with vanilla bean buttercream, homemade caramel, and more pecans. The whole thing is then topped with a decadent caramel drip and chocolate chips. The combination is seriously heavenly!
First things first, I would like to give a big thank you to Heather from Hezzi-D's Books and Cooks for organizing #SpringSweetsWeek 2020! What better way to celebrate the warmer weather and flowers blooming than with food and a fun giveaway? Our #SpringSweetsWeek sponsors are helping us give away some great prizes. Thank you so much to Dixie Crystals, Millican Pecan, Door County Coffee, Anolon, Deiss Cookware, Adams Extract, and Fresh April Sprinkles for your generosity. We have an incredible giveaway below and would love if you would take a moment to read about it and the prizes you can win!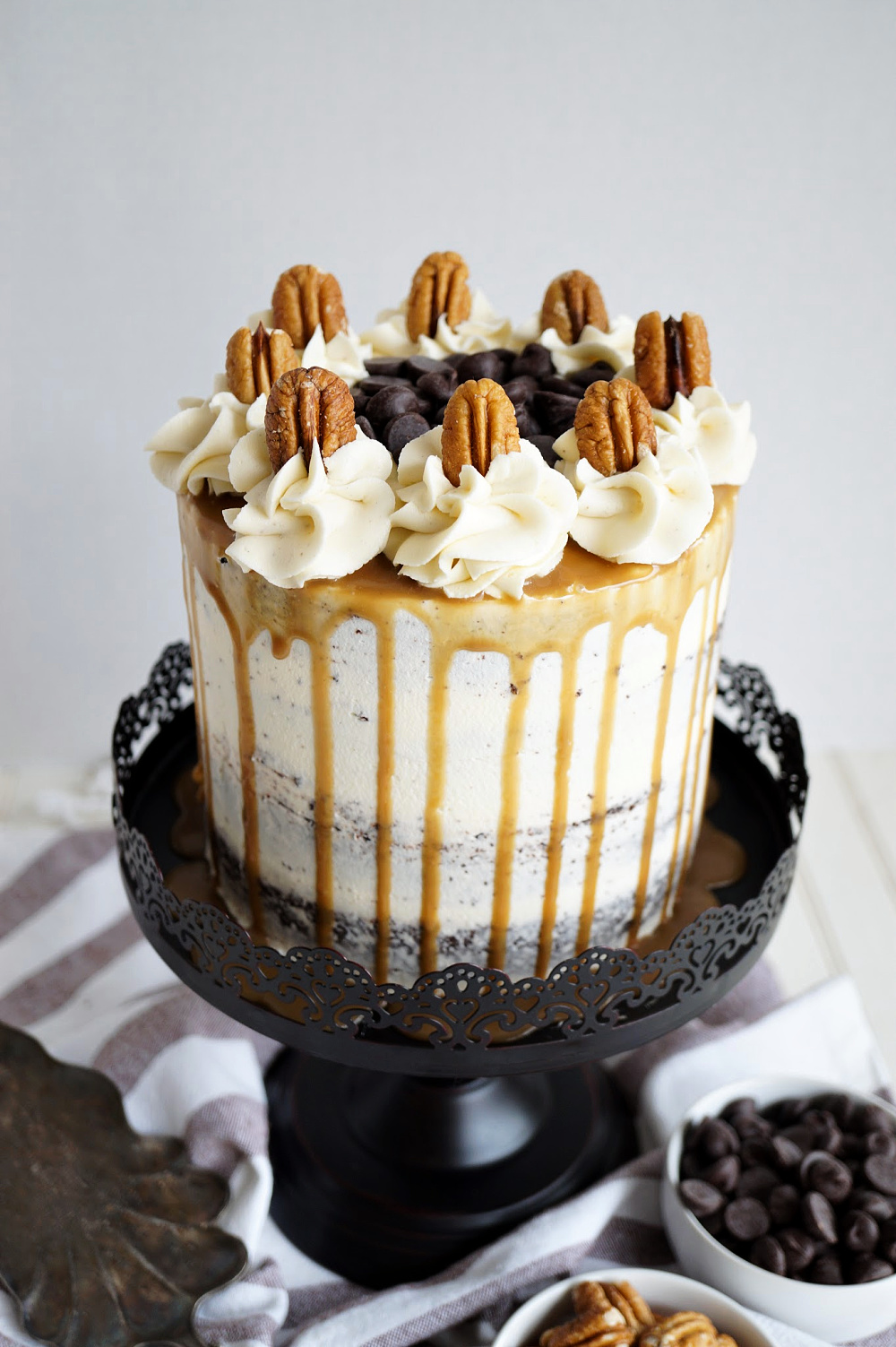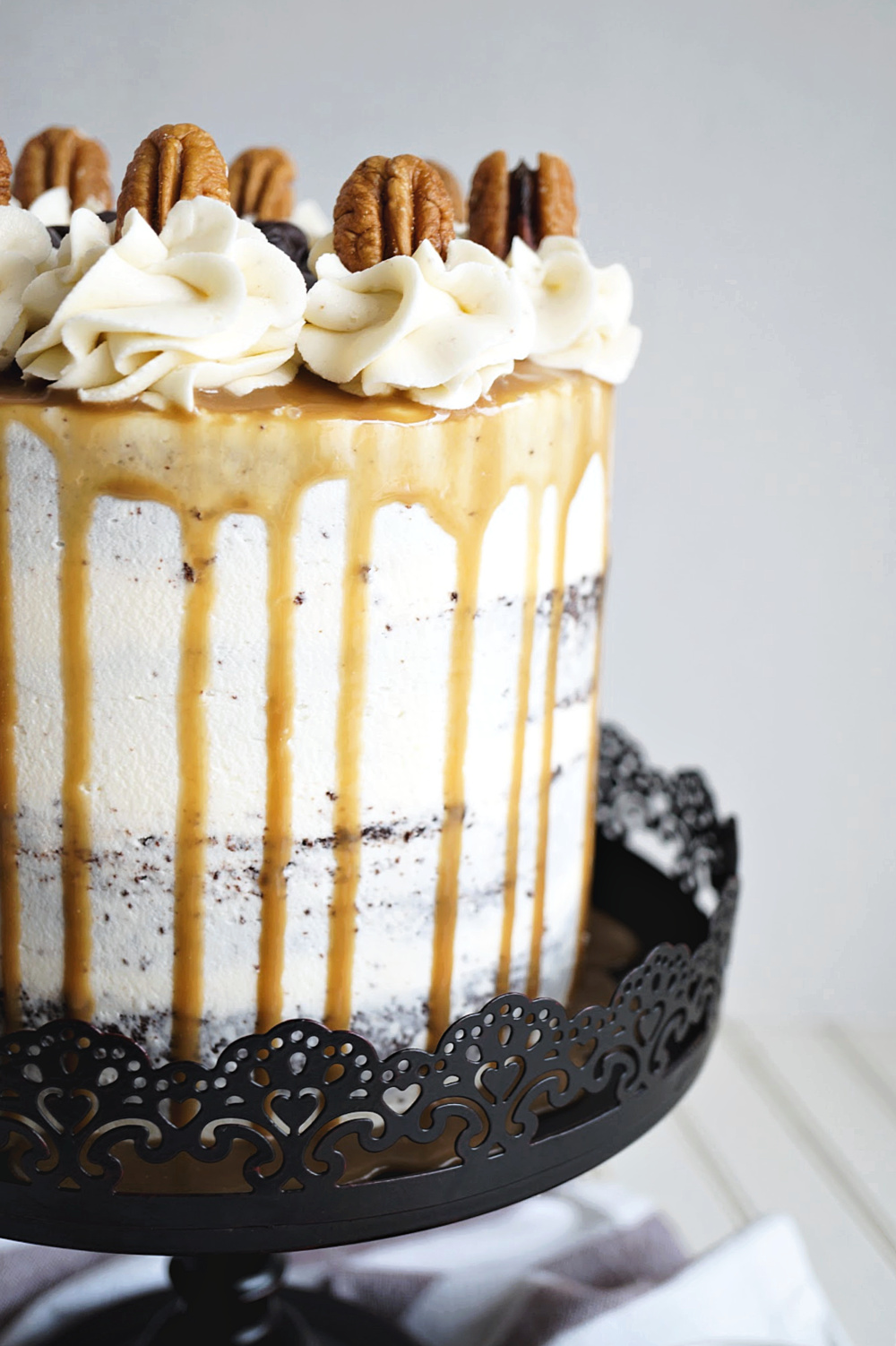 So you may be wondering... why the heck is this called a TURTLE layer cake?! Well, "Turtles" are small candies that you can make (or buy) that combine pecans with caramel and chocolate, with the pecans acting as the little legs and the caramel and chocolate being the shell. The combination of chocolate, pecans, and caramel is just classic "turtle" to me! 🙂 I promise no animals were harmed in the making of this cake 😉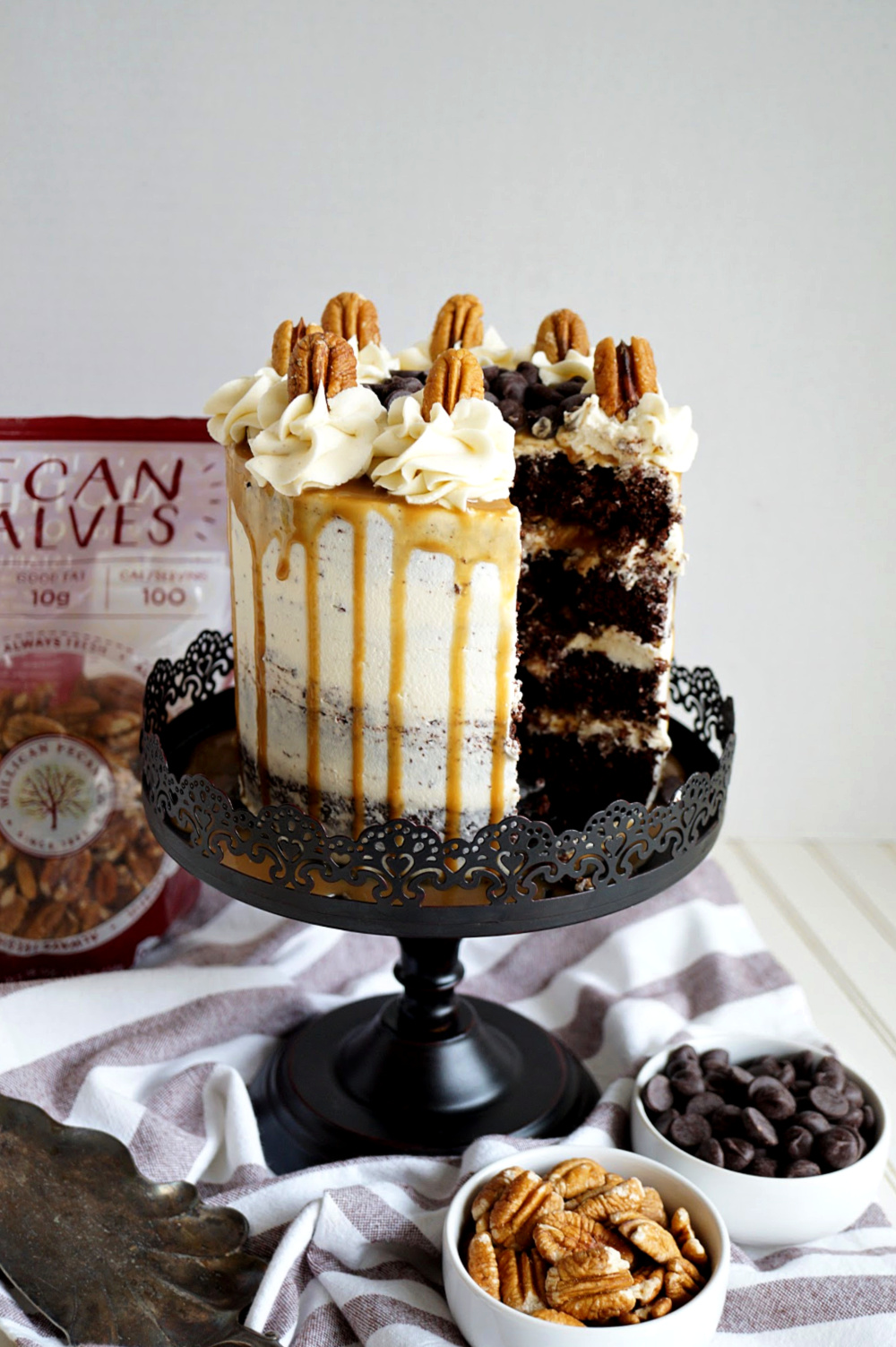 As I mentioned, this event is a group effort so be sure to check out everyone's delicious recipes for today!
Monday #SpringSweetsWeek Recipes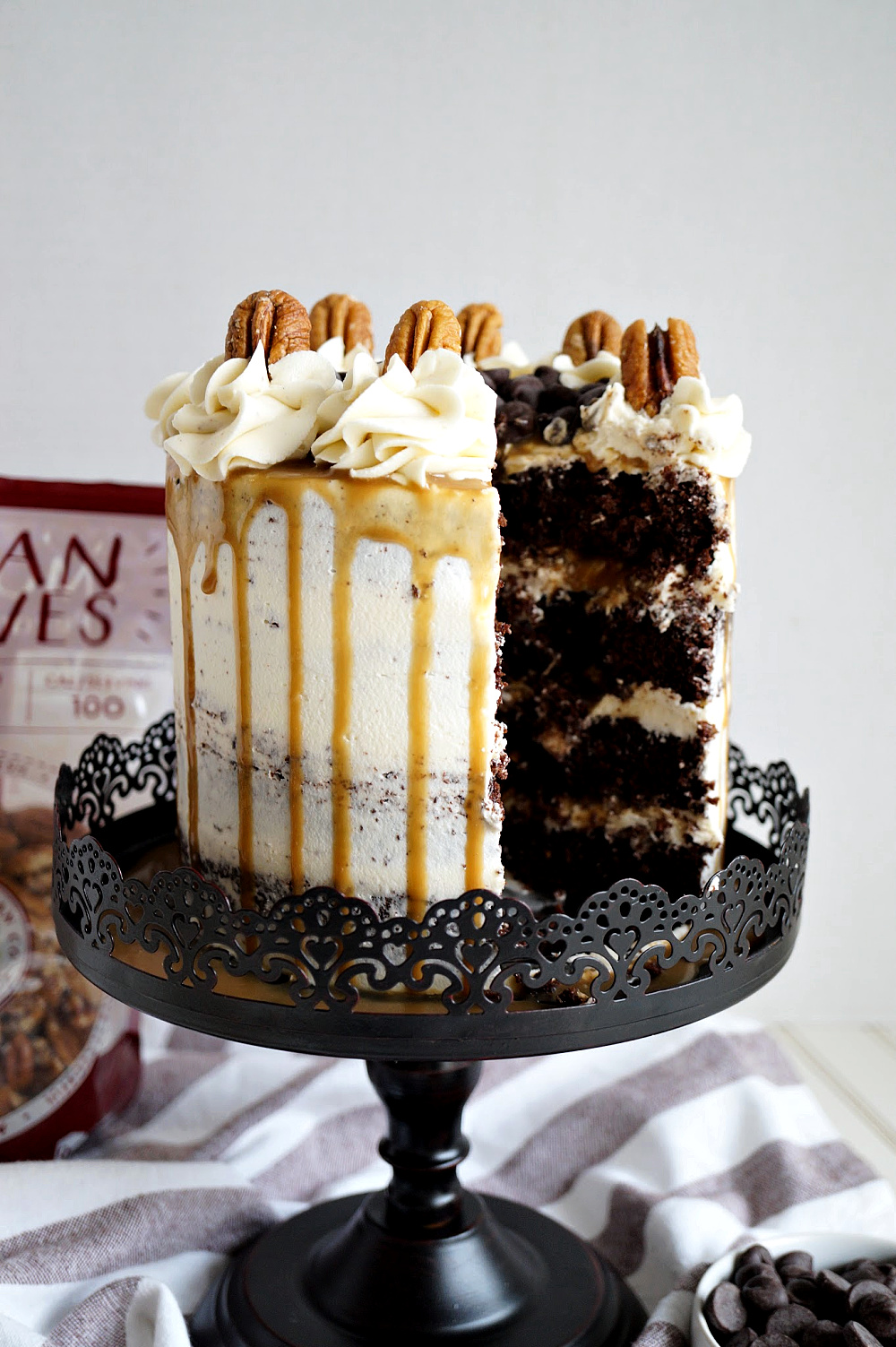 I hope you guys enjoy this decadent Vegan Turtle Layer Cake! The fresh, delicious Millican pecans really make the cake a huge success. Be sure to come back every day this week to see what else I've made for you! be sure to scroll past the recipe to see all the giveaway details!
Recipes for #SpringSweetsWeek
vegan turtle layer cake
Author:
Valentina | The Baking Fairy
Ingredients
*for the caramel*
¾ cup full fat coconut milk
½ cup packed brown sugar
½ teaspoon salt (smoked salt if you have it!)
*for the cake*
2½ cups all-purpose flour
2 cups white granulated sugar
1 cup cocoa powder
2 teaspoon baking powder
1 teaspoon baking soda
½ teaspoon salt
1 cup unsweetened nondairy milk
1 cup water
⅔ cup vegetable oil
4 tablespoon white vinegar
1 tablespoon vanilla extract
½ cup Millican pecan pieces
*for the frosting*
1 cup shortening
1 cup vegan butter
4 cups powdered sugar
1 tablespoon vanilla bean paste (or vanilla extract)
1-2 tablespoon of nondairy milk, as needed
pinch of salt
*for topping*
additional Millican pecan halves and pieces
¼ cup vegan chocolate chips
Instructions
First, start on the caramel. Combine the coconut milk and brown sugar in a small nonstick pot. Heat to medium-low heat and cook, stirring often, until mixture is thick and golden brown. This should take about 15-20 minutes. The caramel will thicken a little more as it cools as well. Sprinkle in the salt to taste.
Next, make the chocolate cakes. Preheat the oven to 350F. Spray two 6" round cake pans with baking spray, and set aside.
In a large bowl, whisk together the flour, cocoa, sugar, salt, baking powder, and baking soda.
Add in the nondairy milk, water, and oil, and mix vigorously. Add in the vinegar and vanilla, and mix until well combined. Finally, fold in the pecan pieces.
Pour the batter into the prepared pan, and bake for 40-45 minutes.
Let cakes cool slightly, then turn onto a wire rack to finish cooling off.
When the cakes are completely cooled, you can make the frosting. In the bowl of a stand mixer, beat the shortening, vegan butter, and vanilla extract together until completely smooth and creamy. Add in the powdered sugar, 1 cup at a time, until a thick frosting forms. Add in the salt. It is normal to need to add 1-2 tablespoon of milk to get the right consistency.
To assemble the cake, divide the 2 cake layers in half to create 4 thin layers.
Place one cake piece on your cake stand or platter, and spread some white frosting on top. Pipe a border of frosting all around the edge of the cake. Sprinkle pecan pieces in the middle, and drizzle on some of the prepared caramel. Repeat with the remaining layers.
Next, cover the cake with a layer of frosting. Cover the cake, being sure to fill in any gaps between the layers. Use a bench scraper to remove any excess. I like the naked look, but you can leave a thicker layer of frosting if you want!
Next, go around the edge of the frosted cake and make drips with the caramel. Finish by covering the top of the cake with caramel as well.
To complete the cake, transfer your remaining frosting to a piping bag with a 1M tip, and pipe swirls of frosting around the edge of the cake. Top each swirl with a pecan half. Add the chocolate chips to the center of the cake. Refrigerate until ready to serve!