This quick and easy Tuscan Cannellini Bean Skillet is healthy and delicious! It comes together in just a few minutes, and packs in heaps of fresh seasonal veggies.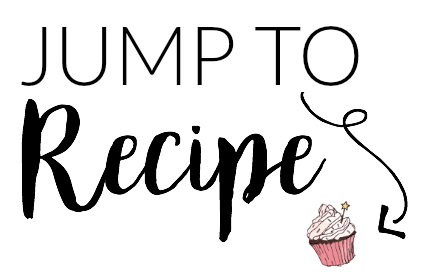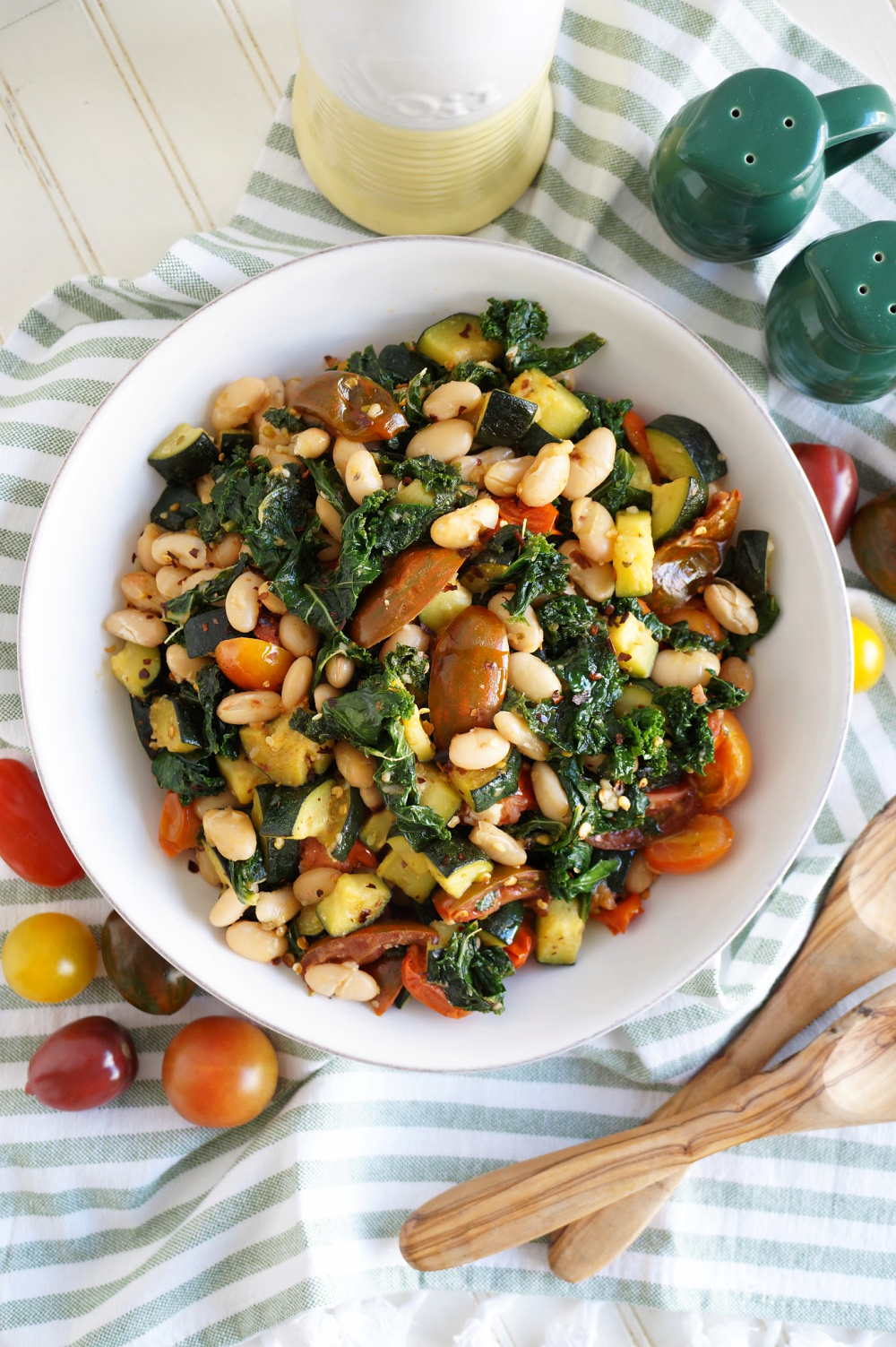 Hi friends! What is this? A new recipe?!? I know I have been very much MIA for the past month, and honestly it's just because I have been so busy with work. I have been picking up tons of extra shifts because we have been so overwhelmed with sick kiddos. I have high hopes that as spring keeps approaching, things will slow down and I can dedicate myself a bit more to this bloggie of mine 🙂 I whipped up this quick Tuscan Cannellini Bean Skillet for y'all yesterday, and I couldn't wait to share! It is super simple, tasty, healthy, and naturally plant-based. I hope you love it!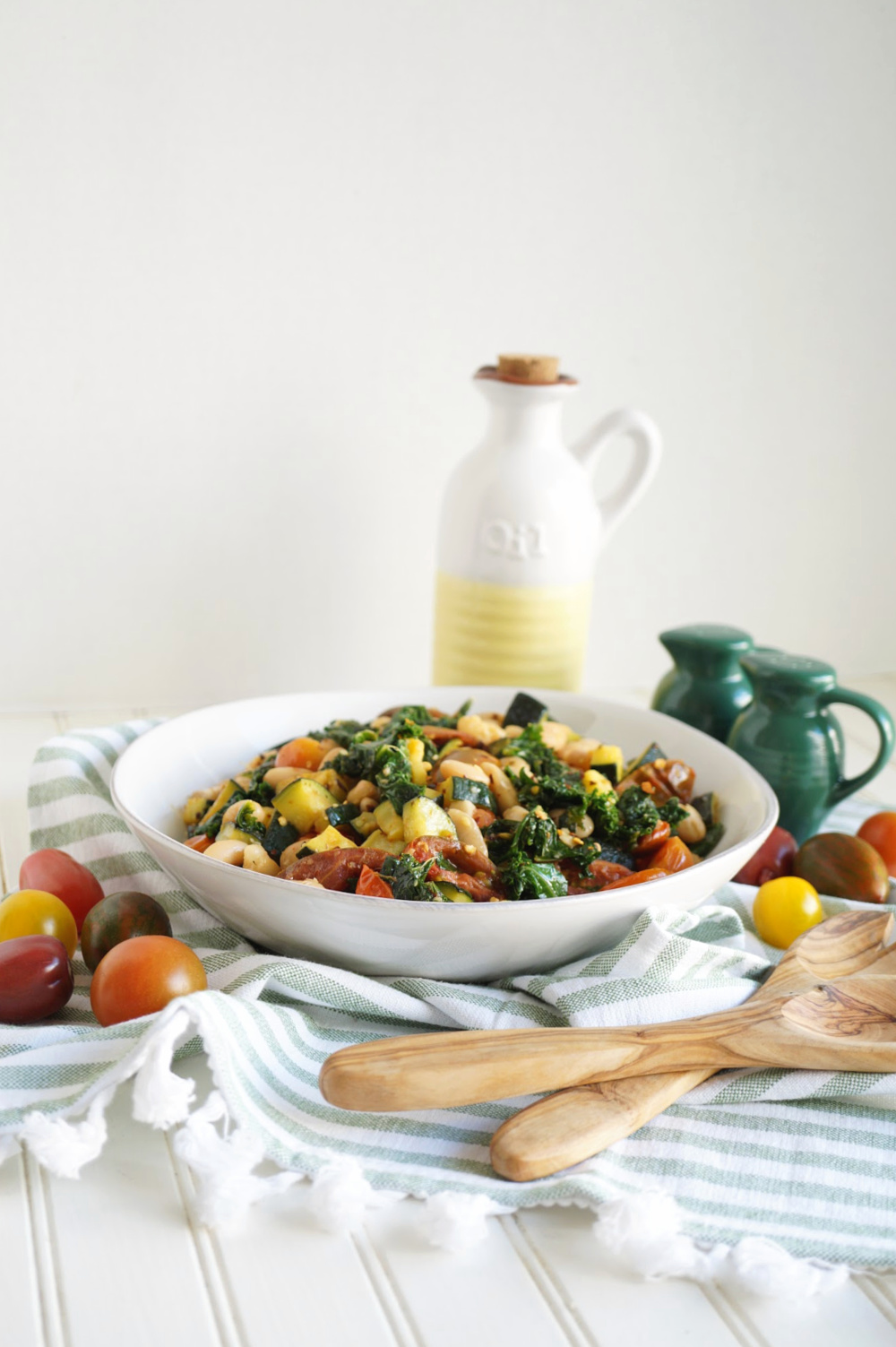 I have been in such a massive recipe slump too, on top of everything else. Like... if I have a day off, I am so tired that I don't want to cook or brainstorm or even worry about scheduling content. I browsed through my list of future recipe ideas, and settled on "bean and roasted veggie salad." As I was shopping, a more concrete recipe formed in my head. I decided to sauté everything instead of roasting, and picked cannellini beans instead of my beloved chickpeas to change it up! This Tuscan cannellini bean skillet combines the white beans with garlic, zucchini, kale, baby tomatoes, olive oil, and Italian herbs for a delicious dish. You can eat it as a main (and beef it up with some crusty bread or an egg on top), or serve it as a side. Either way, it is scrumptious!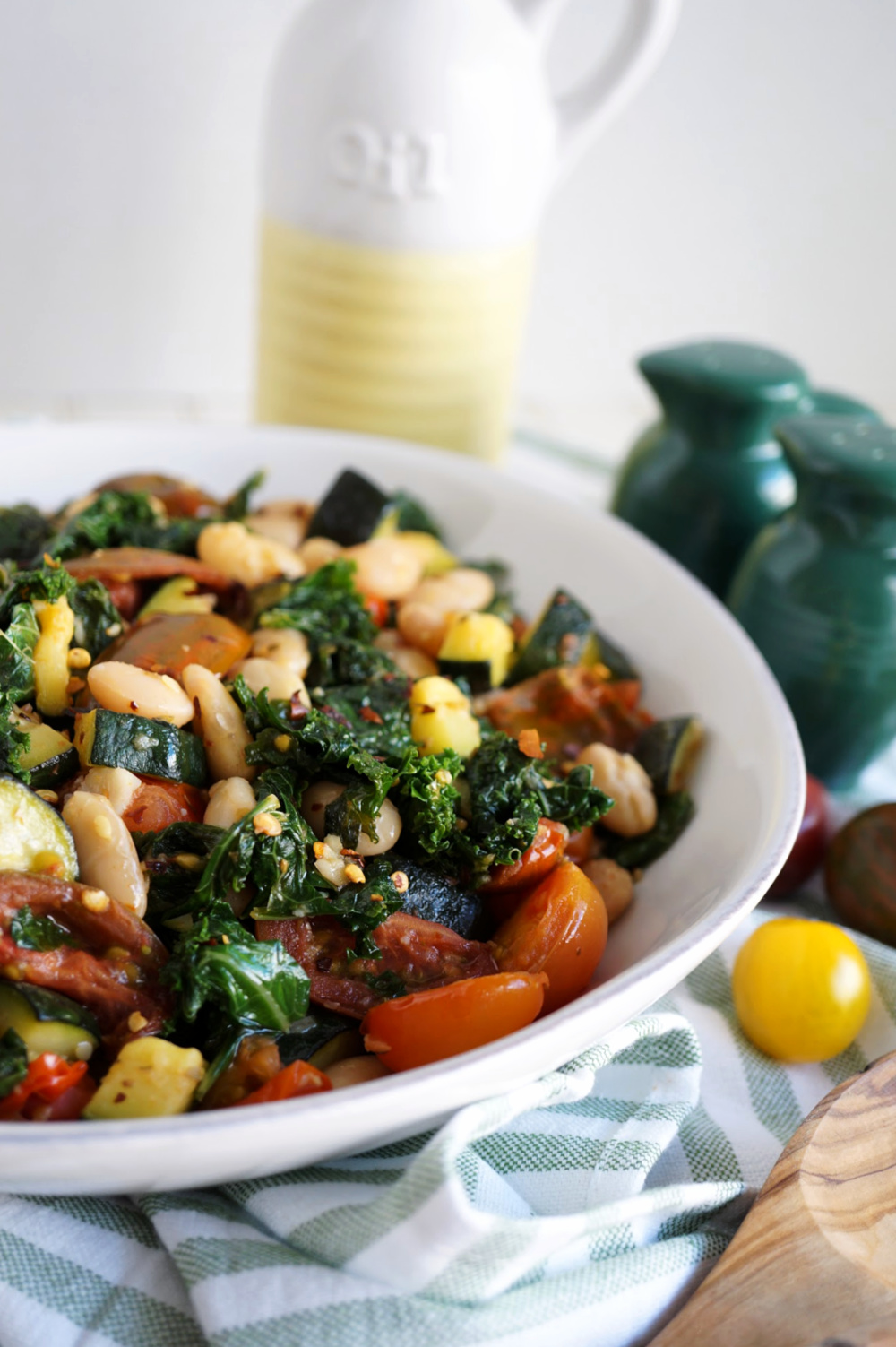 Tips for your Tuscan cannellini bean skillet:
Any white beans will work! I don't usually use cannellini beans, but they seemed like a fitting choice here! You can definitely substitute for a different white bean such as Great Northern beans or garbanzo. I would pick something with a soft skin, as they are added in the pan last minute and basically just warmed up with everything else. No long simmer here!
You can substitute the kale for another leafy green. I am one of those weirdos who genuinely really likes kale, but if it's not your jam, you can easily substitute for spinach or Swiss chard.
Prep everything ahead of time. This recipe is super fast and moves quick, so have your vegetables cut up and ready to go before you even heat up the olive oil!
Sub the cherry tomatoes for your favorite type. I love buying the rainbow tomatoes at the store - they just make me so happy!! And I feel like I am always more willing to make myself eat healthy food when it is pretty. You can use any regular ol' cherry tomatoes in here, or you can even dice up a couple of regular sized tomatoes in their place.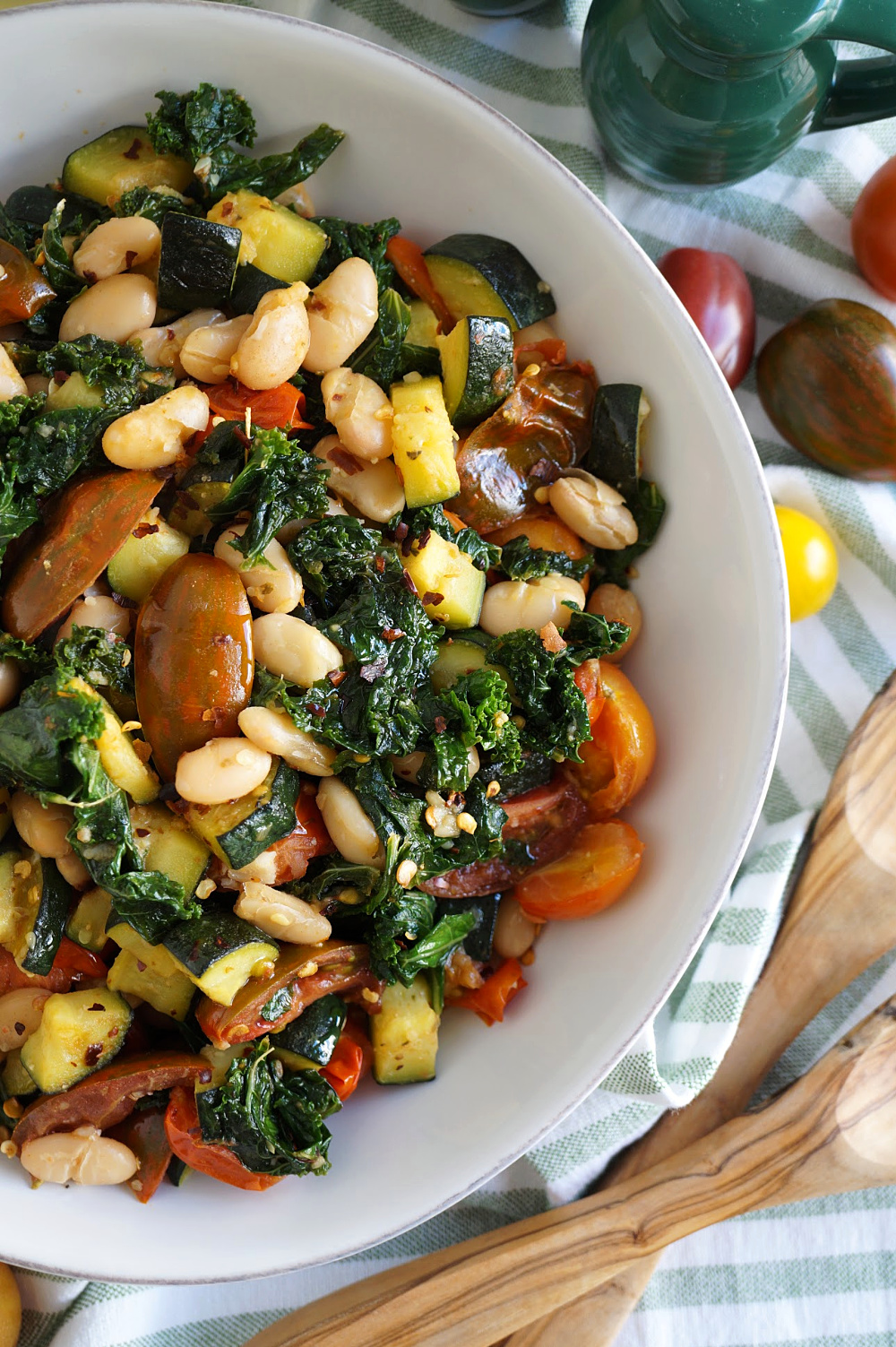 I hope you guys will give this Tuscan cannellini bean skillet a try! It is super simple to make and so tasty. You'll easily meet your 5-a-day veggie requirements with this plant-based goodness!
More of my favorite kale recipes:
Tuscan cannellini bean skillet
This quick and easy Tuscan Cannellini Bean Skillet is healthy and delicious! It comes together in just a few minutes, and packs in heaps of fresh seasonal veggies.
Author:
Valentina | The Baking Fairy
Ingredients
2 tablespoon olive oil
3-4 garlic cloves, minced
2 medium zucchini, diced (about 2 cups)
1 bunch of torn kale leaves, with hard stems removed
1 15-oz can cannellini beans, rinsed and drained
1 pint cherry tomatoes, halved
½ teaspoon garlic salt
½ teaspoon Italian herb mix
crushed red pepper flakes, to taste
Instructions
First, heat the olive oil in a large pan over medium-high heat.
Add in the garlic, and cook quickly for 1-2 minutes until fragrant and barely golden (be careful as garlic burns easily). Toss in the diced zucchini, and mix to combine.
Cook the zucchini, stirring occasionally, until they start to form a golden brown crust and start to soften (5-7 minutes).
Next, mix in the kale leaves and cook until they wilt down. Finally, add in the cannellini beans and cherry tomatoes, cooking until they are just warmed through.
Mix in the garlic salt, Italian herbs, and red pepper flakes, and add more to taste.
Serve immediately!