This Autumn Kale Salad is a perfect lunch or light dinner for warm fall days! It combines fresh kale with roasted shiitake mushrooms, chickpeas, and sweet potatoes, all topped with a homemade maple mustard dressing.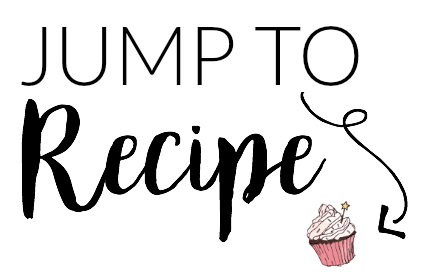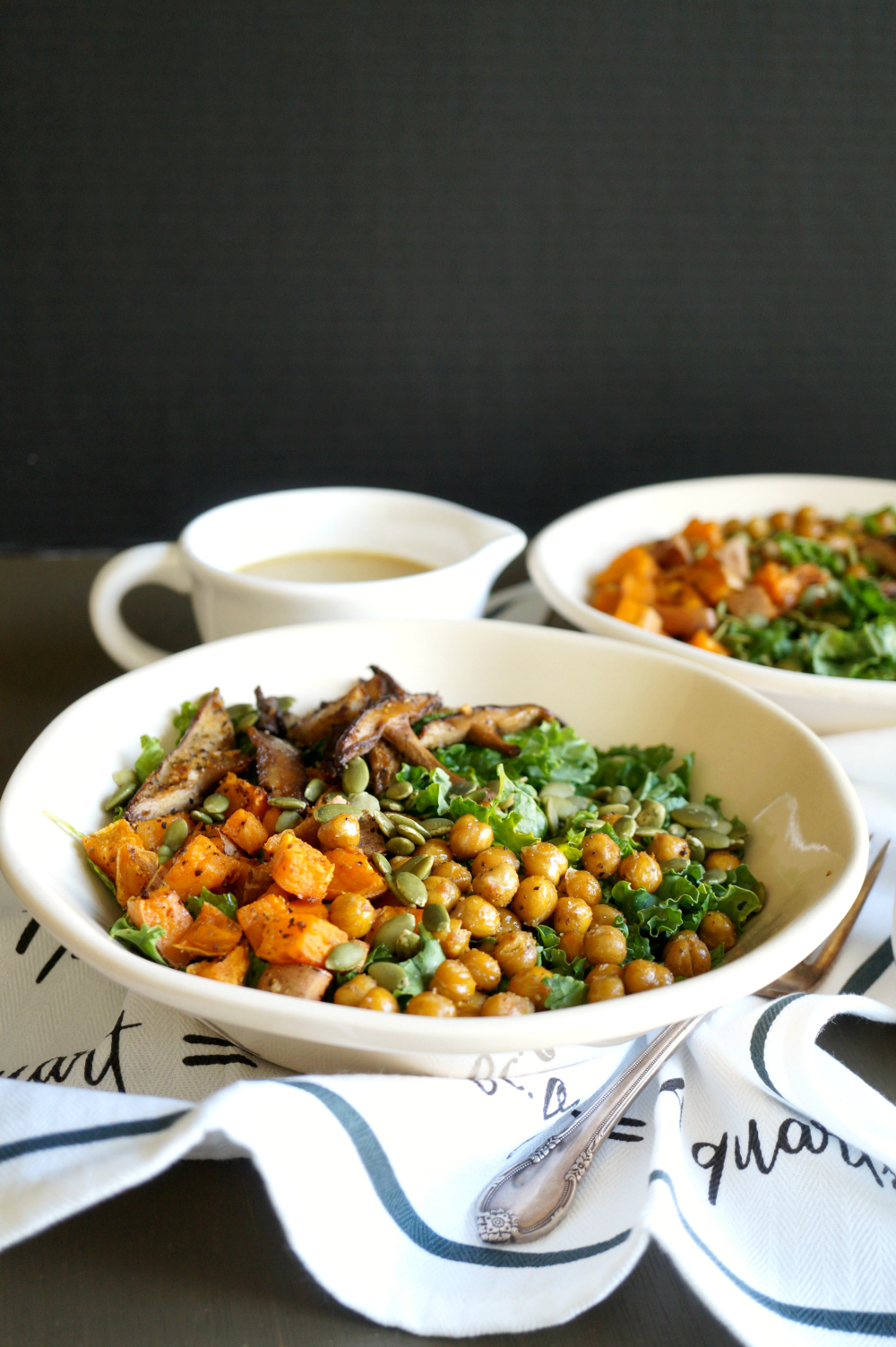 Oh hiiii friends! Happy Friday! Who else is so totally glad it's almost the weekend?! (raises hand) I am super pumped to be pairing up with some blogger friends today to celebrate NATIONAL MUSHROOM MONTH! It's not super obvious based on the recipes I have on the blog, but I am such a fan of mushrooms. When I'm cooking, I am always adding in some mushrooms with my other veggies! In pasta, soups, enchiladas, salads... all the things. I know they're not for everyone but I love them so... more for me! My creation today is this Vegan Autumn Kale Salad with Roasted Shiitakes and Maple Mustard Dressing! I know it's like the longest name ever, but I promise everything is necessary. I really could have made it even longer! 😉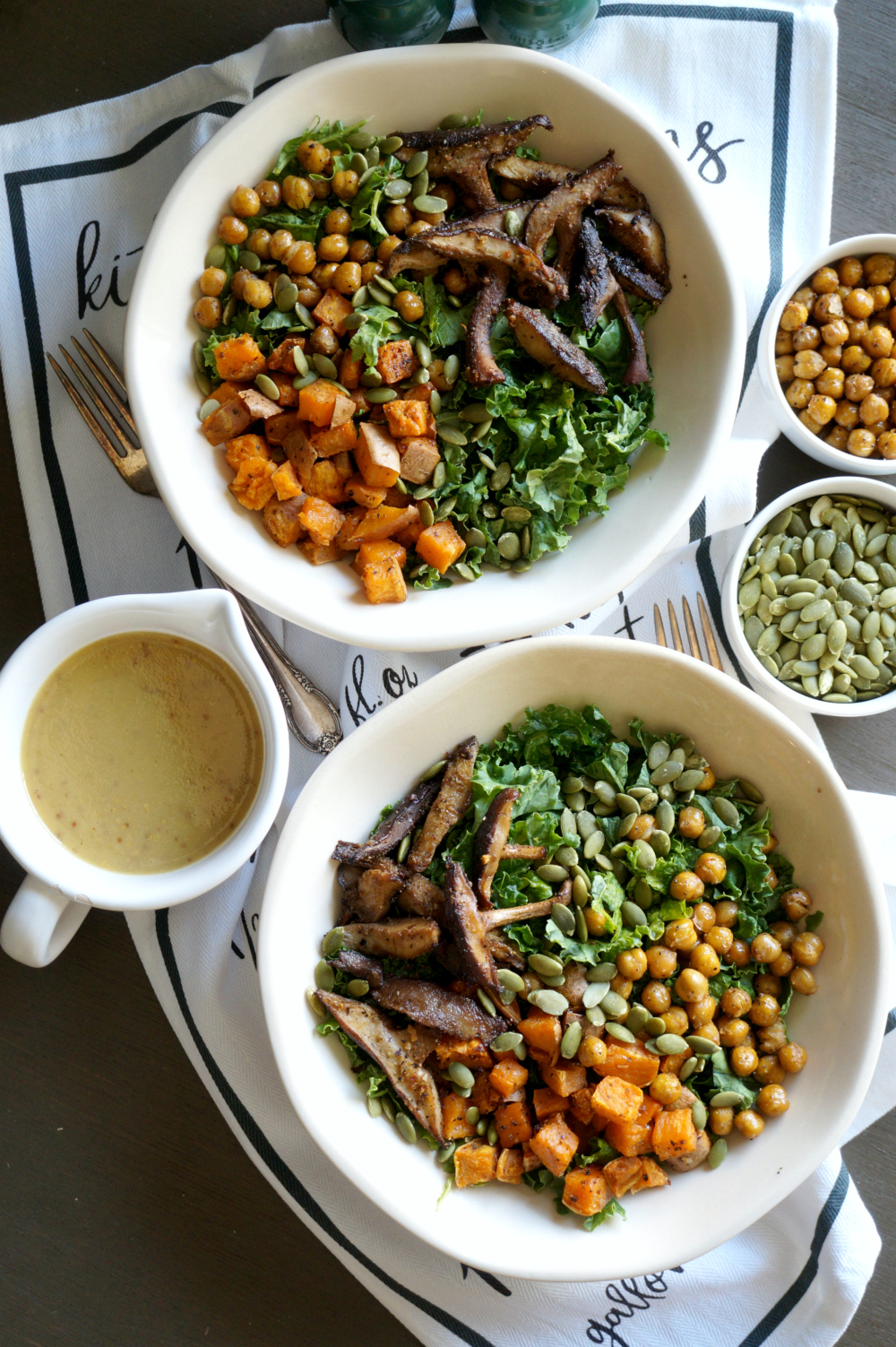 I'm sure you guys must be wondering what the deal is with this salad! I don't share tons of salads on the blog, so if its on here, you know it has to be goooood. I wanted to showcase mushrooms in a fall inspired bowl of goodness and I am so pleased with how it all turned out! So you start with kale and massage it until it's nice and tender. You then roast shiitake mushrooms, chickpeas, and sweet potatoes until they're all nice and golden brown and caramelized. Finally, you whisk together a super simple (and super delicious) maple mustard dressing to pour over the top! Sprinkle on a few pumpkin seeds, and voila. The perfect autumn kale salad!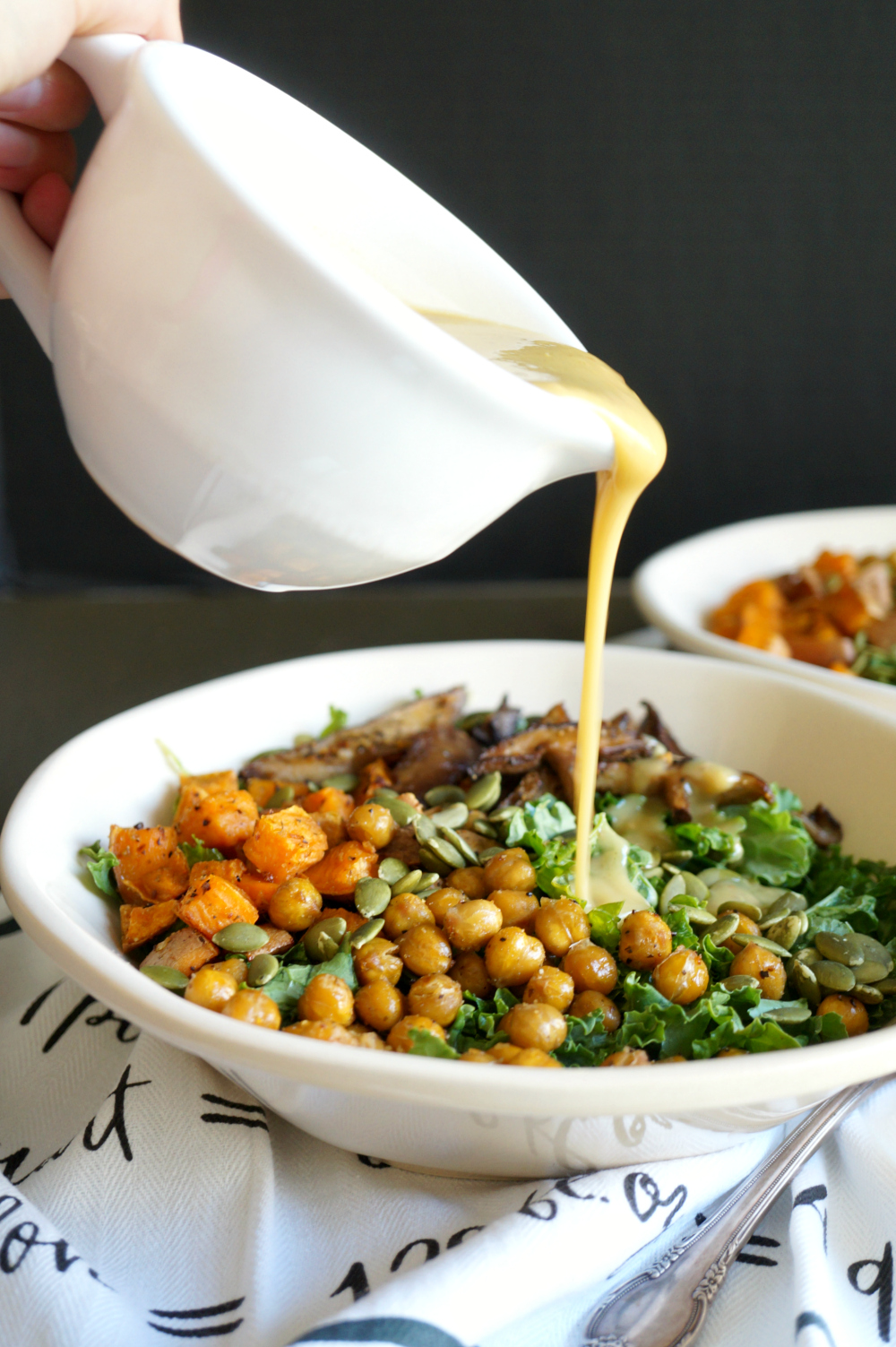 Like I said, I love putting mushrooms in all-the-things, but it's also fun to see what OTHER people are making with these magical fungi! Be sure to check out all the mushroomy recipes for today!
Mushroom Madness Recipes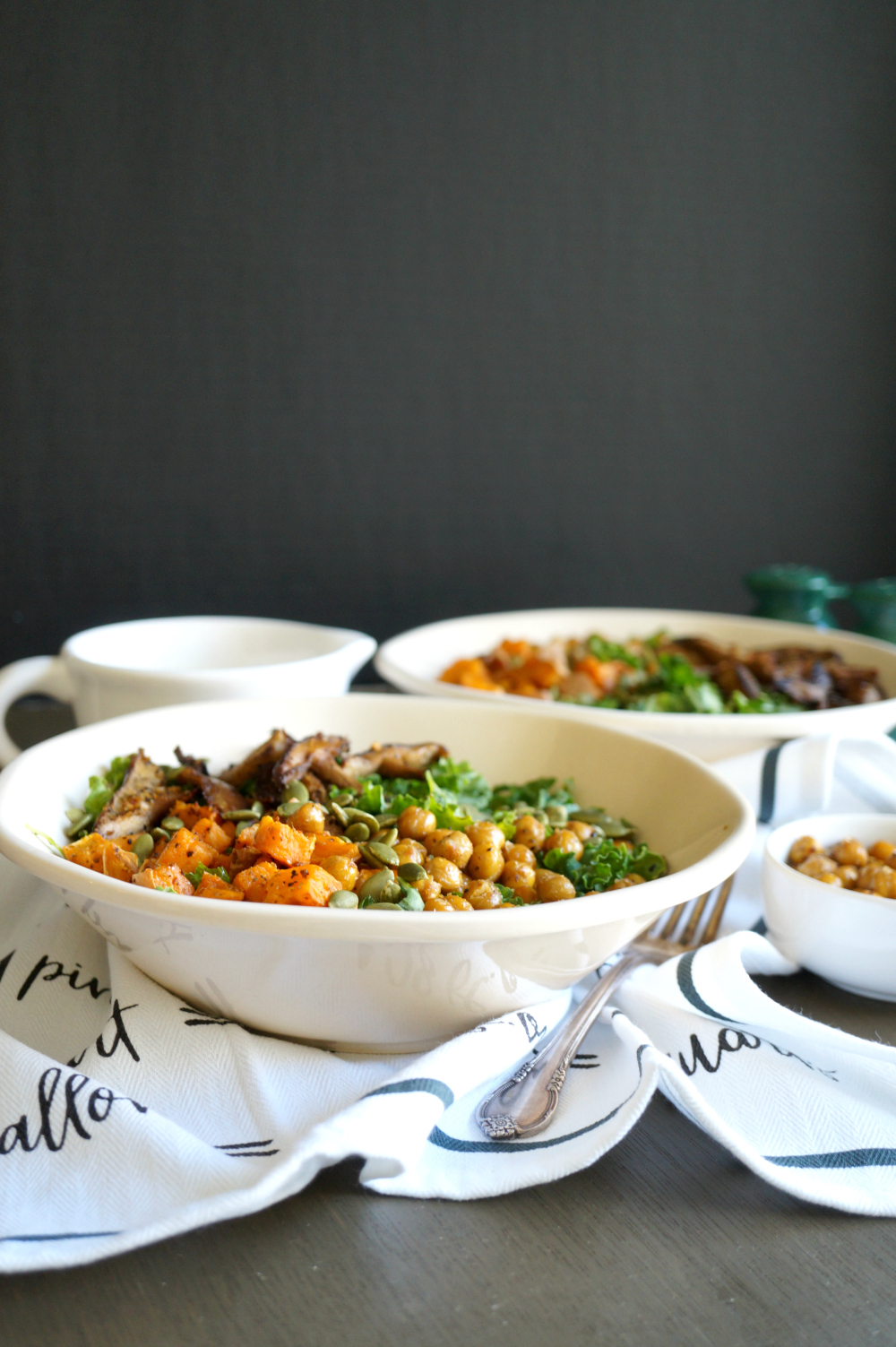 Tips for success:
Roast all the veggies for the autumn kale salad at the same time to save dishes (and get your food ready quicker)! If you have two pans, I recommend doing the sweet potatoes and the mushrooms together, and then the chickpeas by themselves. I noticed that the chickpeas reached ideal crispiness before the other veggies were done!
I prefer to buy a bunch of whole kale leaves at the store over the pre-washed bag, because this way I can quickly and easily remove all the tough stems!! The bagged kale is usually chopped up but still has the stems attached, so it is way harder and more time consuming to pick them all out.
No shiitakes at your grocery store (or they are costing an arm and a leg)? I feel ya. TBH... I scored these for $0.99 so that's the main reason I used them over regular mushrooms. Feel free to do half fancy mushrooms/half baby bellas or white button mushrooms, or you can even do all regular mushrooms. I find that the roasting makes them super flavorful, so they all come out really tasty!
You can definitely use store-bought dressing, BUT... let me tell ya. This one is so fast and easy, and it tastes SO good! I promise it is worth the tiny amount of effort I am asking of you 🙂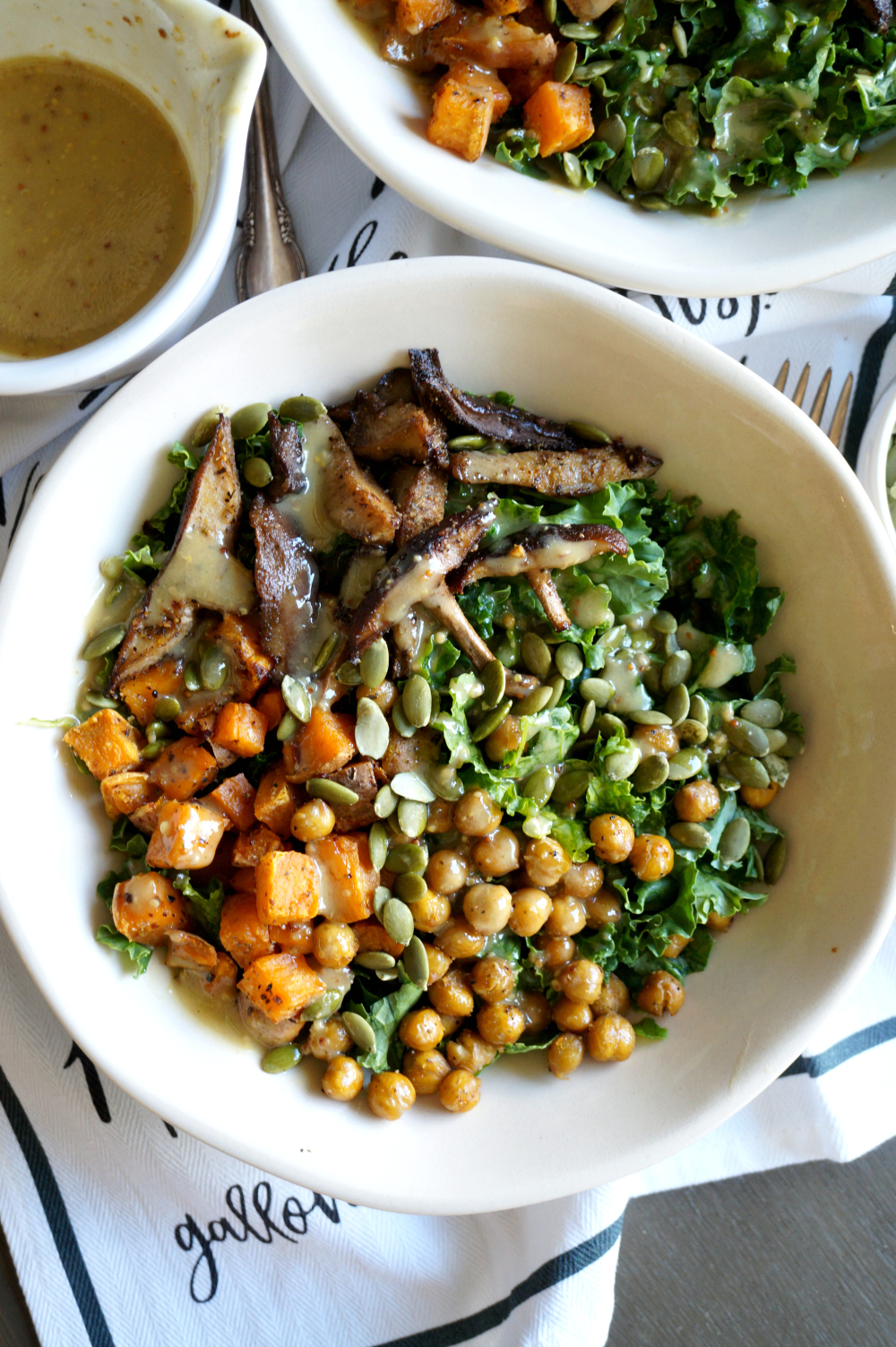 I hope you guys will give this autumn kale salad a try! It is SO delicious and I am so obsessed. This is one of those salads that is really filling and satisfying, and I absolutely loved it! The fresh kale, warm toasty vegetables, and crunchy pepitas work so well together to deliver a delicious mix of flavors and textures. The sweet and savory dressing on top just seals the deal!!
Check out my other favorite mushroom recipes!
vegan autumn kale salad with roasted shiitakes and maple mustard dressing
This Autumn Kale Salad is a perfect lunch or light dinner for warm fall days! It combines fresh kale with roasted shiitake mushrooms, chickpeas, and sweet potatoes, all topped with a homemade maple mustard dressing.
Author:
Valentina | The Baking Fairy
Ingredients
*for the dressing*
2 tablespoon dijon mustard
1 tablespoon grainy mustard
2 tablespoon maple syrup
2 tablespoon apple cider vinegar
4 tablespoon extra virgin olive oil
½ teaspoon garlic salt
*for the salad*
1 bunch of fresh kale leaves
1 lb shiitake mushrooms (or mixed mushrooms), rinsed and sliced thick
2 medium sweet potatoes, diced small
1 15oz can of chickpeas, rinsed and drained
1 tablespoon olive oil
1-2 italian herb seasoning
salt & pepper to taste
¼ cup pepitas
Instructions
First, prepare the dressing.
In a medium bowl, whisk together the mustard, maple syrup, and apple cider vinegar. Whisking constantly, slowly drizzle in the olive oil. Be sure to keep mixing so that it can emulsify with the mustard and vinegar and won't "split"! Add the garlic salt, and mix to combine. Set aside as you prepare the rest.
Preheat the oven to 425F, and line two baking sheets with silicone or parchment paper.
Spread the chickpeas out on one of the baking sheets, and the mushroom slices and sweet potato cubes on the other. Drizzle the olive oil over everything, and sprinkle on the Italian herb seasoning and some salt and pepper. Toss to combine.
Roast the veggies in the preheated oven for about 20-30 minutes, until they are golden brown and caramelized. Watch the chickpeas as they usually take a little less time than the rest.
While the vegetables are cooking, prepare the kale. Wash well under running water, and remove the soft leaves from the hard woody stem in the center. Break up the leaves into smaller pieces with your hands. Be sure to squeeze and crush them as you go to help tenderize them and make them easier to eat!!
Be sure to dry your kale leaves off really well before serving. A salad spinner works really well for getting all the excess water out!
When the vegetables are cooked, it is time to assemble. Divide the kale between 4 bowls, and top each with some of the roasted shiitakes, sweet potatoes, and chickpeas. Sprinkle on the pepitas, and finish off with some of the dressing you made. Serve immediately!