This post has been compensated by FarmRich. All opinions are mine alone. #FarmRich #ad
Make any night into TACO night with easy shortcuts from Farm Rich! These Crispy Mushroom Street Tacos take less than 30 minutes to make, and feature breaded whole white button mushrooms, fresh cabbage slaw, and creamy smashed black beans.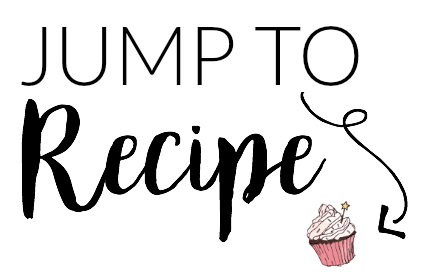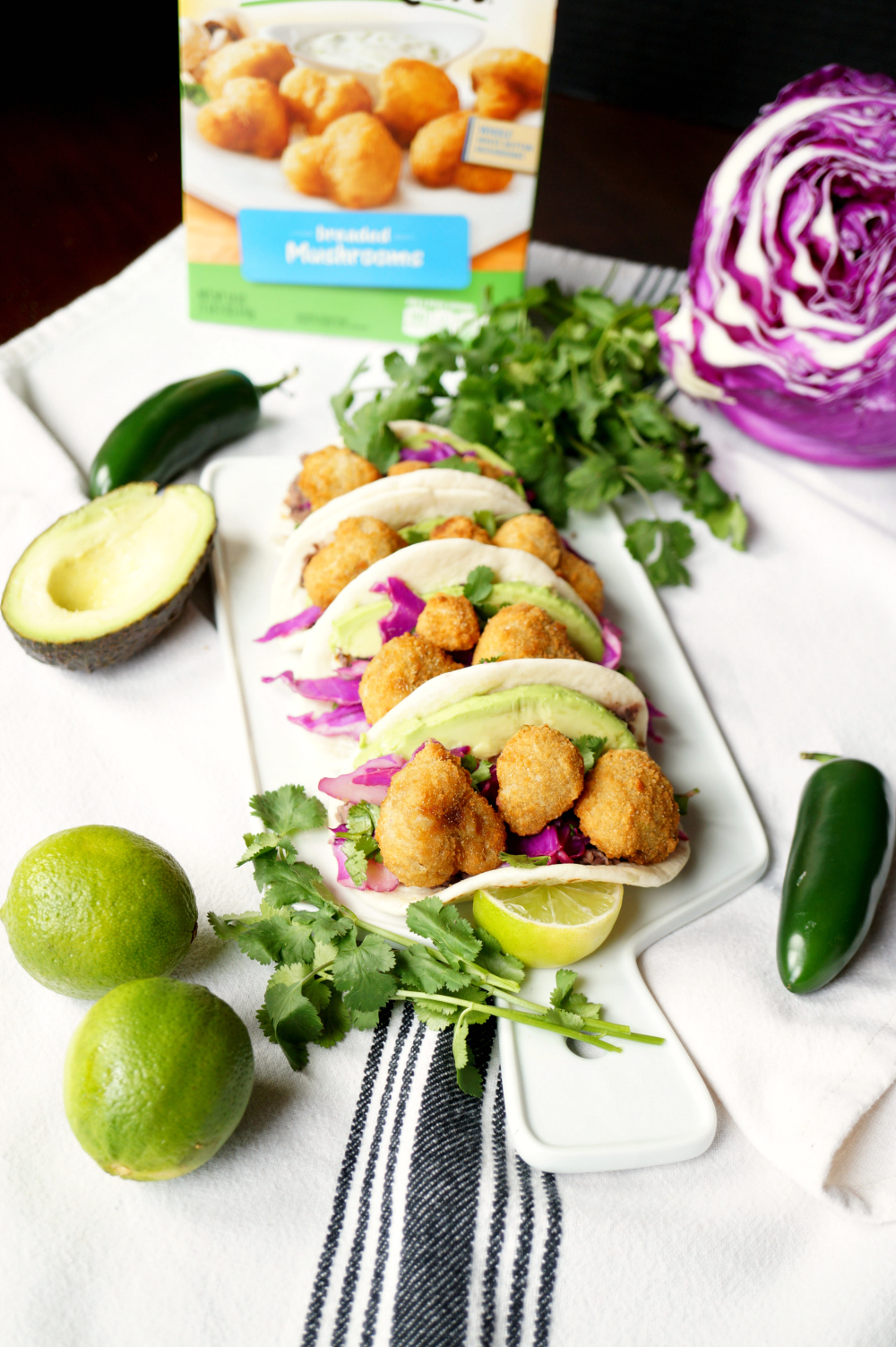 Hello friends and happy Fri-YAY! I am so excited to be collaborating with Farm Rich today to bring you these scrumptious Crispy Mushroom Street Tacos! These little two-bite babies feature crunchy, satisfying breaded mushrooms paired with smashed black beans, sliced avocado, and a fresh cabbage-cilantro slaw. These are surprisingly simple to make and so delicious. Make any night taco night!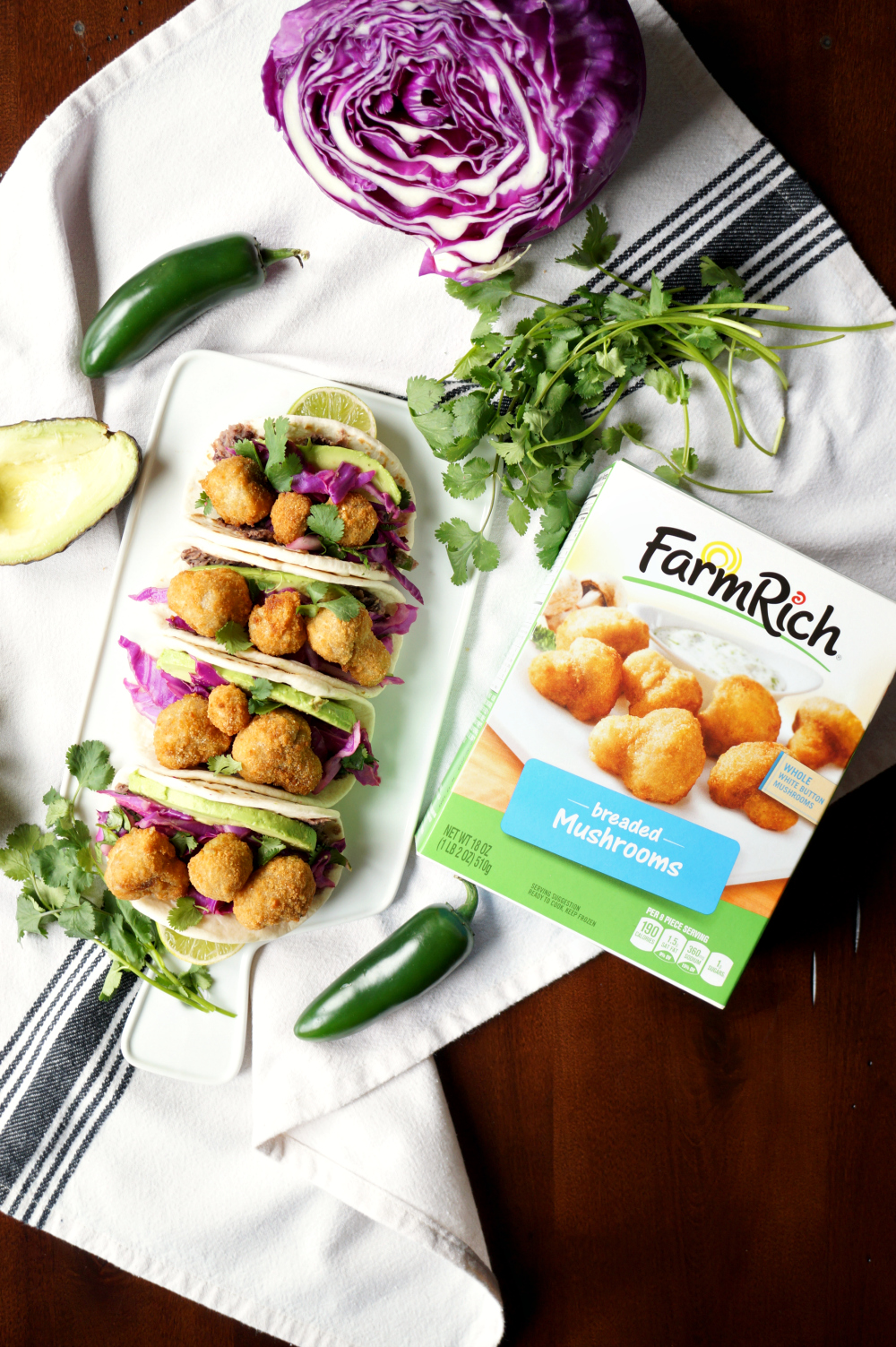 So I am sure you're already familiar with Farm Rich as they are famous for their wide variety of frozen snacks, from Mozzarella Sticks to Jalapeño Peppers to Loaded Potato Skins. I decided to shine the spotlight on these delicious Breaded Mushrooms today, as it's no secret I am obsessed with all things mushroom! The best part is that they are so simple to make - just preheat the oven, lay your Mushrooms out in a single layer, and bake until golden brown and delicious. It's hard to believe that these are baked, since the coating is so crispy and light they taste fresh out of the frier! What really sets FarmRich apart is their commitment to using wholesome ingredients to create delicious foods for the busy everyday cook. It's a difference you can taste in every bite!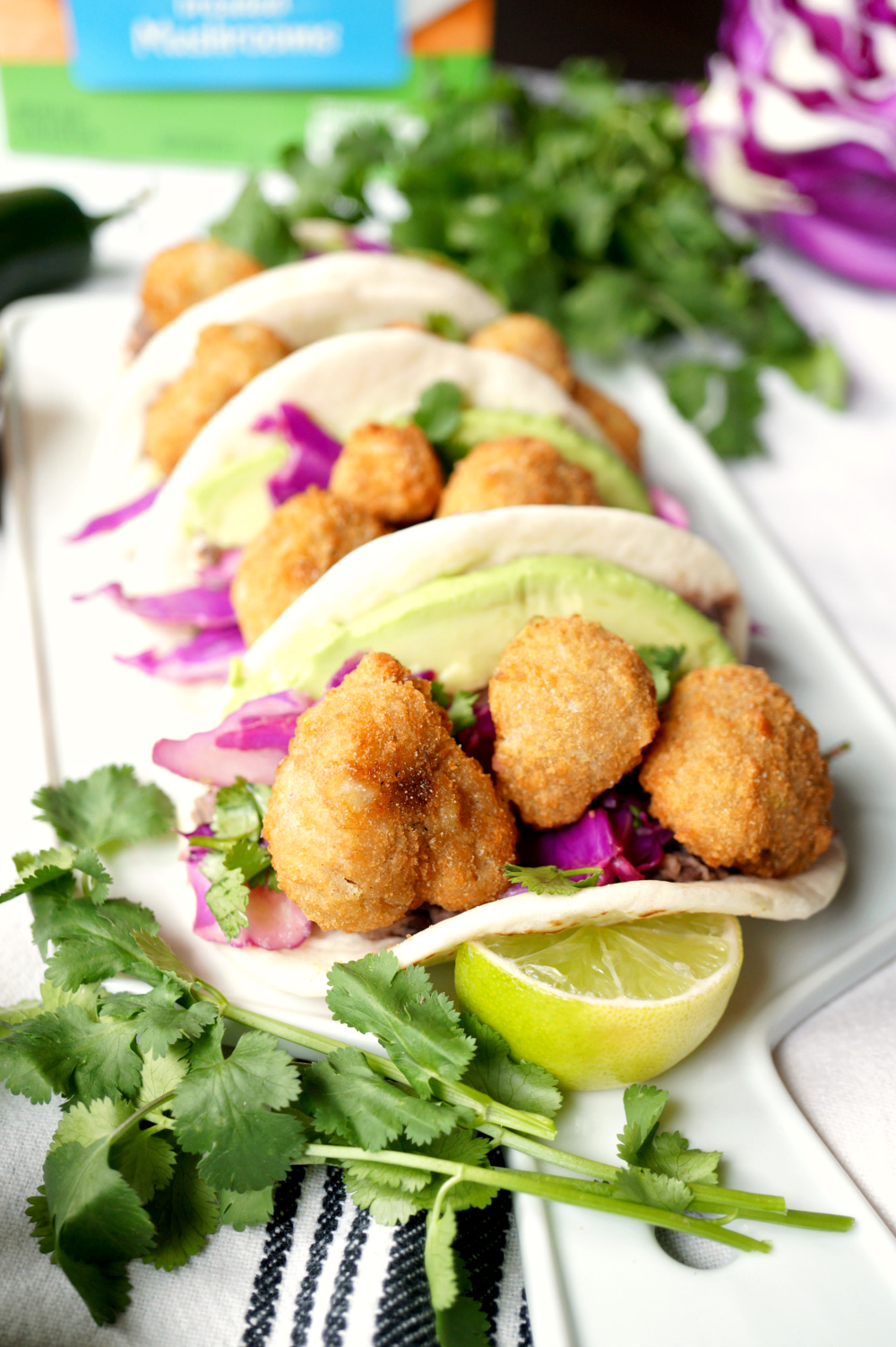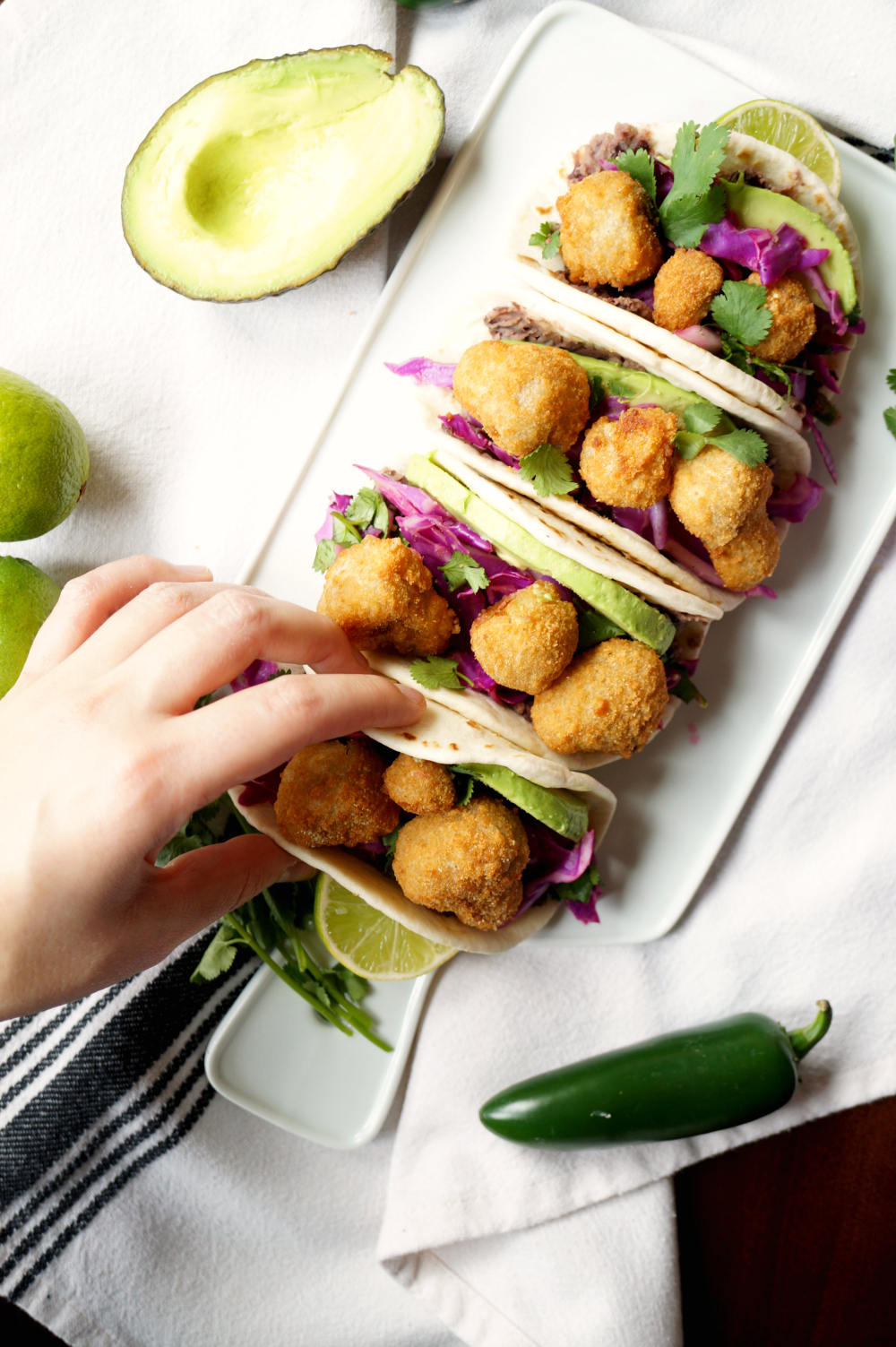 These Crispy Mushroom Street Tacos were partially inspired by a TexMex joint near my house who has these fantastic fried portobello tacos! If they can do it, so can I, right? 😉 The mushrooms are delicious as is, but with the smashed black beans and avocado to add a bit of creamy richness, and the zesty cabbage-cilantro slaw to cut through the rich flavors, it really is an amazing pairing! Honestly, I'm obsessed. This is such a winning combination of flavors and it is TOTALLY doable on a weeknight! The slaw and black beans can easily be prepped ahead of time, so you can make them in the morning and keep in the fridge until needed. Then, when ready to eat, slice up your avocado, bake your Mushrooms, and be sure to put your tortillas in the oven for the last few minutes so they get warm and soft. SO GOOD.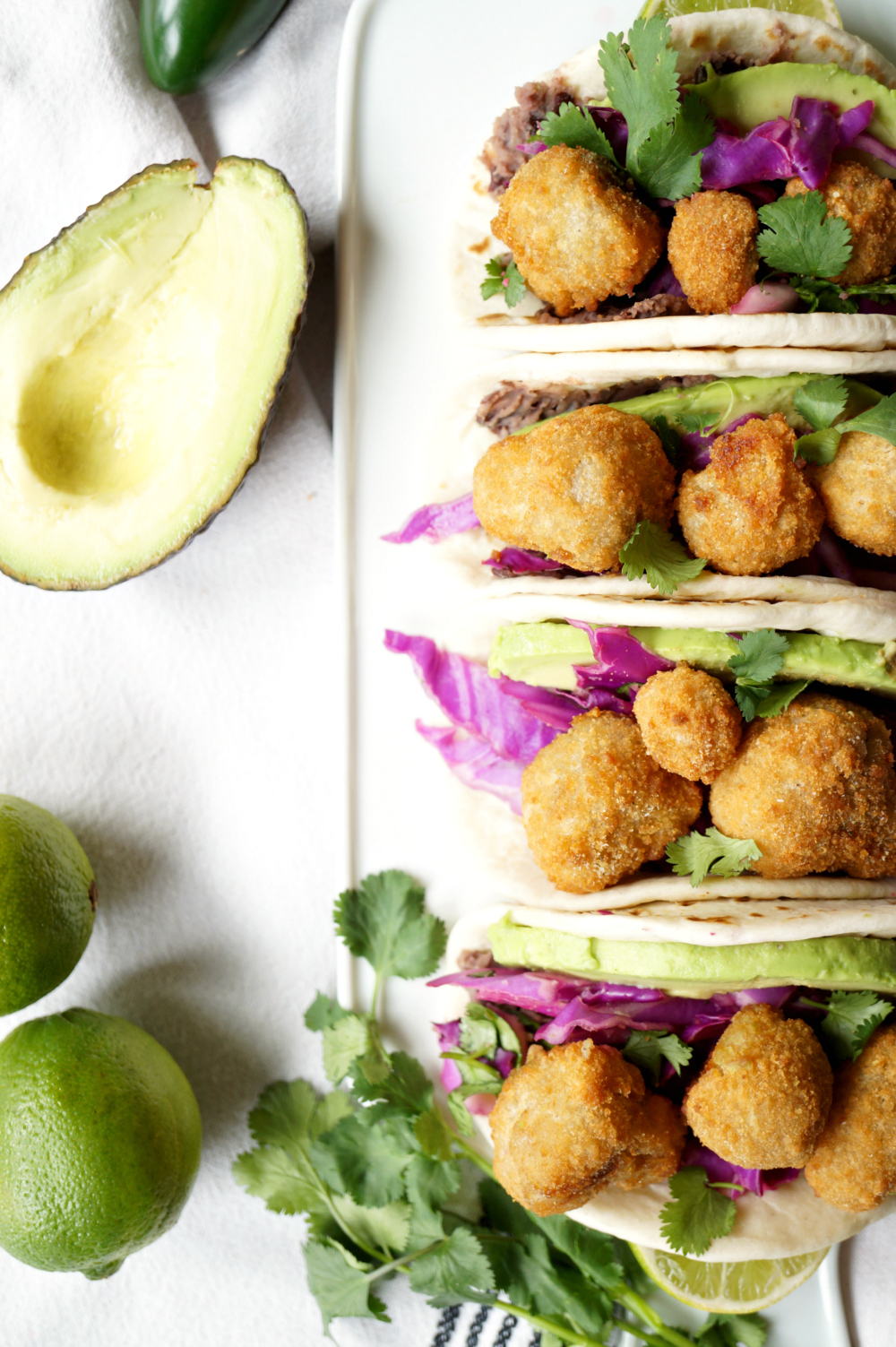 I hope you'll try out these crispy mushroom street tacos soon! Be sure to check out your local grocer's full selection of FarmRich products, they have so many goodies! I'm personally a bit partial to the Avocado Slices and Pimento Cheese Bites. 😉 Check out their website for recipe ideas and coupons. Happy shopping!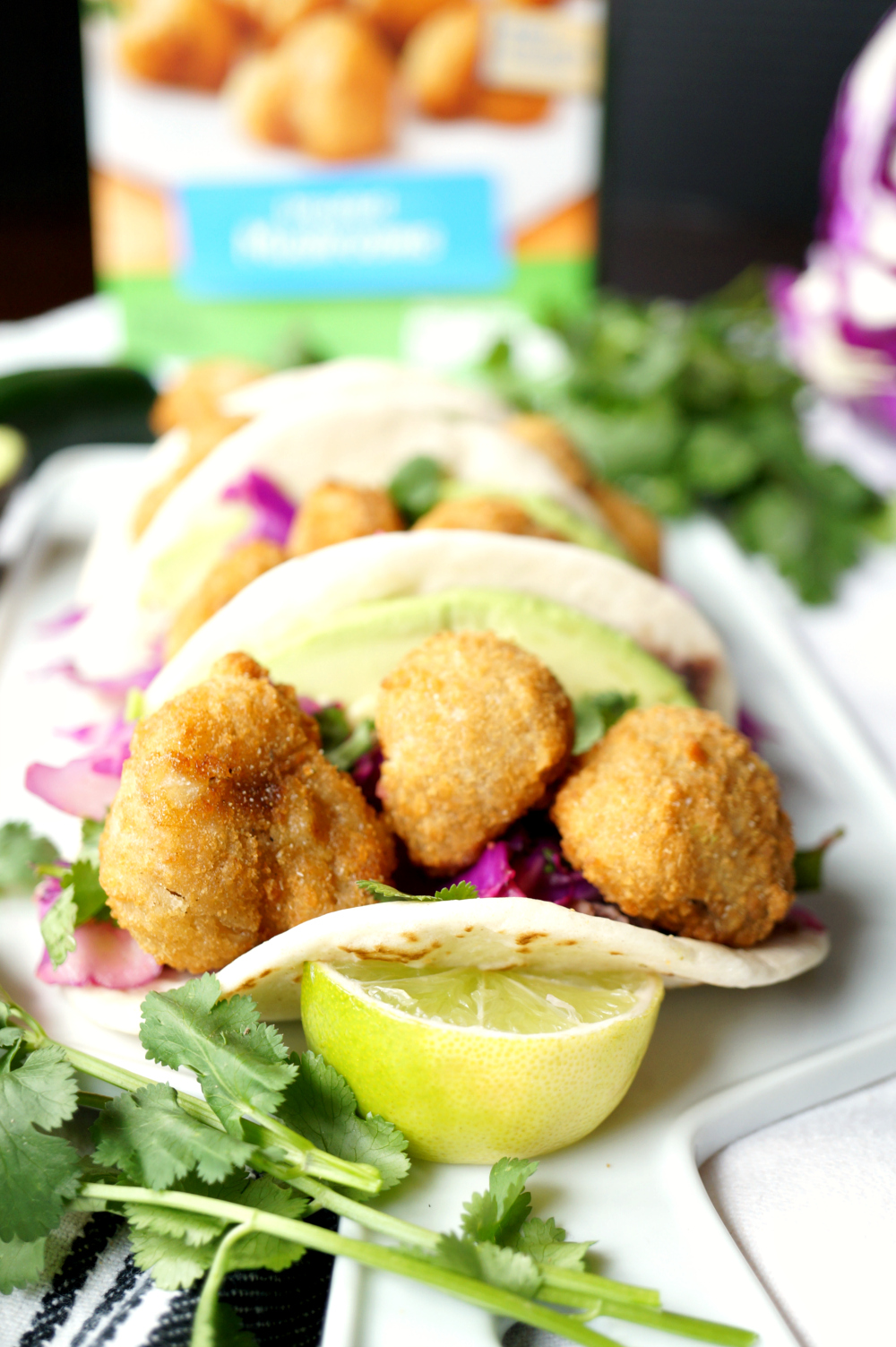 Looking for more taco ideas? Check out my Vegan Sofritas Tacos, Shrimp Breakfast Tacos, Slow-Cooker Carnitas Tacos, and Sweet Potato-Crusted Fish Tacos!

crispy mushroom street tacos with FarmRich
Author:
Valentina | The Baking Fairy
Ingredients
1 box Farm Rich Breaded Mushrooms
10-15 street taco-sized mini tortillas
1 avocado
*for the beans*
1 can black beans
½ - 1 teaspoon olive oil
½ jalapeno, seeded and finely chopped
½ teaspoon garlic powder
½ teaspoon onion powder
juice of ½ lime
salt to taste
*for the cabbage slaw*
2 cups finely chopped red or green cabbage
juice of ½ lime
½ garlic powder
handful fresh cilantro leaves
salt to taste
Instructions
First, prepare the beans. Drain and rinse beans well, and place in small bowl. Pour in the olive oil and lime juice, add in the garlic and onion powder, and smash until creamy. Add in the chopped jalapeños and finally add salt to taste. Set aside.
Now you can prepare the slaw. In a medium bowl, toss together the chopped cabbage, lime juice, garlic powder, cilantro, and salt. Add more seasoning as needed.
When almost ready to serve, preheat oven to 450F. Line a baking sheet with parchment or foil, and lay out Farm Rich Breaded Mushrooms in a single layer. Bake according to package directions.
When there are 4-5 minutes left of bake time, wrap the tortillas up in foil and place in oven to warm.
When Mushrooms are ready, it's time to serve! To assemble your tacos, spread some black beans on your tortilla, top with slaw, a slice of avocado, and 2-3 mushrooms. Finish off with a squeeze of lime and enjoy!