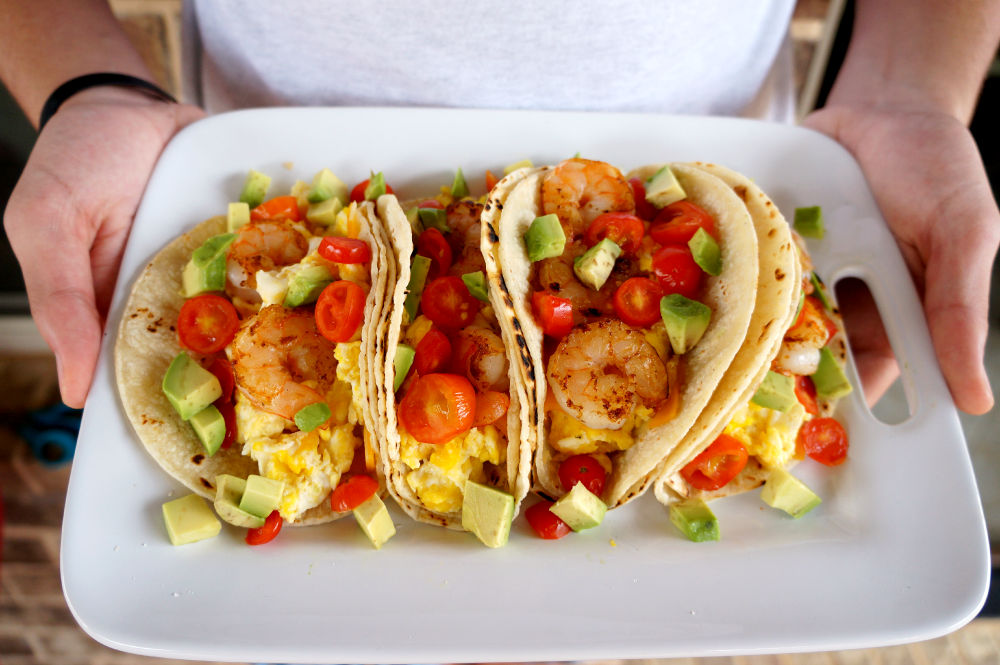 Ever since I left home for college, I have eaten more TexMex food than I ever thought possible. My family is traditional Italian, so the extent of our TexMex cooking at home is something like chips and guacamole, or maybe some fajitas. And fajitas is like, seriously pushing it. But at college... my ideal Friday night consists of margaritas and copious amounts of chips & salsa, and a perfect Sunday brunch definitely includes breakfast tacos. Like... these breakfast tacos with freaking shrimp in them. OMG. I don't know why I didn't think of this genius pairing first, but once I had my first taste, I just knew I had to recreate Shrimp Breakfast Tacos at home! These are amazingly delicious, totally satisfying, and the unexpected pairing of shrimp and eggs is too good for words.
The tacos I had just had egg, shrimp, and cheese in a soft flour tortilla, which was totally delicious... buuuut I can't ever leave well enough alone, so I decided to swap the flour tortillas for toasted corn tortillas, and I added avocado and baby tomatoes in lieu of salsa. Though if you have salsa in your house and just want to use that, I'm definitely not judging. The only downside to this recipe is that there are a few steps, because you must first toast your tortillas, then saute the shrimp, then scramble your eggs... and THEN put everything together. But it really isn't that bad, I promise! And it's totally, totally worth it. I just used one single pan and it took me maybe 30 minutes total to make them from start to finish, but that's why I think of these as more brunch and less breakfast. Honestly, these are kind of perfect no matter what time of day you make them!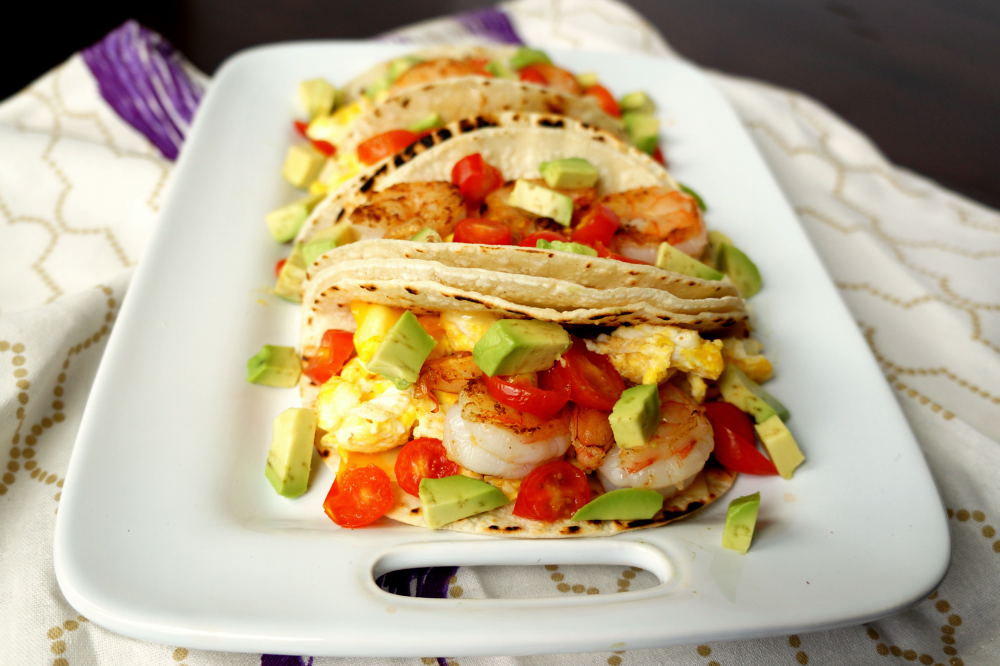 shrimp breakfast tacos
Author:
Valentina | The Baking Fairy
Recipe type:
Meat & Seafood
Ingredients
8 white corn tortillas
8-10 shrimp
½ avocado, cubed
4 eggs
4 slices colby-jack cheese
½ cup sliced baby tomatoes or salsa
½ teaspoon olive oil
garlic powder, salt, pepper to taste
Instructions
Heat a nonstick skillet on medium heat, and toast your tortillas. As you take them off the heat, fold them into "taco" shape and place a slice of cheese inside. I like to double up my tortillas so you'd use 2 tortillas for each taco.
After all tortillas are toasted, let pan cool slightly then add the olive oil. Add in the shrimp, season with garlic powder, salt, and pepper, and saute for 5-6 minutes, until completely pink and slightly charred. Remove shrimp from pan and set aside.
Add a little more olive oil to the pan, if needed, and make your scrambled eggs.
Divide eggs evenly between your prepared tortillas, then top each taco with a couple of shrimp, tomatoes, and avocado.
Serve immediately!