These delicious, hearty Loaded Vegan Breakfast Burritos are filled with all the classics - tofu scramble, vegan sausage, beans, onions, peppers, and potatoes. This filling breakfast is sure to start your day off on the right foot!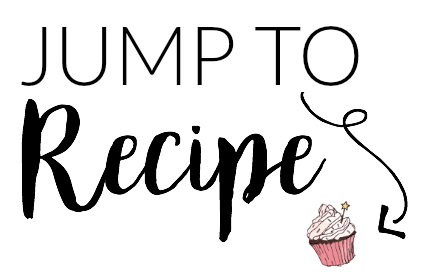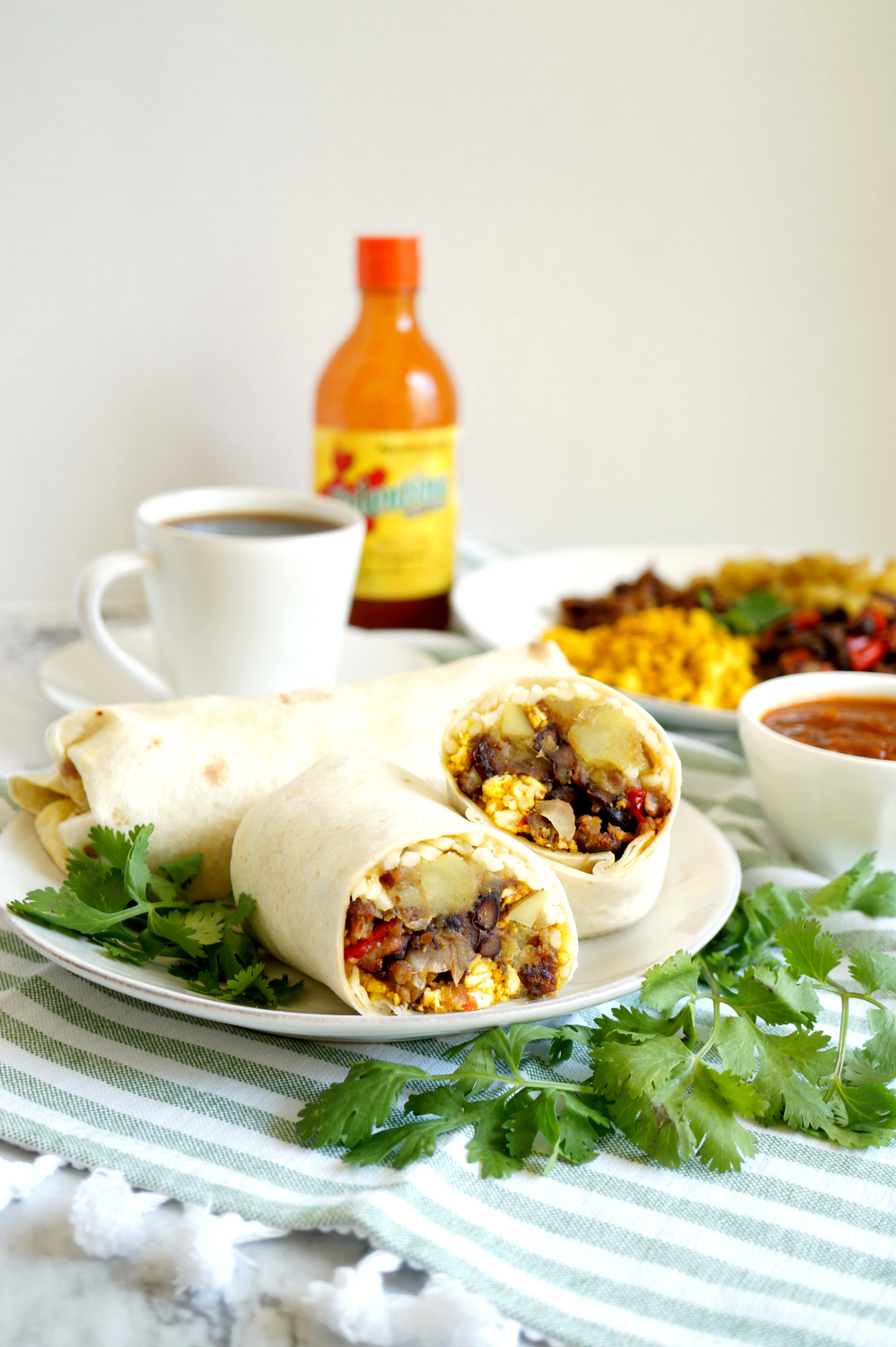 Happy Tuesday, friends! I hope everyone had a great weekend 🙂 Now that everyone's been back in school for a few weeks, I am sure we are all running into the same breakfast rut, am I right?! I commute to work, so my go-to's have been green protein smoothies and bagels with vegan cream cheese. And, TBH.... I am so bored of them. They get the job done but, well, they really aren't very exciting. If you are also needing a change, give these delish Loaded Vegan Breakfast Burritos a try! There's tofu scramble, vegan breakfast sausage, beans, onions, peppers, and potatoes all tucked in a big soft tortilla. These are meal-prep AND freezer friendly, too! What more could you want?!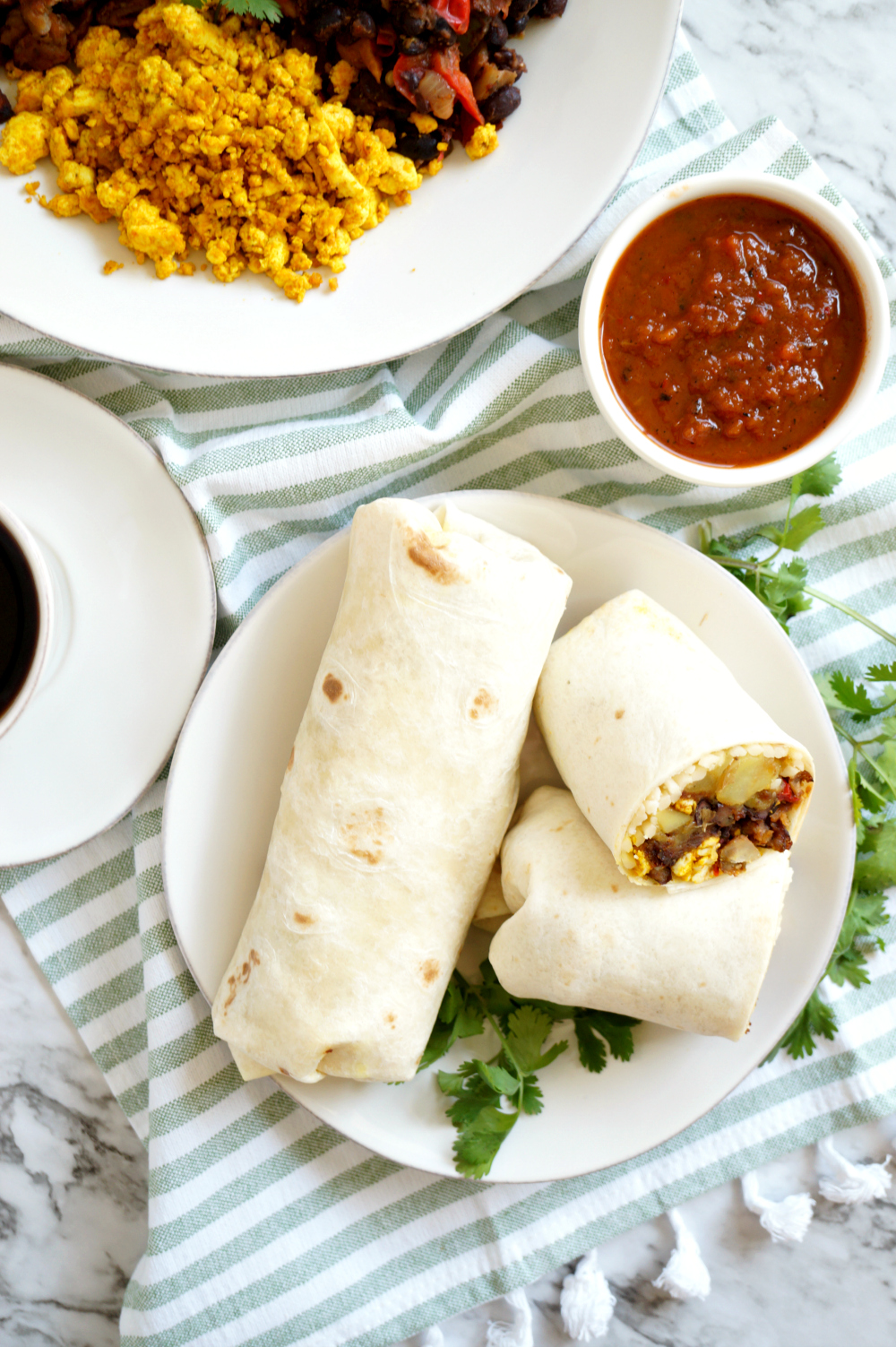 Before making this big batch of breakfast burritos, I honestly can't tell you the last time I had some! Maybe not since going vegan?! There are a lot of elements to prep, so this is more of a recipe to make in a big batch rather than go through all the trouble for one single burrito! You have to make tofu scramble, cook the sausage, sauté the peppers and onions with the beans, AND cook the potatoes, too. Thankfully, this (half) batch makes 4 big burritos, and you can go ahead and double it to make 8 so you're set for a while!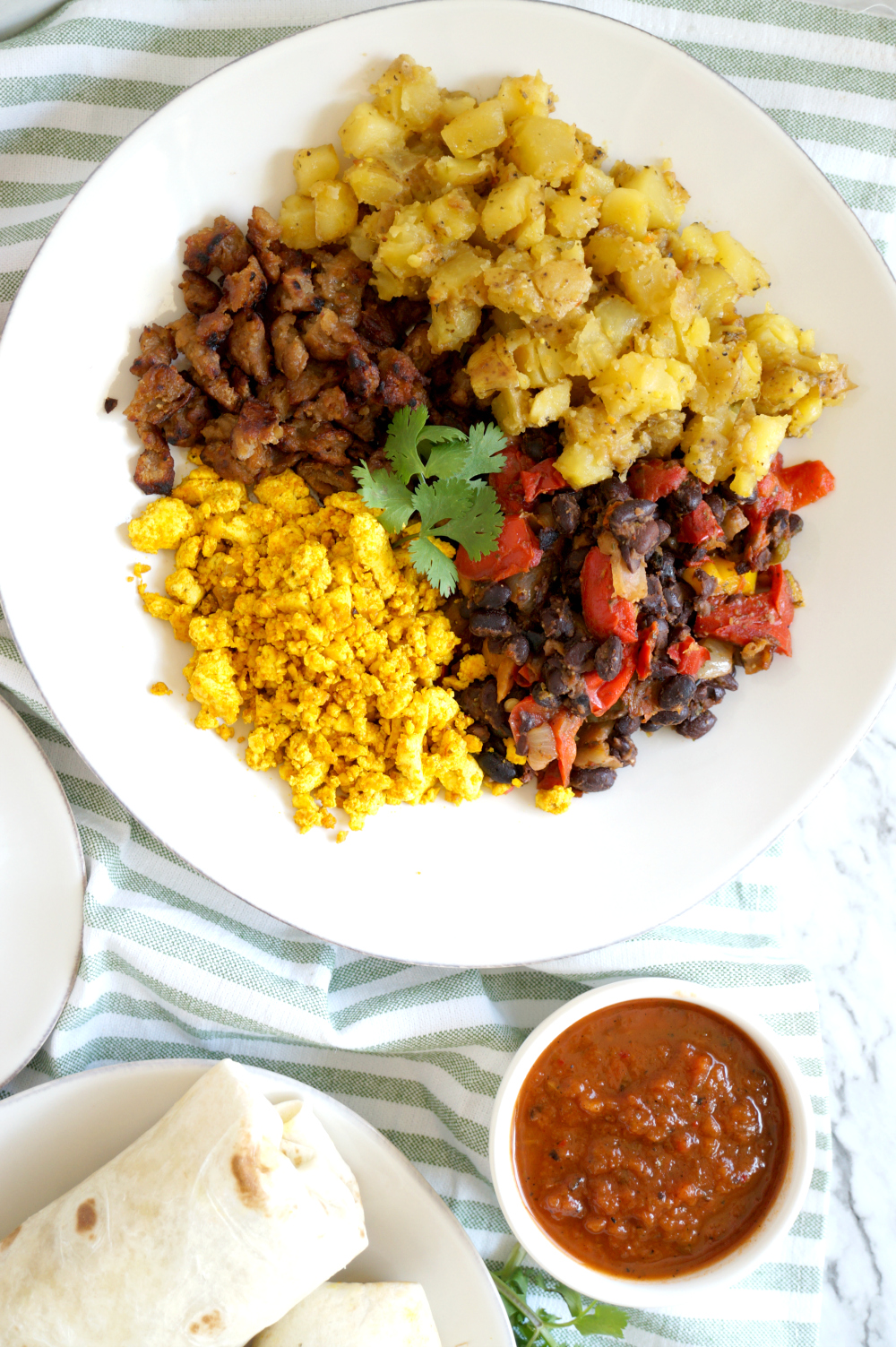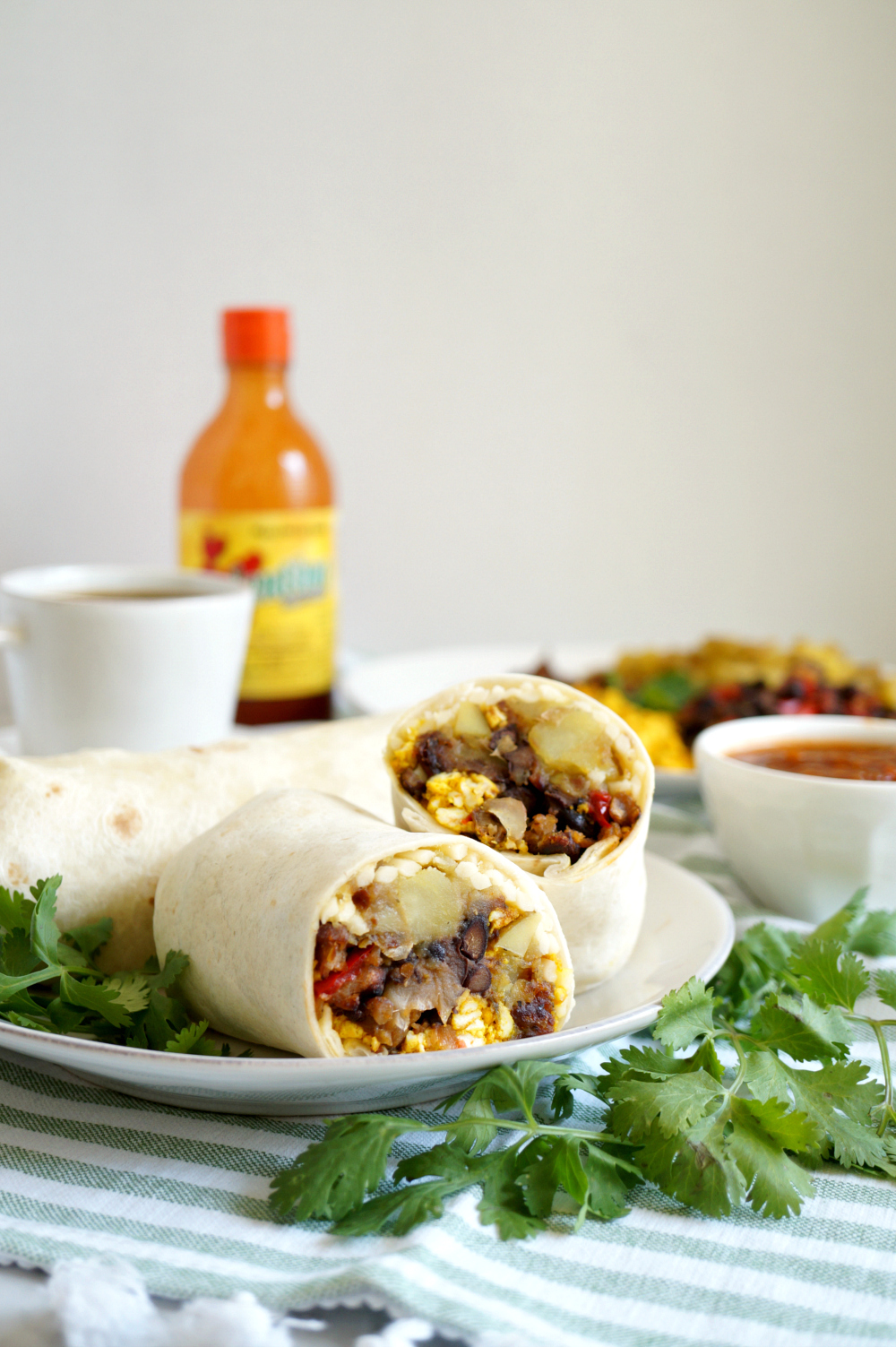 The other great part of these breakfast burritos, besides the huge batch, is that they are super easy to customize! I used LightLife breakfast "sausage," but vegan chorizo would also be super tasty in here! If you don't like black beans, you can use pinto or refried instead. Sliced or mashed avocado would also be delicious in here, but I am not sure how it would behave when reheating and defrosting! That might be an ingredient better added right before serving 🙂 I made burritos both with vegan cheese (for me) and "real" cheese (for my husband - he just can't get into fake cheese LOL) and I just wrote on the plastic wrap with sharpie when I wrapped them up. You could easily make a few different kinds to change it up!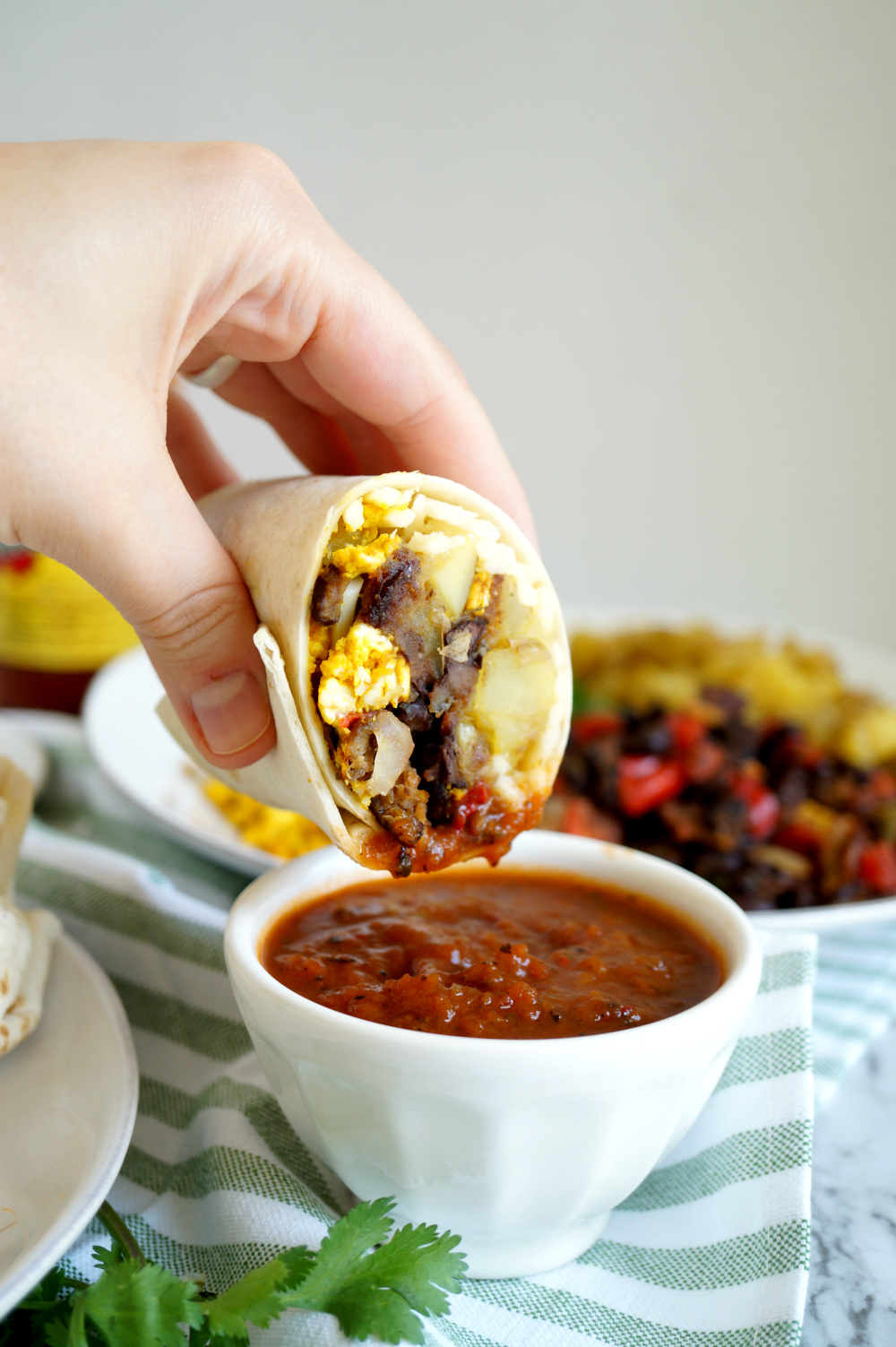 Oh, and this goes without saying but.... hot sauce or salsa are a MUST for your breakfast burritos! Unless you're eating and driving. Then maybe no salsa for you 😉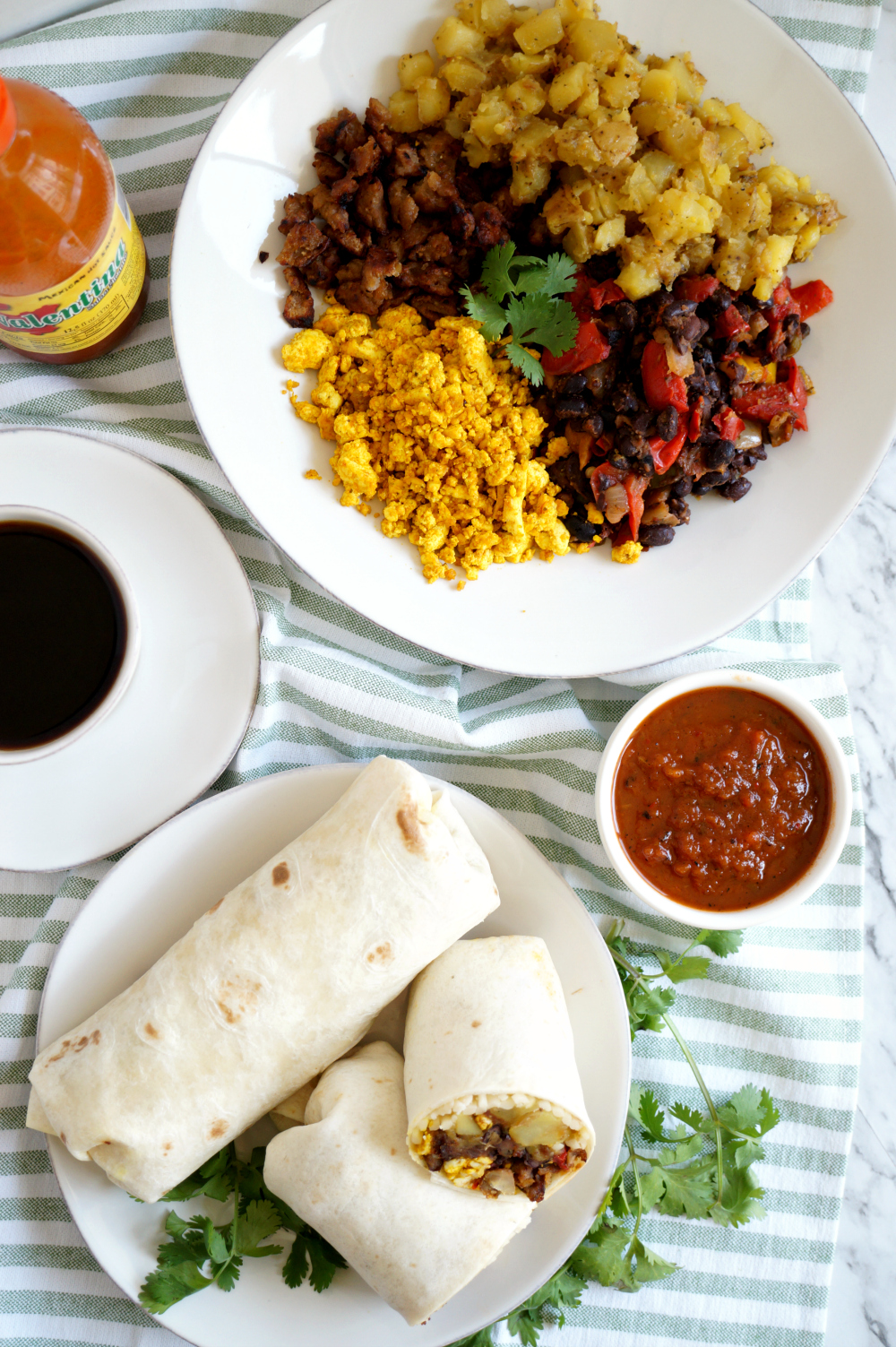 I hope you guys will give these loaded vegan breakfast burritos! They are so easy to customize and SO good to eat! 😉
Looking for more breakfast ideas for busy mornings?
loaded vegan breakfast burritos
These delicious, hearty Loaded Vegan Breakfast Burritos are filled with all the classics - tofu scramble, vegan sausage, beans, onions, peppers, and potatoes. This filling breakfast is sure to start your day off on the right foot!
Author:
Valentina | The Baking Fairy
Ingredients
*for the potatoes*
2 potatoes, chopped into small cubes (about 2 cups)
1 tablespoon olive oil
1-2 teaspoon Italian herb seasoning
garlic salt, to taste
*for the sausage*
8oz vegan breakfast sausage (I like LightLife)
1-2 teaspoon olive oil
*for the veggies*
1 can black beans
1 bell pepper (any color), cubed
½ onion, chopped
½ teaspoon onion powder
½ teaspoon garlic powder
½ teaspoon cumin
¼ teaspoon smoked paprika
garlic salt, to taste
*for the tofu scramble*
8oz extra firm tofu (half of a standard package), pressed
1-2 teaspoon olive oil
½ teaspoon onion powder
1 teaspoon garlic powder
½ teaspoon turmeric
½ teaspoon sweet paprika
1 teaspoon garlic salt
(optional) sprinkle of Kala Namak salt for the "egg" taste
*to assemble*
4 large "burrito size" flour tortillas
vegan cheese shreds, if desired
Instructions
First, prepare the potatoes. In a large pan, heat the olive oil over medium heat. Add in the cubed potatoes, followed by the Italian seasoning and garlic salt. Cook for a few minutes, until a golden brown crust starts to form. Add in just enough water to cover the potatoes about halfway, turn the heat to low, and let the potatoes cook while you prepare the rest.
Next, you can make the sausage. In a separate medium pan, heat the oil. Add in the sausage in small bits. I have found that for Lightlife, the taste and texture is best if it's crumbled very small and cooked until crispy! Cook to your desired doneness, then transfer the sausage to a plate.
Using the same pan, heat more oil and make the tofu scramble. Crumble in the pressed tofu, and season with the herbs and seasonings. Cook, stirring often, until tofu scramble is slightly golden brown and caramelized. Also remove this to the plate with the sausage.
Finally, heat the oil for the vegetables. Add in the peppers and onions, and cook until softened. Add in the black beans (drained and rinsed), and mix in the seasonings. Cook until beans are soft and almost creamy.
At this point, the potatoes should be ready, so it's time to assemble!
Heat up your tortillas in the oven for 5-10 seconds until warm and pliable
In the center of a tortilla, pile on some potatoes, tofu scramble, sausage, and veggies & beans. Add some vegan cheese or hot sauce if you want, then roll the burrito up, tucking the sides to make sure it's tight.
Repeat with all! You should get 4 generous burritos. Either enjoy immediately, or wrap tightly in plastic wrap and store in the fridge or freezer. Just microwave for 1.5-2 min if refrigerated, and 5-6 minutes if frozen. To make it easier in the mornings, transfer your burritos from the freezer to the fridge the night before so they have time to thaw overnight!