Are your fridge and pantry bare? Even then - I bet you have the ingredients to make this Simple Vegan Pasta Puttanesca! All you need is canned tomato sauce, olives, capers, and spaghetti.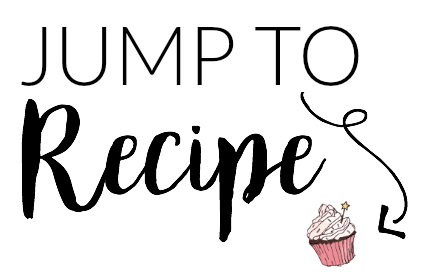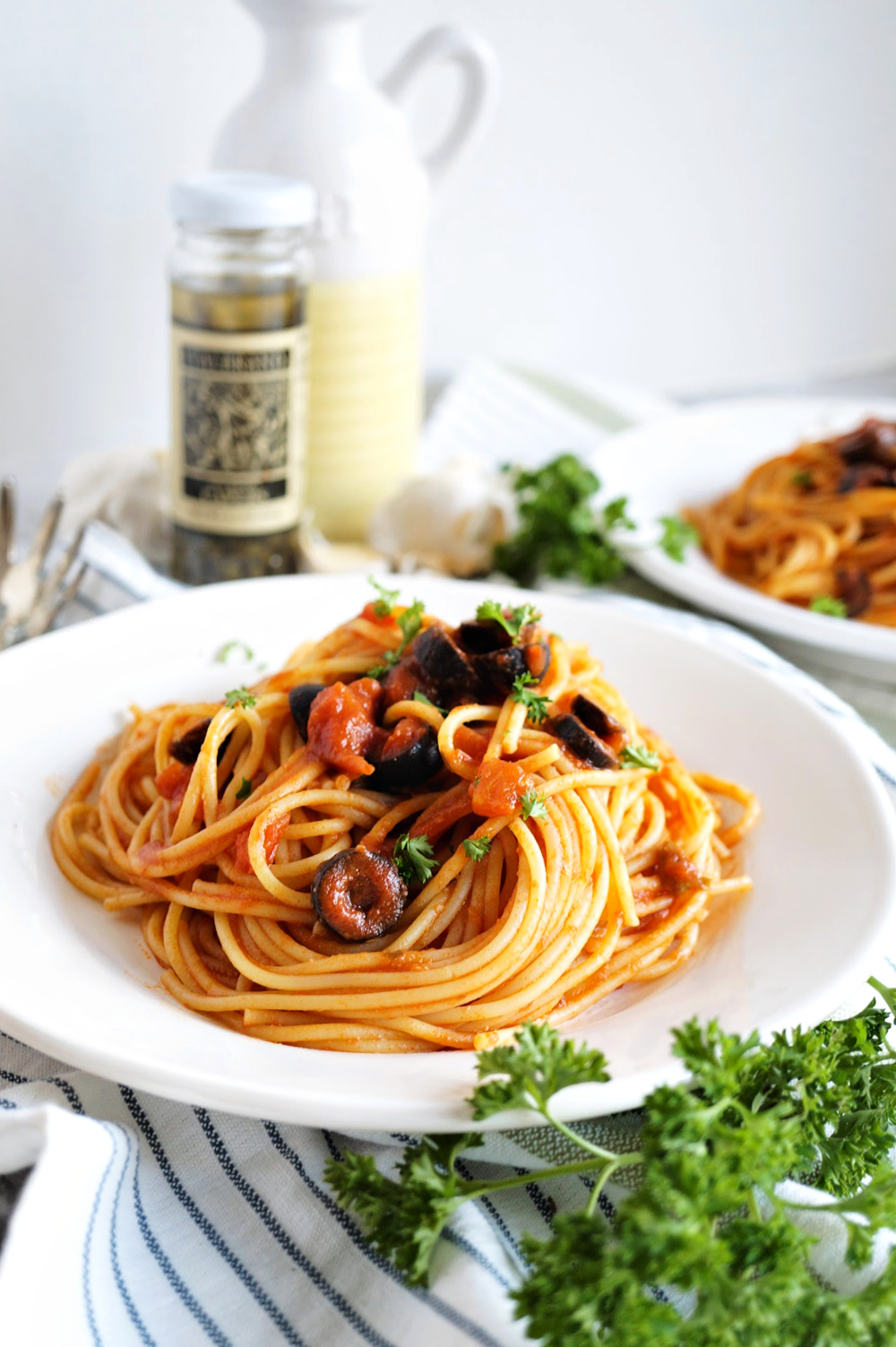 Hi friends and happy Thursday! Third recipe of the year and... it's another savory one. I promise I'll post desserts again at some point! 😉 Continuing my trend of quick and easy recipes, today I have this Simple Vegan Pasta Puttanesca. It is so fast to make, and uses mostly pantry staples including spaghetti, olives, capers, and tomato puree. Even if you think you have no food in the house - you can probably still make this!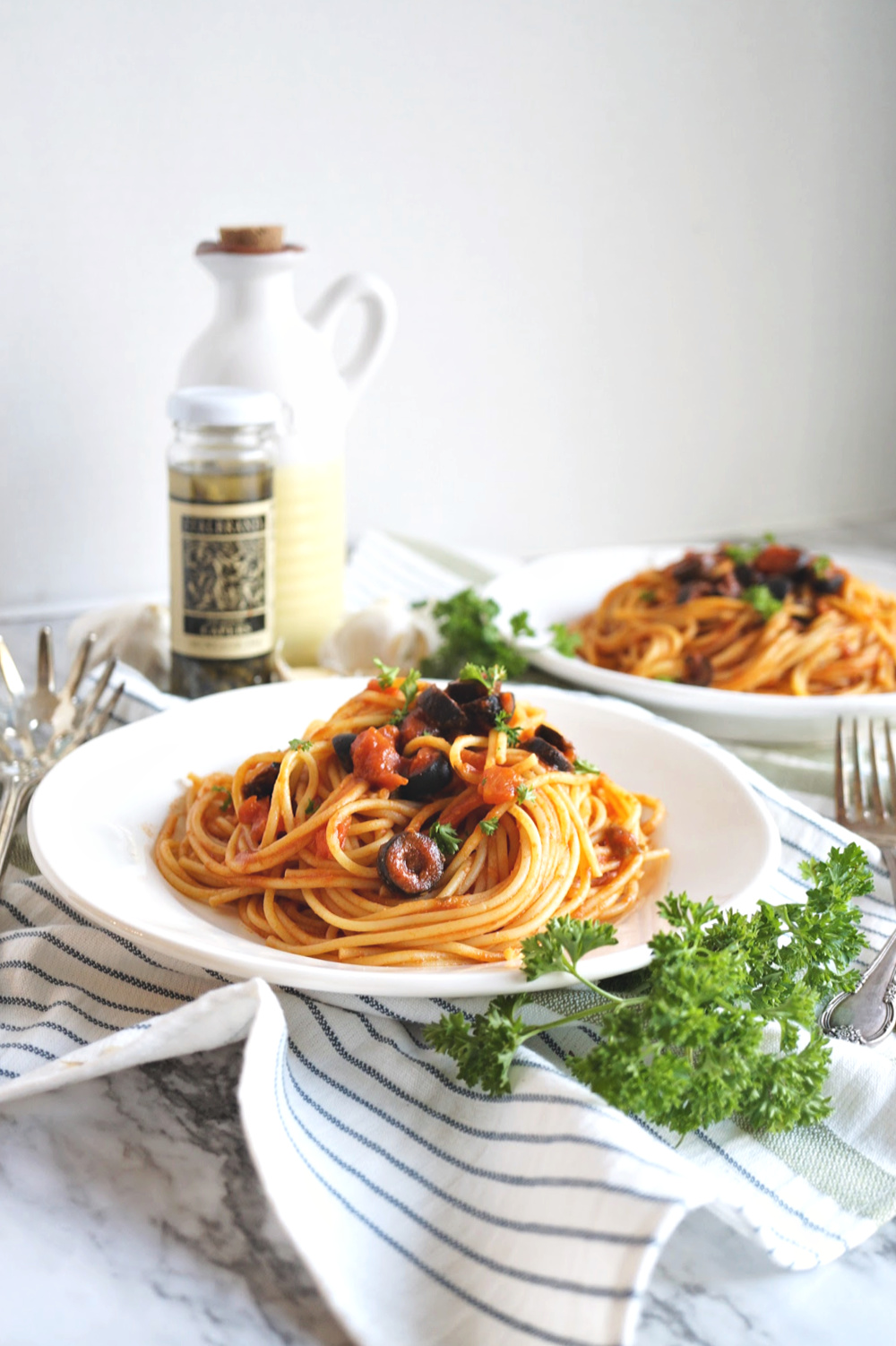 Pasta puttanesca (or more accurately, pasta alla puttanesca) is actually a hilarious name, all things considered - translated, it literally means "pasta in the style of a prostitute." Ooop! Though if you peruse the Wikipedia page about this recipe (because how else are you going to get your certified pasta puttanesca facts?!), the history reveals no link to actual prostitutes, but rather a dish that a chef made when he had nothing in left in the kitchen. Not sure why the name stuck, but here we are! And in the true spirit of the recipe, this really is a pasta you can make when it feels like you have nothing to cook.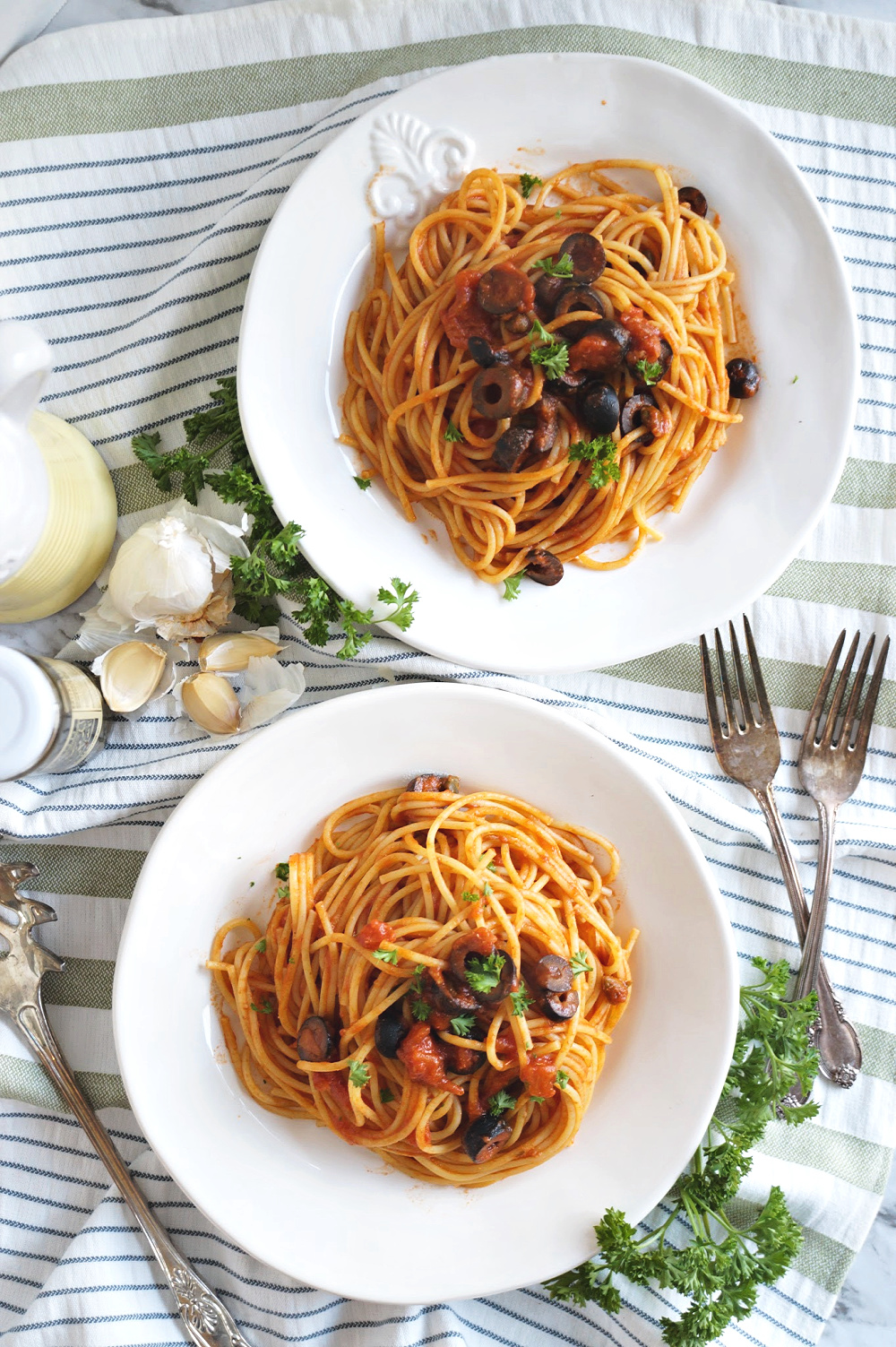 Tips for success for your pasta puttanesca
Use whatever you have in the house! Seriously - this pasta is very forgiving. Traditional pasta puttanesca sauce includes tomato sauce, olives, capers, and anchovies.

I clearly omitted the anchovies to make this vegan, but you can add them back if you like them. You could even dissolve some nori in the sauce to add an after-note of something fishy!
As far as olives go, I used regular black olives but you can choose to use kalamata instead for a stronger flavor.
I used a mix of chopped fresh tomatoes and canned tomato puree. Ideally, I wanted to use canned chopped tomatoes but guess what, I didn't have any! Work with the ingredients you have and skip a grocery store trip.
Any pasta shape goes! I am partial to spaghetti but again - whatever you've got will work just fine.

Try to start the sauce ahead of time for a better flavor. As is true with most tomato sauces - the longer you let it simmer, the more the flavors develop and the tastier it will be! I usually don't start boiling the water for the pasta until the sauce has already cooked down for 10-20 minutes just to make sure I've given it enough time.
Add a pinch of sugar to your tomato sauce. I do this with all tomato sauce, but it helps cut the acidity from the tomatoes! This is especially crucial when using fresh tomatoes that may not be super ripe.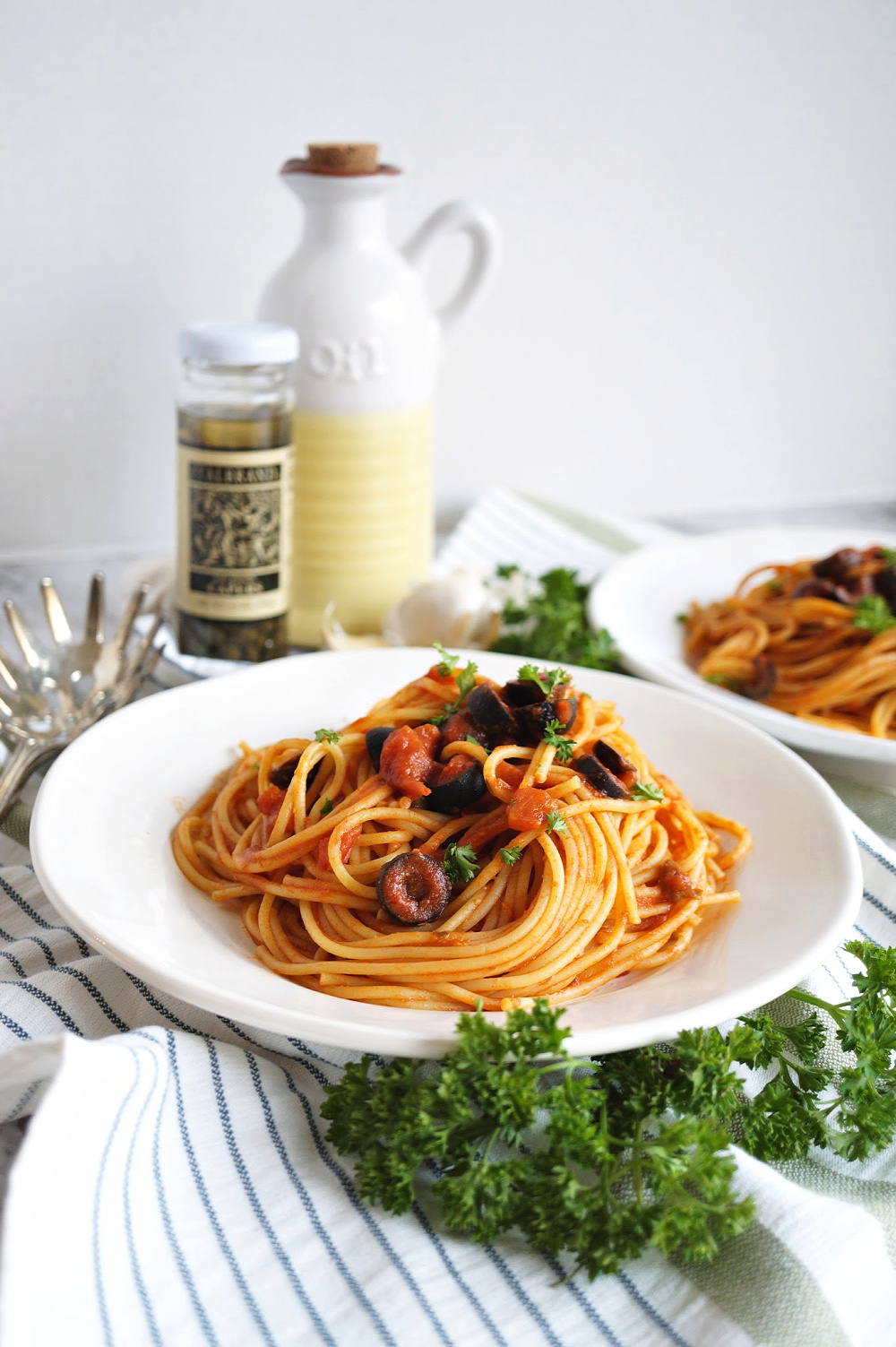 I hope you guys will give my simple vegan pasta puttanesca a spin! It's easy peasy and such a lifesaver on busy nights. Hope you love it!!
Looking for more Italian-inspired recipes?
simple vegan pasta puttanesca
Are your fridge and pantry bare? Even then - I bet you have the ingredients to make this Simple Vegan Pasta Puttanesca! All you need is canned tomato sauce, olives, capers, and spaghetti.
Author:
Valentina | The Baking Fairy
Recipe type:
Pasta & Noodles
Ingredients
2 tablespoon olive oil
4 cloves of garlic, minced
4 ripe tomatoes, diced
½ cup sliced black olives
3-4 tablespoon capers
15 oz can tomato sauce
1 teaspoon garlic powder
salt & red pepper flakes to taste
1 lb spaghetti (or other pasta), to serve
Instructions
First, prepare the sauce. In a large nonstick saucepan, heat the olive oil over medium. Add in the minced garlic cloves, and cook, stirring often, for about 1 minute. Garlic burns very quickly!
Add in the diced tomatoes, black olives, and capers and stir to combine.
Season the vegetables with garlic powder and some salt and red pepper flakes.
Cook for 3-5 minutes, until the tomatoes start to break down and release their liquids.
Add in the canned tomato sauce, followed by about ½ a can's worth of water (this helps compensate for the liquid that will evaporate as the sauce cooks down). Add a small pinch of sugar, and stir to combine.
Cover the sauce, lower heat, and allow to simmer for at least 10 minutes.
After 10 minutes, the sauce should be thickened and silky.
When the sauce is done, time to cook the pasta. Bring a large pot of water to a boil, add salt, and cook pasta according to package directions.
Drain the spaghetti, and add to the puttanesca sauce, tossing to combine.
Serve immediately with fresh parsley and nutritional yeast (or parmesan cheese) on top!
*Disclosure: I am part of the Amazon Associates Program, and there may be affiliate links on this page. If you buy anything through my website, I will receive a small percentage of the profit at no extra cost to you. Thank you for supporting my blog!*