These Easy Vegan Taco Bowls are stuffed with tempeh "taco meat," black beans, sautéed vegetables, and hearty brown rice for a filling and delicious meal.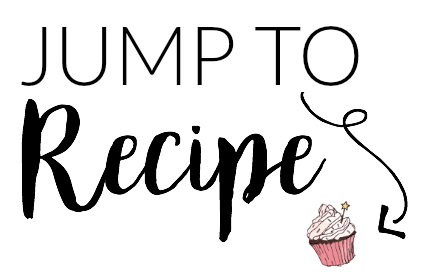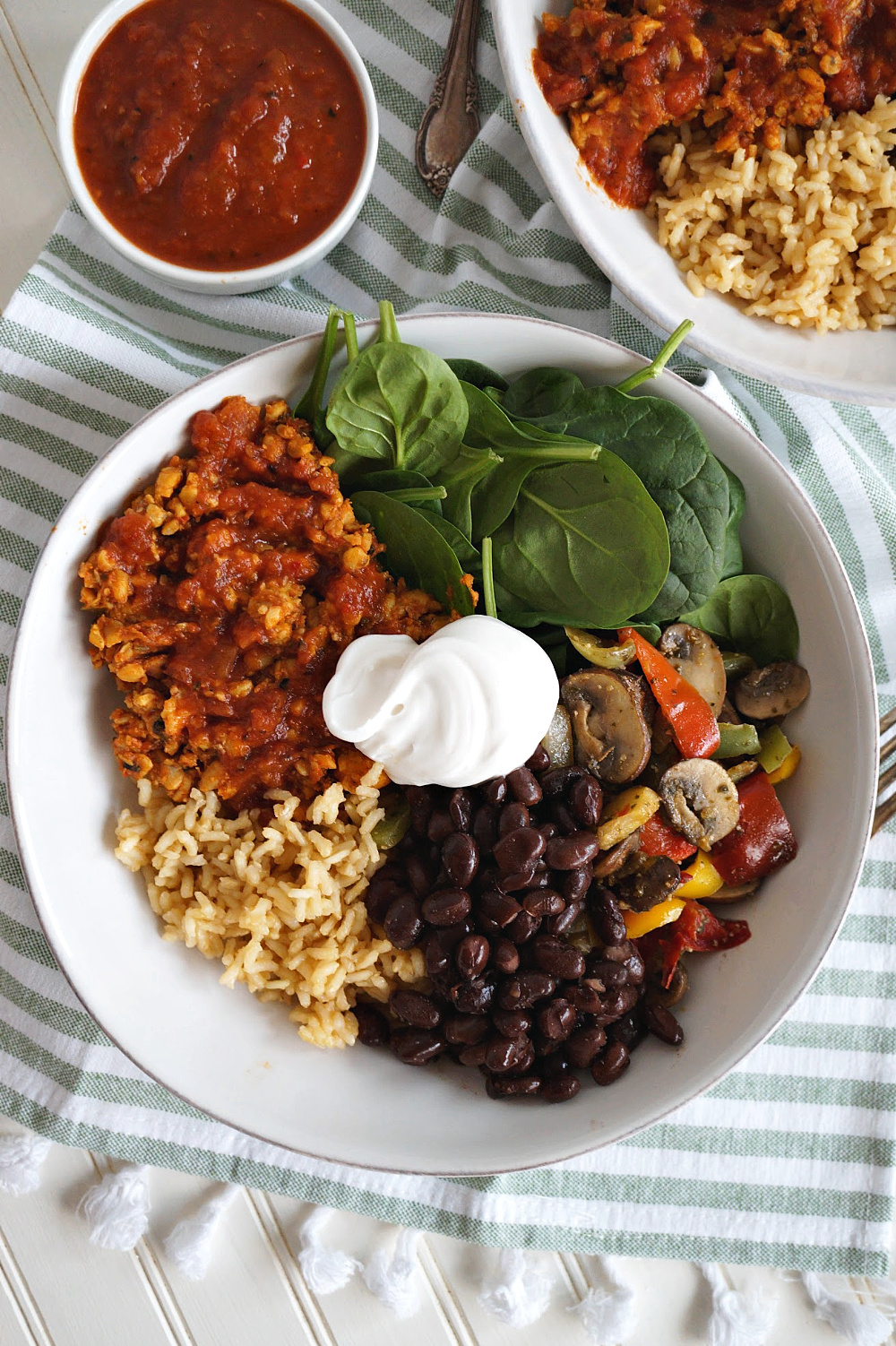 Hi friends and happy Monday! I am happy to be back with another simple and delicious plant-based recipe for you guys today. Easy Vegan Taco Bowls with Tempeh! I am really trying to incorporate tempeh into my cooking more, as it is cheap and such a great source of vegan protein! Just 3oz of this little superfood packs 16 grams of protein. Combine it with black beans, brown rice, and some veggies, and you have a healthy and hearty meal in a pinch!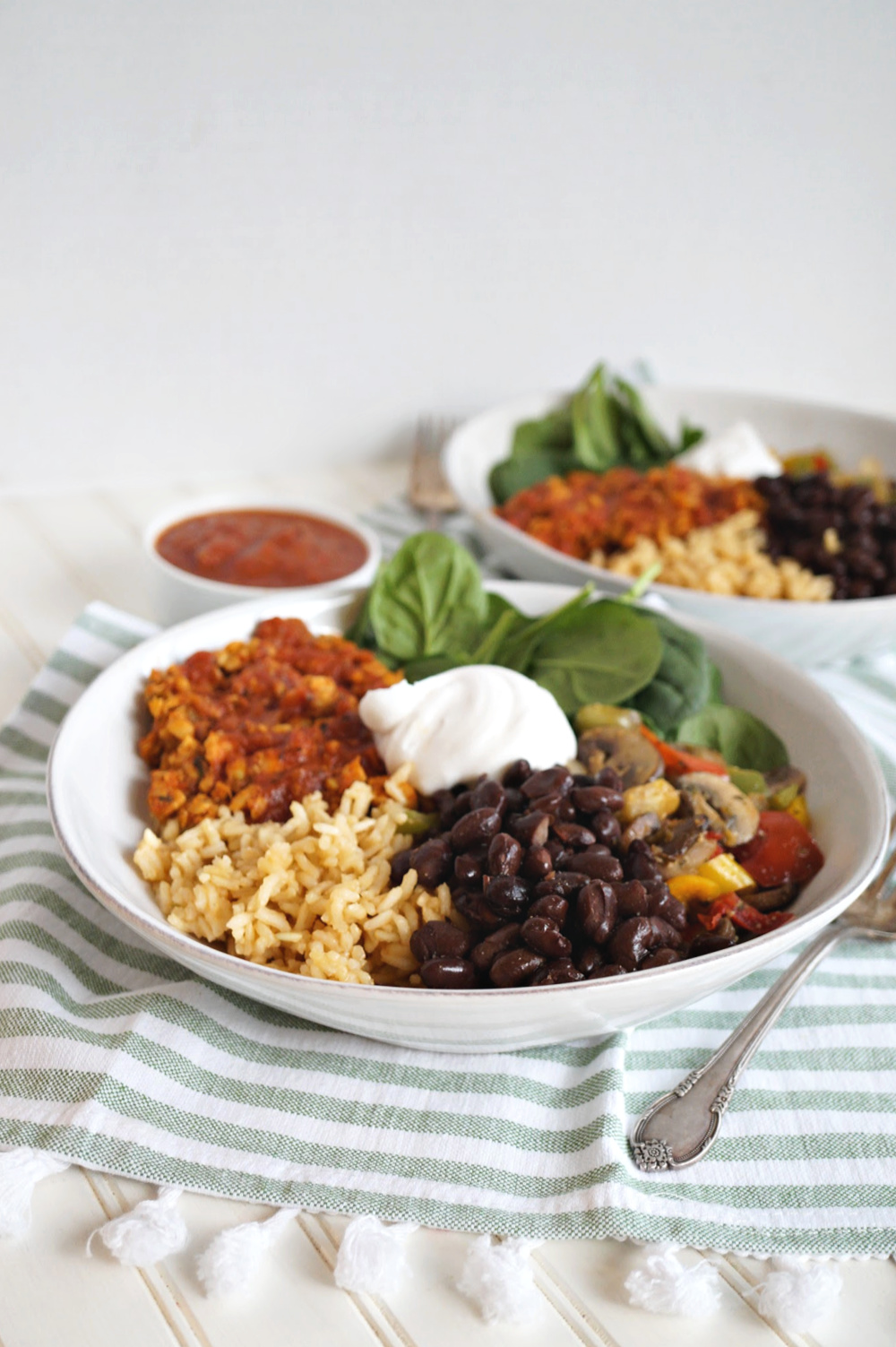 So... what is tempeh, anyway? It's also made from soy, which is why it's so high in protein. Tempeh is just whole soybeans that are fermented into small blocks. The fermentation process that holds everything together also works to break down the starches in the soybeans and makes this easier to digest! In contrast, the soybeans are processed down into curds and then cut into blocks to make tofu. It's just a different way to get your plant-based protein in! I usually like to cut it into strips and pan-fry it, like I did for this maple mustard tempeh, but I crumbled it for this recipe to work as taco "meat" in these taco bowls!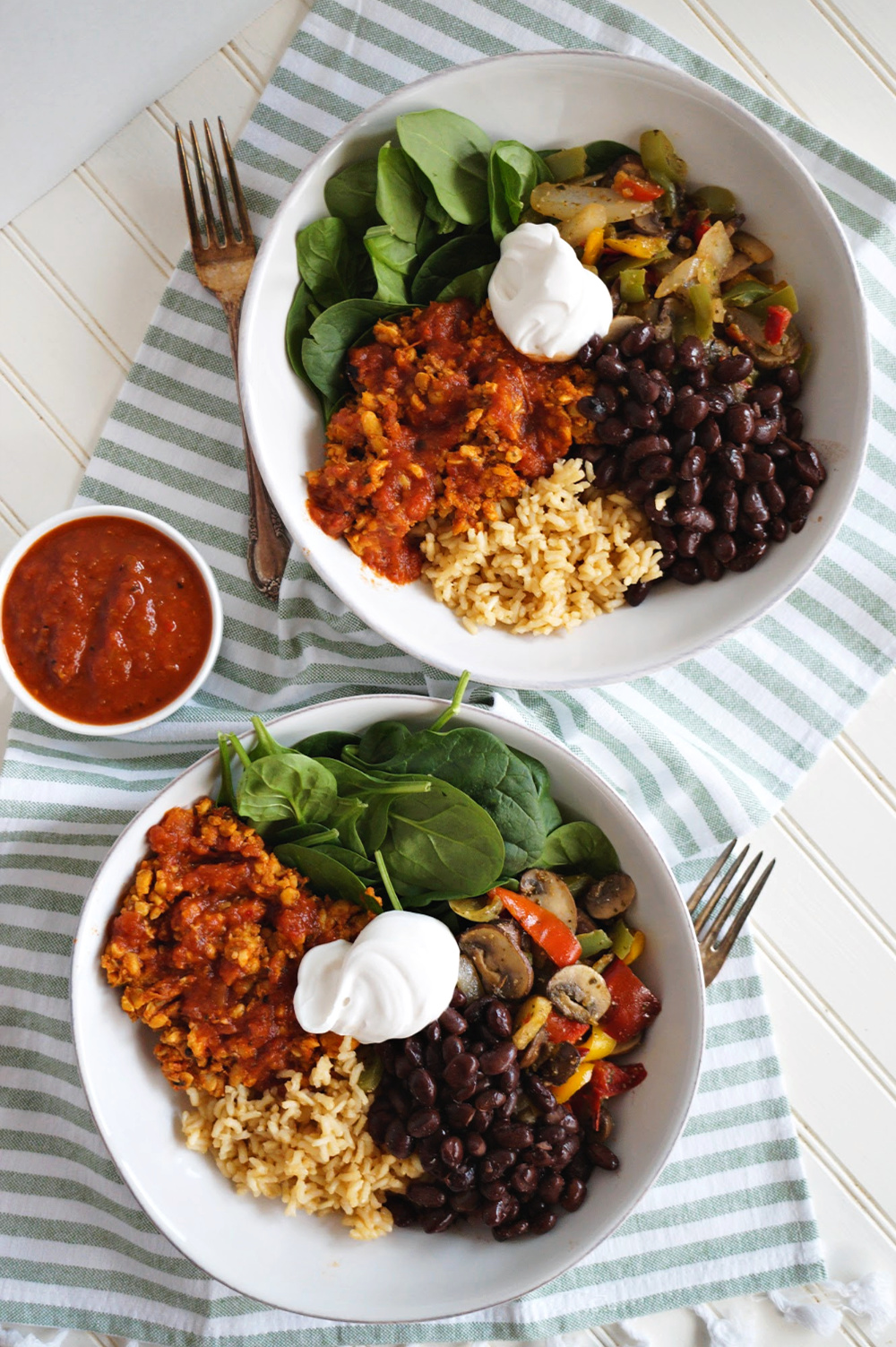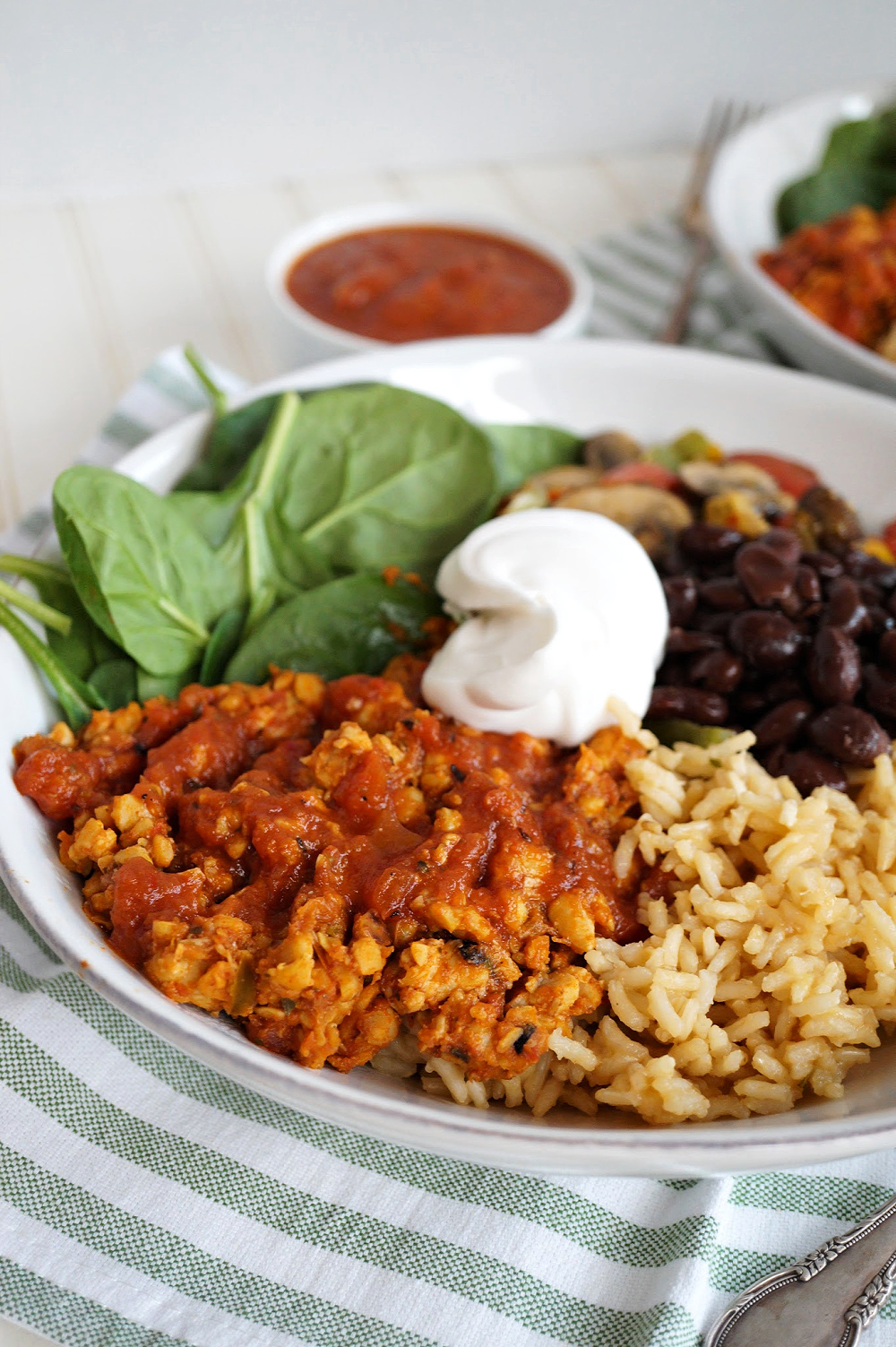 Tips for success for your vegan taco bowls with tempeh
Use shortcuts when you can! Canned beans are a big staple in my pantry; I buy them plain which lets me change the seasonings as needed for the recipe. To make this easier, you can buy pre-seasoned canned beans. You can also buy frozen or microwavable rice instead of cooking your own. A shortcut I used here was to use frozen onions and peppers for my "fajita vegetables" instead of cutting them myself!
Customize the greens and veggies to taste. I personally don't like iceberg lettuce or romaine - it's just nutritionally void and I find that when I buy it, I just never eat it and it ends up going in the garbage! I prefer spinach - it's something I always have in the house for smoothies anyway, so it's easy to use it as my "salad green" when needed. I personally love mushrooms, but if you're not into them, feel free to skip and use a different veggie - like zucchini!
Pick your favorite salsa to flavor the tempeh "meat"! This is one of my favorite tricks (which can be used for most meat, crumbled tofu, faux meat, etc) - use salsa to cook and flavor your protein for taco recipes! One of my co-workers makes a killer homemade salsa which I buy from her, so that's what I used. Pick your favorite store-bought option to personalize your taco bowls!
Top with something creamy to pull it all together. Avocado would be perfect on here! I just didn't have any ripe avocados on the day I made this recipe, so I opted for this Simple Truth Plant-Based Sour Cream. You could also drizzle on a sauce like my jalapeno lime cashew cream or my avocado cashew cream!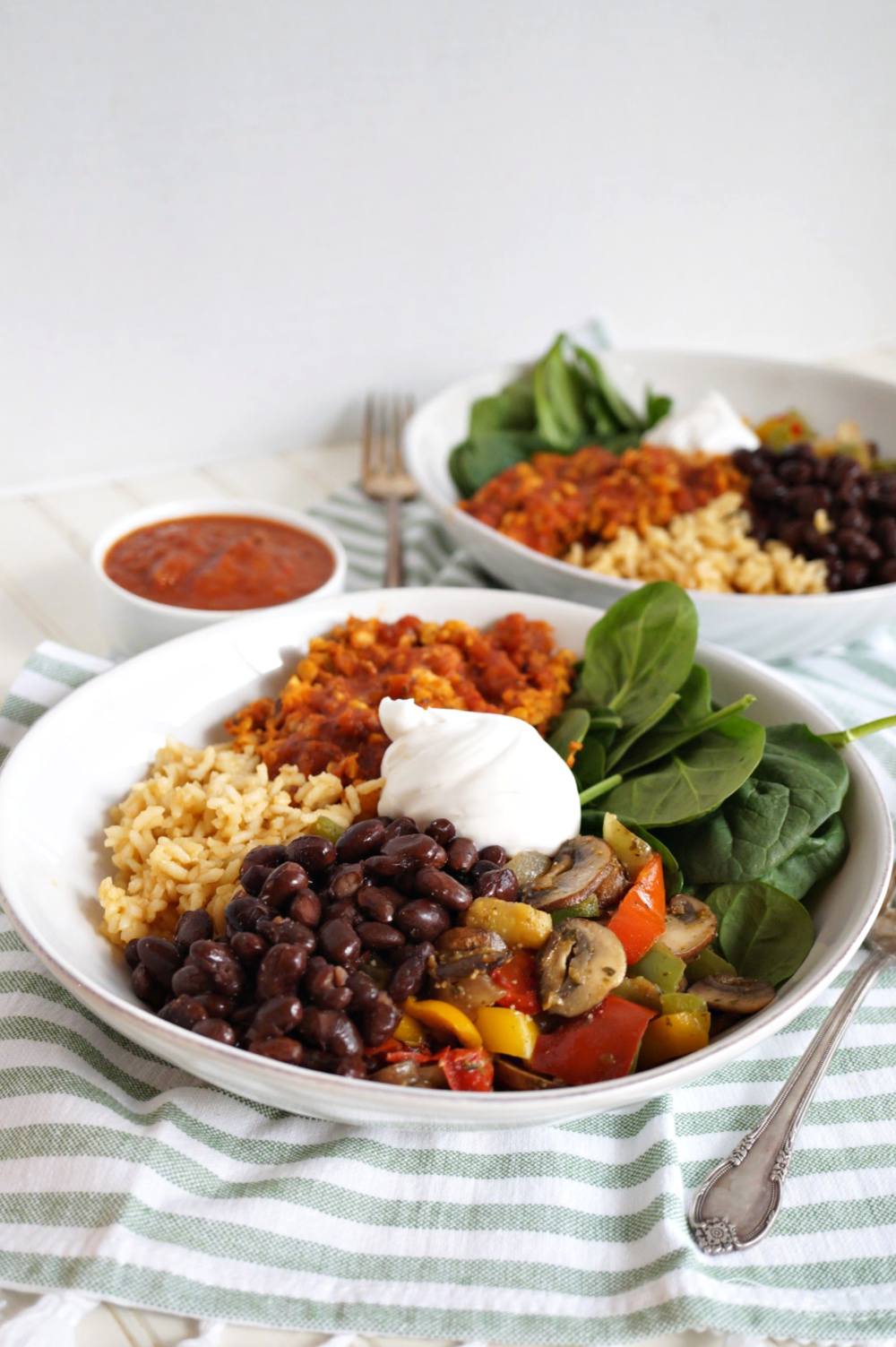 I hope you guys will give these simple, delicious vegan taco bowls with tempeh a try! They are such a tasty way to eat more vegetables and incorporate more plant-based options into your diet.
Looking for more tempeh recipes?
easy vegan taco bowls with tempeh
These Easy Vegan Taco Bowls are stuffed with tempeh "taco meat," black beans, sautéed vegetables, and hearty brown rice for a filling and delicious meal.
Author:
Valentina | The Baking Fairy
Ingredients
*for the fajita vegetables*
1 bell pepper, thinly sliced
½ onion, thinly sliced
1 cup sliced mushrooms
1 tablespoon olive oil
½ teaspoon onion powder
½ teaspoon garlic powder
salt to taste
*for the tempeh*
1 8oz block of tempeh, crumbled
1 tablespoon olive oil
1 cup salsa
1 teaspoon garlic powder
1 teaspoon onion powder
1 teaspoon cumin
¼ teaspoon smoked paprika
salt to taste
*for black beans*
1 can black beans
1 teaspoon onion powder
1 teaspoon garlic powder
½ teaspoon smoked paprika
1 teaspoon oregano
salt to taste
*for serving*
1 cup quick-cooking brown rice + 2 cups vegetable broth
fresh spinach or other salad green
vegan sour cream, avocado, cilantro, lime juice
Instructions
First, prepare the brown rice. Combine the rice and vegetable broth, and cook according to package directions.
Next, prepare your fajita vegetables. In a large pan over medium-high heat, heat your olive oil.
Add in the sliced peppers, onions, and mushrooms. Cook, stirring occasionally, until vegetables are golden brown on the edges and everything has softened. Season with onion and garlic powder, and add salt to taste. Transfer vegetables to a plate, and wipe down the pan.
Now, make the tempeh. Return the pan to medium-high heat, and add more oil. Add the crumbled tempeh, and sauté for 3-5 minutes, until it is golden brown and smells toasted.
Mix in the seasonings, then add in the salsa. Turn heat to low and stir often to prevent the salsa from burning.
Finally, prepare the beans. Pour the contents of the can of beans (juice and all) into a small saucepan. Add in the seasonings, and stir to combine. Heat over medium until the beans are warmed through and the liquid has slightly thickened.
Now it is time to serve! Divide your cooked brown rice between 4 bowls. Add in some spinach or salad greens, and top with the tempeh mixture, fajita vegetables, and drained black beans.
Top with vegan sour cream, avocado, and/or fresh cilantro and lime juice. Enjoy!