These Gnocchi with Pesto, Roasted Tomatoes, and Vegan Sausage are so simple to prepare but make for a savory and satisfying plant-based dinner.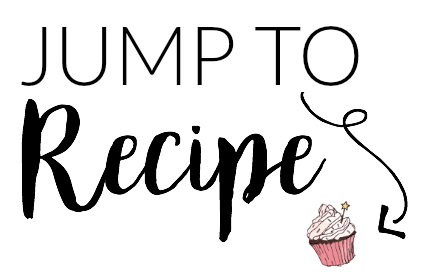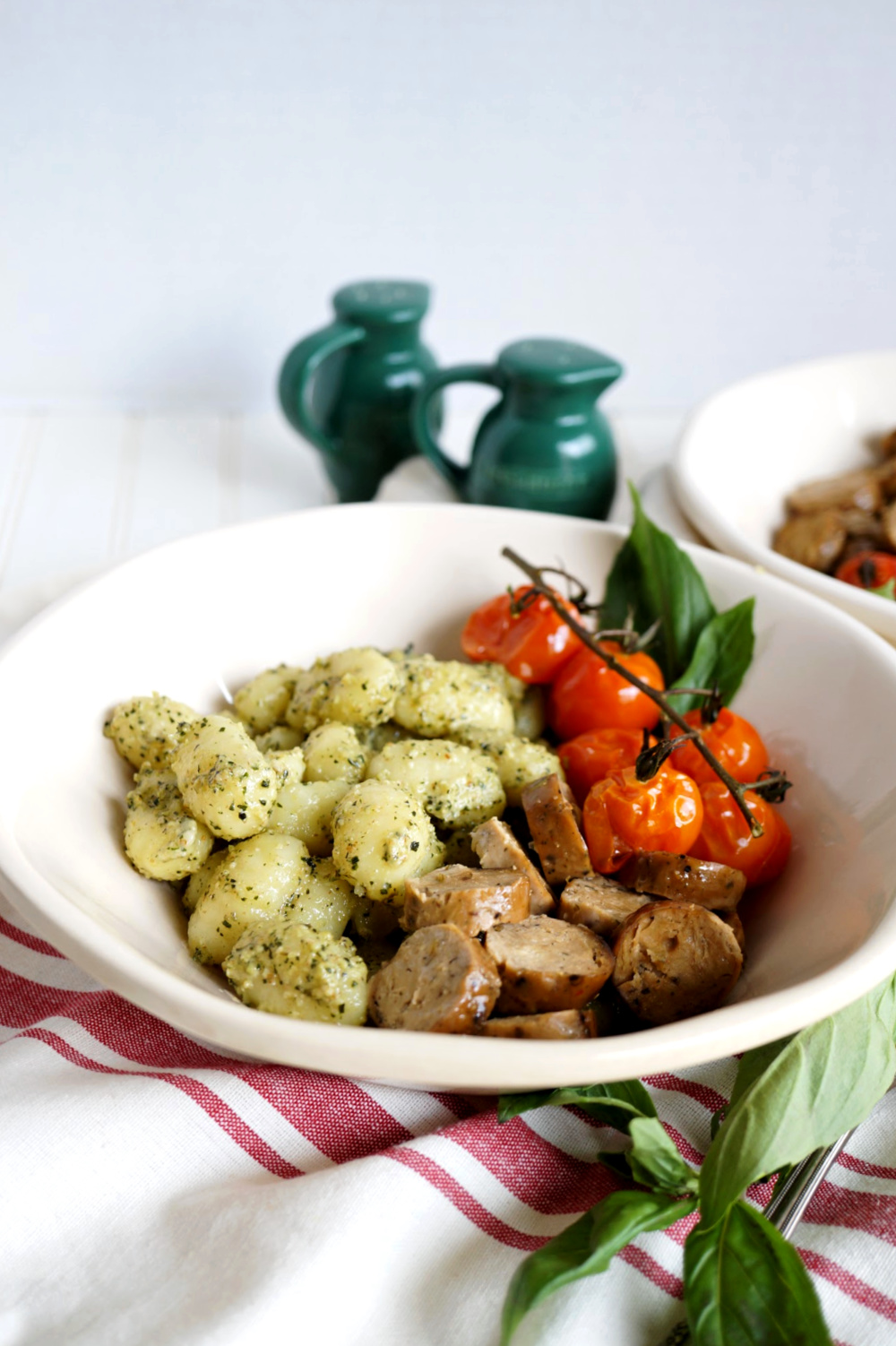 Oh hiiii! Guess who remembered they have a food blog?! 😉 I kid, I kid... honestly it's been making me so anxious that I haven't been posting lately! Life has just been crazy busy and finding time to cook, much less the time to cook, style, photograph, edit, write a blog post, and hit publish has just not been happening. I have a few days off in a row so I am hoping to get some work done and share more delicious recipes with y'all in this new year. Starting off with... an oldie but goodie that's been on repeat at my house the past few months. Gnocchi with Pesto, Roasted Tomatoes, and Vegan Sausage! This dish is insanely flavorful and so filling and satisfying. I think you're gonna love it as much as we do!
Okay, so this gnocchi with pesto really only has like, 4 ingredients at it's core. You can do more if you have extra time, but the basics include...
Gnocchi - both potato and cauliflower work! If you're using frozen cauliflower gnocchi, thaw them out in the microwave on a paper towel, then sauté in a bit of olive oil so they get a nice crispy crust.
Pesto - I made my own for the recipe today, but store-bought pesto makes this recipe even easier. I like the Barilla Sun-dried Tomato Pesto which is vegan friendly (no cheese)!
Your fav vegan sausage - I was partial to the one from Aldi, until a reader helpfully pointed out it has eggs. OY. I personally like the Tofurky Italian sausage, but I've had my eye on the ones from Simple Truth (Kroger) to try next! Don't be like me... be sure to read the label. LOL.
Cherry tomatoes - I picked the ones on the vine to be fancy for pics, but any regular ol' cherry tomatoes work here. You can also dice up a few large tomatoes in a pinch.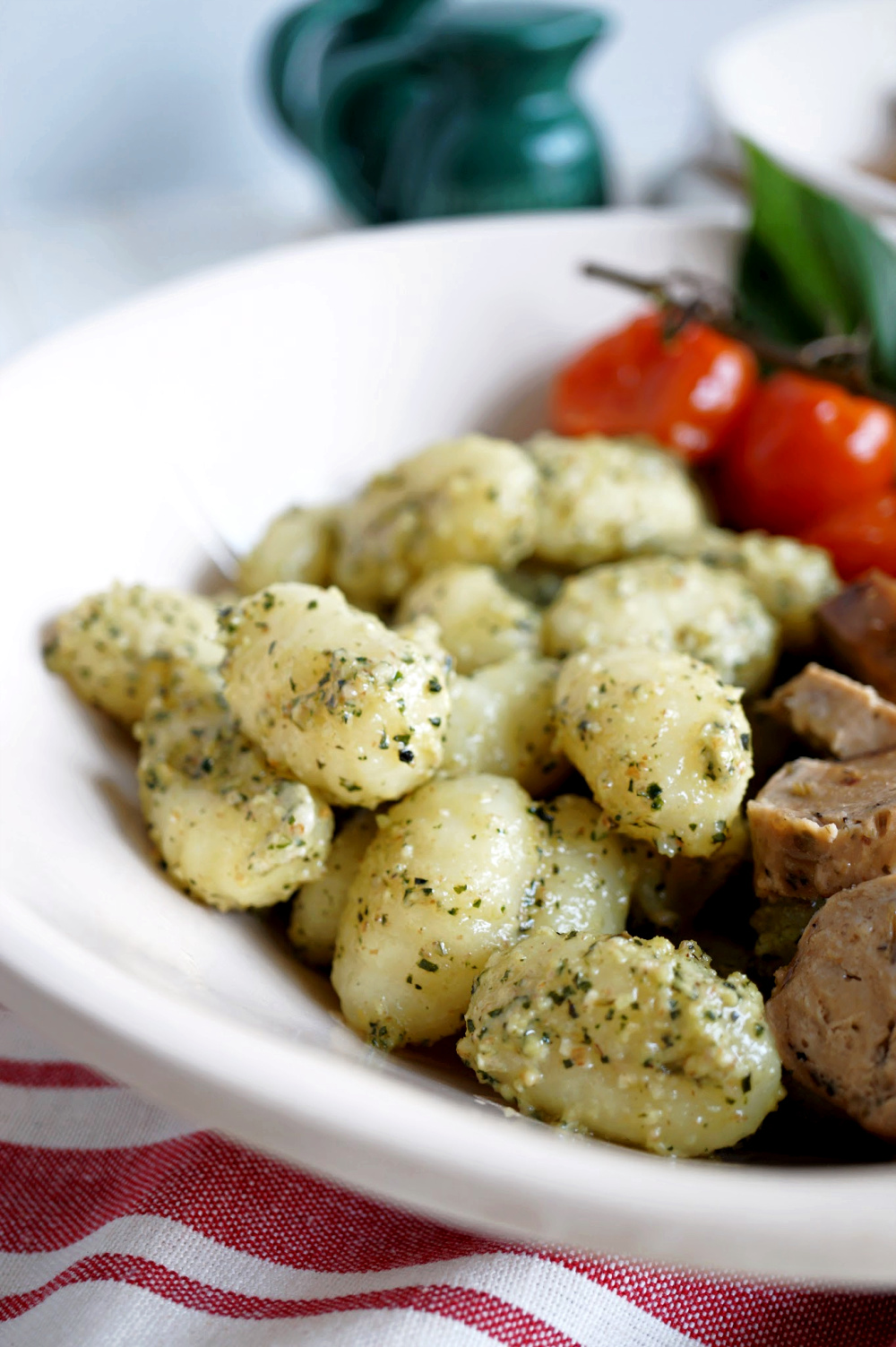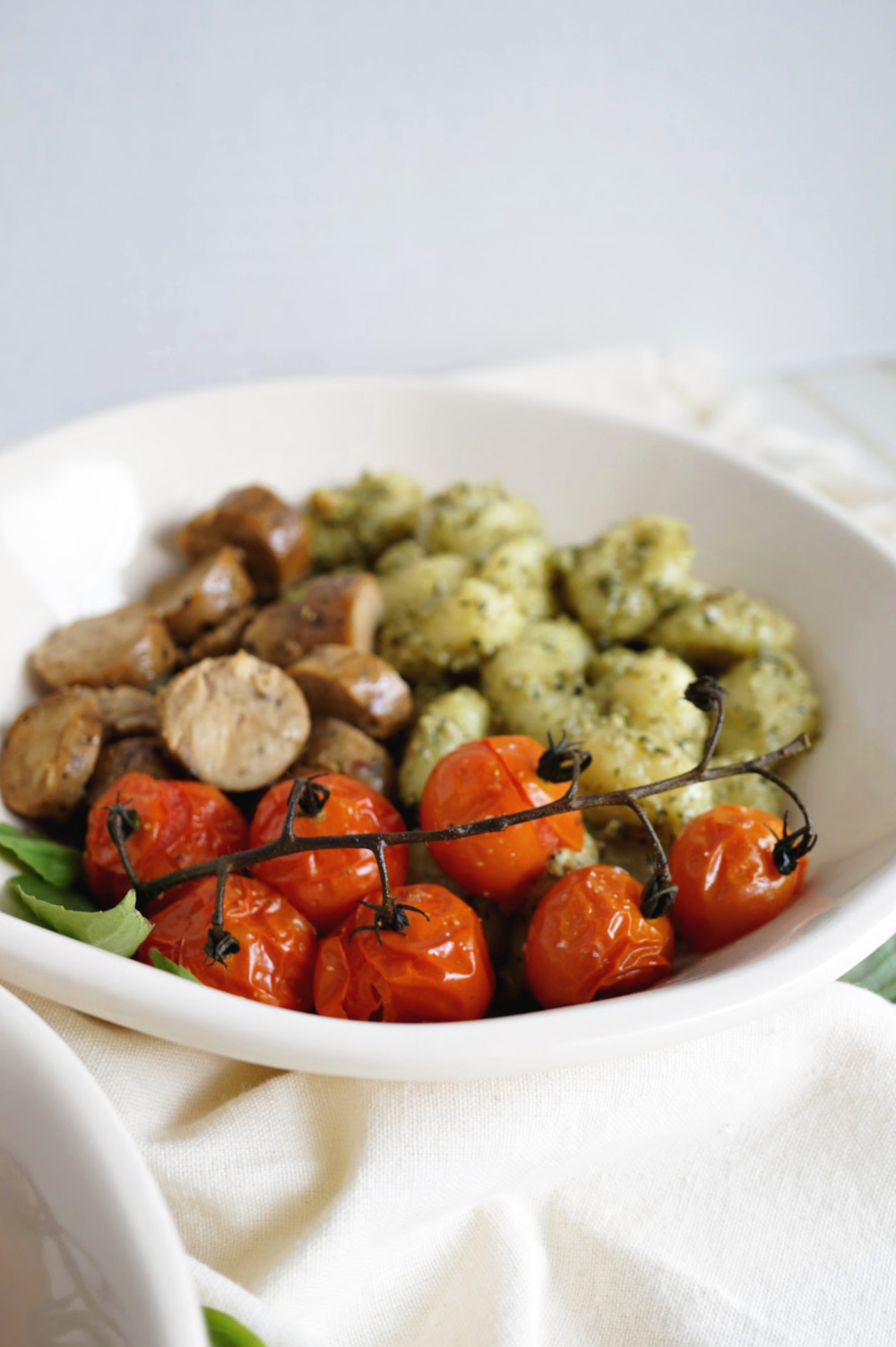 Tips for success for your gnocchi with pesto:
Where do I buy gnocchi? It is shelf-stable and usually sold in any grocery store right by the pasta! If you want cauliflower gnocchi, those will be in the frozen aisle - usually by the frozen veggies.
How do I make pesto at home? It is SUPER easy, and very quick too! In a food processor, just combine basil, garlic, some sort of nut, and salt with a generous amount of olive oil. I also added a sprinkle of nutritional yeast in place of parmesan cheese. You can use any nuts you have on hand - pine nuts are traditional, but the flavor can be strong (and they are expensive!). I usually opt for walnuts or pecans, but almonds are also an option.
How do I store leftover pesto? I recommend a glass jar with tight-fitting lid. My mom always said that to keep pesto from going bad, you should store it with a layer of olive oil on top to prevent it from getting oxidized. Not sure if it's true but - it works! I just make sure to flatten out the top surface and add an extra splash of olive oil on top after each time I use it.
Do I have to use vegan sausage? Nope! You can use real sausage or top with chick'n/chicken strips or whatever you'd like. Or you can just eat the gnocchi with the tomatoes and call it a day!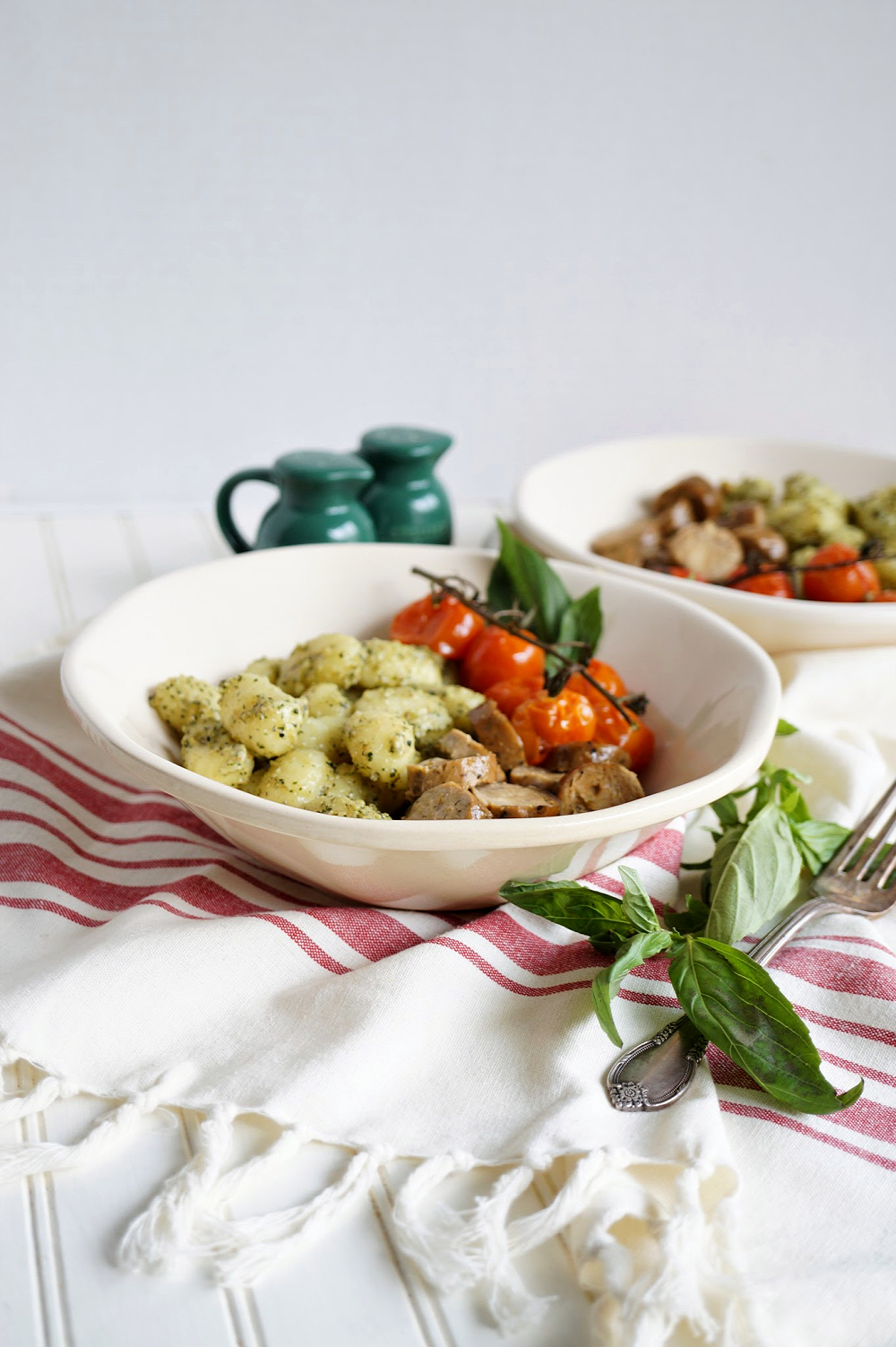 I hope you guys will give these gnocchi with pesto, roasted tomatoes, and vegan sausage a try when you need a quick dinner! Even if you make the pesto from scratch, this is on the table in less than an hour easyyyy. The sausage and tomatoes cook in the oven (so that is hands-off) and the gnocchi take literally a minute to cook in boiling water. Easy supper, here we come!
Check out the video I made on how to create this recipe step-by-step!
Looking for more quick and easy pasta dinners?
gnocchi with pesto, roasted tomatoes, and vegan sausage
These Gnocchi with Pesto, Roasted Tomatoes, and Vegan Sausage are so simple to prepare but make for a savory and satisfying plant-based dinner.
Author:
Valentina | The Baking Fairy
Recipe type:
Pasta & Noodles
Ingredients
*for the pesto*
1 cup fresh basil leaves
¼ cup pecans (or your favorite nut)
4-5 cloves of garlic, peeled
2 tablespoon nutritional yeast
1-2 teaspoon salt or garlic salt (more or less to taste)
⅓ cup olive oil (more or less as needed)
*for the roasted tomatoes and sausages*
1 pint cherry tomatoes
4 vegan Italian sausages
1 tablespoon olive oil
4 cloves of garlic, smashed
1 teaspoon garlic salt
*to serve*
2 packages gnocchi
Instructions
First, preheat oven to 425F. Drizzle some olive oil in the bottom of an 8x8 baking dish. Arrange the sausages and cherry tomatoes in the dish, drizzle with a bit more oil, add in the smashed garlic cloves, and sprinkle with garlic salt. Roast in preheated oven for 30 minutes.
While the sausages and tomatoes cook, prepare the pesto.
In a food processor, combine the basil leaves, pecans, garlic cloves, nutritional yeast, salt, and some of the olive oil. Pulse, adding more olive oil as needed, until you have a smooth sauce and everything is finely processed. Set aside for now.
When the sausages and tomatoes are ready, remove from the oven and set aside. Now you can cook the gnocchi.
Bring a large pot of water to a boil, and salt the water.
Add in the two packages of gnocchi, and cook according to package directions. Usually, when the gnocchi float to the surface, they are ready.
Remove the gnocchi from the water and toss with some of your pesto for desired sauciness (you will have some leftover). Divide between 4 bowls and serve with the roasted tomatoes and Italian sausage. Enjoy!
*Disclosure: I am part of the Amazon Associates Program, and there may be affiliate links on this page. If you buy anything through my website, I will receive a small percentage of the profit at no extra cost to you. Thank you for supporting my blog!*