Craving pasta in a hurry? This Spaghetti Aglio Olio & Peperoncino combines noodles with a fragrant garlic & chili oil for a delicious quick dinner!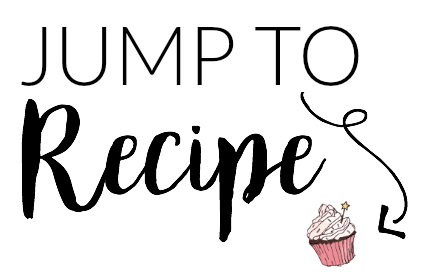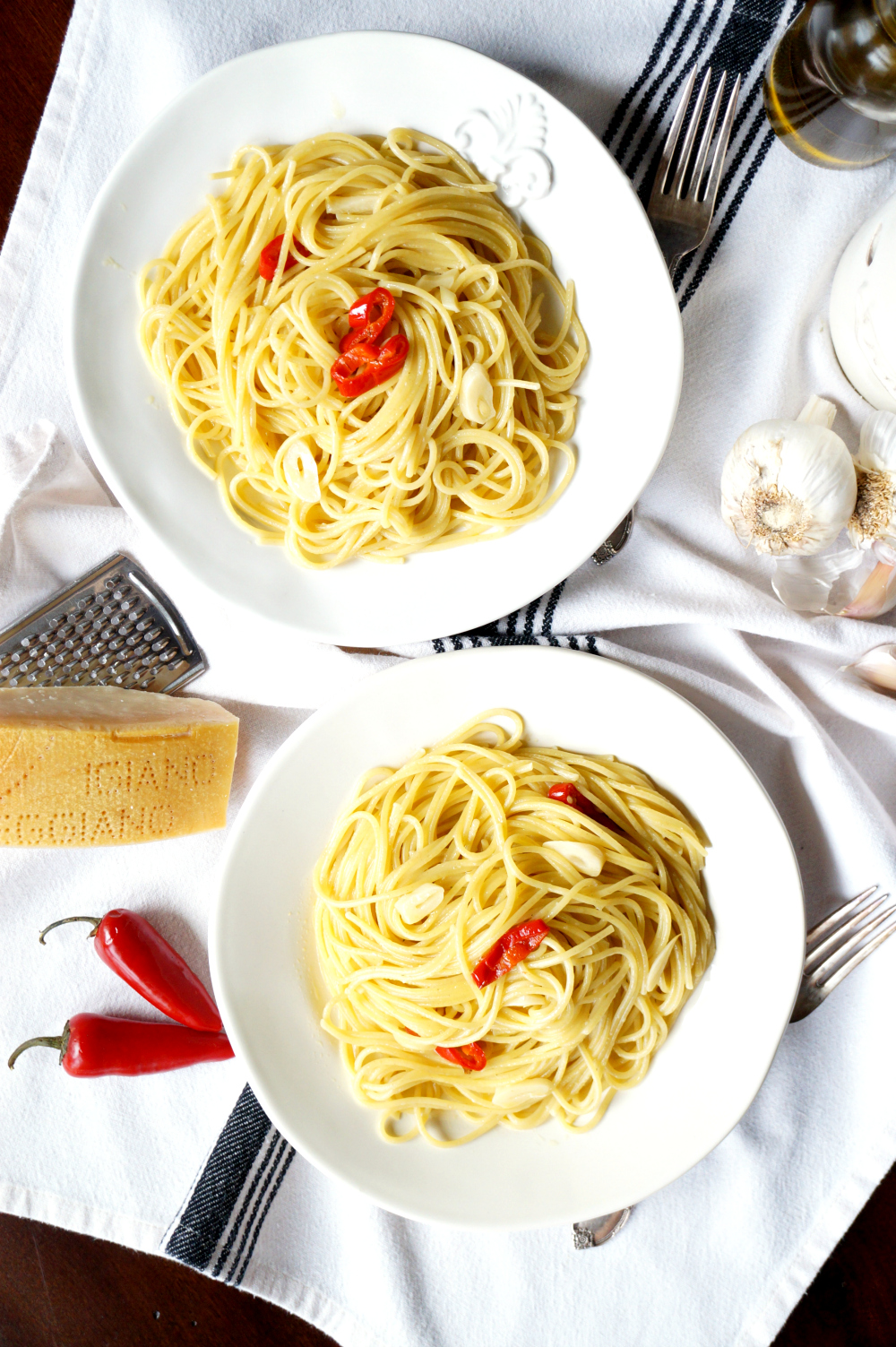 Helllooo friends and happy Tuesday! I am so excited to be sharing this delicious classic Italian dish with you today. Spaghetti Aglio Olio & Peperoncino... translated, spaghetti with garlic, oil, and chilies! It's so simple and soooo good. This is something that we make at my house every single week if not more!  Al dente spaghetti is tossed in fragrant oil flavored with garlic and pepper (either fresh or dry crushed red pepper flakes), sautéed, and it's ready to be slurped down in just a matter of minutes. Parmesan optional but recommended. 😉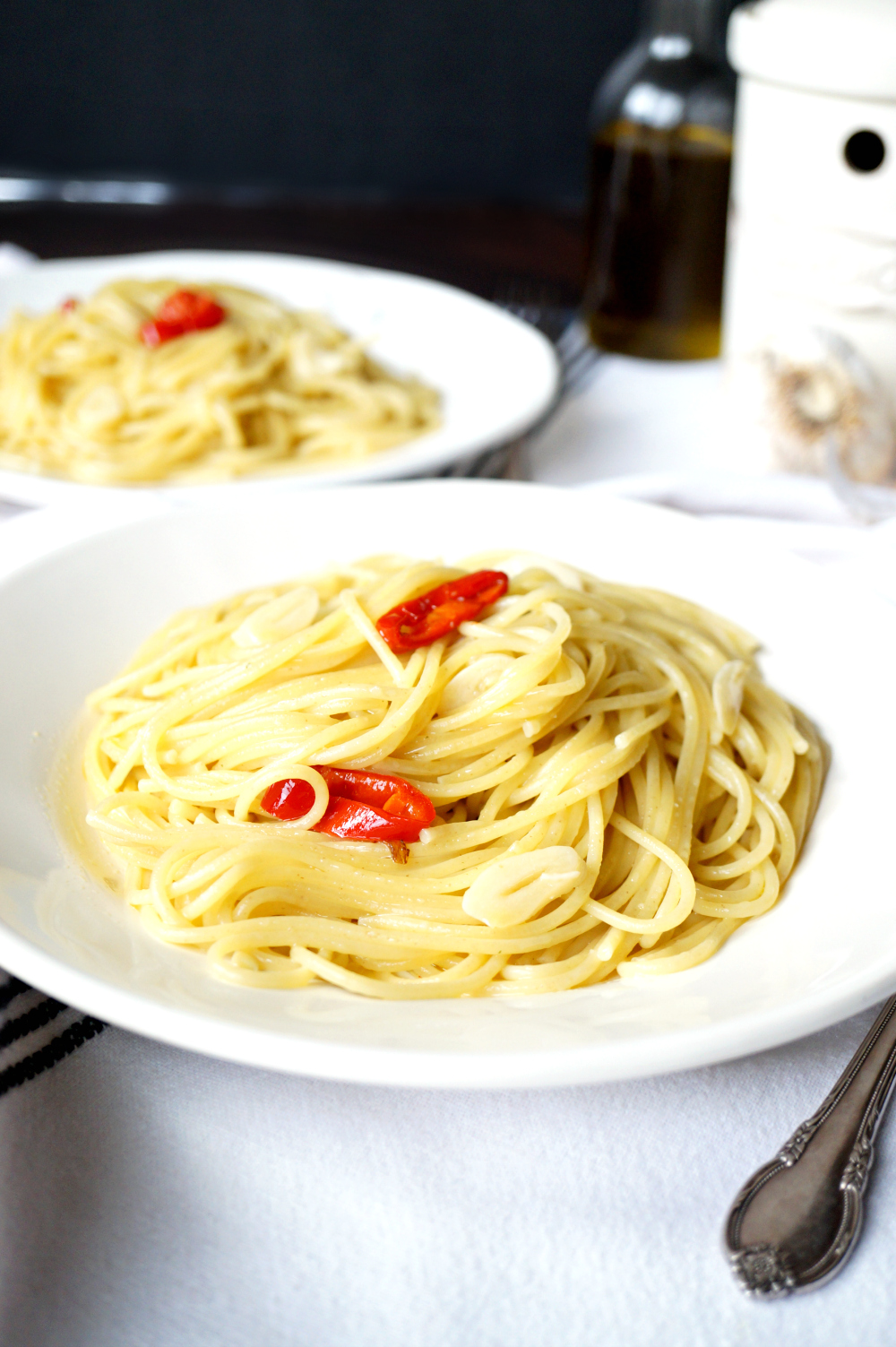 Aglio olio & peperoncino is the quintessential Italian dish... super simple but packed with flavor and, of course, totally delicious. It's my family's go-to when we can't think of what to make for dinner or are just too exhausted to cook any real food. Case in point, I'm working in the ER this month and my hours are alll over the place, so honestly I'll just eat whatever you put in front of me. But I'll say I can't complain if that just happens to be a big plate of pasta. Hello, comfort food!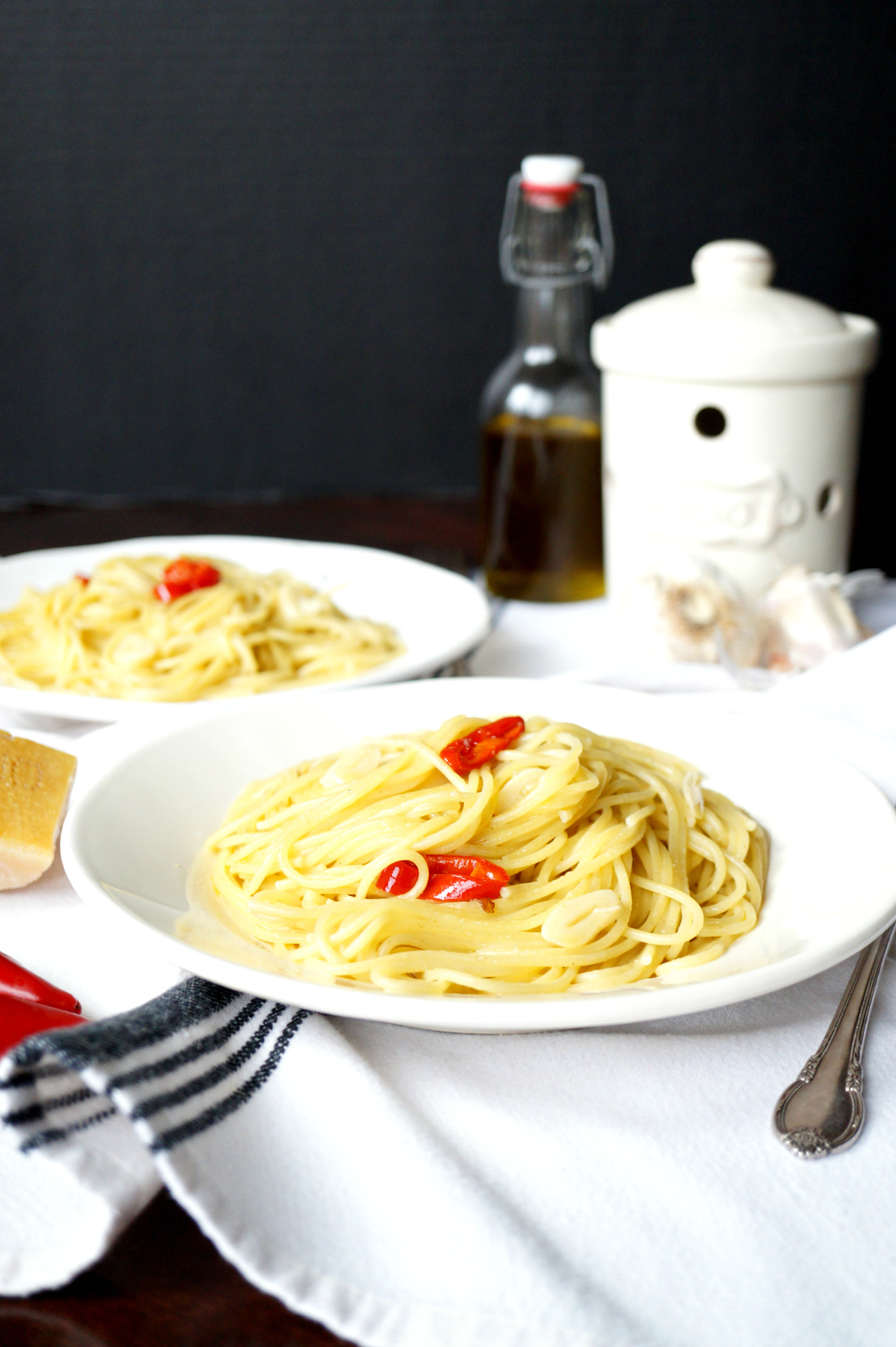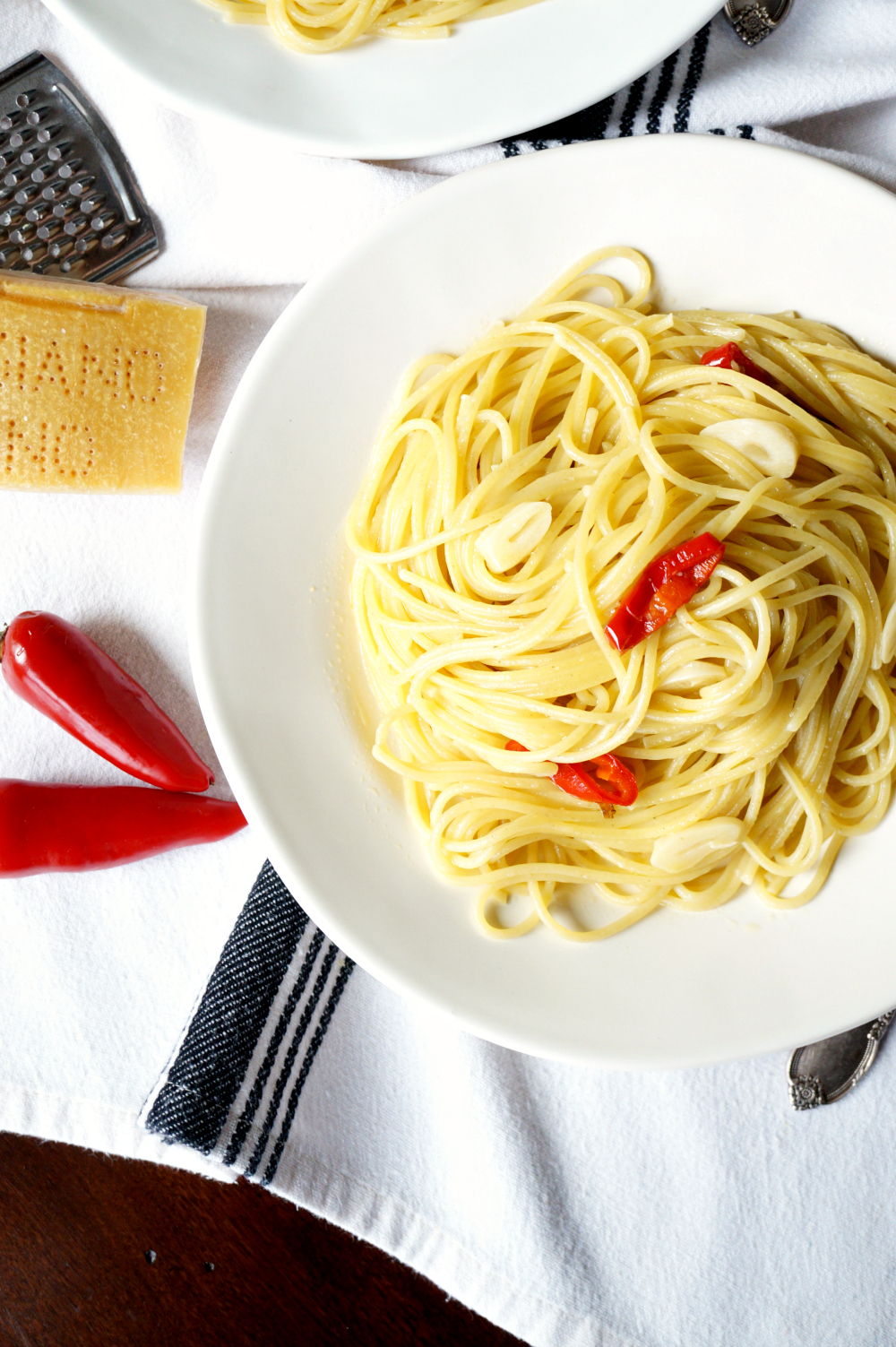 So in other news... I just started working with a personal trainer yesterday! Yay, exciting! This is partially to offset my cruise food (L O L) and to get ready for engagement pictures... and wedding things... and just the damage done by literally sitting 14 hrs a day for almost 2 years. PA school makes you smart but it also makes your butt flat. Fact. But going with the personal trainer thing, of course I need to watch what I eat a little bit more which means no pasta aglio olio & peperoncino for me. At least for a while. I guess I'll just stick to the soup & salad. ?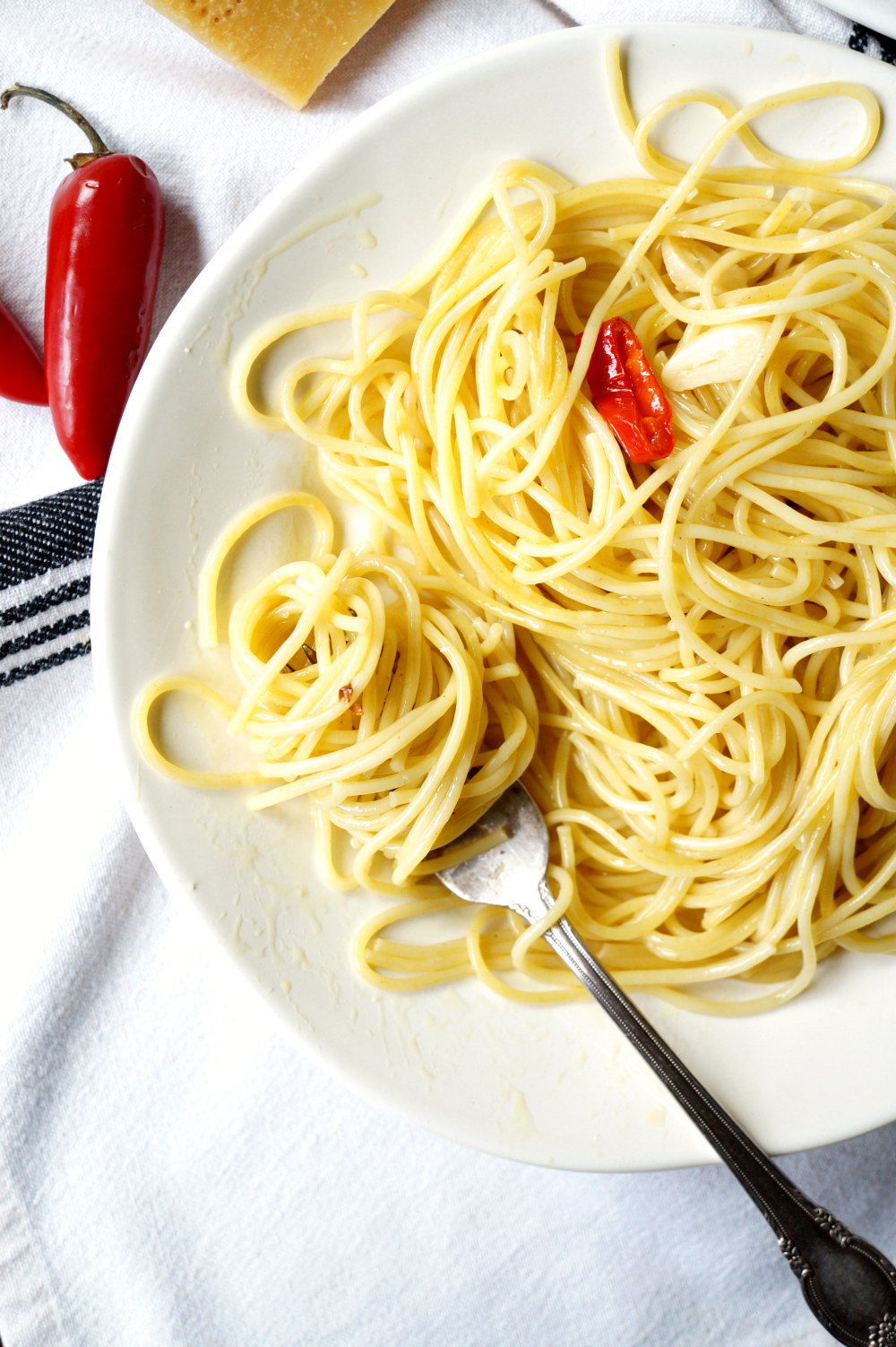 I hope next time you're craving pasta in a hurry, you'll try these spaghetti aglio olio & peperoncino! Perfectly savory, spicy, and garlicky. So good. If you're in an extra-hurry... yes you can do the oil in the microwave. Because yes, I have absolutely done that before. No shame. 😉
Looking for more pasta inspo? Check out my Tomato Kale Spaghetti, Roasted Red Pepper Pasta, Tomato & Mozzarella Pesto Pasta Salad, and Simple Greek Pasta Salad. Happy eating!

spaghetti aglio olio & peperoncino
Author:
Valentina | The Baking Fairy
Ingredients
1 lb spaghetti
4-5 cloves of garlic, peeled and thinly sliced
1 fresh red chili, thinly sliced {I used Fresno} - can sub ½ tablespoon crushed red chili flakes
½ cup olive oil
½ teaspoon garlic salt
Instructions
First, bring water to a boil and cook spaghetti 1-2 minutes less than directed. Be sure to salt water heavily.
While pasta cooks, prepare the oil. Heat oil over medium-high heat in a large saucepan. Add in the garlic, red chili slices or flakes, and garlic salt. Heat until garlic is sizzling and fragrant but NOT burnt. Add in about ½ cup of the pasta water, stirring continuously.
As soon as the spaghetti are cooked, drain {save the pasta water} and add in to the hot oil. Saute for 1-2 minutes and serve. Add more salt to taste. Serve topped with freshly grated parmesan or a sprinkle of nutritional yeast.
*NOTE - if you're feeling extra lazy, you can sub the fresh garlic and fresh chili for garlic powder and chili flakes. And yes, you can even heat the oil in the microwave in a pinch!!*

SaveSave