Change up your pasta game by stepping away from the usual tomato and whipping up this Roasted Red Pepper Pasta instead! It's the perfect blend of smokey, savory, and absolutely delicious. 
Hi friends and happy MONDAY! Phew, spring break is just a week away and I am so ready. My recipe today won't do your bikini bod any favors, but it sure is delicious. This Roasted Red Pepper Pasta is so tasty that it'll blow you away! I'm an ~okay~ fan of peppers, so I wasn't expecting this to be too spectacular. The fact that I'm now seriously obsessed should be enough proof that it's GOOD stuff! And it's easy, too. Let's make it!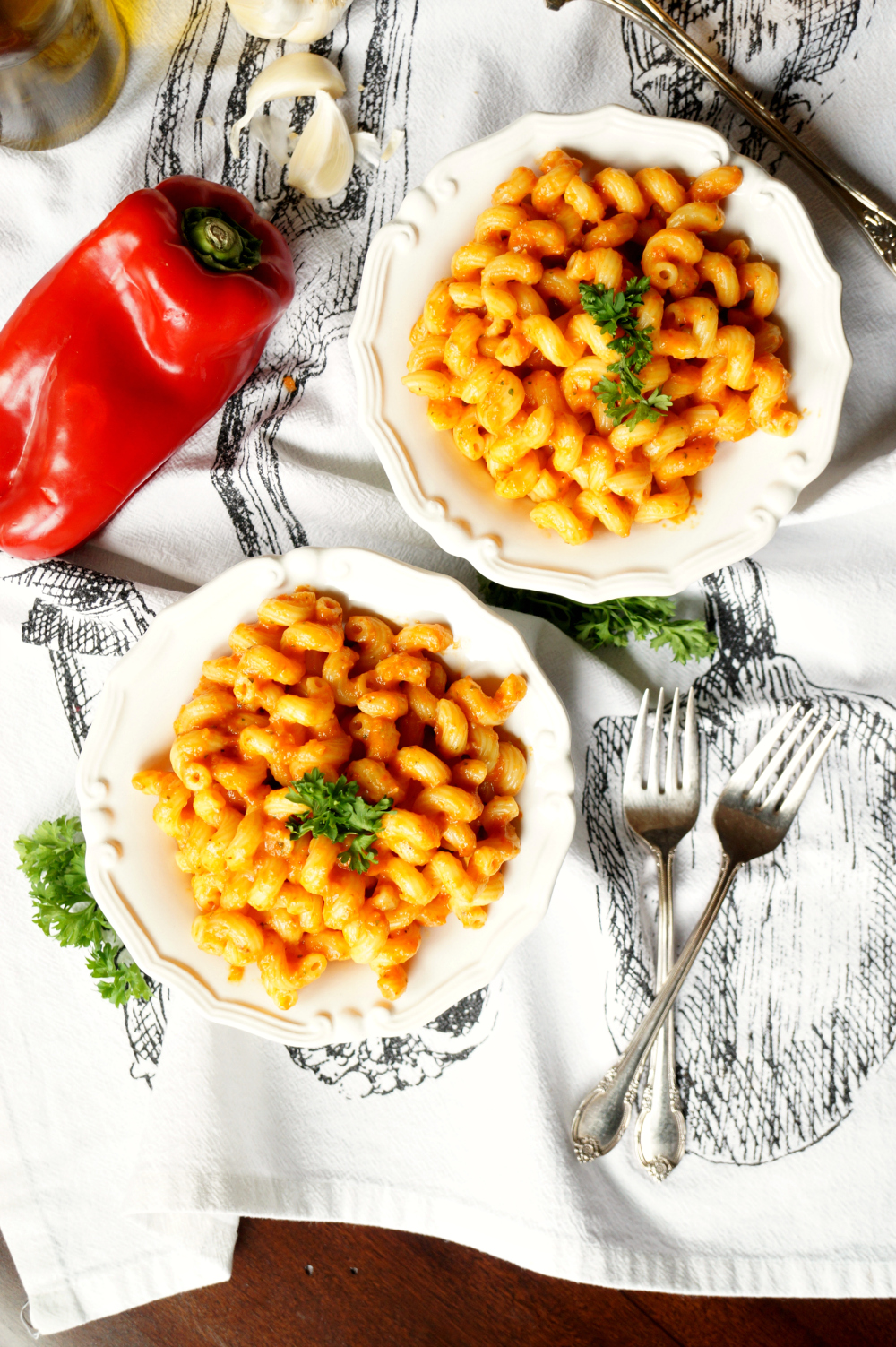 Like I said - this roasted red pepper pasta is easy. You roast your red peppers in the oven until the skins are blackened and crackly and the peppers are soft. Then you sauté some garlic and onion with olive oil until soft and fragrant. And then, throw everything in a blender with some cream and parmesan and my friend, you are all done. This roasted red pepper pasta strikes the perfect balance between smokey, savory, and just a little sweet. I'm not a huge fan of super smokey flavors as it sometimes feels like you're just eating a mouthful of ash (LOL) but this is juuuust smokey enough to pique your interest. 😉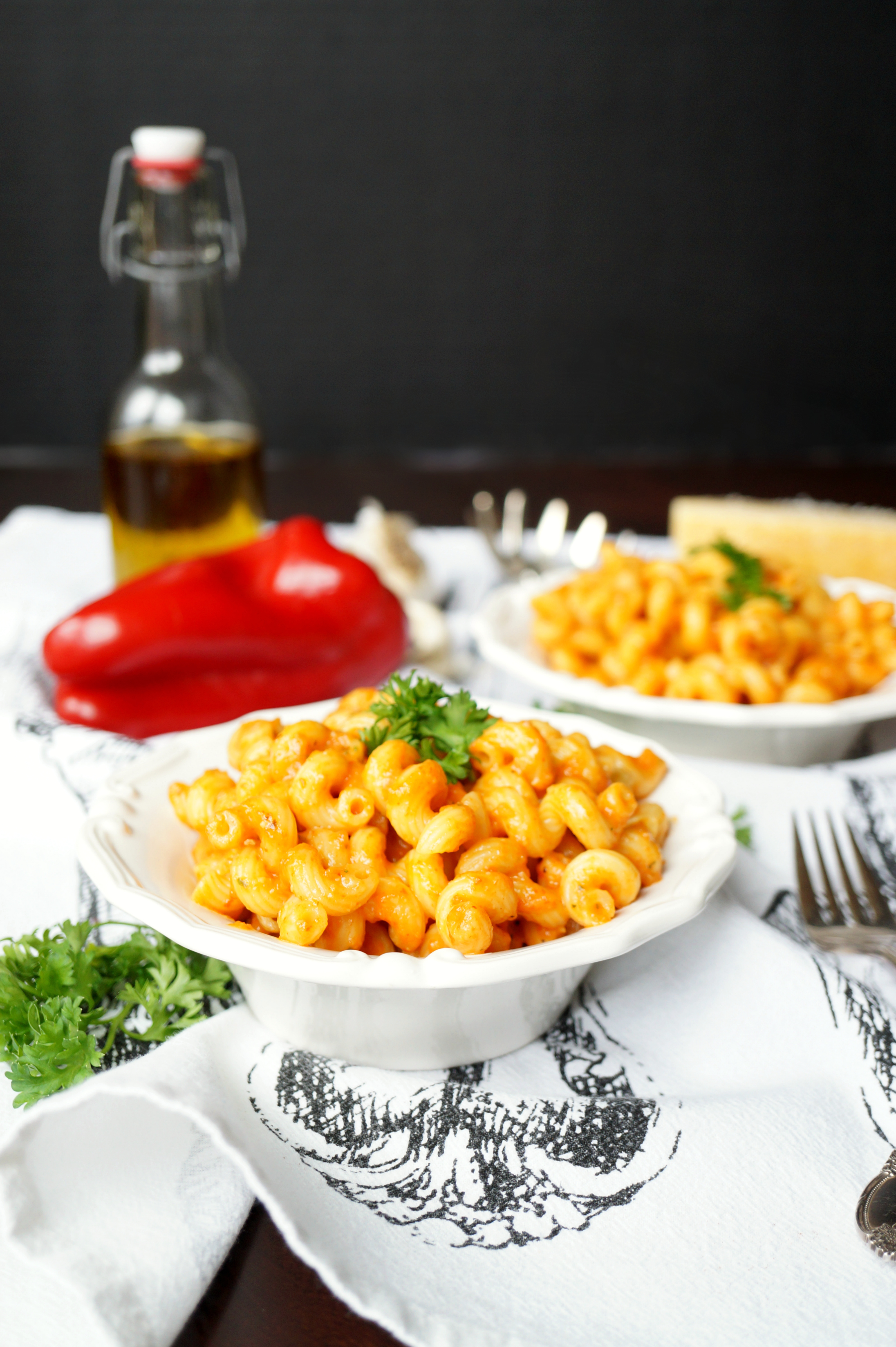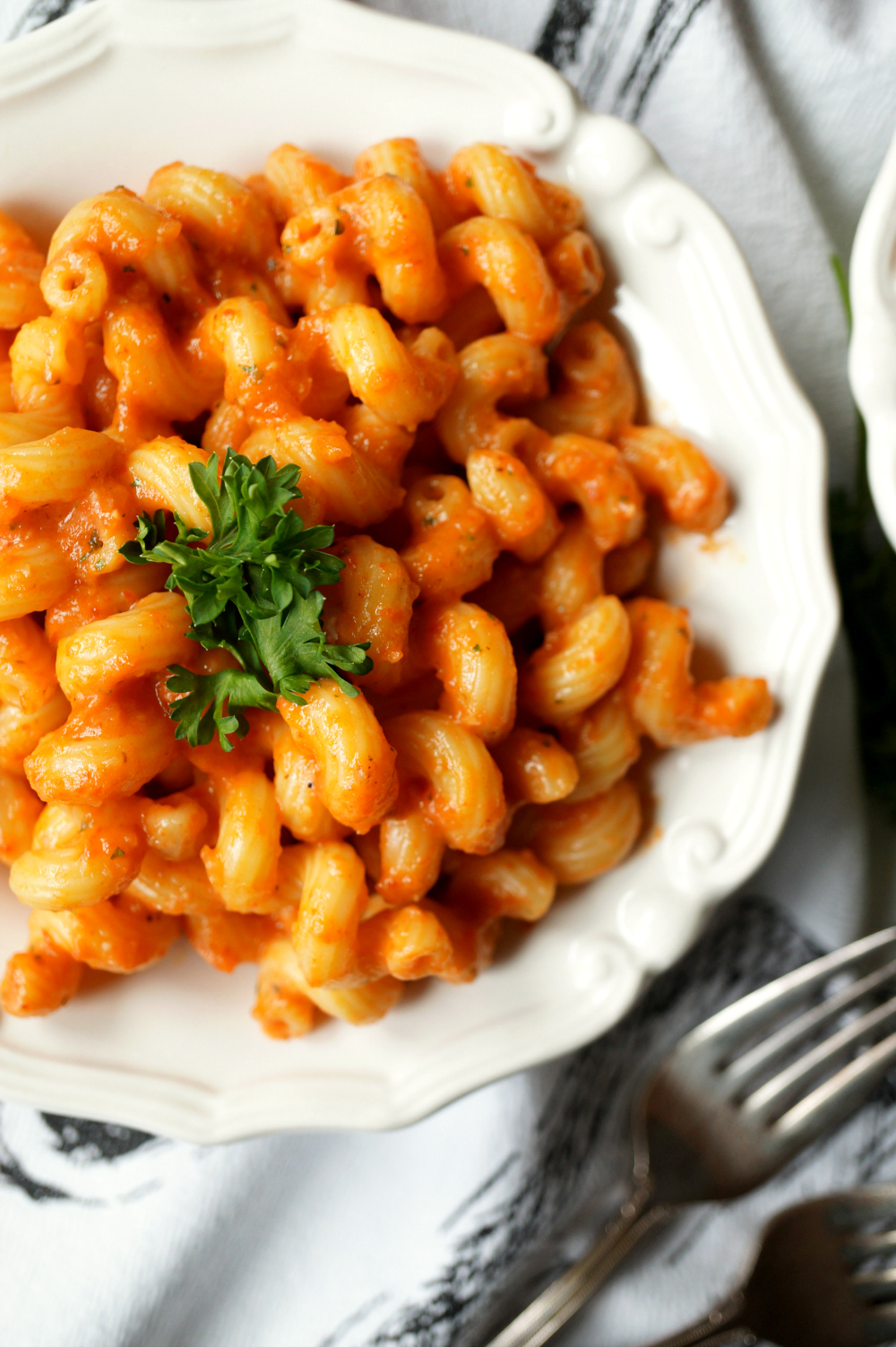 So just before I let you go, I have some exciting news!!! Some of y'all may know that I've been engaged for-EVER because I'm in PA school and my fiance was in medical school. Well, he just finished up and he got his match for residency... IN DALLAS! Which is where I am! Which means now I can finally start planning this stupid wedding. Aaaah. Let me just exhale a big sigh of relief. Also this means I can start sharing more wedding things as they start happening which should be fun 🙂 Stay tuned for more!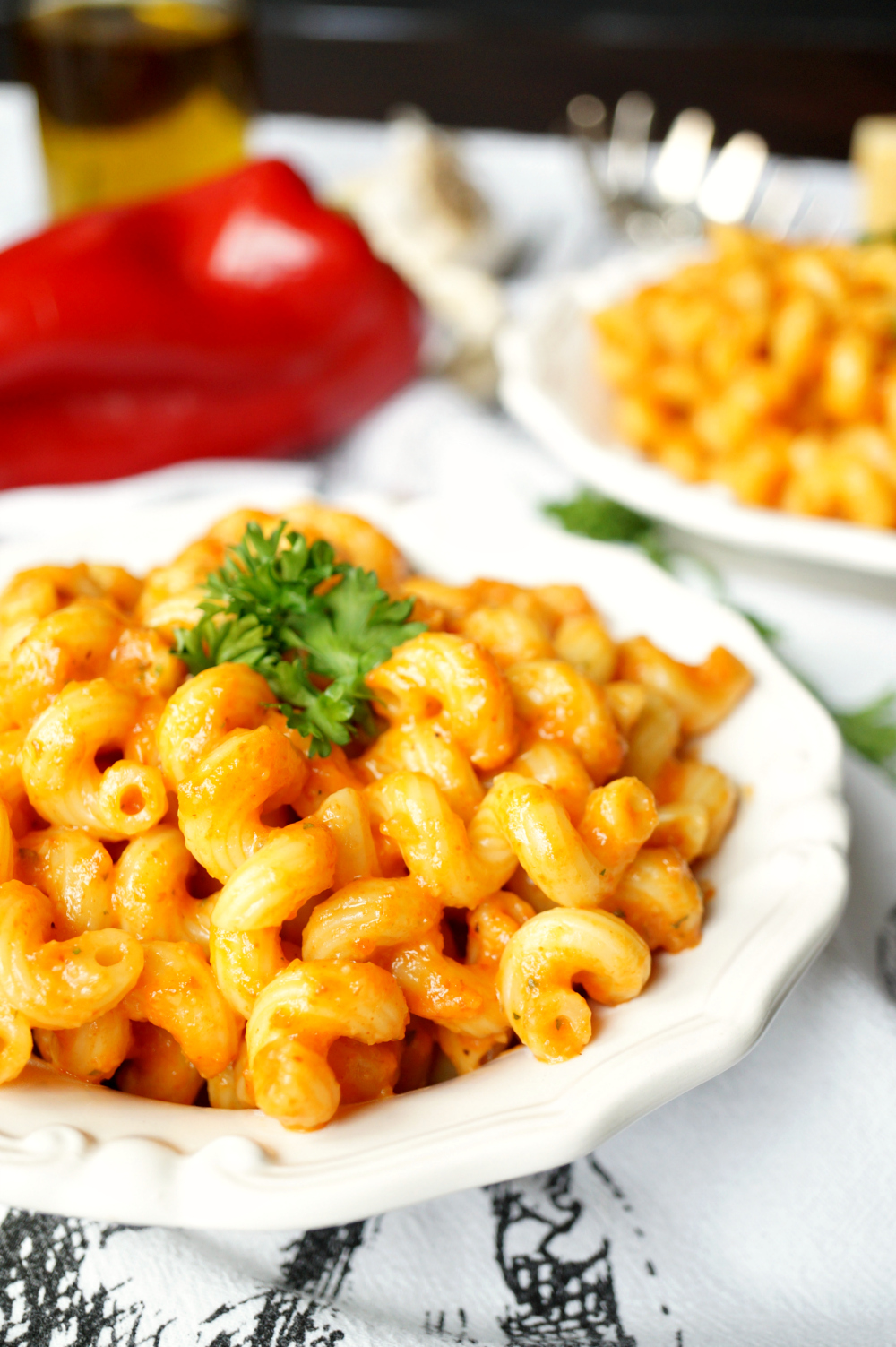 I hope you guys try out this roasted red pepper pasta soon! I can't emphasize it enough, it is SO STINKIN GOOD. If you're looking for more easy pasta recipes, check out my Creamy Tomato Sauce, Avocado Pesto Pasta, Tomato Kale Spaghetti, and Creamy Vegan Pumpkin Macaroni. Happy cooking!

roasted red pepper pasta
Author:
Valentina | The Baking Fairy
Ingredients
2 red bell peppers, washed and dried
½ white onion, chopped
4 cloves garlic, peeled and smashed
2 tablespoon olive oil
¼ cup heavy cream
¼ cup parmesan cheese
1 teaspoon garlic powder
1 teaspoon dried parsley
¼ teaspoon smoked paprika
1-2 teaspoon salt (to taste)
1 lb pasta of choice
*NOTE: for a vegan option, substitute the heavy cream with coconut milk or nondairy milk, and parmesan with nutritional yeast*
Instructions
First, roast the peppers. Turn on the broiler to 450F, place the peppers (whole) on a baking sheet covered with aluminum foil, and place right under the broiler. Cook, turning every few minutes, until peppers are soft and skins are blackened and blistered.
When ready, remove from oven and close the foil up tightly. This will create some steam and that will help peel the peppers more easily.
Meanwhile, prep the rest of the veggies. In a small pot, heat the olive oil over medium heat. Add in the onion and garlic, and season with the garlic powder, parsley, paprika, and salt. Cook, stirring often, until vegetables are soft and slightly caramelized.
When peppers are cool enough to handle, carefully remove the skins and discard the seeds and green core.
Add the peppers to a food processor, along with the prepared veggies, parmesan, and cream. Blend until smooth and creamy.
Cook pasta according to package directions, toss with the prepared sauce, and enjoy!





SaveSaveSaveSave
SaveSave
SaveSave