Make the quintessential carrot cake even more special this Easter! These Coconut Pistachio Carrot Cake Cupcakes are packed with fun mix-ins and decorated with a toasted coconut nest.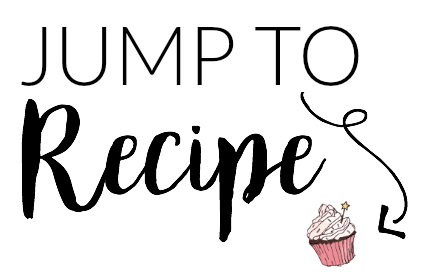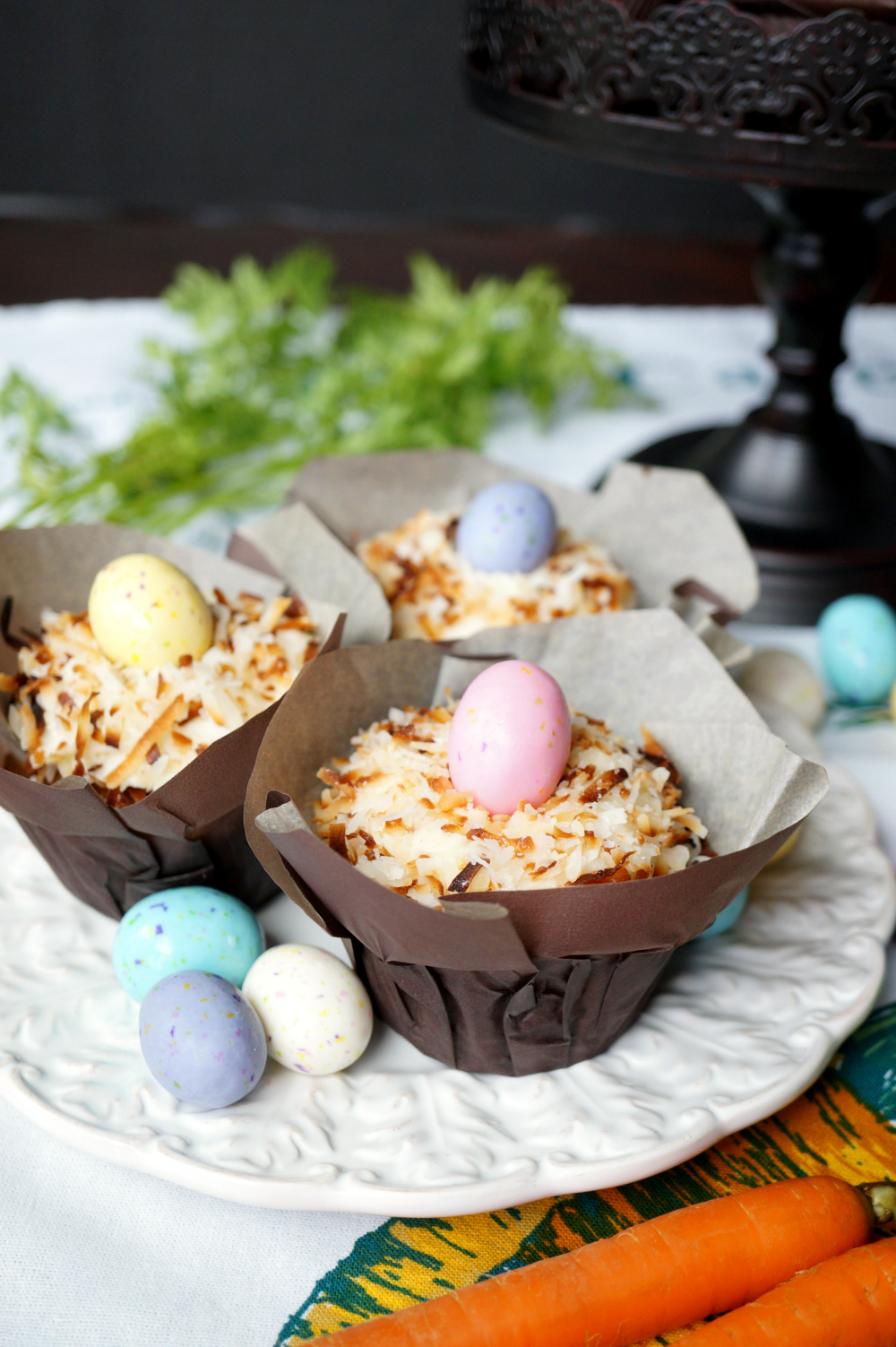 Happy Saturday my lovelies! I don't usually post on the weekend, but I had my final yesterday so I was a little otherwise preoccupied with studying 😉 Today, I am sharing a recipe that's perfect for Easter! These Coconut Pistachio Carrot Cake Cupcakes are seriously incredible and so super cute. I have never been a huge fan of carrot cake but these little treats are amazing. Sweet, spiced, and with the best tender crumb. The sweet nest of frosting and toasted coconut on top just seals the deal!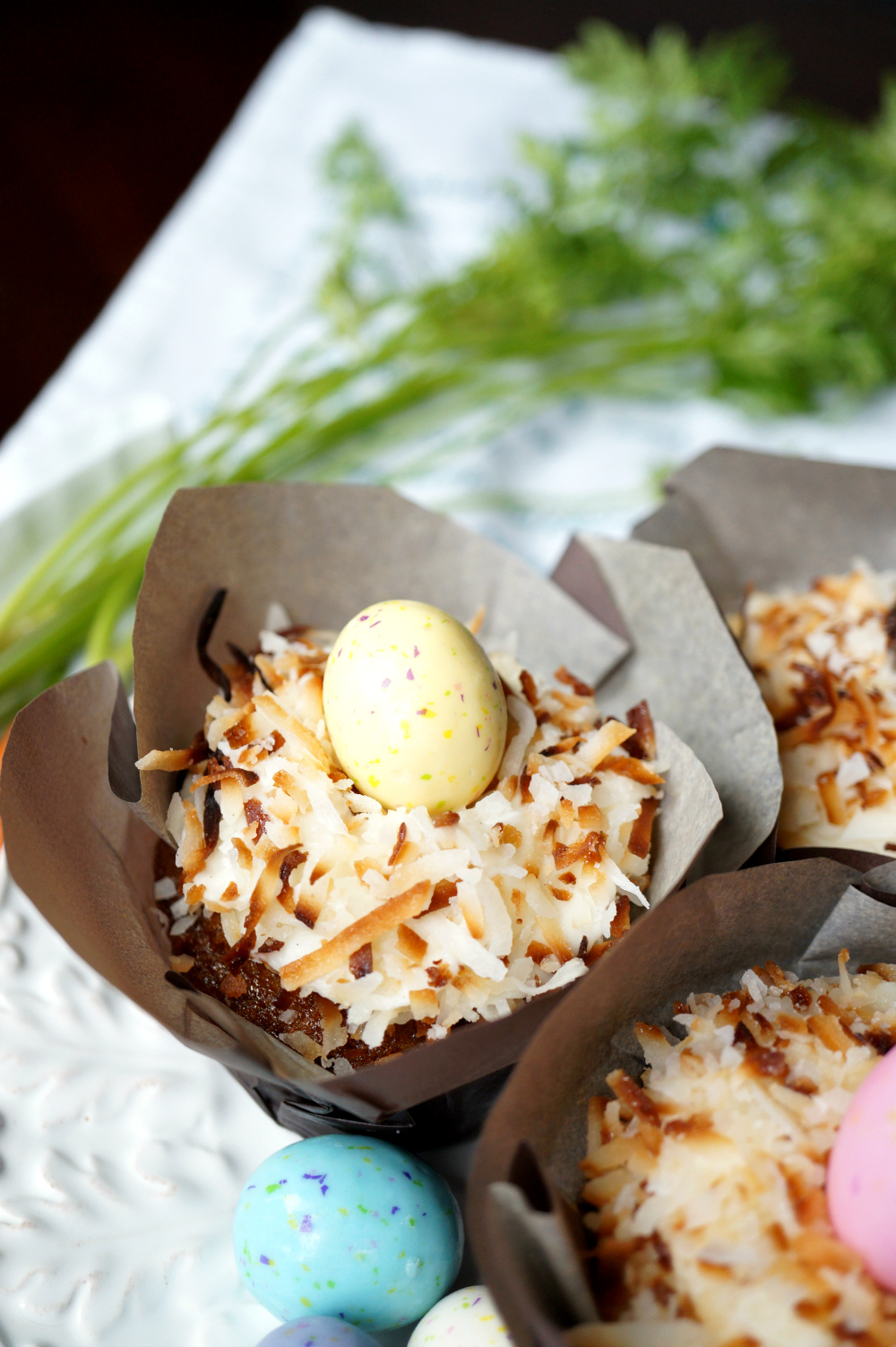 To make these fab carrot cake cupcakes, I started out with a recipe I had posted a million few years ago and set out to make it better. I remembered the cupcakes as being good, but clearly nothing spectacular enough to write home about. So I swapped the normal sugar for brown, added coconut and coconut extract in the batter, used some coconut oil in place of vegetable oil, and threw in some chopped pistachios. Don't forget a hefty spoonful of cinnamon! The result - AMAZING. Again, I don't even like carrot cake under the best circumstances and I actually loved these so much. They ended up being my birthday cupcakes just due to timing, but honestly I didn't even miss the chocolate. 😉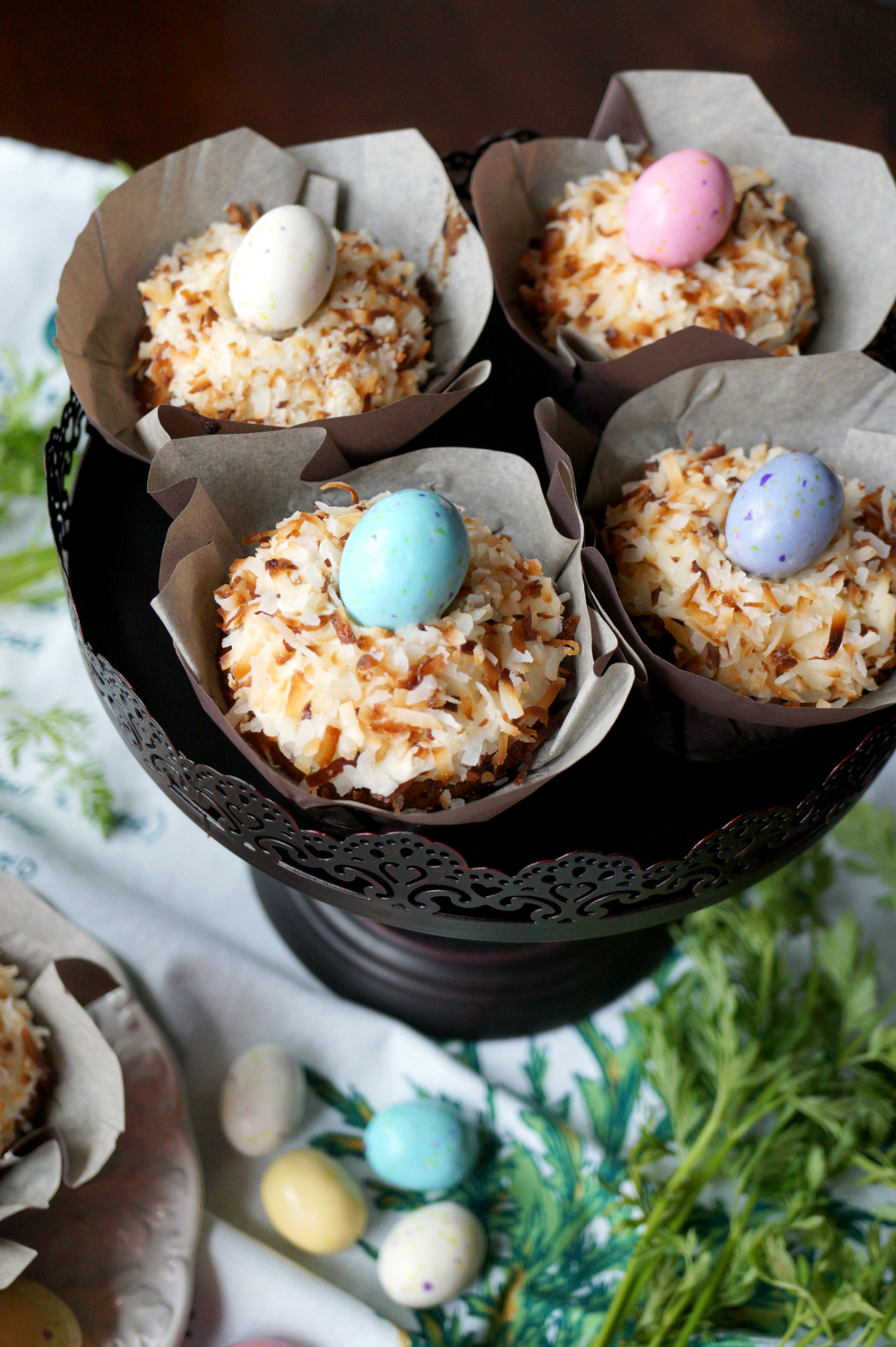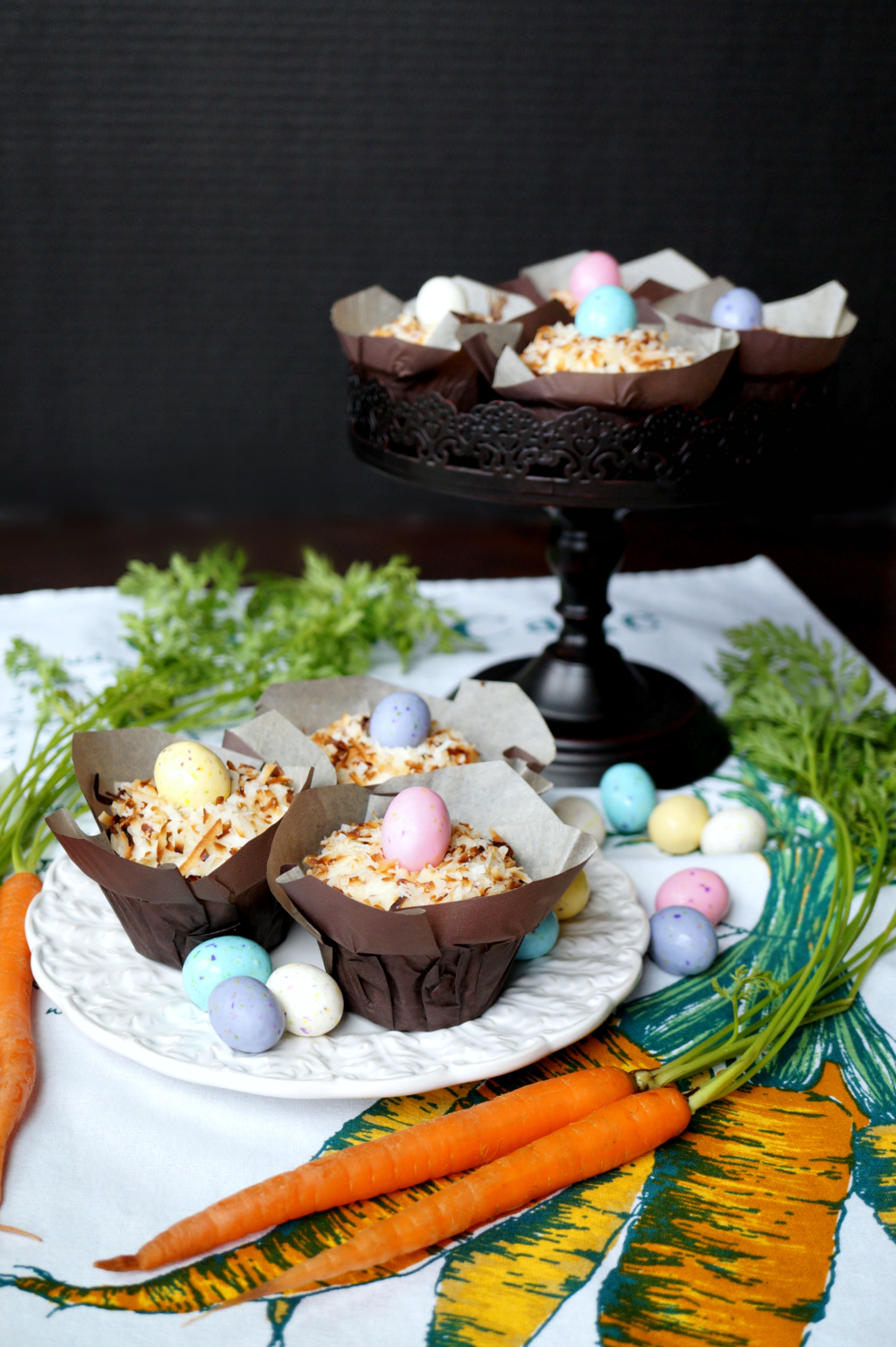 As for the decorations on top - I know that little nest may look complicated but I promise it is SO stinkin easy! You need precisely zero decorating skills for these carrot cake cupcakes to turn out well. Step one, you toast your coconut in the oven. This means you just spread some coconut out on a baking sheet and stick it in the oven, stirring occasionally, until it looks toasty and golden brown. Done. Step two, spoon or pipe your frosting on top of your cupcakes however you'd like. I promise it really doesn't matter because in step three... we cover the whole thing with toasted coconut anyway. And ta-da, a NEST! The finishing touch is adding a chocolate malt egg on top and the transformation is complete.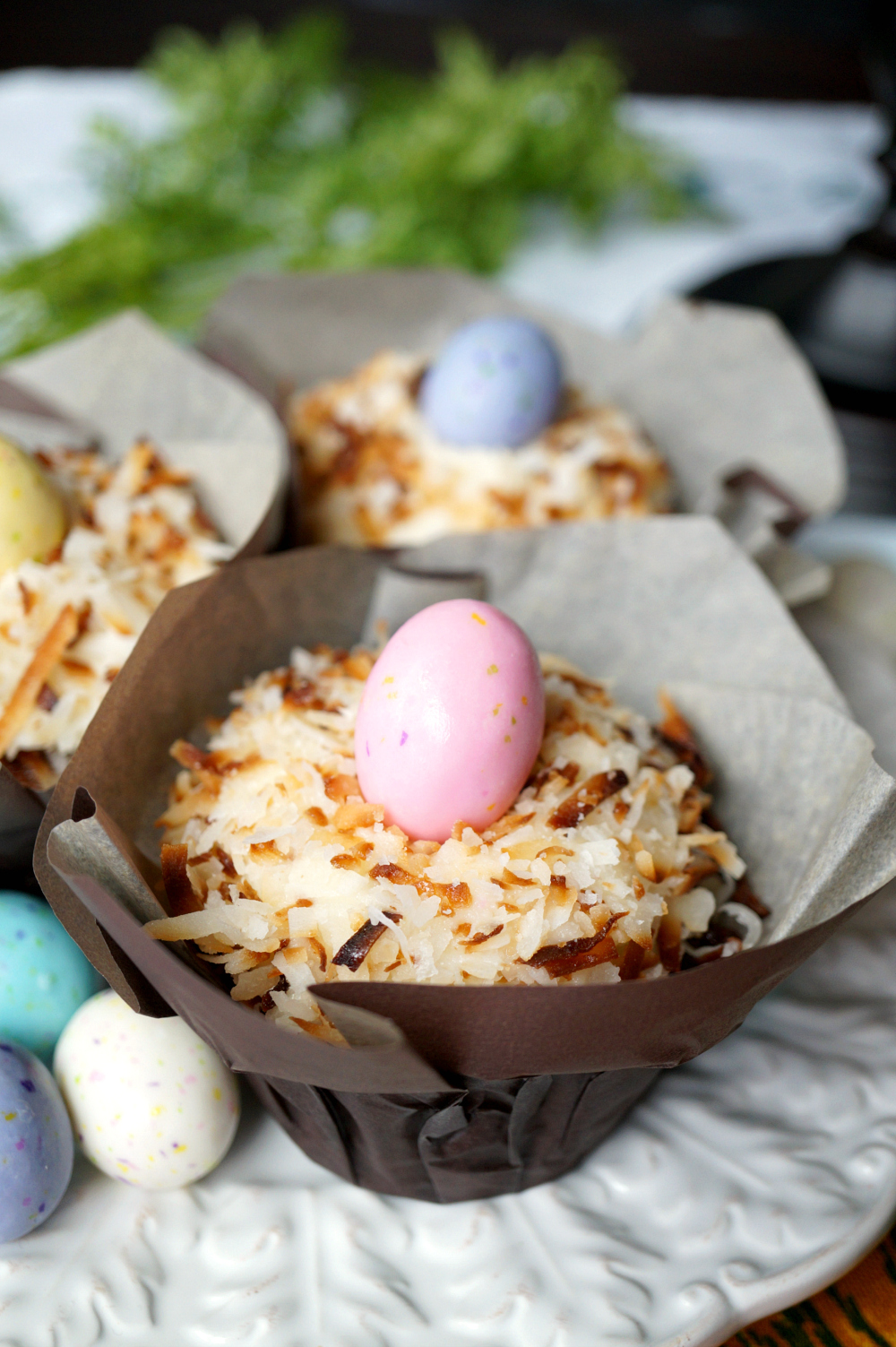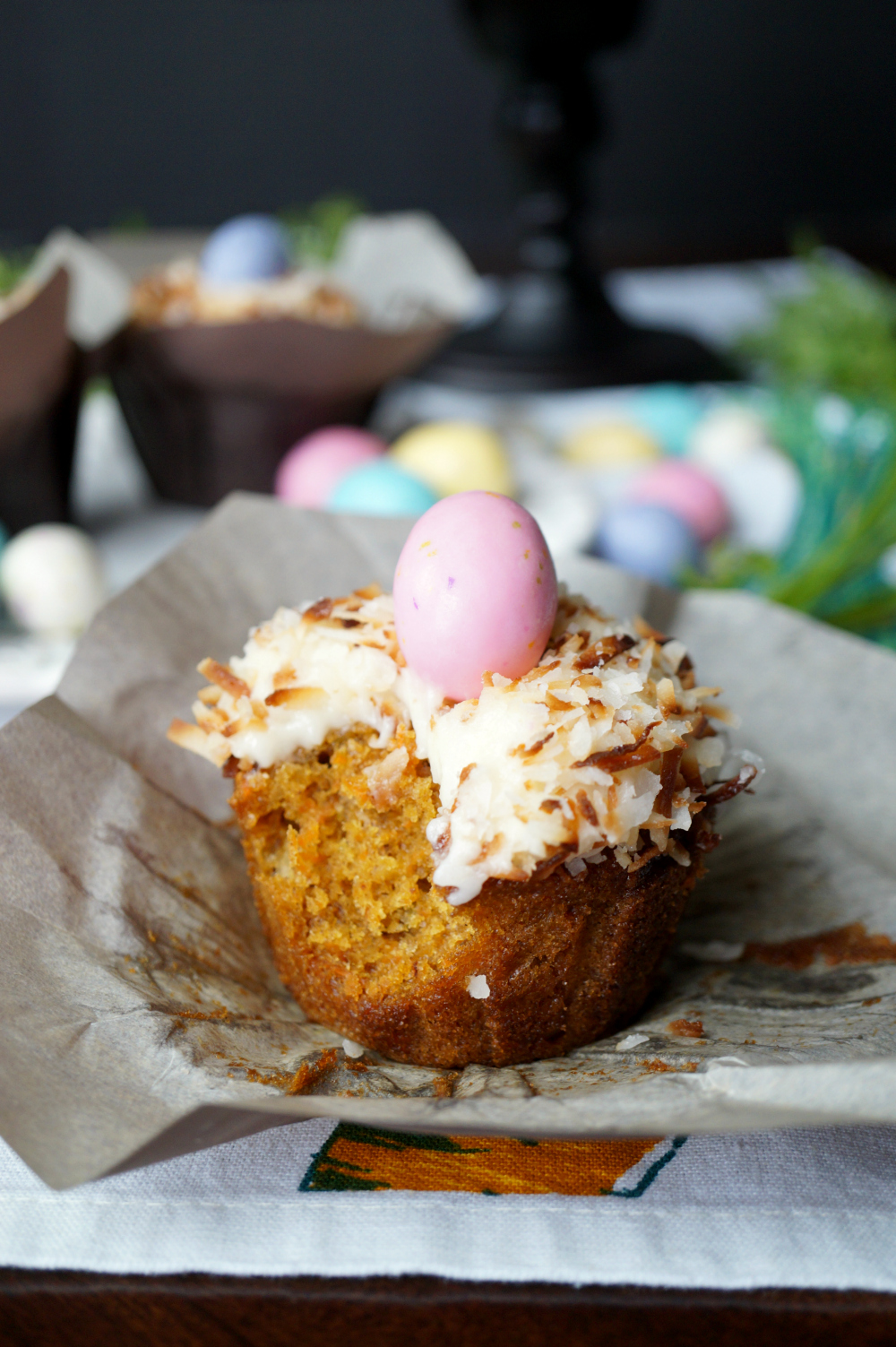 I don't know how many different ways I need to say it, but I promise you'll LOVE these coconut pistachio carrot cake cupcakes! There's so much texture and flavor hiding in these little unassuming packages. And if it's not Easter, just decorate the top without the egg and nobody will suspect a thing. Happy baking!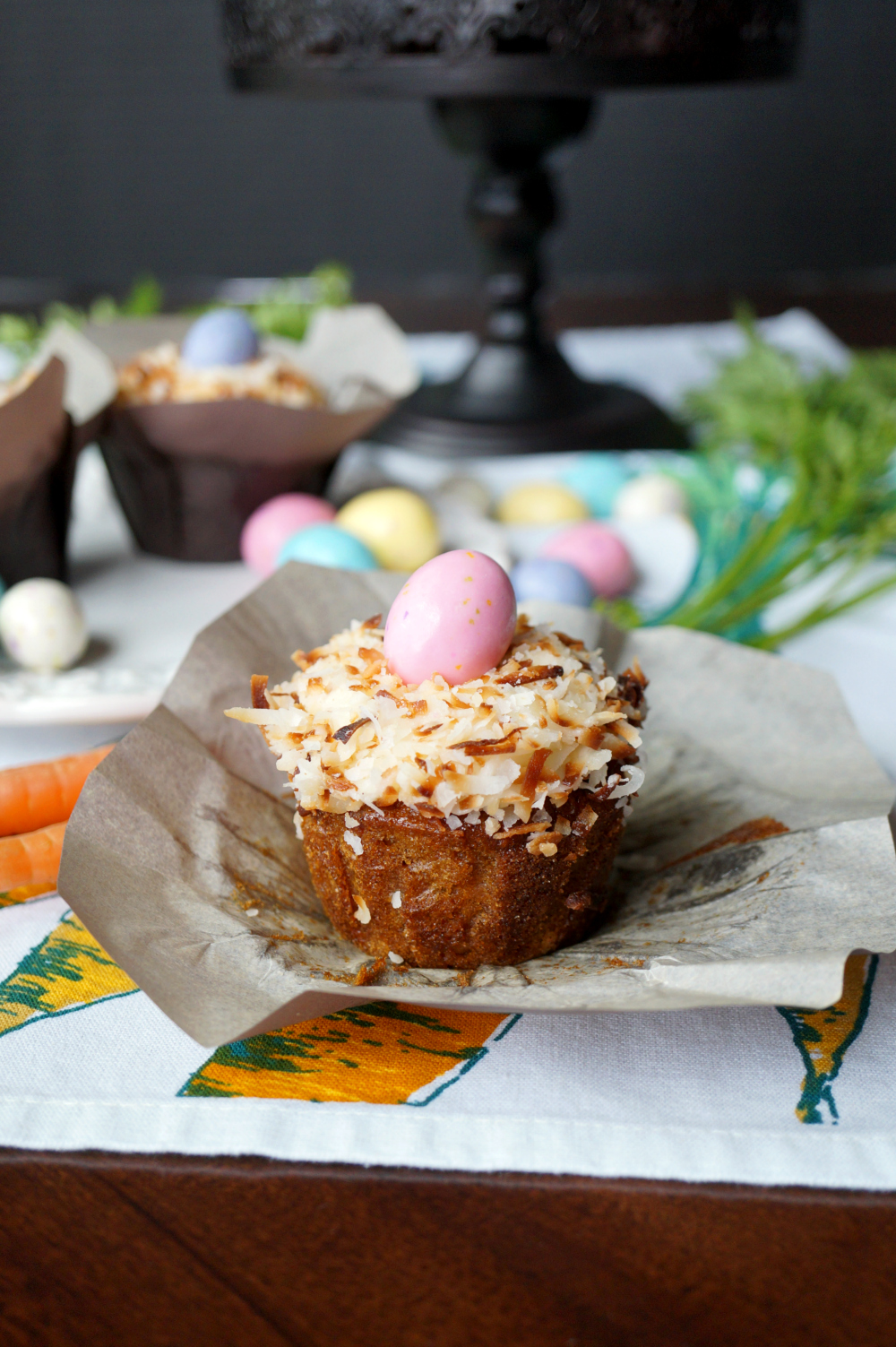 Looking for more Easter goodies? Check out my Easter Nest Italian Cream Cake, Carrot Cake Waffles, Chai Hot Cross Buns, Chocolate Chip Hot Cross Buns, Torta Pasqualina, and Easter Butterfinger Cheesecake!
coconut pistachio carrot cake cupcakes
Author:
Valentina | The Baking Fairy
Ingredients
*for the cupcakes*
½ cup white sugar
½ cup brown sugar
¾ cup coconut oil, melted
1 teaspoon vanilla extract
½ teaspoon coconut extract
2 large eggs
1 cups white flour
1 teaspoon cinnamon
½ teaspoon nutmeg
1 teaspoon baking soda
1 teaspoon salt
2 cups grated carrots (about 4 carrots)
½ cup shredded sweetened coconut
½ cup pistachios, roughly chopped
*for the frosting*
8 oz cream cheese, at room temperature
½ cup {1 sticks} unsalted butter, at room temperature
1 lbs powdered sugar
1 teaspoon vanilla extract
½ teaspoon coconut extract
¼ teaspoon salt
½ cup shredded sweetened coconut
malt chocolate eggs
Instructions
Preheat the oven to 350F. Line 12-cup muffin pans with liners.
In the bowl of a stand mixer, with the paddle attachment, combine coconut oil, sugars, and vanilla. Add in the eggs one at a time, beating after each addition.
In a medium bowl, sift together the flour, cinnamon, nutmeg, baking soda, and salt. With the mixer on low speed, add in about half of the dry ingredients. Toss the carrots, coconut, and pistachios in the other half of the dry ingredients, then add in the batter.
Using a large cookie or ice cream scoop, fill the cupcake molds about ¾ full.
Bake your cupcakes in your preheated oven for 22-25 minutes. Cool completely before frosting.
To make the frosting, place the butter and cream cheese in the bowl of a stand mixer fitted with the paddle attachment. Beat together on medium-high speed until creamy and lump-free.
Add in the vanilla, coconut extract, salt, and the powdered sugar a little at a time until totally incorporated.
Once you've added all the sugar, beat frosting on medium-high for 3-4 minutes until fluffy and light.
Now toast your coconut. Turn broiler on to 450F. Line a baking sheet with foil and lay the coconut out in a single layer. Bake, stirring often, for 4-5 minutes until golden brown but not burnt. Watch carefully! Set aside to cool before using.
When ready to decorate, spoon some frosting on top of each cupcake. Press the toasted coconut on top to cover the entire surface. Shake off the excess, then top with a malt chocolate egg. Enjoy!
Spoon frosting
*Disclosure: I am part of the Amazon Associates Program, and there may be affiliate links on this page. If you buy anything through my website, I will receive a small percentage of the profit at no extra cost to you. Thank you for supporting my blog!*