Classic Italian Cream Cake gets a fun makeover for Easter, with a coat of toasted coconut and a handful of colorful chocolate eggs in the center!
Y'all, I think I have a bundt problem. And with this little baby, we are up to 14 bundt recipes up in here. Today, I'm sharing this absolutely adorable Easter Nest Italian Cream Cake, which is perfect for spring! It's an Italian cream cake bundt, covered in 5-minute frosting and a mountain of toasted coconut, and filled with little chocolate eggs in the center. Because, honestly, any excuse is a good one when it comes to chocolate eggs. 😉  Let's make it!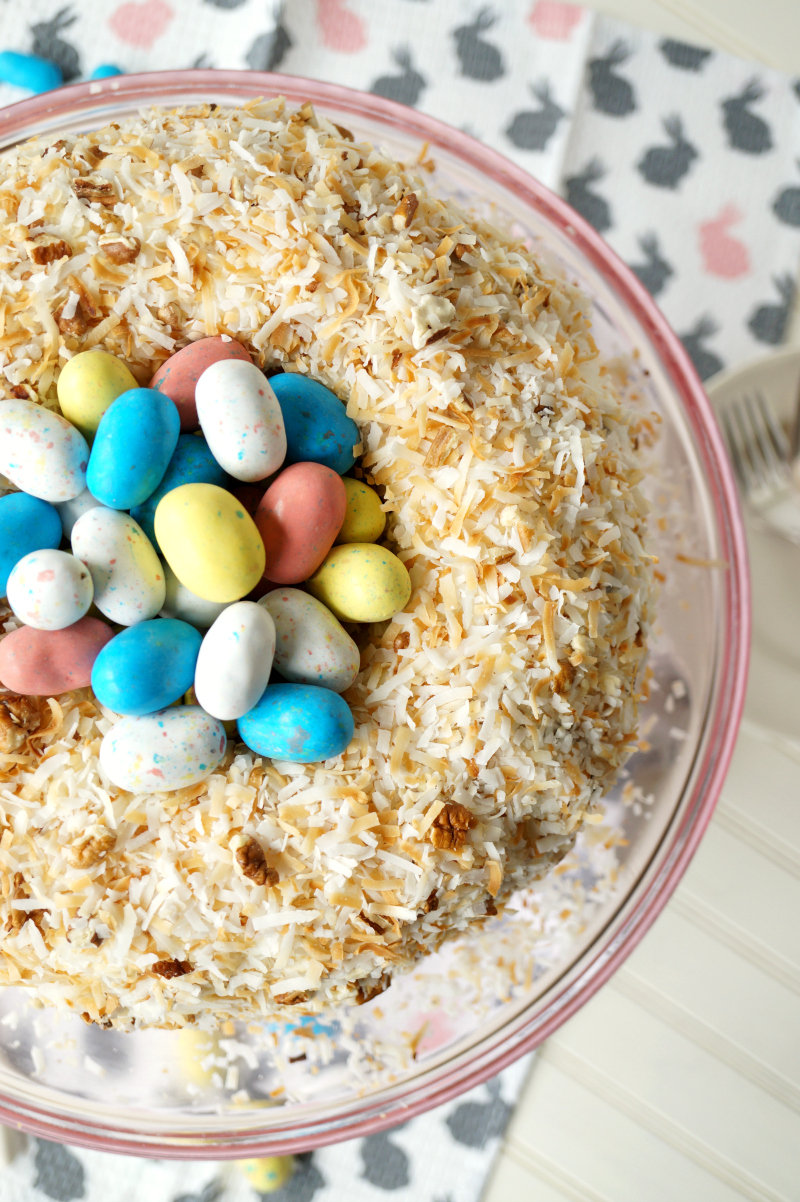 Can I be honest for a second? I am freaking exhausted. Running a blog and going to school full time is no-joke. This semester, I am taking the "moonlighting" part of food blogging very seriously. Aka, what is sleep? I basically have a test a week and now I've finally started wedding planning a bit more in earnest, which means venue tours and massive group Google docs with my maid of honor and saving every single thing ever on Pinterest. BUT that's neither here nor there. At least cake does not judge. Cake understands. This Italian cream cake is truly 0% Italian BUT it's delicious, and that's what really matters in life.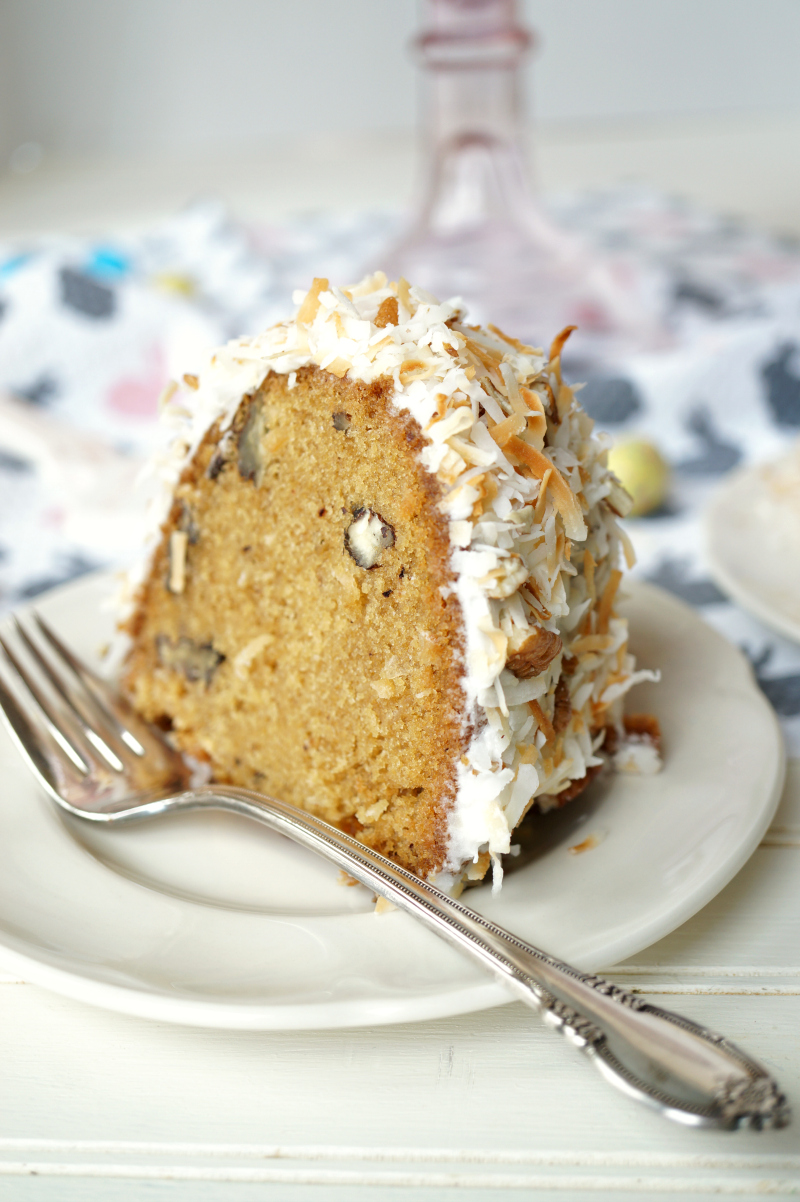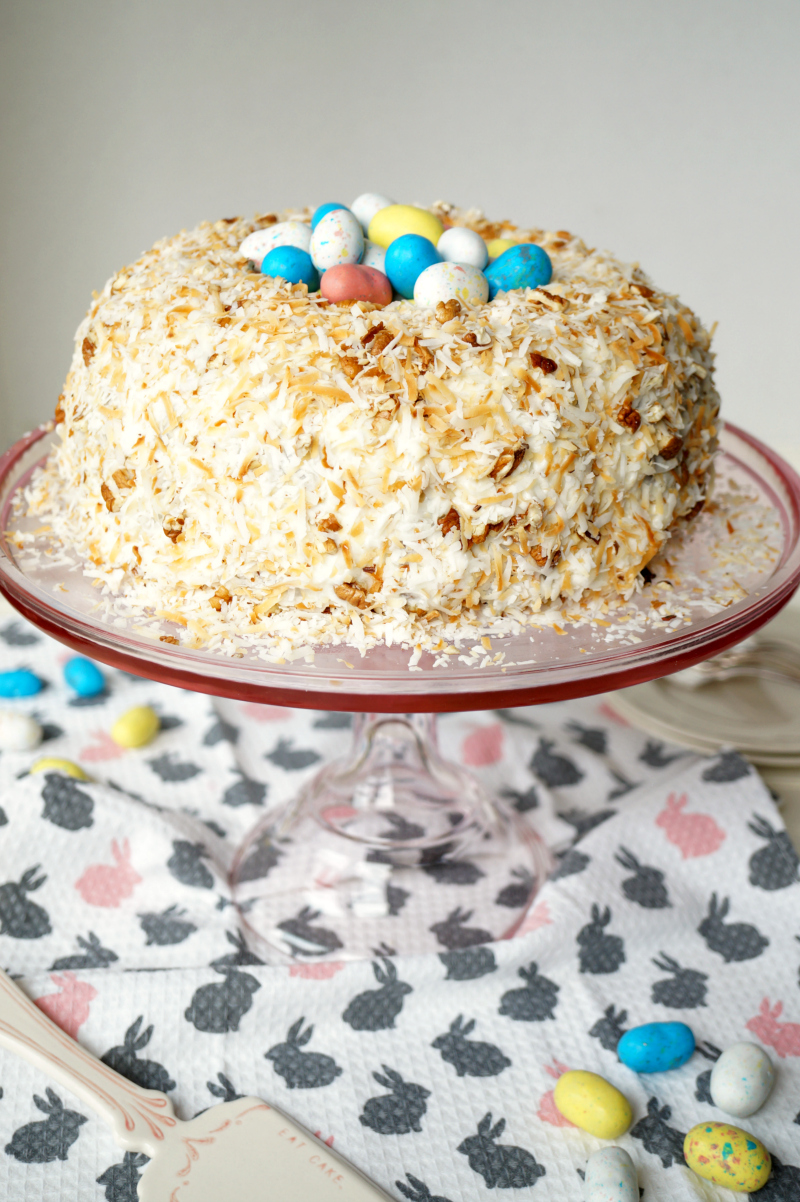 I started with more of a coconut cake idea, but then I thought, what the heck. Making a coconut-covered cake coconut flavored is just so... predictable. Let's be DIFFERENT. So essentially, this is coconut cake with pecans thrown in... because that's what Italian Cream Cake is. 😉 This is really such an easy cake, and you can easily apply the idea to any bundt cake you desire! If you're in a pinch, you can absolutely make this with store-bought cake mix in any flavor you like, and nobody will suspect a thing. You're bringing a cute cake to an Easter party! Can anyone complain? Think not.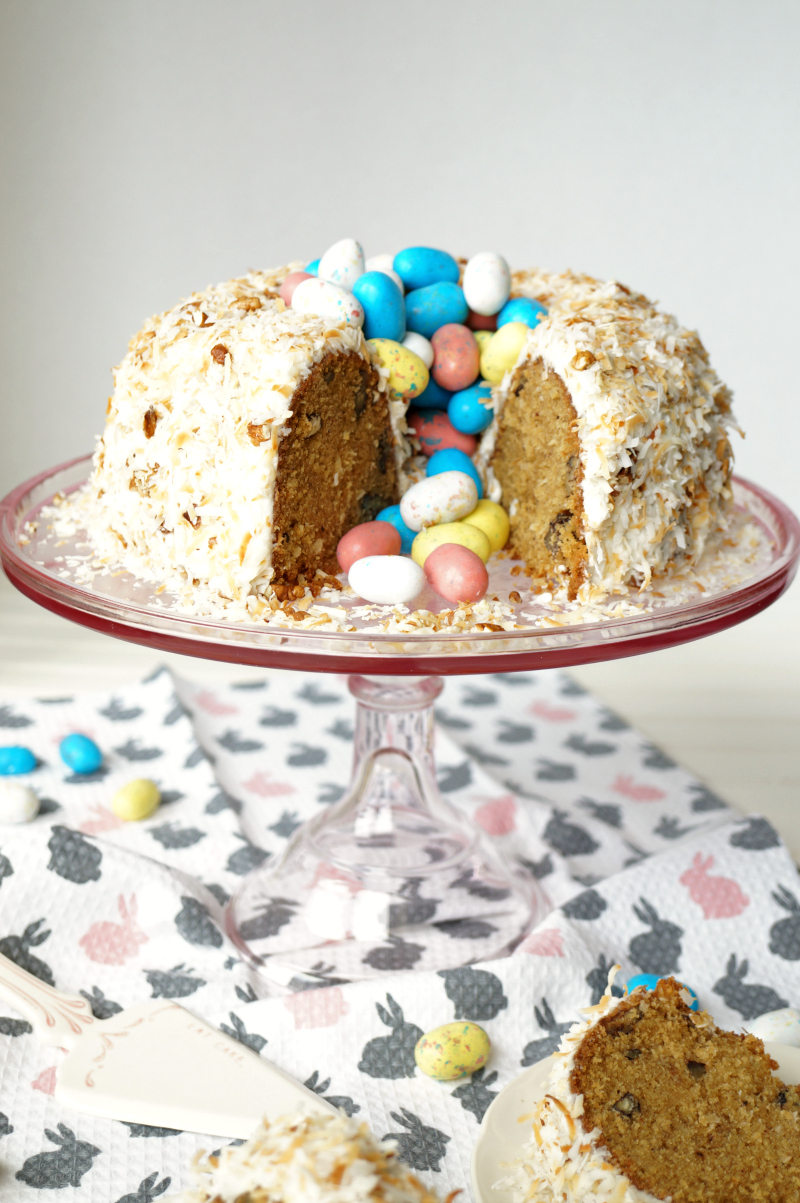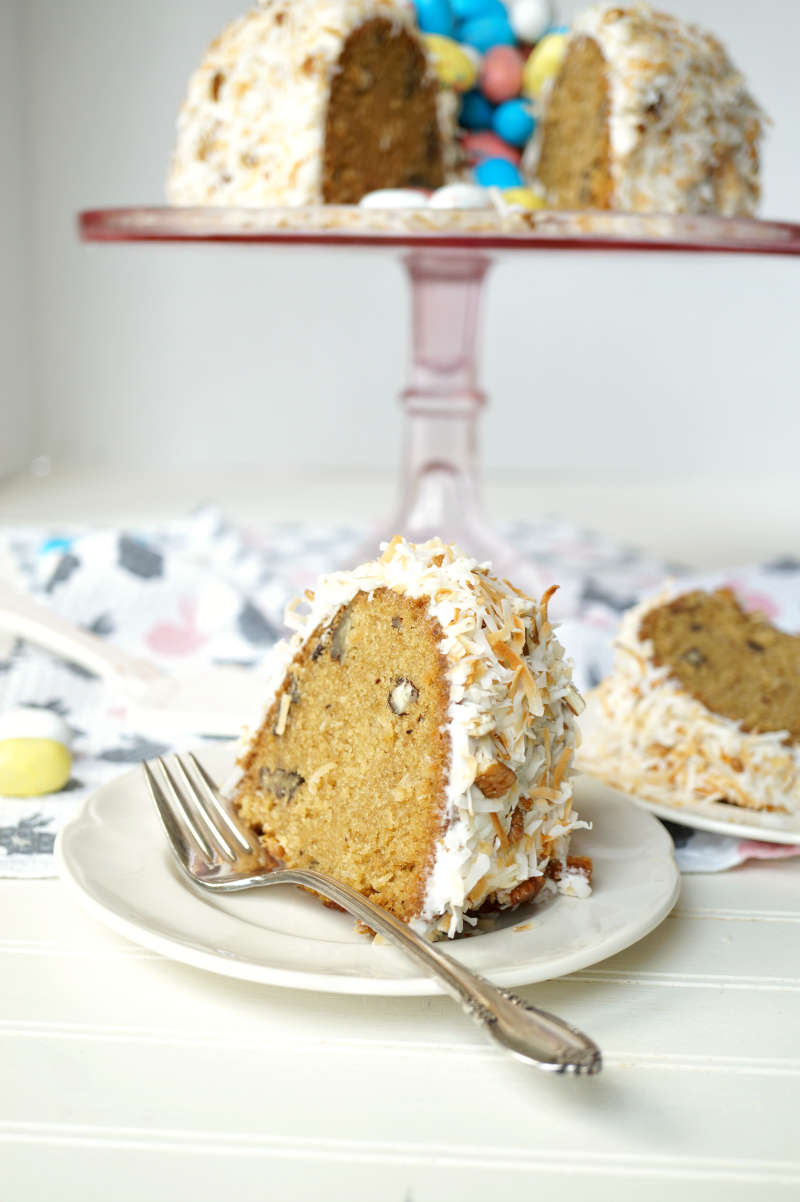 Looking for more Easter recipes? Don't worry. I got chu. Check out my Carrot Cake Waffles, Torta Pasqualina, Butterfinger Egg Cheesecake, Carrot Cake Pops, Chocolate Chip Hot Cross Buns, and Brownie Peep Pops. Happy baking!
{recipe adapted from Melissa's Southern Style Kitchen}
easter nest italian cream cake
Author:
Valentina | The Baking Fairy
Ingredients
*for the cake*
2 cups all-purpose flour
1 teaspoon baking soda
½ teaspoon baking powder
½ cup {1 stick} unsalted butter, softened
½ cup unrefined coconut oil, softened
1½ cups granulated sugar
½ cup dark brown sugar
1 teaspoon vanilla extract
5 eggs
1 cup canned coconut milk
½ cup sweetened coconut flakes
1 cup pecans, toasted
*for the frosting*
½ cup {1 stick} unsalted butter, at room temp
2 cups powdered sugar
2 tablespoon canned coconut milk
1 teaspoon vanilla extract
pinch of salt
14 oz bag sweetened coconut
chocolate eggs, to decorate
Instructions
Preheat oven to 350F, and butter + flour a bundt pan very well. Set aside.
In a medium bowl, beat together the butter and coconut oil for the cake until creamy and smooth.
Add in the white and brown sugars, and beat until fluffy. Add in the eggs, one at a time, followed by the vanilla extract.
Add in half of the flour and mix it in, then add in the coconut milk, and finally add in the rest of the flour plus the baking powder and soda.
Finally, stir in the coconut and pecans. Pour the mixture into the prepared pan, and bake for 50-55 min, until a toothpick inserted in the center comes out clean. Set aside to cool completely.
While oven is still on at 350F, you can toast the coconut for decoration. Pour an entire 14oz bag of shredded coconut on a sheet tray, spread in a single layer, and place in oven for 5-10 minutes, stirring it around every few minutes. WATCH CLOSELY as it can burn very quickly! Set aside and save for later.
When ready to frost, make the frosting. In a medium bowl, beat the butter until creamy. Add in the powdered sugar a bit at a time until it has all been mixed in, then add the coconut milk, vanilla, and salt.
Place the bundt cake on a serving platter or cake stand, and cover the entire surface with frosting. Cover with the toasted coconut, pressing it on the surface to make it stick. You should end up using all of it! Finally, place the chocolate eggs in the center. Serve and enjoy! 🙂
*Disclaimer: I am part of the Amazon Associates Program, and there may be affiliate links on this page. If you buy anything through my website, I will receive a small percentage at no extra cost to you. Thank you for supporting my blog!*