Looking for a fun new carrot side dish? These Carrot Noodles with Carrot-Top Pesto and Pistachios are so simple to make and pack tons of flavor and texture!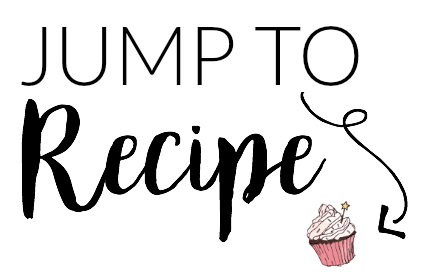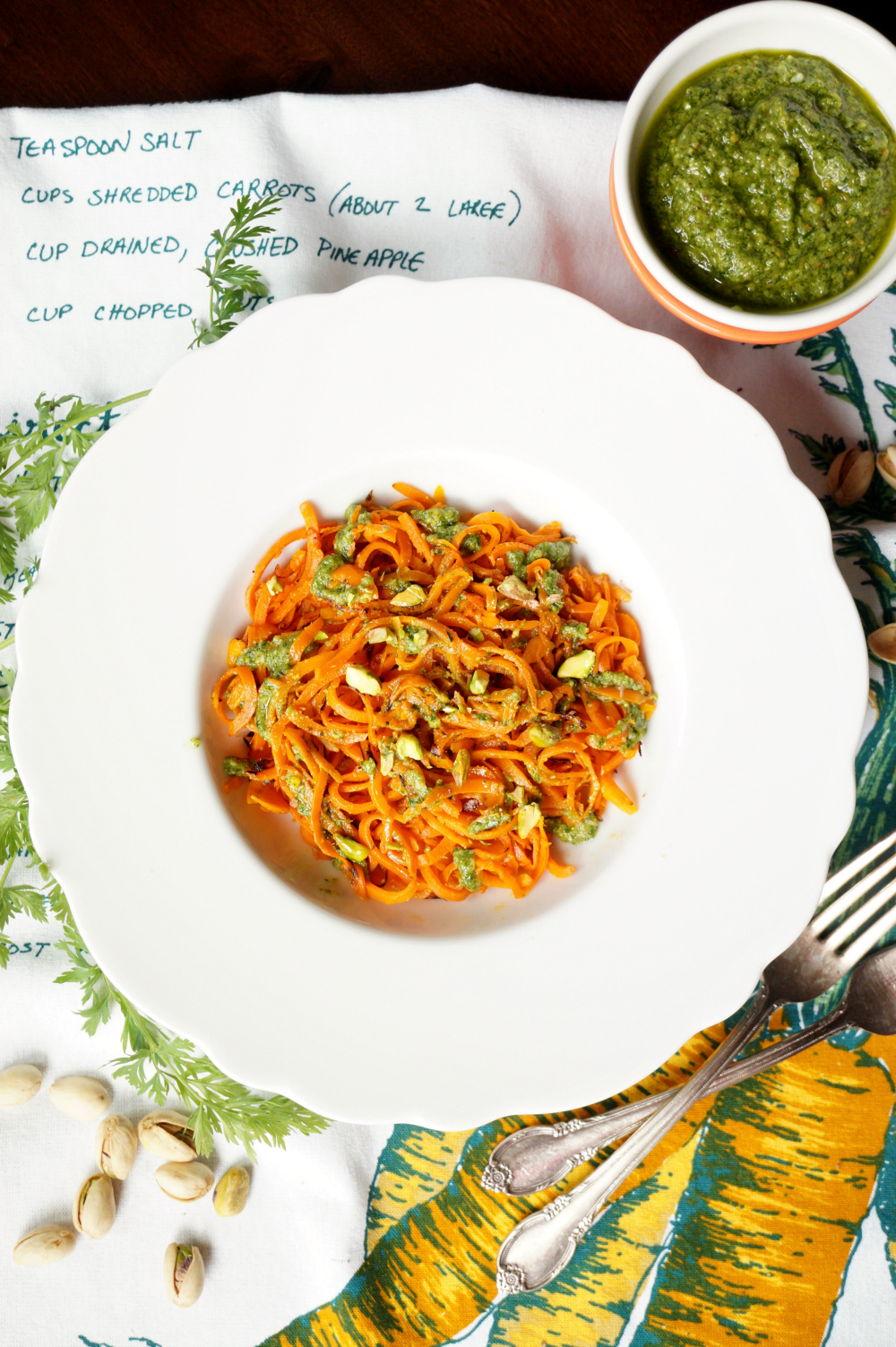 Hi friends!! I am so excited to be sharing this absolutely scrumptious carrot dish today, which is of course a great side... but honestly, it's so yummy you could justify it as a main, too. 😉 These Carrot Noodles with Carrot-Top Pesto and Pistachios combine sautéed spiralized carrots with a fresh pesto made of carrot greens and a handful of freshly cracked pistachios. This is so delicious and unbelievably simple to make!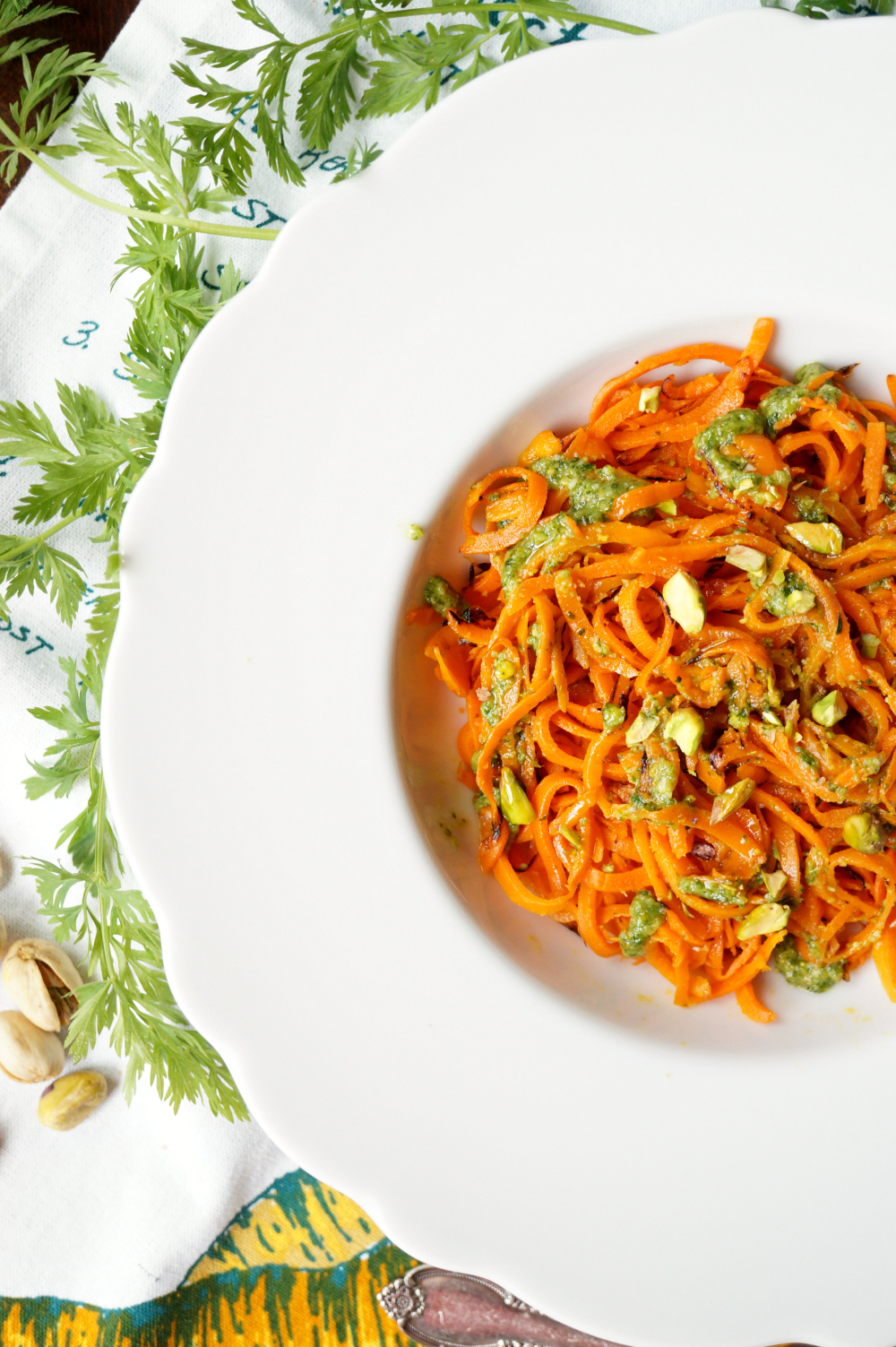 So where did the idea for these carrot noodles come from? Well, ironically, from my carrot cake cupcakes! I bought cute farmer's market carrots to take pictures, and they had the carrot-tops still attached. I mean, yeah I could have thrown the tops away but I figured there had to be a way to use up the greens. Enter - PESTO! Honestly, you could make pesto with near anything, but blending the carrot tops up with some olive oil, garlic, parmesan, and pistachios made a spread SO good I couldn't believe it! It's great on pasta, but even better tossed with some sautéed carrot noodles. NOM.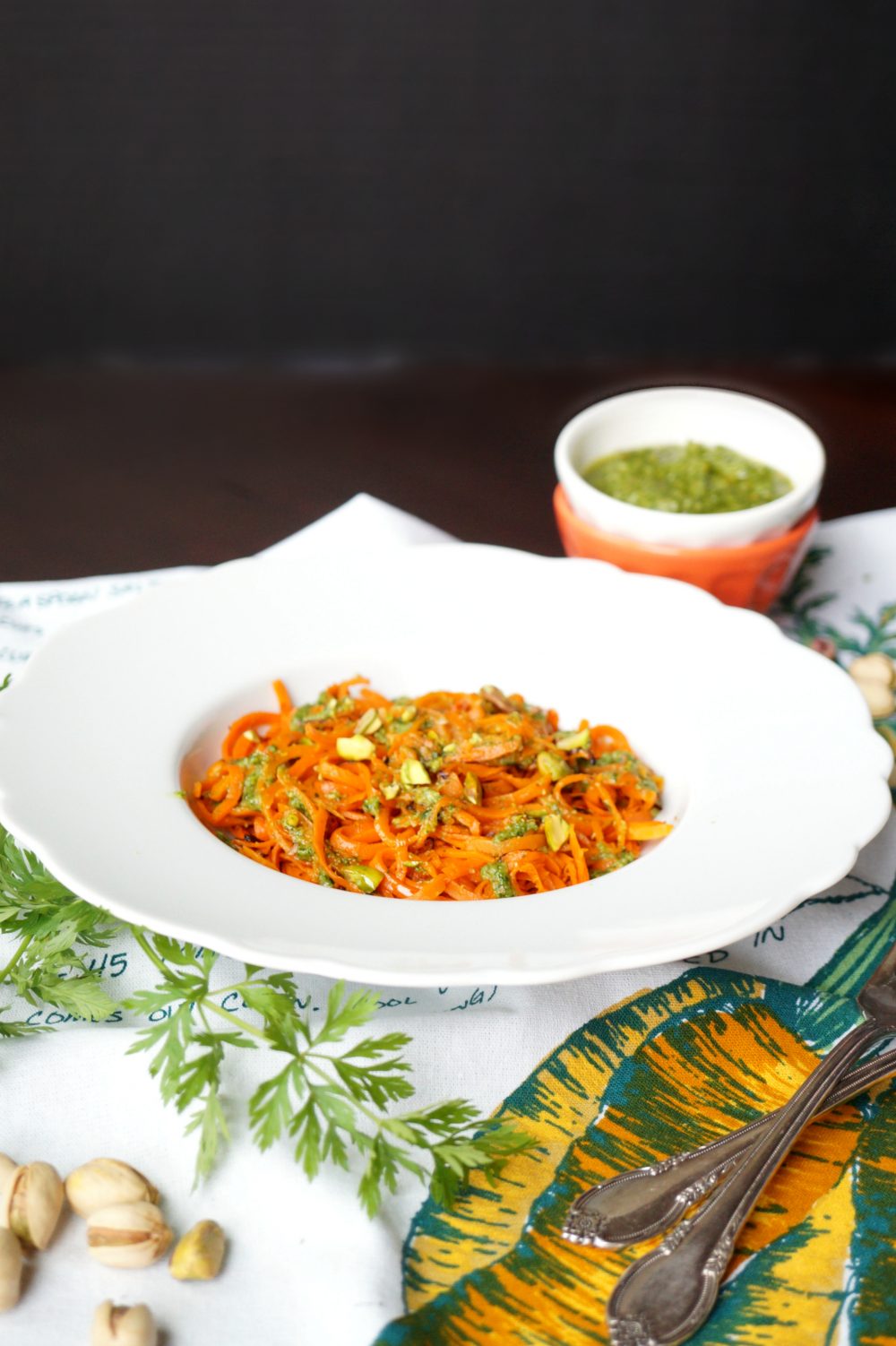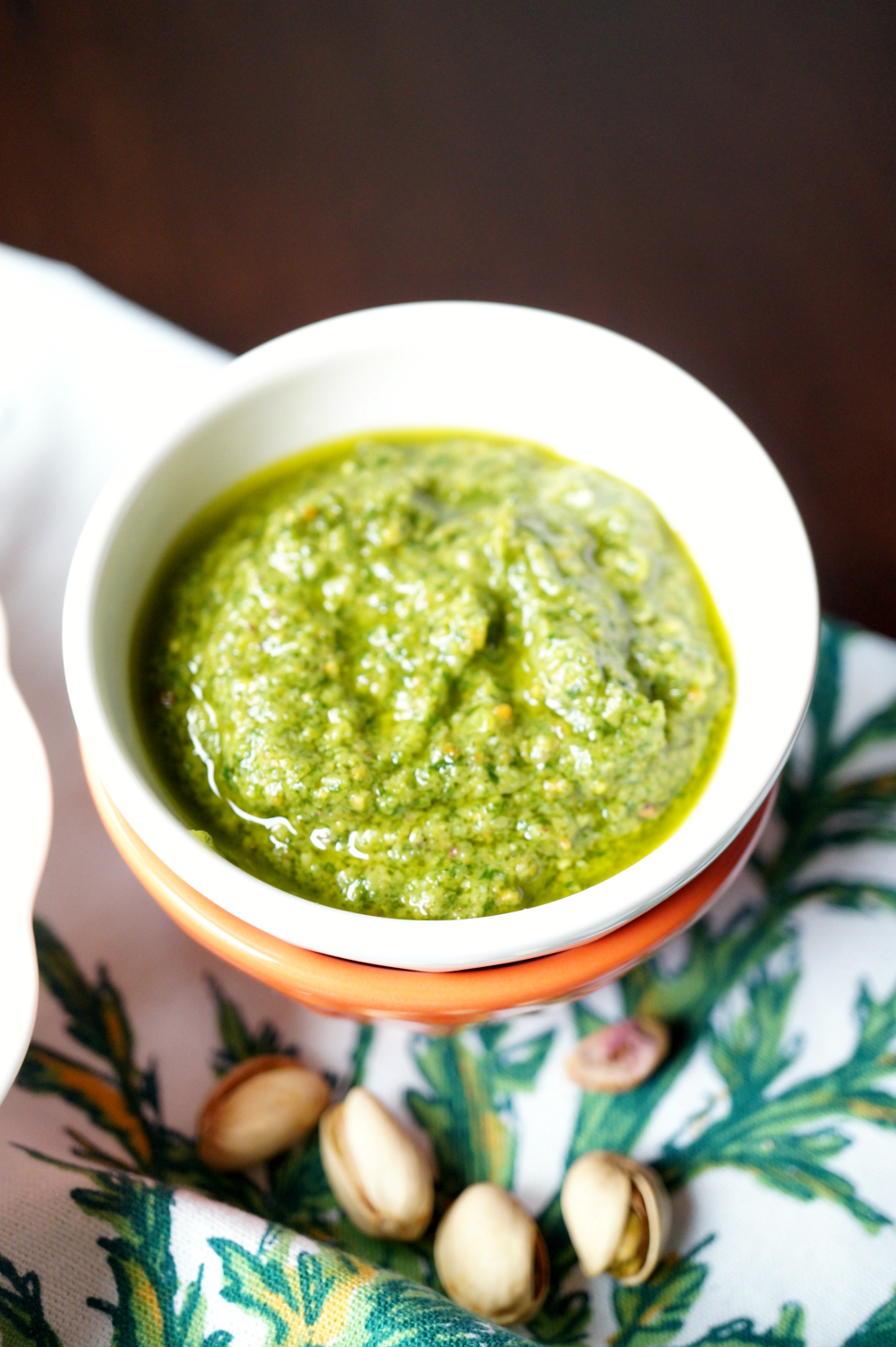 I hope these tasty little carrot noodles grace your Easter tables... but honestly, this side dish is so good that it should enter your regular dinner rotation for spring! You'll never throw carrot-tops away again when you know you can make such great pesto with them! If you're looking for more pesto inspiration... did you know you can also make pesto with AVOCADO? And with beets? And with almond meal, too! The possibilities are endless! I hope you guys love these carrot noodles with carrot-top pesto and pistachios as much as I did 🙂 Happy cooking!!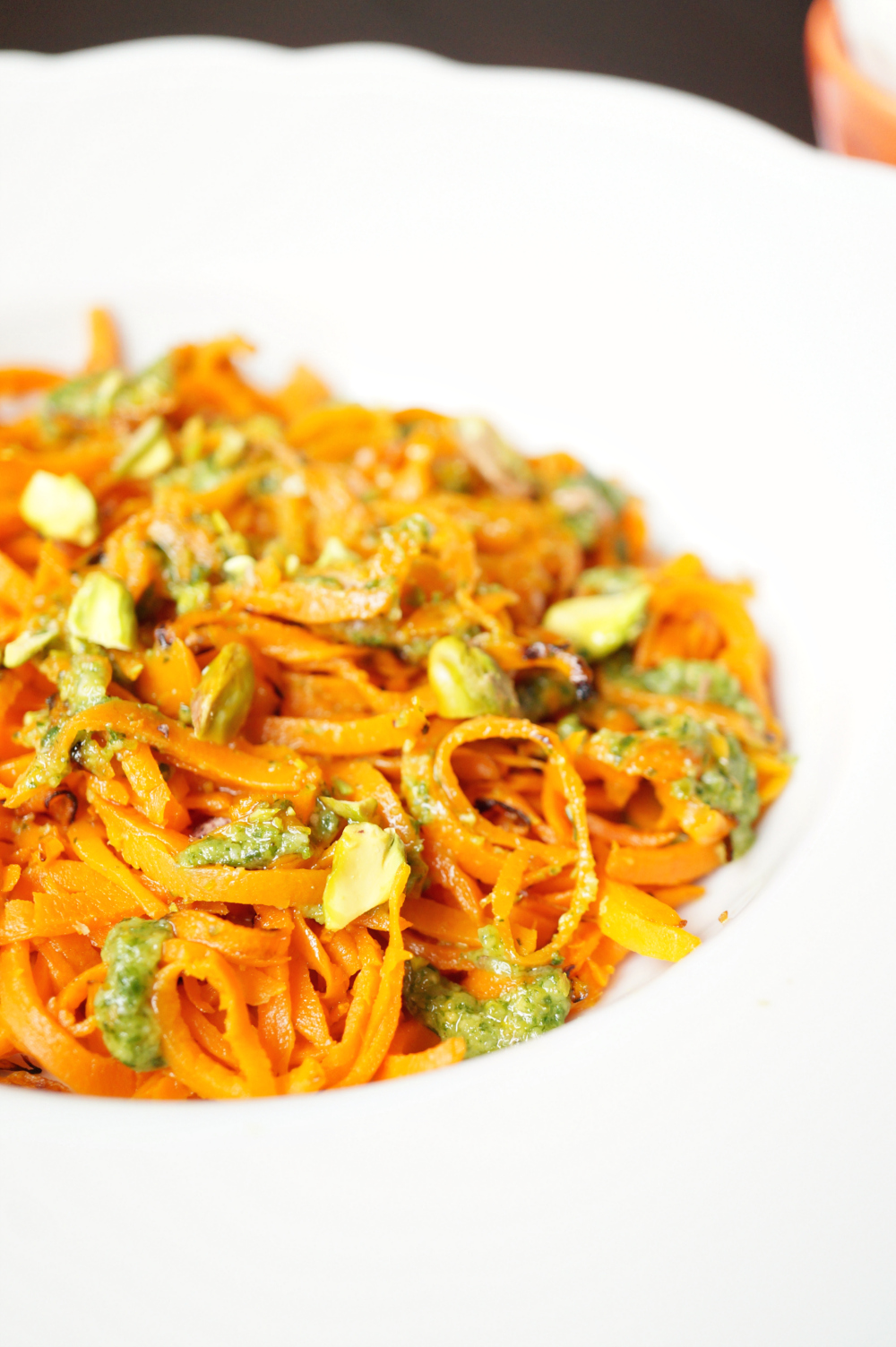 Looking for more carrot recipes? Check out my Stovetop Rainbow Carrots, Coconut Pistachio Carrot Cupcakes, Carrot Cake Waffles, and Chocolate Chip Carrot Bundt Cake.
carrot noodles with carrot-top pesto and pistachios
Author:
Valentina | The Baking Fairy
Ingredients
*for the pesto*
2 cups carrot green leaves
¼ cup pistachios
¼ cup freshly grated parmesan
3 garlic cloves
¼ cup extra virgin olive oil
pinch of salt
pinch of red pepper flakes
water, as needed to thin out
*for the carrot noodles*
4 cups spiralized carrots
1 tablespoon olive oil
¼ teaspoon garlic salt
2-3 tablespoon pistachios, crushed
Instructions
First, prepare the pesto. Combine all pesto ingredients in a food processor, and blend until smooth and creamy. Add in a little bit of water to thin out the pesto if it's too thick. If storing for later, transfer to a container with a tight-fitting lid, and pour a thin layer of EVOO on top. This will keep it from going bad!
When ready to serve, prepare the carrot noodles. Use a spiralizer to cut the carrots - big carrots tend to work much better for this!
Heat the 1 tablespoon olive oil in a large saute pan over medium-high heat. Add in the carrot noodles and season with garlic salt. Cook until noodles are slightly softened and golden brown.
Toss carrot noodles with some of the pesto and top with pistachio pieces. Enjoy!
*Disclosure: I am part of the Amazon Associates Program, and there may be affiliate links on this page. If you buy anything through my website, I will receive a small percentage of the profit at no extra cost to you. Thank you for supporting my blog!*