There's nothing that says summertime quite like hot dogs! These Vegan Chili Cheese Dogs are loaded up with a homemade plant-based chili and melty cheese for a tasty indulgence.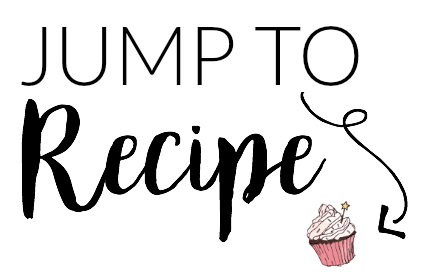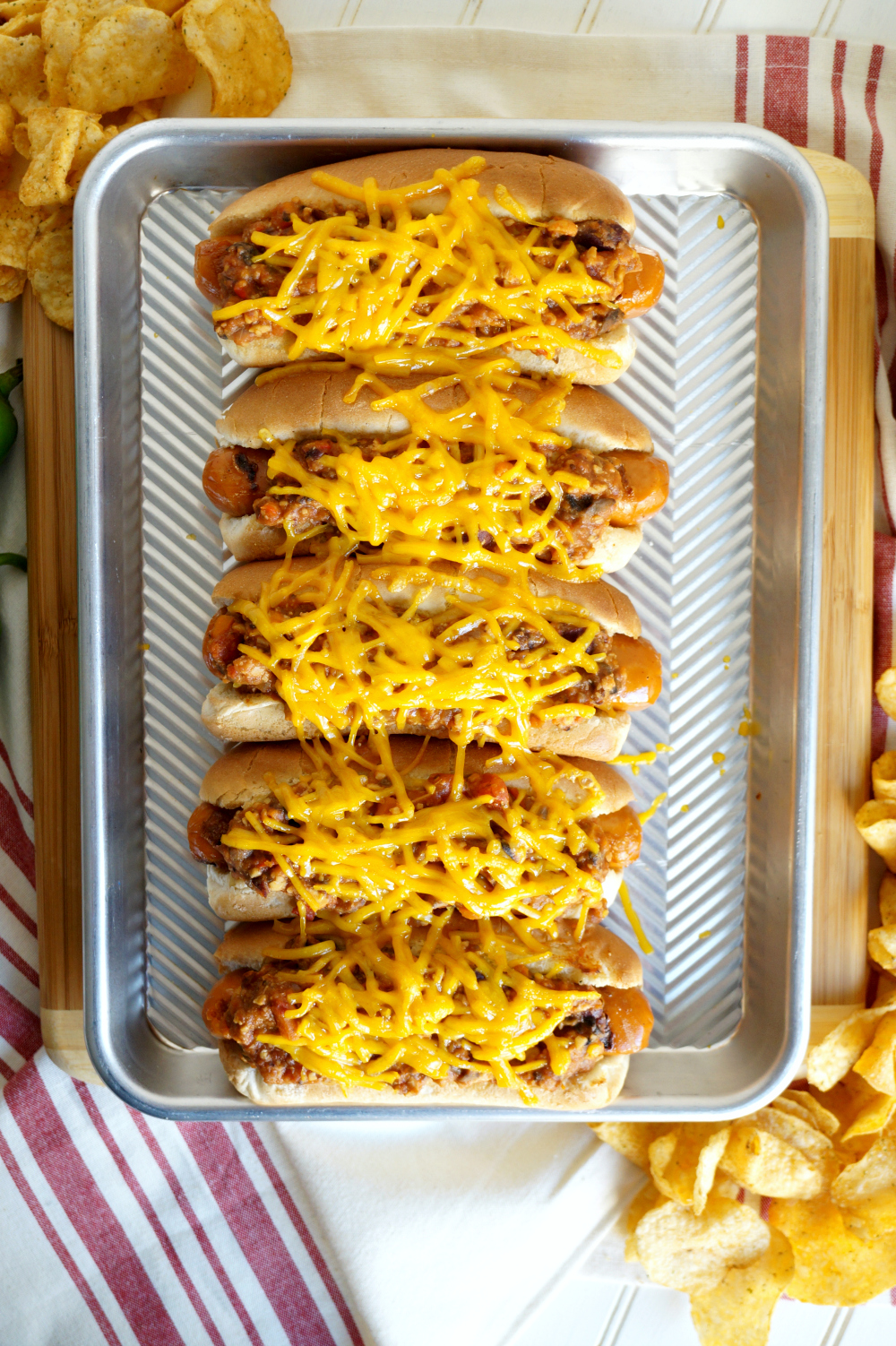 Hi friends and happy Sunday! Can you believe it's almost July already... which means it's almost THE 4th of July! Do you guys have anything fun planned?! I happen to be working on the 3rd and the 5th, which means I can't get too crazy on Independence Day 🙂 An absolute must for the fourth is firing up the grill, and I'm excited to have paired up with a few blogger buddies to share some fun hot dog recipes today! My creation is these fully loaded Vegan Chili Cheese Dogs. Rich, filling, and oh so yummy!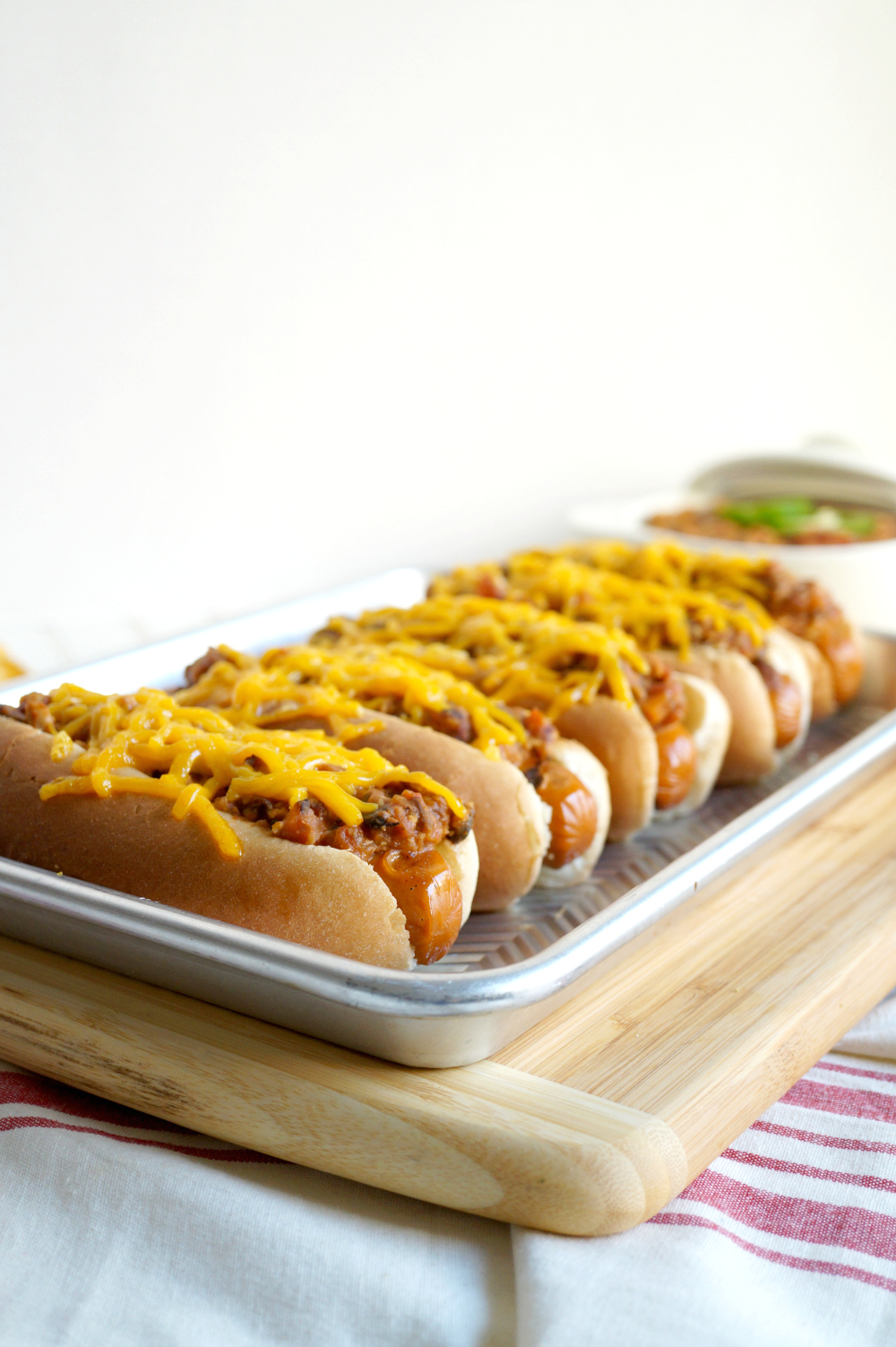 As I'm sure you guys have noticed, I have been aiming to veganize ALL of the things. Especially popular foods that wouldn't intuitively be vegan, like lasagna or burgers. I thought of the most "guilty pleasure" food that I could come up with, and I settled on chili cheese dogs. And then, decided to make them totally meatless ???? Chili cheese dogs are tricky because not many places sell them, and those that do are usually cheap-o and not super great anyway. I figured my version could only improve on that!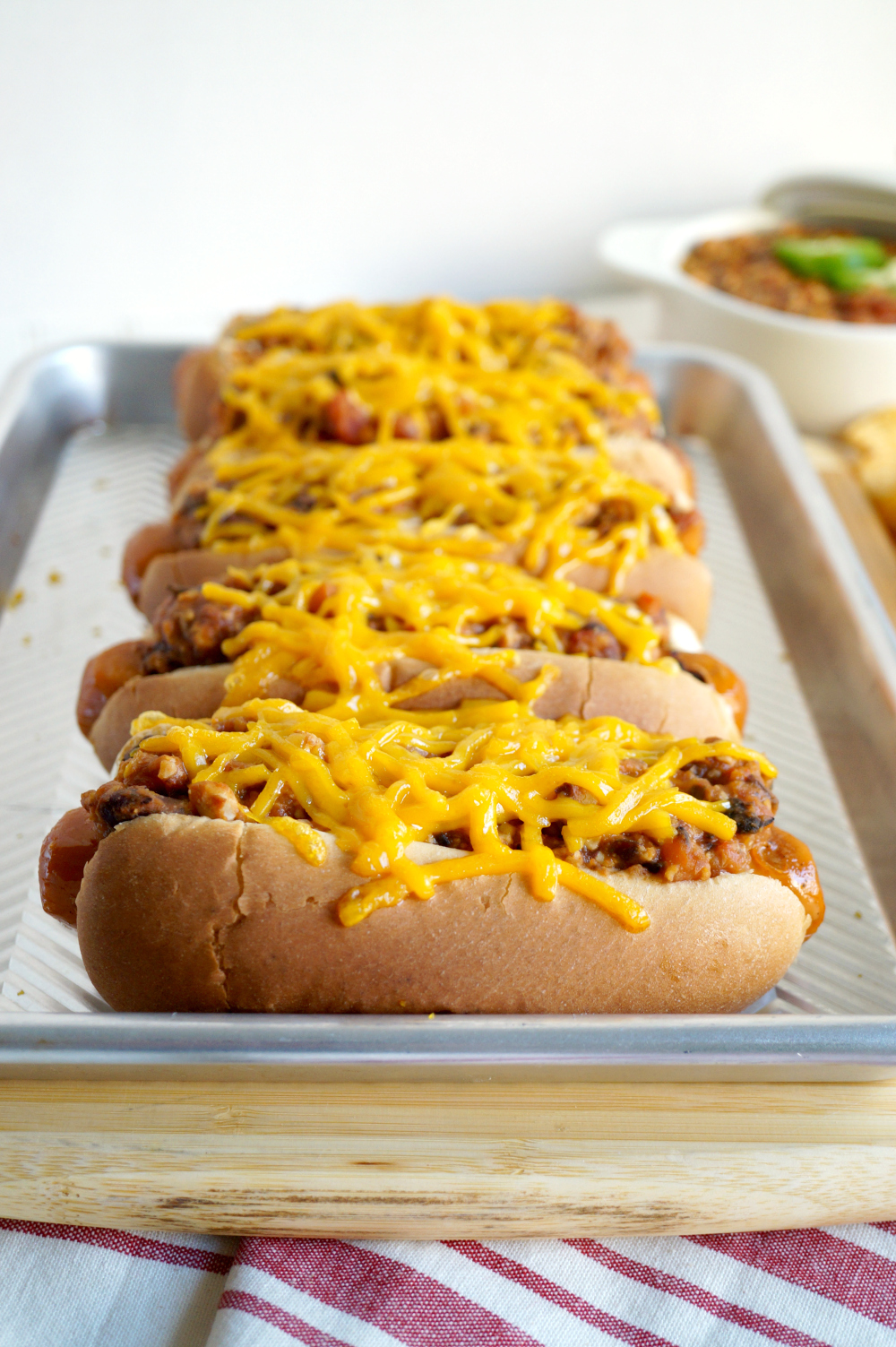 There are a few crucial components that you need to master to ensure chili cheese dog perfection. First - the dog, of course! There are many vegan hot dog brands out there, and honestly I have liked all the ones I've tried! For these photos, I bought some veggie dogs at Aldi, but I've also liked the LightLife dogs and those are easily found at most grocery stores. Field Roast even makes ~gourmet~ vegan franks, but I find that the classics work best here! 🙂
The other important components to buy are the buns and the cheese. I won't lie to you... I used $1 hot dog buns from Kroger and they worked just fine. As for the cheese, I used Daiya here and it wasn't my fav. It was more of me being lazy because I didn't want to drive all the way to Sprouts to get the good stuff ???? But i highly recommend using Follow Your Heart or So Delicious yellow cheese shreds if you can find them!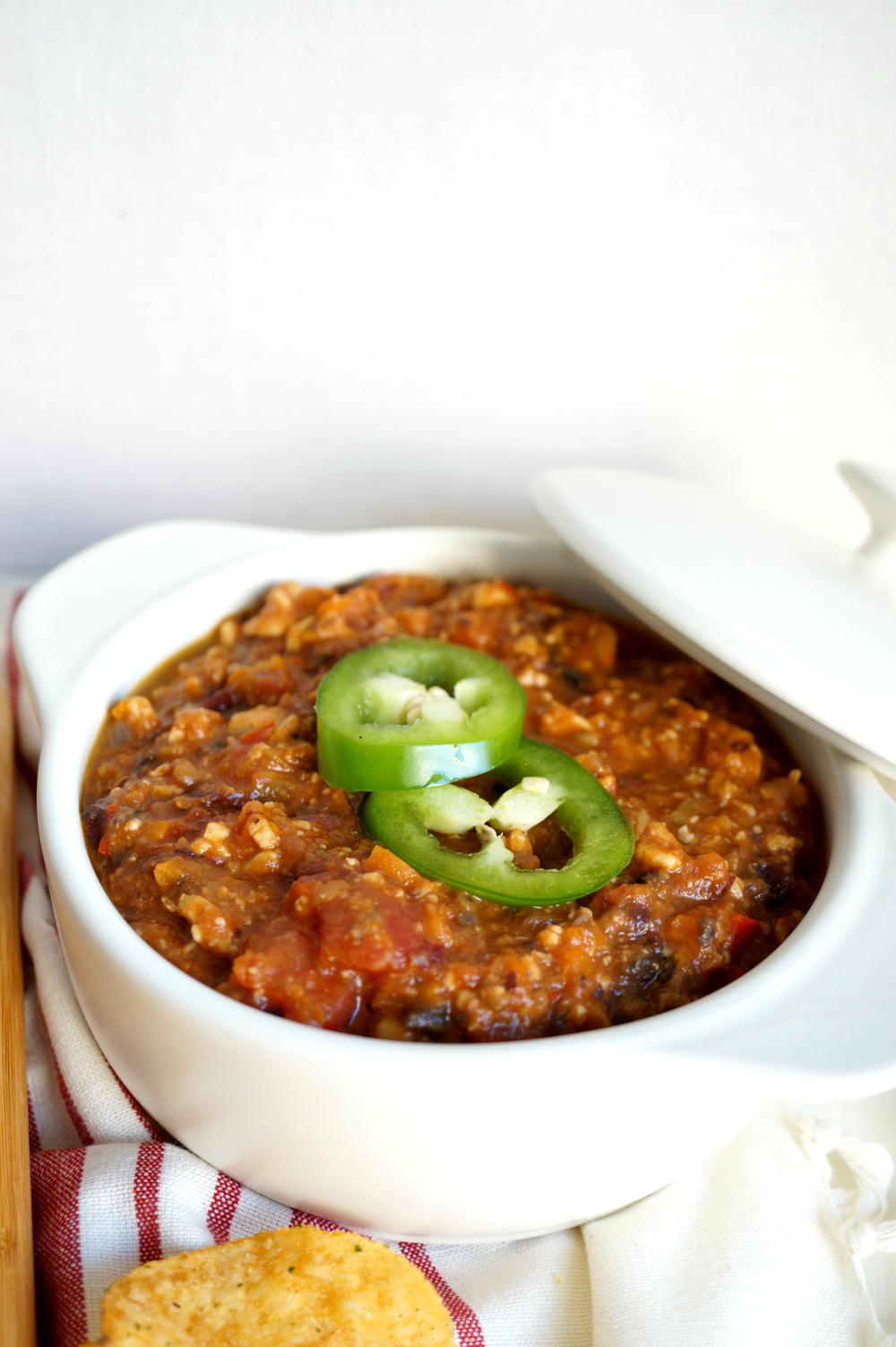 As promised, these vegan chili cheese dogs are part of a GROUP event so be sure to check out everyone else's hot diggity dogs!
Hot Doggity Dog Recipes
We share Recipes From Our Dinner Table! Join our group and share your recipes, too! While you're at it, join our Pinterest board, too!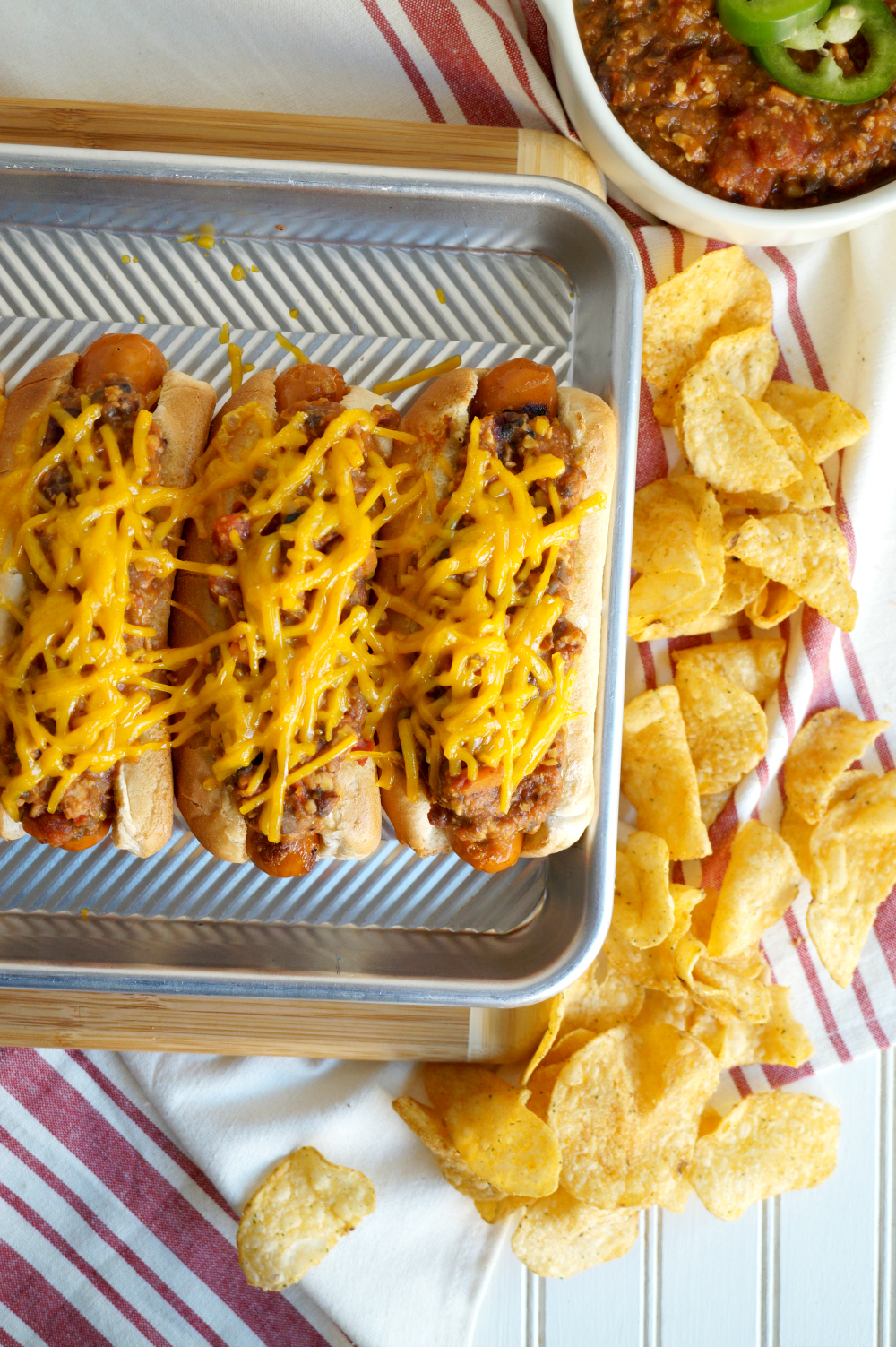 I hope you guys will give these vegan chili cheese dogs a try! They are such a tasty way to enjoy an American summertime classic!
Looking for other vegan hot dog recipes? I don't have much, but these Vegan Pretzel Dogs ARE pretty epic!

vegan chili cheese dogs
There's nothing that says summertime quite like hot dogs! These Vegan Chili Cheese Dogs are loaded up with a homemade plant-based chili and melty cheese for a tasty indulgence.
Author:
Valentina | The Baking Fairy
Ingredients
*for the chili*
¼ cup chopped white onion
1 stalk celery, chopped
1 small carrot, chopped
½ cup mushrooms, chopped
½ bell pepper, chopped
½ 15oz can of bean trio (you could also just use pinto or kidney beans)
4oz tempeh, crumbled
1 15oz can chopped tomatoes
½ teaspoon garlic powder
½ teaspoon onion powder
½ teaspoon paprika
¼ teaspoon smoked paprika
1 teaspoon seasoned salt
½ teaspoon garlic salt
1 tablespoon olive oil
*to assemble*
hot dog buns
vegan hot dogs
vegan cheddar cheese shreds (I recommend Follow Your Heart)
Instructions
First, prepare the chili. In a large pot, heat the olive oil over medium heat.
Add in the all the chopped vegetables, and cook until softened and translucent, about 10 minutes.
Next, stir in the crumbled tempeh and the beans, followed by the crushed tomatoes and ½ the can's worth of water.
Finally, add in all of the seasonings. Stir everything to combine, lower heat to a simmer, and cover.
Allow chili to cook for at least 45 min-1 hr, stirring occasionally. Add more salt or seasoning to taste.
When ready to serve, cook your hot dogs on the grill or in a pan (I used my cast iron skillet). I have found that vegan hot dogs are not very fatty, and tend to cook better with some oil added.
To assemble, place your hot dog buns on an oven safe pan. Place a hot dog in each bun, and top with some of the prepared chili. Sprinkle the vegan cheddar on top. Place the pan of chili cheese dogs under the broiler in the oven for a couple of minutes to melt the cheese, then enjoy!