These Fluffy Vegan Buttermilk Pancakes are just as good as the classics from your childhood, except egg and dairy-free! They're so simple to make and absolutely delicious.
Hiii friends and happy MONDAY! I am so excited to finally be sharing this recipe with you guys today. It's been in the pipeline a long time and now it's finally been perfected and made blog-worthy. These Fluffy Vegan Buttermilk Pancakes taste just like your childhood Sunday morning favorites... except vegan, of course. Just pour on a liberal amounts of maple syrup and breakfast is served!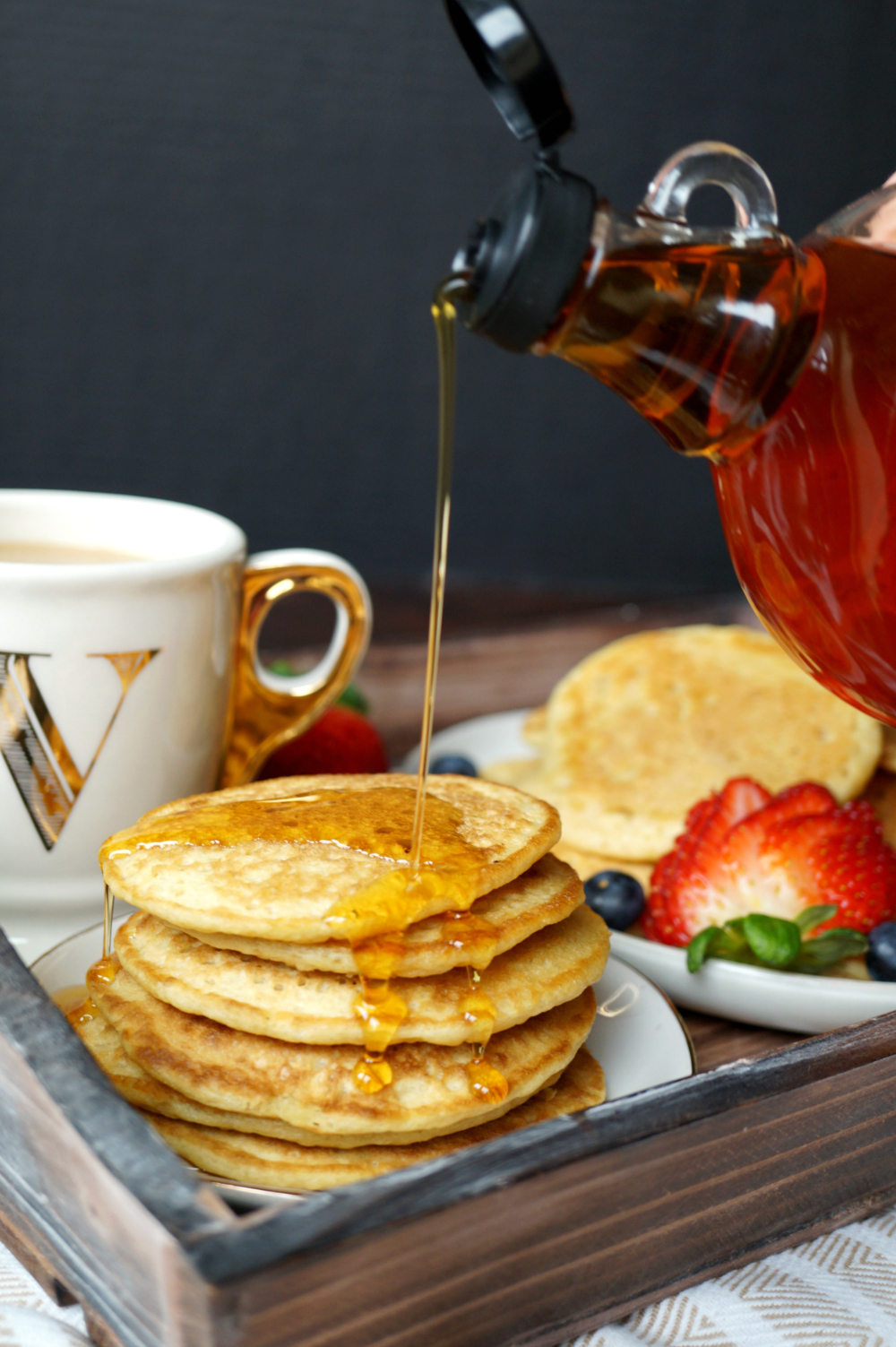 So here's the story behind these vegan buttermilk pancakes... I originally made these way back in January under the guidance of my trusty vegan best friend, took all these pretty pictures, and then tasted the pancakes. And let me tell you, I'm not a picky eater but HOLY MOLY these were literally inedible. I have never had such a bad cooking fail in my life, you guys. The culprit? I used baking soda instead of baking powder. I know it's easy to think that these two are basically the same, but I'm here to tell you they are DEFINITELY NOT. Ugh. Clearly I couldn't share anything until I remade the recipe and made sure it was good!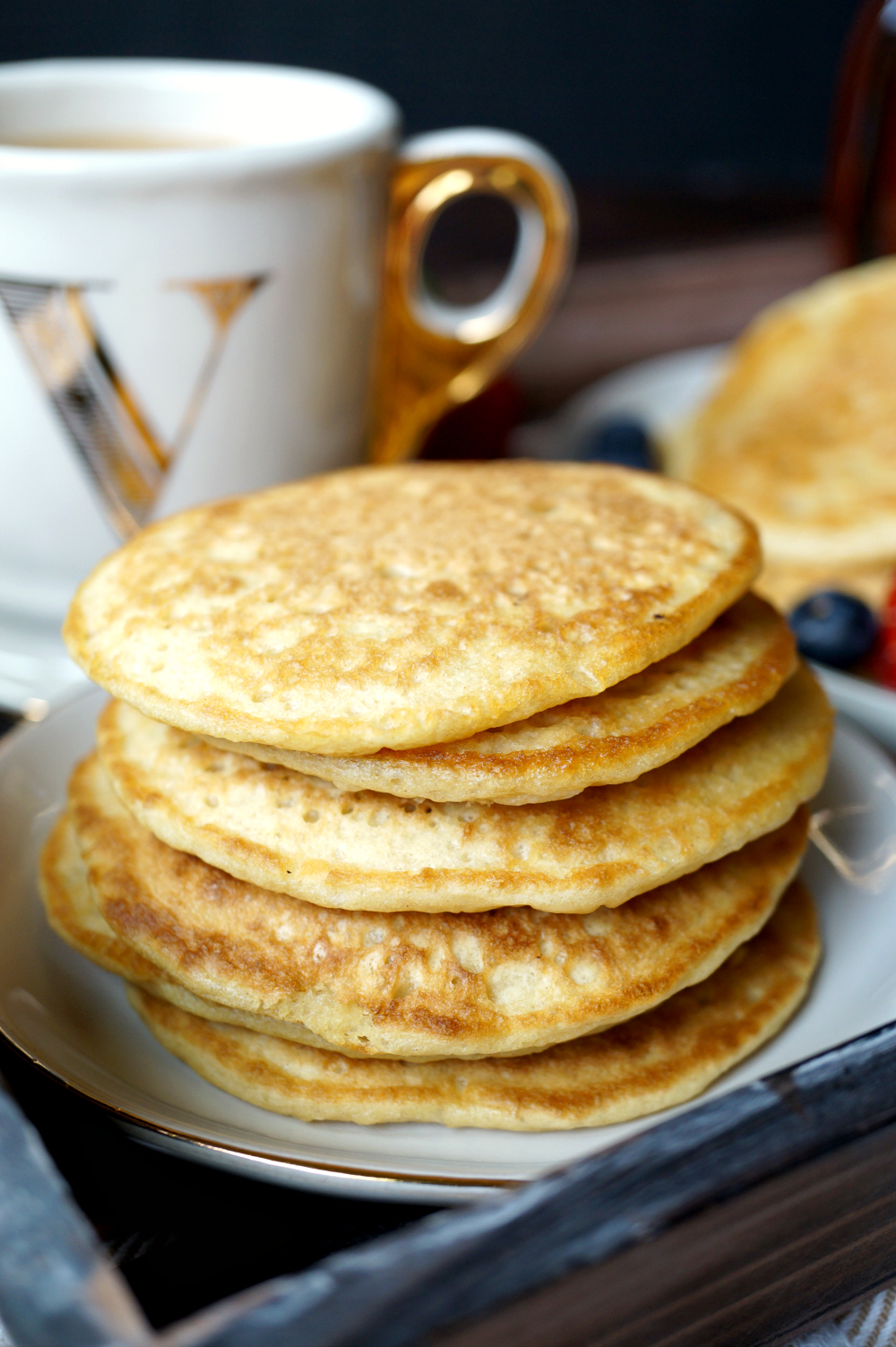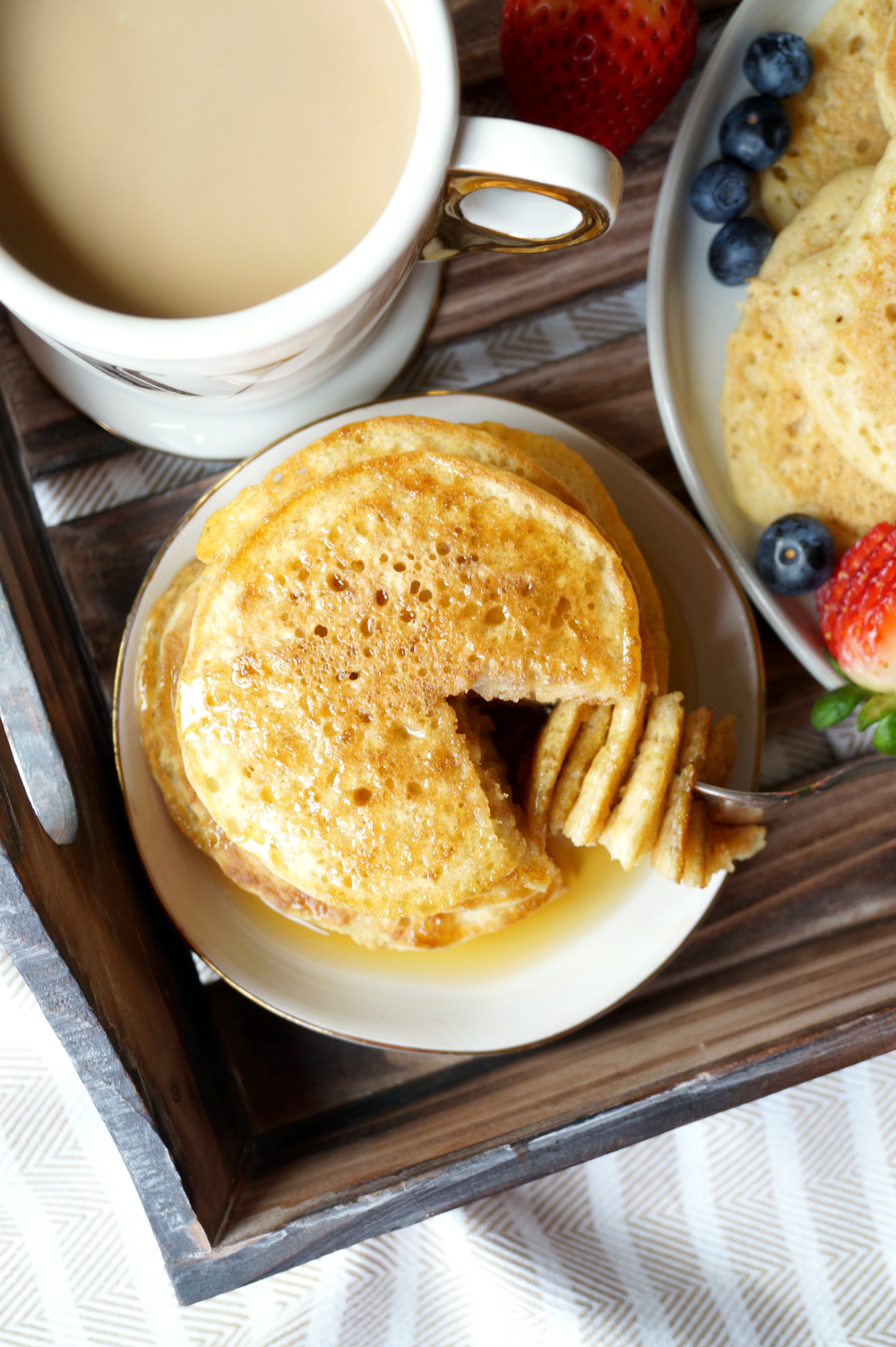 The second time I made these vegan buttermilk pancakes, I literally just misread my own recipe and added 2 TABLESPOONS of vinegar instead of 2 teaspoons. Still edible but... LOL. I tasted one and I thought to myself, hm I wonder why these taste a bit vinegary? Because I'm an idiot, that's why. Third time is the charm, y'all! These pancakes are sweet, fluffy, and absolutely delicious! There are two parts to the magic. The first secret ingredient is vegan buttermilk - nondairy milk mixed with some ACV and allowed to sit for a bit until thick and creamy. The second is my beloved aquafaba! I just whipped it up like you would for egg whites, folded it into the pancake batter, and was rewarded with airy little clouds! I have to clarify that the pancakes made with the CORRECT recipe are fluffier than the ones in these pictures. Oops.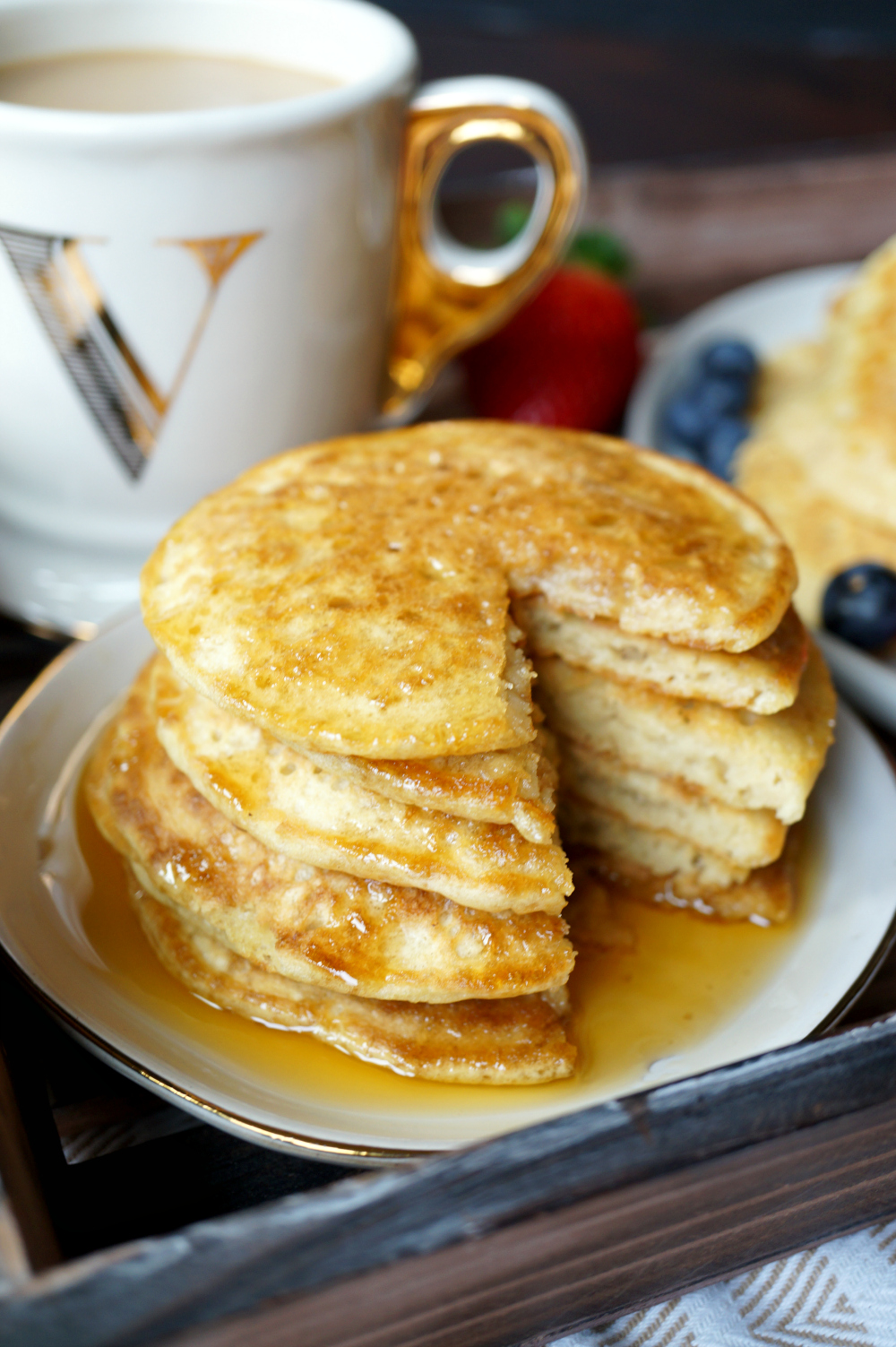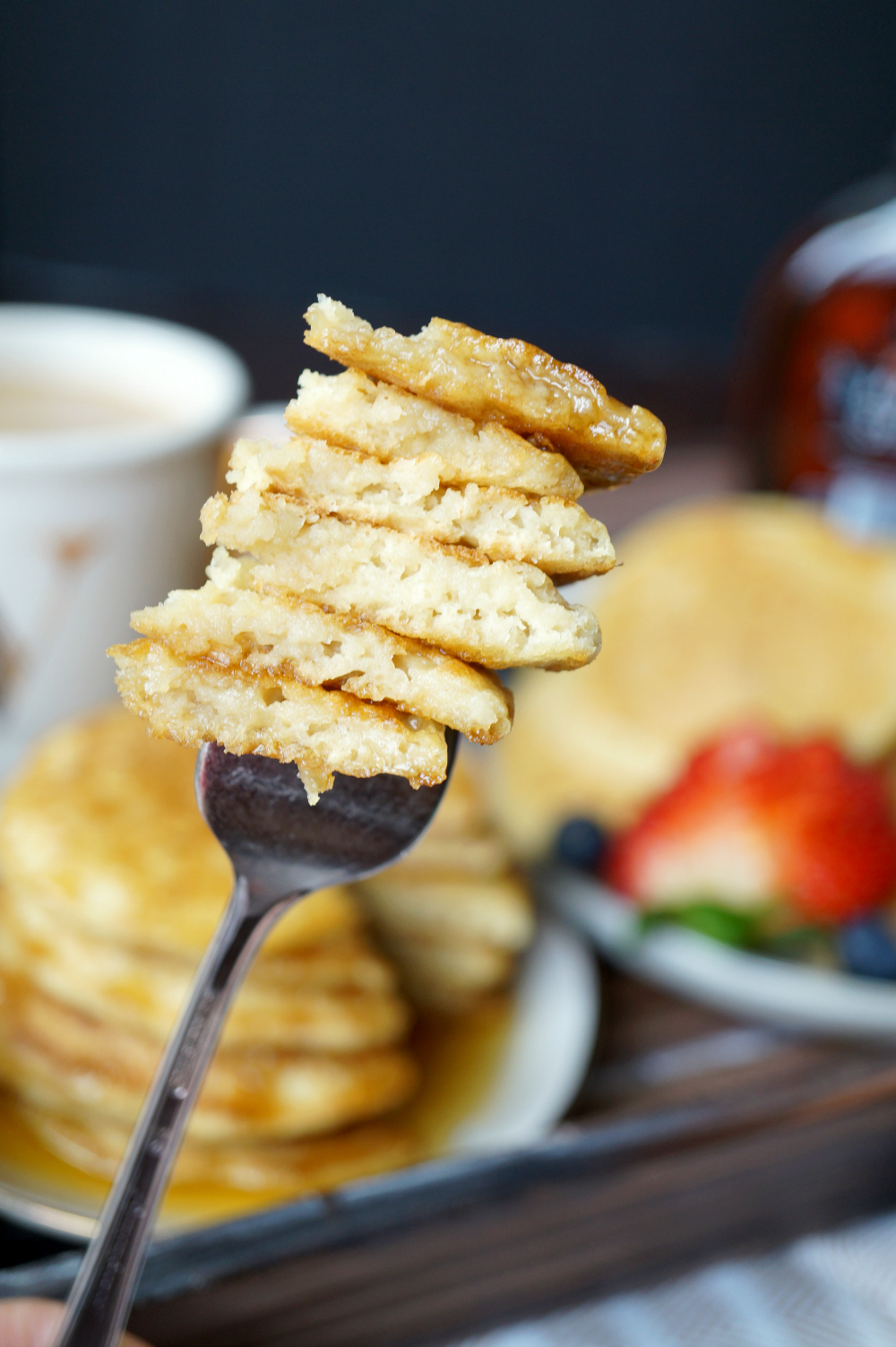 I hope these cute lil fluffy vegan buttermilk pancakes make an appearance at your breakfast table sometime soon! They're easy, delicious, and taste like pure comfort food 🙂
Looking for more vegan breakfast ideas? Check out my Vegan French Toast, Vegan Tofu Scramble Pockets, Piña Colada Smoothie Bowls, Vegan Banana Chocolate Chip Muffins, and Vegan Dark Chocolate Pear Turnovers. Happy eating!

fluffy vegan buttermilk pancakes
Author:
Valentina | The Baking Fairy
Ingredients
1 cup nondairy milk
2 teaspoon apple cider vinegar
1 cup all-purpose flour
1 teaspoon baking powder
2 tablespoon sugar
¼ cup aquafaba
½ teaspoon cream of tartar
1 teaspoon vanilla extract
½ teaspoon almond extract
Instructions
In a cup, combine the nondairy milk and apple cider vinegar and set aside for now. After a couple of minutes, it should be thickened and a bit clumpy.
In a large bowl, whisk together the flour, baking powder, and sugar. Set aside.
In a medium bowl, combine the aquafaba and cream of tartar. Using a hand mixer, beat until light and fluffy (like egg whites would be)!
Now, combine the flour mixture with the milk and vinegar mixture. Add in the vanilla and almond extract, and mix gently to combine. Next, gently fold in the whipped aquafaba.
Now, heat up your griddle or pan and grease with oil or vegan butter. Cook the pancakes for a few minutes on each side, until golden brown and puffy.
Enjoy warm with maple syrup!
SaveSave
SaveSave
SaveSave