This Vegan Broccoli Cheese Soup is creamy, smooth, and comforting! Even though it's dairy free, it's still rich and full of that classic cheesy flavor we know and love.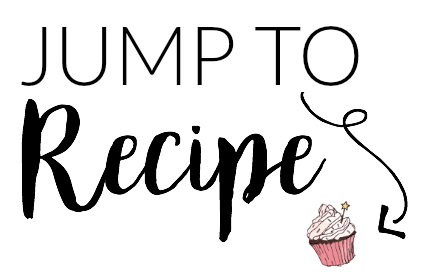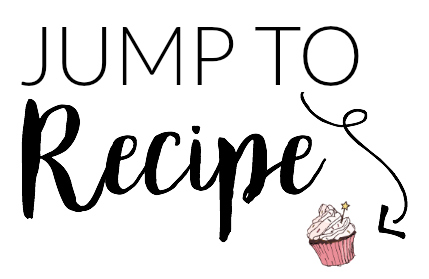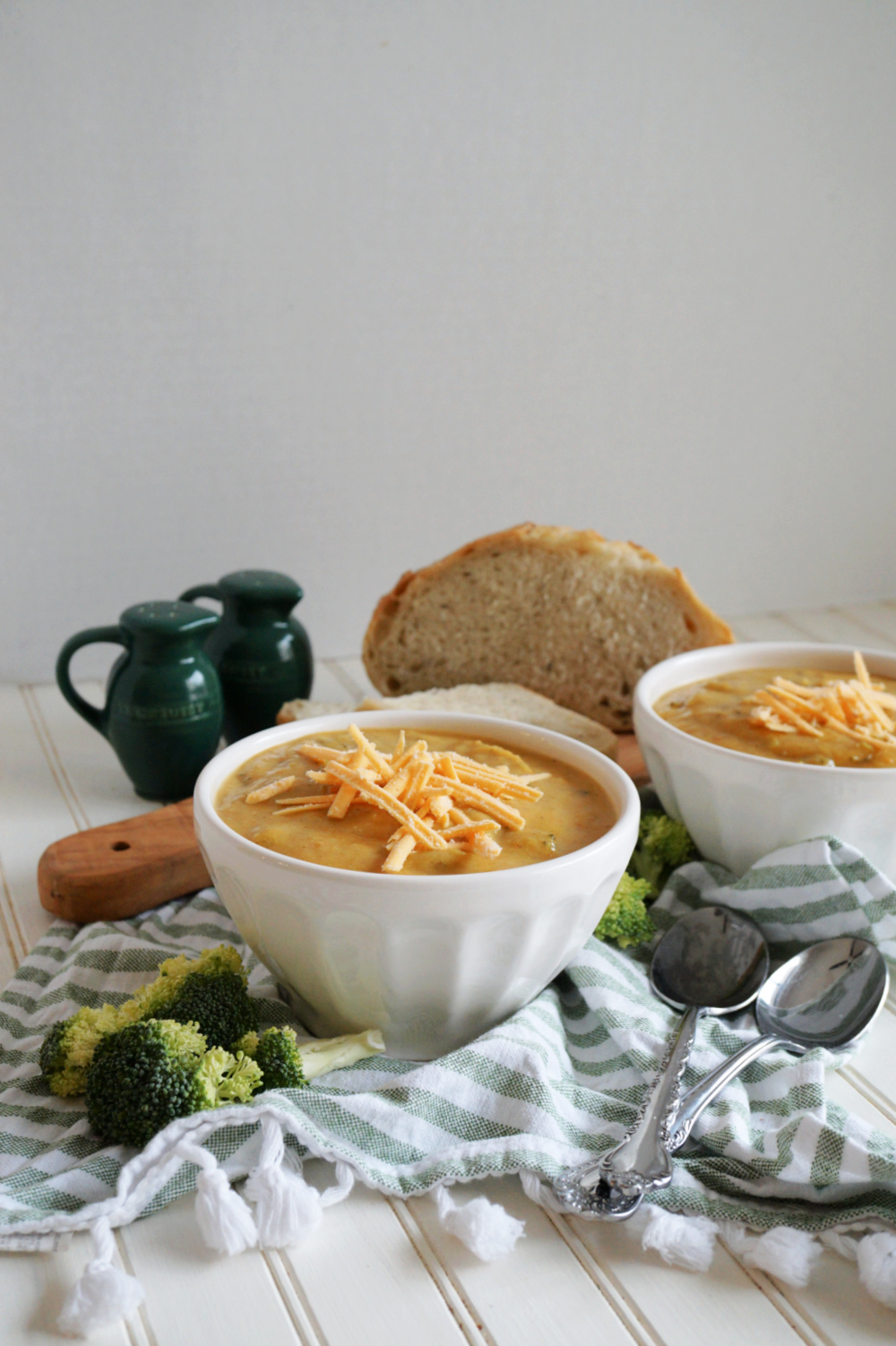 Hello friends and happy Monday! I am back with another recipe for you which is perfect for this cold winter weather. This creamy, dreamy Vegan Broccoli Cheese Soup is so comforting and delicious. It tastes rich and cheesy despite having no dairy! If you're still going strong with Veganuary, this is sure to be a welcome treat. And even if you're not vegan, this soup is so good that you'll still love it!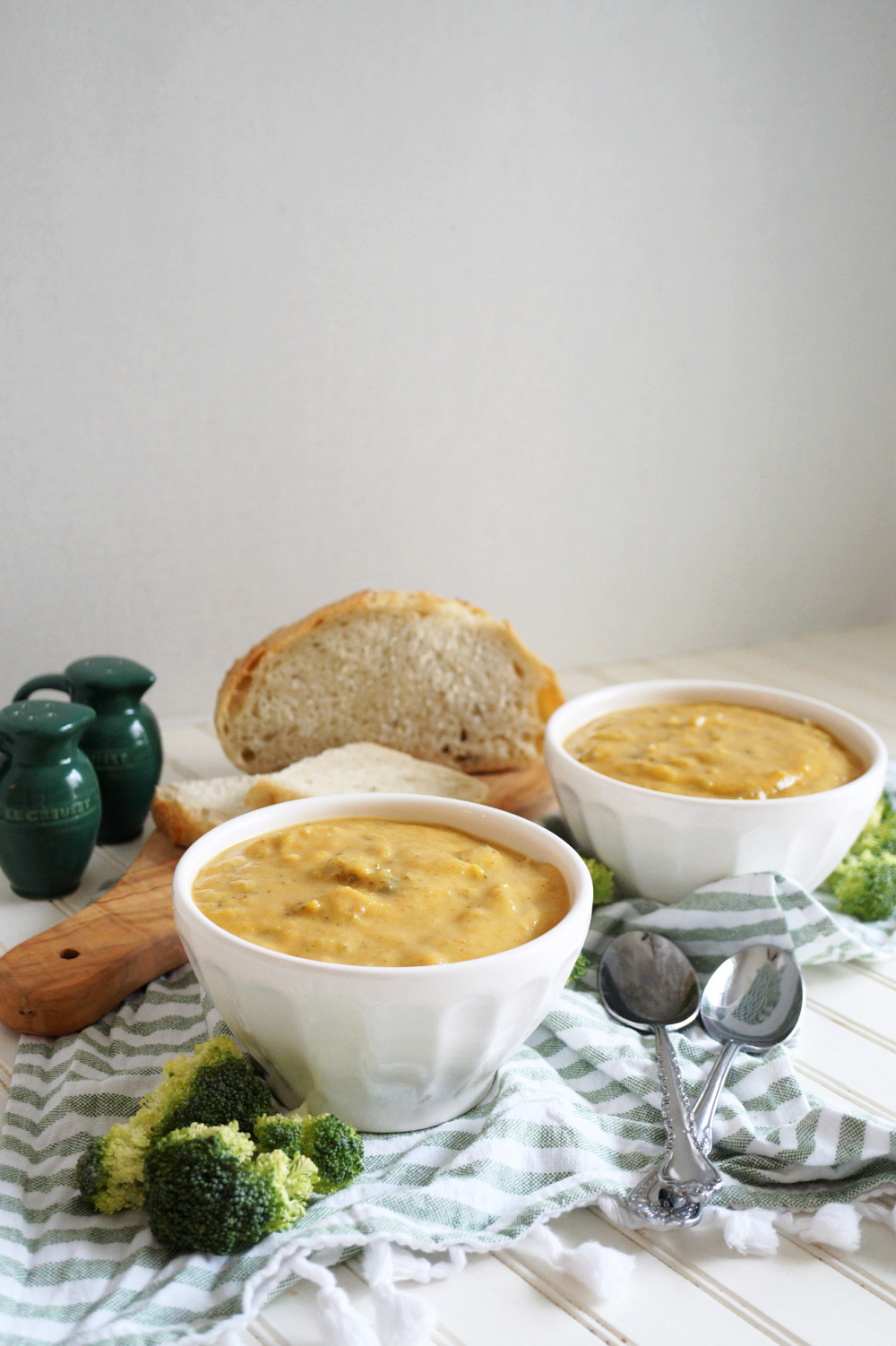 This creamy broccoli cheese soup has a couple of tricks up its sleeve to make it so good!
Coconut milk - since we're not using dairy, coconut milk is an excellent substitute! It gives the soup a super creamy, silky finish and I promise the finished product doesn't taste at all like coconut.
Butternut squash - while this is a broccoli soup, it requires some other veggies to come together, including butternut squash! This helps make the soup super creamy as well, helps with that cheesy yellow hue, and adds some extra veggie goodness!
Nutritional yeast - the sign of a seasoned vegan! Nutritional yeast gives this soup a great cheesy, savory flavor profile. You can use just this if you'd like and skip the vegan cheese altogether.
Vegan cheese - this is optional but a tasty addition! Add in some vegan cheddar shreds for extra flavor. I personally prefer Violife and Follow Your Heart but you can use whatever is your favorite! You can sprinkle some on top for extra flavor too.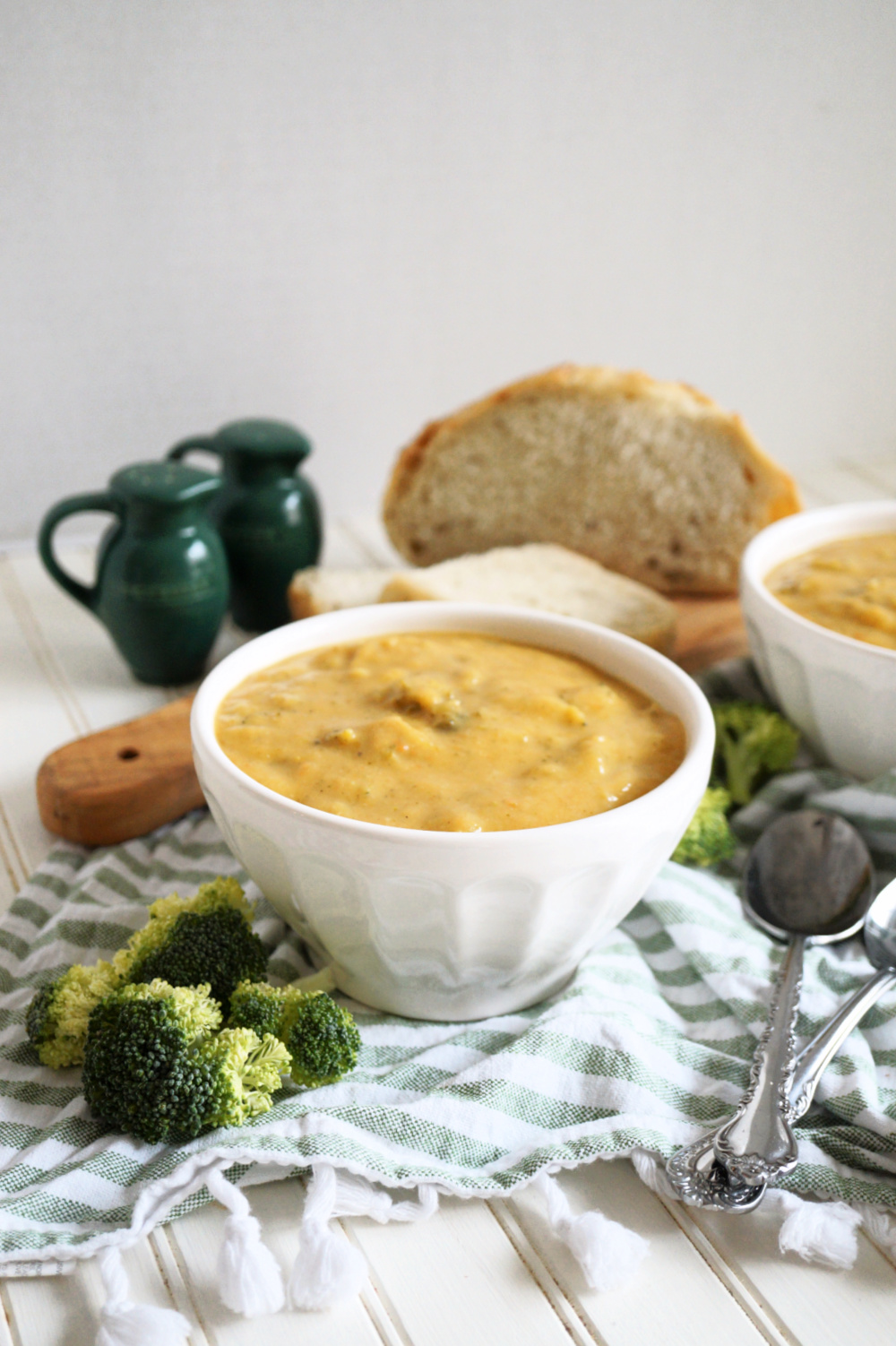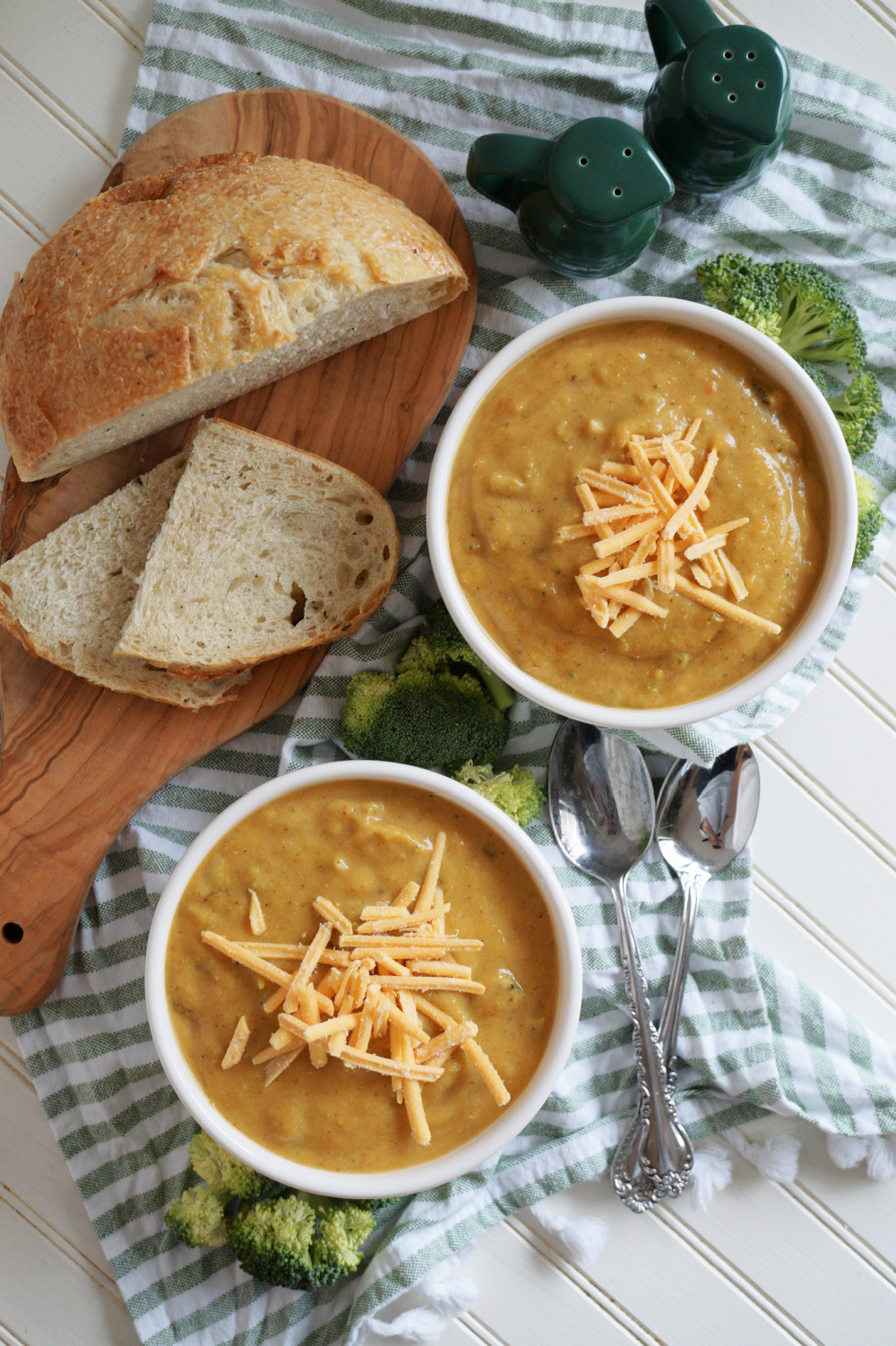 How do I make this vegan broccoli cheese soup?
This soup is actually ridiculously simple to make, but tastes like you slaved away for hours!
First, prep your veggies. Chop up some onions, garlic, carrots, celery, and butternut squash. Also chop up some fresh broccoli - use up all the stems, and save about 1 cup of finely chopped florets for later. 
Heat up some olive oil in a large pot, and add in all your veggies. Saute until fragrant and starting to turn golden brown, then add in a can of coconut milk and veggie broth. Toss in a bunch of salt, pepper, garlic powder, onion powder, and nutritional yeast, and let the soup simmer for a good hour.
When the soup is cooked, all the veggies will be nice and soft. Either use an immersion blender to make the soup smooth and creamy, or blend it up in batches in a blender. Return everything to the pot.
Now - remember those broccoli florets we saved? Add them in, along with some vegan cheese if you'd like. Let the soup heat up until those teeny tiny broccoli pieces are tender. Soup is ready! Serve with some bread or a sandwich on the side for maximum deliciousness 🙂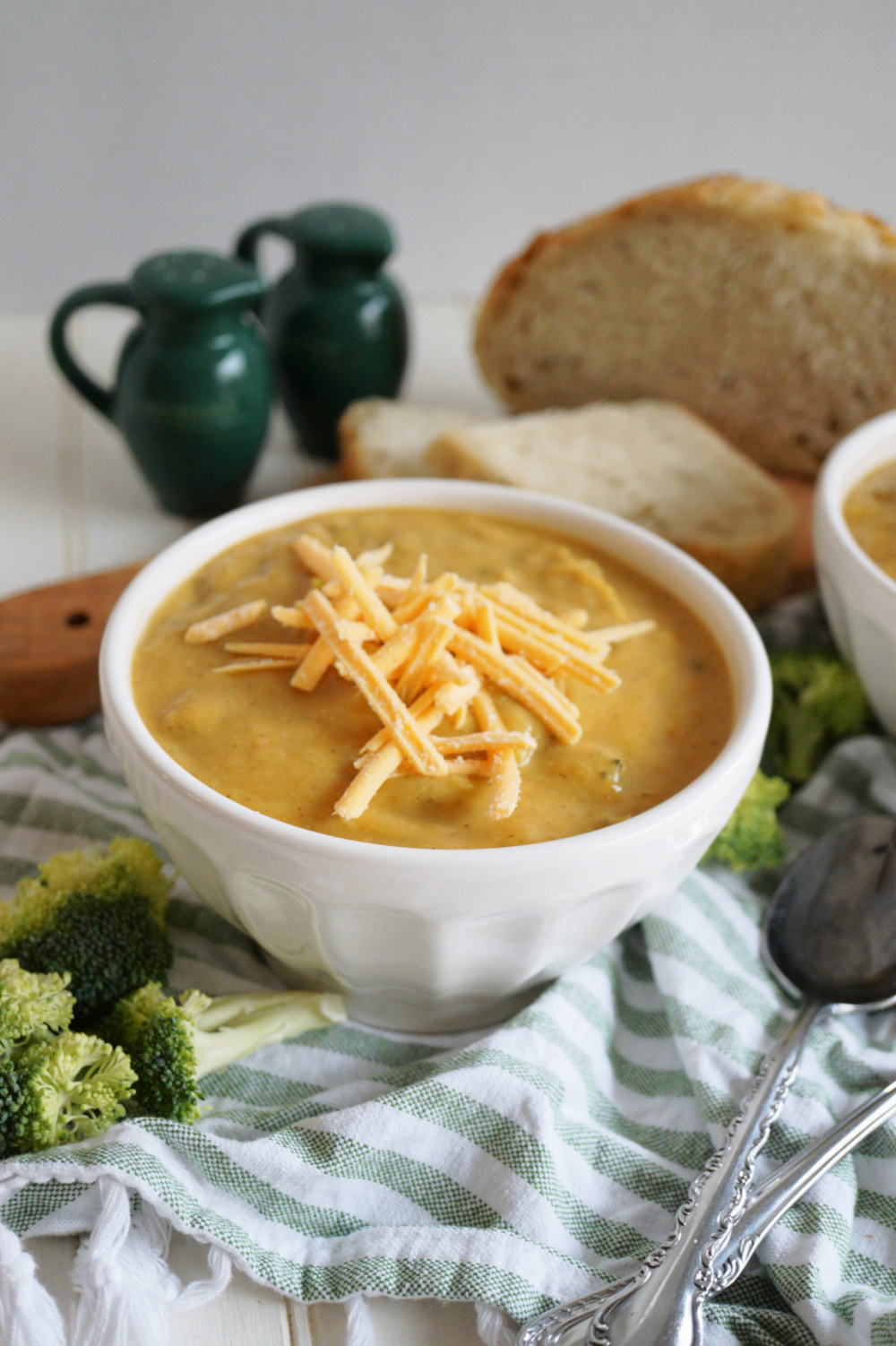 I hope you guys will give this vegan broccoli cheese soup a try! It's one of my absolute favorites - who needs Panera anyway when you can make this at home?
Also even if you're vegetarian - Panera uses chicken broth in their broccoli cheese soup so beware!
Check out some other favorite soup recipes!
vegan broccoli cheese soup
This Vegan Broccoli Cheese Soup is creamy, smooth, and comforting! Even though it's dairy free, it's still rich and full of that classic cheesy flavor we know and love.
Author:
Valentina | The Baking Fairy
Ingredients
1 cup chopped onion
½ cup chopped carrot
½ cup chopped celery
4-5 garlic cloves, chopped
2 heads of broccoli (about 4 cups, chopped, including stems) - reserve 1 cup of florets and chop them very small
4 cups butternut squash cubes (1 small fresh squash, peeled)
1 tablespoon olive oil
13.5 oz can coconut milk (lite or full-fat)
6 cups vegetable broth
½ teaspoon salt
½ teaspoon black pepper
1 teaspoon garlic powder
1 teaspoon onion powder
¼ cup nutritional yeast
1 cup vegan cheddar shreds
Instructions
First, prepare all your veggies. Wash and chop roughly - everything will be blended at the end so it doesn't all have to be super finely chopped.
In a large pot, heat the olive oil over medium heat. Add in the vegetables (remember to save 1 cup of broccoli florets for later) and cook, stirring often, until they start to soften.
Pour in the coconut milk, vegetable broth, and all of the spices, and stir to combine.
Bring the mixture to a low simmer, and cover the pot. Allow the soup to cook for at least 30-45 minutes, until all vegetables are very soft.
Using an immersion blender or stand blender, and blend the soup until smooth. Return to the pot.
Now, add in the reserved broccoli florets (chopped small) and stir in the vegan cheese, if desired. Taste the soup at this point and add any extra spices if desired.
Warm the soup until the broccoli florets are tender, and it's ready! Enjoy!
*Disclosure: I am part of the Amazon Associates Program, and there may be affiliate links on this page. If you buy anything through my website, I will receive a small percentage of the profit at no extra cost to you. Thank you for supporting my blog!*