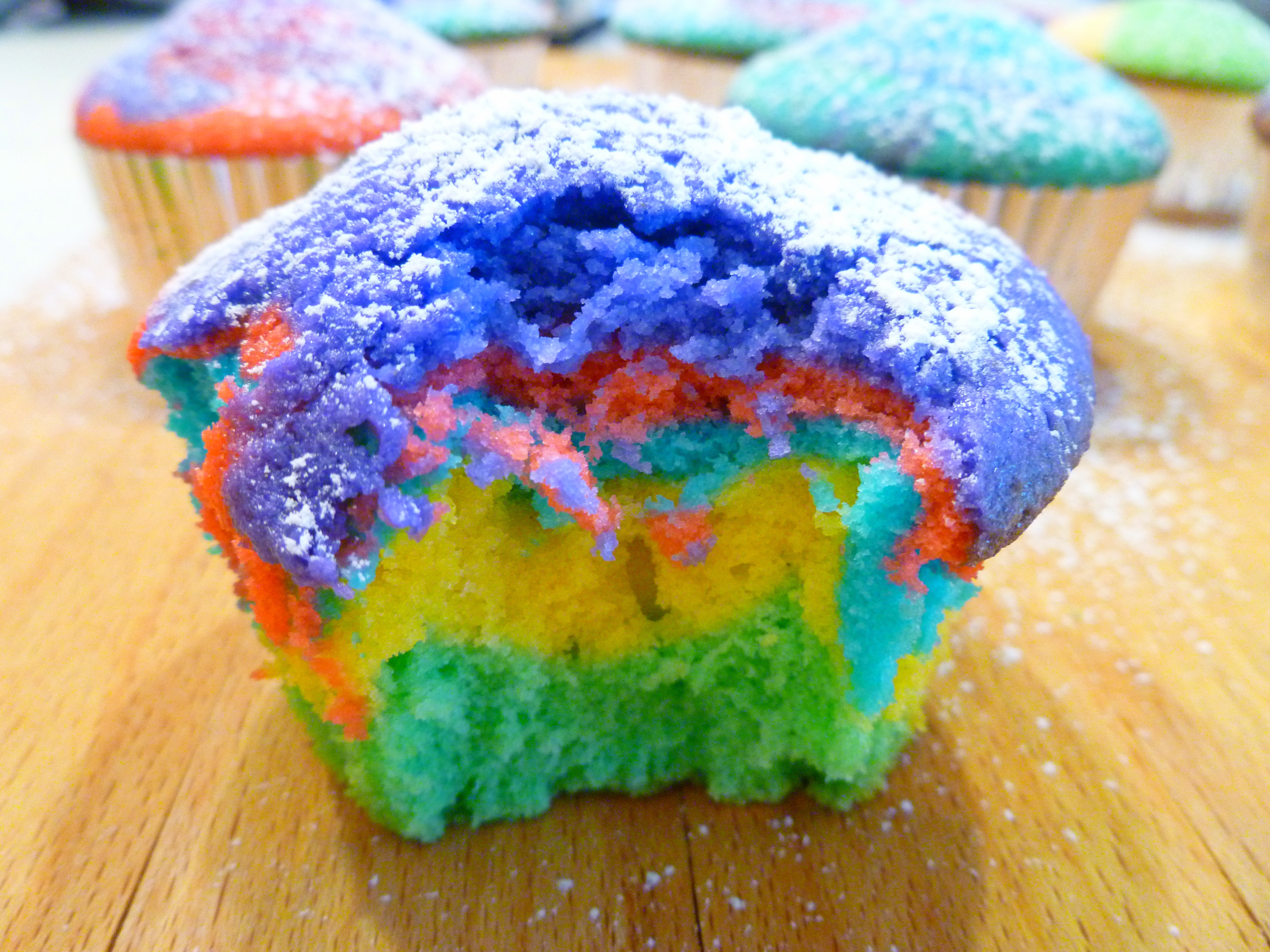 Yes, tie-dye cupcakes. Okay, well, not actually tie-dyed (obviously), but colorful and swirled and fun as if they were tie-dyed! These little cupcakes are seriously so easy (wow, I feel like I've been saying that on every recipe recently... this may or may not be a recurring theme with me), and these would be a perfect, and delicious, activity to do with friends or kids! I made these with my boyfriend, but I have also made them while babysitting, so they're really just fun for everyone.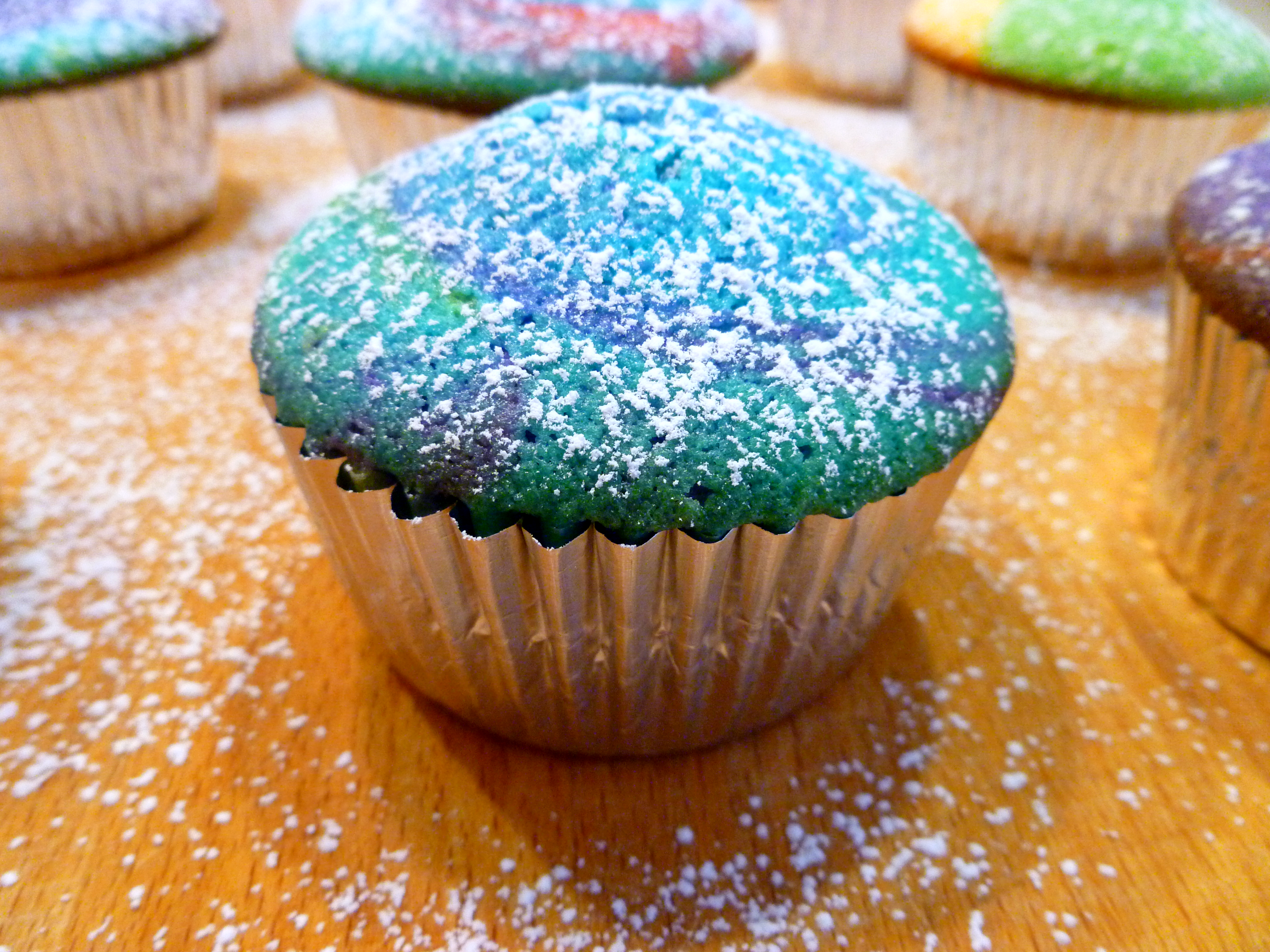 On a side note, I've made these with cake mix before, and they turned out great.. but the vanilla cupcake recipe I used here was so good, I had to share! I found this little gem buried in my 700 page Bon Appetit Dessert cookbook, and I am so glad I found it! It makes for deliciously vanilla-y, moist cupcakes, and they come together in a jiffy. Yes, I really just said jiffy. The swirl of crazy colors (and how cool they looked already!) made me refrain from topping them with frosting, as a dusting of powdered sugar seemed to fit them well. But, I can tell you that if/when I open my own bakery, these will definitely be topped by a little cloud of buttercream vanilla frosting... pure white, of course. Depending on the occasion, you may or may not top them with icing, and I won't even judge if you decide to use ready-made frosting from the store. I mean, if you're baking with little kids, who has the time and patience? They'll be delicious anyways.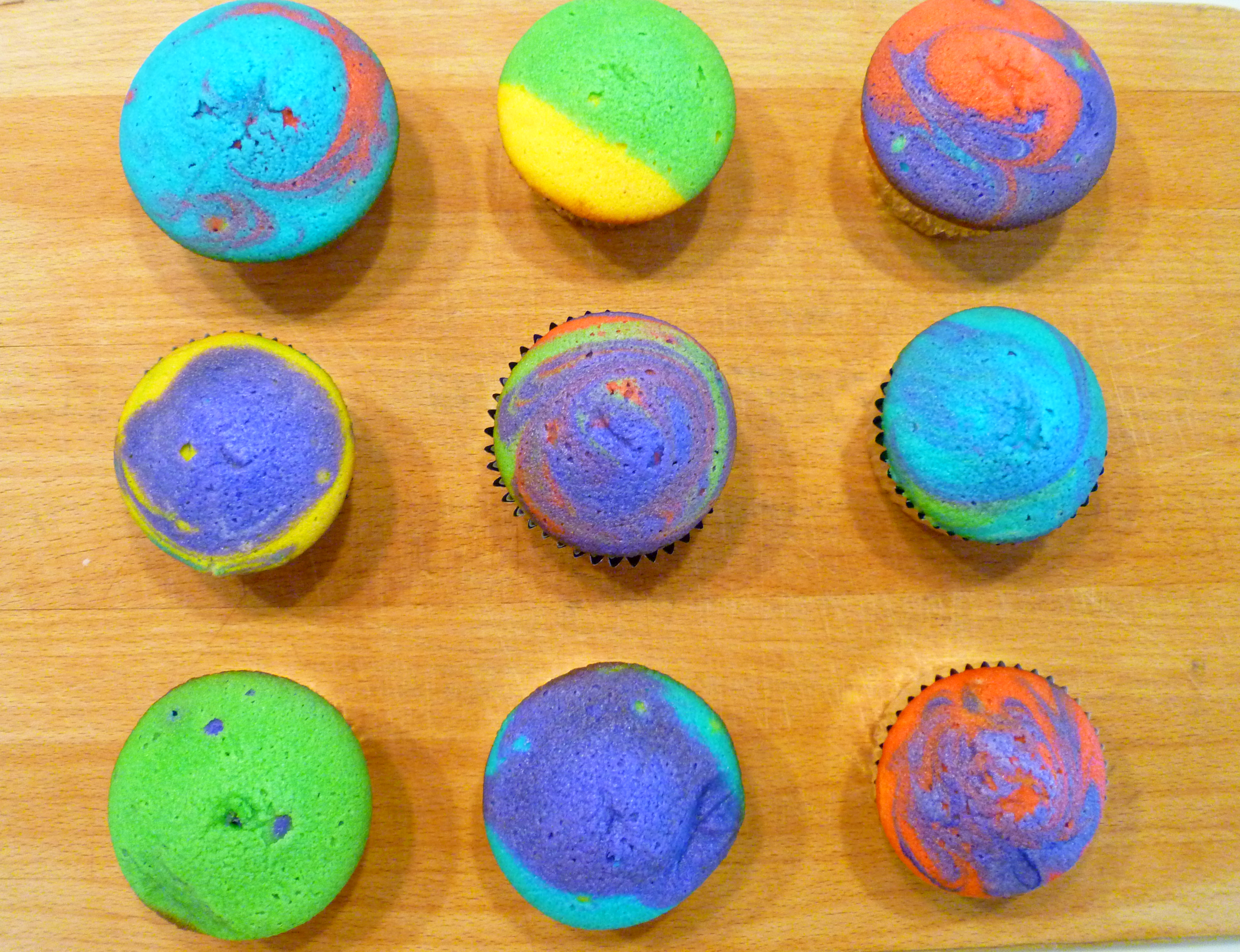 tie-dye cupcakes
Author:
Valentina | The Baking Fairy
Ingredients
1⅓ cups cake flour
1 teaspoon baking powder
½ teaspoon salt
⅓ cup skim milk
3 large egg whites, at room temp
2 tablespoons light sour cream
1 teaspoon vanilla extract
½ cup (1 stick) unsalted butter, softened
1 cup sugar
food coloring in various colors; I used blue, yellow, green, red, and purple
Instructions
Preheat the oven to 350F; line 12 regular muffin cups with liners, set aside.
In a medium bowl, whisk together the flour, baking powder, and salt. In a (slightly large) measuring cup, mix together milk, egg whites, sour cream, and vanilla, whisking until completely incorporated.
In the bowl of a stand mixer, beat together butter and sugar until very light and fluffy, 8-10 minutes.
Add in the flour mixture in three additions, alternating with the sour cream mixture, starting and ending with the flour, and beating on low in-between additions.
Divide batter into several small bowls, as many as the colors you want to do. I did 5 colors, so I divided the batter equally into 5 containers. Add in food coloring to the divided batter until you reach the desired coloring.
Drop batter by spoonfuls into the prepared muffin pan, layering colors. If desired, swirl using a toothpick.
Bake cupcakes for about 20 minutes, until a tester inserted in the center comes out clean. Let cool completely, then top with some powdered sugar (or white frosting) and enjoy!