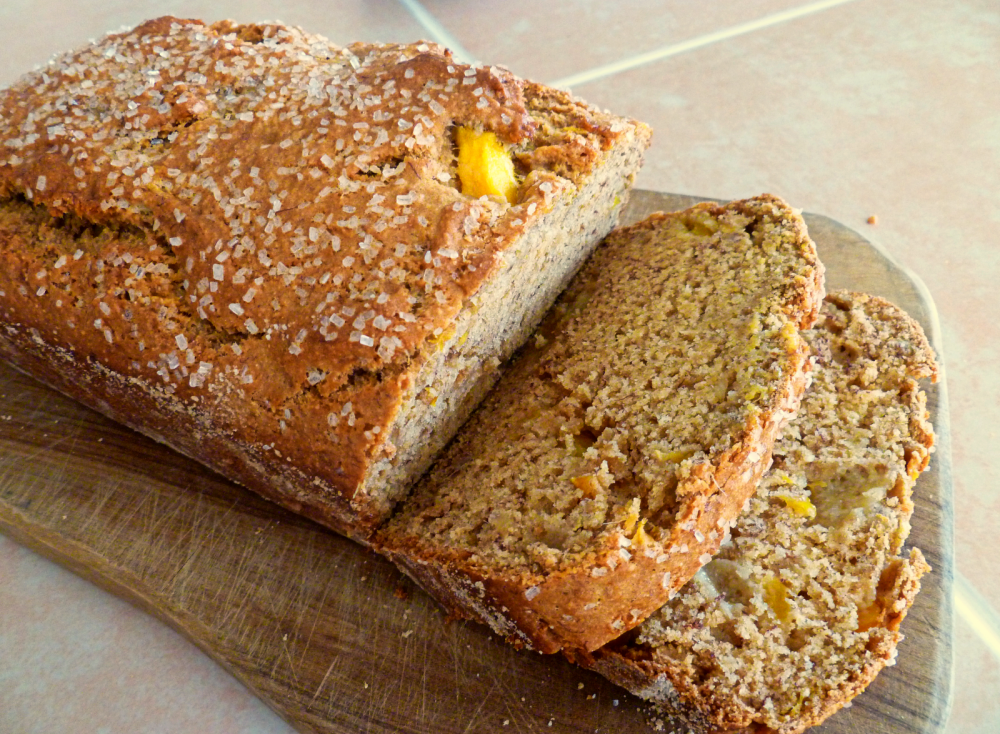 I have a confession to make... before this recipe, I had never made anything vegan. Well, at least, not intentionally vegan. I mean, guacamole is vegan, right? And so is spaghetti and tomato sauce. But, not any real vegan desserts or anything fancy like that. But, most of the time, it's because although a recipe looks good and easy, it calls for strange vegan replacements that most people don't usually have in their household. So, as I am too lazy and cheap to go buy special ingredients for one particular recipe, I just end up never making anything!
Until one day just last week or the other, I was doing my daily check on all my favorite blogs, and I saw a glorious headline on Joy The Baker's blog, "Vegan Mango Banana Bread." The heavens sang, and my tummy rumbled. I had been itching to make banana bread, and in the back of my head I also wanted to make something out of my comfort zone (aka: vegan). So, why not kill two birds with one stone? Perfect.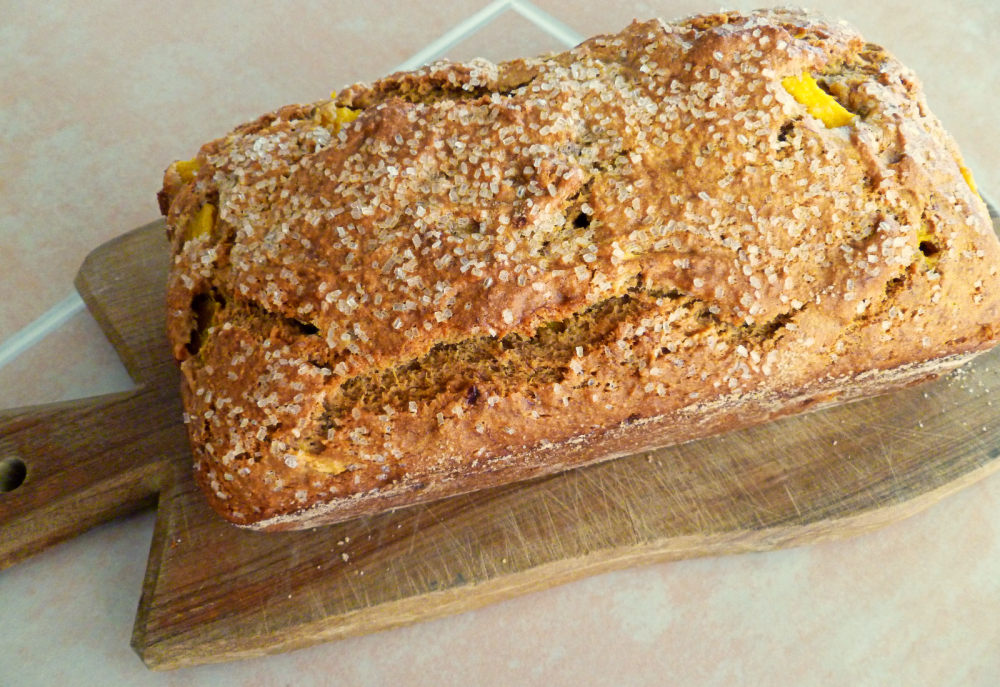 This recipe is so quick and easy to throw together, as it contains no butter to cream with sugar, etc., and it's one-bowl! Minimal mess and maximum deliciousness. Honestly, the part that takes the longest is prepping the mango... and then obviously the waiting for it to finish baking. Ugghhlll... does anyone else just want to nap and then wake up exactly 5 minutes before your baked good is finished? I'm tempted to do that all the time but I'm always too scared that I won't wake up and then my house will burn down. But that's just me.
Anyway, I saw this healthy recipe and decided to make it even healthier, with excellent results! I swapped half the white flour for whole wheat flour, which made my batter turn into a thick dough... so I added about ¼ cup of mango juice which literally made this banana bread perfect! Super moist and delicious with a very subtle mango flavor. I think the best part of this banana bread is the fact that I can see endless variations in my head! Add chocolate chips and put almond milk (or even chocolate milk) in place of the juice, and it's banana and chocolate! What about adding a swirl of peanut butter? Mixed berries? The variations are literally endless. I'm so excited. This is not the last you've seen of this banana bread!
{Recipe adapted from Joy The Baker}

vegan mango banana bread
Author:
Valentina | The Baking Fairy
Ingredients
3 medium ripe bananas
¼ cup vegetable oil
¼ cup mango juice/nectar
½ cup light brown sugar
2 teaspoon pure vanilla extract
1 cup unbleached all-purpose flour
1 cup whole wheat pastry flour
1 teaspoon cinnamon
1 teaspoon baking soda
½ teaspoon salt
1 ripe mango, cut into chunks
sanding sugar, or, in my case, large sugar sprinkles 🙂
Instructions
Preheat the oven to 350F. Spray a 9x5 loaf pan with nonstick spray, then flour.
In a large mixing bowl, roughly mash the bananas. You don't want total mush, so leave some little chunks! Add the brown sugar, oil, vanilla, and mango juice, and whisk to incorporate.
Sift in the flours, baking soda, salt, and cinnamon, and use a wooden spoon to mix. Mix in the mango chunks.
Transfer the batter to your prepared pan, and sprinkle with your sugar. Bake for about 45 minutes in the lower third of your oven, until a toothpick inserted in the center comes out with just a couple crumbs.
When done, do not take out of the oven immediately, as it will cause the banana bread to "fall" and become very dense and tough. What I did is I opened my oven door all the way and let my pan rest on the door, so the temperature difference wouldn't be as severe.
Once cooled completely, wrap tightly in plastic wrap! Keep at room temperature for up to 5 days. But, I do advise eating a warm slice as soon as you can... 🙂