I have made you the most delicious, scrumptious, summery treat today! Soft, chewy cookies swirled with Nutella, and stuffed with ice cream. Yes, please! These are soOoOoooOo good. Nutella is a daily staple in this household, and being an Italian household, we always have a minimum of three Costco-sized jars in the pantry at all times. I've been seeing loads of other bloggers posting homemade ice cream recipes, but being ice cream machine-less, I'm not much use in that category. SO, I thought: why not make something from scratch, and then serve it with storebought ice cream? I still get the summery factor without having to spurge on another appliance I will use at most once a year. And besides, let's be honest... do non-blogger people even make ice cream from scratch? Like, ever? Probz not. So  here you go, normal people. A summer recipe that uses delicious homemade cookies and good ol' storebought ice cream. Yum!
Oh, and let's just say this: these cookies are amazing! With or without vanilla ice cream filling. They are soft and gooey in the center with crisp edges, and full of wonderful, chocolatey swirls of Nutella goodness throughout. They are one bowl and supremely easy, and honestly not much different than chocolate chip cookies, except you replace the chips with the stuff in the jar. I will advise you to not try the dough though, because you won't be able to stop eating it. Another advice I give you is to fill the cookies with ice cream that's as cold as possible! Otherwise it may or may not melt literally everywhere and perhaps just completely fall out when you try to eat the sandwiches. Not that I know that from experience or anything. Nope. Just educated guess. Haaaa. These are delicious and you should make them immediately! Happy weekend and happy baking, friends. 🙂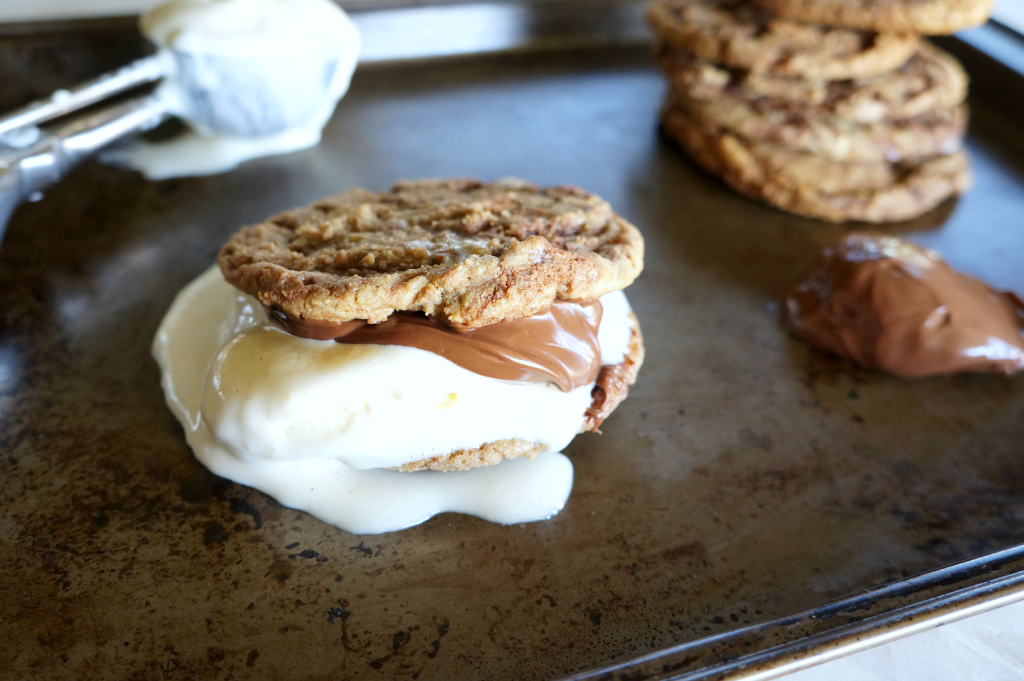 OH, and if you wanna add an extra shmear of Nutella inside the sandwich with your ice cream.... well, I'm not judging.
{ Cookie recipe from Cannella Vita }
Nutella Cookie Ice Cream Sandwiches
Author:
Valentina | The Baking Fairy
Ingredients
2¼ cups all-purpose unbleached flour
1½ teaspoon baking soda
½ teaspoon salt
½ cup {1 stick} unsalted butter, softened
1 cup white granulated sugar
½ cup packed dark brown sugar
2 eggs
1 teaspoon vanilla extract
½ cup Nutella
vanilla ice cream and additional Nutella, to serve
Instructions
Preheat the oven to 375, and line two cookie sheets with parchment or silicone liners.
In the bowl of a stand mixer, beat together the butter and sugars until smooth and creamy.
Add in the eggs, one at a time, beating well after each addition, then mix in the vanilla extract.
Add in the salt and baking soda, mix, then gradually add in the flour until it has all been incorporated.
Add in about ¼ cup of the Nutella and mix well. Then, add the rest of the Nutella, and mix lightly using a wooden spoon or spatula {you want swirls!}
Using a tablespoon cookie scoop, spoon out the dough and place on the prepared baking sheets. Bake 9-11 minutes, until lightly golden. Don't overcook!
Let cookies cool completely on a rack, then when ready to serve, spread some Nutella on one cookie, top with a scoop of vanilla ice cream, and top with another cookie. Either enjoy immediately or wrap tightly with plastic wrap and store in freezer.
*Note: recipe makes about 18 sandwiches, or 36 individual cookies*