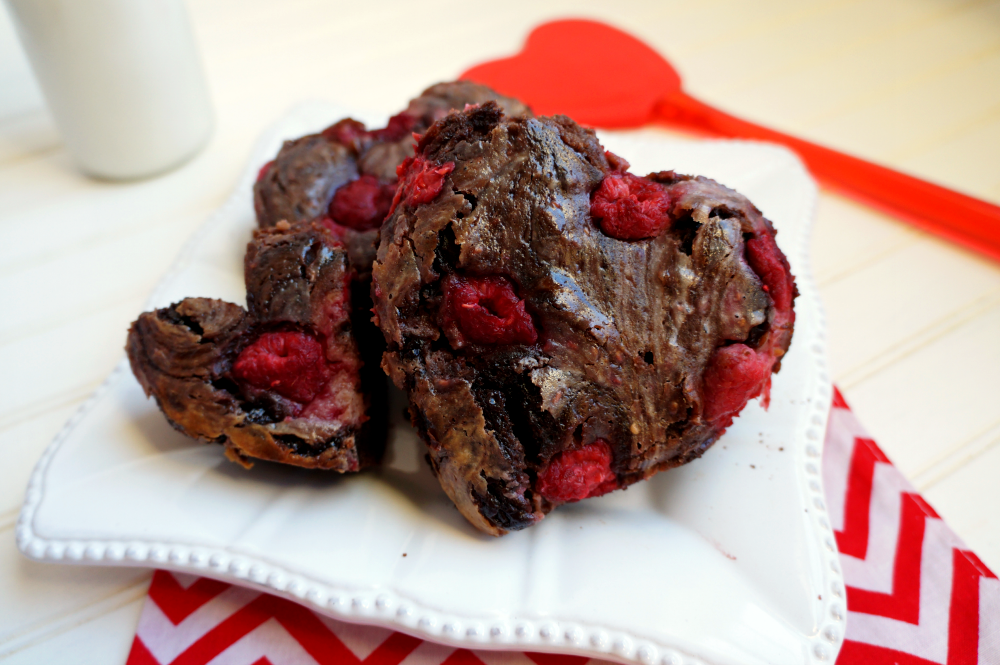 Happy two-days-until-Valentine's, my loves! And before you ask, although my name is indeed Valentina, Valentine's Day is NOT my birthday. But I'll have you know that I will gladly accept your chocolates. 😉 Today, I am sharing these ridiculously fudgy, rich brownies swirled with raspberry cheesecake and studded with fresh raspberries on top. They are SO amazingly good! I'm honestly not a huge fan of cooked fruit and chocolate together, if that makes sense... like I love chocolate-covered fruit, or eating a rich slice of chocolate cake with some strawberries, but cooking the fruit IN my chocolate dessert is usually a no-go for me. Until now, that is! The dark chocolate of the brownies goes perfectly with the sweet and tangy swirl of cheesecake, and the fresh berries on top are the perfect finishing touch!
To make these brownies, I used HEB's awesome Le Brownie mix! This stuff is great because it comes packaged as batter, so all you have to do is pour and bake! No eggs, oil, or milk required, since it's already all in there! For the raspberry cheesecake topping, I simply used cream cheese, HEB's Organic Raspberry Preserves, an egg, and a little sugar. And then, of course, I topped them off with fresh berries! These treats are incredibly simple and fast to whip up, and you will be sure to impress your Valentine with your baking skills! Nobody will suspect that you used brownie mix when it tastes so delicious! Happy baking! <3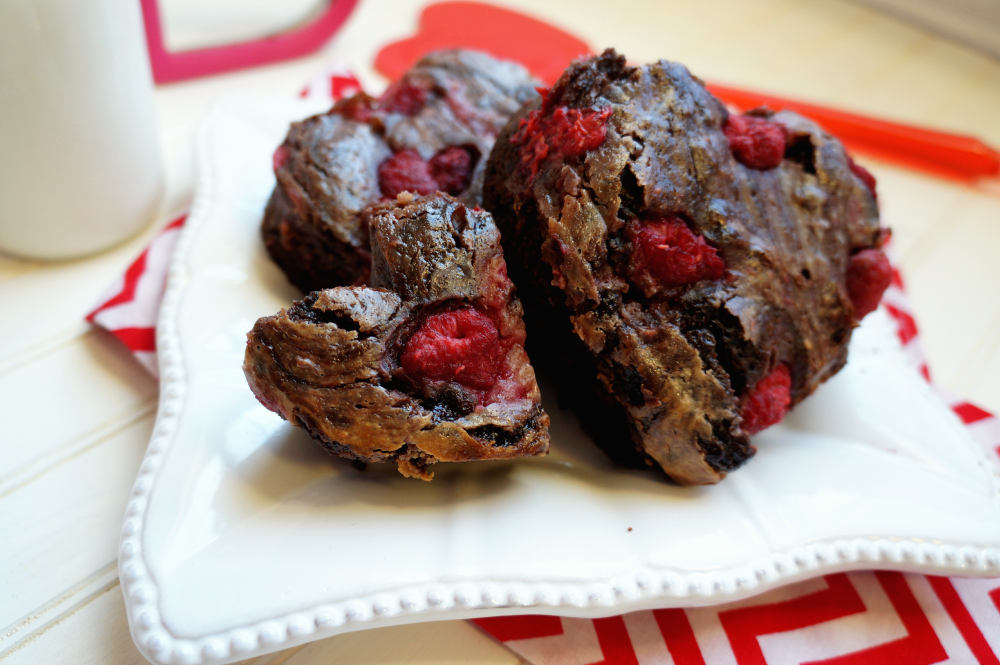 You can find Le Brownie, along with other delicious Valentine's Day picks, at your local HEB! See all the featured items HERE, then find a store near you HERE. Don't forget to follow H-E-B on Facebook, Twitter, YouTube, and Pinterest. Happy shopping!
raspberry cheesecake brownies
Author:
Valentina | The Baking Fairy
Recipe type:
Brownies & Bars
Ingredients
1 bag Le Brownie mix
4 oz cream cheese, at room temperature
1 egg
2 tablespoon sugar
1 tablespoon all-purpose flour
3 tablespoon HEB's Organic Raspberry Preserves
¼ cup fresh raspberries
nonstick spray
Instructions
Preheat the oven to 350F, line a 8x8 baking pan with foil, and spray with nonstick spray. Pour the Le Brownie batter into the pan, and set aside.
In a medium bowl, beat the cream cheese with a hand mixer until completely smooth and creamy. Add in the sugar, and beat until smooth.
Add in the flour and egg, and mix until well incorporated.
Using a spoon, gently stir in the raspberry preserve until barely mixed (you want it to have a marbled effect!).
Pour the cheesecake mixture on top of the brownie batter, and using a butter knife, gently mix and swirl the two batters together to create a marbled effect.
Top the brownie with the raspberries, and bake for about 30 minutes uncovered, then top the pan with foil, and bake for 15-20 minutes longer, until the brownie no longer jiggles and a toothpick inserted in the center comes out with just a few moist crumbs.
Let cool completely before cutting. If desired, cut with a heart cookie cutter for a fun treat!
 Disclosure: I received materials from H-E-B for this recipe. Posts are truthful, and all thoughts and opinions are my own and not influenced by this sponsorship. Recipe is an original creation by Valentina Celant at TheBakingFairy.net