Tomato Sauce Poached Eggs, also called Eggs in Purgatory, are a hearty and savory dish that comes together quickly and with just a handful of simple ingredients. Be sure to serve with crusty bread to scoop up all of the saucy goodness!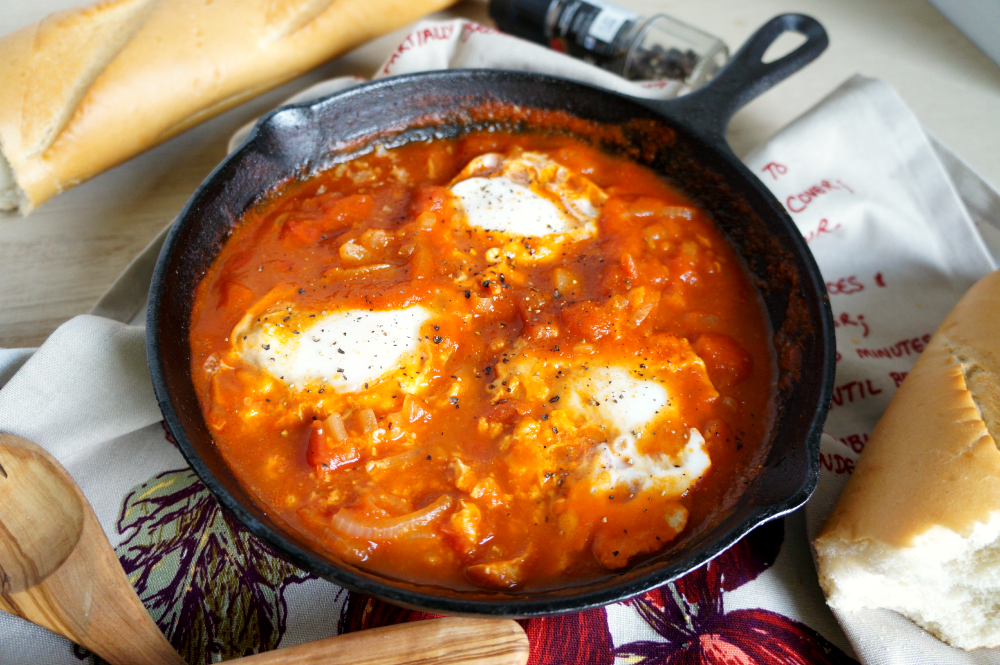 I don't know why but I've been on a bit of an Italian kick lately. Must be the whole I'm-now-a-graduated-woman-with-a-Bachelor's-degree-and-therefore-technically-an-adult thing that is making me nostalgic for my childhood. Anywaysssss, this recipe is one that is near and dear to my heart, and I'm pretty sure I've been eating this ever since I could eat solid food. I'll be honest, the hardest part of this recipe was coming up with a name! In my house, we just call this "eggs and tomatoes." Like, not even 'tomato sauce'. Just tomatoes. So I figured calling this Tomato Sauce Poached Eggs would be acceptable, since the eggs indeed get poached in the yummy tomato sauce. Makes sense, no?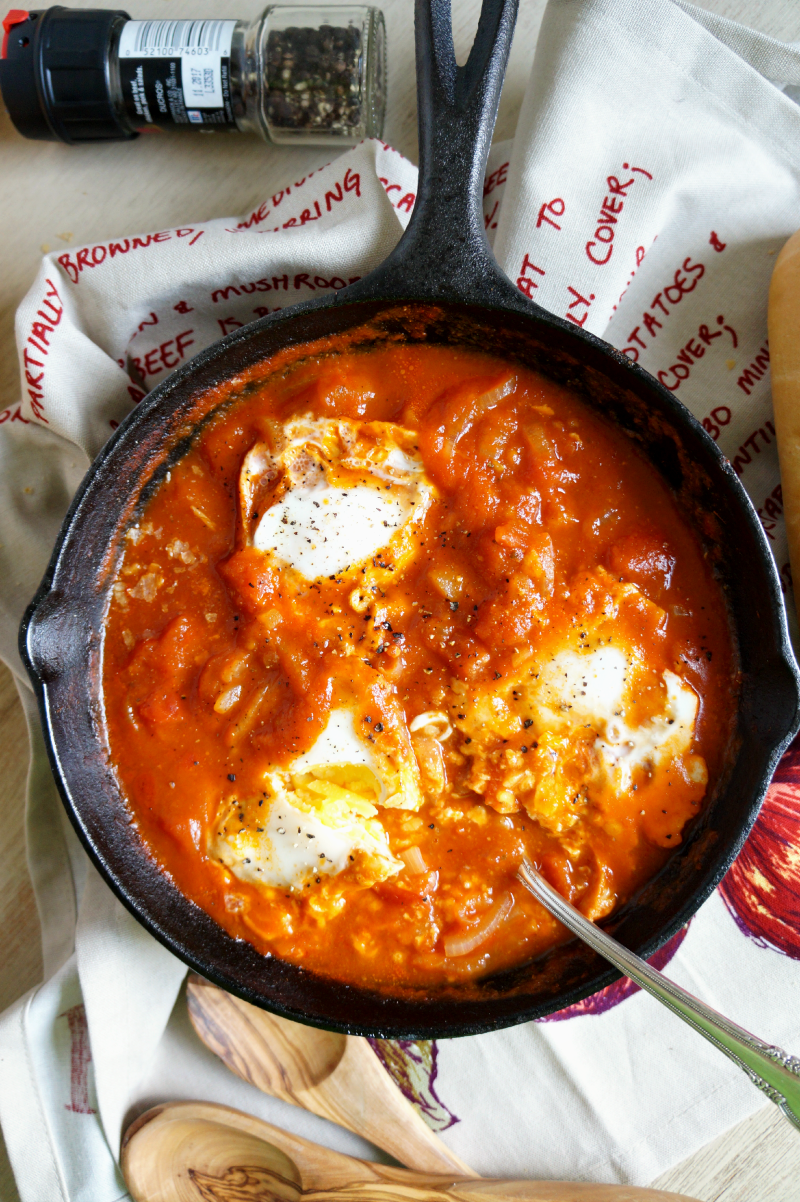 Now I know this might not look too impressive, but this skillet is hiding some serious flavor within! This recipe is ridiculously simple, healthy(ish?), and oh so good. You start off by making a chunky marinara sauce with thinly sliced onions, freshly chopped tomatoes, and a bit of canned tomato sauce for good measure. Spice it up, cover it, and let it simmer until the onions are meltingly tender, and the tomato sauce is thick and savory. Then, you just use a spoon to make little nests in the sauce, you crack your eggs in there, and within a few minutes, you have a simple, delicious, hearty meal. I know it sounds a little weird, but it's amazing. Don't knock it til you've tried it. 🙂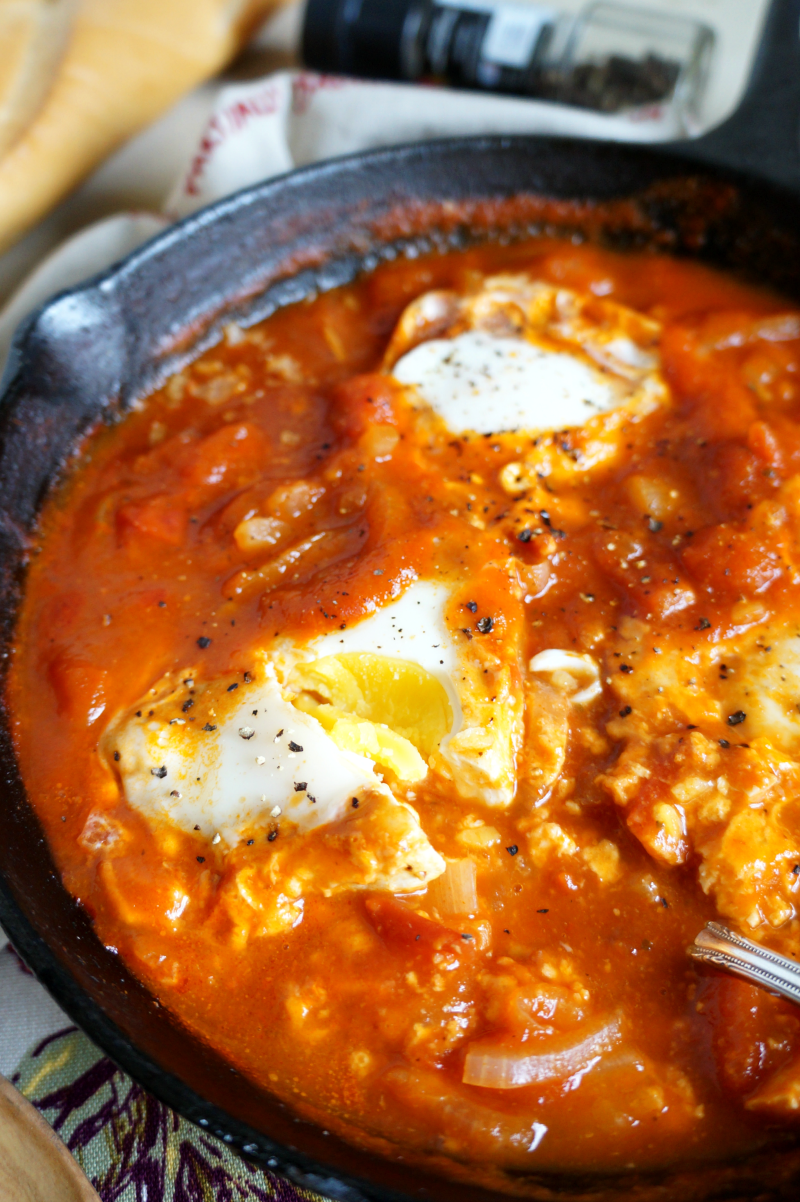 This is one of my all-time favorite meals, and it definitely falls into the category of "obscure rustic Italian food nobody knows about except for Italians." I've seen a middle eastern version of this around the blogosphere that sometimes has cheese, sometimes has red peppers, and is apparently wildly spicy. This is none of those things; what it IS is one of those recipes that are made up by grandmas on the spot when there's no food in the house. Funny how simple recipes that are made with just a few ingredients seem to always taste the best. Make this for a simple, delicious, incredibly cozy dinner, and serve with plenty of crusty bread!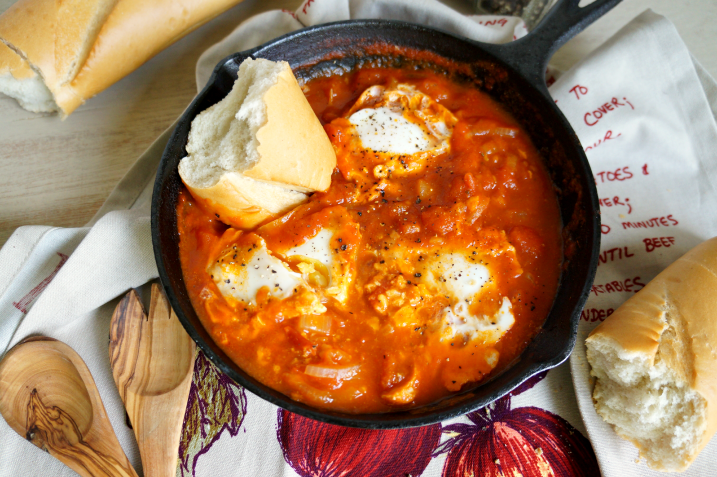 tomato sauce poached eggs
Author:
Valentina | The Baking Fairy
Ingredients
4 eggs
½ onion, thinly sliced
4 fresh tomatoes, chopped
1 small can tomato sauce (around 8 oz)
1 teaspoon olive oil
salt, pepper, and herbs to taste
pinch of sugar
Instructions
In a medium, deep saucepan, heat the olive oil on medium heat.
Add in the onions, salt, pepper, and a pinch of sugar, and cook until the onions have softened, add in the chopped tomatoes and tomato sauce, turn the heat to low, and cover. Simmer for at least 10-15 minutes.
When the tomatoes and onions are both soft and the sauce is cooked down, make 4 small wells in the tomato mixture, and crack an egg in each one. Top with salt and pepper, then cover again, and allow to cook for another 5-10 minutes, depending on how firm you want your egg to be.
Serve immediately with plenty of bread!